Choza de Margarita – A World Showcase Oasis
The Choza de Margarita stand at EPCOT's Mexico Pavilion may look small, but the same can't be said for its menu!
A popular destination for World Showcase travelers, Choza de Margarita sits to the left of the entrance into the Mexico Pavilion and right across the way from La Cantina de San Angel.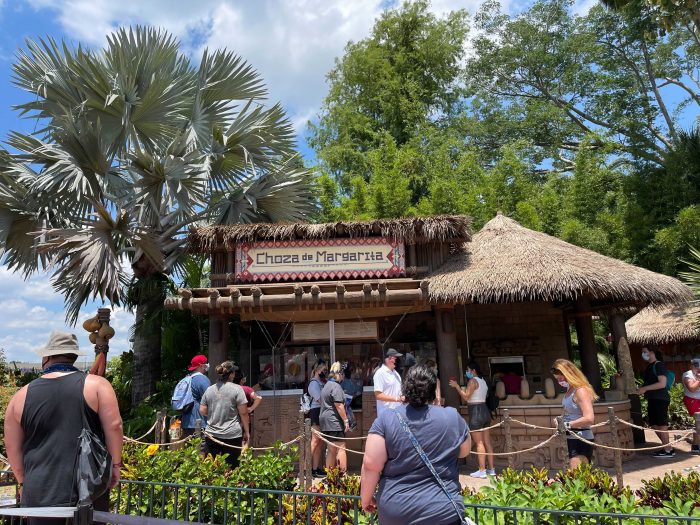 True to its name, Choza de Margarita serves, well, margaritas! But guests can also find a few small bites as well beginning when the stand opens at 11:00 a.m. and up to park closing.
Now even though Choza de Margarita is an outdoor stand, it's owned by the same group as La Cava del Tequila and is incredibly well themed! And its setting certainly benefits from the pavilion's signature pyramid in the backdrop.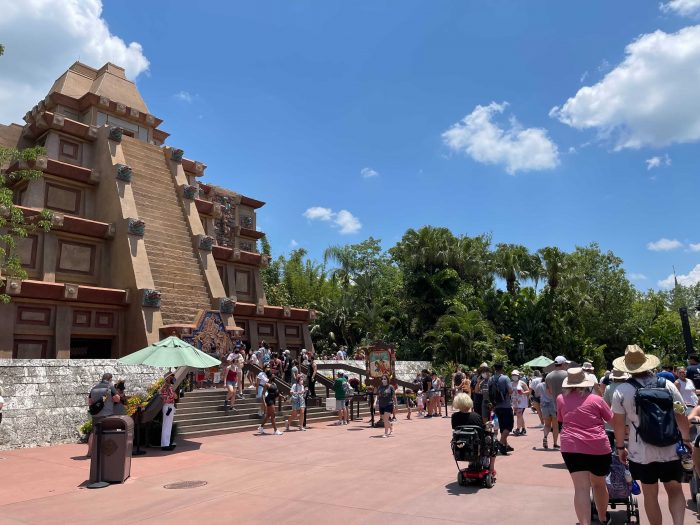 Unfortunately, there's little to no dedicated seating near the stand. This is why many of its patrons stand along the surrounding walls to sample its offerings.
However, this has become even more problematic since guests must be stationary to eat or drink at this time, and since the Mexico Pavilion is often a bottleneck. If you can, designate someone from your party to secure a spot in advance, particularly in the shade.
If you're looking to avoid a wait, know that lines are likely to form during the heat of the day and on into the evening. But in our experience, the lines move quick because the service is fast!
The Drinks
The
Choza de Margarita stand
 offers a selection of their signature margaritas "on the rocks," such as The Cucumber or the Smoky Pineapple which both come with a Tajin chile-lime powdered rim. There's also the Wild Passion with a hibiscus salt rim, and the Top Shelf Clasica with an adventurous
ant
salt rim!
The stand is also home to a selection of beers, as well as a variety of frozen, blended margaritas like the Mango Loco, Wild Strawberry, the Fiesta, and Classic Lime.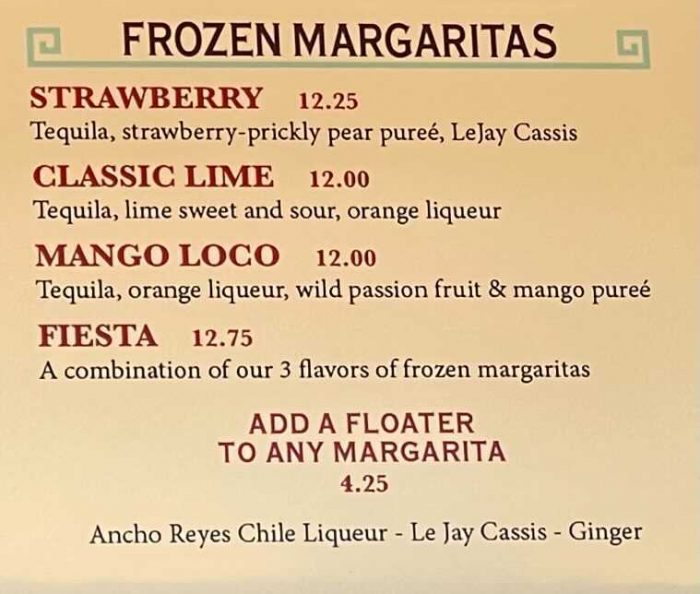 Basically, we recommend never passing the Mexico Pavilion without stopping for these. They're crunchy with a creamy goodness and the very thing Chrissy says she will bring visiting friends and family to get as an accompaniment with a frozen margarita.
Tacos de Cochinita – $10.50
The Tacos de Cochinita are described as citrus marinated pulled pork on corn tortillas served with picked onions and a mango habanero relish.
According to Chrissy, these were wee bit spicy and small, but not bad at all and worth the price. But don't set out to make them a meal unless you've already downed your drink.
Overall, EPCOT's Choza de Margarita stand at the Mexico Pavilion aims to please and definitely succeeds. Our readers agree having rating the location a 93% thumbs up on the TouringPlans site.
But what do you think about Choza de Margarita? Is this stand a must-do for you? Let us know in the comments!