Frequently Asked Questions About DVC Community Halls
Disney Vacation Club (DVC) is Disney's timeshare program that was created in 1991.  It recently celebrated it's 30thanniversary.  Disney Vacation Club has 16 properties located in Walt Disney World; Disneyland; Oahu, Hawaii (Aulani); Vero Beach, Florida; and Hilton Head Island, South Carolina.  Disney Vacation Club is unique in that you purchase an allotment of points that you can use at any DVC property at any of time year.  The point charts fluctuate depending on what time of year you travel, but the amazing thing about Disney Vacation club is you can travel whenever you want.
Oftentimes Disney Vacation Club properties are also connected to a hotel side of the property in which regular cash paying guests can stay (for instance Disney's Grand Floridian Resort and the DVC side, Disney's Grand Floridian Villas). Disney also allows a small segment of the Disney Vacation Club villa inventory to be booked by cash paying guests.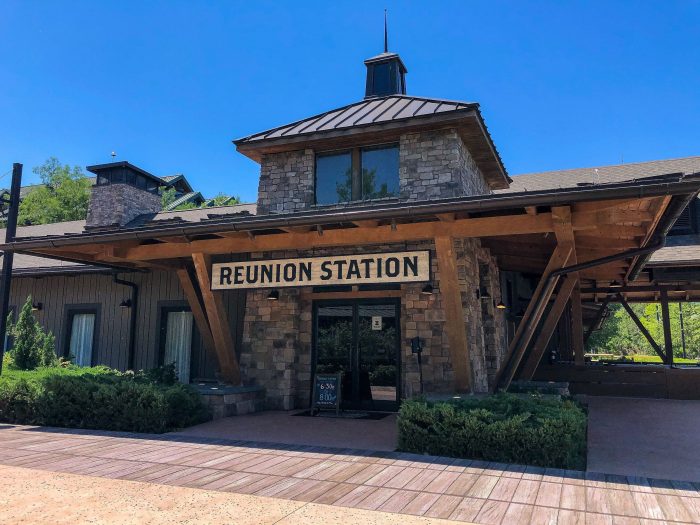 Where are the DVC Community Halls Located?
One of the perks of staying at a Disney Vacation Club property is they provide resort activities throughout the day for guests to participate in.  Many locations have a dedicated building or room called Community Hall which hosts the activities.  The resorts at Walt Disney World that have a dedicated community hall are Animal Kingdom Lodge-Kidani Village, Bay Lake Tower, Riviera Resort (Eventi Room), Boardwalk Villas, Old Key West, and Saratoga Springs. Hilton Head Island, Vero Beach, and Aulani also offer community halls.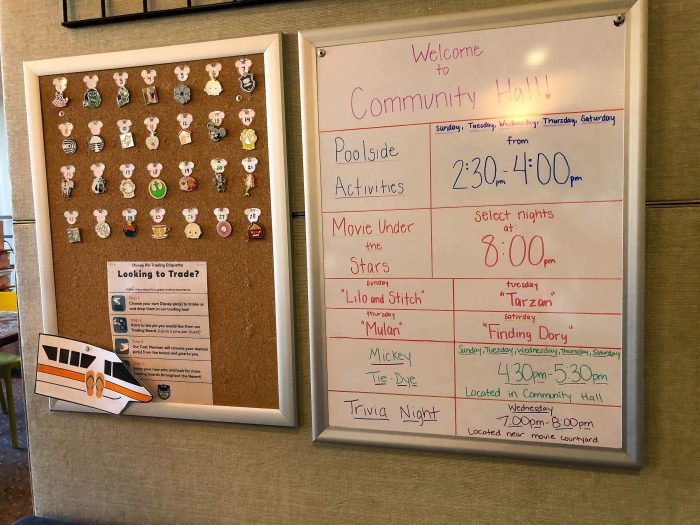 What Types of Activities are Offered at Community Halls?
Each resort posts a schedule each day of the resort activities offered.  Directly from Walt Disney World's website here are the activities that Community Hall offers:
"Play games like foosball, air hockey, pool, ping pong, darts and more! Guests may also make crafts, relax in our TV viewing areas, rent DVDs, join our "rainy day" activities and check out books.
Amenities and activities are available to current Guests of the Resort where the Community Hall is located. Most are complimentary, while some are available for a fee.
Game and activity selection varies between Community Halls."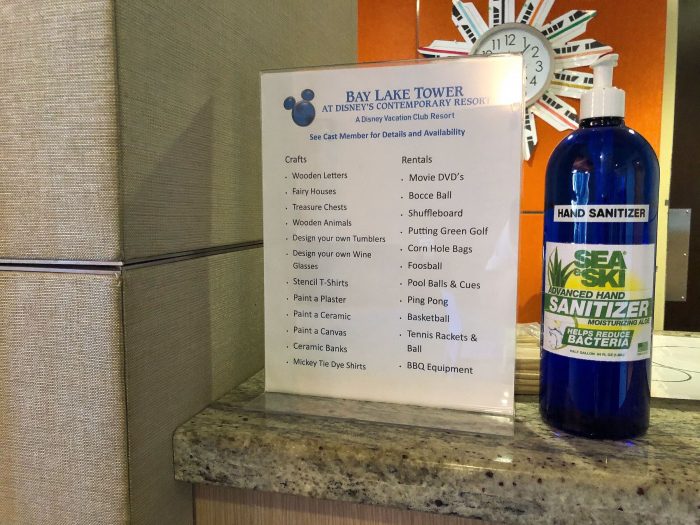 One of my favorite activities that most DVC resorts offer on a regular basis is Mickey Tie-Dye.  My daughter and I recently participated in this while staying at Disney's Boardwalk Villas.  Unlike some of the offerings at Community Hall, the Mickey Tie Dye does cost.  We found the cost to be reasonable.  We Tie-Dyed a youth t-shirt and a pillow case for around $25.  It was a really fun experience and is a great keepsake.
The DVC resorts also offer various other arts and crafts projects such as making Mickey wreaths, pottery painting, jewelry making, and more.  Most of the craft activities do have a small fee but DVC members receive a discount on these items.
What are the Operating Hours?
Hours can vary by location and day, but will be posted outside the Community Hall.  The perfect time to visit the Community Halls is in the afternoon when you need a break from the busy parks.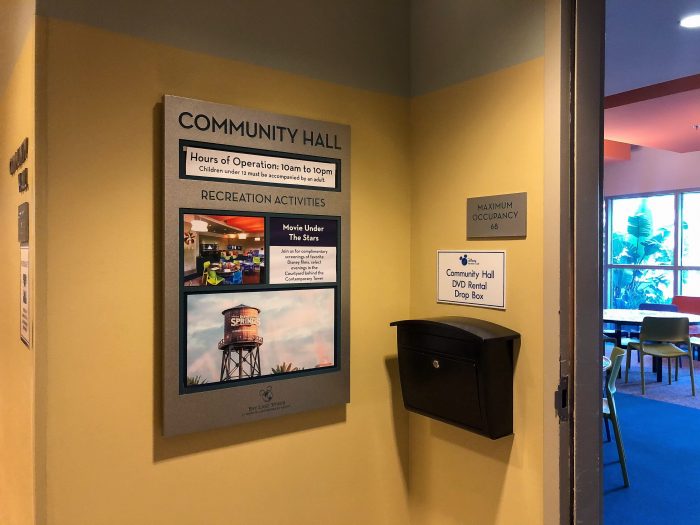 Is There a Fee for Community Hall?
Community Hall itself is completely free, but activities may have additional cost.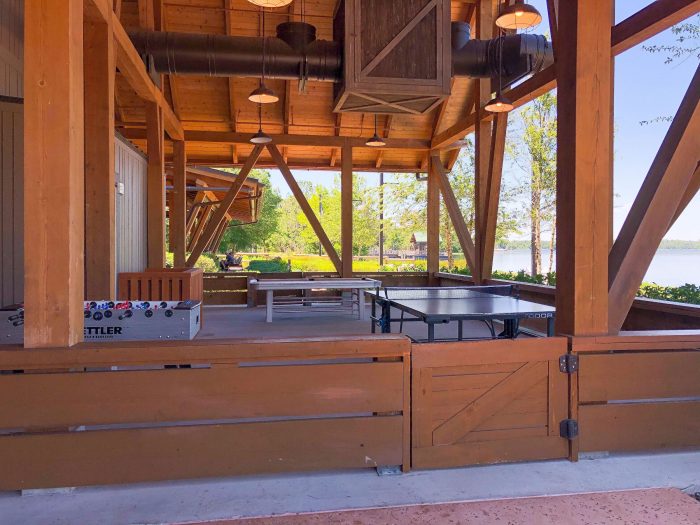 Who Can Use the Community Hall?
Any DVC member staying at a DVC resort can use the Community Hall.  Also, if you are staying at one of the DVC resorts on cash you can also use the Community Hall, even if you are not a DVC member.  In our experience no one asked if we were a DVC member unless we purchased a craft item and they needed to apply the DVC discount.
Are the DVC Community Halls worth a Visit?
Yes, the Community Halls are a lot of fun especially for a rainy day or when the weather is hot and humid.  We also used the Community Hall during a long stay to break up the park days.  It's also a fun place to socialize and meet other families.  We also found the recreation staff in charge of the activities to be fabulous!  Some of our part interactions with cast members were the recreation staff at the DVC resorts.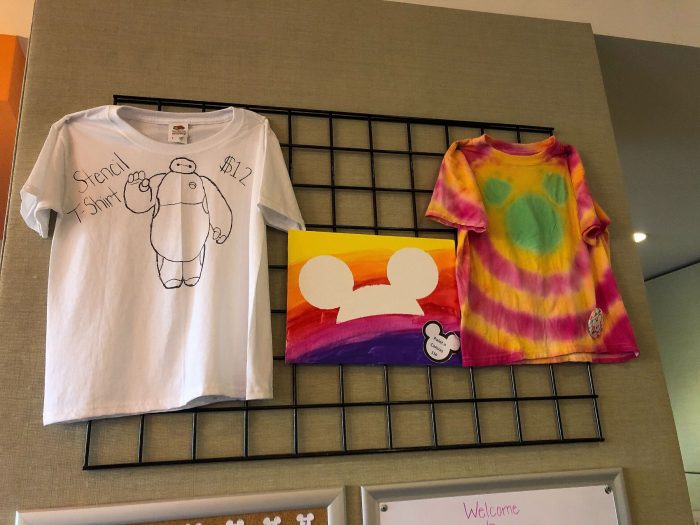 Do you have any additional questions about DVC Community Halls? Let us know in the comments.
Shannon lives in Evansville, Indiana and is a mom of two young daughters, ages 7 and 2.  Shannon's day job is a school social worker and her husband is a middle school teacher. Shannon is an avid Disney parks and Universal Orlando fan.  Shannon is a Disney Vacation Club Member and Annual Passholder at both Disney and Universal. Shannon shares her love of Disney Travel with others as an Authorized Disney Vacation Planner with MickeyTravels and also plans non-Disney vacations with Let's Adventure Travel.  She provides FREE travel planning for anyone looking to book a Walt Disney World, Disneyland, Disney Cruise, Adventures by Disney, or Aulani Vacation.  Shannon also provided free travel planning for Universal Orlando, cruise lines, all-inclusive resorts, and more.
Find and Contact Me:
Let's Adventure Travel – Shannon Loehrlein | Facebook
MickeyTravels – Shannon Loehrlein | Facebook
Email me at: Sloehrlein@mickeytravels.com