A Closer Look at Disney World's New Anna and Elsa Meet and Greet
If you're a fan of Anna, Elsa, Rapunzel, Tiana, Cinderella, or Sleeping Beauty you're in luck! On June 17, 2016 – a day full of premiers at Walt Disney World, Anna and Elsa made their journey back to Epcot in an all new meet and greet venue. This opened up a vacancy at Magic Kingdom's Princess Fairy Tale Hall, making it possible for two more princesses to join Cinderella and Rapunzel.
First up, let's take a look at Anna and Elsa's new meet and greet area. Arendelle's royalty proudly welcomes guests into their Sommerhus, a place that is said to be home to family summer vacations in Anna and Elsa's very early years.
The exterior is very lovely, with beautiful landscaping and inviting facades. The colors in the Norway pavilion have become much brighter, less subdued, perhaps to fit the colorful animated world of Arendelle. This change, among so many others, is cause for concern for many Disney fans apprehensive about a World Showcase pavilion becoming dominated by a fictional world. Personally, I lean in that direction because I prefer to see the treasures of the real world being placed before guests of Epcot to enjoy and appreciate. But there's no going back now, so I'll tried to accept and somehow appreciate the new Norway pavilion.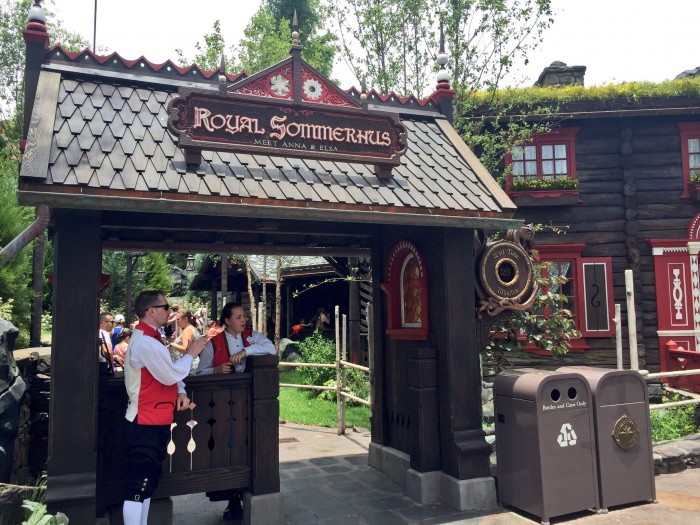 As I approached the Royal Sommerhus, I was surprised at how much of the extended queue was outside. The interior of the house holds about 15-20 minutes worth of queue. The interior of the house is very well themed. You enter into what feels like a living room with a fireplace against the back wall and a table in the center of the room. To the side is a staircase, and if you look closely you will spot two cute little dolls that resemble Anna and Elsa.
After the first room guests enter a small hallway, at the end of which is a tapestry that pays tribute to Maelstrom (the beloved and now replaced high-seas adventure attraction). It is a bittersweet touch. When we shared the image on TouringPlans Twitter account we received many comments that people would gladly purchase a print of this art. We'll see if Disney decides to bank on it.
One last room is entered, a family room with another small fireplace, bookcases, and a fabric covered chaise lounge that I'll be curious to see how it is holding up a year from now. I visited on a soft opening day, over the weekend and waited about 30 minutes. Before entering the actual meet and greet room, guests are gathered in a room with four doors. A greeter gave a short story thanking us for visiting Arendelle and that this home is where Anna and Elsa used to vacation in the Summer, and they're glad to be back after so many years away. The greeter then opened one of the four doors and we entered the meet and greet room.
All major character meet and greets are now laid out the same. A pair of characters poses in front of a backdrop, each one in a different corner or side of the room. Guests enter on the opposite side of the room with one short queue that wraps around once. Anna and Elsa's backdrops are painted views of Arendalle, with Elsa's receiving a bit of an icy treatment. Anna's spunky personality makes for a fun visit, while Elsa is more regal, she is queen after all.
Now that Anna and Elsa have a permanent home, there is room for two new visiting princesses in the Princess Fairytale Hall at Magic Kingdom. Previously, Anna and Elsa presided on one side of the hall while Cinderella and Rapunzel held court on the other side.
Cinderella remains, it is her castle after all, and is now joined by Sleeping Beauty. It makes for a great classic Disney princess line up. Rapunzel has moved across the hall and welcomes guests alongside Tiana. These are two of Disney's latest princesses and it's great having them side by side.
The Princess Fairy Tale Hall was one of the first character meet and greets that follows the tradition of a themed queue leading into semi private rooms. Royal Sommerhus takes that concept and continues it, very well. If anyone in your group is a fan of Disney movies, especially involving Disney princesses then make sure to plan time in your trip for these experiences.