Getting to Know Universal – Seasonal Events Showdown
We love Universal's seasonal event for their unique food options to world class entertainment. But which one is the best for your family? Find out which Universal events rival those found down the street and which one fits your theme park preferences in today's article. Do not forget, once you determined when to visit to request a free Touring Plans Travel quote!
Mardi Gras
Dates: Mid-February to early April
Best For: Foodies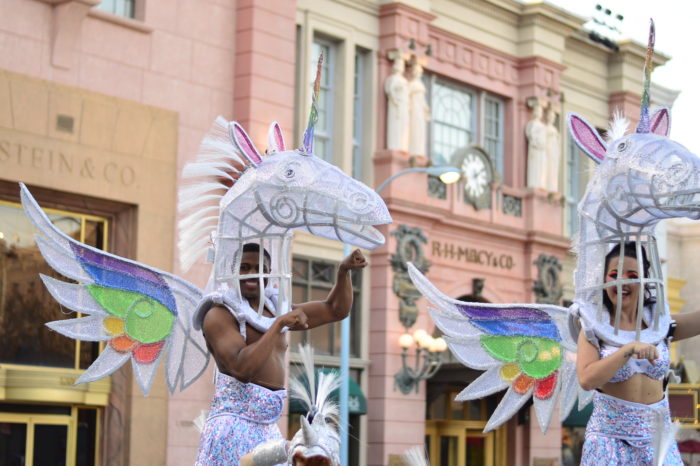 Feet don't fail us now! Universal brings all the tastes, colors, and music of carnival to the resort every February through April. Mardi Gras celebrates all worldwide carnivals, from New Orlean's iconic Mardi Gras to India's Goa Carnival. Sample small plates and drinks from around the world, catch some beads during the nightly parade, or see a big name musical act, it's all at Mardi Gras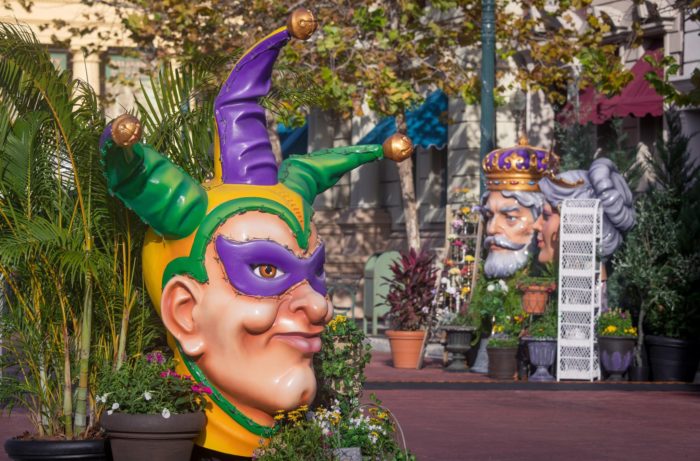 Food booths and merchandise are available throughout the resort, but Universal Studios Florida is the primary host with the Mardi Gras parade, concert series, and a majority of the food booths. All concerts and parades are include with park admission, food is an additional cost. For more information read our 2023 Guide to Mardi Gras (Blog: Universal Orlando Mardi Gras 2023 Guide).
Pros
Food – Universal's yearly food festival features new dishes and returning favorites
Concerts – Large musical acts perform free on select weekends
Parade – Lively parade that's refreshed yearly
Cons
Attractions – No new shows, rides, or experiences during Mardi Gras
Cost – Most of the event is an additional cost
Halloween
Dates: early September through October
Best For: People who enjoy a PG-13 Halloween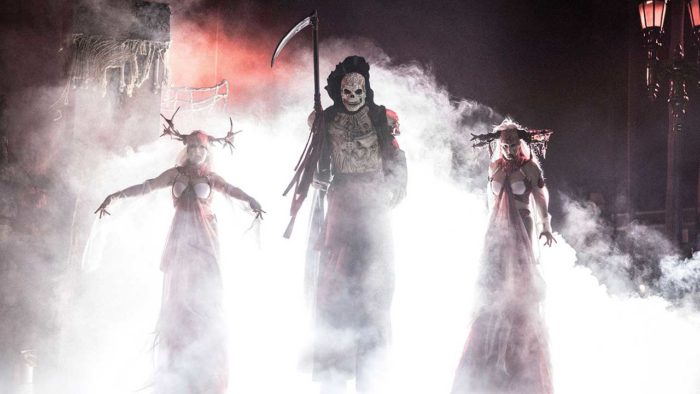 Halloween is Universal's bread and butter, and rightfully so after winning The Best Halloween Event from the Golden Ticket Awards for 13 years. The signature offering is Halloween Horror Nights (HHN), a separate ticketed event featuring elaborate haunted houses, spooky scare zones, crazy shows, and food concepts so strange the food teams should be drug tested. HHN is edgy and intense, it features simulated violence, gore, suspense, and horror to create Orlando's wildest Halloween party. We do not recommend anyone under 13 attending and parental discretion for anyone under 18.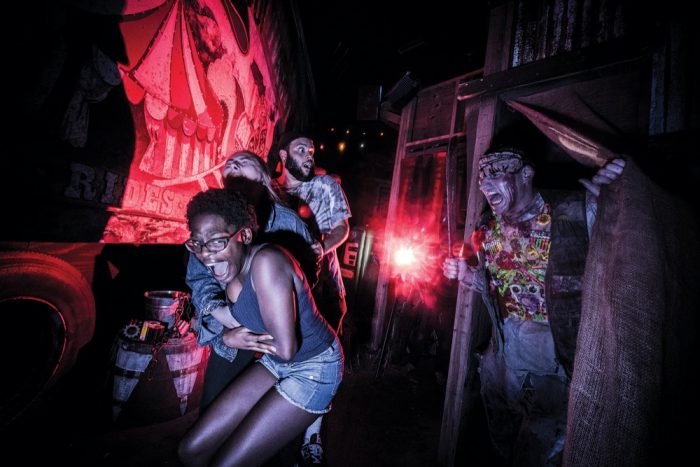 Halloween Horror Nights is not the only autumnal offering at Universal. In Islands of Adventure guests can explore the All Hallows Eve store in Lost Continent for Halloween goods and treats. In Hogsmeade after dark guests will find Death Eaters patrolling the land and a Dark Arts projection show on the Hogwarts Castle. Cabana Bay acts as a horror hub during this season, with a themed overlay to the Swizzle Lounge and a free HHN experience for Universal Orlando hotel guests only.
For more information on Halloween Horror Nights read our 2022 guide to HHN (Blog: HHN 31 Guide).
Pros
Attractions – 10 new haunted houses, five new scare zones, and two new shows every year
Award Winning – Winner of the Golden Ticket Award for best Halloween event for 13 years
Scary – Universal pushes their edge to the limit
Cons
Cost – HHN is not included with park admission, tickets start at $99 for one day tickets
Crowds – HHN brings out locals and out of state visitors in droves
Scary – this is not Mickey's Not So Scary Halloween Party and is NOT for everyone
Winter Holidays
Season: Mid-November through early January
Best For: Families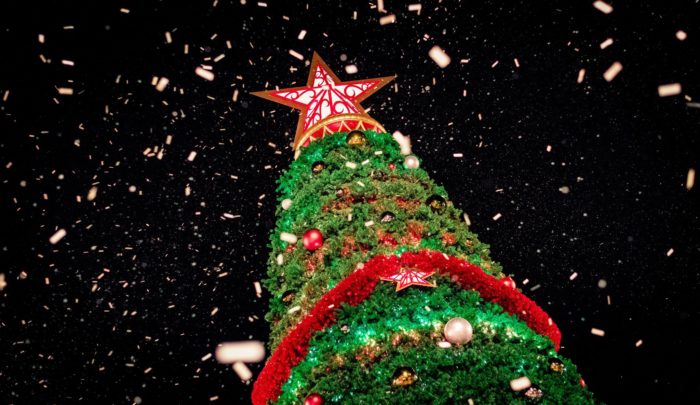 Fire up the roast beast, the Holidays at Universal Orlando celebrates all things Thanksgiving, Christmas, and New Years. Starting in mid-November Universal unleashes the Grinch in Seuss Landing in Islands of Adventure with his own character dining experience and musical spectacular featuring iconic songs from the animated classic. Next door at Universal Studios Florida, Universal's Holiday Parade featuring Macy's showcases Macy's larger than life Thanksgiving Day parade balloons with Universal character floats and Santa. On select nights in December the world renowned Mannheim Steamroller performs their Christmas classics.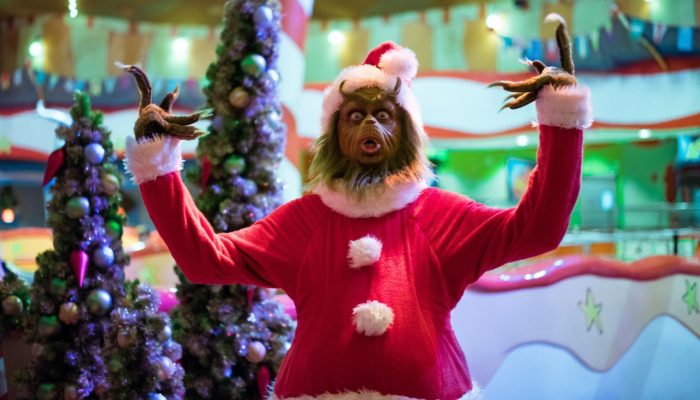 The Wizarding World of Harry Potter fully embraces the holidays with authentic Christmas decorations throughout Hogsmeade and Diagon Alley. The Hogwarts Castle comes to life during The Magic of Christmas at Hogwarts nighttime lights show and the Frog Choir switches to a Christmas setlist in Hogsmeade. Over in Diagon Alley, the amazing Celestina Warbeck performs original Potter-themed Christmas songs like "Accio Christmas" in her holiday show.
Thanksgiving, Hanukkah, New Years, and other winter holidays are celebrated at the Universal Orlando hotels with special meals and events, but nothing is offered in the parks. New Years is rang in at CityWalk, and sometimes Universal Studios Florida, but the popular EVE New Years parties have not returned since the COVID-19 shutdowns. We hope Universal adds more winter holidays to their event just as they did for Mardi Gras.
For more information read our guide to the 2022 Holidays at Universal Orlando (Blog: Getting to Know Holidays at Universal Orlando 2022).
Pros
Entertainment -the Grinchmas show and Macy's parade are among the best in the country
Costs – All major offerings are included with park admission
Both Parks – Both parks celebrates the holidays equally
Family Friendly – Fun for everyone
Cons
Just Christmas – While resorts offer menorah lightings for hanukkah there are no other holiday celebrations
Busy & Expensive – Excluding two or three weeks between Thanksgiving and Christmas, this period is among the busiest times for the parks
I hope this article helped you decide on a time to visit. All of Universal Orlando's events are great, but I really have been impressed with Mardi Gras recently. The food options are quite good, the prices are reasonable, and there is great entertainment.
Which of these seasonal events are your favorite? Leave your thoughts in the comments below!