Gifts for the Disneyholic in Your Life
'Tis the season … to get your holiday shopping done. Christmas, Chanukah, Solstice – all have a tradition of giving gifts in December, or at least somewhere thereabouts.
If you've got a Disneyholic in your life, a Disney gift might seem a natural fit. But the Disney merchandise landscape is littered with duds, so I reached out to TouringPlans bloggers past and present to get recommendations for items that are tried and true. Whether you're looking for stuff, or something that's not stuff, we've got some ideas for you.
Every link on this page opens in a new tab, so feel free to click and park those pages in the background as you read through to the end. We earn a small affiliate fee from links in this article to specific products on Amazon.
Toys
Lots of Disney-lovers are children … or children at heart. More than one person mentioned Disney Lego, which are available in a range of prices from $10 to $250+ and found everywhere. OK, perhaps not everywhere, but certainly online at Amazon.com and shopDisney.com, or if you prefer brick & mortar you can find them at Lego Stores and at Target.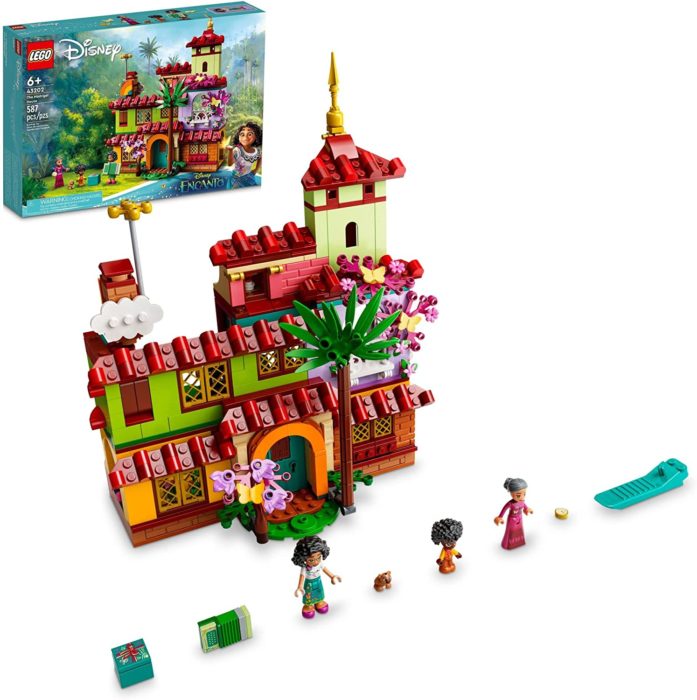 Jigsaw puzzles are a perennial favorite, and there are many with Disney-related images. A search on Amazon will find a variety of manufacturers, with Ceaco leading the pack. I have several of the Ceaco ones (including a few of the cost-effective multi-packs) and they are solid quality with pieces that fit together both well and uniquely; Ravensburger's sterling reputation for quality is also well-deserved.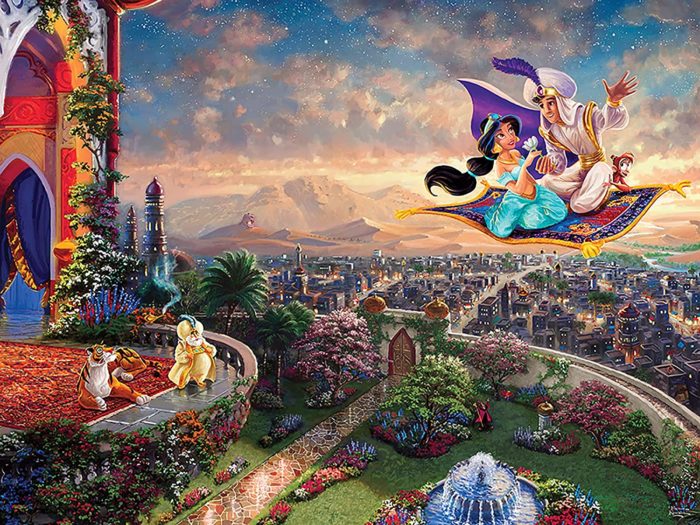 Kitchen / Food
Disney kitchenware and food abound, and so much of it is cute, but not quite as functional as you would like. A terrific example: Williams Sonoma has a collection of Disney (including Disney100) and Star Wars items for sale. Most of them are solid; Erin owns this cakelet pan and loves it. But I have a few of the flippers and you need to be a little more careful there – the Vader one with a natural spatula shape is fine, but I've had a couple with protruding design on the front like Mickey shown below, and those don't work so well. Use common sense, read the reviews. (Click to expand the gallery images below.)
I've called out Williams Sonoma here, but this is a general theme that applies to shopDisney and other retailers. Think hard about quality and functionality when buying items in this category, and beware of things that are cheaper than you would look to pay for a non-branded item. That's a signal that the manufacturer or vendor is relying on an emotional trigger to sell you something that you normally wouldn't give the time of day to.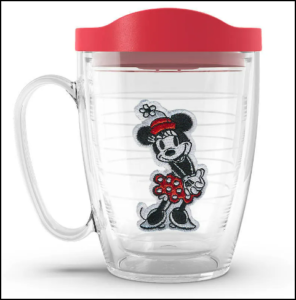 One item that got a firm thumbs up from Julia is Tervis tumblers, which can be found on shopDisney, on Amazon, and on Tervis' own website. These insulated mugs and tumblers come with lids and are next-gen cool for anyone who is too old to use a sippy-cup and too smart to keep an uncovered cup near their laptop.
If you're looking for something to fill your Mickey mug (or Princess mug, or Star Wars mug) with, Joffrey's sells custom Disney coffee blends online.
For giftees with an ice cream machine, you should know that many flavors of Dole Whip mix can be bought on Amazon and it's very easy to prepare. At least, it's easy to prepare if you have an ice cream machine. Just be a little careful with the selection – some of them are 4-packs, and for some reason the mango only seems to come in a 70 lb bag. I'm not saying you can't eat that much mango Dole Whip … but the 4-lb bag will make several batches, so maybe start with another flavor?
Becky speaks highly of the impressively detailed chocolates from Ye New Hope Shoppe. If you ever wanted to bite off C3PO's head, these are for you.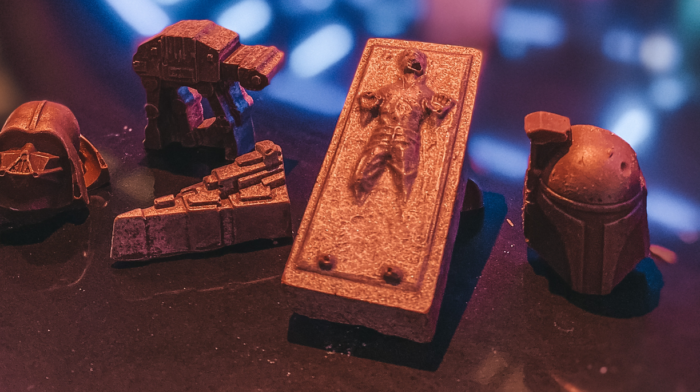 If you can't settle on just one food item, Disney cookbooks give the power to recreate memories of your giftee's favorite meals. Or, alternately, some of the food for restaurants that they didn't get a chance to eat at. If you're buying a Disney cookbook, you should know that they come in two flavors. The first kind contains recipes for food you can buy at the Disney Parks & resorts. The second kind contains recipes that were specifically created for the themed book – they're still tasty, but they're not going to bring back memories of the parks.
Waffles and Waffle Stuff
Yes, I am going to devote a whole section to Mickey waffles. Let's start with the waffle maker available on shopDisney for $39.99. Erin has this one, and she doesn't love it. She says it's less like a waffle, more like a pancake. Two more can be found easily, but they cost more: a red-and-black double-flip iron that's available on shopDisney for $99.99, and a more sedate Williams Sonoma exclusive for $99.99.
None of us actually have one of the Mickey double-flip irons (although a guest blogger reviewed it for us). However, I have a similar double-flip that's a regular Belgian waffler, and these are in the right price range to be a solid choice. If I didn't already have a waffle iron, I'd go for it.
Next, let's talk about what to put in your Mickey waffle iron. Golden Malted is the Mickey mix and will give you that classic Mickey waffle flavor. You're looking for the Original Recipe, and not the Add Water Only mix. If you prefer to make your own, my favorite waffle recipe is the Overnight Brown Butter Yeast-Raised Waffles from Serious Eats. Don't be afraid – they're easier than they sound, and the browned butter and yeast give you the same malty notes as you'll find in the Golden Malted mix.
Home
Are you looking for a doormat? Amy S. recommends  KillerDoormats on Etsy; a family member loves their Chewbacca-themed doormat shown below.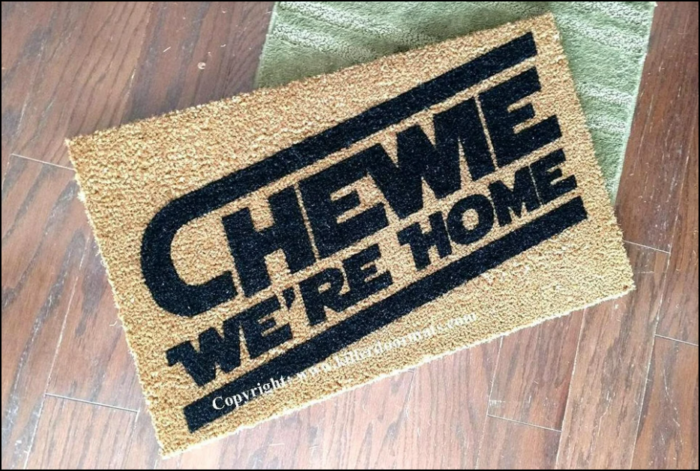 Magic Candle Company is another of Becky's recommendations, and they don't just make candles. Bath bombs, shower melts, room sprays, soap – everything you need to make your home smell like Disney. Becky's favorite scents are Banshee Flight & Castaway Cruise.
Gear
When you go to the parks, it's important to be prepared. For many TouringPlans readers, that means a copy of an Unofficial Guide. Disney World, Disneyland, Disney Cruise Line, with Kids – you name it, there is a flavor of the Guide for you.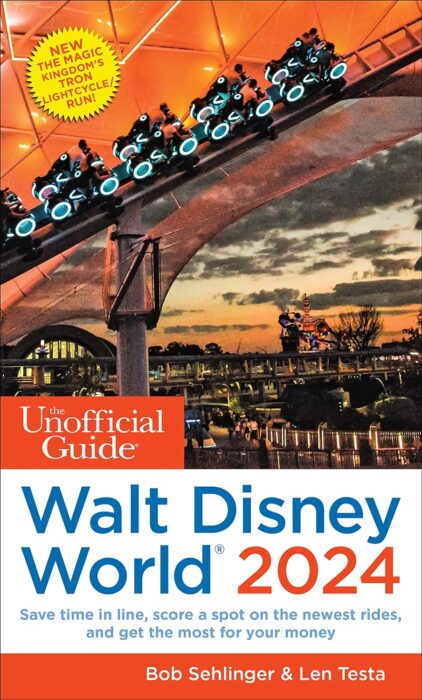 If you've followed Becky's trip reports, you may have noticed some of her awesome Ears. They come from the JJJCreations Co. Etsy Shop, and there are many, many designs. She also recommends Cheeky Peach Design Co. for fun Disney-related T-shirts and other accessories.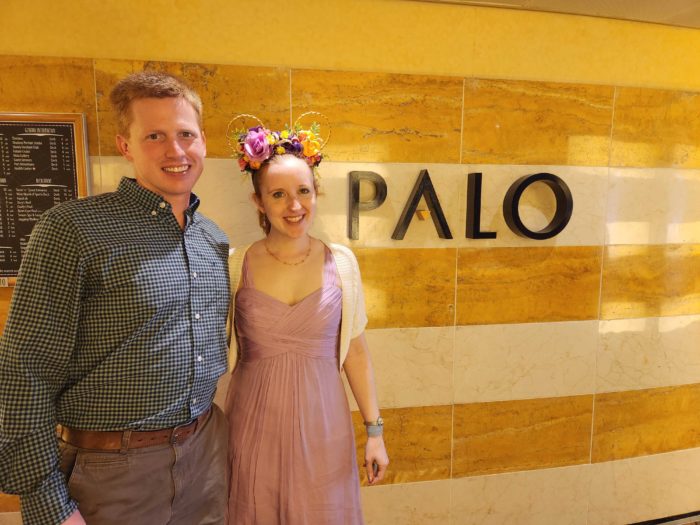 Are you a regular reader who remembers the Strange Saga of the Figment Popcorn Bucket and the Bad Artwork Sketch eBay auction? The auction is long over, but you can wear the sketch as a T-shirt – Julia has it available on Teepublic. I have one, and I always get compliments on it, even from people who have no idea of the history. She also has a "Numbers and Stats and Things" shirt this year for those of us who are TouringPlans-inspired. I admit, I have that one too.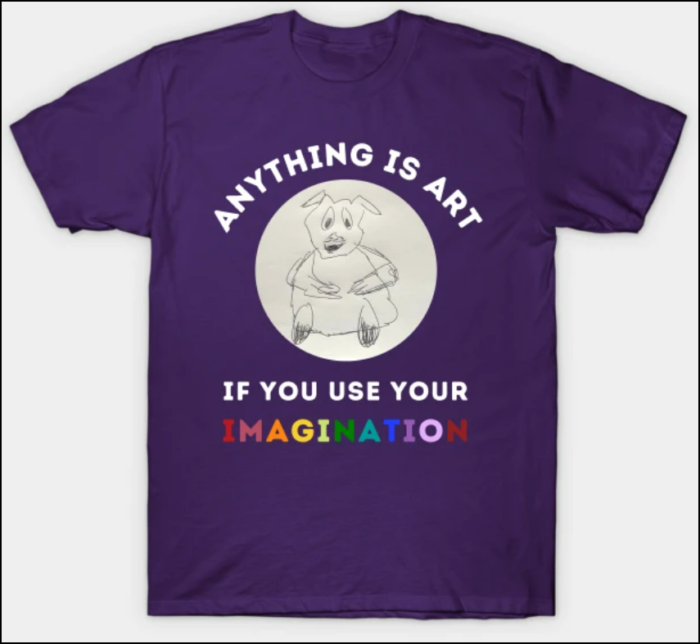 Amy C. is a fan of the Vera Bradley Disney Collection. She's had a few pieces over the years and she really enjoys them. One thing I love about the Vera Bradley Disney patterns is that some have obvious Disney elements and some give a whole new meaning to hiding Mickey.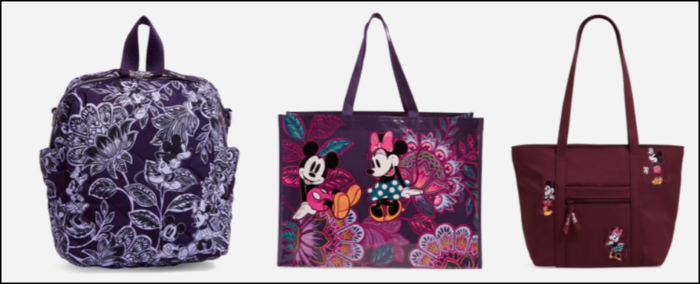 Last but not least in this category – they're not exciting and they don't scream Disney, but my family usually visits in August and we love these rain ponchos from SaphiRose on Amazon.com. They fold up into a pouch (not tiny, but compact), they have carabiners to hang off a backpack when they're wet, they dry very quickly, they come in a zillion patterns, and they last – we've been using the same set for multiple years. (Not just for Disney! This year my daughter and her friends used them to stay dry when their Taylor Swift tickets coincided with a massive downpour.) But perhaps my favorite feature is that you can partially unsnap the sides to get some ventilation if it's really muggy, while still staying pretty dry. Most cheap plastic ponchos do not let you do this.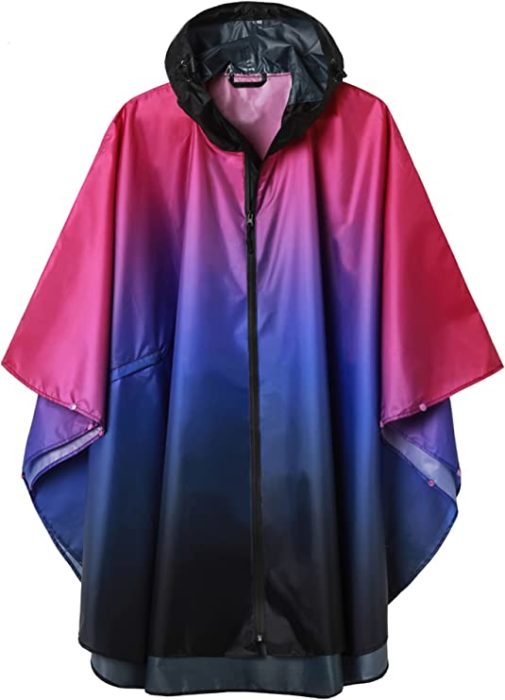 Experiences
Sometimes the last thing you need is more stuff. If you're looking to give something that doesn't come with a physical footprint, Erin's got you covered. She suggests:
A D23 membership. It comes with a magazine, some introductory swag (OK, I admit, that's stuff), and access to events and occasional fun extras. When Genie+ was first released, D23 members got a day free to try it out.
Tickets to the Aladdin, Lion King, or Frozen stage shows.
Of course to use those show tickets you might need to do a little traveling. We have a travel agency (TouringPlans Travel) that we would love to have you use, but let me tell you why travel was always our Santa present for many years before I was a blogger here.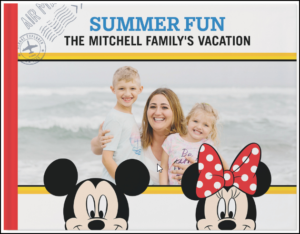 Santa presents are expensive (usually). And there's only so many times you can buy an X-Box. If your budget wasn't going to stretch to an X-Box anyway, a travel present can be made to fit your budget as an add-on to a trip or vacation that you were already going to take. Maybe a splurge at a really nice restaurant, or tickets to a local attraction that you might have passed over. But for us, the value of travel presents wasn't just about budgets – it was about having the present be seen. Christmas Day is very busy and exciting, and it's easy for kids to get overwhelmed with new stuff and activities. When Santa gave us travel, we didn't really "open" that present until we took the trip – months later, when we could relax and focus on the time we were spending together and the specialness of that gift.
Did you already take a trip? Amy C. thinks highly of the Disney-themed photo books on Shutterfly as a way to create a great memento for someone who went on a trip with you. (Yes, I know this is stuff, but it doesn't really go in any other section of this post.)
Charities
If your loved ones would prefer you to give to others in their name, we have a whole post on worthy Disney-associated and Orlando charities. Supporting Theme Park Communities on Giving Tuesday.
What are your favorite Disney and Disney-adjacent gifts to give? Have you ever received a Disney gift that was really special to you? Let us know in the comments!
Originally published Nov. 24, 2022. Last updated November 13, 2023.