Disney in a Minute: What is Disney Springs?
We're here with a series of quick posts, "Disney in a Minute," bite-sized nuggets of information that can better help you understand a Disney term or planning topic. Enjoy!
Disney Springs is a standalone part of Walt Disney World in Central Florida. This is the site of dozens of shops, restaurants, and entertainment venues. There is no admission ticket or fee required to visit Disney Springs or park there, though there are some venues (such as the movie theater) within Disney Springs that do require paid admission. If you're looking for mental image of what Disney Springs is like, picture a really big, really nice, outdoor mall and you'll be in the right ballpark.
In previous years part of the Disney Springs area had been called the Lake Buena Vista Shopping Village (1975-1977), Walt Disney World Village (1977-1989), Pleasure Island (1989-2008), and Downtown Disney (2008-2015). Note: The Downtown Disney name remains at Disneyland in California.
Disney Springs is located along East Buena Vista Drive, slightly to the east of Epcot. Disney Springs is within walking distance of some parts of the WDW Saratoga Springs and Old Key West resort hotels. Free bus or boat transportation is available to/from the other WDW hotels, during the hours when the Disney Springs shops/restaurants/attractions are open. (Hours vary, but this is typically from about 10:00 a.m. until about 1:00 a.m.)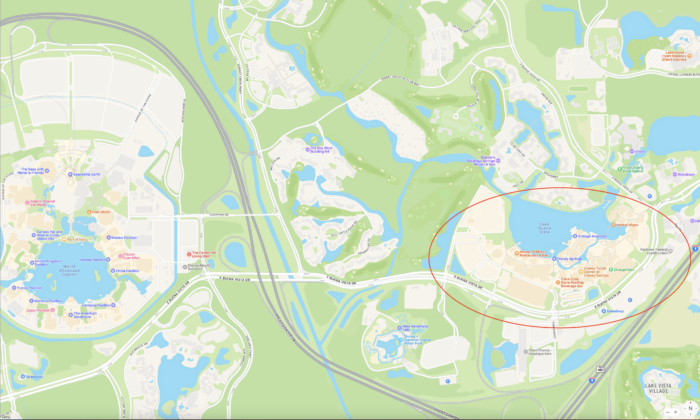 Disney Springs is nominally divided into four areas (The Marketplace, The Landing, Town Center, and West Side), but they all flow together.
Major entertainment venues at Disney Springs include an AMC 24-plex movie theater, the Cirque du Soleil show Drawn to Life, Splitsville Luxury Lanes bowling alleys, and the Aerophile tethered balloon ride.
Major dining venues at Disney Springs include Chef Art Smith's Homecomin', Wine Bar George, Jaleo (a José Andres venue), City Works Eatery (a sport bar and restaurant), House of Blues, Morimoto Asia, the Edison, Raglan Road, Planet Hollywood, Rainforest Café, and others. There are also many food kiosks and quick service restaurants such as Starbucks, Sprinkles Cupcakes, Salt & Straw ice cream, Polite Pig BBQ, Chicken Guy, and others. There are also several bars including Jock Lindsey's Hangar Bar, Stargazers Bar, Lava Lounge, and others.
Major retail venues at Disney Springs include Uniqlo, Anthrolpologie, Coca-Cola Store, Free People, Johnny Was, Kate Spade, LEGO Store, lululemon, M&M's Store, Tommy Bahama, Under Armour, Vera Bradley, and Zara.
You'll also find some Disney-specific venues such as the World of Disney store, Disney theme parks guest services and ticket offices, a Bibbidi Bobbidi Boutique, and an Art of Disney Store.
Below are some photos to give you context.
Have a question about a Disney term that is unfamiliar to you? Suggest it here for an upcoming Disney in a Minute segment.