Disney in a Minute: What is a Cast Member?
We're here with a series of quick posts, "Disney in a Minute," bite-sized nuggets of information that can better help you understand a Disney term or planning topic. Enjoy!
What is a cast member?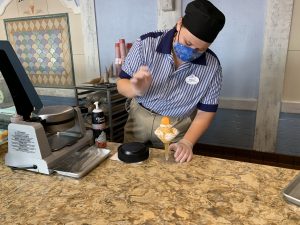 Take a look around the Disney theme parks. See all the folks that work there, the ones with the name tags pinned to their chests? They're cast members, as is everyone else who works for the Disney parks elsewhere. In Disney parlance, travel destinations like the theme parks are a "show" for the guests. And who is part of a show? The cast!
In other words, cast members are the Disney employees.
There are hundreds of different cast member roles, some that you see and some that you don't (Disney considers behind-the-scenes folks to be cast members too) – everyone from the dancers in a Magic Kingdom parade to the groundskeepers that refresh the plantings is a cast member. The person that serves your dinner is a cast member, as is the person who cleans the bathroom, the person who loads you onto Space Mountain, the person who designed the lighting for the castle, and the person who stocks the shelves at The Emporium.
Cast members make you feel welcome, keep you safe, and help you have fun.
During the pandemic, Disney has laid off or furloughed tens of thousands of cast members. The remaining folks are working extra hard under challenging circumstances. Please take some time to thank the cast members whenever you can.
Have any topics you want to see covered in Disney in a Minute? Let us know in the comments.