Disney in a Minute: What is Family-Style Service?
We're here with a series of quick posts, "Disney in a Minute," bite-sized nuggets of information that can better help you understand a Disney term or planning topic. Enjoy!
What is Family-Style Service?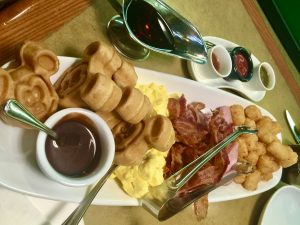 Among the many words that Walt Disney World uses to describe its food offerings is "family style." Family-style service is when a waiter brings a platter, skillet, or large bowl of food to your table and everyone in your party serves themselves from the communal dish. A family-style platter will typically be filled with a variety of items. For example, a family-style breakfast platter might include scrambled eggs, bacon or sausage, potatoes, and Mickey waffles. You can use a serving utensil to take as much or as little of each item as you like.
Family-style meals typically have a per-person fixed price and the platter will be filled with something approximating slightly larger than normal portions for the number of people in your party who will be partaking of the meal.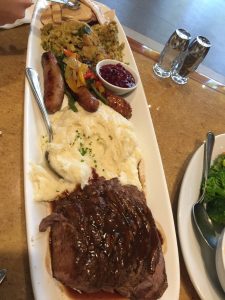 At most Walt Disney World restaurants, family-style service is an "all you care to eat" proposition. If, for example, you're having family-style breakfast and your kiddos have sucked down all the waffles leaving none for you, just ask your server and they'll keep brining more, at no additional charge.
Some of the restaurants on property that specialize in family-style service are Epcot's Garden Grill and Magic Kingdom's Liberty Tree Tavern. Some restaurants have a family style option, as well as regular menu items. One example of this is Whispering Canyon Cafe at the Wilderness Lodge. They offer standard fare, as well as family style, multi-person options. There may also be variations on family offerings such as a children's menu or an allergy-friendly version.
During the pandemic, restaurants such as Chef Mickey's, which previously operated as a buffet, have switched to family style service, making it a more common occurrence at in Disney dining.
For help finding reservations for family style dining, or any other type of dining, at Walt Disney World, subscribe to TouringPlans and use our reservation finder tool.
Let us know what Disney topics you think need just a bit more explanation.