Mickey's Very Merry Christmas Party 2011 Overview
You read the title right. It's time to take down those Halloween decorations, Christmas is here! With Mickey's Very Merry Christmas Party beginning on November 8, 2011 (I would make a snarky comment here, but we're putting out our Christmas decorations this weekend, and those in glass houses…), it's time for those of you visiting Walt Disney World this Christmas "season" (internal projections show that by 2016, the Christmas Season at Walt Disney World will encompass 7 months of the year) to start thinking about whether or not you should attend Mickey's Very Merry Christmas Party. While the first party has yet to be held, here's what can be expected of Mickey's Very Merry Christmas Party in 2011.
First of all, for the uninitiated, what the heck is Mickey's Very Merry Christmas Party? Well, each year Mickey hosts a wild underground Christmas party from the hours of 2am until 5am at an undisclosed location in Walt Disney World. My sources indicate this year he's occupying the former site of the Adventurers Club. To gain admission to his party, you must know the secret signal (I've heard it's similar to that of The Van Buren Boys) and it's also recommended that you bring your own 20 pound ham for the races.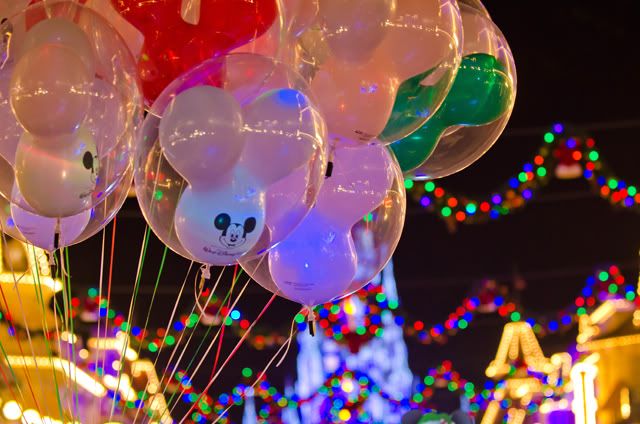 Although the above made-up event sounds awesome (to me, at least), in actuality, Mickey's Very Merry Christmas Party is a hard ticketed special event held from 7pm until midnight in the Magic Kingdom. Conceptually, it's akin to Mickey's Not So Scary Halloween Party. The Party has a separate admission, and Guests are given colored wristbands to verify that they are permitted to roam the park during the Party. Although the tickets are expensive, if you're not an Annual Passholder, the expense isn't too bad if you plan correctly since the Party ticket allows you to enter the park as early as 4pm. I recommend you do not use a regular park ticket earlier in the day, but instead visit a water park or do a self-guided resort Christmas tour. Sarah and I have done this (free!) tour for years, and always have a blast. Doing this instead of using a park ticket on the day of Mickey's Very Merry Christmas Party is a great way to offset the expensive cost of party tickets!
A lot of people rave about the short wait times that can be found during Mickey's Very Merry Christmas Party. I'm not here to editorialize or tell you how to spend your time at the Party, but riding attractions during the Party is foolish. In the many Mickey's Very Merry Christmas Parties we've attended, we've ridden a grand total of one attraction. There is so much special entertainment at the Parties, and such great ambiance to enjoy that you'll be remiss if you spend your time at the Party riding attractions.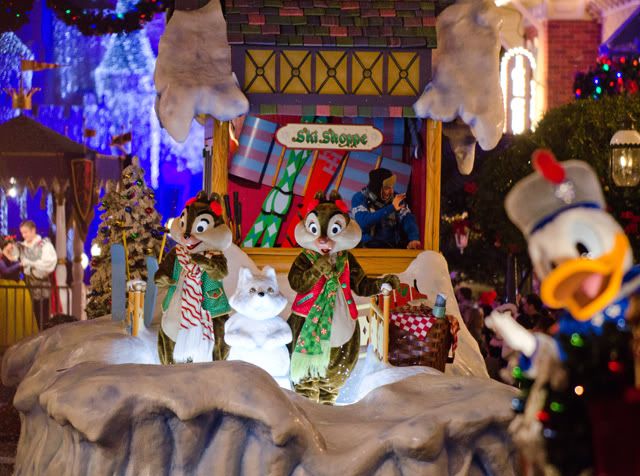 Just what special entertainment is available, you ask? The highlights are "Mickey's Once Upon a Christmastime Parade," the "Holiday Wishes" fireworks show, "A Totally Tomorrowland Christmas" and "Celebrate the Season." In addition to these highlights, there are also  dance parties called "Woody's Hootin' Holiday Open House" at The Diamond Horseshoe and "Cosmic Ray's Jingle, Dance and Play" at Cosmic Ray's Starlight Cafe. On top of that, character meet and greets abound, including rare celeBEARties from the Country Bear Jamboree. I mean, who doesn't want their photo taken with Big Al?! (Judging by the non-existent lines we encounter and general "who's that?" reaction from kids,  I'm guessing the answer to that is "most people.") Expect to see the new additions of Phineas and Ferb to the Christmas Party in 2011.
Mickey's Once Upon a Christmastime Parade is my favorite parade in the Magic Kingdom, although I am partial to Christmas, so it gets the nod over the Boo To You Parade. The Toy Soldiers and Reindeer seal the deal for me. This parade runs from Frontierland to Main Street twice per night. You absolutely should view this. The earlier parade is generally (slightly) more crowded, so if you know you only want to see it once, watch the later parade. That said, this parade is so awesome that we always watch it both times. If you've never seen it, I recommend viewing the first showing just in case you want to watch it a second time. If you bank on "just" watching the second showing, you don't have the option of watching it again if you really enjoy it! Rumor has it that Duffy the Bear will be featured on Mickey and Minnie's float for the first time this year!
Holiday Wishes – Celebrate the Spirit of the Season is a fireworks spectacular that occurs once per night during the Party. With an amazing soundtrack and special effects, this show is not to be missed. The best viewing location is unquestionably on Main Street, USA. If you aren't attending Mickey's Very Merry Christmas Party on a Party night and have nothing to do, head over to the Transportation and Ticket Center or beach of the Polynesian Resort and enjoy the show from there. Both locations offer breathtaking views.
A Totally Tomorrowland Christmas is shown on the Rockettower Plaza Stage in Tomorrowland multiple times throughout the night. This is a relatively new addition, and is the "replacement" for the brilliant "Mickey's Twas the Night Before Christmas." While not nearly as good as its predecessor, we've found it surprisingly enjoyable. It does have a high cheese factor, but it's a fun show, nonetheless. My wife and I find ourselves quoting some of the especially cheesy lines from the show throughout the Christmas season. The show is a high energy Christmas bash with Buzz Lightyear, Stitch, and crazy space-dancers. It features singing, dancing, and the typical mischief of Stitch as he hunts for Santa Claus. Similarly, Celebrate the Season is performed on the Castle Forecourt Stage a few times per night. This show features the Fab Five plus other Disney characters in their holiday finery and includes an appearance by Old Saint Nick…as a dog?! I recommend catching one of the earlier showings of this, as you just might want to watch it more than once.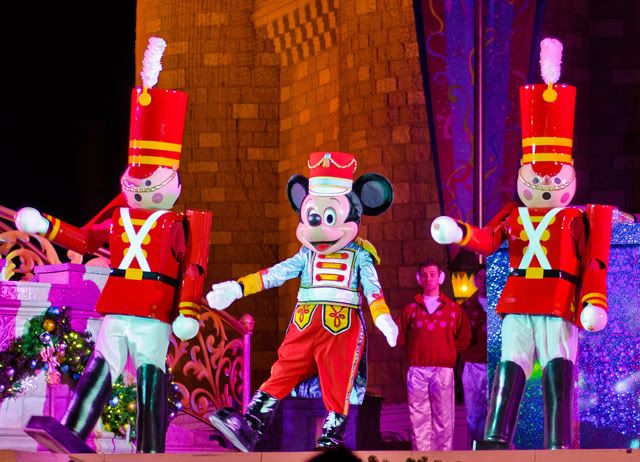 Now, what is so special about the ambiance, you ask? For starters, the Christmas spirit is palpable during the Party. There are decorations galore, some of which are put up specially for the Party; Cast Members wear awesome festive costumes (imagine the best Ugly Christmas Sweater Party costumes imaginable, and I mean that in a good way; these costumes are intentionally over-the-top, and look very cool); special area music in each land that is only played during the Party (the Main Street USA and Tomorrowland loops are personal favorites of mine); unique lighting used throughout the park to make all of the buildings a little more festive; special merchandise; and, of course Cinderella Castle is lit up with the Castle Dream Lights. Oh, and on Main Street it even snows! Snow in Florida?! How cool is that?!
In addition to the entertainment and ambiance, special treats are offered for free (well, you did pay for admission) during the event. Several stations offer hot chocolate, sugar cookies, and apple slices.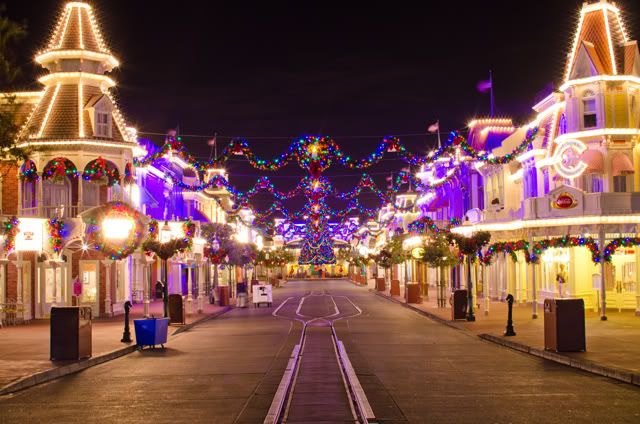 Overall, as you can probably glean by my upbeat summary, I highly recommend attending Mickey's Very Merry Christmas Party if you've never been. While I think overall Mickey's Not So Scary Halloween Party offers a little more bang for your buck, Mickey's Very Merry Christmas Party is definitely well-worth the money. For my less-objective summary and review, read this.
Now that it's settled that you're attending the Party, here's some helpful information to assist you in planning when to attend.

Dates:
November 8, 9, 11, 13, 15, 18, 27, 29, and 30
December 2, 4, 6, 7, 9, 11, 13, 14, 16, and 18
Note: After December 18, the parade and fireworks will be offered daily during regular park hours with no extra cost.
Pricing (all prices listed include tax):
Advance Purchase Price: $60.66 (Ages 10+), $55.33 (Ages 3-9)
Day of Event Price: $67.05 (Ages 10+), $61.72 (Ages 3-9)
Disney Vacation Club or Annual Passholder Price: $56.40 + tax (Ages 10+), $51.07 + tax (Ages 3-9)
Note: DVC and AP discounts valid only November 8, 9, 11, 13, 15, 29, 30 and December 4, 6.
Click here for a list of attractions open during the Party.
So, will you be attending Mickey's Very Merry Christmas Party in 2011? Have you attended in the past? Think it's a good or bad value? Let us know in the comments!