10 Rides That Are Better at Disneyland than Walt Disney World
In a previous blog, I talked about some excellent rides at Disneyland that aren't even at Walt Disney World.  Several of you named some rides that while located at both parks, are just better at Disneyland.  In some cases, the Disneyland version is superior enough to consider them two different rides.  I agree!  Here are some rides located at Disneyland that are superior to their Disney World counterparts.
 1. Space Mountain.  Space Mountain is sooooooooo much better at Disneyland.  It's smoother, darker, the cars are set up better, and the loading process is better (just watch how they load the handicap-accessible cars–it's really ingenious and cool).  It's just better!!  At Disneyland, you ride side-by-side with another rider, and it is so smooth (I mean remarkably smooth).  It also has some great holiday overlays.  All this greatness did come at a price, however!  Space Mountain closed for 2 years at Disneyland for a complete overhaul.  That was painful for visitors!  But it was ultimately worth it.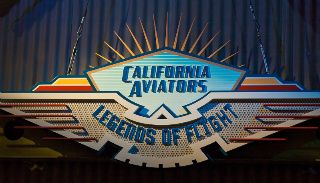 2. Soarin' Over California.  Technically the rides are the same.  I put Soarin' at Disneyland over the Disney World version not because it's the original, but for two reasons.  One, it makes sense!!!  It is Soarin' Over California after all!!  Altering the title in Florida doesn't really help it make sense there.  The second reason is the queue.  The queue at Disneyland is super detailed and appropriate.  First, you enter the ride from an aviation-themed part of the park called Condor Flats.  You then enter a standalone building that looks like an aircraft hangar.  Once inside, you pass lots of aviation themed pictures and memorabilia from famous aircraft, as well as a section dedicated to some of the true pioneers of aviation.  Finally, there's an aviation themed counter service restaurant, Taste Pilots' Grill, right outside the entrance.  All in all, it's a complete experience that ends with a great ride that is themed perfectly for a park inCalifornia.
3. Grizzly River Run.  The Unofficial Guide says Disney learned from its mistakes at Disney Animal Kingdom's Kali River Rapids when it built Grizzly River Run.  It did.  It's a similar ride, but it's better.  It's longer and better themed.  Although Kali has a great queue, the ride itself has sections where it feels like someone forgot to theme it.  And right when you're settling in, you're done!  Grizzly River Run is much more exciting.  The ride also has some wonderful walking areas around the ride, including some beautiful locations to take family photos with a waterfall in the background.
4. Pirates of the Caribbean.  Pirates of the Caribbean is amazing at Disneyland!  I've heard some fans say they won't even ride the Disney World version anymore (that's a bit drastic in my mind, but I hear what they're saying).  Disneyland's version is almost 7 minutes longer!  The Disney World version feels rushed in comparison.  At Disneyland, the ride has a nice leisurely pace with an extra drop thrown in for excitement.  As a poster pointed out in a previous blog, floating by the Blue Bayou is also very nice touch!  This is definitely one of the rides that some people think is so much better, that it really isn't the same ride as its Disney World counterpart.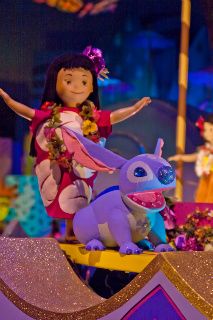 5. it's a small world.  In 2008, it's a small world was redone adding some popular Disney characters to the mix.  Hardcore fans were in an uproar!  Was Stitch going to be terrorizing the dolls of the world?  When it opened, most people breathed a sigh of relief.  The popular Disney characters were subtly and wonderfully blended into the classic ride.  And the holiday version?  It's excellent!  Add that to the fact the Disneyland ride is longer than the Disney World version, and is in its own beautiful, standalone building, and Disneyland's version definitely wins!
6. Disneyland Railroad.  Disneyland's railroad is basically the same loop around the park that you will find at Disney World's Magic Kingdom.  But, Disneyland throws in a Grand Canyon Diorama and some Primeval World components to make it a little more interesting.  The dinos are animatronic but they don't scare the pants off you like they do in DINOSAUR at Animal Kingdom!  They're just fun distractions!
7. Autopia.  Autopia is a richer experience than the Tomorrowland Speedway at Magic Kingdom.  The sights are more interesting, and the cars are cooler!  The track is longer and everybody gets a drivers license!  Of course, then Disney gives you the opportunity to spend more money to put your picture on the drivers license (shocking, I know!), but the Autopia drivers license is a cute souvenir either way.
8. Tarzan's Treehouse.  This one is completely personal preference.  I loved the movie Tarzan.  I loved the music, I loved the characters, I loved the message, all of it.  I hate that no other Tarzan attraction has made it in either Florida or California.  Tarzan Rocks! anyone?  Here you follow pages from Jane's sketchbook as they tell the story while you pass by various scenes.  This may not be a great representation of the movie, but it does make sense and I enjoy it.
9. Buzz Lightyear Astro Blasters.  I've read some comparisons between Disney World's Buzz and Disneyland's Buzz, and most people seem to think they are pretty much equal.  I totally disagree for one reason–you can pick up your gun at Disneyland!!  The ride is so much better  when you are actually holding your gun!  You're not chained to shooting at the targets right in front of you, and you can swivel around to your heart's content!  This is especially helpful when you are in the car with a 4 year old who insists on steering.
10. Haunted Mansion.  I wouldn't necessarily give the edge to this ride at Disneyland during most of the year.  The ride exteriors are both wonderfully themed, and the new interactive queue at Disney World is full of surprises.  The thing I love about Disneyland's version that Disney World's doesn't have, however, is a holiday overlay.  Every year in late September, they shut down the ride for two weeks or so, and put in a remarkably detailed Jack Skellington/The Nightmare Before Christmas overlay.  To tell you the truth, I'm not even a big fan of the movie!  I never quite got it!  But the overlay is so much fun, and I'm always amazed at how many park guests dress in Jack Skellington garb during that time of year!  I love it when my favorite rides are changed up a little.  Even if only for a little while!
How about you?  Did I leave any out?