Disney Park Strengths and Weaknesses: Animal Kingdom
Are you a Disney Park critic? I know, it's hard to be critical of anything Disney (at least I think so), but even I have to admit that I've experienced a few things that some parks don't do as well as others. Of course, there's also a number of things that each park does very well! Today, I'm breaking down Disney Park Strengths and Weaknesses beginning with a park that's somewhat in transition right now: Animal Kingdom.
Disney's Animal Kingdom Park is still a new park when compared with the other Disney World Parks and perhaps the most difficult to explain. What you should know right off is that Disney did not intend for this park to be a zoo, but rather a new type of theme park where the entertainment and is living and breathing. Animal Kingdom opened for guests appropriately on Earth Day in 1998 and is currently home to more than 2,000 animals and currently in a transition as construction continues for new nighttime entertainment and the addition of Pandora – The World of AVATAR.
So let's start with Animal Kingdom's strengths, shall we…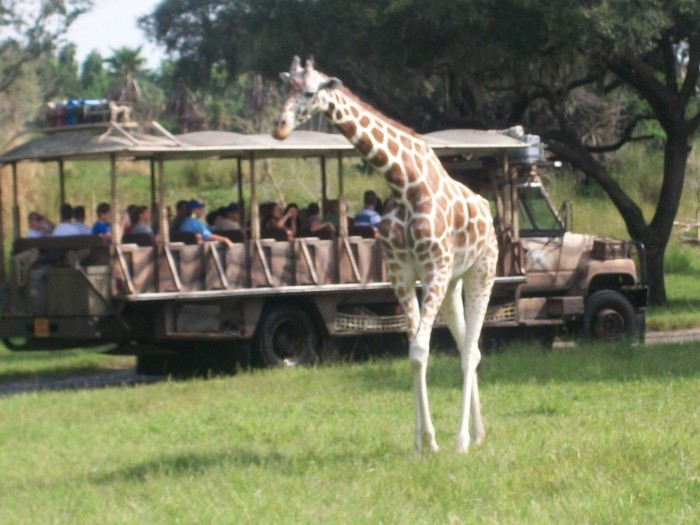 Strengths:
Awesome Attractions – Kilimanjaro Safaris, found at Animal Kingdom's Africa, is one of the most amazing attractions Disney has ever produced and possibly one of the most ambitious! Kilimanjaro Safaris is pretty much the closet thing to a real Africa safari. Seriously, you will have a hard time remembering that you're in Central Florida while aboard this attraction. Guests of all ages begin their adventure with boarding an open air vehicle and then set off for a ride through the Harambe Wildlife Reserve to observe the 34 different species of African wildlife. The best part is that these animals are roaming free, just as they would in the wild, and they may pass right by your vehicle! It's one of the best experiences Disney offers, a huge hit with every member of the family, and embodies the idea that this park offers a whole new type of live entertainment! Another awesome attraction at Animal Kingdom is Expedition Everest. This coaster, found in the Asia section of the park, is packed full of thrills and is the perfect example of Disney storytelling. The attraction takes place in a massive, snowy mountain, Mount Everest, where guests aboard a expedition train are chased in and out of the mountain by the legendary Yeti! This coaster is especially unique in that it goes backwards at one point during your ride! In my opinion, Kilimanjaro Safaris and Expedition Everest are worth a visit to Animal Kingdom alone.
Less Structured – Something particularly refreshing about Animal Kingdom is that it's much less restrictive than the other parks. What I mean by this is that there are a number of things to do that don't require lines or queues. For example, consider the Oasis at the entry of the park. There is no set path to reach Discovery Island. Instead, guests are free to wander whatever way they please, possibly seeing some wildlife along the way. The Discovery Island Trails to explore, Pagani Forest Exploration Trail, and the Maharajah Jungle Trek all allow guests to take their time and see what they want to see for as long as they want to see it.
Animal Kingdom Lodge – While this resort isn't exactly in Animal Kingdom, it's right next door and allows guests the ability to stay immersed in exotic cultures and close to the wildlife. The lodge consists of two buildings: Jambo House and Kidani Village. Jambo House is home to the main lobby, which is truly something that everyone should see, and a number of the resort's famous restaurants like Jiko and Boma. Kidani Village houses the resort's Disney Vacation Club Villas and the popular restaurant, Sanaa. Both Jambo House and Kidani Village offer Savanna View Rooms which allow guests to watch African wildlife from their guest rooms. The only problem is that you may have a hard time pulling your kids away to go to the parks! I have to mention Zebra Domes too. They can only be enjoyed at Animal Kingdom Lodge and seriously one of the best desserts you will ever have. Trust me on this. I may or may not have driven to Animal Kingdom Lodge just for Zebra Domes in the past…
Unique Snacks & Treats – Animal Kingdom is home a to a number of unique snacks and treats which I make a point to sample when I visit the park. The Beastly Kiosk at Discovery Island offers yummy baked lobster macaroni and cheese and Mickey pretzels, and the Gardens Kiosk has several unique salads and beverages such as Cucumber-Mint Pomegranate Lemonade and Chilled Green Tea infused with orange blossom honey. The new Harambe Market features a wide selection of snacks, ranging from skewers to ribs to a curry corn dog, but Tamu Tamu Refreshments, Zuri's Sweets Shop, and Kusafiri Coffee Shop and Bakery is where I go to satisfy my sweet tooth. Tamu Tamu offers Pineapple Dole Whips, Kusafiri is famous for their "wild" gourmet cupcakes, and Zuri Sweets Shop is a bakery featuring a variety of healthy and exotic treats and animal-themed cupcakes.
Rare Characters – At Animal Kingdom, guests get to meet and greet with characters that they probably won't find regularly at the other parks. Currently, Animal Kingdom guests can meet Tarzan, Russell and Dug from Up, Rafiki from The Lion King, Pocahontas, Baloo and King Louie from The Jungle Book, and even Flik from A Bug's Life!
Weaknesses:
Hot and Exhausting – I don't know what it is, but Animal Kingdom always feels hotter than anywhere else on Disney World property. Can anyone else relate to this, or am I the only one? There's also less indoor things to do here than at other parks, so be sure to carve out time for the park's awesome shows, such as Festival of the Lion King, Finding Nemo – The Musical, and It's Tough to Be a Bug! in order to get some much need A/C and to rest your feet.
Off-the Mark Attractions – Some attractions at Animal Kingdom are a little scary. Which ones? It's Tough to Be a Bug, while funny, provides a little too much stimulation and can creep out little ones. While adults and older kids may chuckle a time or two during the show, it's not exactly geared towards them either so it falls a little short. Also, adults who hate bugs will find it just as scary as the kids. DINOSAUR is also more terrifying than it is fun, and not impressive enough to earn a spot on teens and adults favorites list; and while some of you readers may not agree with this, I feel that Kali River Rapids is somewhat of an off-the mark attraction too. While raft rides in general are fun and it can feel good to get soaked, particularly if visiting during the summer, it can also create discomfort for the rest of the day and the ride experience itself isn't a stand-out. Finally, there's the attractions at DinoLand U.S.A. such as Primeval Whirl and TriceraTop Spin. I don't think guests totally get the theme of this area and the attractions themselves don't seem to live up to the standards or creativity that Disney World guests expect.
Lack of Attractions – While Animal Kingdom does have some great attractions, as I've mentioned when discussing its strengths, there isn't exactly a lot of them. This has caused many Disney guests to refer to Animal Kingdom as a half day park. Personally, I think that depends on your approach to the park. If you're looking to slow down, appreciate the scenery and wildlife, and explore, then Animal Kingdom is easily a full day park. If slowing down and a more discovery based park experience isn't for you, then Animal Kingdom may be a half day park. Fortunately, the park is working on some new additions, such as Pandora – The World of AVATAR and the new "Rivers of Light" show which should hopefully give guests more of a reason to visit and to stay all day.
Lack of Table Service Restaurants – Walking and exploring can really make a guest hungry! Unfortunately, Animal Kingdom doesn't have a wide variety of table service restaurants, or at least restaurants that I would consider dropping a lot of cash for. I like the Yak and Yeti Restaurant, but I should add that the cuisine isn't a hit with everyone in my family, and I also love Tusker House. But honestly, that's about it unless you count Rainforest Café, but I'm not a fan of their menu and I can dine at one of their other locations anytime. Perhaps Disney realized this weakness as well as they recently announced that the park is getting a new signature restaurant called Tiffins in 2016! In the meantime, I may take advantage of Animal Kingdom Lodge's dining options when visiting the Animal Kingdom Park.
The good news is that I believe Animal Kingdom has more strengths than weaknesses, and despite it's faults it's still one of my favorite places to be in all of Walt Disney World. But what I want to know is your opinion of my list of Animal Kingdom strengths and weaknesses? Do you agree or disagree? Do you have a strength or weakness to add to the list?h