Disney Resort Kitchen vs. Kitchenette: What's the Difference?
In addition to standard hotel rooms, many of the resorts at Walt Disney World feature "villas." Villas are rooms that are part of the Disney Vacation Club, though anyone may stay there. The villa rooms, plus rooms at two other hotels, all feature kitchens or kitchenettes. As you plan where to stay on your vacation, knowing the difference can ensure that you make the right choice of accommodation for your family.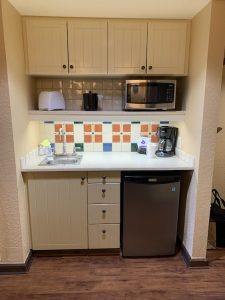 First things first, here's a list of the Disney World resorts that have some rooms with kitchens and some with kitchenettes:
Animal Kingdom Lodge resort (Jambo House Villas and Kidani Village Villas)
Beach Club resort (Beach Club Villas)
BoardWalk resort (Boardwalk Villas)
Contemporary resort (Bay Lake Tower)
Grand Floridian resort (Villas at Disney's Grand Floridian Resort)
Old Key West resort
Polynesian resort (Polynesian Villas & Bungalows)
Riviera Resort
Saratoga Springs Resort
Wilderness Lodge resort (Boulder Ridge Villas and Copper Creek Villas & Cabins)
Additionally, these resorts have some rooms with kitchenettes, but none with kitchens:
All-Star Music
Art of Animation
Also note that the treehouse rooms at Saratoga Springs, the bungalows at Polynesian Village, and the cabins at Fort Wilderness and Wilderness Lodge all have full kitchens.
In general, the kitchens have appliances, dishes, and cookware that you might find in a home, whereas the kitchenettes have appliances, dishes, and cookware that you might find in a dorm or temporary living space. Here are the specifics: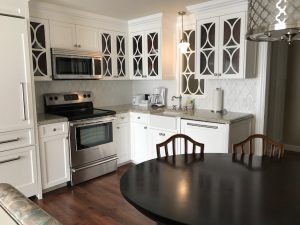 Refrigerator
Kitchen: Full-sized unit with freezer.
Kitchenette: Compact, dorm-sized unit. Some may have a freezer compartment, but most don't.
Microwave Oven
Kitchen: Yes
Kitchenette: Yes
Conventional Oven
Kitchen: Full-sized oven with broiler capability
Kitchenette: None
Cooktop
Kitchen: Four burner electric cooktop
Kitchenette: None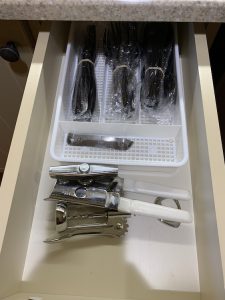 Dishwasher
Kitchen: Full-sized dishwasher
Kitchenette: None
Sink
Kitchen: Full-sized sink
Kitchenette: Small bar-sized sink
Clothes Washer/Dryer
Kitchen: Full-sized stacked washer/dryer in room
Kitchenette: None (though these are available elsewhere on property)
Flatwarehttps://touringplans.com/blog/disney-resort-ki…s-the-difference/
Kitchen: Reusable metal knives/forks/spoons
Kitchenette: Single use, individually wrapped, plastic knives/forks/spoons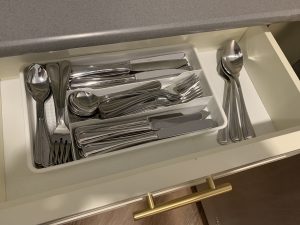 Plates/Bowls
Kitchen: Reusable ceramic plates and bowls
Kitchenette: Single use paper plates and bowls
Mugs/glasses
Kitchen: Glasses, including wine glasses, in several sizes plus ceramic mugs
Kitchenette: One size of glasses and ceramic mugs in some units, only single-use paper cups in others
Knives
Kitchen: Metal table knives, plus steak knives and several sizes of sharp kitchen knives
Kitchenette: Single use plastic only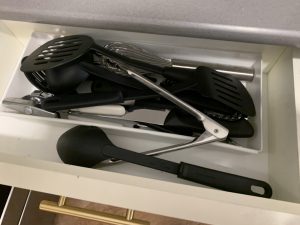 Pots and Pans
Kitchen: Frying pan, sauce pan, pasta pot with lid
Kitchenette: None
Toaster
Kitchen: Standard two-slice toaster
Kitchenette: Standard two-slice toaster
Coffee Maker
Kitchen: Yes, size and brand vary by resort
Kitchenette: Yes, size and brand vary by resort
Miscellaneous cookware
Kitchen: Baking sheet, mixing bowls, measuring cups and spoons, spatula, more
Kitchenette: Can opener, bottle opener, cork screw
Dish towel, paper towels, and sponge
Kitchen: Yes
Kitchenette: Yes
If you have a medical need to prepare your own meals, or if you're visiting Walt Disney World for an extended stay where you don't want to indulge in frequent restaurant dining, then you might want to make your room/resort selection based on the availability of a full kitchen. Most quick breakfasts, snacks, and sandwich making can easily take place in a kitchenette.
The units with full kitchens are typically much larger than those with just kitchenettes (though the Art of Animation suites have kitchenettes only and rival some of the one-bedroom villas with full kitchens in terms of space and other features). If your party needs extra space, then a full kitchen might be a happy accident of your booking. However, the full kitchen units are typically much more expensive than those with kitchenettes, which are in turn typically more expensive than standard hotel rooms. If you don't need the space or full cooking capabilities there's rarely need to pay the higher rate for these accommodations.
Have any other questions about kitchens and kitchenettes? Let us know in the comments.

First published February 18, 2021. Updated September 8, 2021.