Disney Wonder Trip Report: Cabo San Lucas
My family just got back from our first Disney cruise in three years! We sailed on the Disney Wonder on a 4-night cruise out of San Diego, stopping in Cabo San Lucas before turning back around. I've already covered planning and logistics that went into the cruise, as well as all of the fun we had while on the ship. Today I want to bring you along for our time in port at Cabo! I'll talk about how Disney Port Adventures work, the specific one we went on, and all of my other random thoughts and suggestions.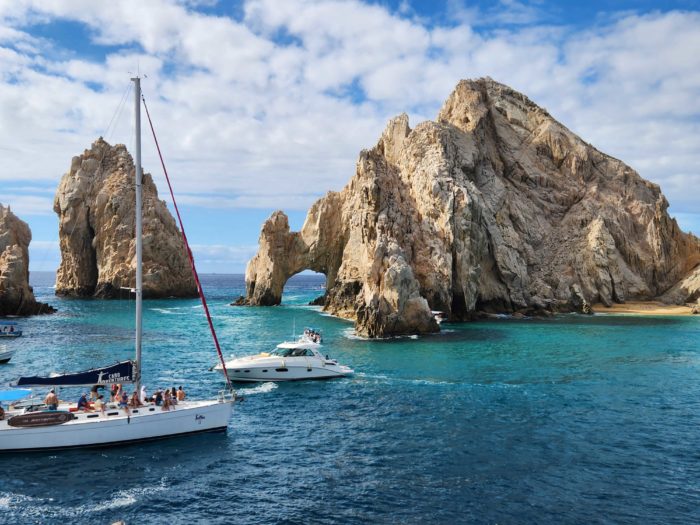 Preparation
When we entered our room on embarkation day, we already had an envelope clipped into our fish. It contained a waiver that each adult in our party had to sign. And in our Navigator app, we had information about when and where to meet for our Port Adventure as soon as we boarded. Our Port Adventure was the Coastal Cruise and Beach Break, and it cost $89 per adult and $59 per child.
There wasn't much more work to do other than trying to speed our morning along by packing our day bag the night before, and setting out our swimsuits and clothes so that we could quickly go eat some breakfast before our assigned gathering time – 8:35 am.
Port Morning
We woke up around 7:30 am, after our late night watching Frozen. We quickly realized that we were not yet in port (thanks, engine noises), and it looked like we still had quite a way to go. We got dressed in our swimsuits and cover-ups, grabbed our waiver and day bag, and made our way up to breakfast at Cabanas.
Breakfast was already quite busy by the time we made it up to Deck 9, but we managed to grab a table by the window on the port side. If you're on a cruise heading to Cabo from San Diego, this port side is where you'll want to be in the morning. The views of the coastline became increasingly picturesque as we finished up our meal and got closer to docking for the day. We were originally intended to be anchored by 8 am, but our arrival was slightly delayed, with the ship coming to a complete stop a little after 8:30 am.
Our Port Adventure was told to gather in D Lounge at 8:45 am, but also "to be there around 10 minutes before the gathering time". Um, okay. 8:35 it was. We joined the moderate line, and once we got to the front we had our waivers collected, our passports checked (for adults), and were reminded to make sure that we had the room keys available for every member of our sailing party.
Two different Port Adventures were gathering in the D Lounge, so we were given a character sticker according to which Port Adventure was ours (hey there, fellow Minnie sticker folks), and instructed to take a seat and wait to be cleared to disembark. We were also warned that we could not bring any food to shore that wasn't in its original packaging.
In the D Lounge, Wonderful World of Mickey cartoons were playing to keep the kids – and adults – entertained, and there were towels available for anyone that needed them on their Port Adventure. We picked up four so that we could use them on our Beach Break.
Around 9 am, the ship was cleared by the local authorities, and so we were escorted down to Deck 1 to begin the tendering process.
Tendering
Cabo is one example of a port where the water depth is insufficient for large cruise ships to pull directly into port. Instead, they have to anchor away from shore, and smaller tender boats pull up and ferry passengers to shore and back to the ship. Disney does not own its own tender boats, and therefore contracts with local companies to provide this service. This means that these locals will likely accept gratuities since they are an additional service.
Passengers participating in Disney's offered Port Adventures are given first priority in the tendering process. This makes a big difference on port days like ours, when the first tender didn't leave the ship until around 9:15, and the last tender departing shore and heading back to the Wonder was leaving at 3 pm. That's a short amount of time, and I heard that non-Port Adventure folks didn't get the chance to catch a tender until close to 10:30 am. This will have an impact on the amount of time you can explore on your own, or when you'd be able to meet up for a third party shore excursion.
Our port day had many large waves, so the tenders were difficult to enter and exit as the bobbed up and down significantly. It also made the trip from ship to shore (or back) much more uncomfortable for folks like me that struggle with sea sickness.
Coastal Cruise
The first part of our Port Adventure was a short cruise out to Los Arcos on a catamaran. On this particular day, we had a triple-deck catamaran. We had unlimited beverages (the Disney description only promised one beverage), and the trip had an audio track that described the landscape, the sea, the history of the area, and the local wildlife. This part of the Port Adventure was even better than we expected. Sitting on the top deck of the catamaran offered stunning views, and easy access to more beverages. The seating was incredibly comfortable, even though we were frequently out of our chairs and looking around. The larger boat also helped cut down on the wave motion that was very obviously rocking all of the many smaller watercraft swarming the same area.
I think the pictures from this part of the Adventure tell more about it than my words ever could, so I'll stop my typing and show those instead.
Beach Break
After our cruise got back to the dock, we were escorted to a charter bus that would take us to our Beach Break. We were supposed to have a "narrated trip" through downtown … but there's not much to narrate. I guess they could have told us all about Senor Frog's if they wanted to. Nonetheless, it was a quick ride over to our beach stop for the day.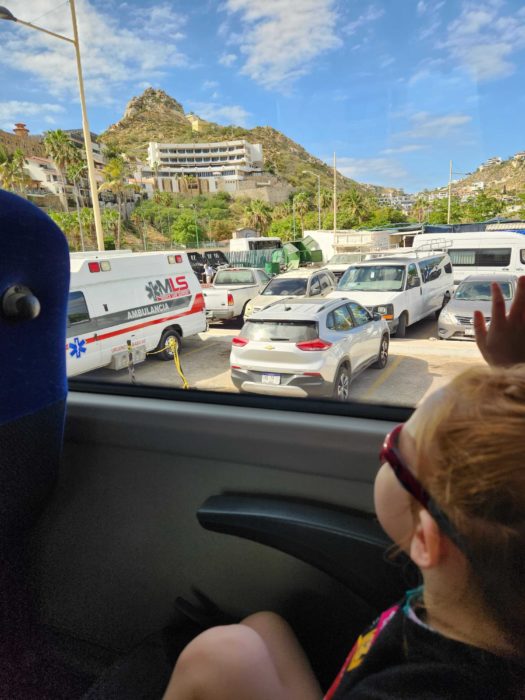 We walked down a rather steep and narrow road and arrived at our beach spot. This was part of a resort, and was essentially a miniature day pass. We were allotted one beach chair per person, and one table/umbrella for every two beach chairs. We had a roped off section of the beach where all of these chairs were located, and local vendors weren't allowed in that area. We were also given one lunch ticket and two drink tickets per person, which were redeemable when placing orders with our waiters.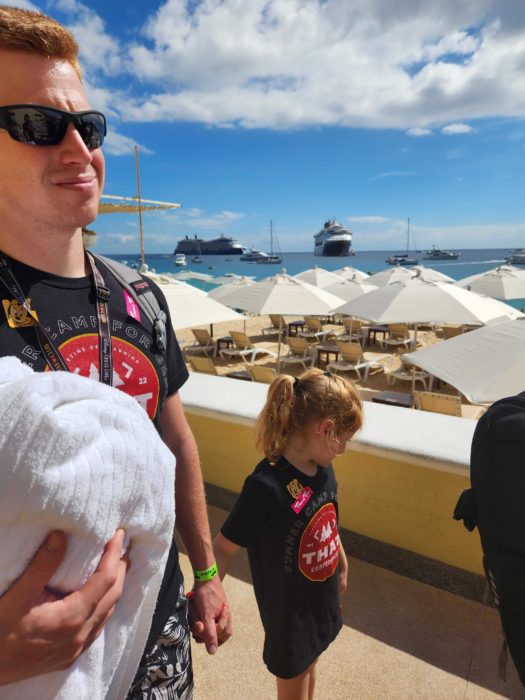 There was good and bad for this part of the trip. The description when booking promised 2.5 hours on the beach, and we only got 2 hours, including lunch. This meant that my family lost a good 15 minutes to sunscreening all of our pale selves too. Ha! 2 hours quite simply wasn't enough time. Additionally, lunch and drink orders could only be placed through the waiters serving our roped-off area, which was slightly removed from the water. There were only two waiters for almost 50 people, and they just couldn't keep up with demand. Unfortunately, that meant you had to hover around your chairs for them to become miraculously free if you wanted any chance at food. And that took away from time playing in the waves.
It was really quite fun to play in the ocean with the Wonder immediately in the background. And it made for great pictures too! But also keep in mind that when waves are high (like they were this day), waves are strong on the shoreline too. There were multiple instances of fellow passengers in our group that had to get assistance from the lifeguard on duty to get back up and out of the water as the strong waves kept pushing them over and pulling them out. Know your own limits, and keep an eye on your kids if you have them.
After our short two hours had passed, we were shepherded back to our bus and to the dock. We got in line for a tender back to the ship. Our passports were checked before we were allowed to board the tender, and we were offered cool hand towels and water. This is also where we dropped off the towels we had borrowed. Once our tender made it back to the ship, our room keys were scanned and we went back through security.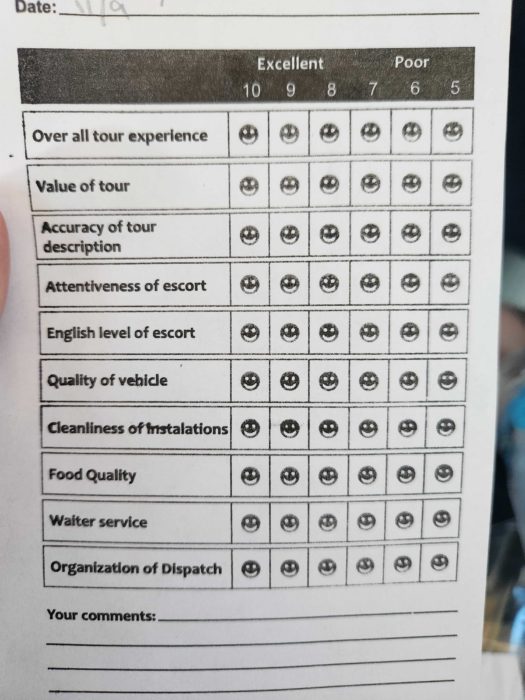 Back on the Ship
Our Port Adventure got us back to the dock around 1:30, and we were back to the ship by 2:00 pm. Since the hours in port were so short, lots of passengers aimed to take the latest possible tender back to the ship. That tender left the dock at 3 pm and returned to the ship at 3:15 pm. We were promised that tenders would be running every 10 minutes, but in actuality it was more like every 5 minutes. Each tender held up to 50 people. So between 2:00 and 3:15 pm, that was 750 people that we "beat" back to the ship.
Exploring the ship during a port day is a really fun thing to do. In hindsight, we should have used some of this time to let the kids use the slide and the pool. It was just too cold and windy the next day. Instead, we realized our exhausted children needed baths and rest. We did those things and then got an early start on meeting characters for Pirate night.
Tempted to Book Your Own Cruise?
I highly recommend it! I'm a Disney World fan, and you all know that I love all of the planning. But a Disney cruise is so much more relaxing, and the service is absolutely next-level. I have some options for you if you want more information or want to explore booking your own cruise!
Read anything and everything that Erin Foster writes – she's the queen of all things DCL and author of the Unofficial Guide to Disney Cruise Line
Follow me on Instagram (@raisingminniemes) as I post detailed information and tips from our cruise daily over the next few weeks
Reach out to the TouringPlans Travel Agency and get yourself a quote! They can find you a good deal.
This brings us to the end of my Disney Wonder trip report! What questions do you have? Are you preparing for an upcoming Disney cruise? Let me know in the comments!