The SATURDAY SIX Looks at CHRISTMAS in Universal's Wizarding World
This week's SATURDAY SIX takes a look at CHRISTMAS in Universal's WIZARDING WORLD! During the spooky season at the Universal Orlando Resort, the Wizarding World of Harry Potter releases its "dark side," but once the calendar flips to November 1st, witches, wizards, and muggles alike celebrate the wonder of Christmas. How? Well, glad you asked because let's kick it off by looking at…
# 6 – Seasonal Treats
There are many details throughout Universal's Wizarding World that are essentially "Easter Eggs" as well as deep dives into Potter Lore. Take the iconic Chocolate Frogs found in WWoHP for example. Each Chocolate Frog comes with a wizard card and when Hogsmeade Village opened in 2010 there were five total cards available, one featuring Albus Dumbledore, and the others representing the Four Founders of Hogwarts. Since then, there have been dozens of cards which have been released, with many featuring obscure characters featured only in Harry Potter supplemental media. How obscure are these characters? Well for this year's Christmas season, the special card being released is for Beaumont Marjoribanks. Never heard of Beaumont? Don't feel bad, as Beaumont's only other references were seen to players of Harry Potter video games.
So it should come no surprise that the cute Ginger Newt cookie seen below is not only a fun snack, but it has ties to the Harry Potter Universe. The Ginger Newt was mentioned in the Harry Potter and the Order of the Phoenix book when Professor McGononagall offers one to Harry Potter after the Boy Who Lived had a row with Dolores Umbridge.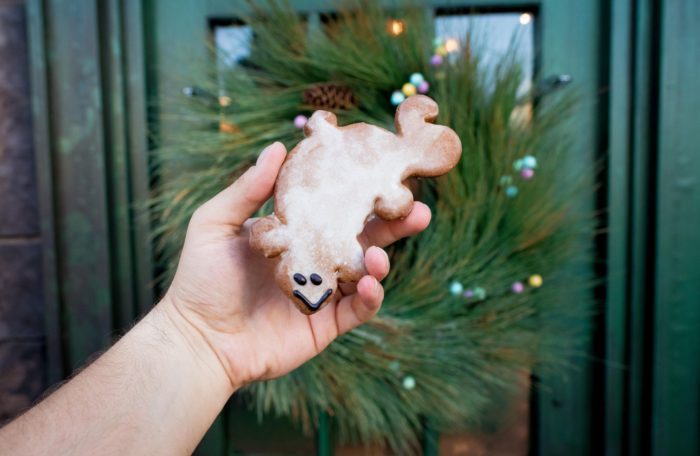 The chocolate and vanilla No Melt Ice-Cream flavors are available throughout the year. Several years ago the "love potion" flavor was added into the mix. For the holiday season a fourth flavor is available with mint.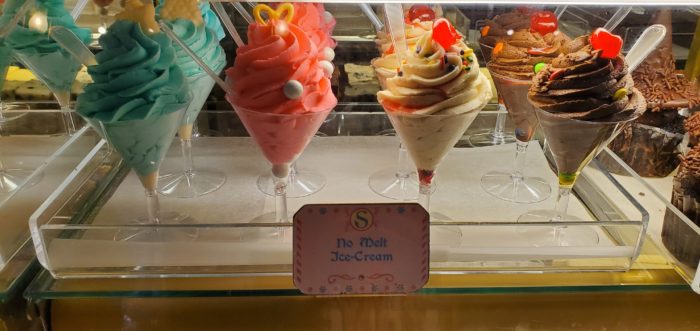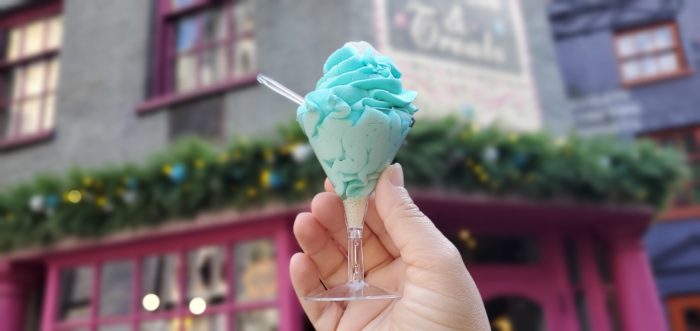 The special mint season flavor No Melt Ice-Cream is topped with a snowflake edible treat.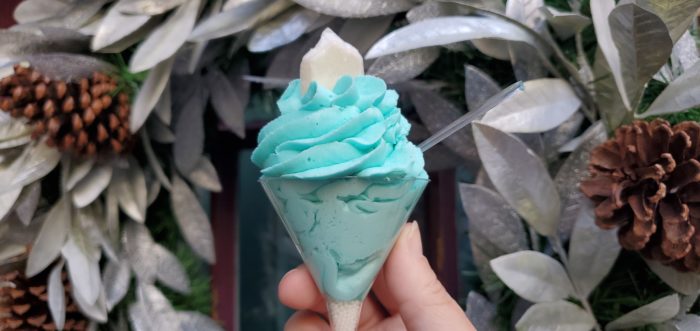 No Melt Ice-Cream is basically eating straight frosting, and what Muggle doesn't love that?!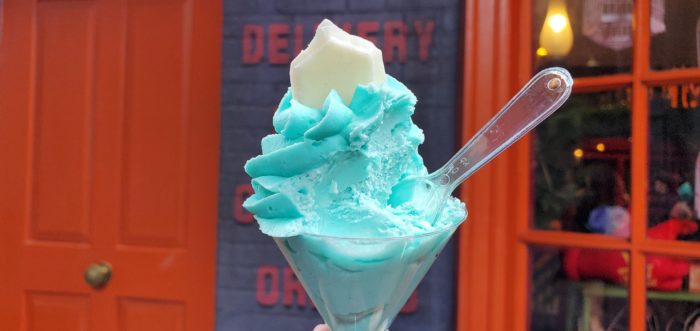 For years after making its debut in 2014, Hot Butterbeer was something you could only buy during the Holiday season, but thankfully someone came to their senses and it is now available year round. We're putting it in this section because of the drink's seasonal history, but also as a reminder that Hot Butterbeer is hands down the best tasting version of Butterbeer.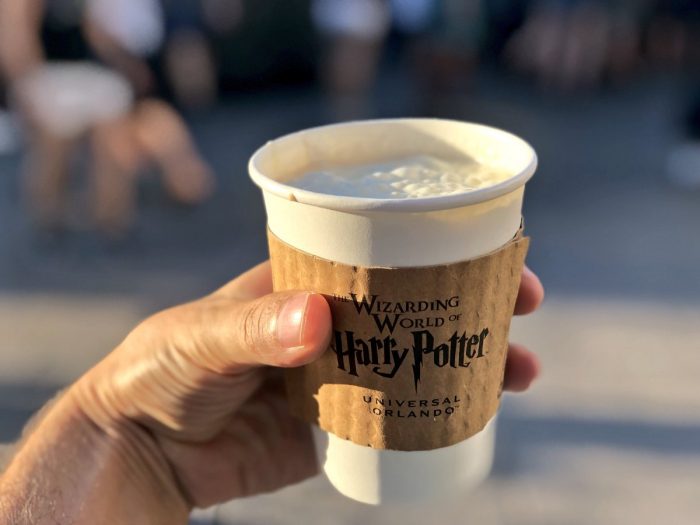 # 5 – EVERYTHING IS DECORATED
The Whos in Whoville sure know how to decorate Seuss Landing for the Holiday season, but the witches and wizards in the Wizarding World don't hold back either. EVERYWHERE you look you'll see decorations put up for Christmas, right from when you walk into Hogsmeade Village…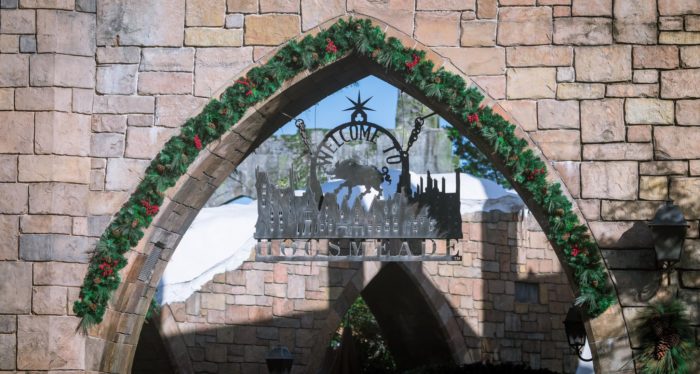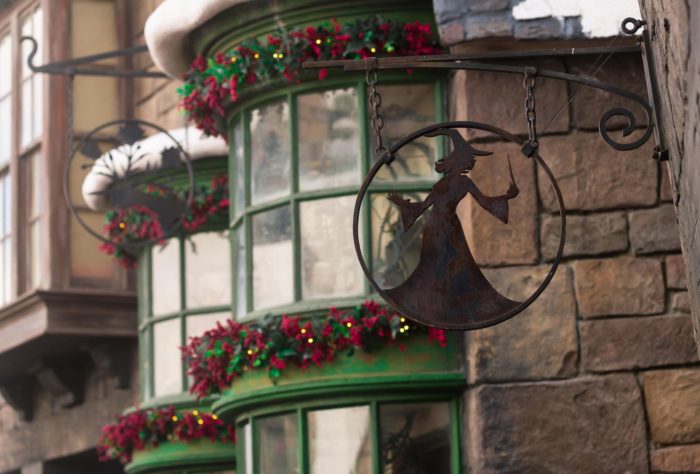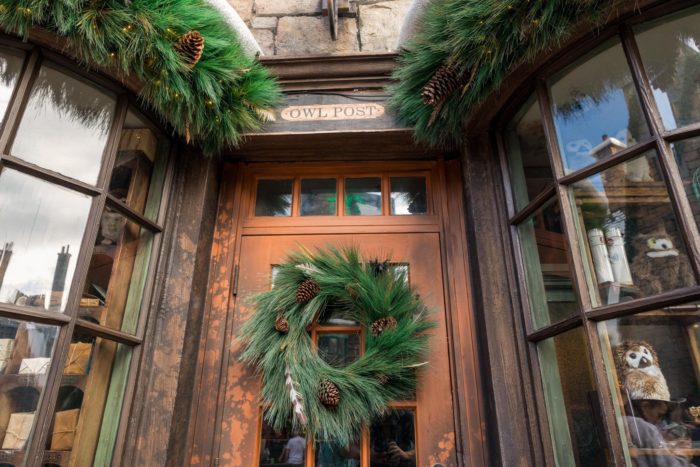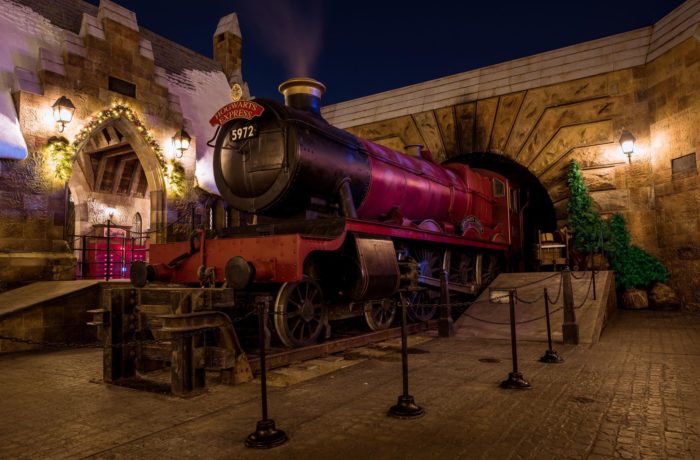 At night, Hogsmeade Village lights up thanks to so lights being installed.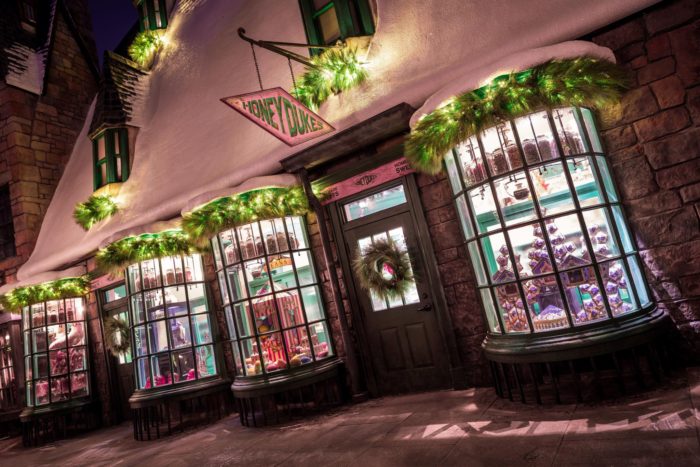 Outside the stores… inside the stores… like we said,  everywhere you look!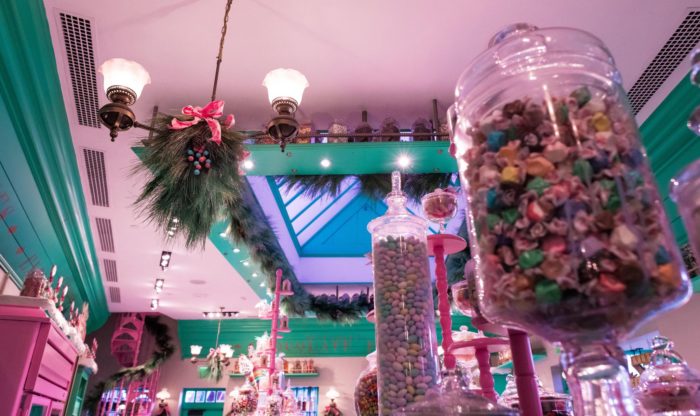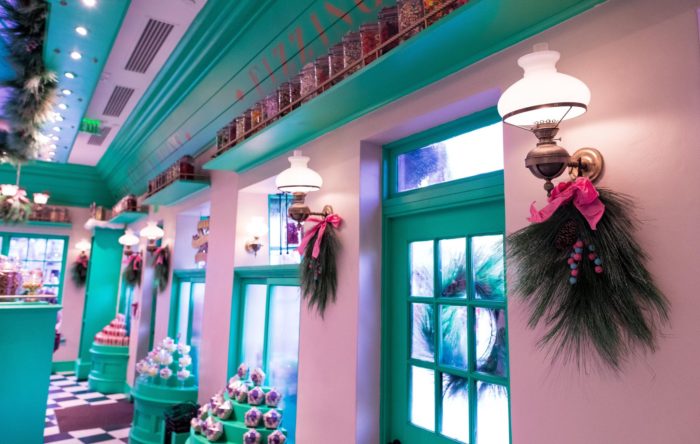 The snowman and owl are a permanent fixture in Hogsmeade Village, but they definitely have the "feel" of the Christmas season.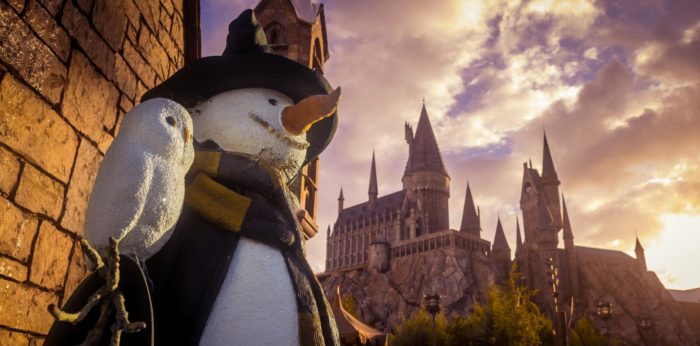 Inside attractions you'll see decorations as well, such as these wreaths by the Sorting Hat inside Harry Potter and the Forbidden Journey.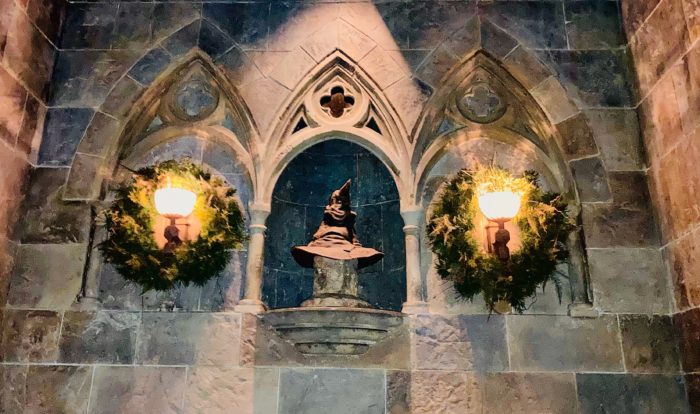 Taking the Hogwarts Express over to King's Cross station we can see that some gifts are mixed in with the normal luggage.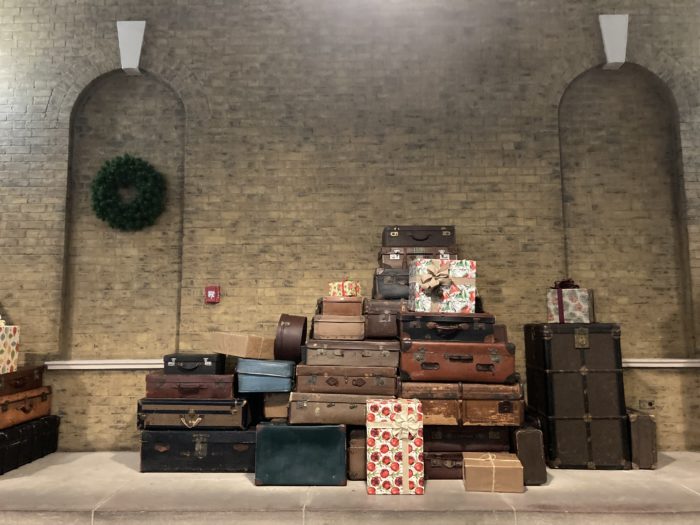 The London Waterfront has some great looking trees.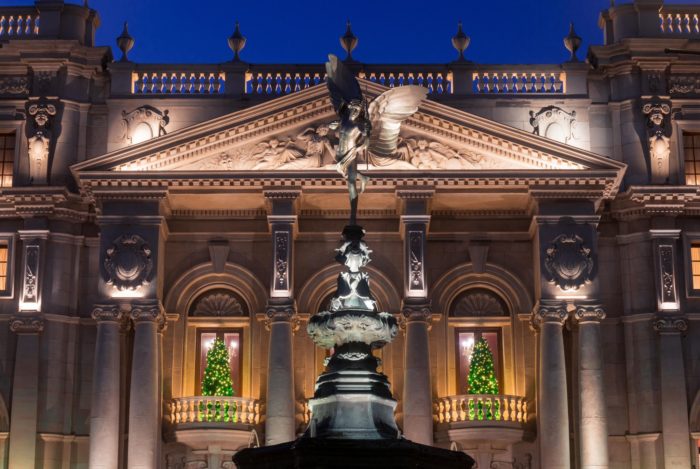 Like Hogsmeade Village, just about every place in Diagon Alley is decorated.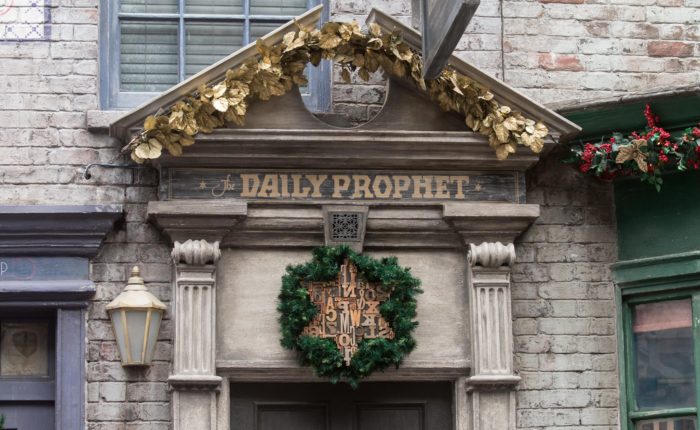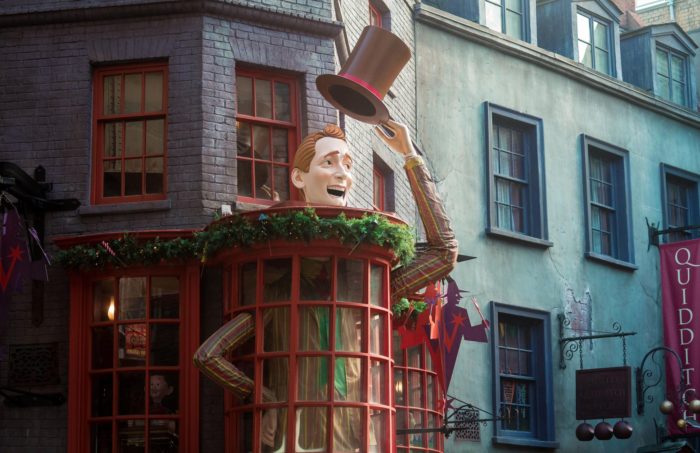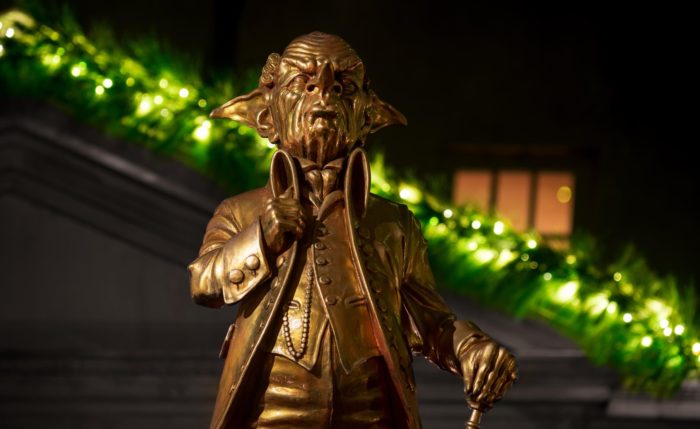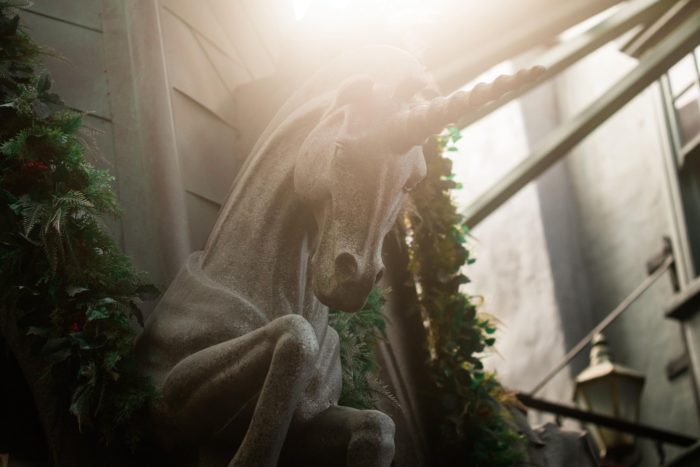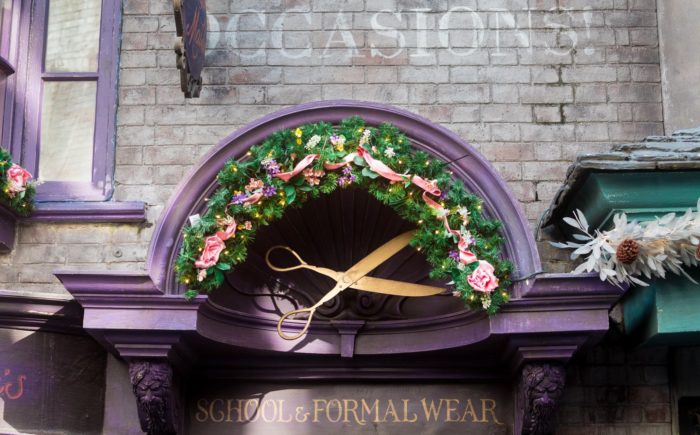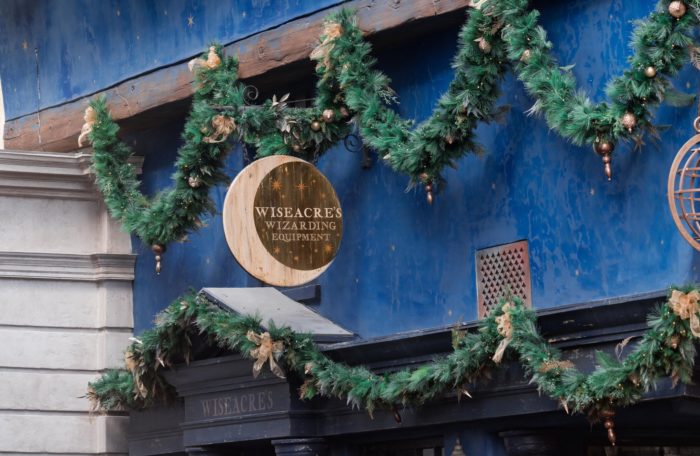 How INCREDIBLE is this detail… the wreath for Knockturn Alley is devoid of any life and is a dead wreath.  Just amazing.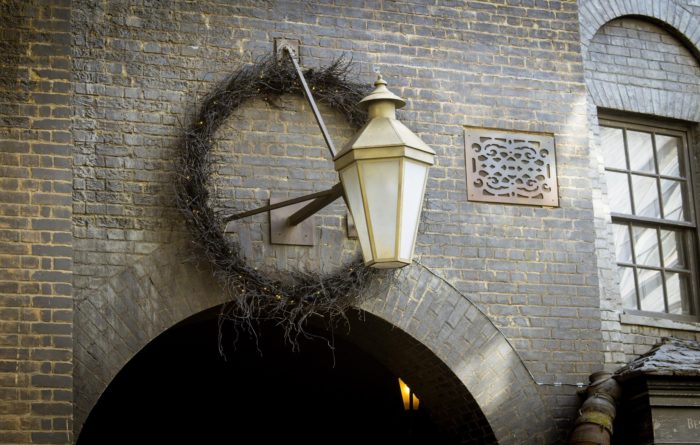 The bookstore Flourish and Blotts has flowers on their wreath made out of book pages!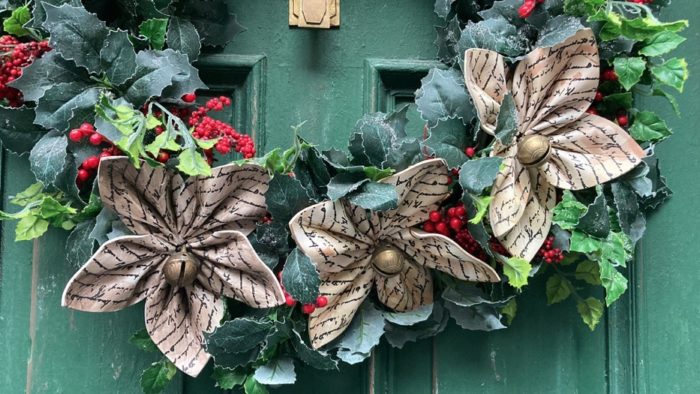 You can use the Carkitt Market wreath to frame everyone's favorite dragon.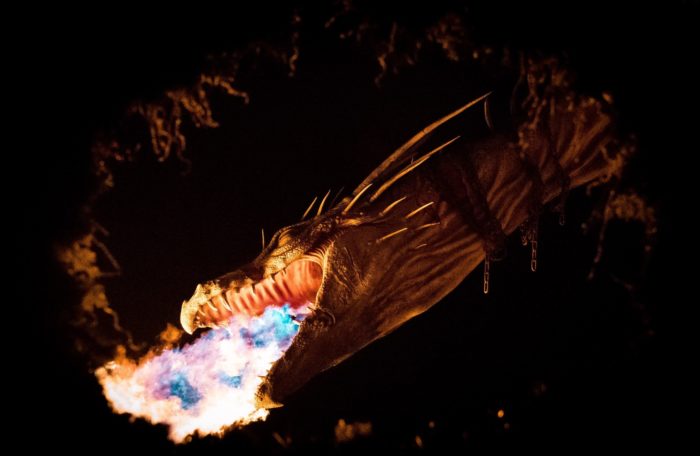 One of the most breathtaking visuals in any theme park, now with added garland!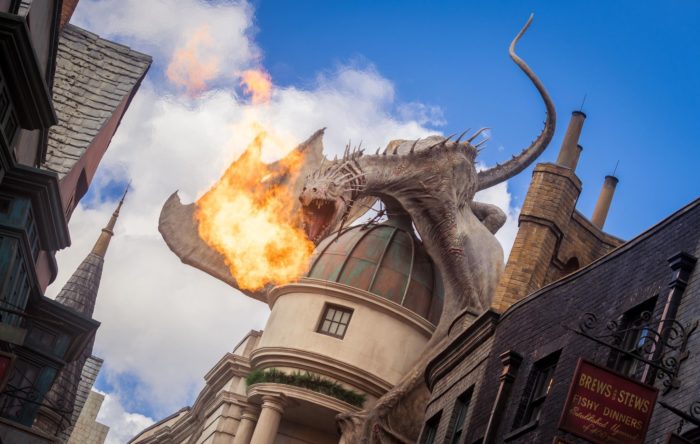 Another great detail to notice is all the bits that Universal put into the garland that decorate the shops. They all have details that are specific to that shop.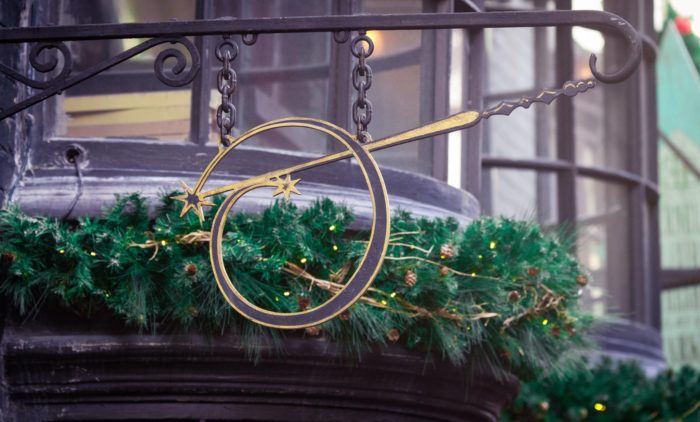 So the pet store will have little brass owls in them, the Owlry has feathers, the robe shop has ribbon,  the clothing store has yarn, Weasleys has fireworks, and the Daily Prophet has letters.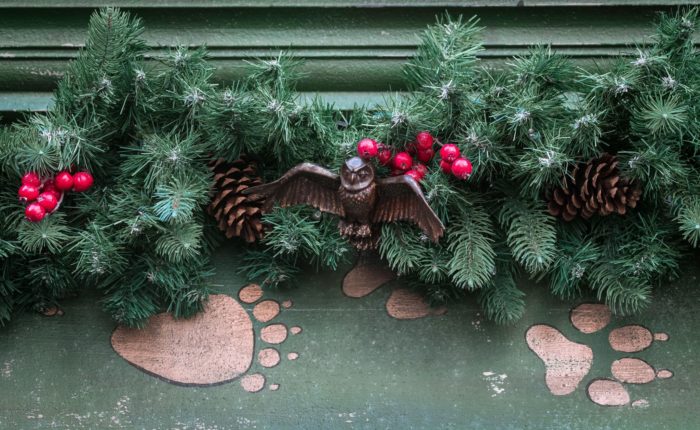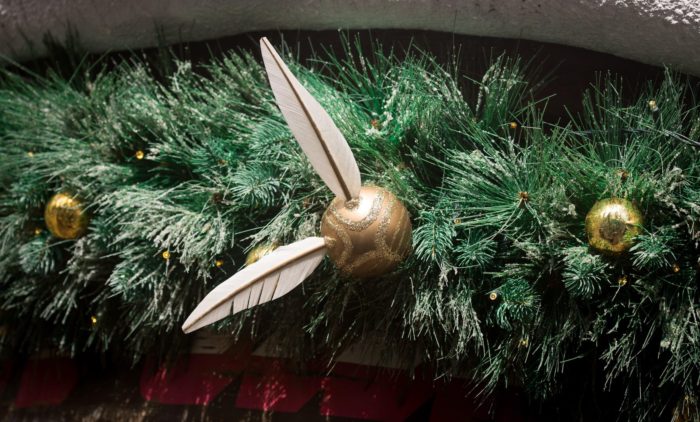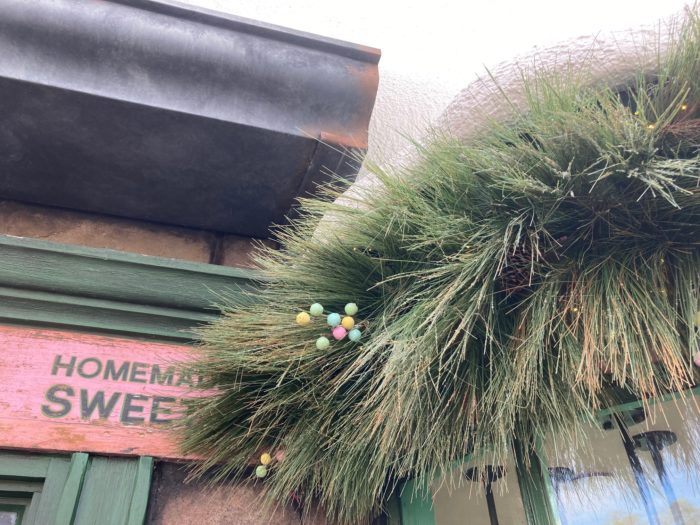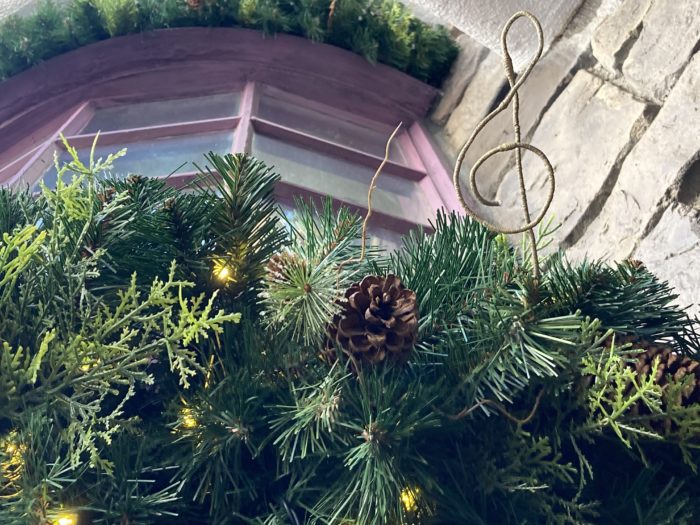 # 4 – Merchandise
Need some Wizarding World items for your Christmas tree at home? There are plenty of ornaments avaialable, including this one for Butterbeer…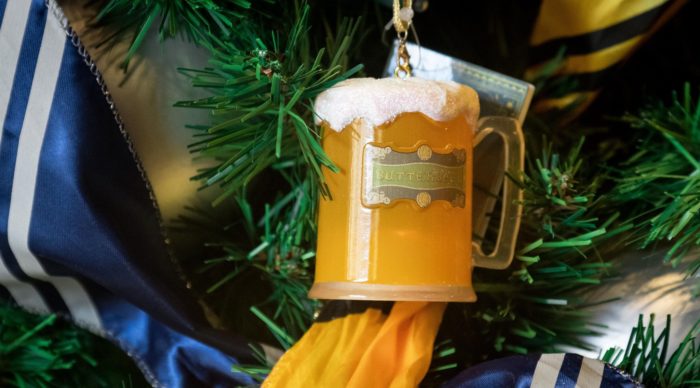 The sign for the Hog's Head bar…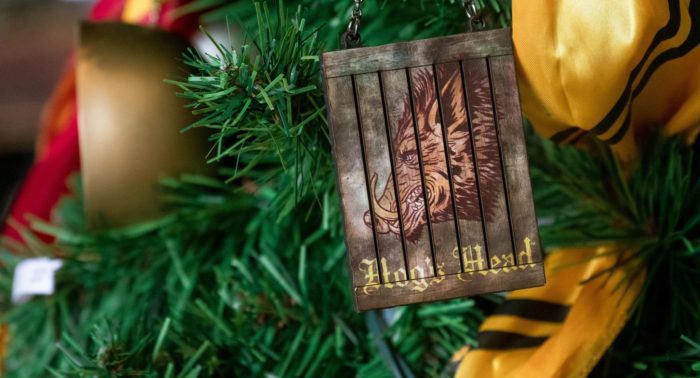 For me this ornament is a must get. Love the Hog's head.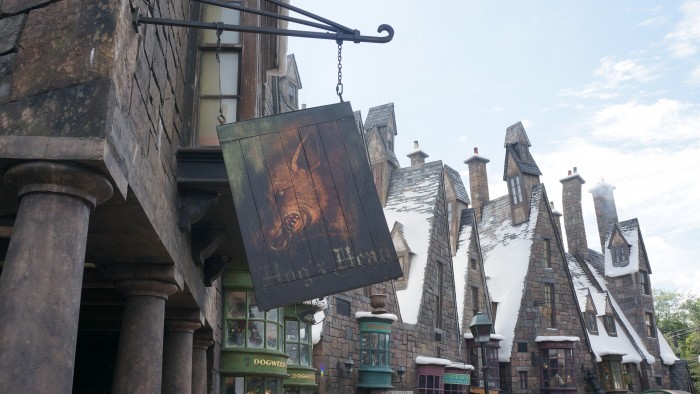 Ornaments for the Owl Post along with a letter from Hogwarts.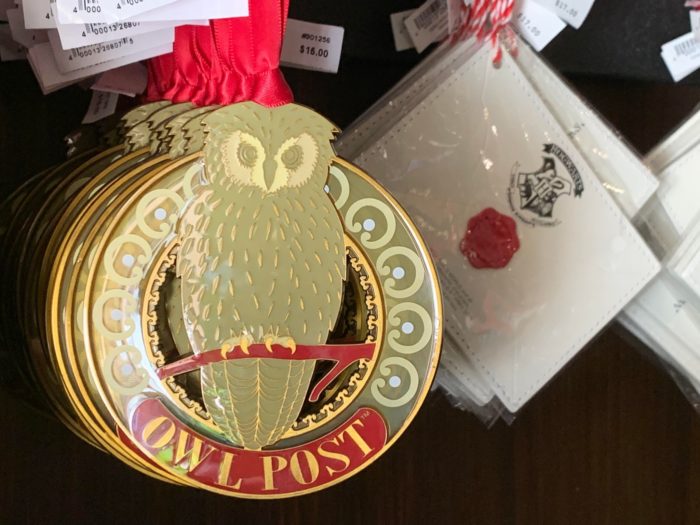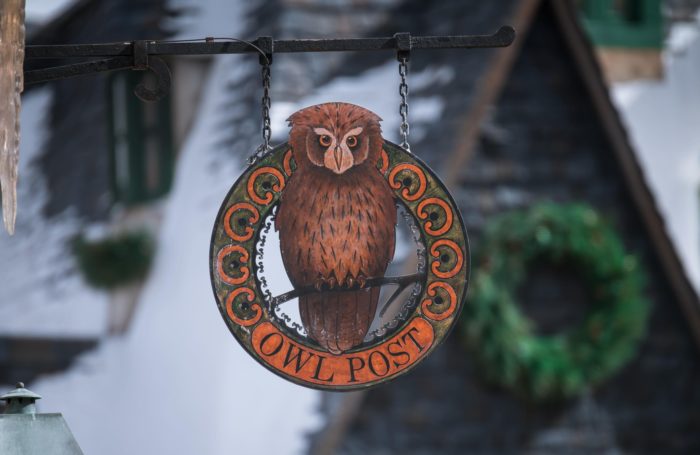 An ornament featuring an owl carrying a Quidditch broom.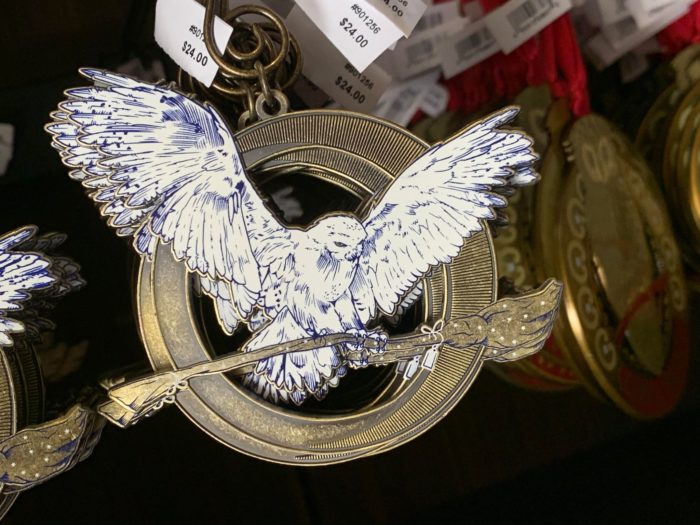 Ornaments featuring the Hogwarts House Cup along with Hogwarts Castle.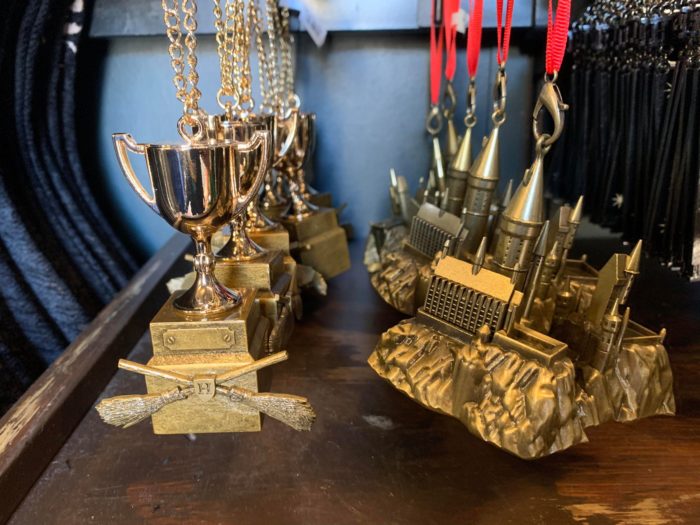 So. Many. Ornaments.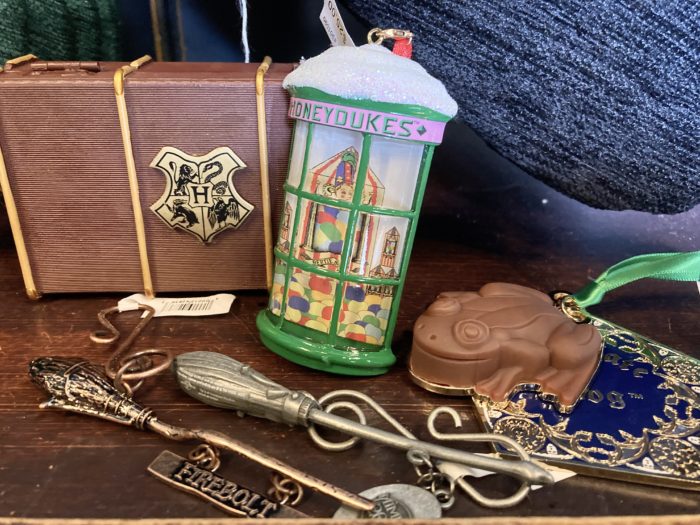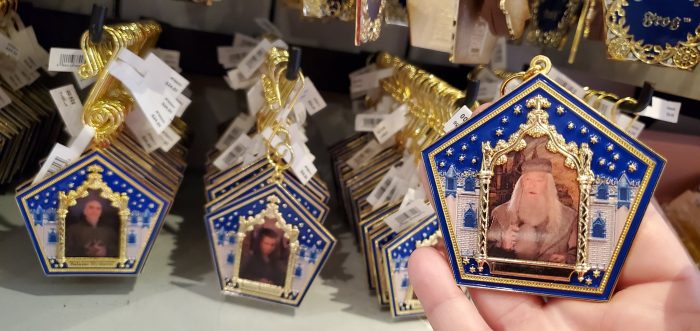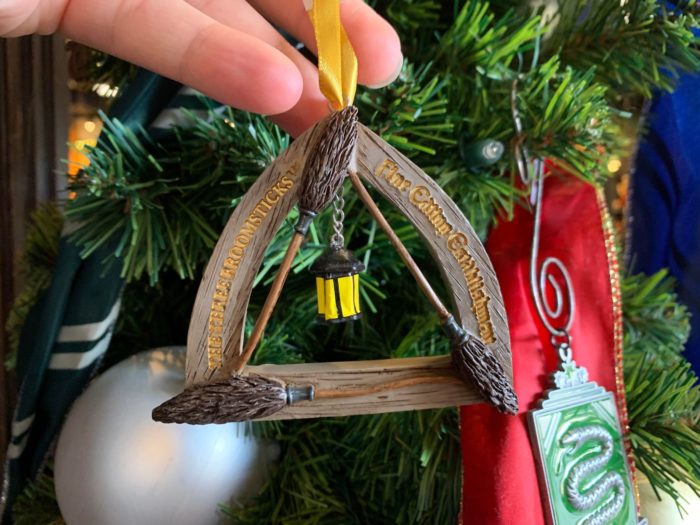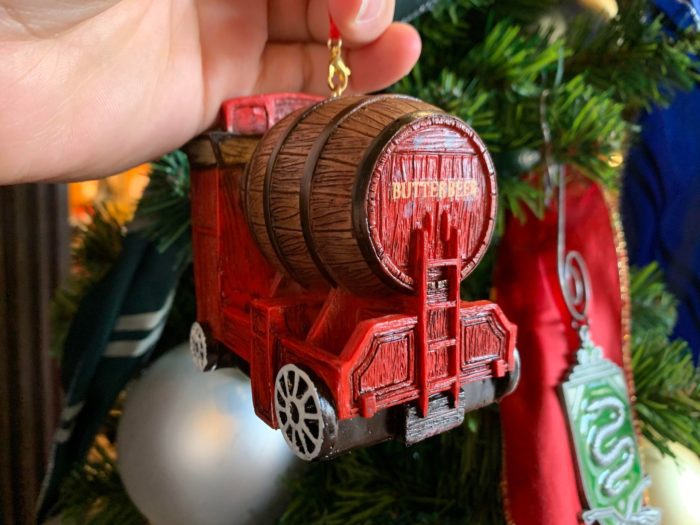 I love the idea of a Yule Ball ornament, but even better…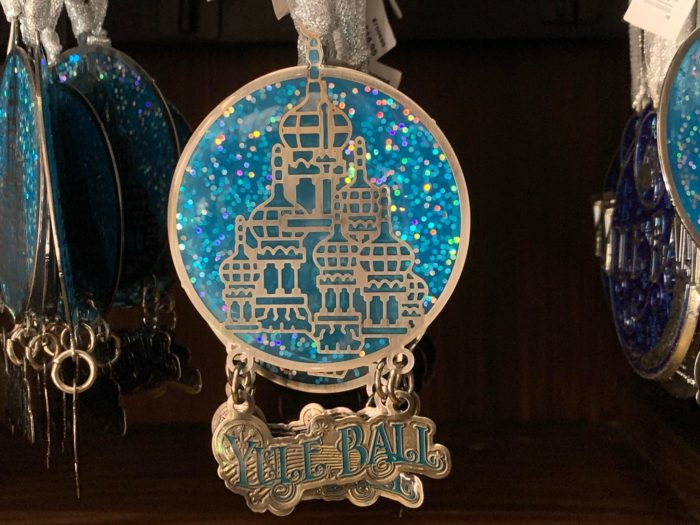 …is the outfits that our favorite characters wore for the Yule Ball in Harry Potter and the Goblet of Fire film.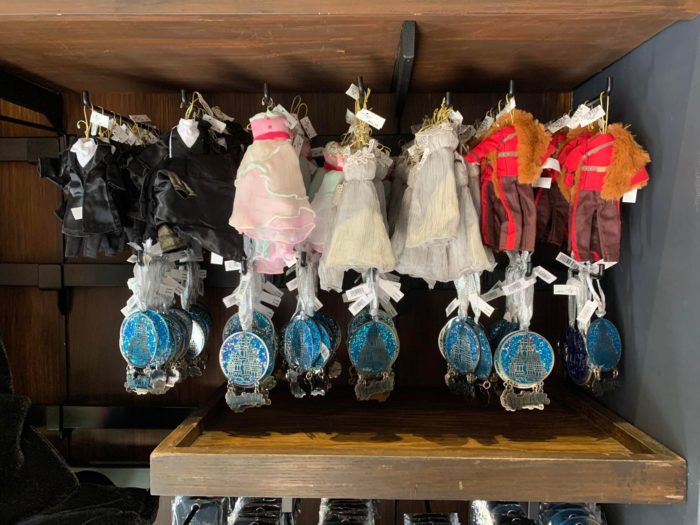 There's a Christmas gift in the Wizarding World for every Gryffindor, Ravenclaw, Hufflepuff, and Slytherin on your shopping list.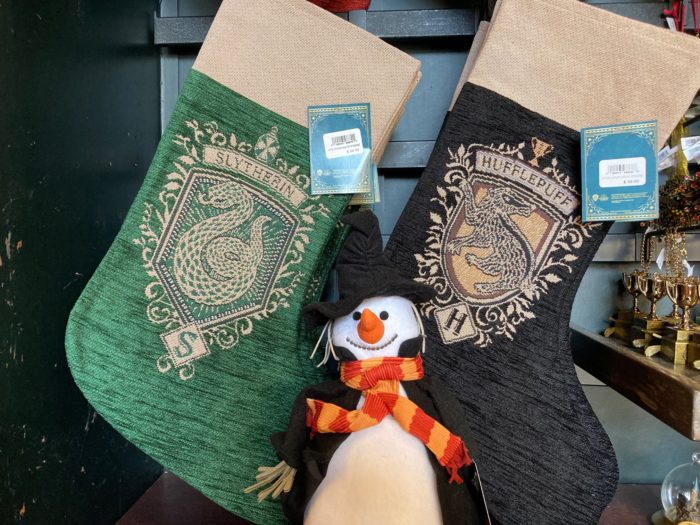 # 3 – The Magic of Christmas at Hogwarts Castle
The Magic of Christmas at Hogwarts Castle is a projection show on Hogwarts Castle shown during the Holiday season. Both Disney and Universal have pretty much mastered projection technology and everything projected onto the castle and its surrounded rock work looks fantastic. The show itself begins with ghosts floating around the castle saying Merry Christmas in a segment that very much echoes something you would see in Disney's Haunted Mansion. The ghosts then begin to sing a song together.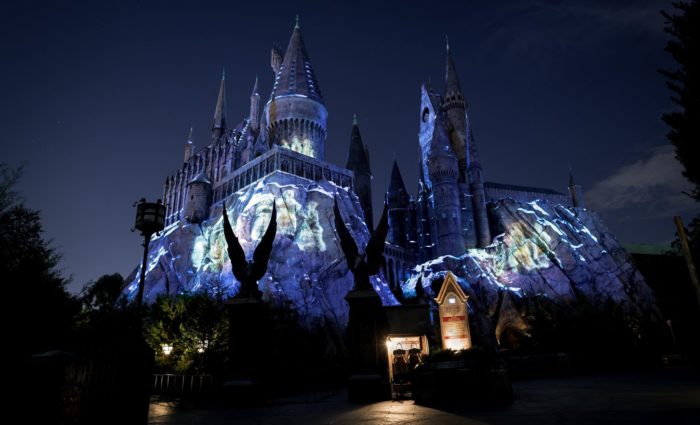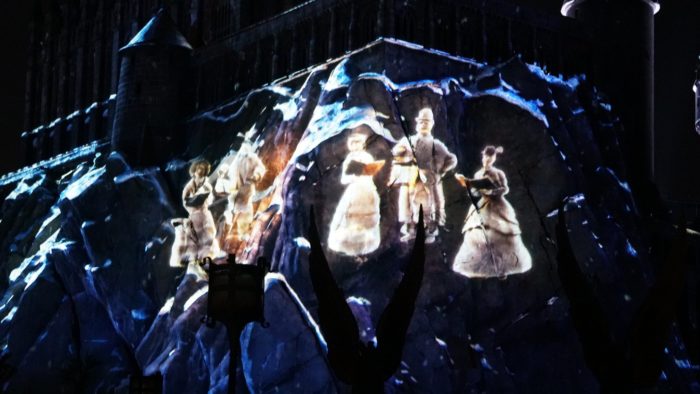 Snow begins falling all across Hogwarts Castle and we get to hear the classic John Williams score from Potter film series as we watch the owl Hedwig fly all around the castle.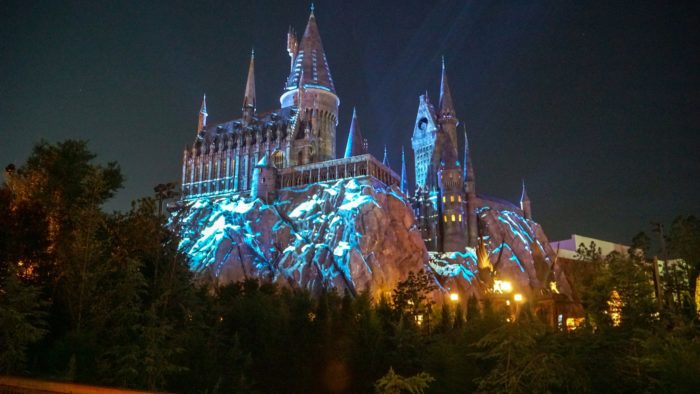 Soon we will see witches and wizards on brooms flying across the castle and creating snowmen like the ones we see below. The wild Ford Anglia (from Harry Potter and the Chamber of Secrets) runs over the snowmen in an unexpected, but fun moment.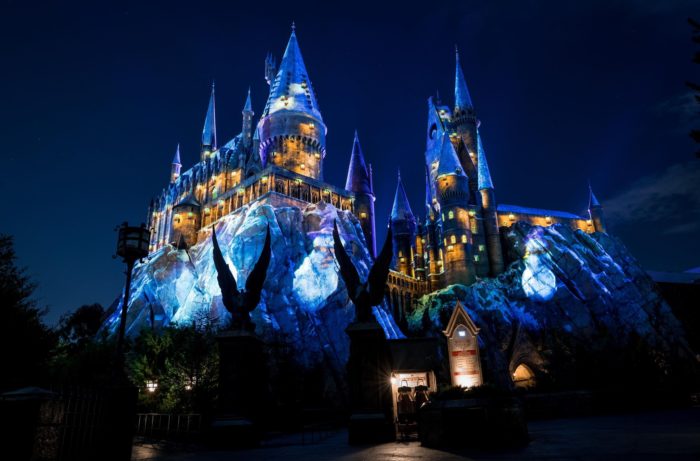 A great Yule Ball scene transitions into Fred and George Weasley decorating the castle in garish colors and along with ads for their products.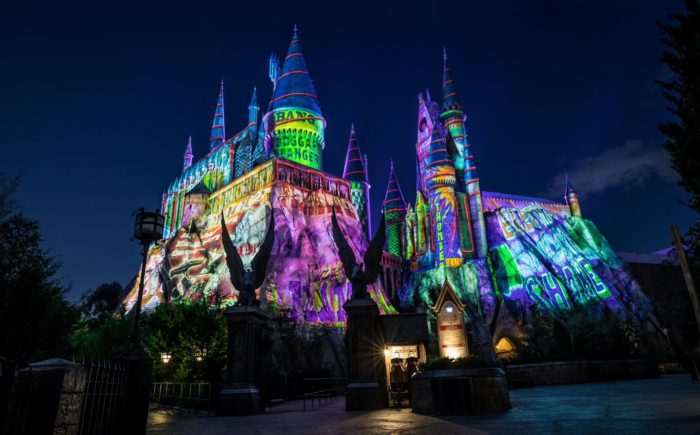 After the Weasley decorations "explode" in fireworks, a series of wand blasts go throughout the castle…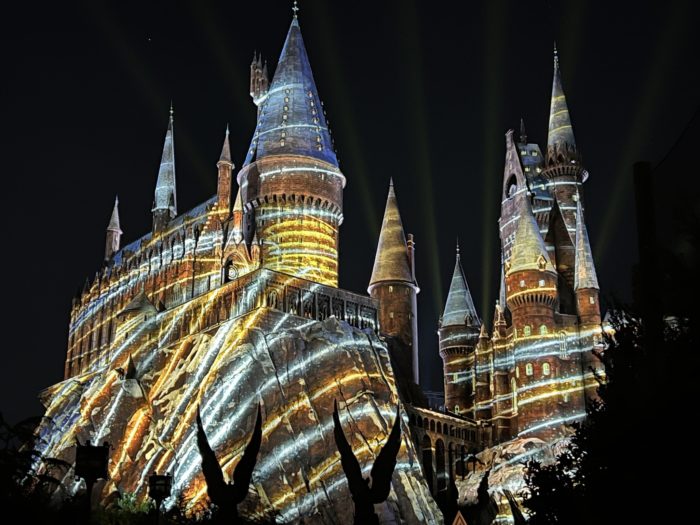 …eventually revealing a classic scene with a Christmas tree. A few witches and wizards fly by with brooms and we end the show with…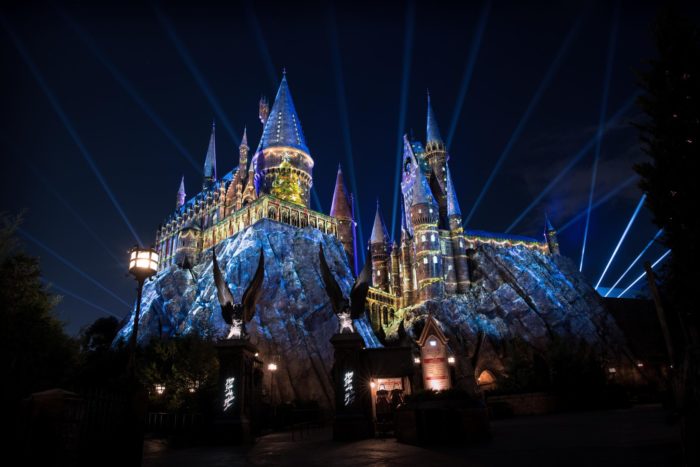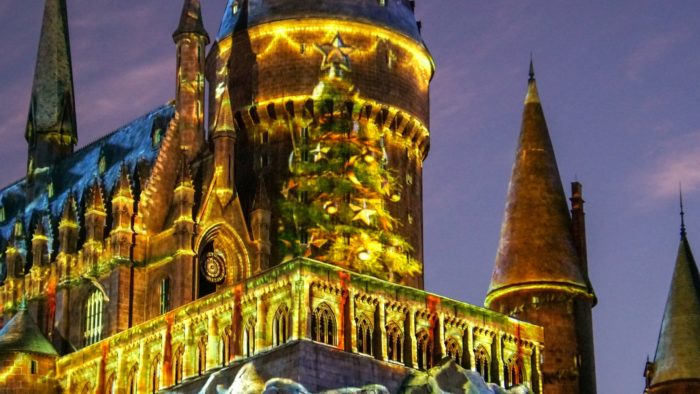 …a very brief amount of pyro. Overall the Magic of Christmas at Hogwarts Castle runs less than 8 minutes. The projections on the castle are very sharp looking, and  those combined with the classic music from the Harry Potter films can provide some great moments. It's quick, but also cute, charming, and – best of all – included with your park admission.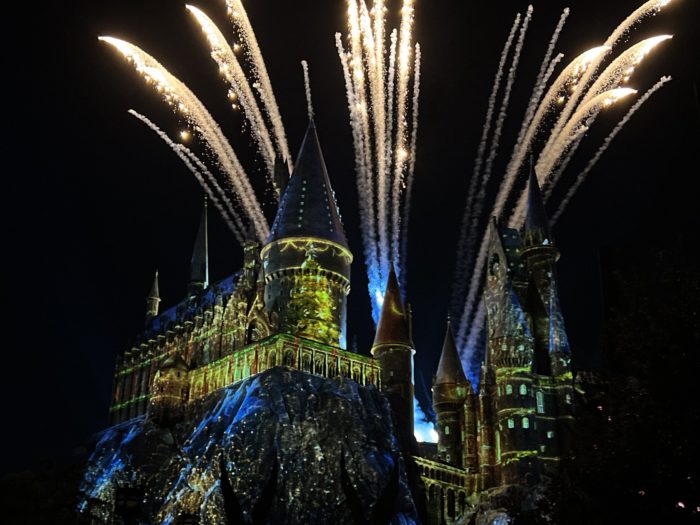 # 2 – Hogwarts Frog Choir
Bringing seasonal melodies to The Frog Choir in Hogsmeade Village is definitely going "above and beyond" when it comes to Holiday offerings. Universal definitely could have got away with just putting something like Santa hats on the frogs and said "that's good enough," but instead we get a entirely new 10 minute set. The Frog Choir consists of crooning students from all four Hogwarts Houses along with some croaking frogs (the choir itself is referencing a brief – but memorable moment – from the Harry Potter and the Prisoner of Azkaban film.) Songs on the holiday playlist include originals such as The Most Magical Yule Ball of All and I Cast A Spell on Father Christmas along with staples like We Wish You a Merry Christmas. My favorite moment of the show is when the Slytherin student steps in mid-song to interject one of my personal Christmas songs, Carol of the Bells.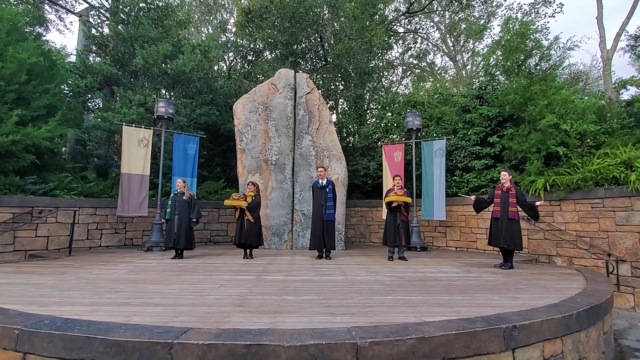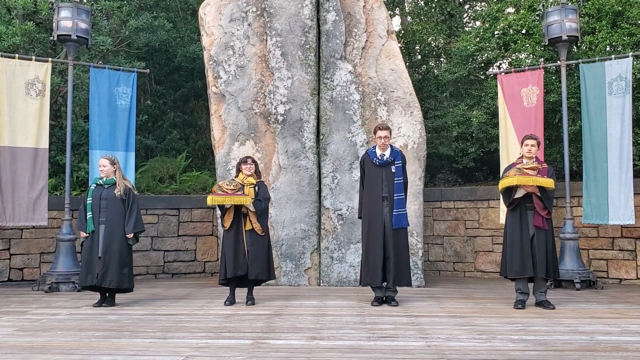 After each performance, Muggles can take photos with students and frogs.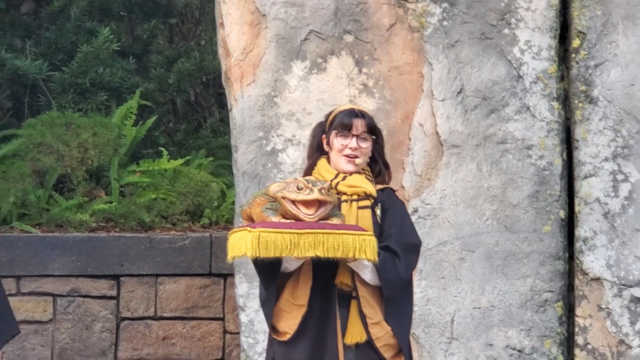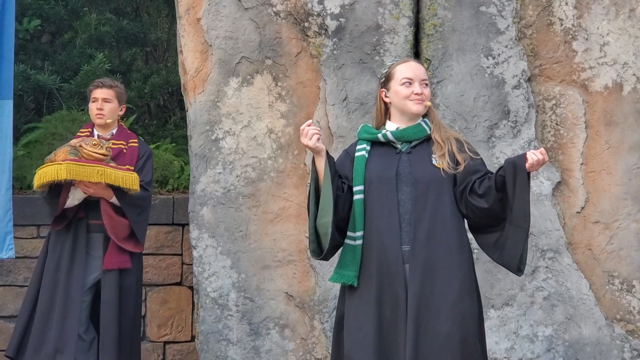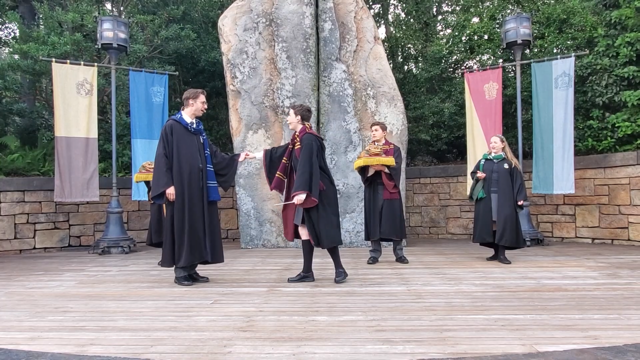 # 1 – Celestina Warbeck's Nothing Like a Holiday Spell
When Diagon Alley opened in 2014, one of the biggest surprises of the entire land was the Celestina Warbeck and the Banshees stage show. At the time, we all expected Diagon to open with some sort of live performance element like we got with the Frog Choir and Tri-Wizard Spirit Rally in Hogsmeade Village, but no one was prepared for the "magic" that was the singing sorceress Celestina Warbeck. An extremely minor character only briefly mentioned in the book series, Celestina became a major player in Diagon Alley thanks to an amazing vocal performance.
Imagine our surprise when this wonderful show got a seasonal update with Nothing Like A Holiday Spell.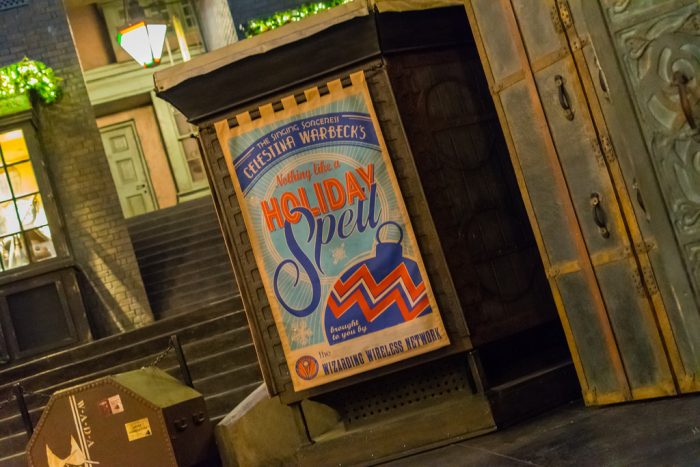 Celestina performs her set in a beautiful red outfit which is completely different than the one she normally wears for shows during the rest of the year.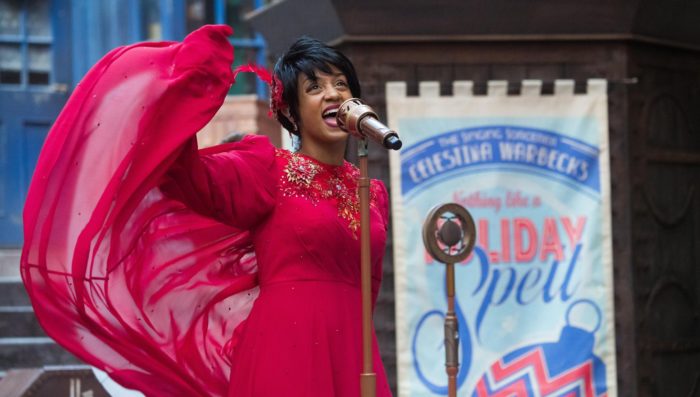 Celestina's backup vocalists – the Banshees – also wear special outfits for this set. The group sings FOUR SONGS EXCLUSIVELY FOR THIS SHOW:  Nothing Like a Holiday Spell, Accio Christmas, My Baby Gave Me a Hippogriff for Christmas, and A Witch and Wizard's Wintry Wondrous Land. What an amazing Christmas gift to us theme park fans.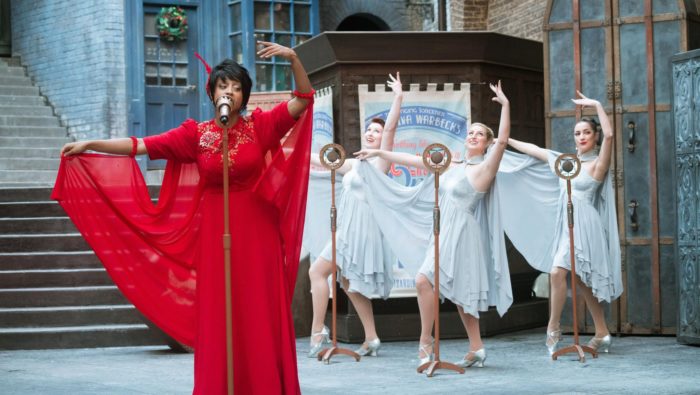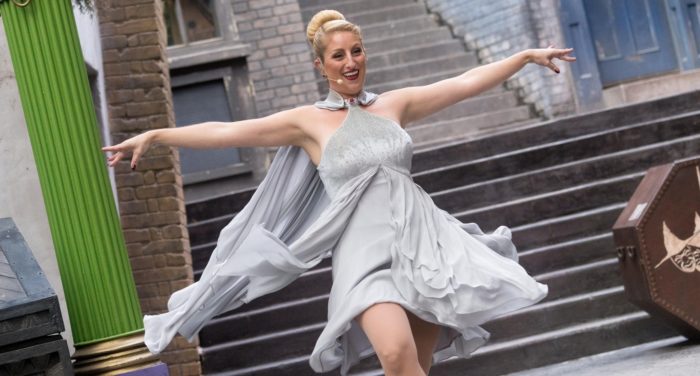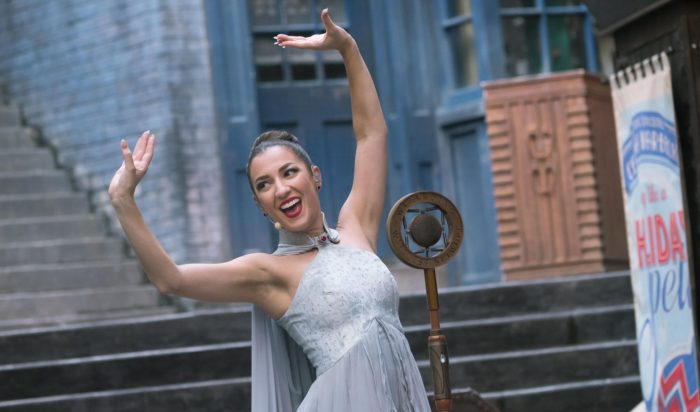 Day or night, you should definitely go out of your way to catch a Celestina performance. They are that good.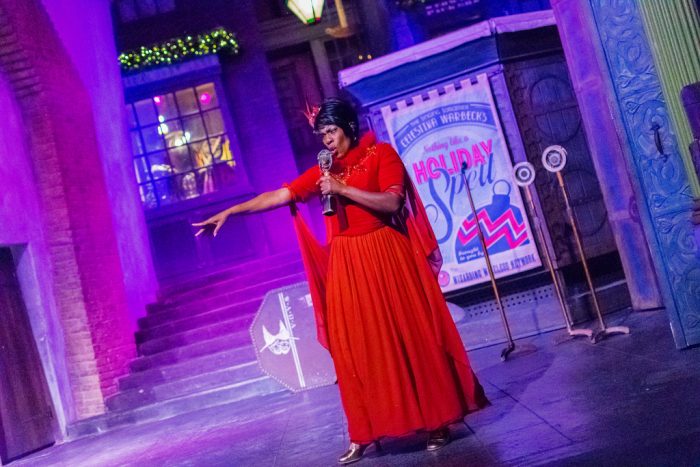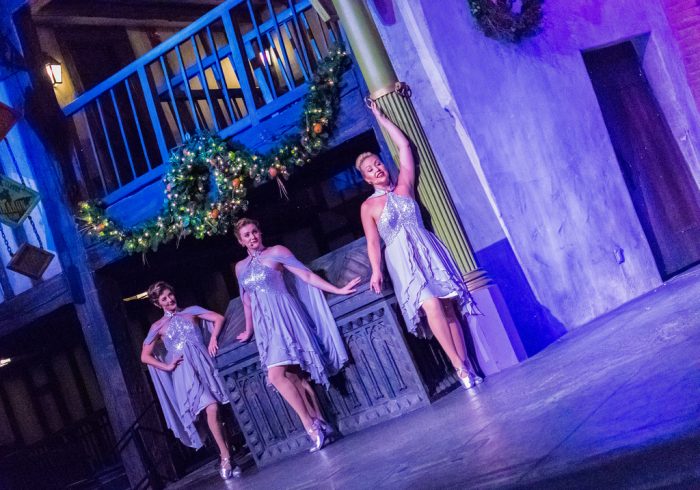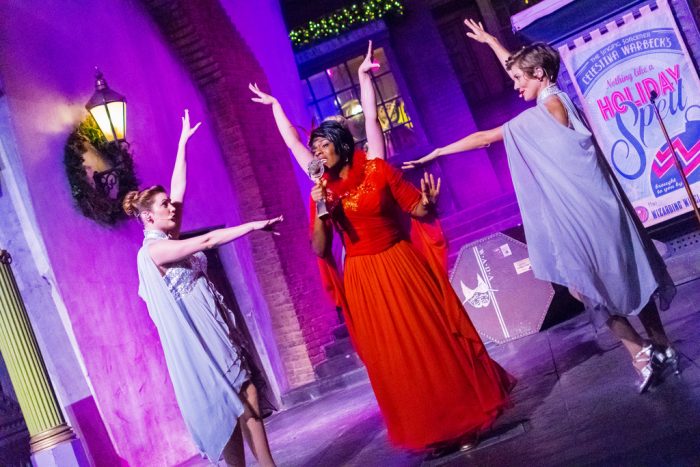 HONORABLE MENTION – WWoHP in the 2022 Holiday Tribute Store
The latest Universal Holiday Tribute Store is now open and it has a special section dedicated for the Potter fans! Just like Hogsmeade Village and Diagon Alley it is loaded with Christmas trees, wreaths, garland, and lights!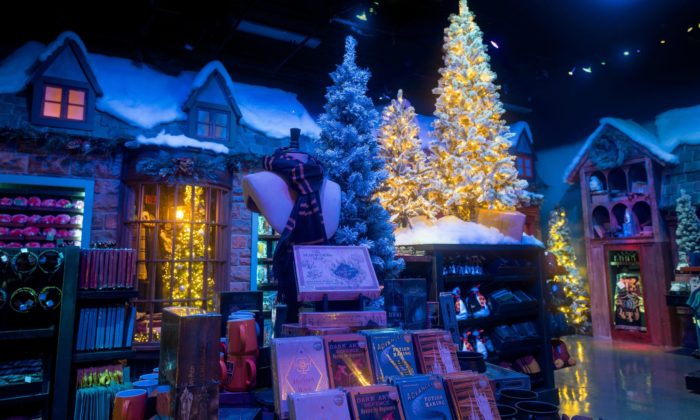 Not to mention, tons of merchandise!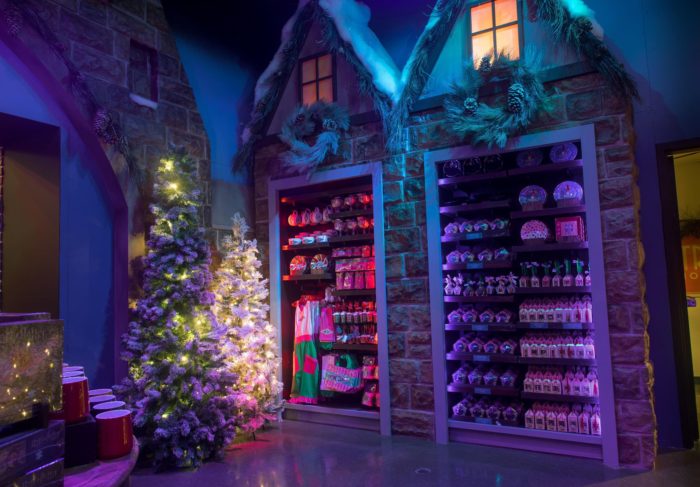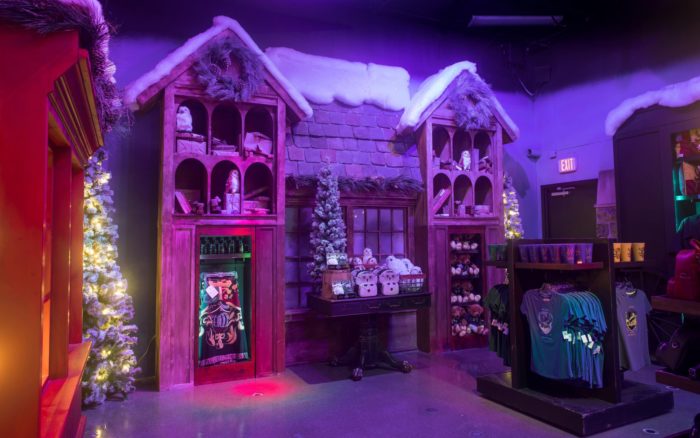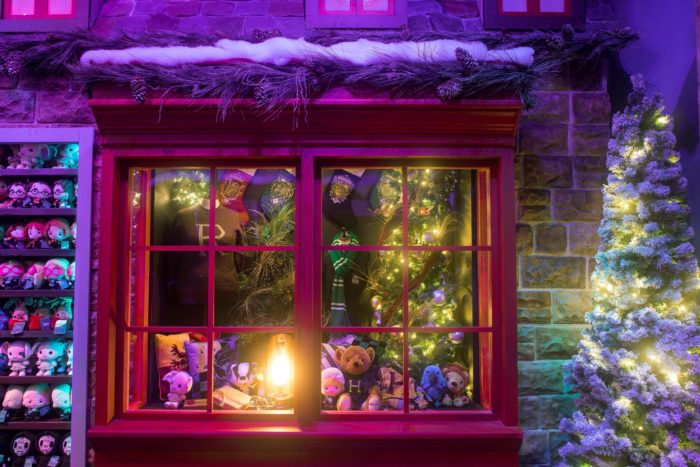 So there you have it: The SATURDAY SIX Looks at Christmas in Universal's WIZARDING WORLD! See you next weekend for the latest installment of the SATURDAY SIX, where we'll look at something fun from the world of Disney and Universal. If you enjoyed yourself, be sure to check out the THEME PARK ENJOYMENT INDEX, giving a monthly recap of all the theme park news you need to know (and a lot more you don't need to know, but we're gonna tell you anyway). You can also follow Your Humble Author on Twitter (@derekburgan).
If you enjoyed this article, you will surely like the following: 
SATURDAY SIX Presents: The Disney Merchandise Hall of Shame
SATURDAY SIX Presents: The Disney Signage Hall of Shame
SATURDAY SIX Presents: The Disney Food Hall of Shame
SATURDAY SIX: Tribute to Josh easyWDW
Special Thanks to The Elite Brandon Glover, Digital Maestro Scott Walker, the bio-est of all reconstructs @bioreconstruct, Captain Cruiseline Scott Sanders of the world famous Disney Cruise Line Blog, my personal protege Hunter "Elvey" Underwood, artist @SonderQuest, the mighty maven of merchandise Hedgehog's Corner, the SAT SIX Fun Squad of Parkscope Joe and "the Dadalorian" Nick, hot shot Michael Carelli, charter member of the Universal Four @Nitro230, the permit princess Alicia Stella, master cartographer Tommy Hawkins, and Hermione Granger's tutor Megan Stump for their invaluable assistance with this article. Absolutely no help was added by SeaWorld Influencer @SuperWeenieHtJr. The SAT SIX is inspired each week by goofballs Aengus Mackenzie and LitemAndHyde and you Potterheads will  enjoy Meg's other blog work over at the Central Florida Slug Club.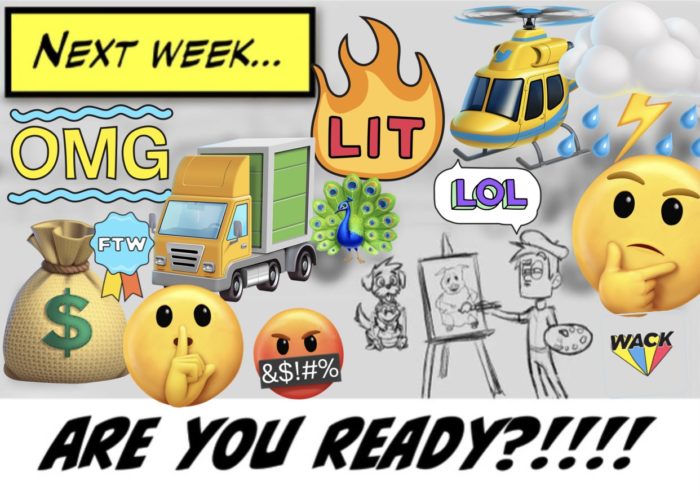 The 2022 Theme Park Turkeys of the Year!
Artist Brian Cooper is hard at work on his latest masterpiece, the headline drawing for our NINTH ANNUAL Theme Park Turkey of the Year awards. Be here next week as we continue an annual tradition like no other, looking back at the weirdest, wildest, and downright next level bananas stories from this past year. We'll be joined by superstar artist SonderQuest as well, so make sure you eat heartedly this Thanksgiving day with family, but make sure to save room for some overstuffed turkeys on SATURDAY…