Disney World in the Rain: Poncho vs. Umbrella vs. Jacket
When you're visiting Walt Disney World, the question isn't if it will rain, but rather when it will. Once you encounter the inevitable downpour, you have three possible ways to protect yourself: a poncho, an umbrella, or a rain jacket/coat.
Many guests have strong opinions about which is the optimal form of rain protections, but truth is, there are the pros and cons of each.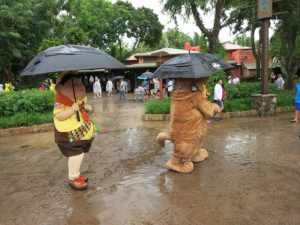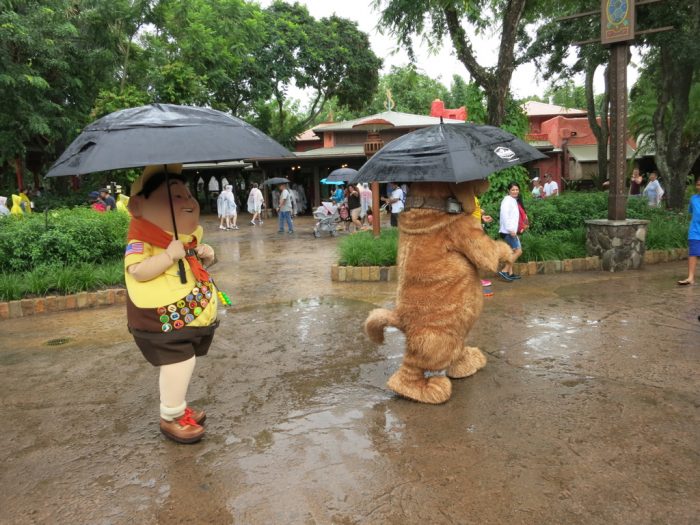 UMBRELLA
PROS:
Can potentially protect more than one person.
Can protect bags you're carrying.
When wet, can be clipped to the outside of bag to facilitate drying.
Many are compact and easy to carry.
Can be used as a parasol for sun protection. (Important in Florida heat.)
Keeps your face dry. Important for guests wearing glasses and for guests wearing masks during the pandemic.
Easy to share with others.
CONS:
Ineffective during heavy wind.
Could poke/bump other guests in crowded walkways.
Must fold/unfold when going in and out of spaces.
Larger/sturdier models may be heavy.
Unlikely to fit into a pocket.
Likely leaves your legs exposed to water.
Keeps a hand occupied – thus making that hand unavailable for carrying packages or holding onto a child.
PONCHO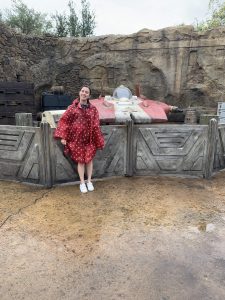 PROS:
Lightweight.
Many can be folded to be compact.
Can be used as a blanket to cover a chilly child.
Can be used as a tarp to cover a stroller or mobility device.
Can be used as a blanket to sit on wet grass (for example in the Magic Kingdom hub) or on hot pavement (for example when waiting for a parade). [Note, during the pandemic parades are on hiatus.]
Useful for protection on water-intensive rides such as Splash Mountain or Kali River Rapids.
CONS:
Disposable ponchos are not environmentally friendly.
Difficult to get a good fit. Hoods often fall off, particularly with less expensive options.
Once the shower has ended, what do you do with a big wet poncho?
Must be removed for some indoor rides (Rise of the Resistance, for example). Repeated over-the-head on and off could leave you damp.
Possibly difficult to re-fold.
RAIN JACKET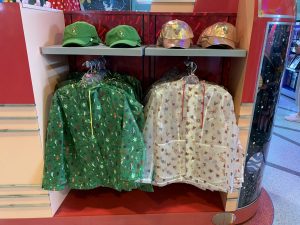 PROS:
Can get accurate fit. Hood will usually stay up.
Adds a layer to trap heat (good in cold weather).
May have pockets to help you store other items.
Some models are long enough to cover your legs.
CONS:
Leaves bags/backpacks exposed to rain.
Adds a layer to trap heat (bad in warm weather).
Shorter models leave legs and derriere exposed to rain.
Difficult to share with other members of your party if you're not the same size.
Personally, I was a poncho girl for many years, mostly because of the versatility of being able to use it as a stroller cover, but once my children were out of their stroller years, I moved on, primarily due to two issues – 1) Walking around with a wet poncho after a soaking just got too gross. 2) I rarely wear ponchos in the non-Disney world, so it seemed impractical to buy them only for vacations.
I've transitioned to mostly carrying a small umbrella. It's usually enough to keep me dry until I can get somewhere indoors to wait out a passing shower. I also bring a larger raincoat, similar to the LL Bean Women's Trail model, that I'll wear if rain is expected all day.
What's your Disney World rain gear strategy?