Disneyland Blue Bayou Restaurant Review
In this review we're taking a look at Blue Bayou Restaurant, which is located in New Orleans Square in Disneyland. Blue Bayou is unique because the dining area is inside a ride. Not just any ride, it's located inside one of the most beloved attractions in the history of theme parks, the Pirates of the Caribbean. Blue Bayou is considered to be one of the most iconic Disney dining venues in the world, but is the menu worthy of such fabled eatery? Keep reading to find out.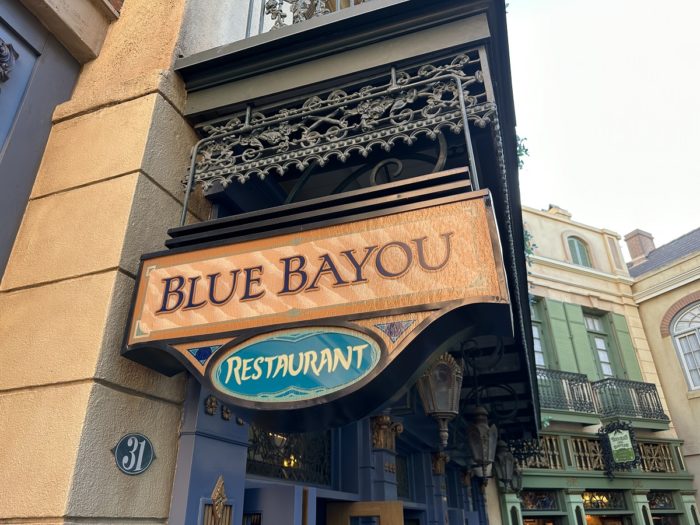 For a restaurant of Blue Bayou's stature the exterior is surprisingly unassuming. However that matches perfectly with the rest of New Orleans Square, where you never know what you'll find. One door could lead to a shop selling custom perfumes, while another takes you permanently moon-lit restaurant.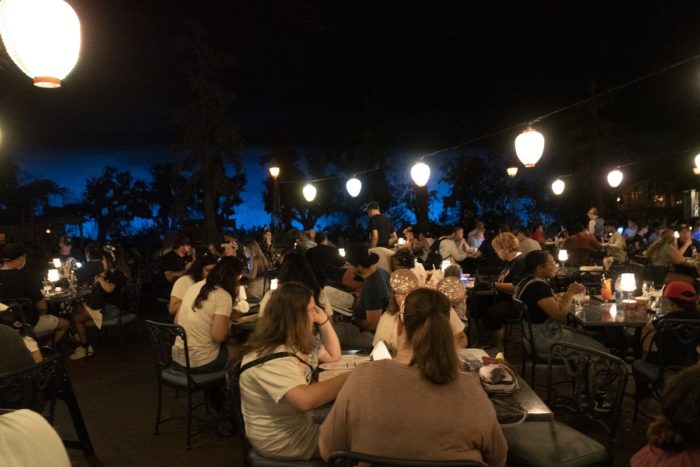 The Blue Bayou overlooks Pirates of the Caribbean and maintains an appropriately dark, moist ambience. The best tables ring the perimeter and afford a view of the faux bayou, replete with fireflies flickering among the weeping willows and mangroves, dilapidated houseboats, and soft lantern lights. If you're not lucky enough to get a table bayou-side, there's still enough wrought iron, uneven lighting, and twilight allure to soften the most hardened soul.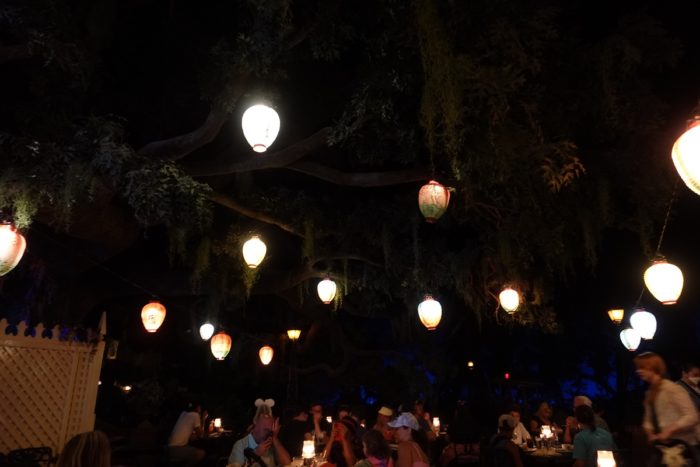 A moss covered tree and lanterns cover the top of the dining area.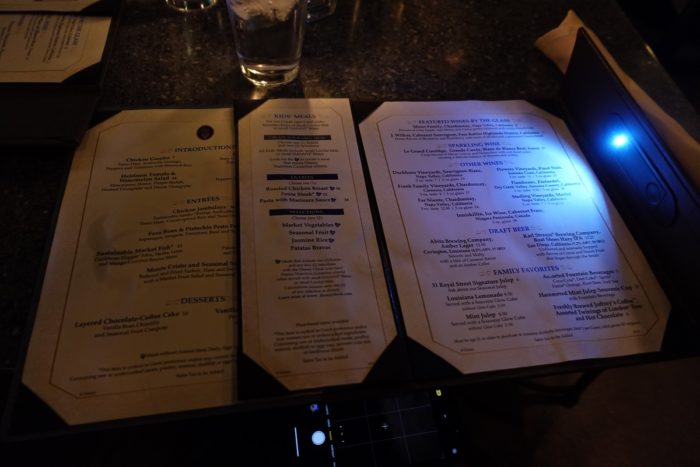 The lighting inside Blue Bayou is appropriately dim and matches the theme the designers brilliantly executed over 50 years ago. But don't worry, you'll still be able to read your menu thanks to its built in light.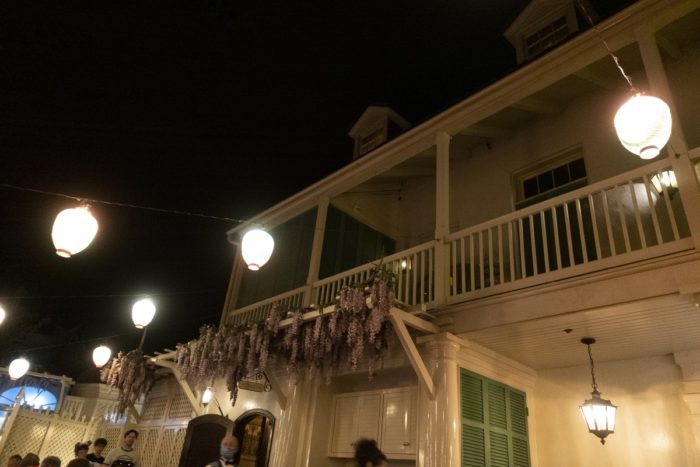 The ambiance of Blue Bayou is theoretically fantastic. Mood lighting, jazz music, the sounds of crickets and frogs off in the distance, and the calm waters of the bayou sloshing around are all there. But unfortunately most of it is drowned out by the diners chatting during their meals. Demand for Blue Bayou is high and reservations are constantly sold out so Disney packs people in to the dining area. You'll still have a relaxed meal here, but I figured the sound of the crowd is worth mentioning.
I dined at Blue Bayou with my friends Tom and Sarah from Disney Tourist Blog. It had been years since any of us ate at Blue Bayou because there was a stretch of time when the restaurant's menu didn't have the best reputation. Blue Bayou was seen by some as coasting by on only it's reputation and ambiance. The Brickers and I had heard the menu was revamped in 2022 so when we had an opportunity to grab a reservation we jumped on it.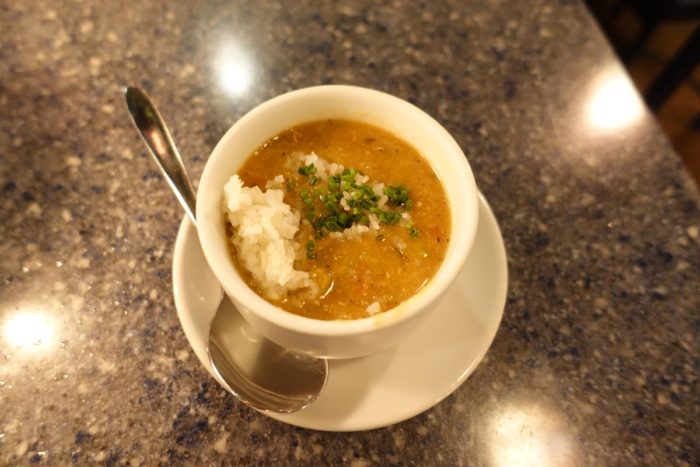 We started off with Chicken Gumbo (Tasso Ham, Andouille Sausage, Peppers and Tomatoes with Steamed Rice) and were met with a flavor explosion. It's as rich and hearty as you would expect from a proper gumbo. It also has a very pleasant kick to it. Even with its $8 price tag I do not recommend sharing it because you'll want to savor every morsel yourself.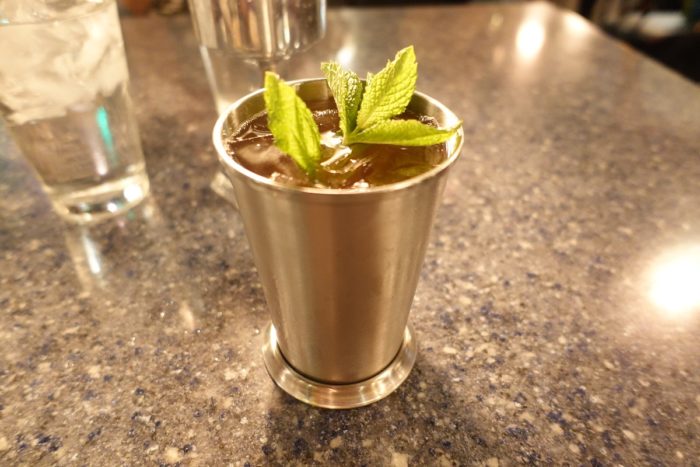 To drink I had the 31 Royal Street Signature Julep, which changes seasonally. During our visit the flavor was blood orange. This was a perfectly fine drink, but on the pricy side at $6.25. A standard mint julep is also available. I never know what to say about Disney non-alcoholic drinks besides that they are usually extremely sweet.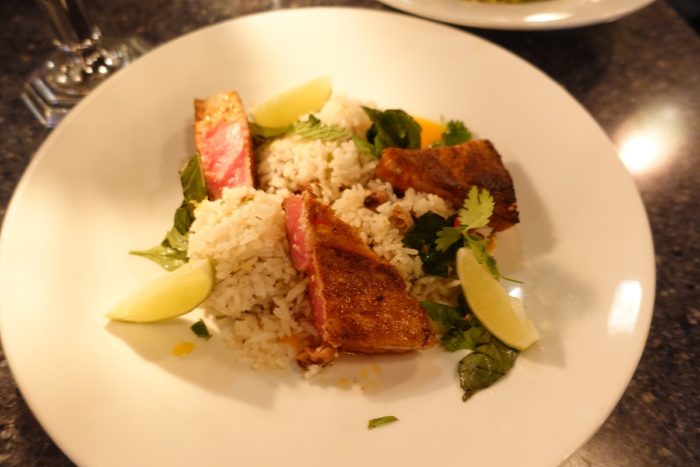 We purchased three entrees during our visit, the first being the Sustainable Market Fish (Caribbean Hoppin' John, Herbs, Lime and Mango-Coconut Beurre Blanc). The name of this entree suggests the fish will change seasonably but during our visit we they were serving ahi tuna. The tuna was seared perfectly on the outside, very flavorful, and was wonderful with the flavors of the hoppin' John and the buttery yet fruity/minty beurre blanc. This is a good and filling meal that isn't too heavy. This dish is currently priced at $43.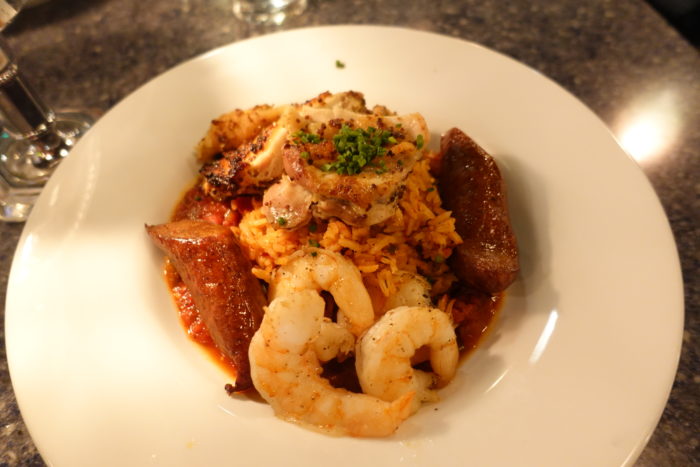 Next up is the Chicken Jambalaya (Sustainable Jumbo Shrimp, Andouille Sausage, Tasso Ham, Creole-spiced Rice and Tasso Ham-Tomato Jus). I've never been to the real New Orleans but I'd be shocked if Blue Bayou's jambalaya isn't at least half as good as the "real thing." This entree is packed with spices, rich flavors, vegetables, rice and the heavenly combination of chicken, sausage, and shrimp. It also makes for a very substantial meal. In my opinion this was the best of the three entrees we tried.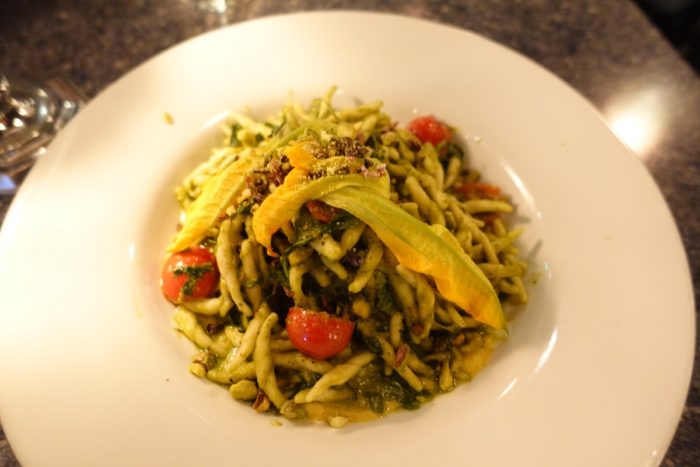 For our final entree we had the Fava Bean & Pistachio Pesto Pasta (Asparagus, Arugula, Tomatoes, Basil and Squash Blossoms). Fans of herbs, pesto, and pasta will love this dish. The fresh vegetables are also a nice touch. It's great to have a vegan dish that actually has some thought put into it. I'm not vegan myself but not everyone is looking to have some form of meat in every meal and this is a great alternative.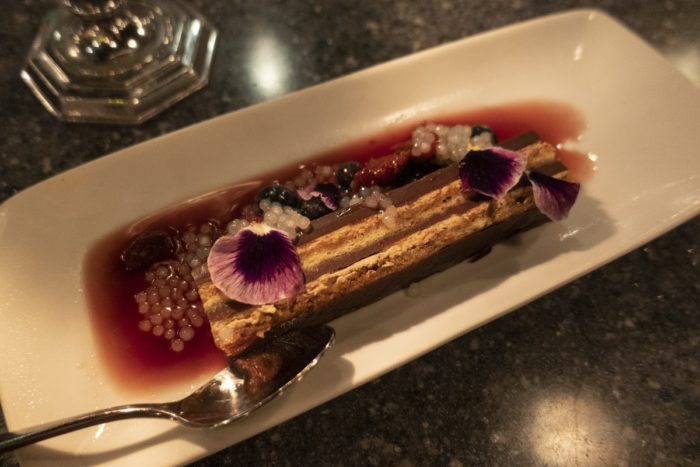 For dessert we have the Layered Chocolate-Coffee Cake with Vanilla Bean Chantilly and Seasonal Fruit Compote. I consider this to be a fancy candy bar, but with a nicer presentation. You do get a decent fruity and chocolate combination with this dessert but none of us were big fans.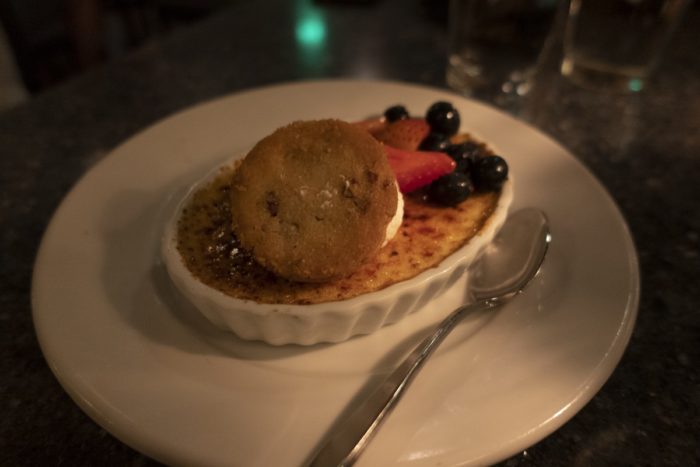 If you've tasted one Disney Crème Brûlée you've tasted them all. It's not necessarily bad, but it also doesn't stand out in any way. I recommend skipping the Blue Bayou desserts in favor of one of the many others available in the parks. Especially any of the seasonal treats during Halloween and Christmas time.
I'm happy to report that Blue Bayou's current menu is worthy of this legendary restaurant's reputation. The dishes are good quality, filling, and flavorful. You also get to dine in a unmatched level of theming and ambiance, even if it's a little crowded with other people. Prices are high with entrees ranging $29 to $52, but there's very few places in the world where you can eat inside of a theme park ride, let alone one of the most beloved rides of all time.
Plan your perfect Disneyland trip with us! Check out our Disneyland Crowd Calendar, which rates every day of the year on a scale of 1 to 10 so you can see how busy Disneyland and DCA will be during your visit. We can even book your vacation for you. Our agents are the best in the world and they're ready and waiting to help you plan your perfect Disneyland trip. Click here to get a quote!
Have you dined at Blue Bayou recently? Let us know in the comments if you agree or disagree with anything we said.