Disneyland Late Arrival Touring Plan for Parents with Small Children
In this post we will highlight one of our premium Disneyland Resort touring plans. The Disneyland Late Arrival Touring Plan for Parents with Small Children is for those who plan on arriving to the park after 11 AM, and features attractions that rated highest in our surveys with children 40″ tall and smaller. If the plan calls for you to experience an attraction that does not interest you, simply skip it and proceed with the plan. If you have kids who aren't eligible to ride, try switching off. Keep in mind this is a late arrival plan, meaning you'll miss out on those early morning hours where waits are at their lowest.
For access to all of our premium Disneyland Resort touring plans, and to support our website's existence, please consider subscribing.
STEP

1) Snow White's Enchanted Wish

Start things off in Fantasyland with this recently reimagined classic. Here, you ride in a mining car in the dark through a series of sets drawn from Snow White and the Seven Dwarfs. The attraction has a Perils of Pauline flavor and features Snow White as she narrowly escapes harm at the hands of the wicked witch.

2) Mad Tea Party

Go for a spin on Mad Tea Party in Fantasyland.

3) Star Wars: Rise of the Resistance

There's no good time to ride Rise of the Resistance without a long wait, so you may as well get it over now. It's the most popular ride in the park and unless you are ahead of the pack when the park opens, you're in for a long wait. If you don't want to ride, or if the wait is too long, move on to the next step. Keep in mind Rise of the Resistance breaks down often and usually closes several hours before the rest of the park.

4) Eat lunch

Grab some lunch if you're hungry. At this point in the plan you'll be in Star Wars Galaxy's Edge where

Ronto Roasters

and

Docking Bay 7

are located. Both are excellent dining options.

5) Autopia

Make your way to Tomorrowland and take a ride on Autopia. Autopia is an elaborate miniature freeway with gasoline-powered cars that will travel at speeds of up to 7 miles per hour. This attraction rates highly with small children.

6) Finding Nemo Submarine Voyage

Experience Finding Nemo Submarine Voyage in Tomorrowland. This ride takes you on board an actual submarine where you see scenes with characters from the Finding Nemo films.

7) Alice in Wonderland

Go back to Fantasyland and ride Alice in Wonderland. This attraction recalls the story of Alice in Wonderland with some nice surprises and colorful effects. Guests ride nifty caterpillar cars in this Disney spook-house adaptation.

8) Peter Pan's Flight

Ride Peter Pan's Flight. One of Disneyland's most popular attractions, Peter Pan's Flight is superbly designed and absolutely delightful, with a happy theme, a reunion with some unforgettable Disney characters, beautiful effects, and charming music. Tiny pirate ships suspended from an overhead track launch you from Wendy's window to fly over nighttime London and on to Never Land and an encounter with Captain Hook, Mr. Smee, and the ubiquitous crocodile.

9) "it's a small world"

Ride one of Disney's all time classics, "it's a small world." A happy and upbeat attraction with a world-brotherhood theme and a catchy tune that will roll around in your head for weeks. Small boats convey visitors on a tour around the world, with singing and dancing dolls showcasing the dress and culture of each nation.

10) Mickey & Minnie's Runaway Railway

Ride Disneyland's newest ride. Runaway Railway places you in the center of one of the current generation of Mickey Mouse cartoons. The premise is that you're on an out-of-control railroad car, courtesy of Goofy. You careen, gently, through 10 large cartoon show scenes, from tropical islands to cities to out-of-control factories. In each scene, Mickey and Minnie attempt to save you from disaster, with mixed results.

11) Dumbo the Flying Elephant

If you have time before the parade, make a pit stop in Fantasyland and go for a spin on Dumbo the Flying Elephant.

12) "Magic Happens" Parade

Catch the evening performance of "Magic Happens" Parade. Viewing locations are available all along Main Street, U.S.A. and the pathway leading up to "it's a small world." Be sure to grab a spot at least 30 minutes ahead of time as they do fill up.

13) Pinocchio's Daring Journey

After the parade go back to Fantasyland and ride Pinocchio's Daring Journey. This is another twisting, curving track ride in the dark, this time tracing the adventures of Pinocchio as he tries to find his way home.

14) Casey Jr. Circus Train

If you have time, hop on Casey Jr. Circus Train in Fantasyland. If not, head back to Galaxy's Edge so you don't miss out on the three remaining rides in this plan.

15) Millennium Falcon: Smugglers Run

Ride Millennium Falcon: Smugglers Run in Galaxy's Edge. Smugglers run lets guests fulfill their childhood fantasy of flying at the helm of Han Solo's Millennium Falcon, the "fastest hunk of junk in the galaxy." Guests approaching the attraction will see all 110 feet of the Falcon parked outside the spaceport.

16) Haunted Mansion

Exit Galaxy's Edge via the path near Rise of the Resistance and ride Haunted Mansion in New Orleans Square. Guests board "doom buggies" for a ride through the mansion's parlor, dining room, library, halls, and attic before descending to an uncommonly active graveyard. Disney employs almost every special effect in its repertoire in The Haunted Mansion, making it one of the most inventive and different of all Disney attractions.

17) Jungle Cruise

Finish the plan with a ride on Jungle Cruise. On this boat ride through jungle waterways, passengers encounter elephants, lions, hostile natives, and a menacing hippo. It's a long-enduring Disney favorite with the boatman's spiel adding measurably to the fun.

Spend any remaining park time riding anything you missed, or revisiting your favorites.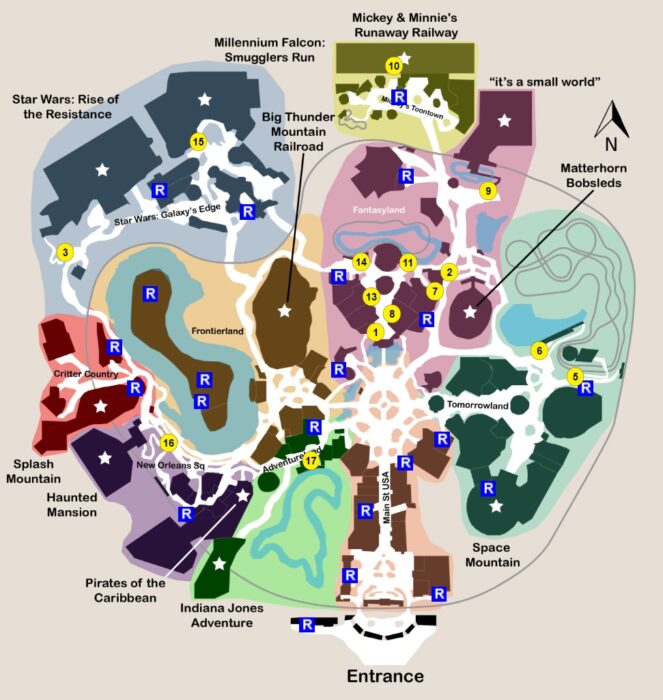 Don't forget, you can customize and optimize this or any of our other touring plans using our personalized touring plans creator on the site or in our mobile app, Lines. Be sure to check out our other touring plans that will help you save time and money in Disneyland Resort.