DIY Cookies and Cocoa Crawl at Magic Kingdom Resorts
One of the favorite holiday traditions of Disney fans is to hop around the Disney resort hotels to view the beautiful decorations and sweet gingerbread displays. You could make a whole afternoon of it! This year many of the Disney resorts have expanded their food and beverage offerings at the gingerbread displays making this the sweetest holiday season yet. The Disney resort gingerbread displays aren't just a treat for the eyes–they can lead you to some festive sweets and drinks too. Each resort offers a little something different. Besides gourmet cookies, you can also find treats that make great gifts. You can cross off some small gifts for friends, coworkers, and others all while having a holly jolly time. Here's how to create your own cookies and cocoa crawl around the Magic Kingdom resorts.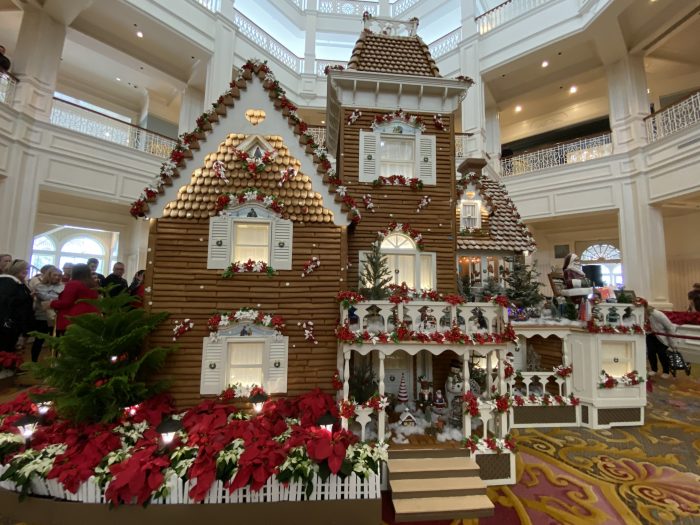 Disney's Grand Floridian Gingerbread House
I recommend starting at Disney's most popular gingerbread display. The gingerbread house at Disney's Grand Floridian is the largest display and attracts many guests throughout the season. Here you'll find the only holiday treat stand that is actually inside the gingerbread display itself. Purchasing some cookies and gifts here is an experience unto itself. The Grand Floridian has the longest list of cookies and treats available out of all the gingerbead displays; it can be hard to decide which to order. There are also sugar-free cookies and two varieties of gluten-free cookies available.
My suggestions for the best treats at the Grand Floridian gingerbread display are the Grand Cake Pop for $7.00, S'More Cookie $5.50, Mickey Head Caramel Pecan Fudge $6.50, or the Gingerbread Mickey Ears dipped in chocolate $9.50. There is also a Snowman Donut for $4.00 that sounds fun, but wasn't available when I visited. Most of the items available here count as Disney Dining Plan Snacks. Every year I am tempted by the gingerbread shingles, because of how fun is it to nibble on something that is used to build the gingerbread display, and every year I am disappointed in the overly molasses flavor and weird texture.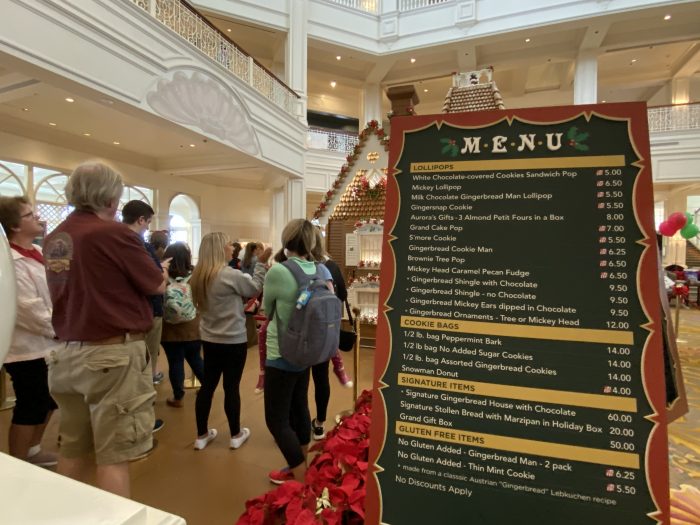 Here at the Grand you can also treat yourself or someone else to three Signature Items. These items are large, specialty treats, made with gift giving in mind. There's a Grand Floridian Signature Gingerbread House with Chocolate ($60.00), Signature Stolen Bread with Marzipan in a Holiday Box ($20.00), and the Grand Gift Box filled with a variety of sweet treats ($50.00).
The one thing that is missing here is a signature beverage. The other Magic Kingdom resorts have festive drinks at their gingerbread display. Grand Floridian's display does not offer any signature beverages, probably due to its location inside the actual gingerbread house.
Disney's Contemporary Resort Frozen Drinks and Cookies
Hop aboard the monorail for a merry ride over to Disney's Contemporary Resort. You'll make a quick stop at Magic Kingdom. The holiday decorations at the front of the park and the tall Christmas tree on Main Street can be seen as you pass by, adding some festive fun to this cookie and cocoa crawl. Once the monorail has reached the Contemporary, head down the escalator and all the way to the left to delight in the gingerbread display. This is the tenth anniversary of Disney's Contemporary Resort's gingerbread display. This year's theme is "Cinderella" (it was last year's theme too). It is always sweet to see Disney characters given a Mary Blair / it's a small world look during this display. The addition of a glass slipper on display is a magical touch.
Right next to the display is a holly jolly hut that offers a great variety of cookies, treats, and frozen drinks. Frozen Apple Cider and Frozen Hot Chocolate, each $4.75, are a special offering not found at other gingerbread displays. Sometimes Orlando has wintery cold weather, but most of the time it is sunny and warm, so these frozen holiday drinks are a fitting treat. You can also add a shot of rum, Fireball whisky, or other liquor to your frozen beverage for $9.00 additional. There is a better value at our next stop if you're looking for a little extra holiday spirit.
The cookies at Disney's Contemporary Resort are some of my favorite available this time of year. My suggestions are the Lizner Cookie (a twist on a traditional Austrian shortbread with fruit preserves) ($6.50), Chocolate Peppermint Cookie ($6.50), or the Chocolate Chip Pecan Cookie ($5.50). No Sugar Added Tea Cookies, a Plant-Based Gingerbread Loaf, and Gluten-Free Cookies are also offered.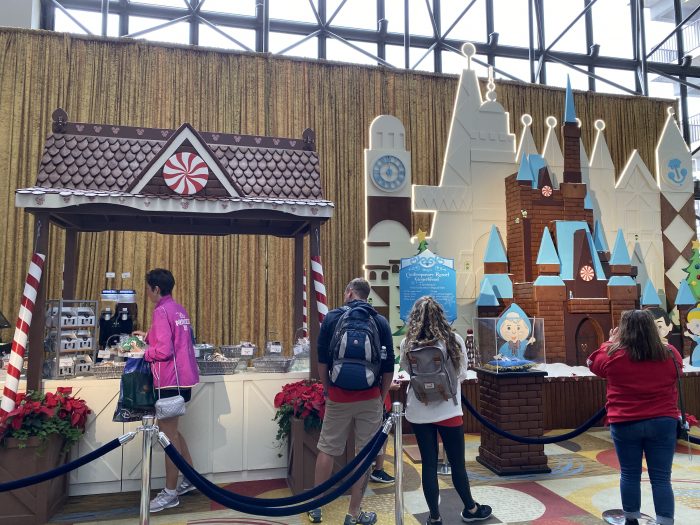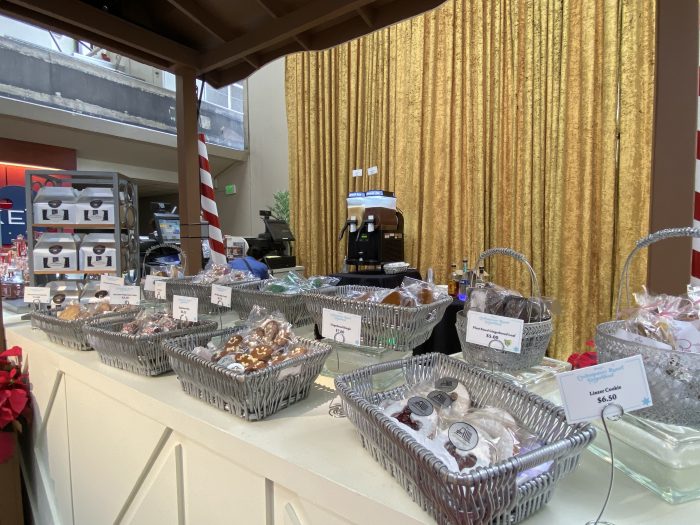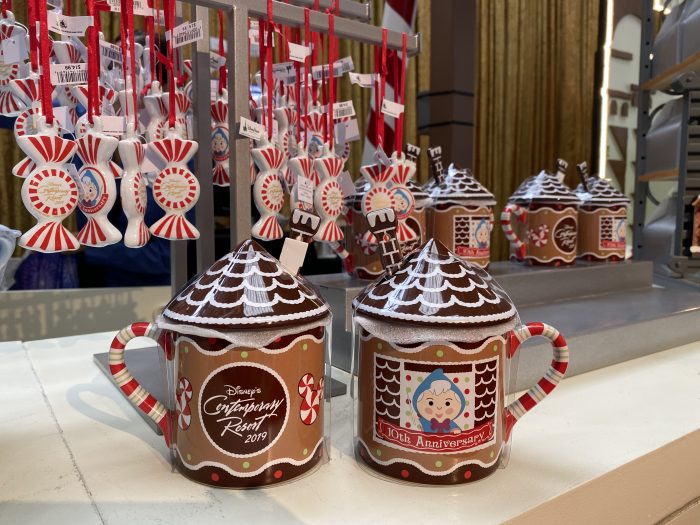 Many of the gingerbread displays across Disney property have signature merchandise available including anniversary ornaments and cocoa mugs. Here at the Contemporary you'll also find a 10th anniversary treat box which features five cookies, small versions of each signature cookie, for $14.00.
Disney's Wilderness Lodge Gingerbread Cabin and Holiday Treats
From Disney's Contemporary you can take a boat directly over to Disney's Wilderness Lodge. For many, this resort is the most festive of them all with its woodsy feel and beautiful holiday decor. This year the Wilderness Lodge is the proud recipient of their first gingerbread display in fifteen years. This resort may not have had a gingerbread display, but that hasn't stopped the merchandise team from setting up a table with holiday merchandise and treats in the lobby each year. At this stand you'll find some of the most unique treats of all, many that match the theme of the resort. Plus, you can enjoy flavored hot chocolate with a shot of spirits that won't break the bank.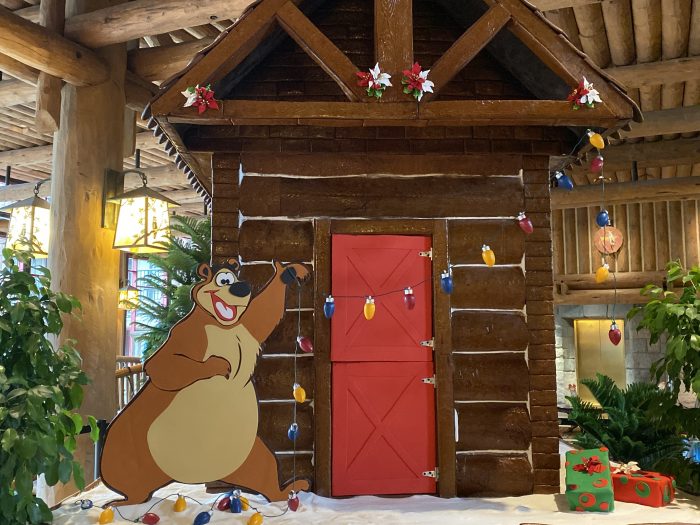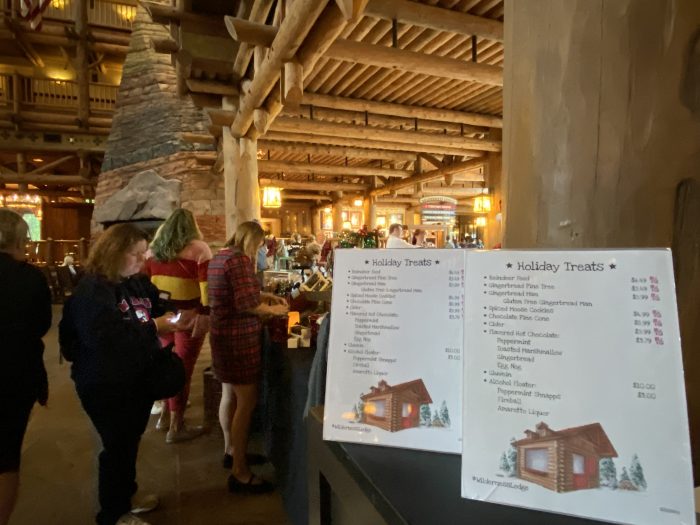 My suggestions for treats are the Spiced Moose Cookie ($4.99) which is a nice combination of a sugar cookie and a gingerbread cookie, and is one of my favorites of the year, and the Reindeer Food ($6.49) which combines pretzels, gingerbread, granola, and other treats, drizzled with chocolate. Your boat ride over may be a brisk one so grab yourself some hot chocolate available in four flavors (peppermint, toasted marshmallow, gingerbread, or egg nog) ($3.79). You can add Peppermint Schnapps, Fireball, or Amaretto for only $3.00 more! For something that hearkens back to the olde world there is Gluwein for $10.00.
Be sure to bask in the beauty of this resort's lobby. Sit by the fireplace inspired by the Grand Canyon. Take a stroll over to the Boulder Ridge Villas to enjoy the decorations and small lobby there. After all the wonderful cookies and treats you've indulged in you may have extra energy to burn!