Do You Need A Verandah on Your Disney Cruise Line Sailing?
The word "verandah" (with the fancy H at the end), is Disney-speak for balcony; verandah rooms are those with an exterior balcony. While some cruise lines offer cabins with balconies (or "verandas" or "verandahs") that face to internal ship areas like atria or pools, all Disney Cruise Line verandahs face outward, toward the ocean.
Before we get started on our thinking about whether you need a verandah during your DCL sailing. Let's do a quick overview of the four major room types on Disney Cruise ships:
Inside staterooms: Rooms with no exterior view or access. Some inside rooms on the Dream and Fantasy have "virtual porthole" video screens that may project exterior views into the room. Inside rooms are often smaller and less expensive than other rooms.
Oceanview staterooms: Rooms that have one or more porthole windows, but no physical exterior access.
Verandah staterooms: Rooms that have a sliding door with access to a balcony or exterior space. There are several verandah configurations, most with seating for two. Some verandahs are oversized, undersized, or have restricted views of various sorts. This information is included in the description of each stateroom.
Concierge staterooms. Rooms or suites with enhanced amenities and concierge lounge access. The vast majority of these also have verandahs.
Only you can decide what impact having a verandah stateroom will have on your vacation. Here are some things to think about as you make your decision.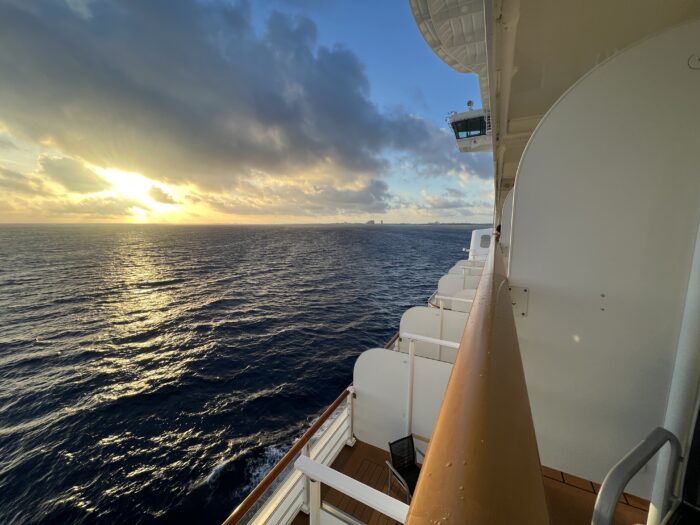 What is the price difference between a verandah room and oceanview or inside rooms?
Verandah staterooms are almost always more expensive that other non-concierge rooms – that alone might make the decision for you.
However, on some 2- or 3-night sailings, the difference between oceanview and verandah rooms might be as little as $200, which could be a relatively easy splurge for some guests. On the other hand, some sailings of a week or more might see a price difference of several thousand dollars between oceanview and verandah rooms, making the decision more impactful.
What else would you do with that price difference?
In situations where you're looking at an upcharge of many hundreds or thousands of dollars to acquire a verandah room, you'll want to consider what else you could do with that money. Would those funds be better spent on adult dining? Or on the Bibbidi Bobbidi Boutique experience of your child's dreams? Or on the port excursion of a lifetime? For example, the glacier dogsledding excursions on DCL Alaska sailings are quite pricey, but they could be life changing experiences. Would forgoing a verandah help you attain that experience?
You should also think about what home experiences would be impacted by selecting a verandah room. Obviously you'll want to avoid any expenditure that impacts things like rent or car payments, but you might also want to think about whether opting for a verandah will mean your child will have to miss out on an enrichment activity at home.
How long is your sailing?
On a short sailing of fewer than five nights, you might be able to power through with, say, an inside stateroom. If you're sailing for a week or more, then a smaller, enclosed stateroom space might start to feel unduly claustrophobic.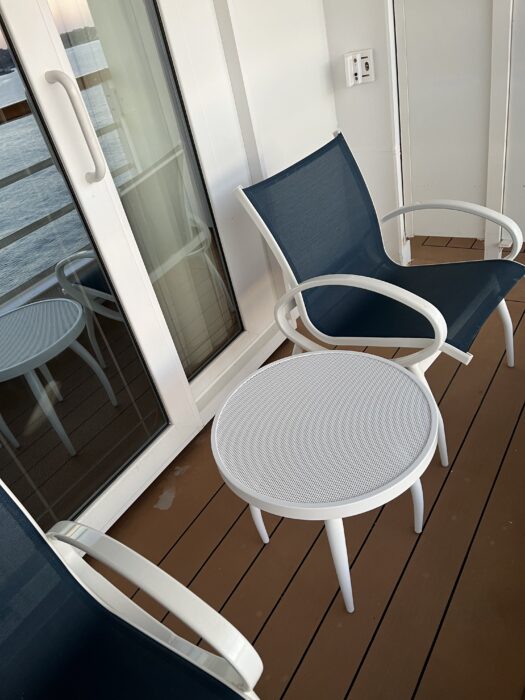 How many sea days is your sailing?
A corollary of the length of sailing is the number of sea days. Some sailings have no sea days – meaning that you'll have the opportunity to get off the ship and walk on land every day. Perhaps a verandah is less necessary in this situation. Other longer sailings (often repositioning routes) may have six or more sea days. Will you want to have no access to your own outdoor space for that amount of time?
What is your itinerary?
On most sailings in the Caribbean, Bahamas, and Mediterranean, the weather should be warm enough that you'll feel comfortable sitting on a verandah enjoying a beverage or reading a book for an hour or two. On some Northern European or Alaskan sailings, you might enjoy popping out to your verandah for a peek at the sights, but some folks will find it too chilly for lengthy lounging.
However, bear in mind that the Alaskan glaciers and Norwegian fjords offer more varied, and possibly more interesting, scenery than endless ocean views.
Are you planning to go ashore on port days?
Some guests opt to go ashore at every port, leaving less time available for verandah lounging. Other guests prefer to remain onboard the ship, possibly making time relaxing on a verandah more appealing.
Does anyone in your party have physical limitations?
Guests who find it physically challenging to repeatedly leave their stateroom, might find that verandah access significantly impacts their quality of life.
Are  you traveling with small children?
There are two schools of thought on mixing verandahs and younger children.
First, some parents find that a verandah offers them an interesting space to chat and enjoy the view after the children are asleep. They couldn't imagine being stuck in a small stateroom for the entire evening.
Second, some parents are nervous about adventurous children having access to outdoor space. The verandah doors are heavy and feature locking mechanisms at about adult shoulder height. Nevertheless there are sometimes reports of curious kids standing on chairs to unlock doors. If you're a single parent of an enterprising youth, you may want to pass on a verandah room until your child is a bit older.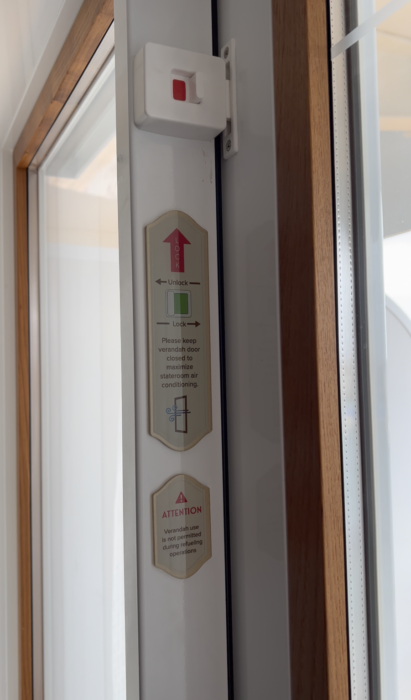 How large is your party?
If you have four people in your party, having the extra space of the verandah might make everyone more comfortable than squeezing into a oceanview or inside room. If you have more than four people in your party, you might find two staterooms a more appealing option. Some guests in this situation split the difference and opt for one stateroom with a verandah and one without – best of both worlds.
Also note that in many cases, your cabin steward can remove the barrier between adjacent staterooms. If you have a large party and book several staterooms in a row, you may be able to create a huge verandah for socializing.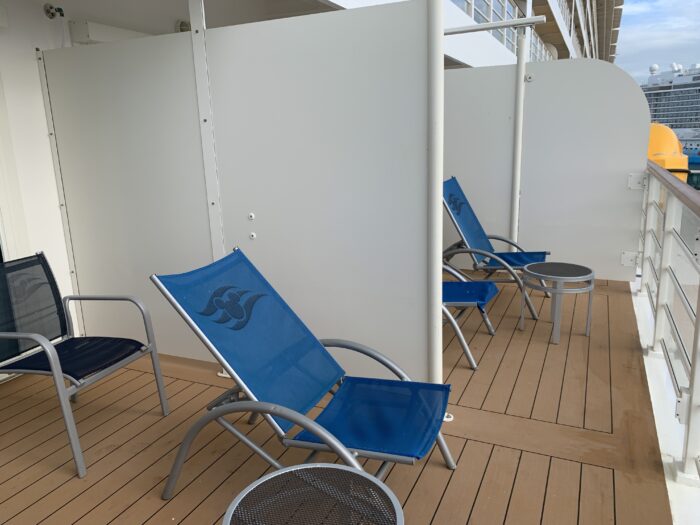 Do you like the ocean?
This may seem silly, but not every guest on a Disney Cruise Line sailing loves looking at the ocean. They might enjoy DCL's entertainment, food, or decor. Or they might want to visit specific ports on a DCL itinerary, but the ocean itself is relatively unappealing. If you don't love looking out at the ocean, then skipping the verandah and saving money could be an easy choice.
Do you have motion sickness issues?
Some guests prone to motion sickness find that ready access to the wind and brisk ocean air settles their stomachs. If you're in this category, a verandah could be a must for you.
For other tips on dealing with motion sickness at sea, see our full post on this topic.
How do you feel about privacy?
Regardless of what type of stateroom you've booked, you'll have plenty of access to the outdoors on the pool decks and other open seating areas on the ship. However, introverts and others who value outdoor privacy or quiet time, may prefer sitting on their own dedicated verandah rather than in a public area of the ship.
On a related note, if you're concerned about being observed while sitting on your verandah, opt for a higher deck. Guests with lower deck verandahs may be seen from the verandahs above them.
Are verandah rooms available on your preferred sailing?
DCL ships include more verandah rooms than inside and oceanview rooms. On most sailings, you'll have at least a few verandah options. That said, some particularly popular itineraries or last minute bookings will have no verandah availability. In this case, you'll have no choice but to opt for an non-verandah stateroom.
For more tips on Disney Cruise Line travel, check out The Unofficial Guide to Disney Cruise Line or speak with one of our expert Touring Plans travel agents.