Entering the WDW Parks Without a Bag – Is it Realistic?
I'll admit it – I look like a pack mule when I enter the Disney World theme parks.
Or maybe it would be more accurate to say that I look like a cross between Quasimodo and Mary Poppins, hunched over with a massive over-stuffed bag. Yes, I'm the one you're cursing under your breath at the security line, "Who could possibly need all that stuff?" So you could have knocked me over with a feather when I learned that my Touring Plans compatriot Julia Mascardo routinely enters the parks carrying nothing but her phone and a tiny card case. How is that even possible?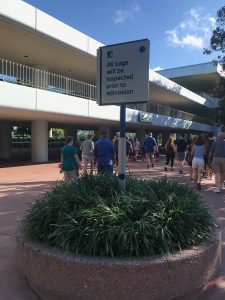 Let's back up for a second and reiterate that you should follow Julia's recent advice and never go to the parks without these basics: your admission ticket or Magic Band, a government issued ID, some form of ability to pay for items in the real world (cash, credit card, etc.), and your medical insurance card. Realistically, most adults will also bring their phones into the parks. These most basic of basics will all comfortably fit into your back pocket.
So why on earth do I look like I'm going camping when I visit the Magic Kingdom? Let's break it down:
Local vs. Tourist
Julia lives within spitting distance of the Magic Kingdom. If it starts to pour, or she gets a blister, or if any of a million other minor mishaps occur, she can just head home and try again tomorrow. She doesn't need to carry a zillion forms of vacation remediation with her because those things all exist at her house.
As much as it feels like I live at Walt Disney World, my actual home is in New York. When I go to Walt Disney World these days, I'm typically there for an intense research trip, with a packed schedule from 7:00 a.m. until 10:00 or 11:00 p.m. (or sometimes even later). If a problem happens, I have to fix it and keep going.
Long Day vs. Short Day in the Parks
If you're away from your hotel (or home) for just a few hours, you can keep some items there, but longer outings in Florida require a re-application of sunscreen. Gotta bring the bottle with you.
Out and about, you'll also need plenty of hydration. There are only so many environmentally unfriendly $4.00 bottles of water you can buy before you realize you should bring your own refillable water bottle.
Medical Issues
I don't personally need a lot of medical equipment when I visit the parks. If you're a person who does, those items are obviously non-negotiable and going through the no-bag line at security will be all but impossible for you.
My tangentially related item is prescription sunglasses. I can't see without glasses and I can't see in overly bright light. Sunglasses in a hard protective case are a must-have for me.
Once you're carrying anything, you may as well throw a few bandaids and a dose of Motrin in your bag. Those things are available at the first aid center (potentially a ten-minute walk away) or behind the register of some park shops ($3.00 for two Tylenol, for example). Neither option is ideal.
Personal Comfort Issues
Items like hand sanitizer, gum or mints, lip balm, headphones for audio entertainment during a long wait in line, a granola bar or small baggie of almonds, and tissues or wipes to clean up spills are often in my park bag. Are any of those items 100% necessary to have a good day at a theme park? No. Do I find myself using them almost every time I go to a theme park? Yes.
Do I Really Need to Have Every Solution on my Person at All Times?
Maybe, maybe not. Some things, like an industrial-strength phone charger, are non-negotiable for me. I'm often in the parks for 10+ hours at a time and if my phone dies, I'm toast. Yes, I could buy a fuel rod or stop at a charging station but 1) why pay money for something I already own and 2) I don't have time for that and neither do you.
Many of the other things I carry could be fixed on the go with minimal time lost, but there is a potential money lost factor. For example, my park bag includes an umbrella or rain poncho, sometimes both. I check the weather every morning before I leave the hotel. Sometimes when I see zero chance of rain in the forecast, I leave the rain gear back in the room. And that's the reason why I currently have seven poorly made $15 Disney Parks umbrellas in my coat closet. It only takes a minute to buy an umbrella or poncho when you're caught by an unexpected downpour, but when unexpected becomes ordinary, be prepared seems like the sane way to go.
Similarly, about 3/4 of the Disney sweatshirts I own are from days when I decided "I really don't need to bring a warmer layer to the parks today" and encountered a weather change or an air-conditioner over-zealous enough to make me change my mind.
Meeting the Needs of Babies and Young Children
My kids are old enough to carry their own gear, but if your children are under the age of about five, they're going to require lots of gear that the adults in the party will have to carry and keep track of: diapers, sippy cups, bibs, nap items – the list is endless. If you have a baby, toddler, or preschooler, you simply cannot go to the parks empty handed.
The Issue of Gender
In my unscientific observation of guests entering the theme parks via the "no bags" line, the majority are men. Is this because women are socialized to be prepared? Do men care less about small personal comforts? (Seriously, when was the last time you saw an article in a men's magazine called something like "13 Purse Essentials Every Totally Prepared Woman Carries in Her Bag"?) Are they fine because they have bigger pockets? Do they have other people to carry their stuff for them? Are their bodies immune to torture of too much AC?
#goals
While I find myself jealous of folks who stroll into the theme parks unencumbered by a giant tote, I don't think I'm there yet, at least not in my current situation. If I'm going to be away from my hotel room for 12 hours, I am bringing sunscreen and a water bottle. I just am. And once I have that, the poncho and sweater are probably going into the bag too. And so on and so on.
But I am trying hard to pare it down, at least a little. Maybe I really don't need the extra pair of socks "just in case." Maybe I don't need to ask myself "but what if" quite so many times every morning at Walt Disney World. Packing light, sigh, #goals.
What about you? Are you a be-prepared person? Or a let-the-chips-fall-where-they-may person? Does it matter if you're a local or a visitor? Does gender matter? Let us know your thoughts.