FAQ: Business Centers at Walt Disney World
As much as we'd all love to tune out the real world when we're vacationing at Walt Disney World, in the age of COVID the lines between home, vacation, and work are all a blur. For some folks, it's all but unavoidable that you'll have to complete some business or school assignments while you've decamped to Disney. When you encounter this situation, the WDW Business Centers can be a big help.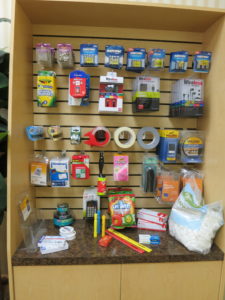 What is a business center?
The business centers are places at Walt Disney World equipped to help people carry out the kinds of things they might need to do in an office situation: make copies, send and receive packages, use computers, print documents, etc.
Where are the business centers located?
Not surprisingly, the business centers are located at the Walt Disney World hotels that have convention centers. These are: Yacht Club, Boardwalk, Contemporary, Coronado Springs, and Grand Floridian hotels. All are in Convention buildings adjacent to the main hotel buildings.
Note: The Swan and Dolphin have their own business facilities that may have difference services than detailed in this post. Also note, the Art of Animation resort has a mini-center in its lobby, with a few computers and a copier, but no shipping services.
What are the business center hours?
Business Center hours may vary, depending on whether there are a large number of attendees at a conference or similar event, but in general the Business Centers adhere to business hours such as 8:00 a.m. to 5:00 p.m.
If you're thinking of heading over to business center at other times, it makes sense to have the front desk of your hotel call over to the Center to make sure it will be open.
I'm not staying at one of the hotels with a Convention Center. Can I still use the Business Center there?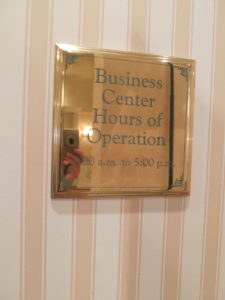 Yes. Guests of any Disney hotel are welcome to use any of the Business Centers.
However, if you're coming from another hotel, one thing you may want to think about is parking. The hotels with Business Centers are all located in places with easy theme park access. Typically, the parking gate guards will require that non-guests have a confirmed dining reservation in order to park. You may be able to sweet talk them into letting you park near the convention center, but nothing is guaranteed. In order to ensure access, you may want to plan to use Disney's free transportation system or to take an Uber/Lyft/taxi.
I need to use a computer. Can I do this at the Business Centers?
Yep. There are desktop computers available (pay for use) at the Centers.
These might come in handy if you went on vacation with just your phone/tablet and some work unexpectedly comes up that requires lengthy typing or a larger screen. These will also work in a pinch if you've brought your own laptop to WDW, but it breaks and you need a back-up.
I need to make copies. Can I do this at the Business Center?
Yes. There are full-service copy machines at the Centers.
However, if you just need a handful of black & white pages copied, it doesn't hurt to ask for help at your resort's concierge desk. Nothing is guaranteed, but I've had the concierge copy a few pages for me several times with no issues.
At the Business Centers you can get color copies or large quantities of copies. They can also scan or fax documents for you.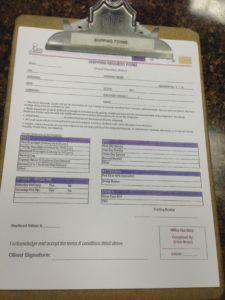 I bought too much at Walt Disney World, can the Business Center ship things home for me?
Sure. The Business Centers can ship items via UPS or FedEx. The carrier's standard rates apply, plus a small service fee.
If you're buying items at Disney-owned shops on property, then it may be easier to just have the store ship your purchase directly to your home (prices are similar). If you want to buy a large quantity of items from a non-Disney store at Disney Springs (Uniqlo or Anthropologie, for example), you might want to consider whether your overall cost will be lower if you place an order via their website and have items sent directly to your home that way.
For same-day shipping, you must have your items processed at the Center by 4:30 p.m. Monday through Friday. Items received after 4:30 p.m. on Friday will be shipped on Monday unless special handling has been requested.
If you do decide to ship things to yourself, the Business Centers also sell boxes and packing materials.
Anything else I should know about shipping?
If you're staying at hotel with a Business Center and you've mailed a package to yourself, you may have to pick it up at the Center. There are handling fees involved with this; prices vary by weight of the package.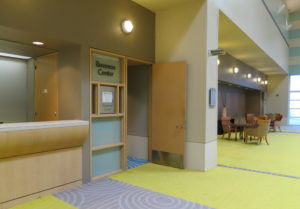 I just need to mail a letter, do I need to go all the way to the Business Center to do this?
The Concierge Desk at your hotel sells stamps (as do many shops on property) and they may be able to provide you with a standard business envelope as well. There are regular USPS mailboxes located in every Walt Disney World hotel lobby.
I need a document notarized while I'm at Disney World. Help!
The Business Centers have notary services, available for $10 per seal.
I need to print a boarding pass for my flight, can I do that at the Business Center?
This was a common question for many years. The answer is yes, you can print a boarding pass at the Centers, but the real answer now is – you don't need to do this. Save yourself a bunch of time and just download your airline's app. You can use the app to check into your flight and get an electronic boarding pass. If that makes you uncomfortable, just check in on the app and get a paper boarding pass at the airport.