Flavors of Florida Returns to Disney Springs in 2023
Are you planning your dining for a summer trip to Disney World? Then you probably want to know about Flavors of Florida at Disney Springs. This limited-time event runs from July 1 through August 13, and brings special dishes and drinks to the menus of your favorite Disney Springs restaurants. There's also a series of culinary demonstrations scattered along the event timeline.
What? Did you say culinary demonstrations?
Yep. In most cases these are chefs demonstrating how to make one or more of the dishes that their restaurants are featuring. For instance, on July 14 you can see Chef James Petrakis of the Polite Pig, demonstrating how to make Key West Pink Shrimp Ceviche which is the Flavors of Florida menu item at The Polite Pig. At the end of most demos, you'll get a sample of the dish.
The events are free, but most are space-available and registration is required. Here's the full lineup, and you can visit the Flavors of Florida Culinary Series page to register.
July 7: Wine Bar George – A Restaurant & Bar, A Demonstration with Master Sommelier George Miliotes
July 14: The Polite Pig – A Demonstration with Chef James Petrakis
July 21: Chef Art Smith's Homecomin' – A Demonstration with Chef Art Smith
July 28: Gideon's Bakehouse – A Presentation with Steve Lewis, Owner and Creator of Gideon's Bakehouse
August 4: Disney Springs Culinary – A Demonstration with Chef Georg Paulussen, Chef Jennifer Ladisky and Chef Gary Miles
If you just want to eat …
Here are some of the dishes that caught my eye; a full list of participating locations is below so you know where to look for specialty items. If you want to browse the complete list of dishes and plan where to go ahead of time, check out the Flavors of Florida Event Guide. There are pictures of everything in there, so prepare for your mouth to start watering.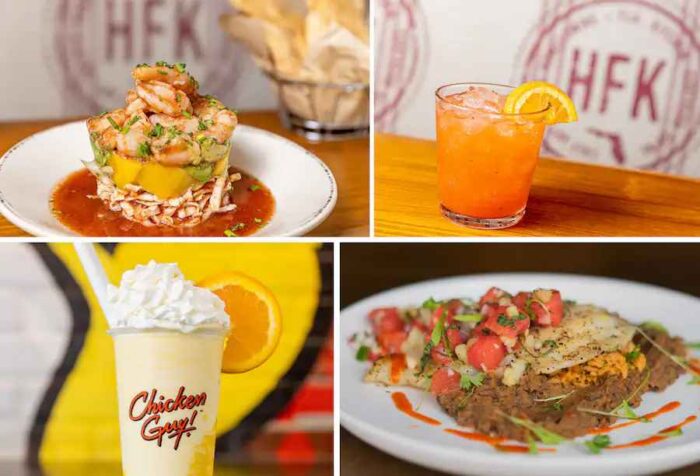 Top right: Florida Crush Cocktail from Homecomin': Combination of Florida's iconic crops – oranges and strawberries – muddled with Tito's Handmade Vodka, then complemented with a splash of freshly-squeezed orange juice and agave syrup. Also pictured: Key West Shrimp Cocktail from Homecomin', Sunshine Shake from Chicken Guy!, and Seared Grouper from City Works Eatery & Pour House.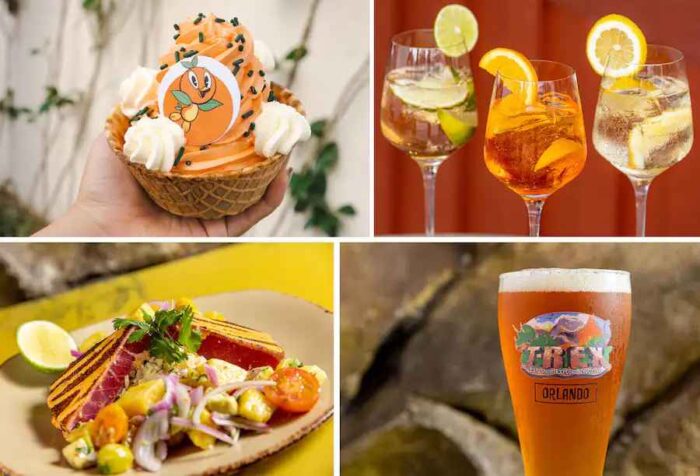 Top left: Orange Bird Sundae from Swirls on the Water: DOLE Whip Orange in a vanilla waffle bowl with whipped cream, green sprinkles, and an Orange Bird chocolate decoration. Also pictured: a trio of cocktails from Terralina Crafted Italian, and from T-REX a Blackened Tuna and Oyster City Mangrove Pale Ale.
Flavors of Florida Table Service Locations
The BOATHOUSE
Chef Art Smith's Homecomin'
City Works Eatery & Pour House
The Edison
Enzo's Hideaway & Maria & Enzo's
Frontera Cocina
House of Blues Restaurant & Bar
Jaleo by José Andrés
Jock Lindsey's Hangar Bar
Morimoto Asia
Paddlefish
Raglan Road Irish Pub and Restaurant
Rainforest Cafe
Splitsville Dining Room
STK Orlando
Terralina Crafted Italian
T-REX
Wine Bar George— A Restaurant & Bar
Flavors of Florida Quick Service Locations & Food Carts
Amorette's Patisserie
Chicken Guy!
Coca-Cola Store Rooftop Beverage Bar
D-Luxe Burger
Dockside Margaritas
Everglazed Donuts & Cold Brew
The Ganachery
Gideon's Bakehouse
Joffrey's Coffee & Tea Company
Pizza Ponte
The Polite Pig
Salt & Straw
The Spice and Tea Exchange
Swirls on the Water
Vivoli il Gelato
YeSake Florida
Are you visiting Disney Springs during July and August? What sounds good enough for you to plan your dining around? Let us know in the comments!