Flower and Garden 2021 Food Booths Reviewed (Part 1)
There's so many good options at the EPCOT Flower & Garden Festival when it comes to food, but which is worth your time, money, and calories? We're reviewing all the food at this festival for 2021. Here's part 1 of our ultimate taste test, conducted by Chrissy and her team.
The Citrus Blossom 
Meyer Lemon-Poached Lobster Salad with Grapefruit-Rosé Vinaigrette, Yuzu-Marinated Hearts of Palm, and Avocado-Yuzu Panna Cotta. This is a new dish not worth the $8.25 price. The piece of lobster was very small and overcooked. It was mealy and mushy. The vinaigrette was delicious and the hearts of palm were nice but that's not what we paid for. Skip!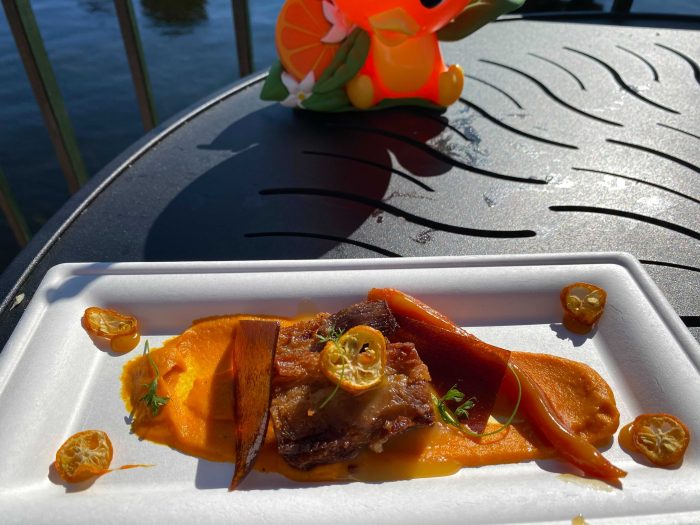 Citrus-Braised Crispy Pork Belly with Kumquat and Carrot. It often feels like pork belly is featured too often (like a mousse) but this one is awesome. This is a new dish for 2021 and it was a great value for $6.00 – not because of the size of the portion but because it's special and isn't something you would make at home – at least not for most people. The carrot was fantastic and the sauce was delightful. Love!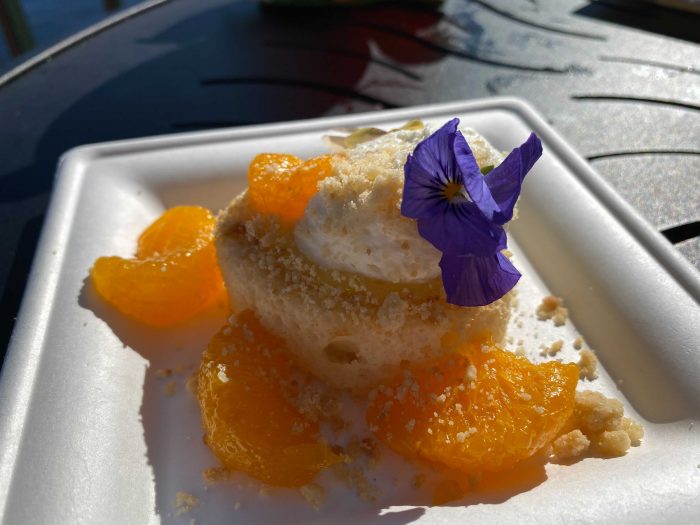 Citrus Shortcake: Orange Chiffon Cake, Lemon Curd, Mandarin Oranges, Whipped Cream, and Citrus Crumble. This is not a bad deal at $4.50 and was popular with everyone in our group. The crumble was a nice contrast to the soft cake. Bright, soft flavors. Not a big wow and probably not worth the line if this is the only thing you're getting. If you're getting in line for the Orange Bird sipper anyway, I would spend the extra money on this.
Refreshment Port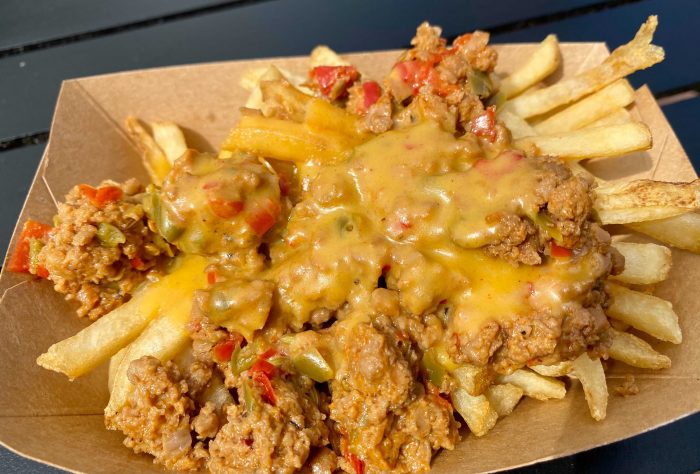 House-Made Italian Sausage and Peppers Poutine. Are we allowed to call this poutine if it has shoestring fries? I feel like that's an issue? The flavors were awesome and will be even better if served on proper fries. Probably just a first day mix up?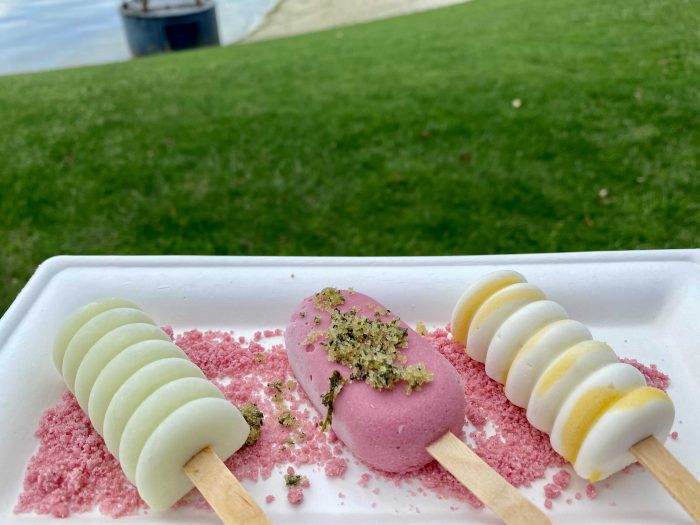 Popsicle Trio: Honeydew, Raspberry-Mint, and Coconut-Lime. How is this not a "must do" when it's just $5 and it serves 3?!?! The honeydew was my favorite but they're all really mellow.
Pineapple Promenade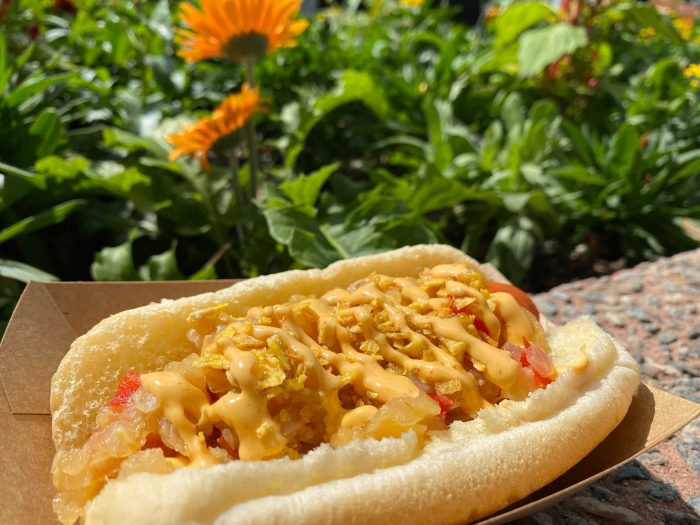 Spicy Hot Dog with Pineapple Chutney and Plantain Chips. This is the same hot dog for the same $8.00. Too spicy for me but the folks in our group who enjoy spice loved it. There were lots of comments about how this is the smallest hot dog on property, though!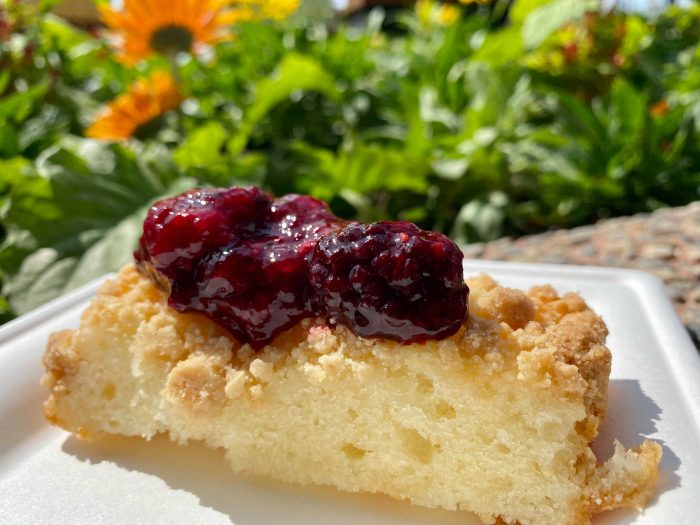 Mixed Berry Buttermilk Cake. This is the same cake for the same $5.00 but way less berry than last year. Maybe the person serving had a lighter hand than last year, but the berries make it.
Violet Lemonade. The prettiest drink at the festival? Probably! It's worth the money ($4.50) on a hot day to get the picture and enjoy this yummy drink.
Magnolia Terrace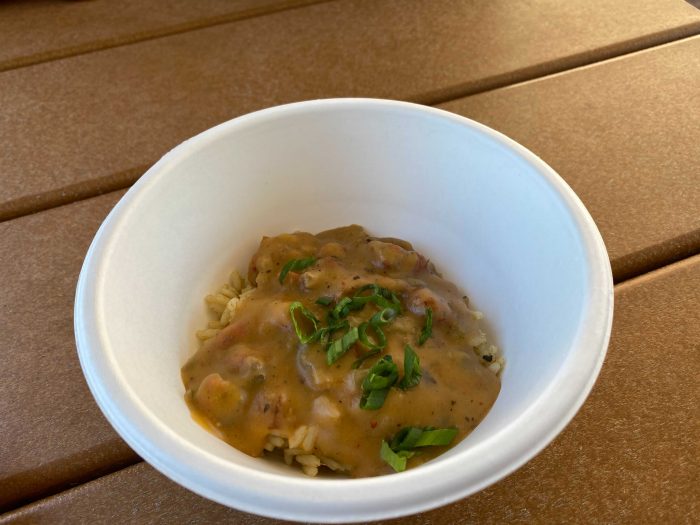 Crawfish Étouffée with Andouille Sausage and Dirty Rice. I was so unhappy that they had this dish replace the seafood boil from last year! That was the best value of the festival in 2020 and this was a sad replacement. It was fine but not worth the $7.25 and needed a shot of Tabasco.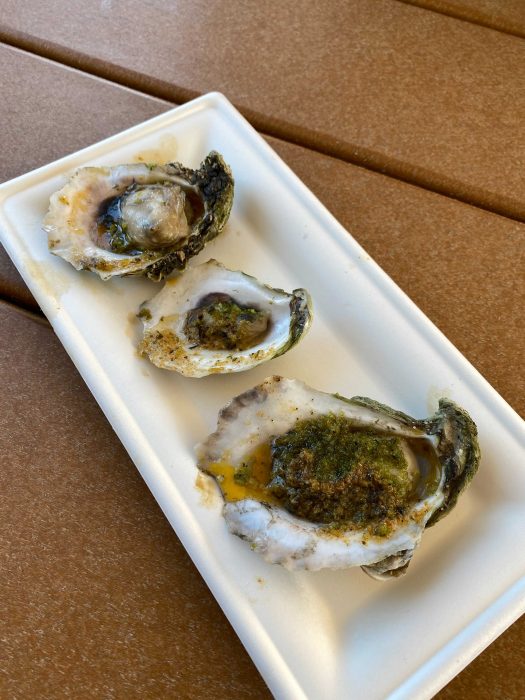 Cajun-Style Roasted Oysters. Excellent for what they were and very, very well seasoned. Is it worth the $7.50? How much do you like oysters?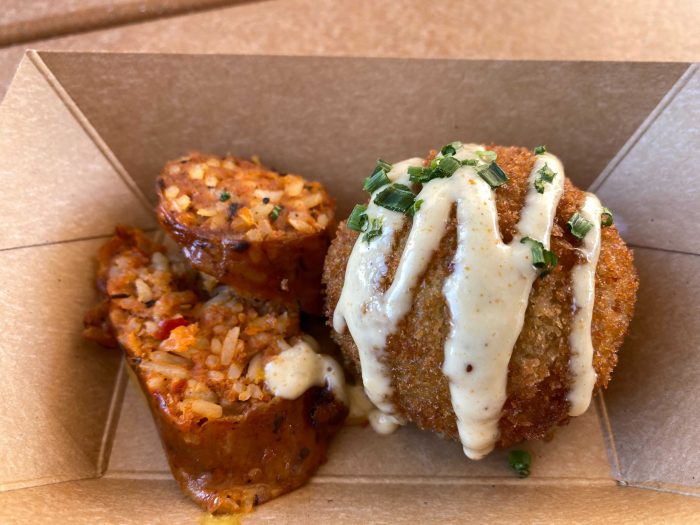 House-Made Boudin Two Ways with Spicy Mustard. This is the same price as last year, the same service and presented just the same. It's not my favorite and there are many other ways to spend that $5.50.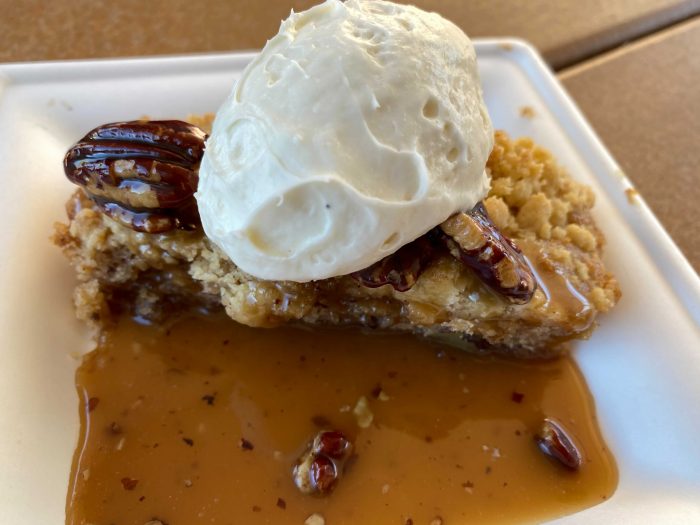 Pecan Cake with Maple Whipped Cream. So happy they didn't up the price on this from last year! It's still $4.75. This is an outstanding choice for anyone who doesn't want fancy or unusual food! Thanksgiving happiness for sure!
Hanami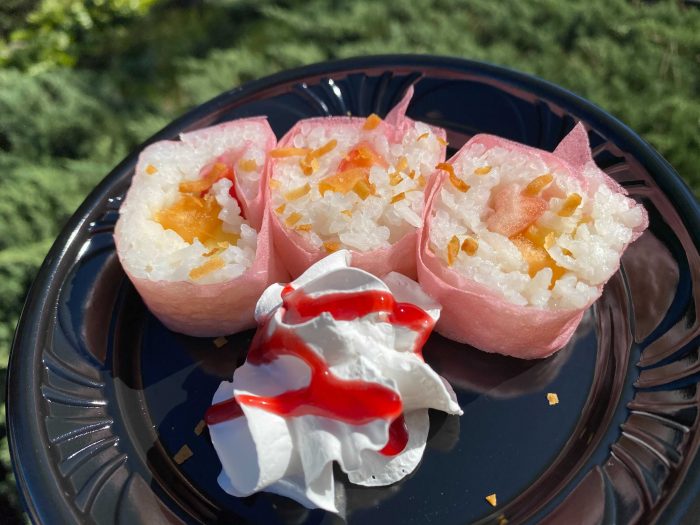 Frushi: Strawberry, Pineapple, and Cantaloupe Wrapped in Sweet Rice and Pink Soy Wrap served with Whipped Cream, Drizzled Berry Sauce, and Toasted Coconut. At $2.00 a bite, this isn't even worth the photo. It's fine but is the worst of their frushi / sushi donut offerings. Skip!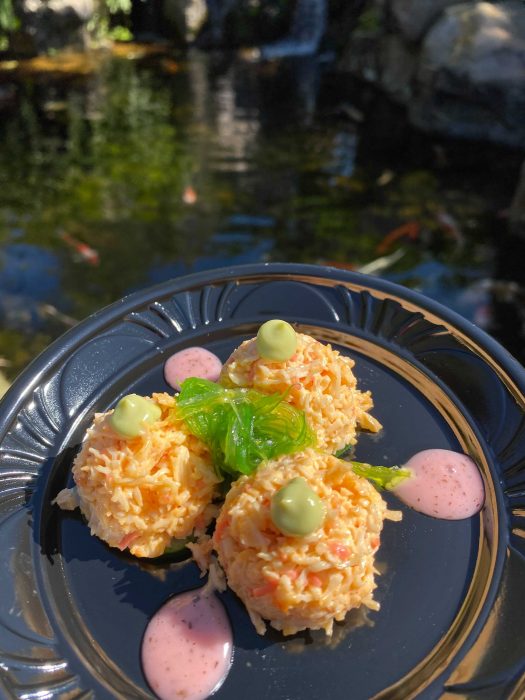 Shrimp and Crab with Spicy Mayonnaise and Cucumber Slices Finished with Creamy Avocado and Violet Sauce.  I loved this and thought it was worth the $6.50. The violet sauce was so unusual but you could still pull the crab and shrimp flavors. The mayo wasn't too spicy either. It was just a nice contrast to the seafood.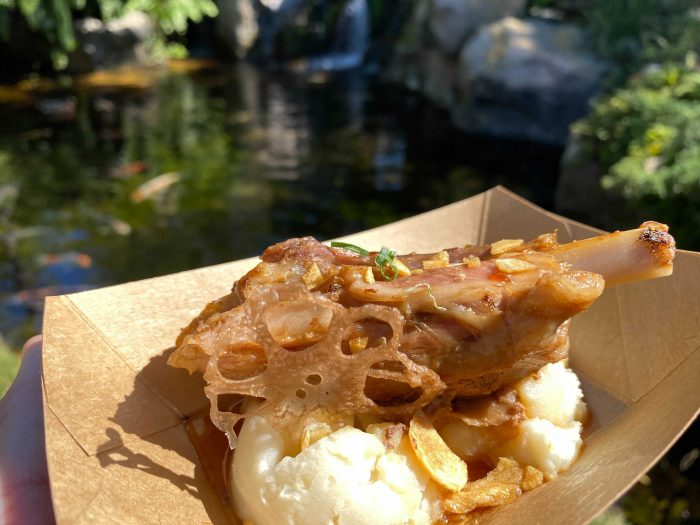 Soy-Glazed Pork Shank with Truffle Mashed Potatoes, Crispy Lotus Flower, Garlic Chips, and Green Onion.  Oh my! This is SO GOOD! She's not the prettiest dish, but it's one of the best tasting! It was well cooked and just fell apart with a fork. I am not thrilled when I see truffle anything on the menu, but this was mild and the pork was the primary flavor. So, so happy. $7.00 seems like a lot but it really is enough to share.
Taste of Marrakesh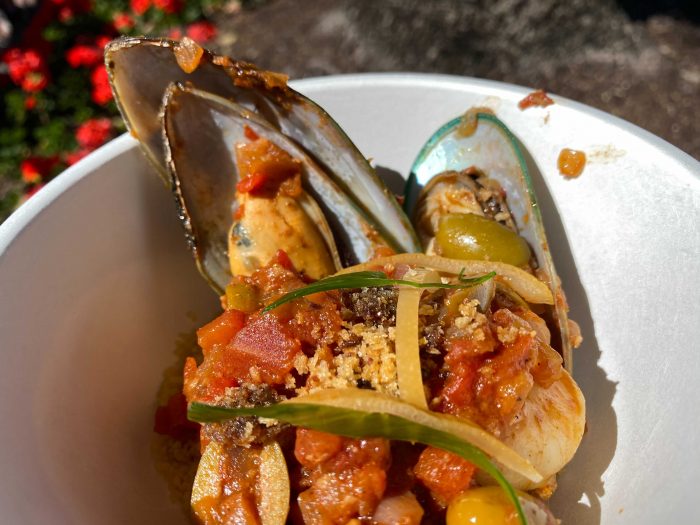 Moroccan Seafood Couscous with Shrimp, Mussels, Olives, Preserved Lemons, and Anchovy Breadcrumbs. $7.25 is a reasonable price for this dish. The shrimp and mussels weren't overcooked which often happens at festivals. If you like traditional Moroccon flavors, this is your jam.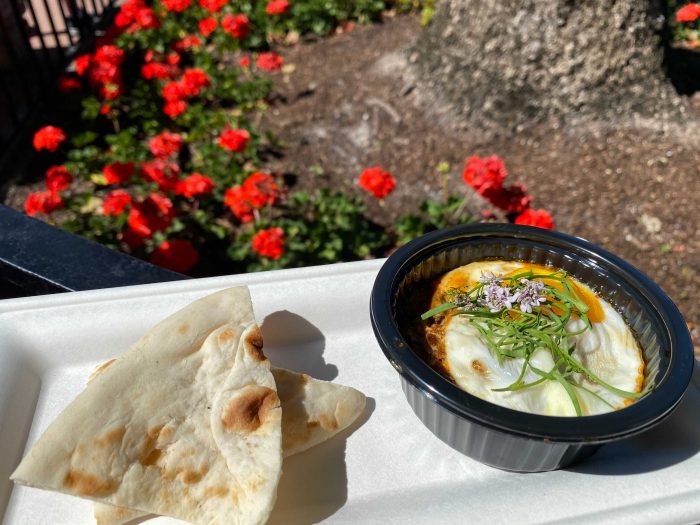 Shakshuka: Moroccan Baked Eggs in a Spiced Eggplant and Tomato Stew. We were all so delighted with this dish! I had zero idea I would love baked eggs like this! We cleaned the plate and I will make sure I go back and get this. It's not spicy but is well spiced. $5.50 is a bargain for this.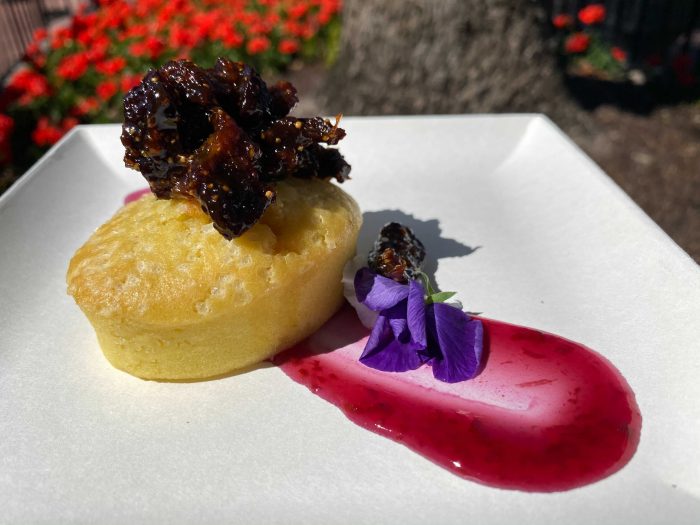 Lemon Magdalena Cake with Fig Compote and Sangria Gel.  This is the most wonderful Fig Newton ever! The figs are chewy and sweet and special. The cake was moist and the sangria gel was sweet and wonderful. It's a great option for $4.75.
Stay tuned for the next in the series of food reviews from the 2021 EPCOT International Flower and Garden Festival!