Fossil Fun Games are $90 an Hour
If you're on any of our three Animal Kingdom touring plans for parents with small children, you're going to be in Dinoland at some point, visiting the Boneyard and the TriceraTop Spin. This means you're going to be in direct line of vision with the midway-style Fossil Fun Games.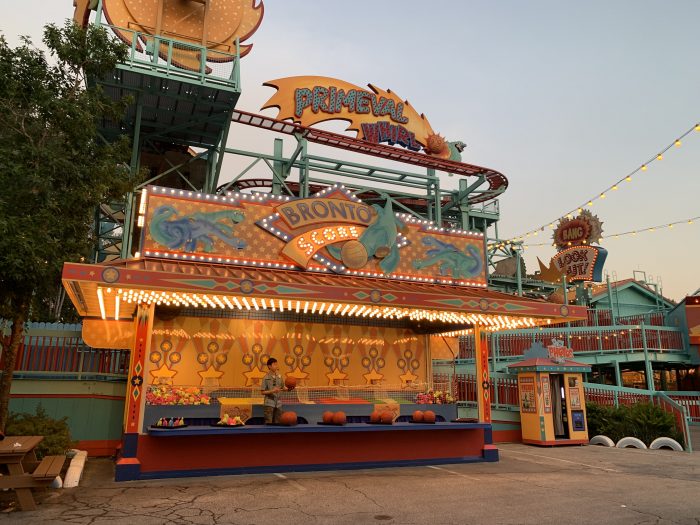 My six-year-old daughter and I were doing a modified One-Day Late Arrival Touring Plan for Parents with Small Children, because we wanted to stay for the Rivers of Light evening show, when we came upon Fossil Fun.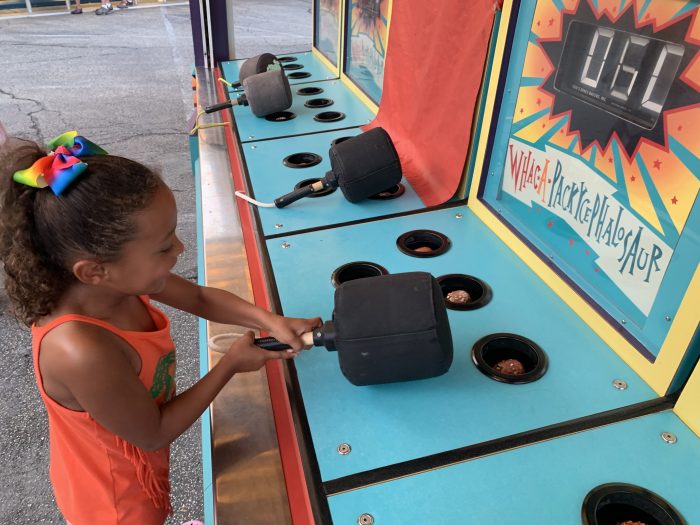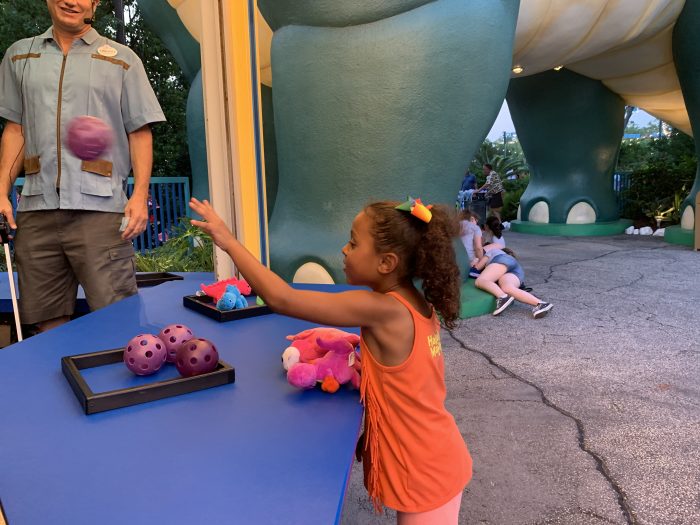 The games are scattered inside Chester and Hester's Dino-Rama, along with a popcorn stand, a merchandise kiosk, face painting, and the Dino Diner, which is known for Corn Chip Pie (for my Texas friends, it's Frito Pie without the bag). All the games are more colorful and cleaner versions of what you probably remember from the traveling carnival memories of your youth.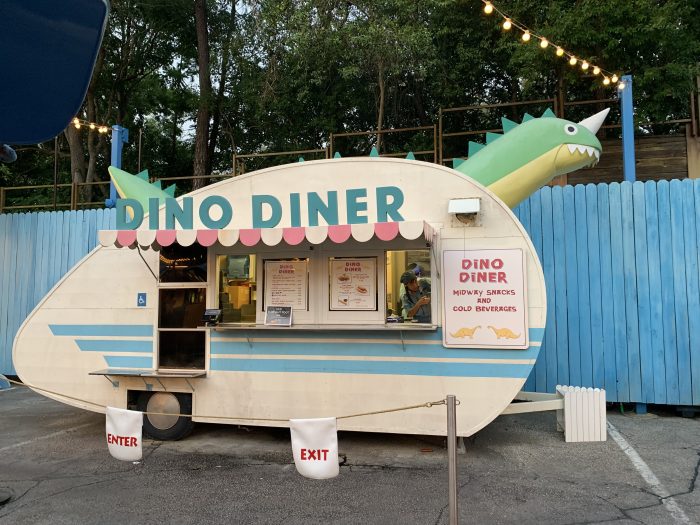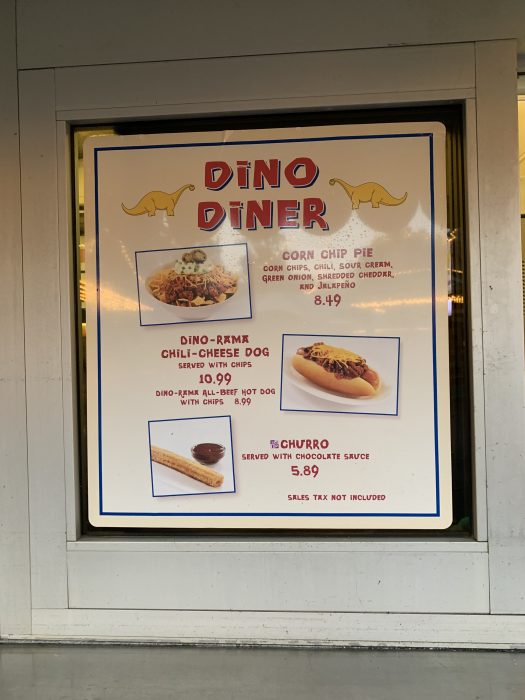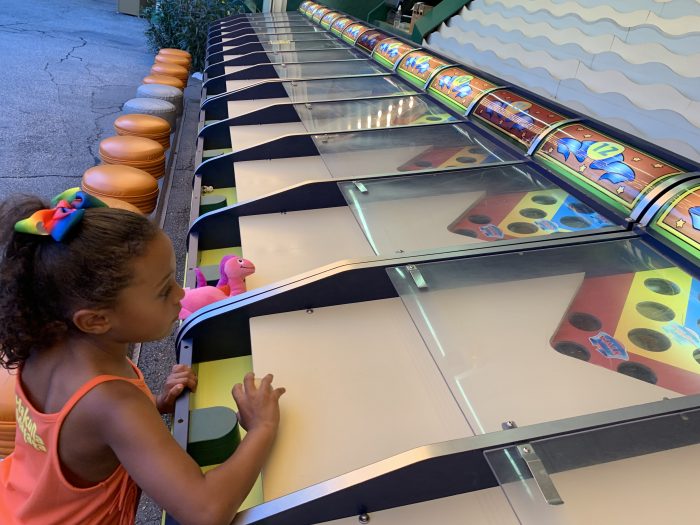 Years ago, the individual carnival barkers at each game accepted cash. Disney has long since moved to game vouchers which can be purchased at the Shop 'til You're Dizzy merchandise kiosk next to TriceraTop Spin.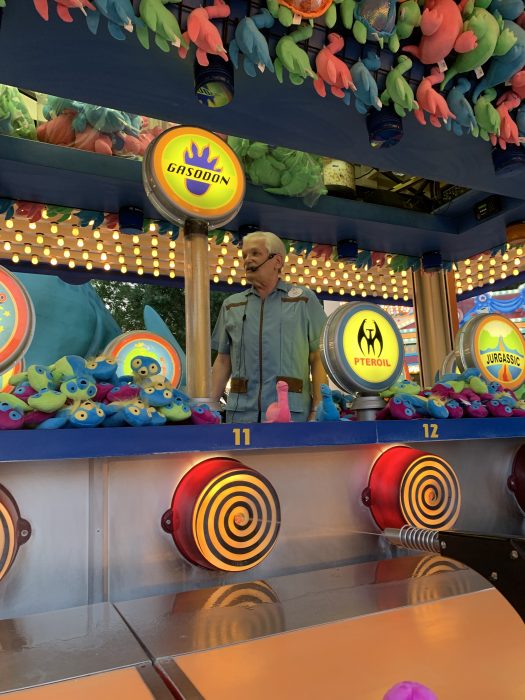 Each game costs 1 voucher per player with packages as follows:
1 game, $5.00
3 games, $10.00 ($3.33 per game)
5 games, $15.00 ($3.00 per game)
7 games, $20.00 ($2.86 per game)
10 games, $30.00 ($3.00 per game)
I purchased the $30.00 / 10 game package because we had time to kill before heading to the Boneyard to test my fears of heights and strangers.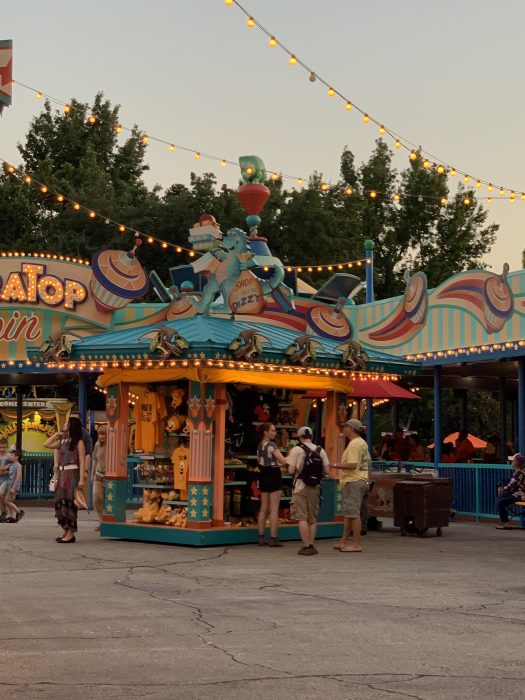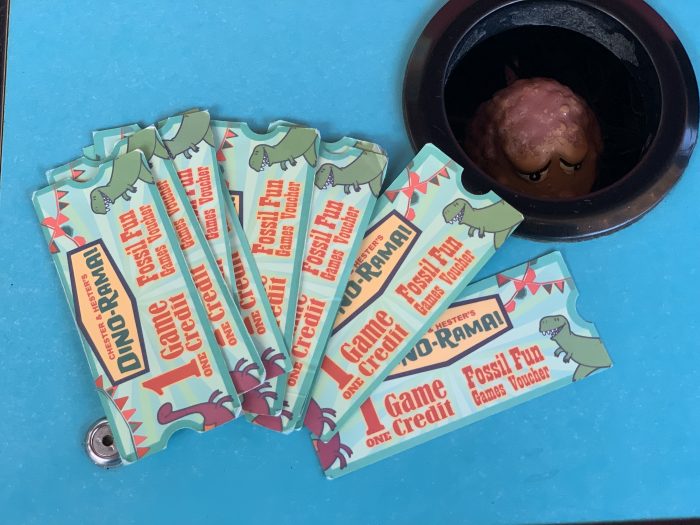 It took us exactly 20 minutes to spend $30 in vouchers with both my daughter and I playing each game. I timed our experience from the moment we started walking to our first game to the moment my daughter accepted her final 5" stuffed prize. Do the math and that means that two people playing these games would cost $90 an hour. If you've got a large family, watch out.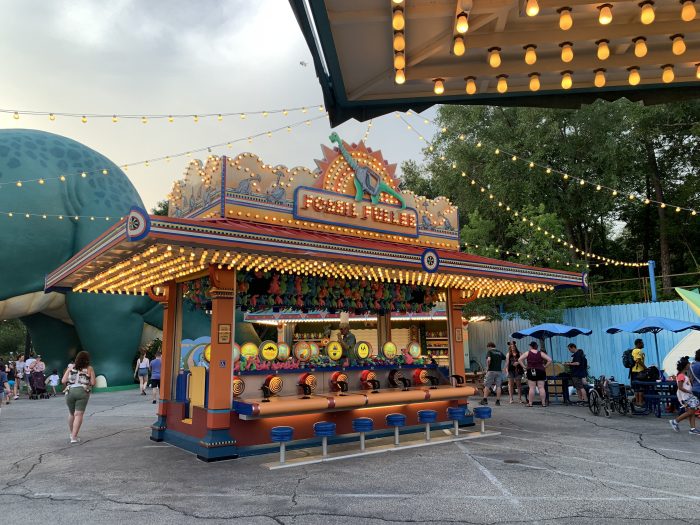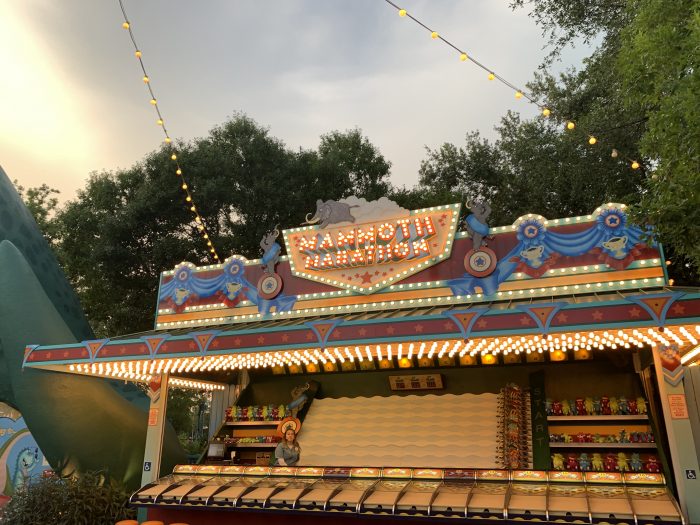 The games are all ones you'll be familiar with if you've ever been to a fair or Chuck E Cheese's. The Whack-A-Packycephalosaur is a whack-a-mole game, Fossil Fueler is a water gun/bullseye game, and Mammoth Marathon is a ball rolling/racing game where your mammoth will walk, trot, or run to the finish line depending on where you roll the ball. These three games were the most fun for my daughter and were the three with a guaranteed winner each time even if there is only one competitor.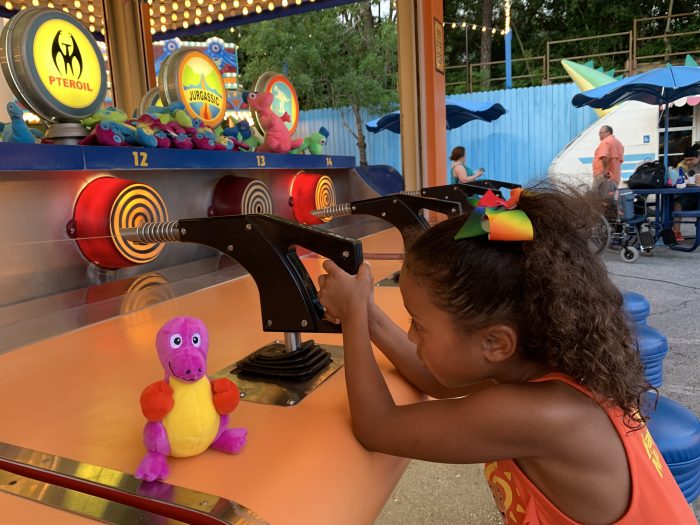 Prizes are small, plush creatures, not themed to Disney.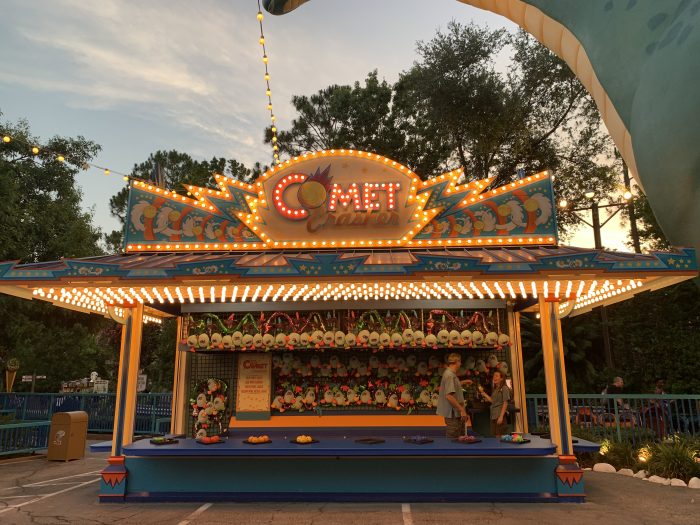 Comet Crashers is a ball/target game that does not have a guaranteed winner and is the one game in the bunch that left me with that same cheated vibe I always get when I play games at a fair or carnival. It's basically impossible to throw one of your 4 wiffle balls into the colored hole that corresponds to a prize. I'm sure people luck out and win occasionally, but I truly regretted that $6.00. We did not play Bronto Score, the basketball game, because we are both blessed with the arms of a Tyrannosaurus Rex.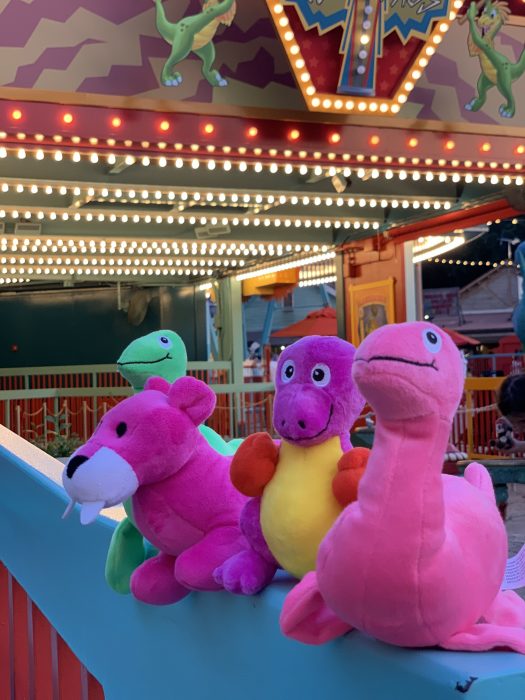 So, if you find yourself with some time in DinoLand USA, send dad to get the Frito Pie and enjoy the cool tunes without spending a fortune on small souvenirs you'll be forced to carry the rest of the day.
What are your thoughts on these types of games? Fun for the family or an unnecessary money sink? Let us know in the comments.