Four Money-Saving Tips for Halloween Horror Nights
A theme park vacation is expensive, so adding on a Halloween Horror Nights visit can really add up. In this article, I will cover four money-saving tips for Halloween Horror Nights that could save you over $100 per person.
Buy Tickets Online
The single best tip for saving money is to buy tickets online before the event. Online tickets start at $79.99 per guest plus tax but purchasing at the gate costs $129.99 per person plus tax. Online tickets are printable out at home, scanned from a phone, or print a ticket at will call. Personally, I pick up at will call as the ticket fits nicely in a lanyard or a wallet.
This one tip alone can save you up to $50 per person.
Going Twice or More? Buy A Pass.
Multi-night passes become cheaper than buying single-night admission at two visits. Do the math and see if the pass pricing works out in your favor. If you already purchased a single-night event ticket do not worry, you can apply the cost of your ticket towards a pass at Guest Relations in the park.
Eat and Drink Before the Event
Theme park food and alcohol are expensive. Want a burger and fries? That's $13.99. Draft beer? $11.99. Oh, and plus tax. Thank you for your $26.
Instead, grab a bite off outside of the parks or at your hotel. Not only are the prices lower but expect the waits to be much shorter. Same for a pregame drink–responsibly indulge in some beers acquired from a grocery store or off-property restaurant. We recommend Miller's Ale House on Kirkman and Vineland for a pre-HHN meal and drinks.
Make sure to drink responsibly, though. Universal turns away visibly intoxicated guests.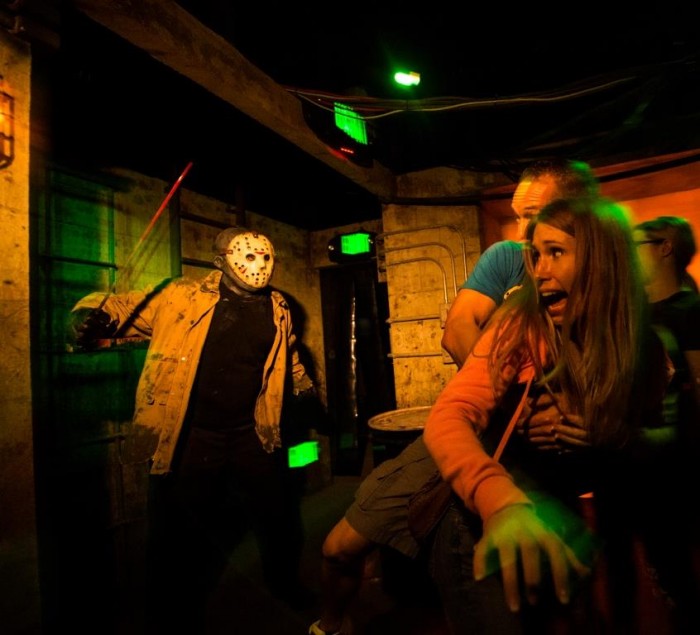 Grab the Half Price Express Pass
Universal Express Pass reduces standby waits by at least half but at a steep cost: Express Pass ranges from $119.99 to $219.99 per guest plus tax!
If the evening looks like it will be crowded, we suggest picking up the half-priced Express Pass. This pass is only offered in the park on a first-come basis and is active for the last 3 hours of the event (11:00 pm to 2:00 am). Purchase the pass before the active window opens and be ready to use at 11:00 pm.
Do you have any money-saving tips for Halloween Horror Nights? Leave them in the comments below.