Free Tour Series: Culinary Tour at Animal Kingdom Lodge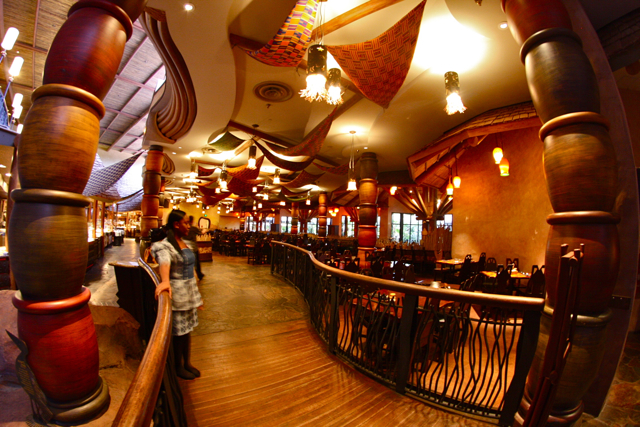 For the second installment of our Free Tour Series, I want to share with you my experiences on the Culinary Tour at Animal Kingdom Lodge. Like the Wonders of the Wilderness Lodge tour, the Lodge's Culinary Tour is a true hidden gem.  While this free tour is short on time and trivia, it involves food samples from both of the resort's table service restaurants, Boma and Jiko. You heard me – free food! (Now, do I have your attention?)
Animal Kingdom Lodge and Animal Kingdom Villas have what I consider to be the best Activity Calendar of all Disney's resorts. The Culinary Tour is just one of the many free activities available to guests, but is by far the most delicious.
The Culinary Tour is a 30-minute tour of the Boma and Jiko restaurants with a few food samples thrown in. You do not need to be a resort guest to enjoy this tour, all guests are welcome. I have done this tour twice as a non-resort guest. Most recently, I did the tour solo just to make sure it was still up to snuff. And by "up to snuff", I mean I wanted to make sure they were still handing out free food. (Priorities.)
My tour group consisted of five other adults, several of whom had not yet dined at either restaurant. One of Boma's Cultural Representatives greeted us at the restaurant podium right at 4pm.  Cultural Representatives are Cast Members who've come from Africa to work at Walt Disney World for a year.   The play a variety of roles at the resort, including working in the restaurants, serving as Savanna Guides or leading the many available resort activities.
Our Boma Cultural Representative was a young woman from South Africa.  She took us on a short tour of the dining area, explaining the story behind the decor. Boma is Swahili for "enclosure," which is represented by the wooden walls used to section out the seating area and set the tone for the restaurant. Even though I had taken the tour before, I learned new things by taking it with a different Cultural Representative.
During the tour, the Boma staff are getting ready for the buffet to open at 4:30pm. Our Cultural Representative led us through the buffet line explaining the African influences of the various dishes. For anyone who is hesitant to try out Boma because it's "too exotic," I highly recommend taking this tour just to see first hand what they have to offer. Even the wilder sounding dishes turn out to be made of common ingredients in American cuisine. For example, the previously labeled "Zanzibar Katoga Soup" has been changed to "Zanzibar Crab Soup" since I took the tour in May 2011. Same soup, clearer label. (I'm sure those suffering from shellfish allergies are thankful.)
Speaking of the Zanzibar Whatever Soup, one of my Boma favorites, I got to try some on the tour! For our first sample, we choose one of the four soups that had been set out for dinner. The soup options depend on what is ready at the time of the tour, but we had the choice of the Zanzibar Crab, Chicken Corn Porridge, Lentil and Sausage, or Butternut Squash (which is sweet like pumpkin pie filling). The first time I took this tour, we ended up staying for an impromptu dinner at Boma just because of the soup samples. I channel the voice of Len Testa when I say "fabulous!"
To wrap up the Boma portion, we each received one of the famous Zebra Domes from the dessert station. If you're not familiar, Zebra Domes consist of an Amarula cream filling sitting on a thin chocolate cake base.  It is coated in white chocolate ganache, the bottom covered in tiny chocolate squares, and the top striped with dark chocolate.  Amarula, an African fruit liqueur, gives it a vauge alcoholic coffee taste.  I'm not a fan of anything with liqueur, but they certainly have a cult following.
Next, we met a Jiko Cultural Representative from Zimbabwe. She gave us a quick tour of the bar and main dining area, pointing out a Hidden Mickeys as well as the tributes to African culture. The Jiko portion of the tour was considerably shorter because we did not spend anytime discussing the food options since guests can read a menu, unlike for the buffet-style Boma.
Jiko, The Cooking Place, gets it's name from the open view cooking area in the middle of the restaurant. Here, the six of us split two orders of the Tastes of Africa appetizer. This consisted of a trio of breads (papadum, whole wheat lavosh & flaxseed naan) and four hummus-style spreads of varying spiciness. While we ate, the Cultural Representative answered guests' questions about the restaurant and her experiences working so far from home. I never felt rushed, but we were all done by the time they started seating dinner guests at 4:30pm.
All in all, I definitely recommend the Culinary Tour at Animal Kingdom Lodge.  It is a great opportunity to add a low key activity your day.  If you are staying elsewhere and looking to resort hop, I'd recommend paring the tour with an early meal at Jiko or Boma.  If you don't mind eating early, you could probably get away without having an Advanced Dining Reservation and waiting to pick your restaurant based on the tour. Both will normally have space available right when they open at 4:30pm. You can also check out The Mara, the resort's quick service option which has a few unique flatbreads and African inspired dishes in addition to standard quick service fare.
While you're over at the Animal Kingdom Lodge, make sure to also check out the variety of African animals on the savannas outside the lobby.  Savanna guides are out there most of the time to answer guests' questions about the wildlife.   Plus, if you linger long enough, they offer night vision animal viewing each evening at after dark past the pool on the far end of the resort.
However, I would not recommend going out of your way for this tour – particularly if you are relying on Disney transportation.  As fun as I thought it was, it is not worth dragging your kids out of the park and taking a bus over to taste soup.  Your kids may very well enjoy the tour, but the only children I've seen on it had to be taken away after 10 minutes because they were bored. Like most tours, the Culinary Tour is best for folks who have been to Disney a lot and are looking for a new experience. For those guests staying at the Animal Kingdom Lodge or Animal Kingdom Villas, it is a good way to make the most of your visit.
The Culinary Tour is currently offered at 4 p.m. daily. No reservations are accepted, and all you need to do to attend is show up at the Boma podium in Animal Kingdom Lodge.  The tour is open to all ages and lasts 30 minutes.   As resort activities can change monthly, check the Resort Activites Calendar or call (407) 938-3000 to confirm the tour schedule.
Have you tried the Animal Kingdom Lodge Culinary Tour?  Do you plan on trying it out on your next trip? Let us know what you think!