Galactic Starcruiser Tips for Seniors and Younglings
Traveling to a galaxy far, far away is exciting for all ages, but understanding what this looks like for each generation can be tricky. I recently traveled on Disney's Star Wars: Galactic Starcruiser with my twenty-something daughter and her godparents in their seventies. Each of us went at our own pace, and we had a fantastic experience. The Starcruiser is closing at the end of September, and you may be trying to decide if older or younger members of your family will enjoy it enough to take a cruise before it shuts down. The tips below can help you to decide.
Full disclosure, my daughter was on the opening team for the Starcruiser, and we have the inside scoop on how everything works together for all ages to enjoy their cruise on the Halcyon. And although many things operate just like a "real cruise," there are some significant differences. Here is what the Chandrila Star Line offers our youngest and eldest generations. I'll start with one of the biggest questions for elders or kids who may just be tagging along …
Do You Need to Love Star Wars or Roleplaying Games?
When we were in the terminal, waiting for the launch to take us into space, a crewmember asked, "Who is here because they love Star Wars?" Obviously, many hands were raised, and cheering commenced. Then they asked, " Who's here because they love someone who loves Star Wars?" There were some giggles, and more than a few hands were raised. Then they made sure everyone knew that if you are there to soak it in and watch a loved one but not necessarily join in on all – or even most – of the action, they understand. It is fine by them, even if you can't tell an Ewok from a Wookie.
The Star Wars: Galactic Starcruiser is immersive theater on a scale that hasn't been done before. Think murder mystery party on steroids, but you do have control over how involved you want to be. And even if you are just watching, there will be plenty to see.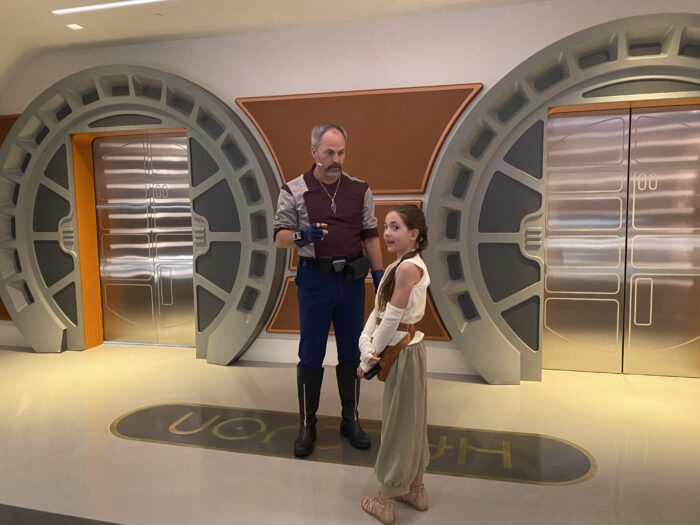 Can the younglings join in on the action? Absolutely, the younglings are some of the most enthusiastic actors on the cruise. Just remind them to ask before they touch a droid and never to touch anyone or any characters. Much of the equipment is delicate, and several of the characters do not have a great range of vision. "Keeping our hands to ourselves" is important to keep everyone safe.
Activities for Everyone
There are several activities onboard that require absolutely no knowledge of Star Wars. Of course, they have a Star Wars theme, but you will quickly recognize them as favorites from Earth such as Bingo and Game Shows. Most of them happen in the afternoon on Day 2, but Sabacc is always available for a good time.
The Ship Tours on Day 1 are a great way to get familiar with the Halcyon, just like ship tours on an oceangoing cruise.
Cantina Chronicles is a great non-alcoholic tasting in the Sublight Lounge, with beautiful drinks and fun stories. You can RSVP at Passenger Services to ensure they have room for you.
Sabacc is the card game that Han Solo and Lando were playing when Han won the Millennium Falcon. You do need to know how to add and subtract negative numbers, so that limits the age groups a little. But if you have that down, it's really very simple.
At the Sublight Lounge, there is a hologram game table where you can play Sabacc, it's a lot of fun, but I would recommend learning how to play with a card deck first. Passenger Services has Sabacc decks you can borrow, and if you love it, the Corellia Collection has sets you can purchase to play at home.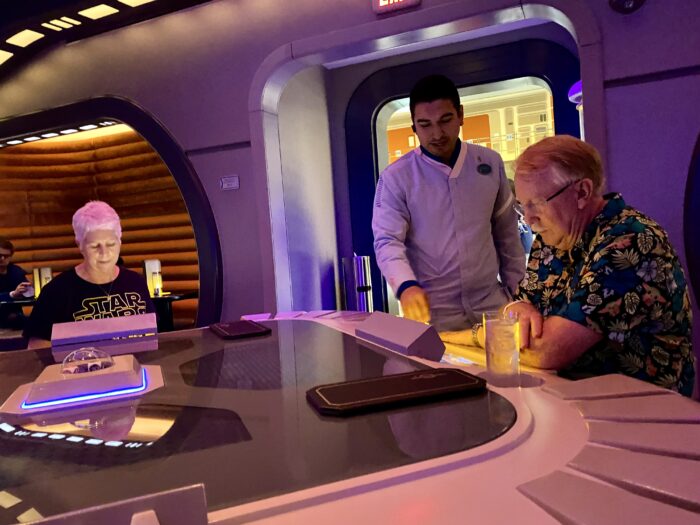 How Tech-Savvy Do You Need to Be?
For anyone old enough to read, enjoying your cruise fully involves some use of a smartphone. This can be a challenge for the grandparents and the younglings, but the crew has it all figured out for you, especially if you prepare a little bit at home.
What if they don't have a smartphone?
If a passenger doesn't have a smartphone (or does not put apps on their phones as a general principle), it's ok. When you check in, the crew member helping you will give you a datapad (smartphone). They will download a Play Disney Parks app for you and help you get signed in. Once signed in, the game app itself is not complicated to use.
Why do we need the Play Disney Parks app?
The Play Disney Parks app will be how you access all of the communication from different characters on the cruise. It is also where you find your itinerary (which changes throughout the cruise depending on what missions you have been a part of).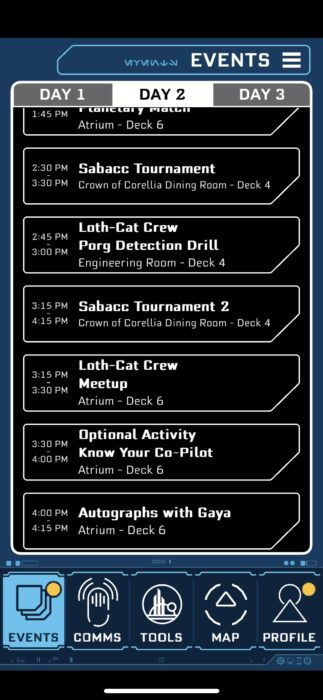 Getting everyone connected to Play Disney Parks
Every guest that can read needs their own Play Disney Parks account to access the game.
If your kid isn't 13 yet, or even if they are still a minor, you can create a Play Disney Parks account that's attached to a parent's email. Just follow the step-by-step instructions from Disney.
Kids who are 13 or over have the option to create their own My Disney Experience accounts and use those with Play Disney Parks instead of a child's account. Unsure whether to let them have their own accounts? See Should Your Kids Have Their Own My Disney Experience Accounts? for a discussion of the pros and cons.
For adults (18 and over) who are old enough but not tech-savvy, you can help them to create the My Disney Experience account and keep track of the login and password. If they already have a managed profile on your Friends & Family list, you'll want to get that managed profile connected to their new MDE account – the article above on kids and MDE accounts has instructions for this.
No matter how your family members get set up with accounts, try connecting to the Play Disney Parks app from home if possible. If you'll be using your own smartphone, make sure to at least download the Play Disney Parks app before arriving. But don't worry if that's not an option, just make sure to bring all the account names, emails, and passwords to check-in with you so that Cast Members can help you get set up quickly.
Very Young Kids – The Loth Cat Crew
The Technology section above covers anyone old enough to read. But what about younger kids? For passengers up to six years old, there is a fantastic program that includes special lightsaber training, droid races, and even helping the crew get rid of any pesky porgs that may have snuck onto the ship.
It is a truly special program that charms children and parents alike. On the second day of the voyage, you'll visit Batuu (that's the name of the planet you visit, earthlings call it Galaxy's Edge at Hollywood Studios). Parents have shared with the crew that Loth Cat training helped their younglings overcome fear as they escaped the First Order during Rise of the Resistance.
Who can join the Loth Cat Crew? Any youngling traveling on the cruise that is up to six years old  (If there is room available in the class, sometimes a sibling up to a couple of years older can join too.)
How do I sign my youngling up for Loth Cat Crew? Your itinerary will automatically include the class for anyone in your party that is the appropriate age.
When are Loth Cat Crew Classes? Loth Cat Crew classes are on the morning of day two before you take your excursion to Batuu. Check your itinerary for your specific time.
Does a Parent go to Loth Cat Classes? Yes, all activities for your youngling require an adult to be present. There is no time during the cruise that younglings are to be without supervision from their family.
Do we need to build a droid while we visit Batuu to participate in Droid racing? Sorry kids, I have to be honest. No, you do not need to bring your own droid to the races. But if you do choose to build a droid, you may race with that one.
Other Questions and Concerns
The list below covers common questions but the service is impeccable. The crew truly wants to make sure you have anything you need; please be sure to let a crewmember know if there is anything they can help you with.
Will our family always be scheduled together for events and activities? Your family might be split up for various reasons throughout the cruise. On my recent cruise, my daughter and I chose to go to the Atrium for an event, and the couple we were traveling with decided to rest in the cabin. Because they missed the event, their story took a different turn, and their schedule changed. My daughter's godparents, in their seventies, had two activities without us, and they did great.
If this will be hard for your group, you can meet with passenger services and see how they can accommodate you. Or, a common recommendation will simply be to stay together. But if you don't mind having different experiences, it's a lot of fun for families to chat about how each event is different (or similar).
If you have a member of the Loth Cat Crew, the adults will be split up into different lightsaber training times. That allows an adult to always be with the younglings. You must be seven years old to attend lightsaber training.
"The Food Choices look so exotic" – The food is from another galaxy, which can be pretty intimidating or a complete game changer. If you have a picky eater or have any dietary concerns, please speak with a passenger services crewmember; they will be happy to connect you with a member of the culinary team and make sure there is plenty to eat that everyone will be happy with.
Is there an area for my kids to run around? There really isn't a space designed for free play that includes running or lots of physical activity. The climate simulator (an outdoor space) is small and designed to be a respite area. While you are visiting Batuu, take that opportunity to enjoy some outdoor stretching your legs time. For quieter play, the Atrium is a large space that has snacks and benches, although it may be crowded at times due to cruise activities.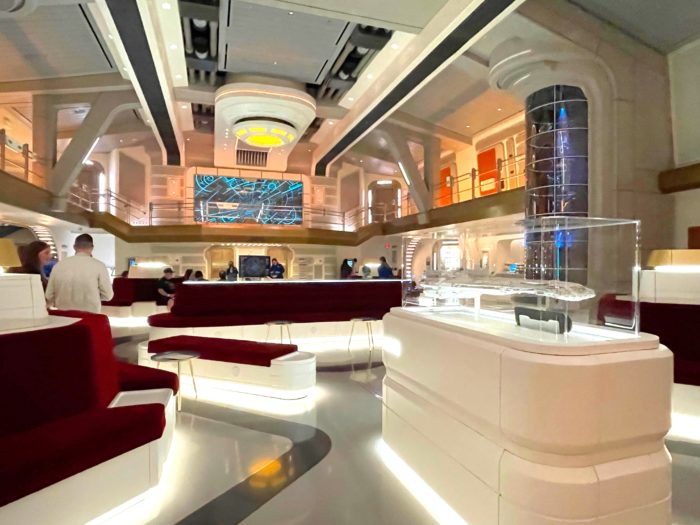 What if a member of our party is overwhelmed? If you have any challenges with sensory needs or anxiety because it is all new and can seem real, please talk with passenger services. Obviously, the majority of the time, they are on point with the script of it all, but if you need a schedule of events, hints about when headphones might be required, or ideas about where you should be to make things less intense, they are happy to help.
Can I pick up necessities on board? The Chandrila Collection is a beautiful gift shop with many items, including costume pieces, t-shirts, and other collectibles. No infant or toddler clothing items are available in the collection. A limited selection of sundries is available, but not the typical "necessities" you might find in other gift shops.
Sound good? Think you can swing it? The amazing team at TouringPlans would love to help you book a cruise for your family on the Star Wars: Galactic Starcruiser. Contact them for a no-obligation quote; their services are free of charge.
Do have tips from a Starcruiser voyage with younglings or seniors to share? Leave them in the comments below. If you have any questions, we will do our best to get answers. Bright Suns!