Star Wars: Galactic Starcruiser Room Review
Star Wars: Galactic Starcruiser, Disney's new 2-night role-playing adventure, has officially opened; and our team was there for the first public cruise!
Even though the Starcruiser has been referred to as a Star Wars hotel, it's so much more. Here, guests live out a Star Wars adventure of their choosing while aboard a two-day simulated luxury cruise set in that galaxy far, far away.
And, in the true Disney tradition, everything is about story and immersion from the galactic-inspired dishes to the role-playing Cast Members in costume to the stateroom cabins.
Yes, even after you've returned to your cabin after a day of saving the galaxy, you're still immersed in the setting and story complete with a room window looking out into space!
So what is it like sleeping aboard the Galactic Starcruiser? How does it compare to a standard Disney resort room? Let's take a tour:
Star Wars: Galactic Starcruiser Standard Cabin
Our team's cabin had one queen bed and two bunk beds, accommodating up to four guests.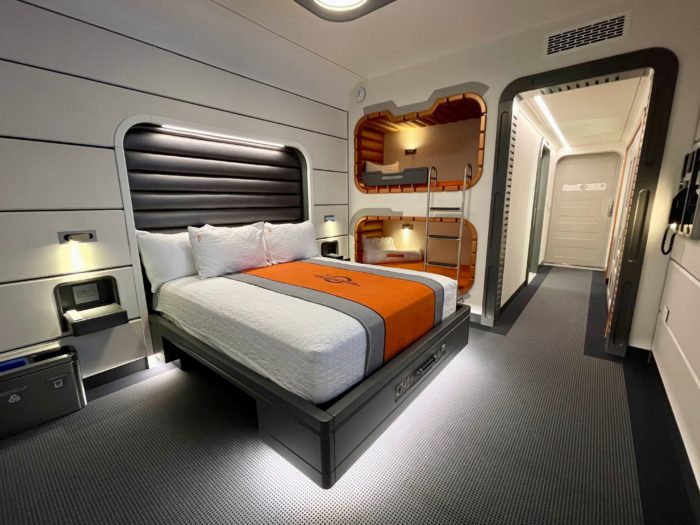 Outside each cabin door is a themed decorative panel showcasing the room number. The blue glowing icon is where guests scan their provided, themed Magic Band to enter the cabin.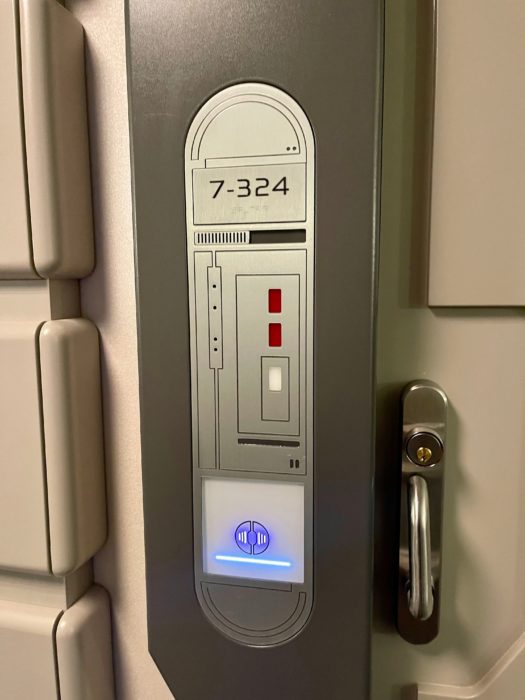 The door opens into a hallway where guests will find the bathroom, closet space, and an additional vanity.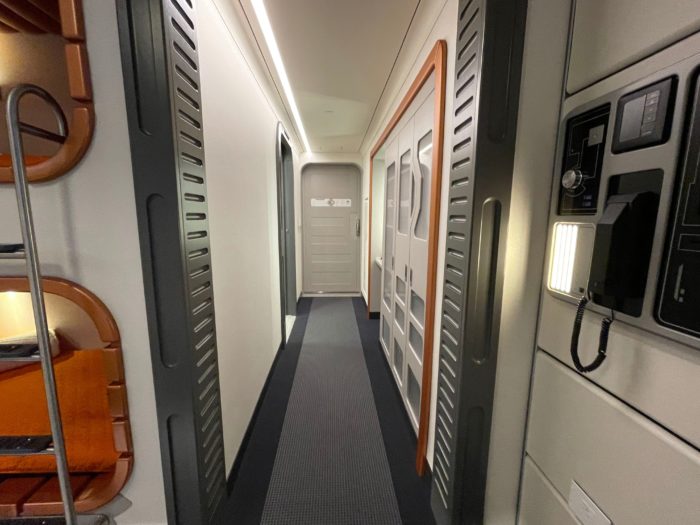 The hallway is also where guests will a touchscreen panel to mark "do not disturb" or that housekeeping is needed.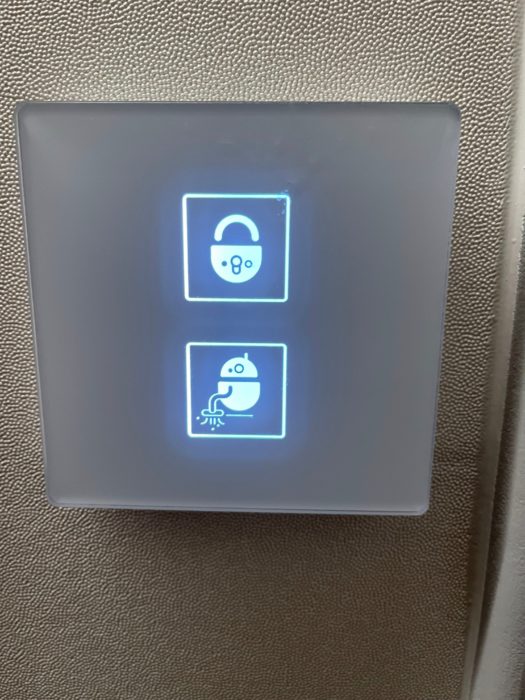 LOVE that the housekeeping button is a cleaning droid. Yay for theming!
Here's a view of the hallway's closet and storage space and that extra vanity. Unlike other Disney resort rooms, there's no coffee maker but there is, however, a mini-fridge.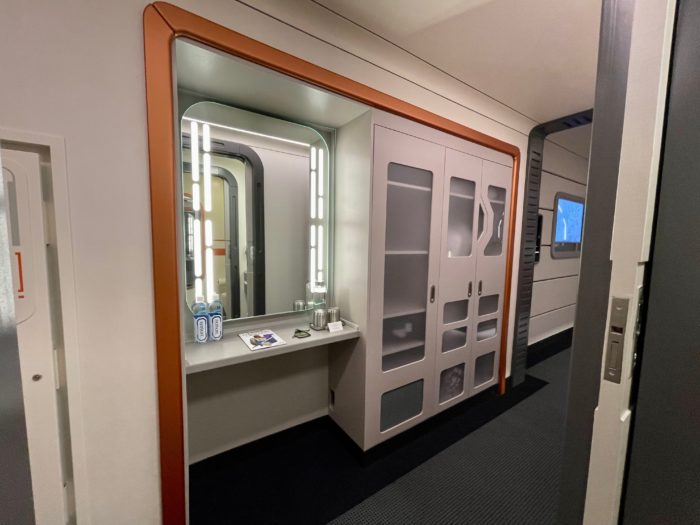 The vanity space is also where our team found the free stuff!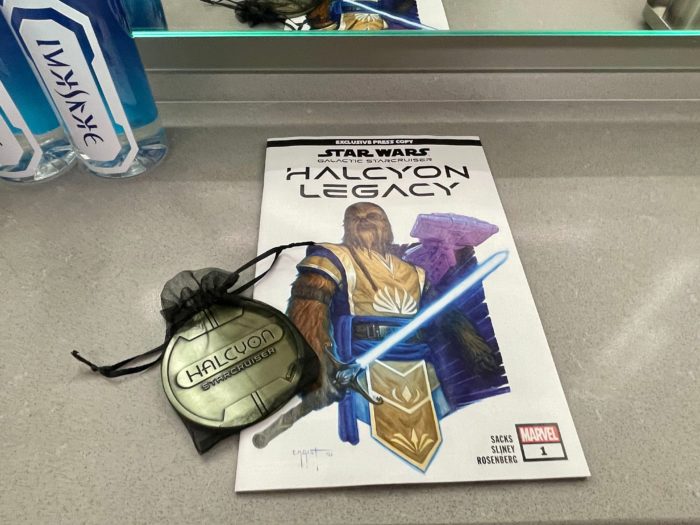 This is also where we found a fancy space water bottle and space cups with a note explaining that the bottle could be refilled in the atrium.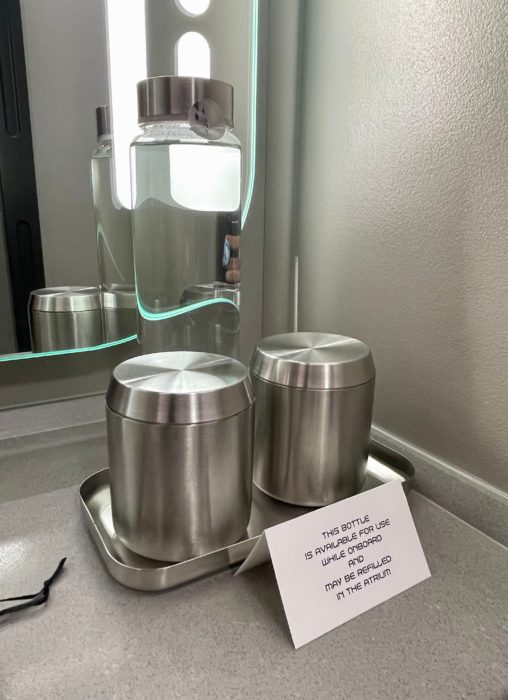 The bathroom space – which in Star Wars-speak is a "refresher" – consists of a one-sink vanity and walk-in shower with a frosted door.
Sadly, mounted pumps are a thing in space too (sounds like a First Order decision to us).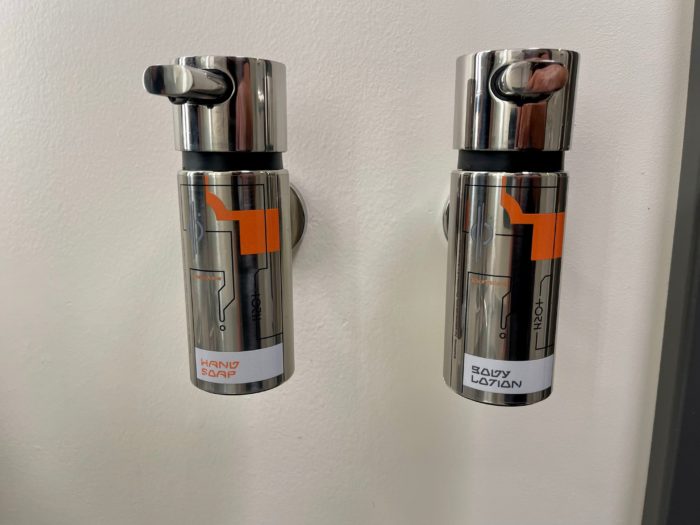 However, the Starcruiser did provide a number of free, on-theme toiletries that we were able to take home.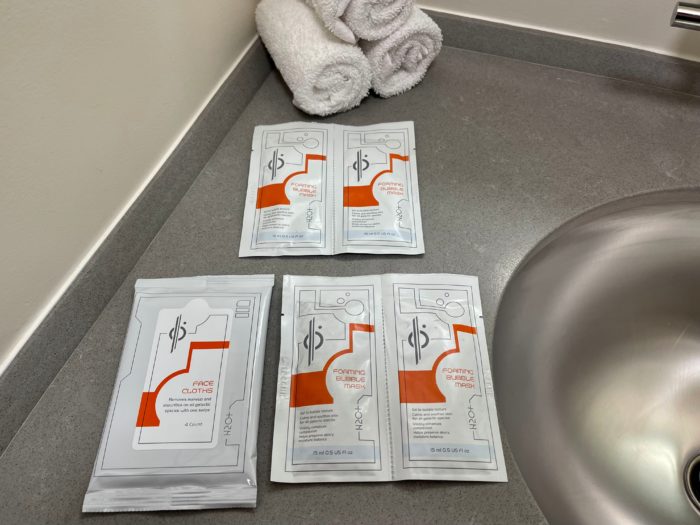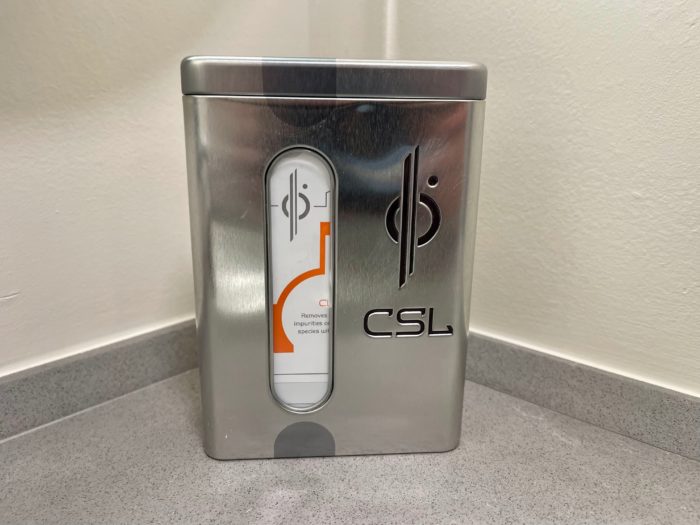 So are there hairdryers in space? Thankfully, yes! But honestly, we shouldn't have been surprised. If you've seen Princess Leia and Queen Amidala, you know they take hair care seriously.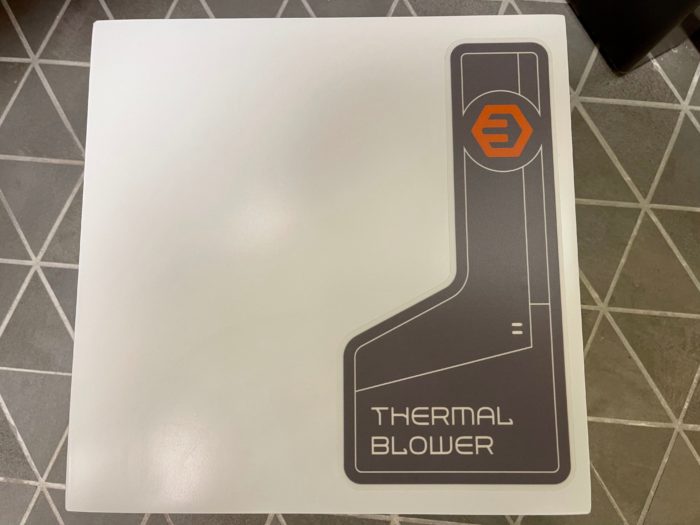 But in that galaxy far, far away, be aware that hair dryers are called "Thermal Blowers."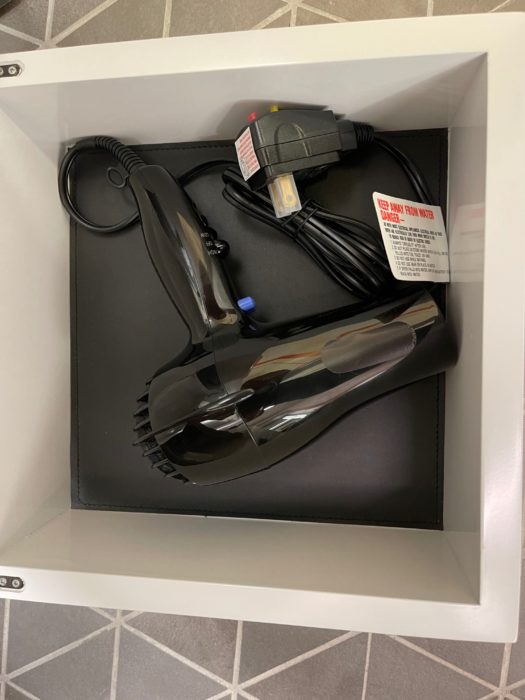 Next to the vanity is a water closet that's separated from the rest of the bathroom by a pocket door.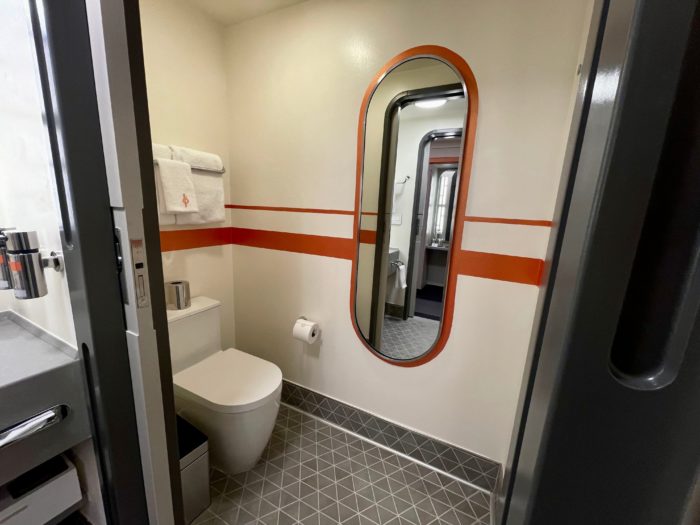 While this experience is set in outer space, the cabin itself is actually lacking in that department.
Measuring at about 180 square feet of walkable space, the room is small in terms of what you're paying. In fact, this makes the Starcruiser cabins the smallest rooms at Walt Disney World and more in line with what guests encounter aboard an actual cruise.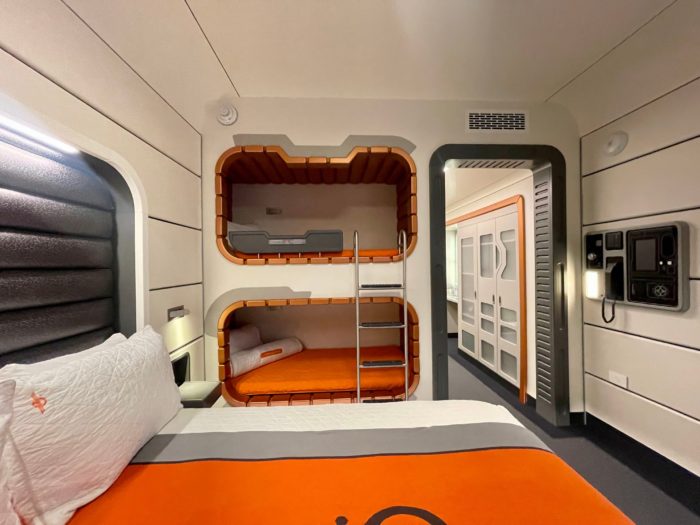 Across from the queen bed is a control panel where guests will find the room's phone, the thermostat, and the AI droid D3-09 who will survey guests and assist with questions.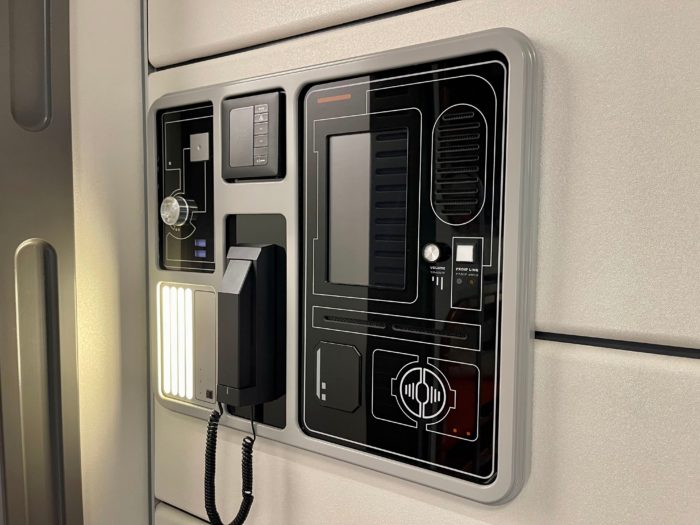 It's worth noting that the A/C only goes down to 68 degrees. Those who normally run warm will never catch a chill aboard!
The screen that's built into the wall serves as the cabin's television that even has a welcome screen, just like the other Disney resorts. And, yes, it does have channels from Earth.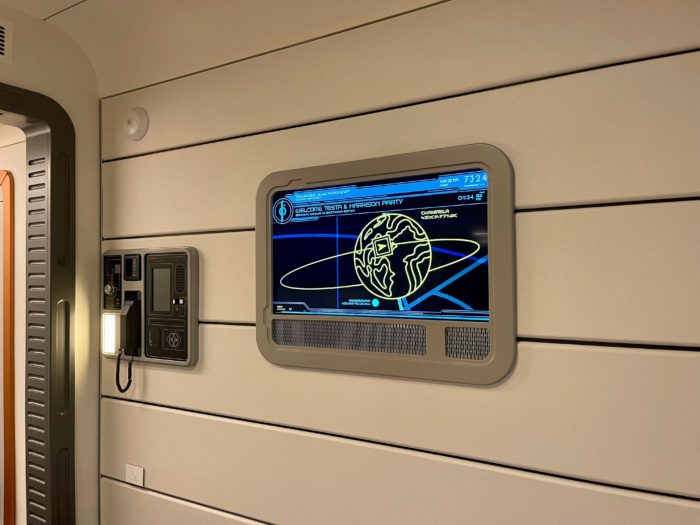 In regard to the queen bed; in our team's opinion, the mattress was too firm. If you're used to a soft, pillow-top, you may be glad the Starcruiser experience is only two nights!
Also, both sides of the bed featured small nightstands complete with outlets and USB ports, as well as individual reading lights just above.
Now, let's talk about the other beds.
So the bunk beds are perfectly on-theme but sadly similar in comfort to that of patio furniture.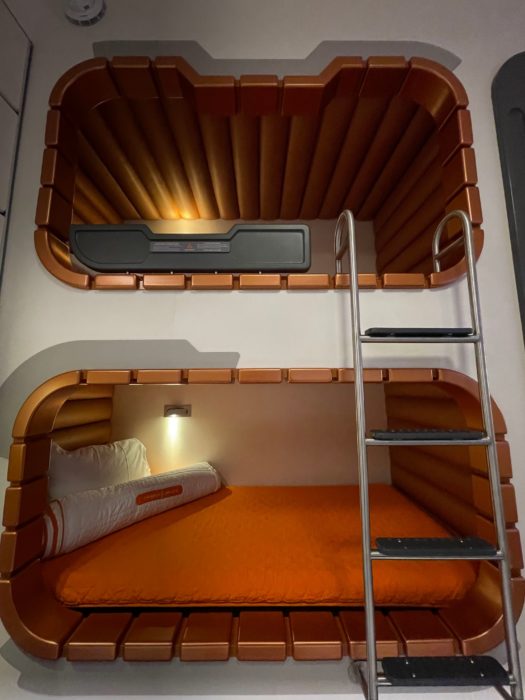 While your Jedi Padawans probably won't mind given how cool they look, adults might; and yes, they are large enough for most adults.
The real star of the set-up was the glorious, silky, soft sleeping bags that will eventually be sold aboard.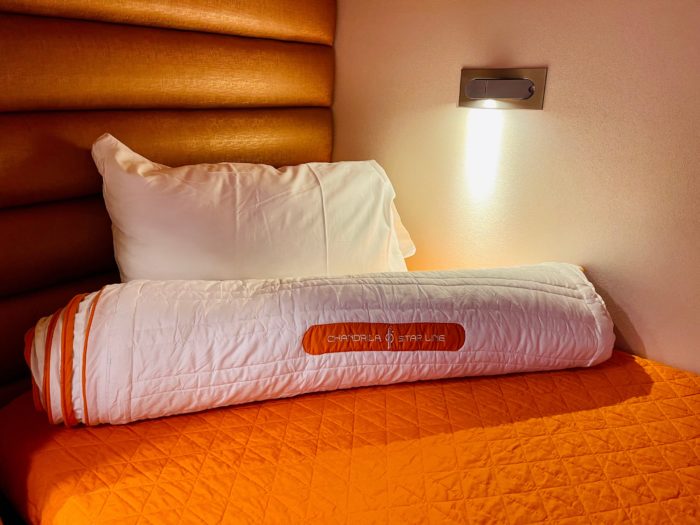 Now, to maintain the simulation of being in space, the cabins don't have actual windows.
Instead, each room has a video screen embedded into the wall that looks out into space. In fact, what's being shown out your "window" is the same that's been shown in other "windows" around the ship and on the bridge.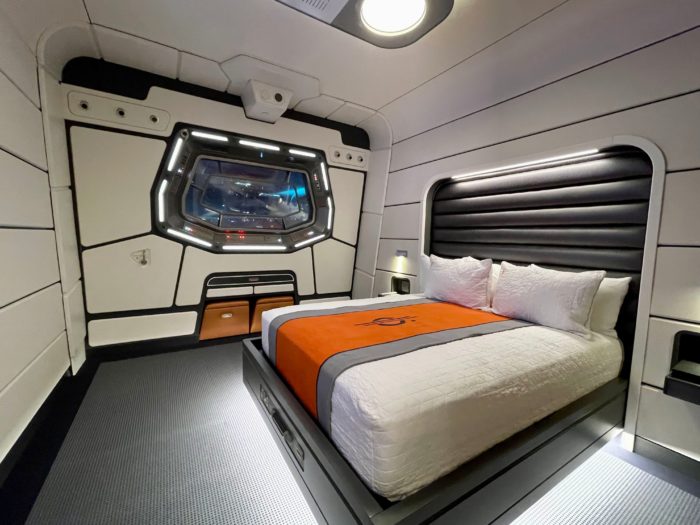 Guests can "close" the window via a panel to block out the light if needed. Also, underneath the sill is a pull-out table space and two ottomans.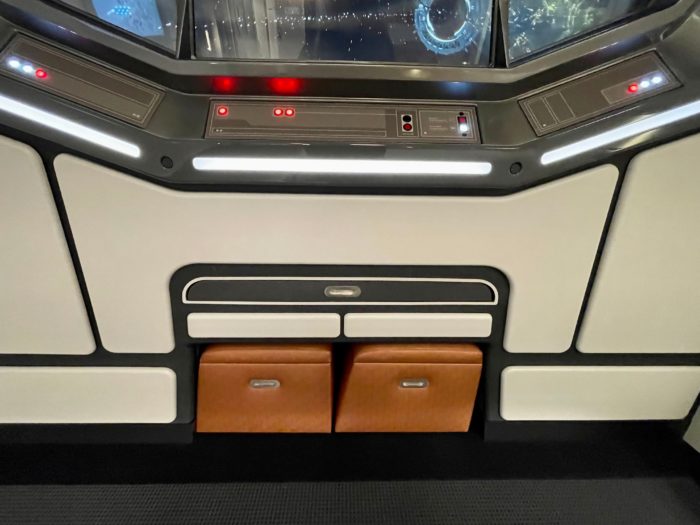 Overall, the Starcruiser cabins kept our team fully immersed in the experience. While they are on the small side, we also noted that we spent less time in our room while aboard than we ever have at any other Disney World Resort.
What do you think of the accommodations aboard the Galactic Starcruiser? Is this experience something you would consider? Let us know in the comments!