Get to Know: Disney World Resort Showers at the Pool
In addition to the shower(s) in your Walt Disney World resort hotel room, you will also find showers located next to the pool at your resort.
All pools, including the small "quiet" pools at each resort, have a shower that is fully outdoors. These are meant as a place to use, while you are clothed in your swimsuit, to rinse off potential pool contaminants before getting in the water or to rinse off after a swim.
There is signage next to every pool that indicates all guests should shower prior to swimming. In practice, I've rarely seen guests adhere to this directive. More often, these showers are used by guests at the resorts that have sand features (Yacht/Beach Club) or adjacent beach areas (Grand Floridian, Contemporary, others) to remove sand from their feet before heading back to their room. Many of these outdoor showers have two shower heads, one at knee level, if you want to just rinse your feet, and one at adult head level.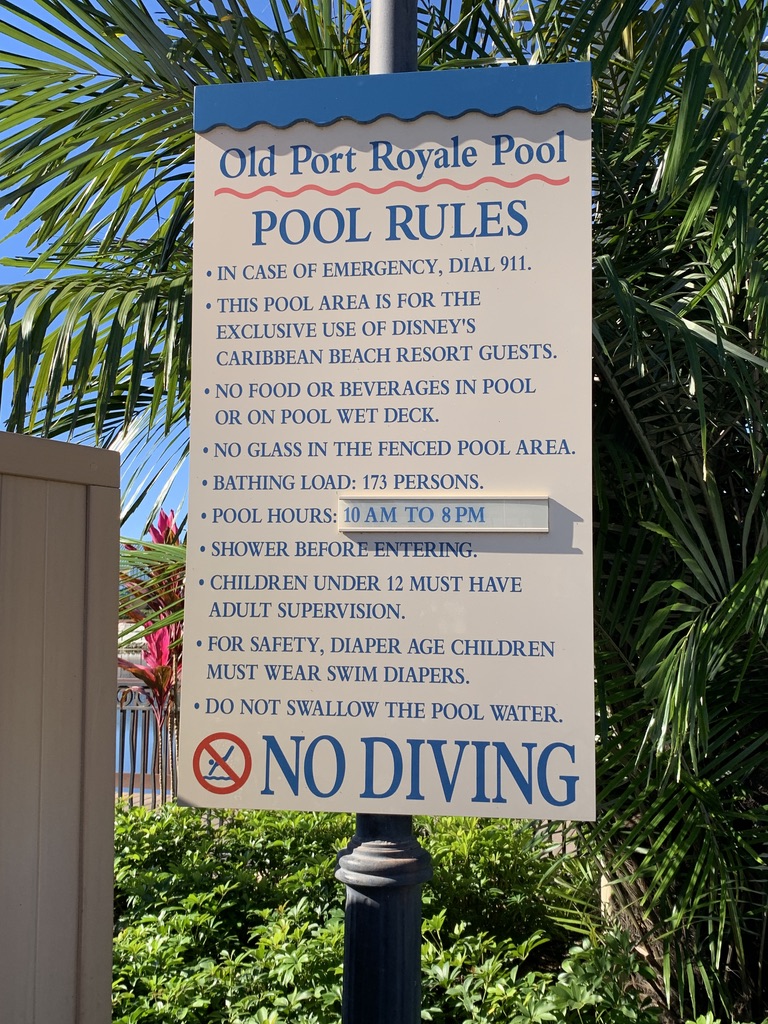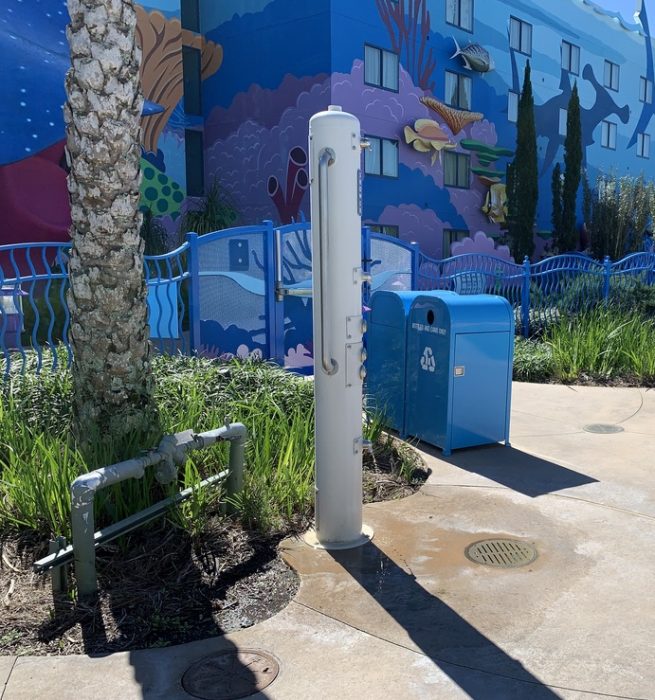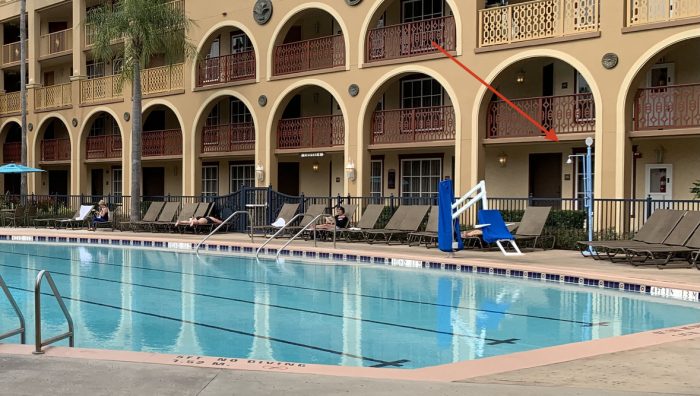 In addition to the basic outdoor showers, the Disney resorts also have at least one public use indoor shower located in a restroom next to the resort's largest pool, next to the resort's fitness center (if there is one), or both.
There are several reasons why you might want to use the indoor poolside showers:
You have more than two adults staying in your hotel room and you want to speed the process of getting cleaned up and out the door in the morning.
You have arrived at WDW in the early morning after a redeye flight and you want to clean up but your room is not yet ready.
You have checked out of your room in the morning, but your flight isn't until the evening. You want to kill time at the pool while you wait and don't want to get onto a plane covered in pool residue/chlorine.
You have a particularly messy child that you want to fully rinse off before you bring them into your hotel room. (A preschooler who covered himself in chocolate ice cream or who rolled around in the sand, for example.)
These indoor poolside showers, while not luxurious, are perfectly serviceable. They have temperature controls for the water (unlike the outdoor showers). Many have a rack of towels located nearby in the restroom, or you can grab several towels from the cart next to the pool.
Most have a small antechamber with a bench where you can undress and leave a towel. The vast majority of these are protected by a shower curtain that may or may not leave open gaps at the side of the dressing area. (Riviera resort is the only hotel where the poolside showers are behind a solid door.) If you're super shy, these showers may not be for you. However, these restrooms are rarely busy and the showers are covered enough that if you're OK with showering at a gym or other locker room, then you'll likely be fine here.
All the poolside showers are stocked with some form of soap in a dispenser mounted to the wall. At some there is one dispenser filled with a single container of combination shampoo/conditioner/body wash. At others there are three separate containers, one with each of these products.
These showers all have some sort of chair or bench that can be used as a seat while showering. This can be helpful if you or a family member has mobility issues.
Some, but not all, of the pools have small coin or key-operated lockers adjacent to the showers. A few have wall-mounted hairdryers located in the restroom facilities.
The gallery of photos below shows the shower facilities you can expect to find near your Walt Disney World resort hotel pool.
Note that all the photos below are of the women's shower facilities. Assume that the men's facilities are similar.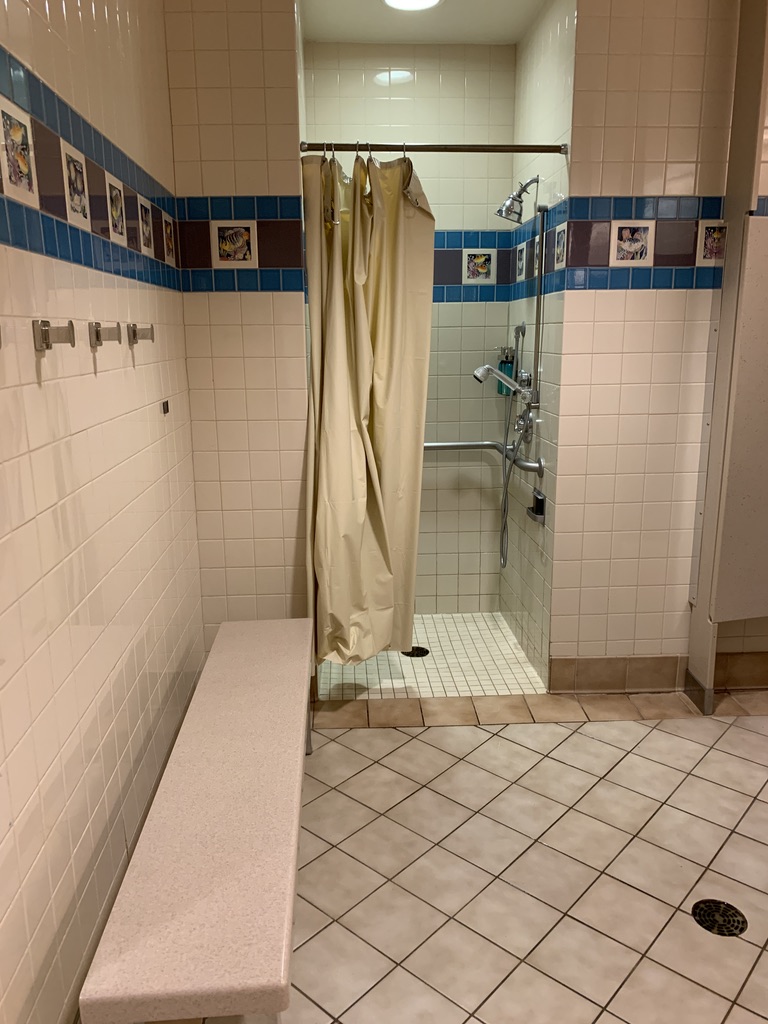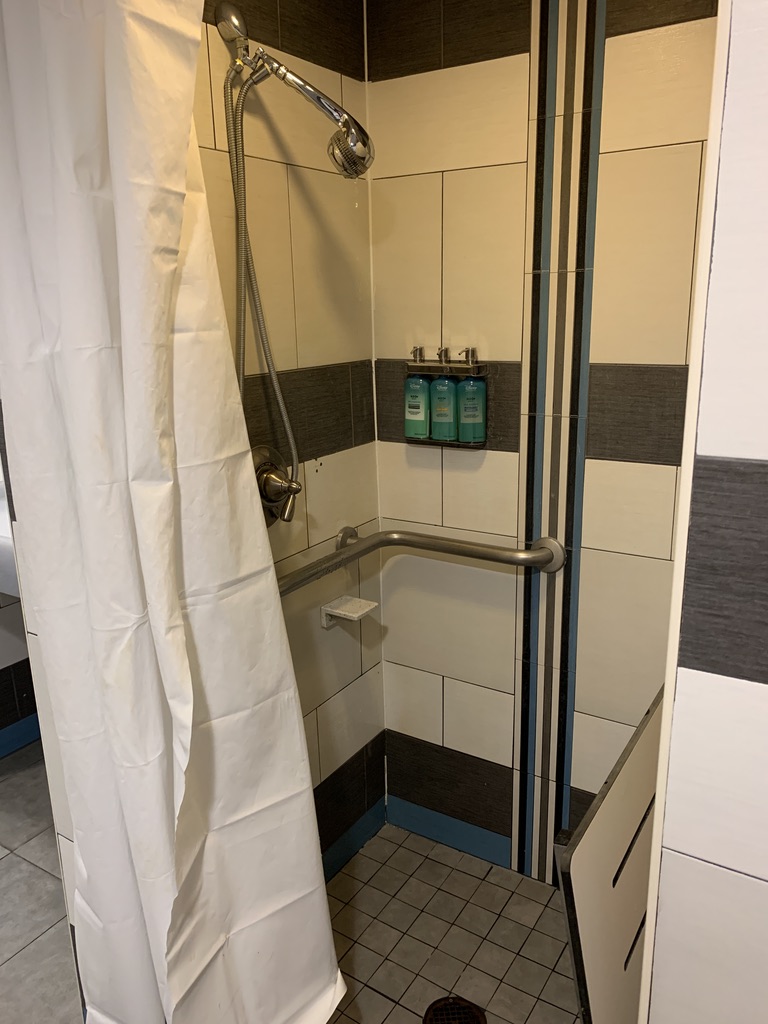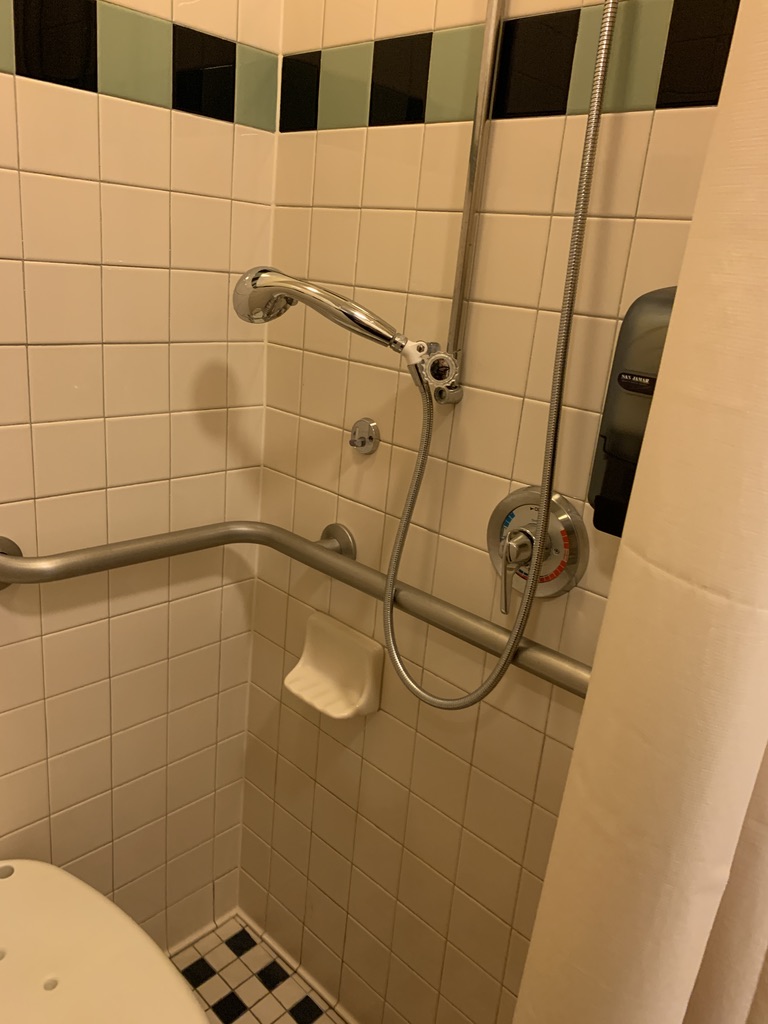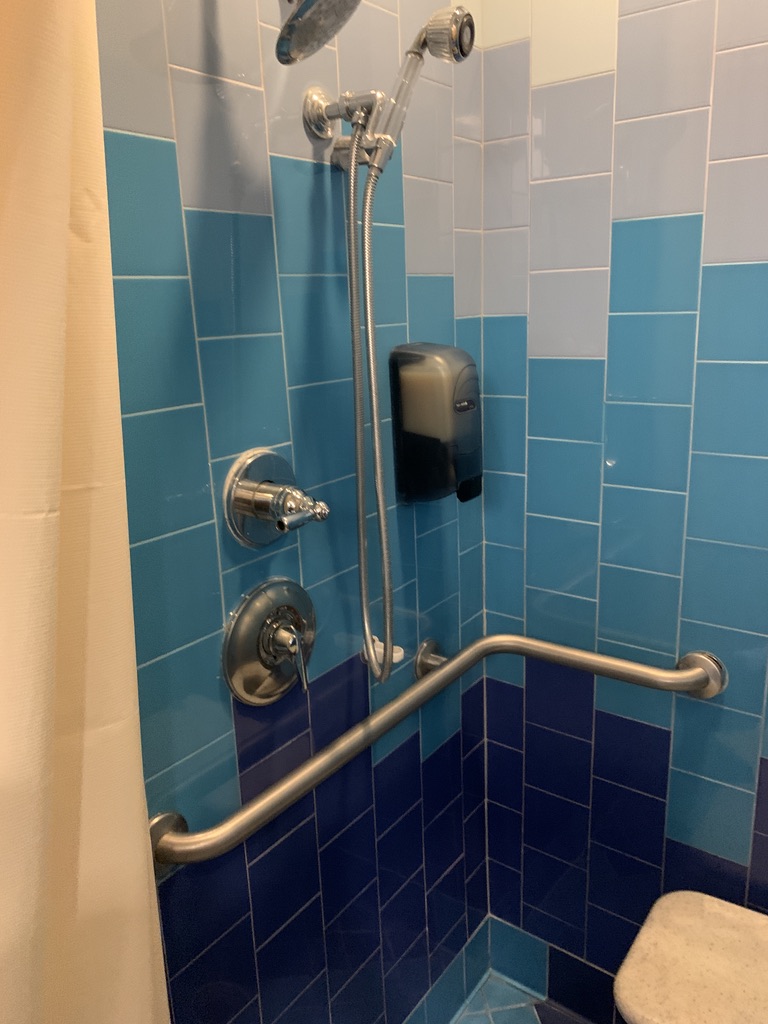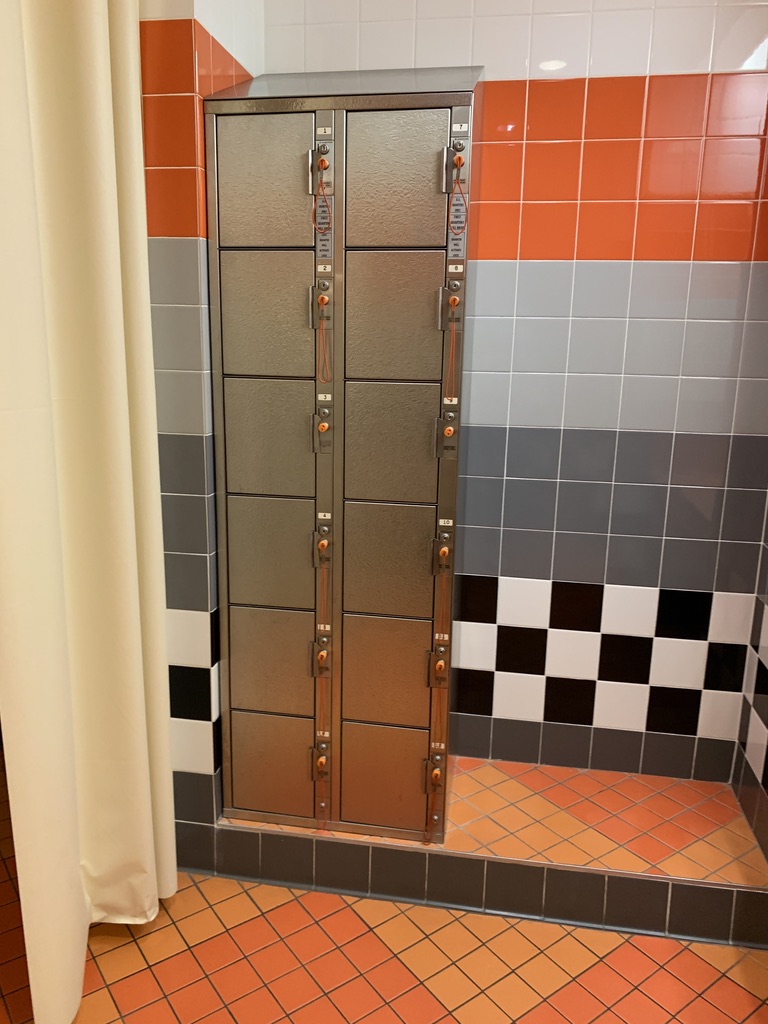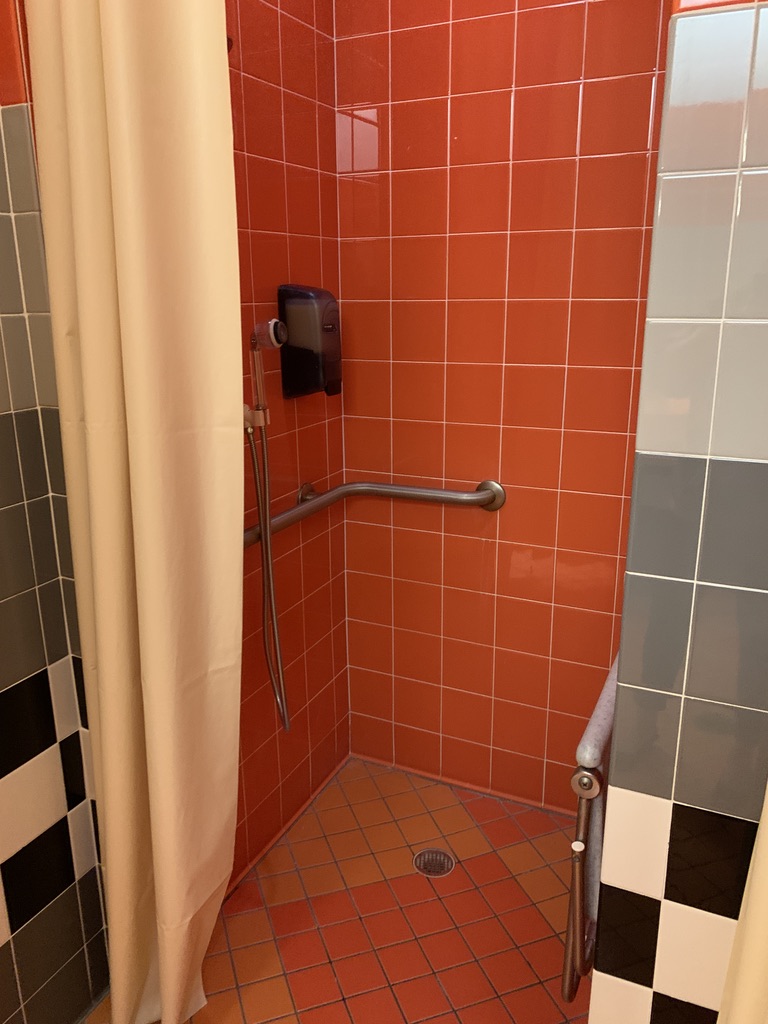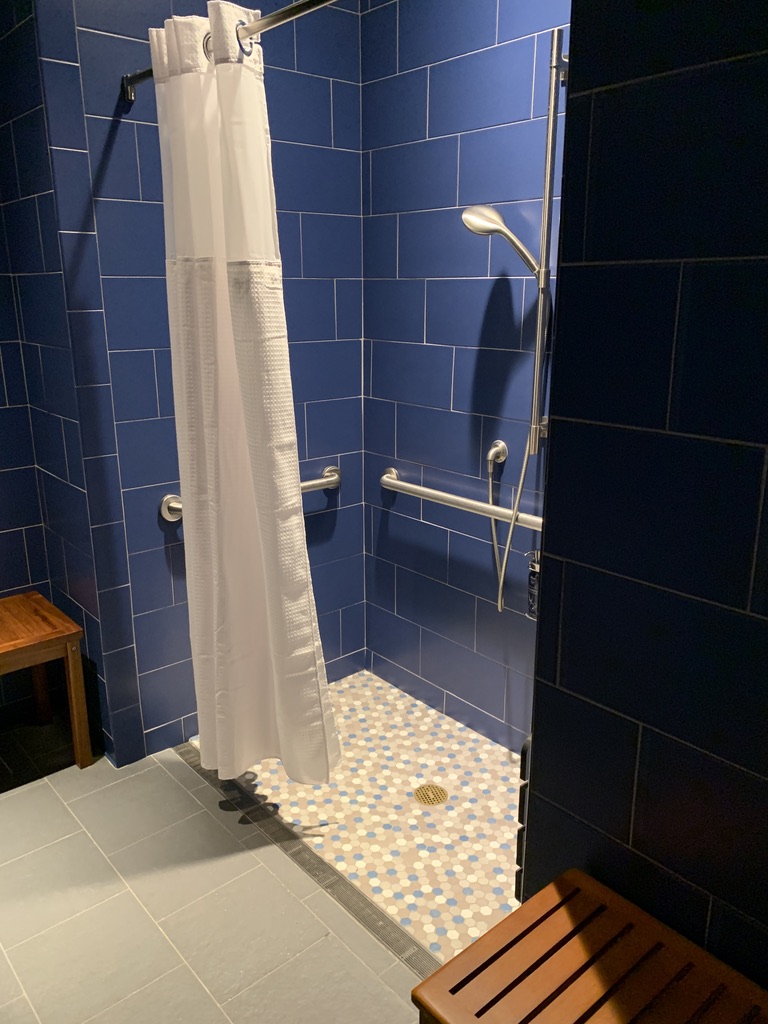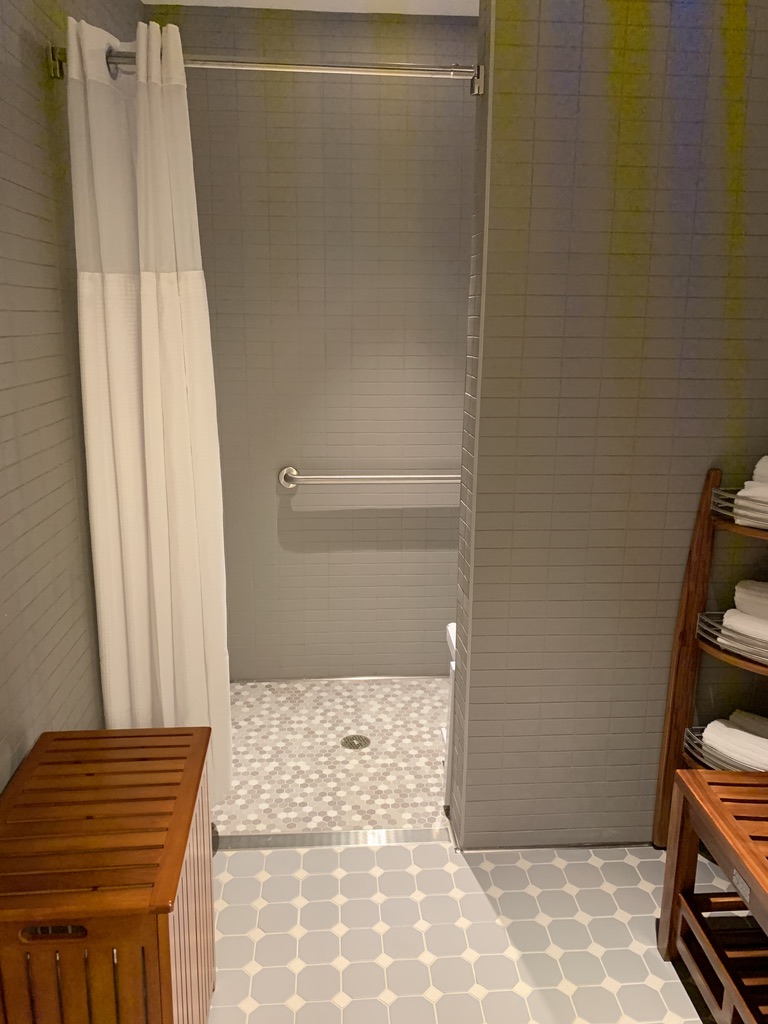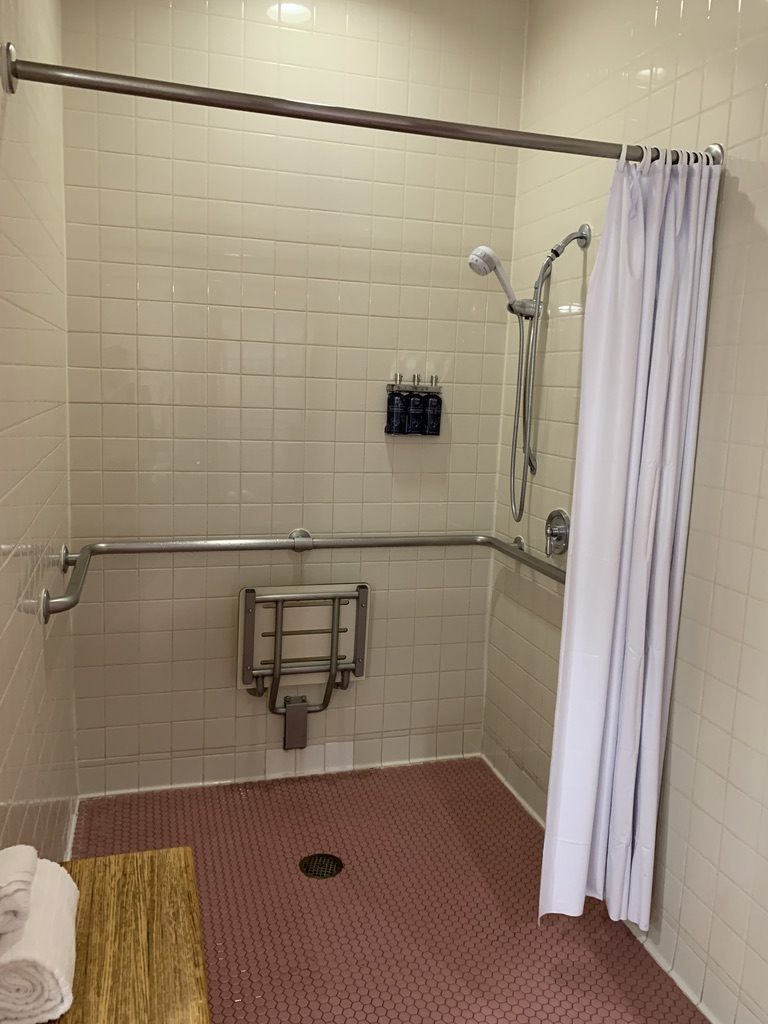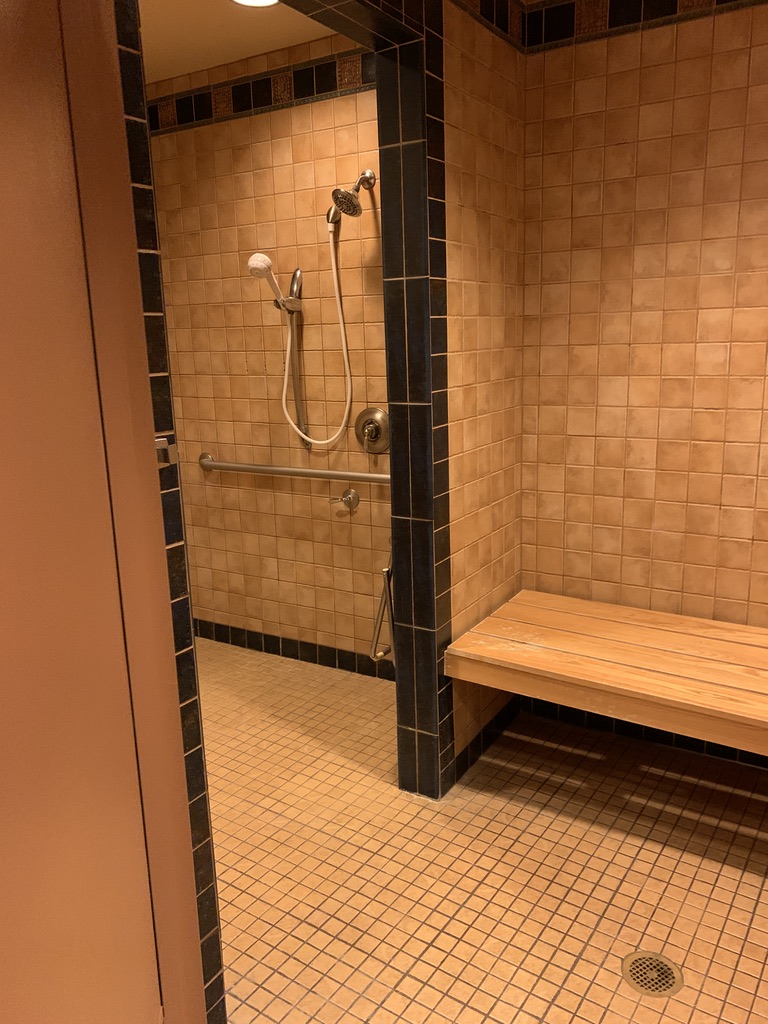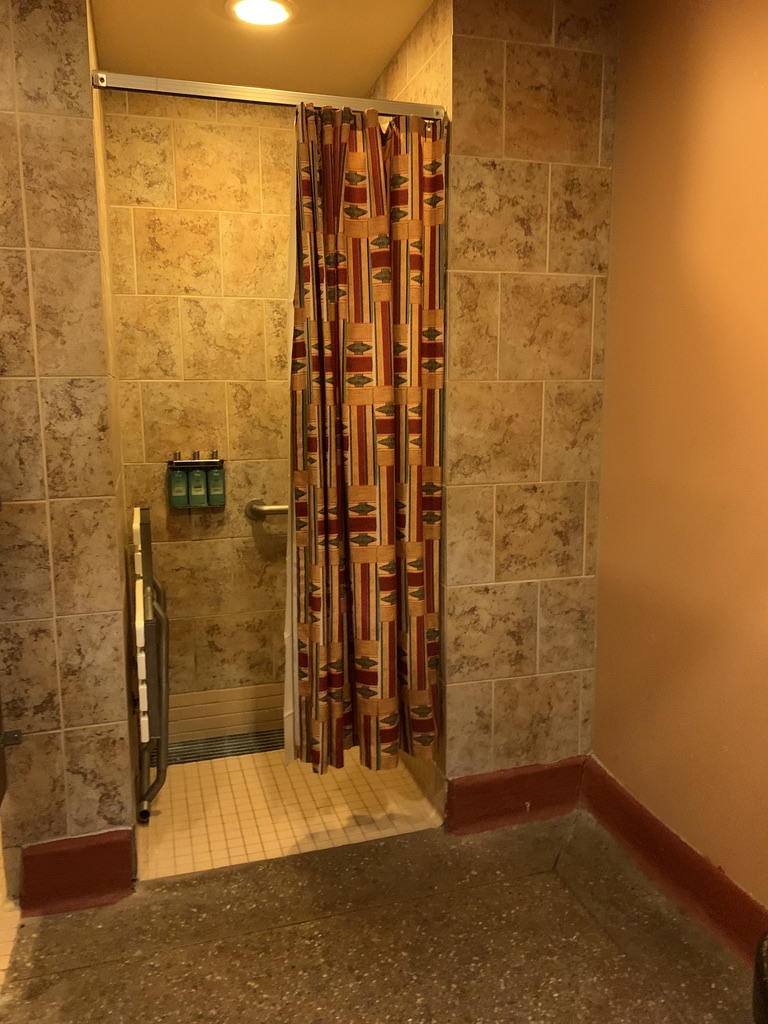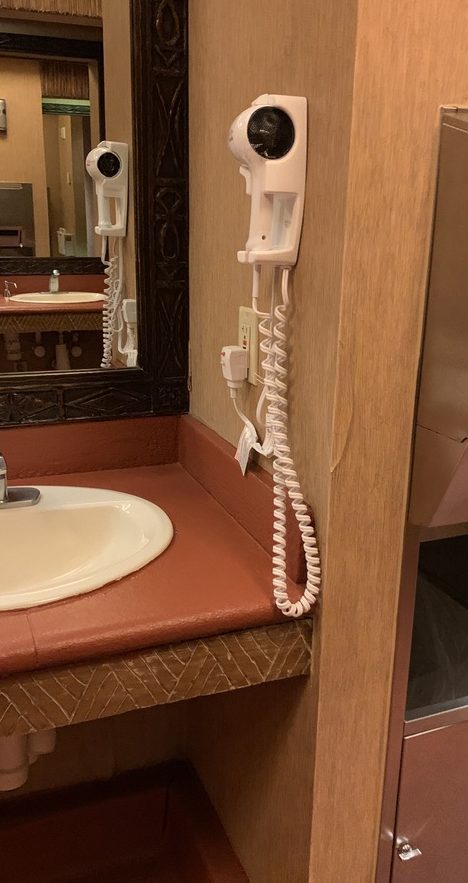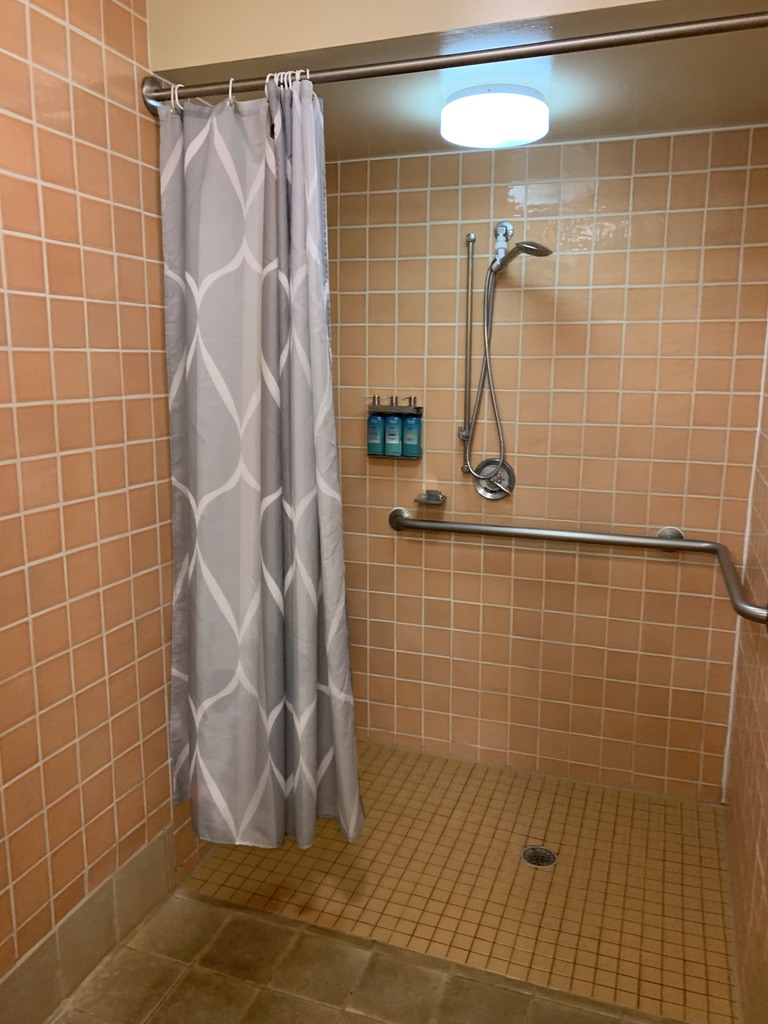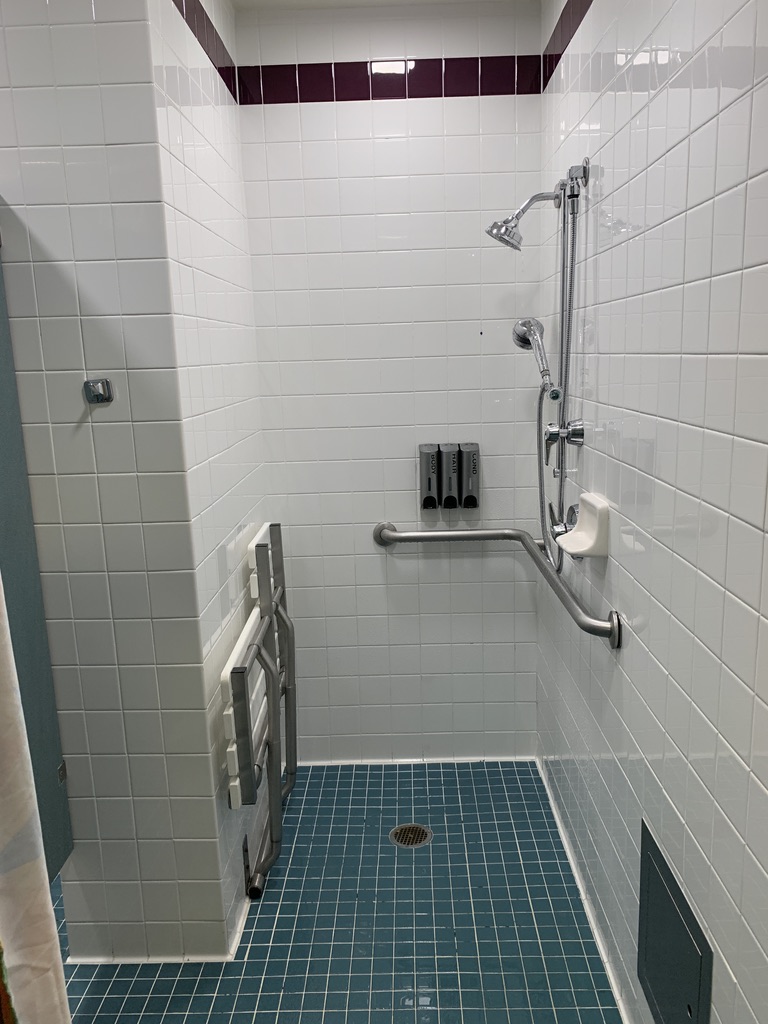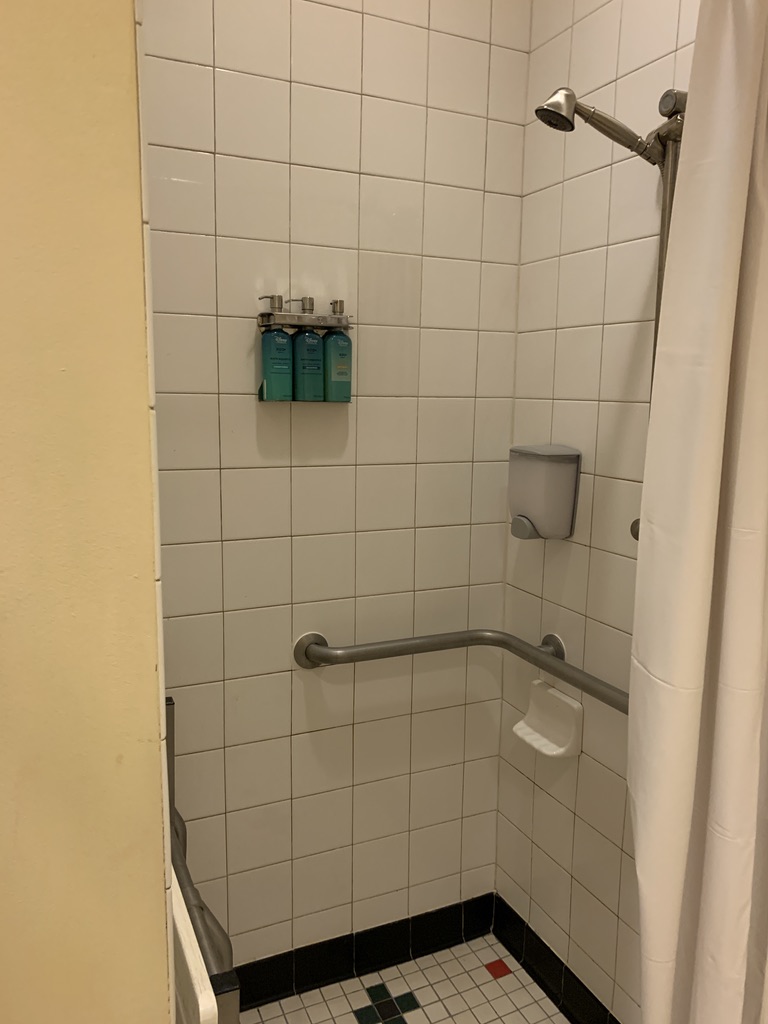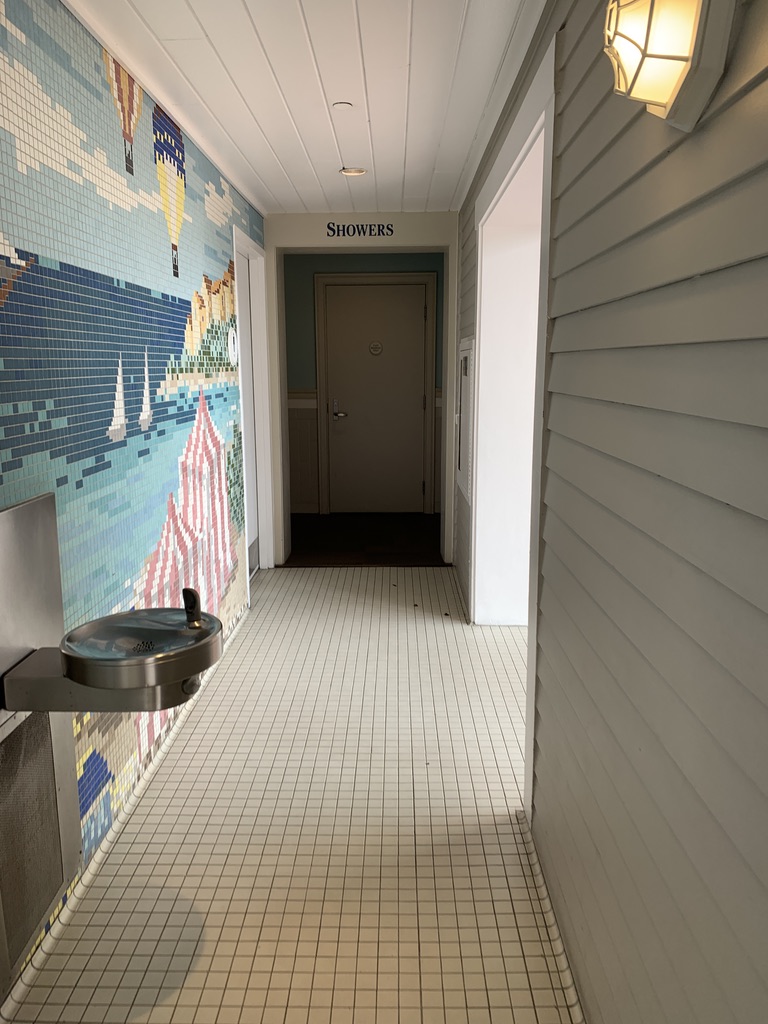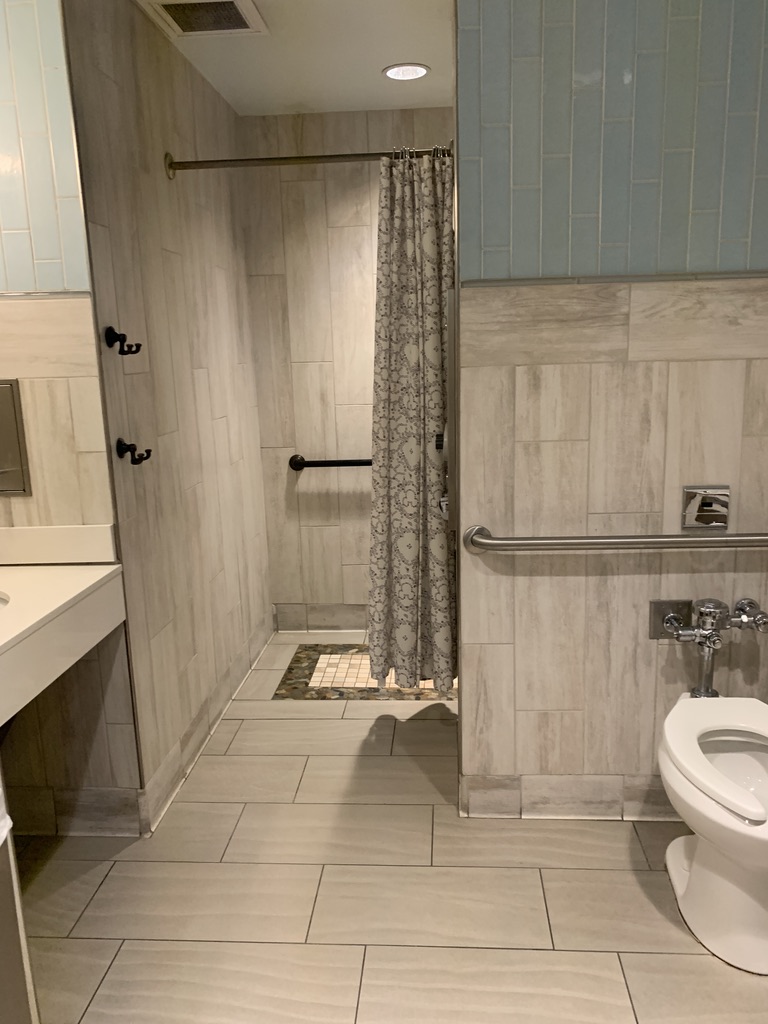 If you plan to use the public showers at your hotel there are a few things to note:
If you can't find the showers, be sure to ask – some are not in intuitive locations. For example, the Fort Wilderness showers are located in the Comfort Stations, not near the pools. At Saratoga Springs, there are showers next to the golf shop.
Since these are public facilities, you should plan to wear flip flops or other shower shoes.
Only a handful of resorts have hairdryers. If having dry hair is important to you, bring your own.
Beyond the wall-mounted soap/shampoo dispensers, there are no toiletries. You'll need to bring your own hairbrush, deodorant, lotion, etc.
Some facilities may be temporarily closed due to COVID. Be sure to ask at your resort.
Have you used the public showers at your Disney resort hotel? What have your experiences been like?