Getting a Haircut in Magic Kingdom
Did you know that there is a spot in Magic Kingdom where anyone can get their hair cut or beards trimmed, complete with pixie dust and magic wishes? Main Street has a Confectionary, a Theater – even a Fire Station. So of course it has a barber shop too! This location holds a special place in my heart, and is one of the most reasonable, least time-consuming, and special enchanting extras that you can add to your next Walt Disney World Vacation.
One question that a lot of people have is how Harmony Barbershop compares to the Bibbidi Bobbidi Boutique, so let's get to that right up front. The Bibbidi Bobbidi Boutique offers a children's makeover experience (they will not cut or wash hair, only style it) for kids ages 3-12 and takes about 90 minutes; prices begin at $100. The Harmony Barbershop offers haircuts to guests of all ages (they also do not wash hair); the experience takes about 20 minutes and prices begin at $20. Both offer that Disney touch, lots of personal pampering, and pixie dust, but what you are paying for and how much time you'll need to invest are quite different.
The Details
As you enter Magic Kingdom, you'll find Harmony Barbershop tucked in a corner to your left, just past City Hall (guest services) and the Fire Station, and to the left of the Emporium. It's small and easy to miss – other than the large, stereotypical barber pole out in front!
There are several services offered at Harmony Barber Shop, including the most excellent first haircut package that comes with patient hair cutting, endless stickers, clippings of hair to go home with you (if you want), and even a very special pair of first haircut Mickey ears! We did it way back in 2017 when my big kid was 18 months old. It's only $28, and it is to date my all-time favorite Disney memory.
Both of our girls are past their first haircut, so we got regular children's haircuts for them. And about halfway through our appointments, a middle-aged man came in for a beard trim. His appointment was a surprise from his wife, and they were both giggling like kids when they asked for him to get a haircut (he, notably, had not a single hair on his head). It was one of the funniest parts of my day. For those wondering, his beard did eventually get trimmed, and even pixie-dusted. All of the prices at Harmony Barber Shop are remarkably affordable, especially compared to their real-world equivalent services!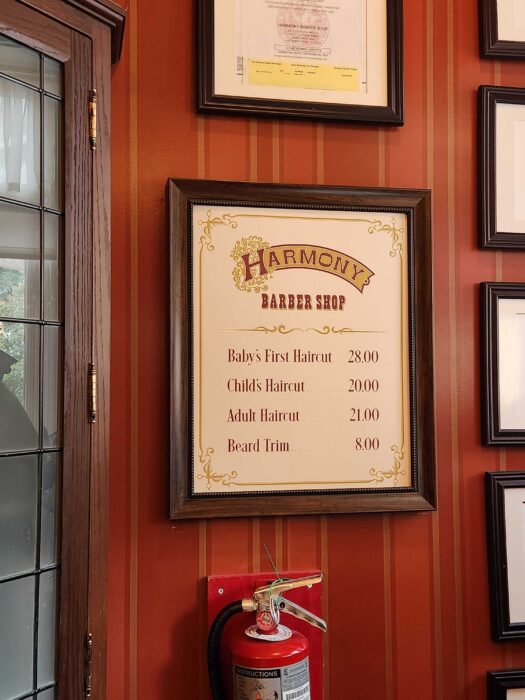 Some walk-in appointments are available at Harmony Barber Shop, especially on low-crowd days. But it's better to plan ahead and make an appointment for this Enchanting Extra up to 60 days before your Walt Disney World vacation. Appointments are generally available every 20 minutes throughout the day. And when the Barber Shop is operating at full capacity, they can accept 3 appointments for each 20-minute slot. You can book online, in the My Disney Experience app, or by calling 407-939-7529.
Haircut Experience
The barbers in Harmony Barber Shop have many years of experience, and like all cast members, are pros at keeping kids calm and entertained. This is especially important during haircuts! If your kid is anxious, they will distract them with countless toys and an infinite supply of Mickey stickers – just long enough to achieve the perfect Disney haircut.
Your barber will ask your kid what length they would like their hair to be. Then they will sneakily and expertly ask a parent to confirm … or edit what their child said. Then, they get the hair wet and perform an impressively quick haircut. Efficiency and time management is key!
But don't think that haircuts will just be inaccurate rush jobs. These barbers know what they're doing. My older kid has incredibly thick, semi-curly hair full of texture. And she had asked for chin-length hair that I was sure would just turn into one giant cotton ball if it was cut that short. I usually cut my kids' hair at home, and I certainly would have never attempted anything that short. But the end result from Harmony Barber Shop was adorable and so easy to style, even after we got back from our trip.
The barbers go the extra mile – from pausing for wishes before adding pixie dust, to doing quick hairstyles and even hunting through the whole shop for some bobby pins to attach a bow that was tied around our big kid's hair before her haircut. It's easy to tell that they love what they do!
Should You Visit Harmony Barber Shop?
If you're bringing your small child to Magic Kingdom for the first time, and they've never had a haircut – a first haircut on Main Street is an easy yes. It's cheap. It's low-anxiety. And it'll be a lifelong memory. 12/10. Completely recommend.
Harmony Barber Shop is also a great alternative to Bibbidi Bobbidi Boutique. You'll pay about 10% of a Bibbidi Bobbidi experience. Your kids will feel pampered and important. They'll get pixie dust. And you can even get a celebration button, celebrating their haircut, which will get attention from other guests and cast members who will congratulate them on their new look!
At 20-30 minutes and $20-$30, this is one magic moment that won't eat up your entire day or your entire budget. It's the perfect air-conditioned pampering break to freshen you up in the middle of a long park day. It gets our full recommendation!
Have you gotten a haircut or beard trim at Harmony Barber Shop? Will you be a repeat customer?