Getting to Know the Bibbidi Bobbidi Boutique
Are you looking to turn your little one into royalty for the day? The Bibbidi Bobbidi Boutique salon at Disney World offers a complete makeover for your child ages 3-12. We'll cover how to book, where to go, what to know, and walk you through an experience.
One thing to know before booking: this is not a true salon visit, it's a children's makeover experience. Fairy Godmothers in Training won't cut or wash your little one's hair; they'll style it and dress it with the glittery glam of your kiddo's wildest dreams. The makeup and nail polish (which they'll get to keep) are kiddie non-toxic versions. The value of the experience here is the 90 minutes of pampering and attention that your child will get as they're made to feel like a star and look like one too.
How to Book the Bibbidi Bobbidi Boutique
There are three Bibbidi Bobbidi Boutique locations at Disney World: in the Magic Kingdom under Cinderella Castle, at Disney Springs, and at the Grand Floridian Resort & Spa. Currently only the Magic Kingdom location is open. Since it's inside the park, you'll need a ticket and a park reservation to make it to your appointment before the clock strikes twelve.
It's not just a reservation for the park that you'll need. Hours are usually 8 a.m. to 6:55 p.m, and walk-in appointments are technically an option—but in reality that's a no. You can reserve by phone (407-939-7529) or online beginning 60 days in advance. And if you booked your trip with TouringPlans Travel then your Destination Specialist can make the reservation for you.
(Struck out on reservations? See An Alternative to Bibbidi Bobbidi Boutique.)
After you've booked, it's a good idea to take a look at the packages and prices on Disney's site. It's not cheap, with Princess packages ranging from $100-$230 before tax. The more expensive packages include accessories and clothing, so advance planning can help you meet your budget.
If you don't want to pony up for included clothing, there are options. Costumes aren't a requirement, but many kids want the dress-up to be part of the fun. You can bring a dress or outfit that you already own, or buy one for the special day in advance. Official Disney costumes are available on ShopDisney, and many locations sell a variety of appropriate dress at prices that you may find more friendly.
What to Expect at the Bibbidi Bobbidi Boutique
The BBB itself is under Cinderella's Castle, but you'll check in behind the castle, across from Sir Mickey's. Your appointment should take about 90 minutes from start to finish. This includes checking in, choosing your package, a photo shoot, and the transformation.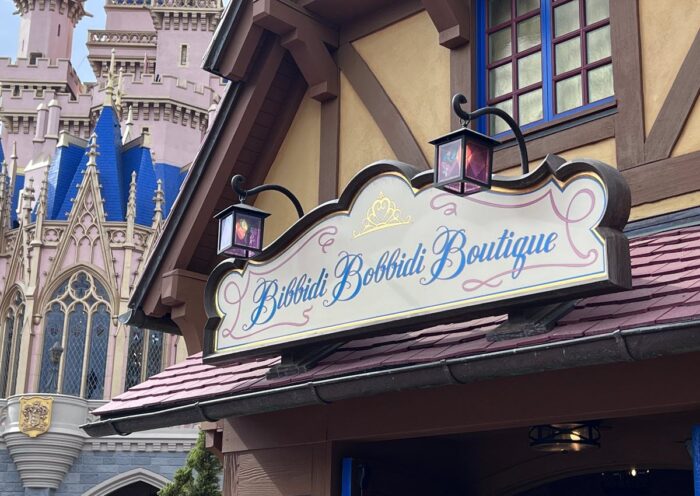 Checking In
You can check in 5 minutes before your appointment time, and up to two people can accompany the guest who is receiving the makeover. (At least one adult over 18 must be present.) If you have multiple children with appointments, you can bring extra adults—the limit is two observers per makeover.
After checking in, you'll be given a binder of pictures and info about the available packages. The packages are billed as "Princess" and "Knight", but guests can choose any package no matter their gender or gender identification. Prices aren't listed, but you'll be able to check prices and discuss your budget before you commit. Numbers below are from the day of our visit; the most up-to-date prices will be found on Disney's website.
There are 4 Princess Packages that start from $99.96 – $229.95 plus tax. There are two Knight Packages from $19.95 – $79.95 plus tax. What does that mean, "start from"? Well, for example, shoes are available for sale, but aren't included in any of the packages. Some packages include accessories, but if you want to go for the glam and accessorize to the max, you can add on. Examples (click to enlarge) are shown below.
No discounts are currently available, but Annual Passholder and DVC Member discounts have been offered in the past. They may reappear in the future as other locations reopen.
Dress & Accessories
After you've chosen your package, you'll be escorted to the next room to check out the goods! You are welcome to bring your own gown or garb if the ones on offer aren't to your taste. Dress sizes range from 3T to Girls 16, but the common sizes are the most likely to be in stock for any specific outfit. If you have an older child who is very tall, you might consider bringing your own to avoid disappointment.
Many accessories are one-size-fits-all, but if shoes are a must-have you might plan to bring your own. There is currently only one style of shoe available. And as with the dresses the sizes may be limited; when we were there the largest size was 3/4.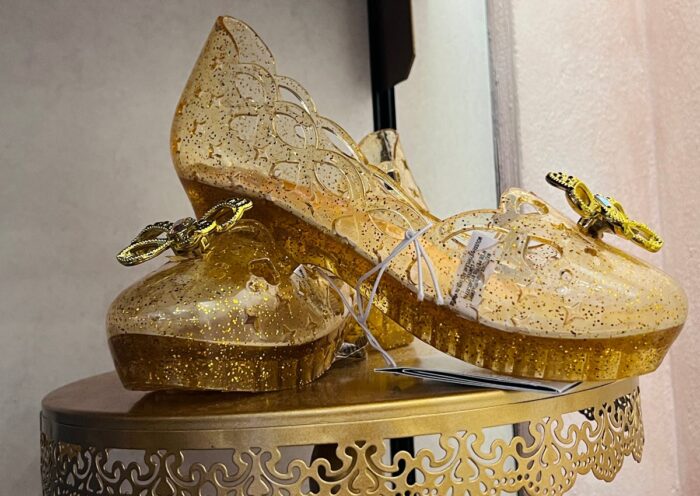 All garments and accessories are optional, and kids can walk out in the same clothes they were wearing when they walked in if they choose. But this is also where they'll pick their makeover look. You'll get another binder with pictures to decide on all manner of hair flair. Fairy Godmothers in Training are masters of the Princess bun, but there are other options including choices for kids with short hair.
After choosing dresses, accessories, and hairstyles, it'll be time to settle up at the registers. You'll have an opportunity to change it around if the price doesn't agree with your plans.
Mirror, Mirror
Now it's time to try everything on! If you think for a minute, it makes sense to change clothes before messing with makeup. You'll be escorted to a dressing room that has a Magic Mirror surprise for your little one. Stand to the side, and be ready with that camera in video mode when the door closes!
Remember, the Cast Members at the BBB are all about making your kid happy. It doesn't matter whether something doesn't fit or just doesn't look as good as it did on the rack, they'll swap it out for you until everyone is happy.
Walk to the Castle
Once your kiddo is all dressed, you'll be escorted from the BBB check-in location to Cinderella Castle for the real show! The BBB is across from the entrance to Cinderella's Royal Table, and you'll have a chance to snap pictures of your new Princess or Knight against the famous tile mural. This is probably a good time to mention that neither the check-in location nor the Bibbidi Bobbidi Boutique have stairs and both locations are accessible.
Transformation
All Fairy Godmother Apprentices are well trained in technique and, almost more importantly, chit-chat with your children to make them feel comfortable and excited. Note that your kiddo will not be out of your sight or arms reach at any point during this entire process. There are benches just a few feet away from the salon chair where they will be sitting, and you'll have an excellent view of every single smile and giggle.
If you have MemoryMaker (or are willing to buy individual photos using the card you'll be given at the end), don't fret about pictures because there are PhotoPass Photographers constantly snapping. They know exactly when the big moments happen but manage to never be in the way of your view. It's a delicate dance that these photographers have mastered, and their skills are truly impressive.
Hair – no matter the style you get, prep for lots of hairspray and glitter. This is why they ask that your child show up with clean, brushed hair. Nobody wants a stranger to have to detangle a mop of hair and draw tears on such a special day.
Nails – more gold glitter!
Makeup – applied with a light hand and even lighter pigment. Just enough to make your Prince or Princess feel like a "big kid!"
Your kiddo will get to keep the nail polish and makeup in their pink, branded bag as a souvenir of their visit.
The Reveal
When the transformation is complete, your Fairy Godmother's Apprentice will escort your Princess or Prince outside and present them to their kingdom! Scoot out ahead so you can get the pictures and video. We suggest taking full advantage of the time immediately after your appointment to get pictures on Castle steps as we did! If the weather is inclement, the Disney PhotoPass Studio in Sir Mickey's or the iconic tile mural inside Cinderella's Castle are great alternate locations for your photoshoot.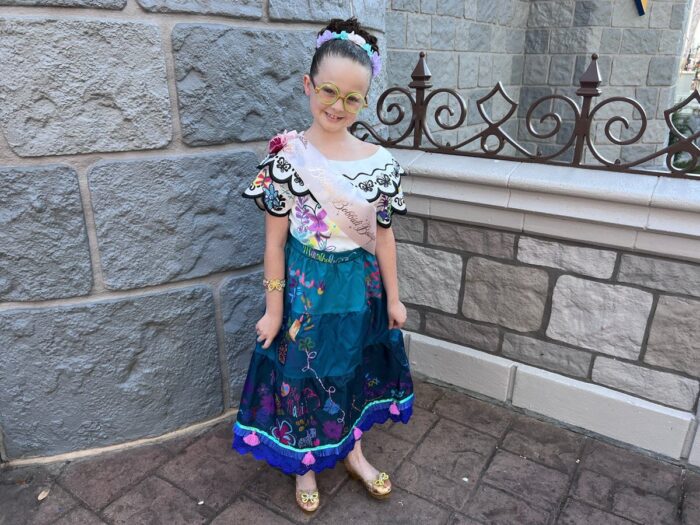 A note on tipping. Fairy Godmother in Training is one of the few non-food service positions that is allowed to accept gratuities. However, a tip is neither required nor expected; it's entirely at your discretion.
After Your Appointment
Be ready to spend the rest of the day hearing kind words and delightful greetings addressed to your little one all around the Kingdom. Also, be prepared that the fully made-over experience may not last the rest of the day.
The makeup is applied with a light hand and isn't heavily pigmented. But kids often aren't used to wearing anything on their face. Don't be surprised if they ask to have some of it removed after a couple of hours. Baby wipes are a good choice here.
Similarly, princess dresses are beautiful but can also be itchy and scratchy, especially if the weather is very hot and humid. (That never happens in Florida, right?) After a couple of hours of wowing the hoi polloi, your kid may want to switch back to their comfy duds.
Many guests try hard to get a morning appointment so their kiddo can be made up for Princess meetups the rest of the day. But if you have a special event planned like dinner at Cinderella's Royal Table, you may want to consider an afternoon appointment instead.
Have you (or your kids) visited the Bibbidi Bobbidi Boutique? What did you think – do you have any favorite tips? Let us know in the comments!