Ahead of the Pack: Making the Most of Disney World Rope Drop
You might have heard that "rope dropping", arriving at the parks right as they open, is a great way to beat the lines at Disney World. It's true! But I hate waking up early on vacation with the fiery passion of a thousand burning suns. If I'm going to set an alarm so I can skip some lines, I want to get the absolute most bang for my lost-sleep buck. Here are my best tips for rope drop strategy as a bullet list, with details and how-to below.
Know what "to rope drop" really means. Arrive on time.
Follow instructions when you arrive at the park.
Use your wait time wisely.
Why you need a plan – and a backup plan.
What should you ride at rope drop?
Know What "To Rope Drop" Really Means
We'll assume that "park opening" means the time when you can access the rides, whether that's Early Entry or regular opening. And so "rope drop" refers to whichever opening is the one that matters to you. Many readers will be eligible for Early Entry, but most of our advice applies to regular opening as well.
It's common for people to think rope dropping means "Be at the park by 9 if it opens at 9". That's what I thought for years. And I want to be 100% clear, if this is what you're doing, you will still save time in lines. But you'll only get a fraction of the savings that you'd see from arriving at the park a half-hour before it opens. (Or a half-hour before Early Entry, if you're eligible for it.)
You might now be thinking something along the lines of "Well, but now you're just waiting in line for the park to open instead of waiting in lines later on". There's a certain amount of truth to that, but it's not the same. I'll give you a better line on that later, but for now just take my word for it.
The half-hour that I reference above is a general number that's easy to talk about. Exactly how early should you arrive? How should you get there? That's a story for a whole other article: Getting to Rope Drop at Disney World.
Follow Instructions When You Arrive at the Park
You won't spend all your pre-opening time standing still. If Disney didn't let guests in until right on the dot of opening, they'd get a lot of complaints from people who spent most of their Early Entry time waiting to get into the park. Historically, this is where the name "rope drop" comes from. After guests came through the gates they waited behind a rope, which was quickly "dropped" at opening. In some cases a rope is still used today.
Every park does its opening procedure a little differently, and sometimes it might not go the "usual" way for the park you're visiting. Your best bet to get where you want to be when the rides begin running is to follow the instructions of Cast Members.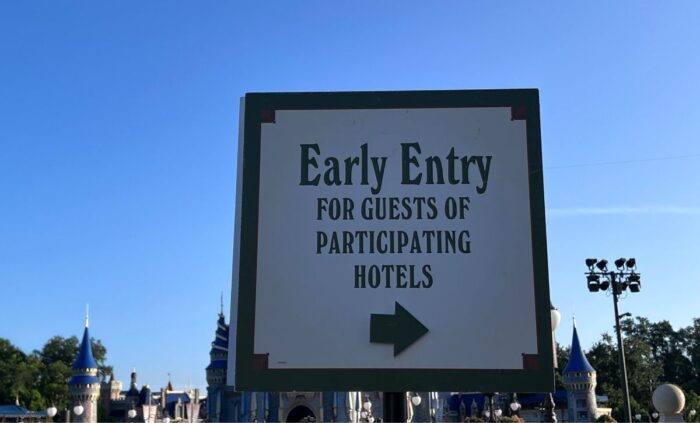 Here are a few general tips about rope drop and Early Entry procedures in each park. But remember, these could change on any given day.
If you're eligible for Early Entry, only one member of your group has to scan. Sticking together to go through the Early Entry checkpoints will be faster.
Make sure your admission is in order. If you're not using MagicBands or a physical ticket, a barcode on your phone will not get you through the gate. To use your phone for entry, you'll need to set up MagicMobile.
At the Magic Kingdom, all of Main Street is open to guests once they go through the tapstiles. Guests eligible for Early Entry will go through checkpoints at the right side of the hub, then be directed to wait at entrances to Fantasyland or Tomorrowland – these are the only two lands available during Early Entry.
At EPCOT, the entrance plaza in front of the prismatic pylon is open to all guests once the tapstiles open; the Early Entry checkpoint is typically at the right side of this area. At the International Gateway, non-eligible guests are held at the entrance to the France Pavilion.
At Hollywood Studios, the Early Entry checkpoint is before the tapstiles. At all parks, there is a significant benefit to being at the front of the Early Entry pack. This is the only park where there is a big benefit to being near the front of the "regular opening" pack.
At Animal Kingdom, the Early Entry checkpoint is typically to the left. Non-eligible guests are held to the right after going through the tapstiles.
Use Your Wait Time Wisely
Once you're through the tapstiles, you'll still have a wait until the rides open. Or, if you're not eligible for Early Entry, for the park to open. Unlike the attraction queues that you'll wait in later, this line will not be moving. Making good use of the time can make it seem less like you woke up early to wait in line so you could avoid waiting in lines.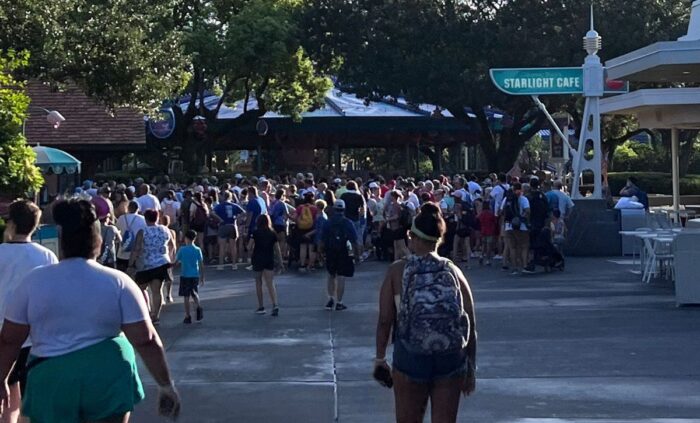 Eat. A granola bar and a yogurt probably won't power you through the morning. But they'll keep you going until posted wait times begin to lengthen and you can pause to eat something more substantial.
Apply sunscreen. If you have the spray kind, you're planning on taking turns stepping out of line off to the side to use it, right?
Research. Hopefully you have a plan for what you'll do in the park, but you can use this time to learn cool stuff about the attractions. If you've bought Genie+, you can listen to the Audio Tales. For free, you can read Bob Jacobs' "Five Things to Know" articles.
Of course, you can also spend time on Play Disney Parks, your daily sudoku, or the crossword puzzle. And if you're comfortable putting your rear on the ground, you can sit down while waiting in this line. You can even sit down while doing sudoku or eating. Multi-tasking!
Have a Plan – and a Backup Plan
For Early Entry, we have no-Genie touring plans for Hollywood Studios and Animal Kingdom. But maybe you don't want to ride everything in those plans. Maybe you're visiting a different park. Maybe you bought Genie+ and you need to adjust based on your first Lightning Lane pick.
To decide what you want to ride before the masses descend on the parks en masse, you'll want to know more than just what's hot and what's not. It also helps to understand how lines grow at different attractions after opening. Then you can shift gears smoothly if your planned first attraction isn't running at rope drop.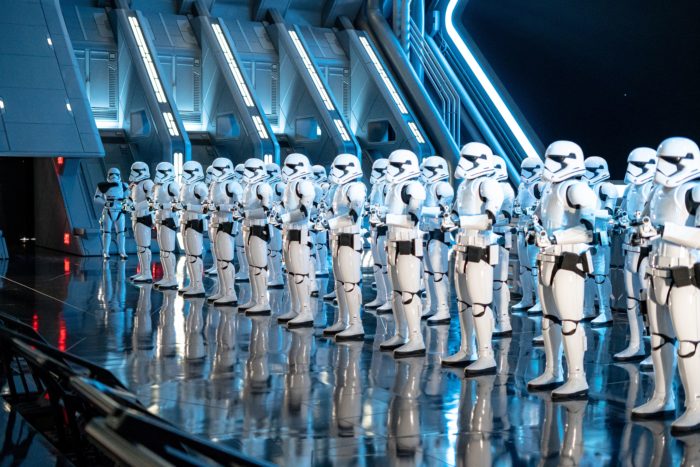 Here at TouringPlans we're a data-driven outfit. So I'm going to put some straight talk general knowledge below, followed by a cheat sheet list of attractions. But after that I'll show you some interesting model results for anyone who wants to get down in the data with me.
Straight Talk
Looking at how fast the lines build, there are two general patterns. Lines for some rides – we'll call them "prime targets", build extremely fast, almost instantly. After the first several minutes, they get longer at a slower pace. Lines for "second-tier" rides build more slowly from the get-go, and might reach a point where they're not really increasing. Let's do an example before talking about why this difference matters.
You're heading for Seven Dwarfs Mine Train, a prime target. This super headliner has a wait of 5 minutes for every 100 people in front of you. If 500 people walk quickly to the ride within a minute or so of park opening (yes, this really happens), then being at the back of this 500-person pack means you'll wait 25 minutes—even though it's only a couple of minutes after opening. By the time you're done, the park is open to regular guests.
Reading that, you might feel like there's no room for error in your arrival time. But you still rode in 25 minutes, which is a lot better than the wait you'd have later in the day! And remember, not every queue behaves like Seven Dwarfs Mine Train. Second-tier queues build more slowly and are more forgiving of a few minutes one way or the other.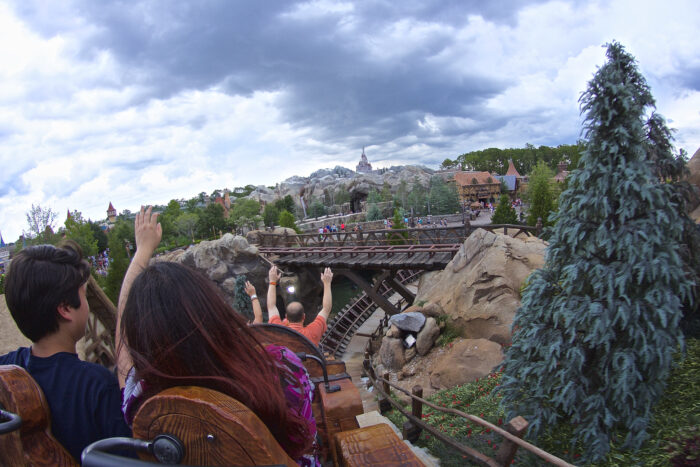 Here's what you should take away from that example. If you're not going to be front-of-the-pack at Early Entry, you have a choice. You can get in line for a prime target, or you can aim to do two or more attractions with shorter lines. The later you are, the better off you might be going to second-tier attractions instead. At regular opening it's the same choice, but the balance will be a bit different. You'll also be able to choose some short lines for attractions that weren't open during Early Entry.
Rope Drop Targets In Each Park
The lists below cover prime targets and second-tier attractions for rope drop at each park. When making your plan keep a couple of things in mind. First, when considering a pair of attractions it's usually better to ride the short one first. Second, early in the day there's less value from booking it all over the park. You've got to save more time in the line than it took you to cross to the ride, and when lines are shorter that's a hard ask.
Once you're in the park, don't be put off by super-long-looking lines. Very early in the day, lines look longer because the indoor queue switchbacks are closed off and the line is "straighter". And during Early Entry lines move at a good clip because the Lightning Lane is not in use.
What to ride at rope drop in the Magic Kingdom
For Early Entry, only Fantasyland and Tomorrowland are open. Prime targets will be Seven Dwarfs Mine Train, Peter Pan's Flight, and to a lesser extent Space Mountain. Second-tier targets are Buzz Lightyear's Space Ranger Spin, Astro Orbiter, Tomorrowland Speedway, The Many Adventures of Winnie the Pooh, and it's a small world.
For regular opening, targeting any of the second-tier attractions (especially Buzz Lightyear!) should still save you quite a bit of time, plus there are a few great options that weren't open during Early Entry. These include Jungle Cruise, Pirates of the Caribbean, Haunted Mansion, Enchanted Tales with Belle, and all of the Meet & Greets. At these attractions, you'll be on an even footing with the Early Entry crowd.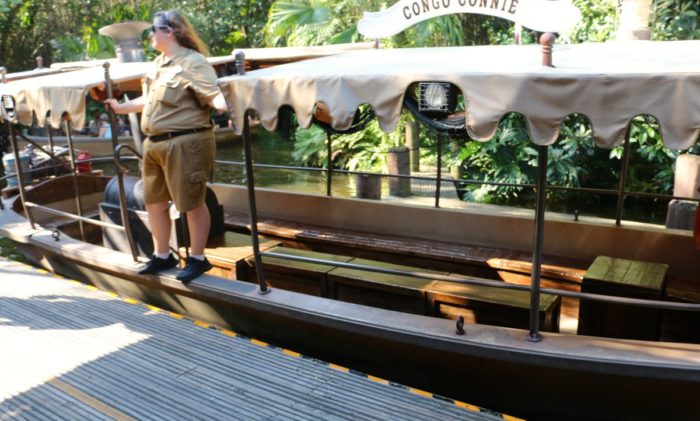 What to ride at rope drop in EPCOT
For Early Entry, the prime targets are generally Remy's Ratatouille Adventure, Frozen Ever After, and Test Track. Soarin' is a second-tier target. EPCOT is a very large park, and unless you're entering from the International Gateway, you'll probably be better off heading for either Frozen or Test Track.
For regular opening, the list is the same. Again, the Meet & Greets will have just opened, so if you're planning on meeting Anna & Elsa then you can combine that with Frozen to make a powerful 1-2 punch. But since EPCOT is so large, there's a lot of value to doing the co-located activities in the Pavilions as a group. Living with the Land doesn't tend to get monster lines, but Soarin' can be a good choice for regular opening rope drop because you can bang out the whole Land Pavilion before moving on to the rest of the park.
What to ride at rope drop in Hollywood Studios
Hollywood Studios has a lot of ways to save time at rope drop because it has a lot of attractions that get long lines. At Early Entry, the prime targets are Slinky Dog Dash and Rise of the Resistance. Second-tier attractions are Toy Story Midway Mania, Mickey and Minnie's Runaway Railway, Millennium Falcon: Smuggler's Run, and the Sunset Blvd. duo of Rock 'n' Roller Coaster and Tower of Terror.
For regular opening, Hollywood Studios is the only park where you won't be allowed through the tapstiles before time. It's worth a little extra effort here to be at the front of the regular-opening pack. Only one Meet & Greet (Red Carpet Dreams) typically gets long lines, but since you'll be on a more even footing with Early Entry guests it's a good option. Toy Story Midway Mania will be building a big line from guests who've gotten off Slinky Dog Dash and are taking advantage of the short walk. So taking aim at second-tier attractions outside of Toy Story Land may be a better choice.
What to ride at rope drop in Animal Kingdom
Without a doubt, Flight of Passage is the prime target in Animal Kingdom. Your second-tier targets will be Na'vi River Journey, which will have a large benefit during Early Entry even if you're not riding Flight of Passage, and Expedition Everest.
For regular opening, the Adventurer's Outpost Meet & Greet and Kilimanjaro Safaris are two attractions that aren't open for Early Entry and build lines fairly quickly after they do open. If it's a hot day and you'd like to ride Kali River Rapids, it often has short waits in the first hour of regular opening.
Checking these lists against real life
Lists like the ones above make me nervous, because the parks are always changing. For instance, in 2022 maintenance work at Tower of Terror sent wait times up a level and made the ride a much better rope drop target. As I write this, Soarin' Around the World has been swapped out for Soarin' Over California and wait times have soared as a result. If I was visiting EPCOT today, I'd definitely consider Soarin' the equal of Test Track as a rope drop target.
Here's what you should do. The week before your visit, use the map in the Disney World app to look at midday wait times in each park. If you're a TouringPlans subscriber, the attraction lists in Lines can be conveniently sorted by wait time. Try it a few times during the week to make sure you're not seeing something temporary like an atypical wait for a ride that's coming back from downtime. You'll quickly see which attractions build the biggest waits. Those are also going to be the ones that offer the most savings at rope drop.
Geek Talk
Above, I gave an example of how a few hundred places in line can translate into a big wait time difference at Seven Dwarfs Mine Train right after opening. How does that end up affecting your total touring time?
We collaborated with the math department at Furman University, who did some modeling based on our collected wait time data. The 4 series in the chart below are different itineraries for the same 10 attractions, all starting with Seven Dwarfs Mine Train. The x-axis is the place you achieve in the line for Seven Dwarfs. The y-axis shows how long it takes to complete the remaining attractions after you get off the ride.
Let's focus on the green line, which ordered the attractions to minimize wait time, and the red line, which ordered the attractions to minimize walking time. Here are some interesting things we can see.
1 – Using the wait-time minimized itinerary, being 400th in line at SDMT means you'll spend an hour more completing the rest of the attractions than if you were the first rider.
Note: In real life you can probably do better. The model didn't allow any changes to the order of attractions. Using a customized touring plan in Lines and reoptimizing as you go will buy back some of that time. But it's unlikely that it will get back all of it.
2 – Being 400th in line isn't a "failure"; you'll still save lots of time compared to people arriving later.
Note: I can't emphasize this takeaway enough. Only 100 people can be in the first 100 people in line (duh!), so aiming to guarantee that placement requires a significant effort. And it comes with a very real risk of arriving earlier than you "needed to", that is, at a point where you really are just doing a straight trade of time in line before park opening vs. time spent in lines later.
It's your vacation, how much is that effort worth to you? If you're taking a Minnie Van to guarantee arriving early enough to be at the very front, would Genie+ and extra sleep be a better use of that money? These are questions only you can answer, but they're worth asking. Especially since targeting these super-headliners isn't the only way to save a lot of time at rope drop.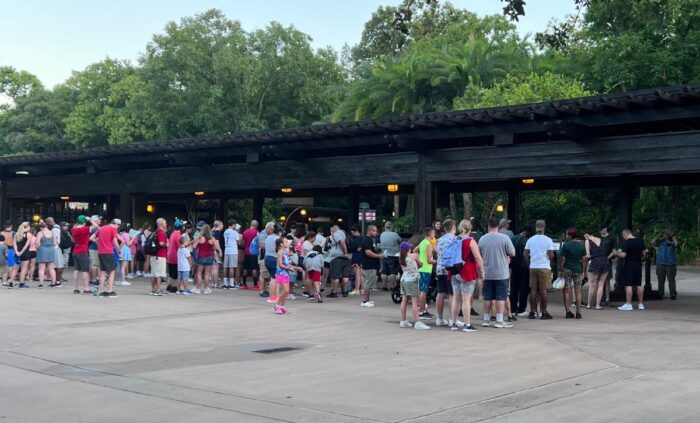 3 – Rope drop is still worth it even without Early Entry. Guests arriving for regular park opening still save half an hour or more compared to guests arriving more than an hour later. (But remember, this is only a model. Past performance is no guarantee of future results, and all that jazz. And we talked above about how it might be even more profitable to target some second-tier attractions that haven't already built huge lines.)
4 – For most of Early Entry, minimizing walk time is superior to minimizing wait time unless you are at the very front of the line for Seven Dwarfs. That's probably an artifact of the order of attractions in these specific plans. But it does highlight how much you might be trading off by walking back and forth between lands to get small wait time benefits.
Have you been among the first in the parks? What's your rope drop strategy? Let us know in the comments!