Getting to Know Universal – Bend the Bao
Craving some Chinese street food? This week we sample the bao at Bend the Bao, Universal CityWalk's newest quick-service restaurant.
Quick Glance
Location: CityWalk
Cuisine: Bao buns (stuffed Chinese steamed buns)
Service: Counter service
Price: $12-$17 per adult entree
Universal Dining Plan Accepted: Yes
Touring Plans Rating: 3 stars
Seating: Outdoor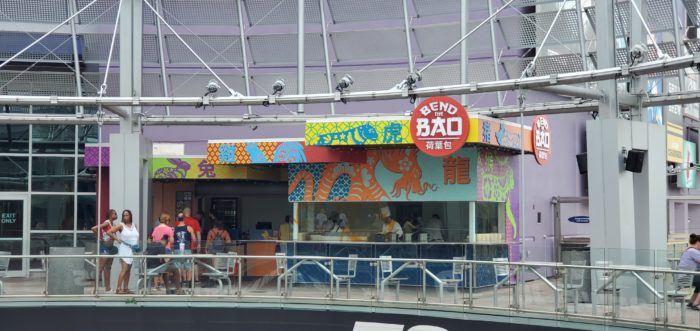 The Experience
Bend the Bao is located on the second story of CityWalk at the second-story exit for the movie theater – it's hard to miss the colorful Chinese zodiac-inspired exterior. The quick-service restaurant features Chinese and eastern Asian street food. Their specialty is bao – fluffy buns folded and stuffed with tasty fillings. Guests order at the counter on the left and then wait for their meals. Entertainment is derived from watching your snack progress at the show kitchen windows. Unfortunately, there is no indoor or covered seating, you will have to fight for seating in the Food Court.
The Food & Drink
If you have never had bao, they are fluffy, semi-sweet buns cooked using steam over a lotus leaf. The bao is then filled with a choice of filling and folded. The portion size is very similar to a burger slider or a street taco. Universal's baos come in several varieties including veggie, fried shrimp, Korean fried chicken, and even duck. We enjoy the Pork Belly and Kimchee FC buns the most, the duck is slightly disappointing due to the lack of duck flavor. There are no side dishes or kid's options available, just bao.
The usual selection of soft drinks, tea, and water are offered plus sake, canned beer, and wine.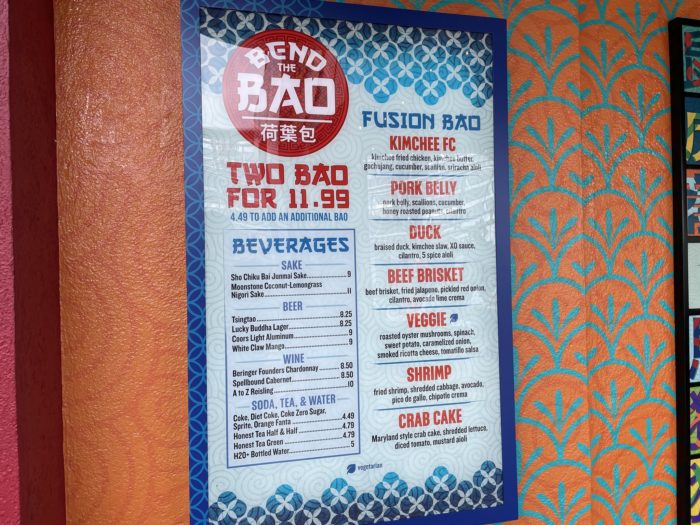 The Opinion
We find the bao to be good but incredibly overpriced – two bao for $12 is not enough for a meal and three small bao for $17 is criminal. We really like this concept and want to see it succeed, so Universal, please reconsider the pricing model here. We know you adjusted Breadbox's pricing, we hope you can do it here too. A side dish option would also complement the bao on the menu.
With its out-of-the-way location on the second floor of City Walk, most guests find Bend the Bao after a movie lets out. If you find yourself on the second story of CityWalk then Bend the Bao is worth a visit to complete your Universal food scavenger hunt. Otherwise, there are better, more interesting, and more affordable options elsewhere.
Have you eaten at Bend the Bao? Leave your comments below.