The SATURDAY SIX Takes a Trip Around the Universal Orlando Resort to See What's New (Bend the Bao, Returning and New Attractions)
This week's SATURDAY SIX takes a trip around the Universal Orlando Resort! A lot has been going on over at Universal lately and today we're going to take a look at some of the highlights, starting with…
# 6 – Bend the Bao
While the opening of attractions like Hagrid's Magical Creatures Motorbike Adventure and the VelociCoaster get a lion's share of press, one of the biggest changes the Universal Orlando Resort has been going through over the last several years is a complete overhaul of CityWalk. Similar to the makeover from Downtown Disney to Disney Springs, if you haven't been to CityWalk in years you'll see that much of it has changed. In a surprising move, Universal went in the complete opposite direction of Disney in the area of restaurants. In Disney Springs we got the addition of many great dining venues run by celebrity chefs (including Morimoto Asia, Art Smith's Homecomin', and Jaleo by José Andrés). In CityWalk, several restaurants previously run by third parties have been replaced by new venues owned and operated by Universal themselves (including Vivo Italian Kitchen, Bigfire Restaurant, and Toothsome Chocolate Emporium). With the ground level of CityWalk renovation done, it looks like Universal has set its eyes on the second level, and our first change occurred when Fusion Bistro made way for Bend the Bao.
Fusion Bistro was a sushi and sake quick service restaurant located on the upper level of CityWalk next to the "food court" area with Panda Express, Moe's Southwest Grill, and Burger King. Fusion Bistro was relatively nondescript venue outside of a sign with "SUSHI" in large letters. In April, Fusion Bistro closed with no replacement named at the time. In true Universal fashion, in June they released news of Bend the Bao opening in Fusion Bistro's former home. The announcement of Bend the Bao opening came approximately one day before the actual restaurant opened. I guess if you're going to have a restaurant like Space 220 at EPCOT that you tease is going to open for two years and still hasn't opened, there has to be something that is on the complete opposite end of that spectrum to balance everything out. (I've also just explained the raison d'être for the villain of the M. Night Shyamalan film Unbreakable.)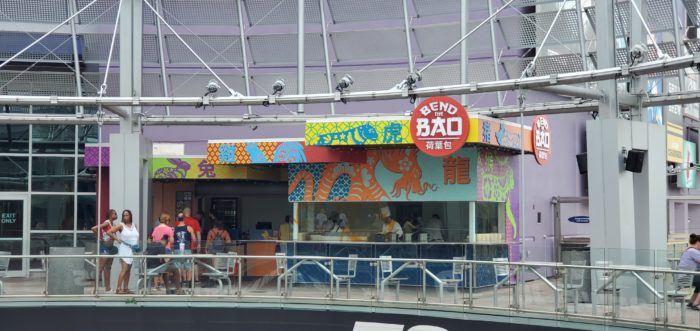 Unlike Fusion Bistro, Bend the Bao has much more color and design used in its signage. Seven of the twelve Chinese zodiac animals are represented.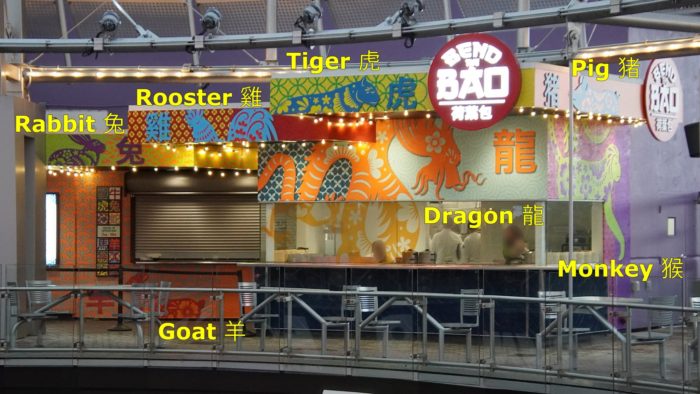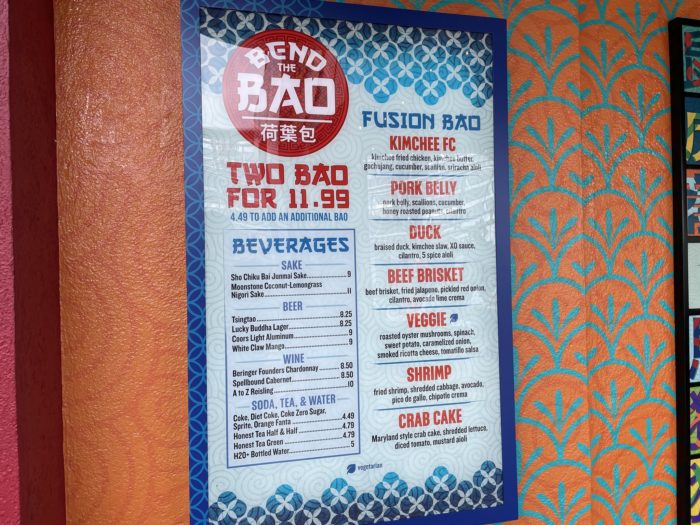 Food is made to order and guests can see into the kitchen.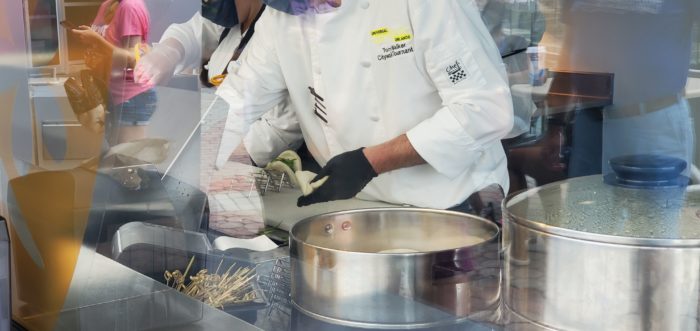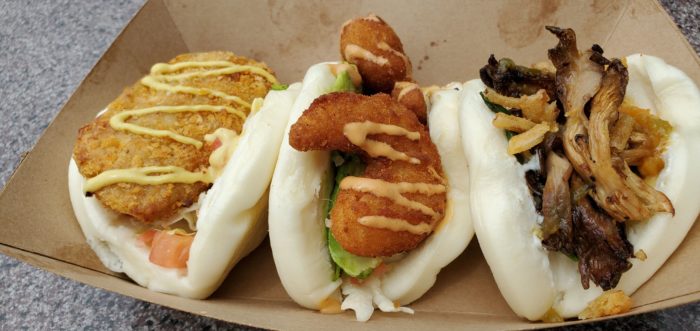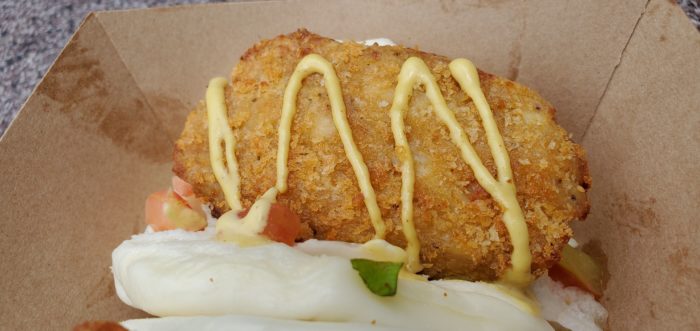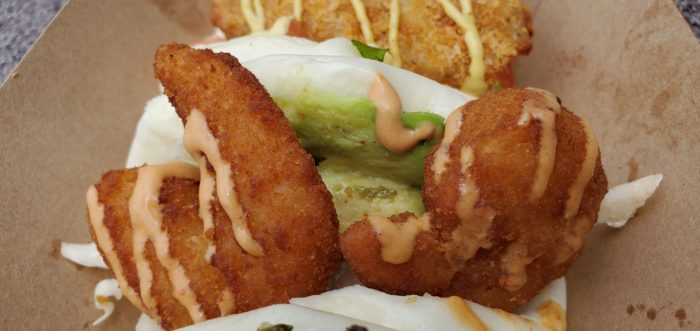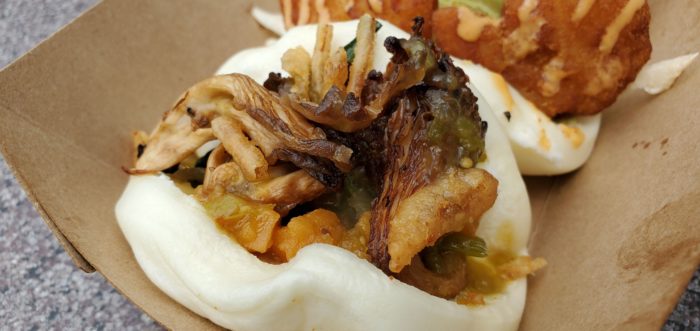 # 5 – New Walkaround Characters in Port of Entry
Universal has been killing it when it comes to entertainment for several years now, but recently we all got a huge surprise when some new streetsmosphere characters have appeared in Port of Entry at Islands of Adventure. I've said it many times before, but Port of Entry just may be my favorite entrance area to any theme park, and that includes Main Street USA at Disney's Magic Kingdom. Despite having no attractions, just being in Port of Entry is magical. Having characters in the area is the cherry on top of a delicious sundae.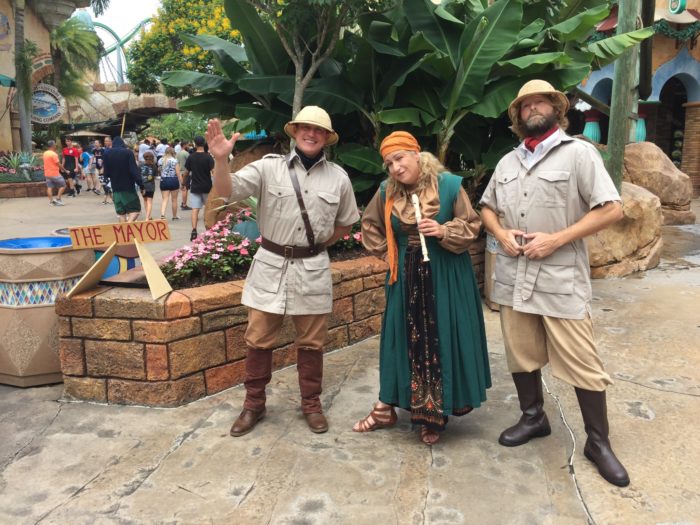 Artist Shelby Denham, whose work has been featured inside the Universal parks during Halloween Horror Nights and Mardi Gras events, has mocked up some other possible characters that Universal could use in Port of Entry.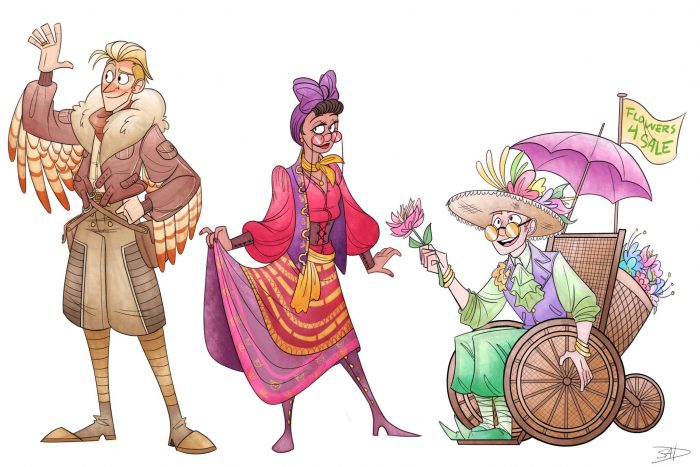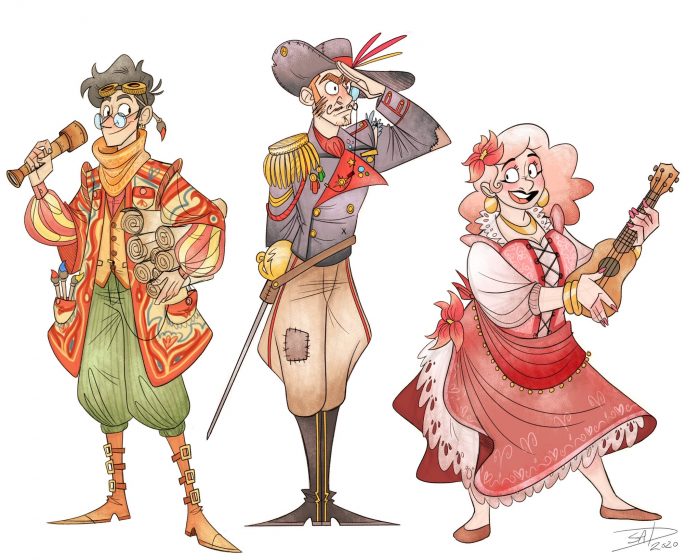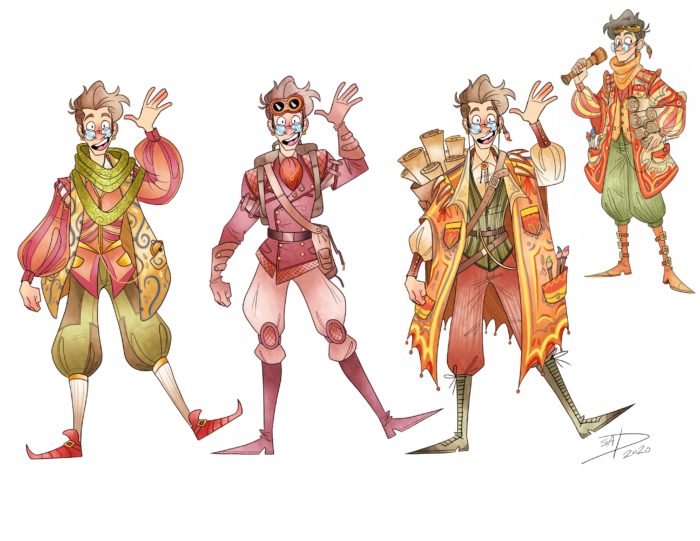 # 4 – Superstar Parade is Back
The term "nature is healing" gets used a lot lately, but we are seeing some major changes in the theme park world with fireworks returning to Disney and parades coming back to Universal. These two things are major crowd pleasers, especially to families with  young kids. Universal's Superstar Parade features four different parade units: Despicable Me, Spongebob Squarepants, Secret Life of Pets, and Dora the Explorer. Each unit features highly themed floats, characters, and dancers.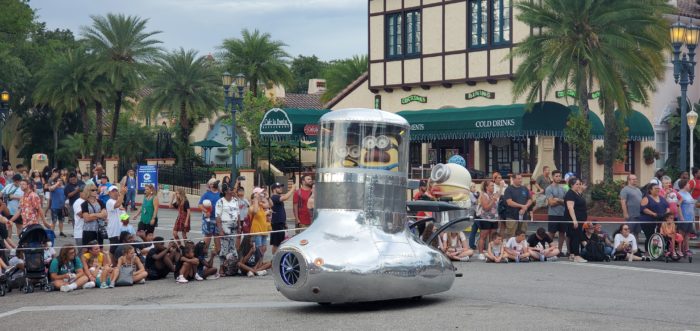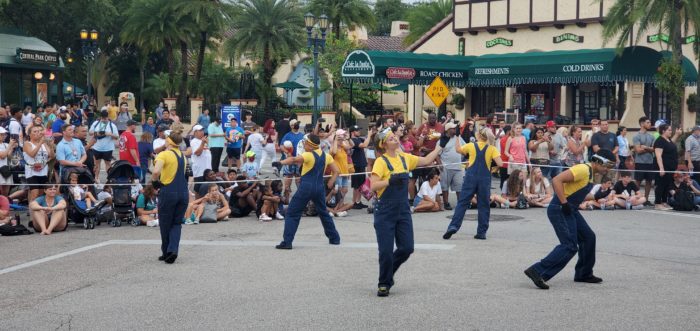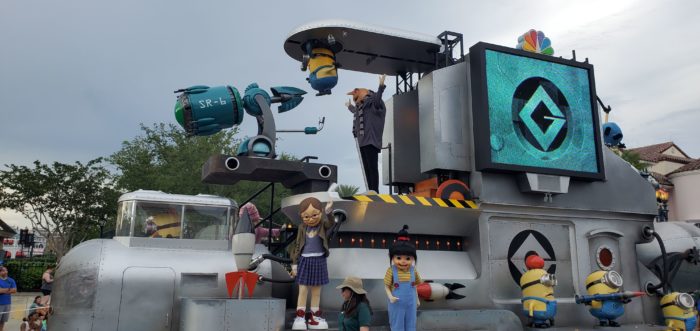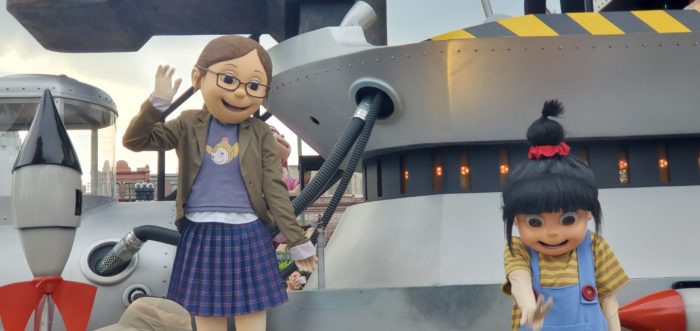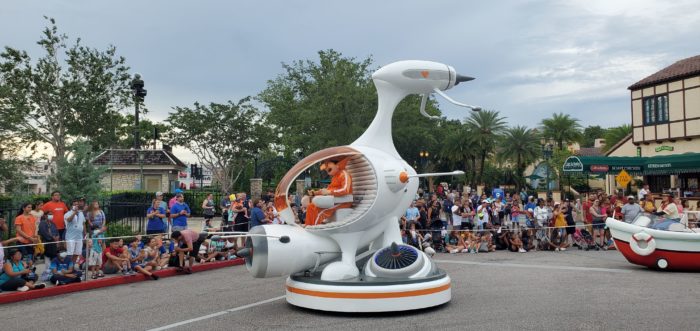 The Spongebob Squarepants unit is led off by Patrick (who is also starring in his own dedicated TV show on Nickelodeon which started this very week).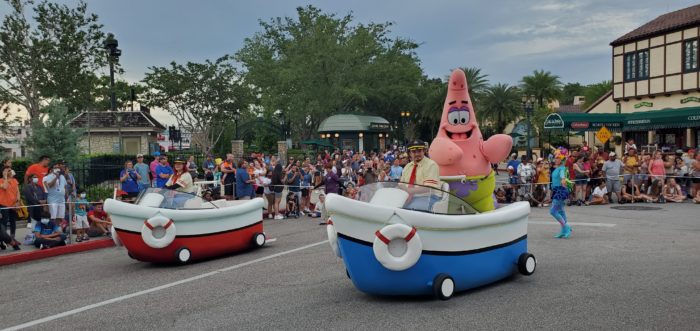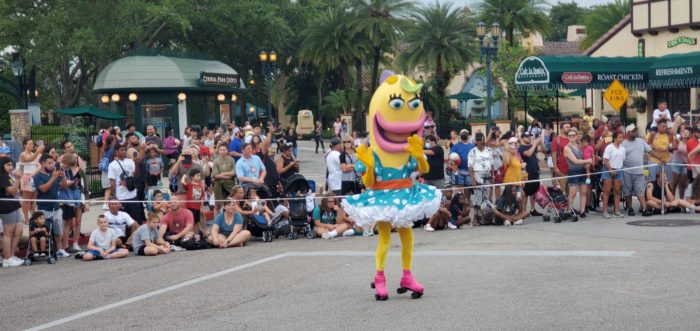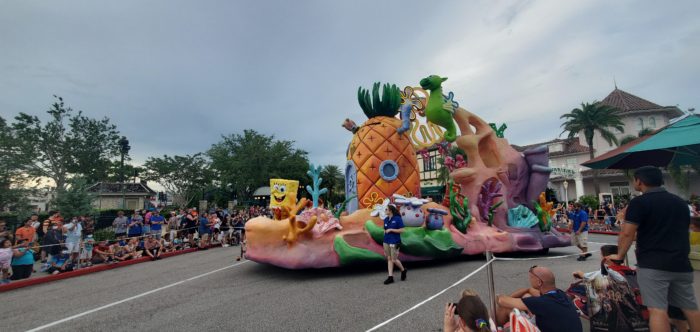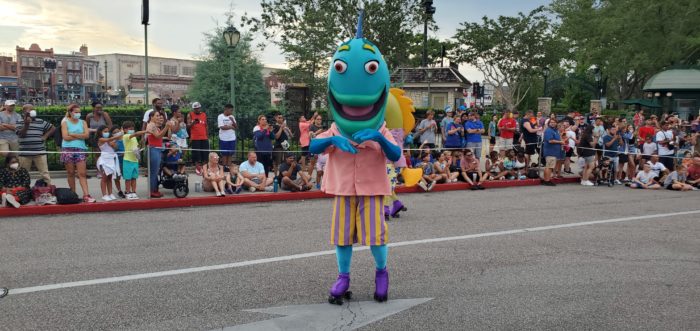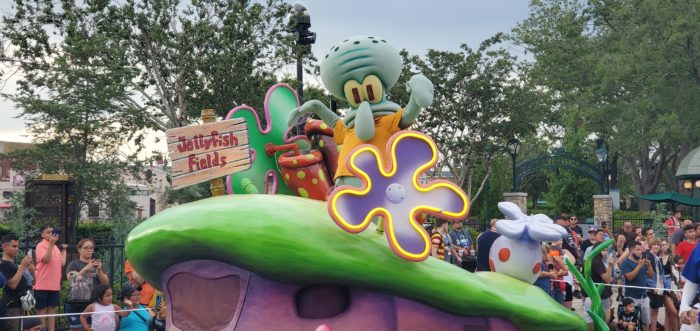 The Secret Life of Pets brand is one that is severely underused in Florida. The new dark ride featuring these characters finally opened out in Universal Studios Hollywood to rave reviews and hopefully we will one day be able to experience it in Florida. Talk about an IP that is a perfect fit for merchandise.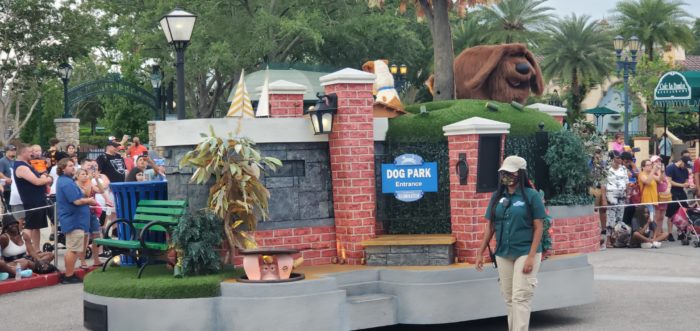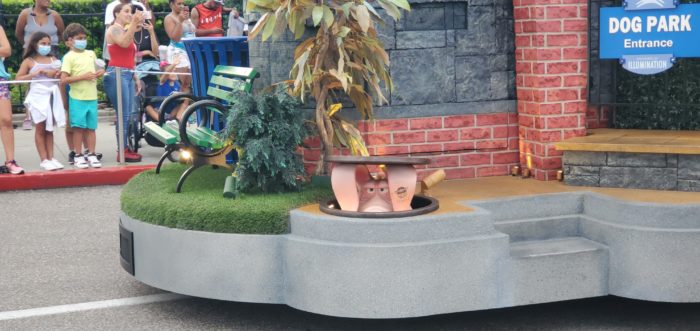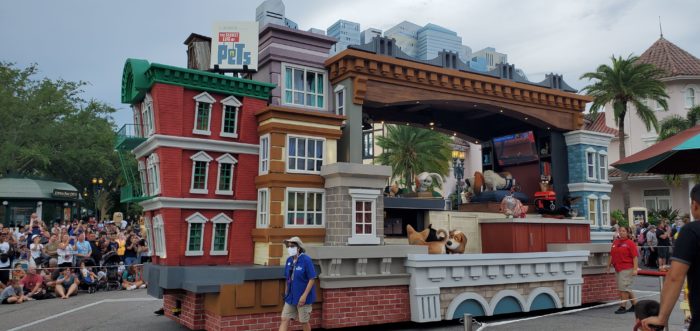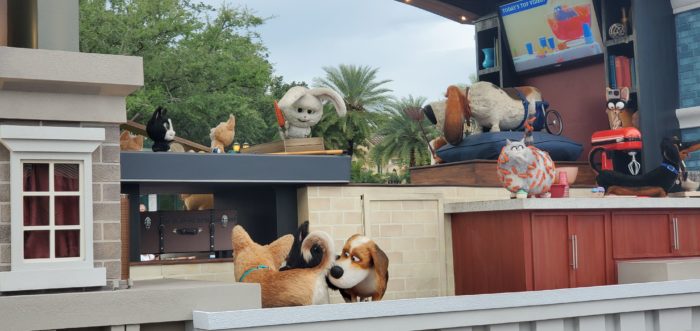 I'd be doing a disservice not to mention that the Dora the Explorer live action film which came out in 2019 was better than it had any right to be. Worth going out of your way to watch as a family film. The Dora the Explorer parade unit is based on the original cartoon.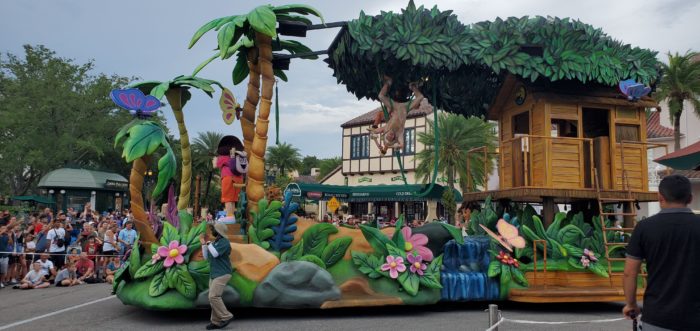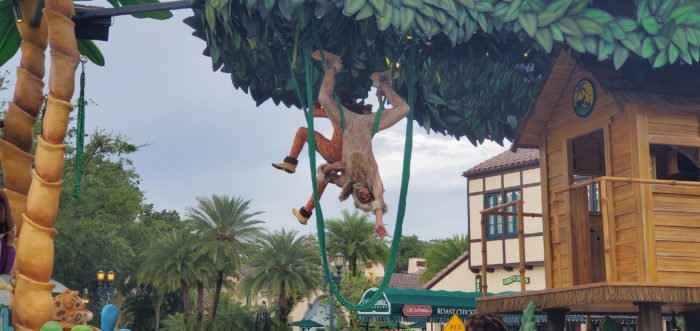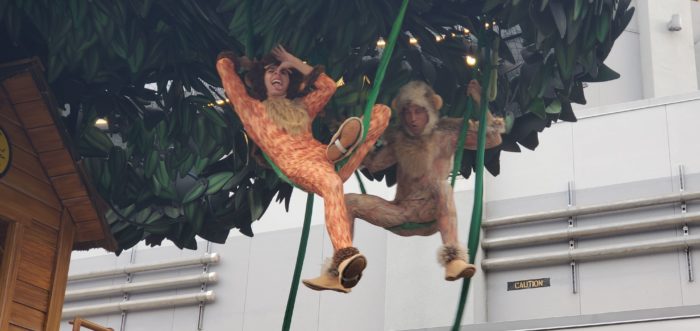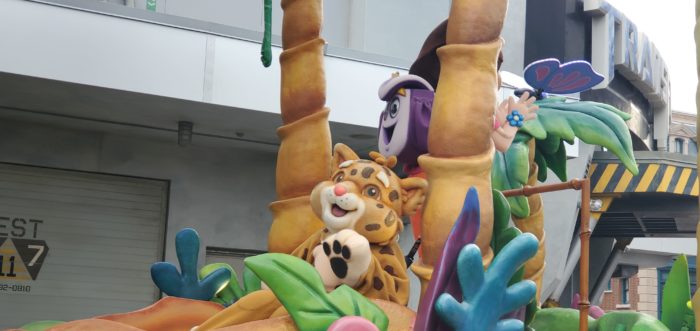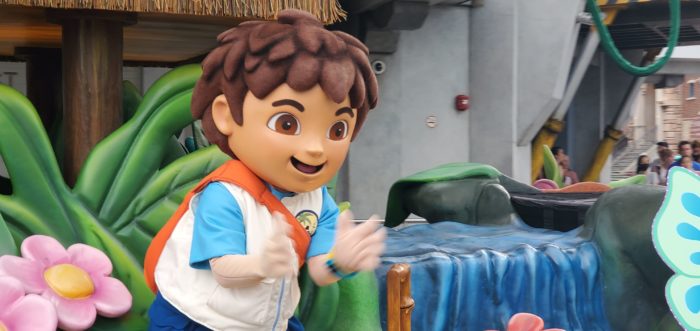 # 3 – The Nighttime Lights at Hogwarts Castle
Another returning guest favorite is The Nighttime Lights at Hogwarts Castle. A relatively quick show using projection technology on Hogwarts Castle, all four houses of Hogwarts are represented so it is a big hit with many a young witch and wizard.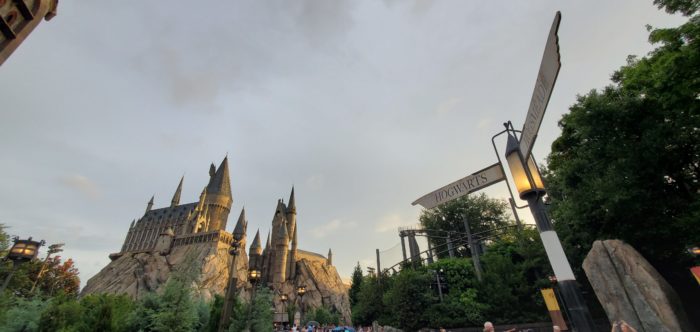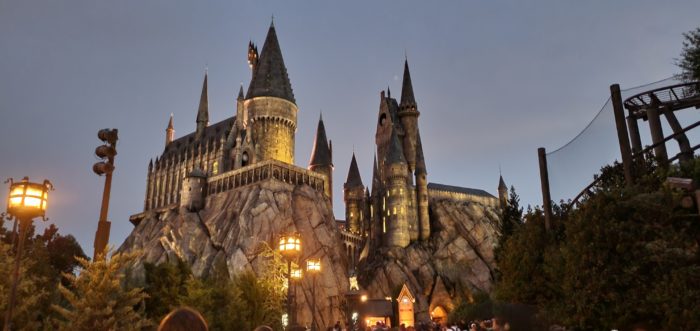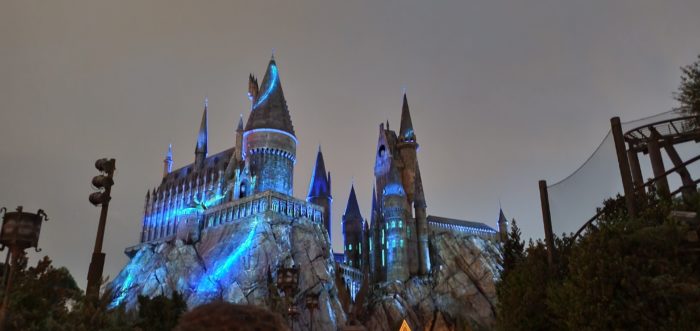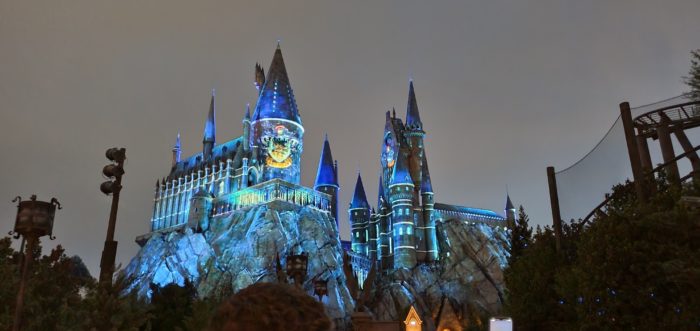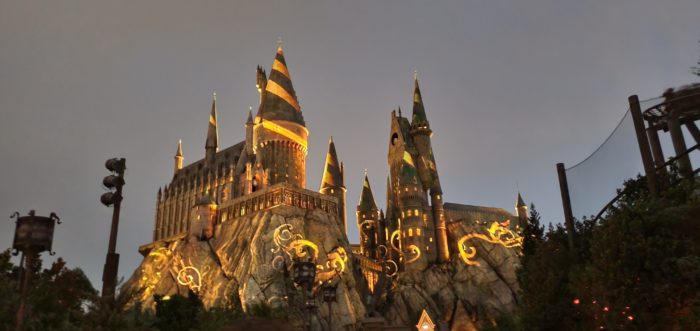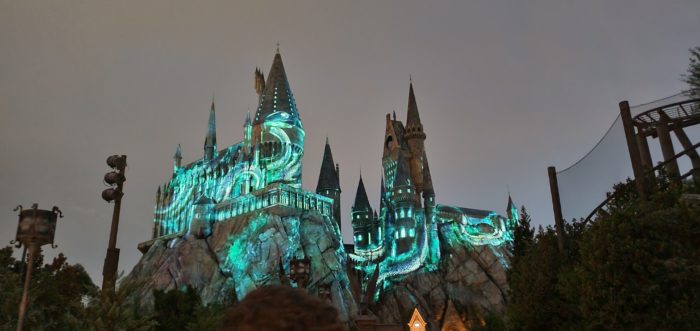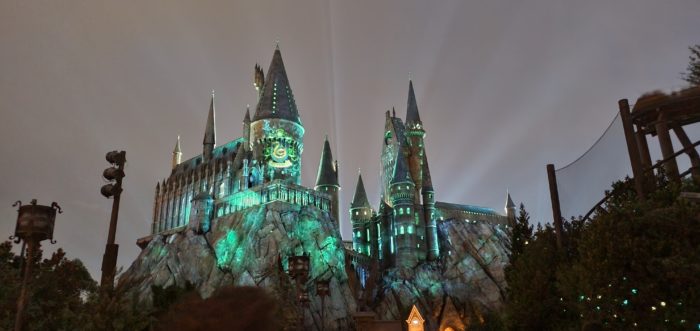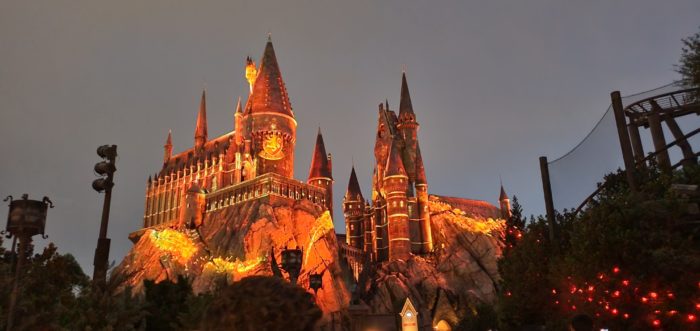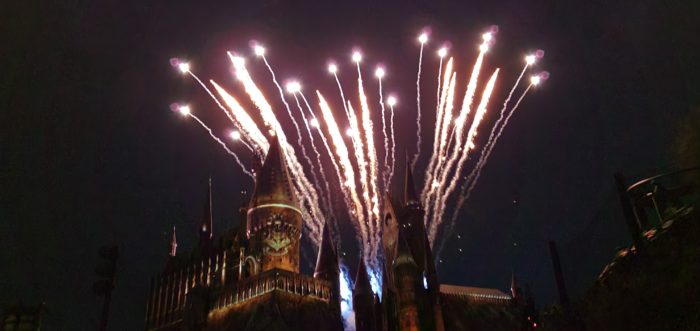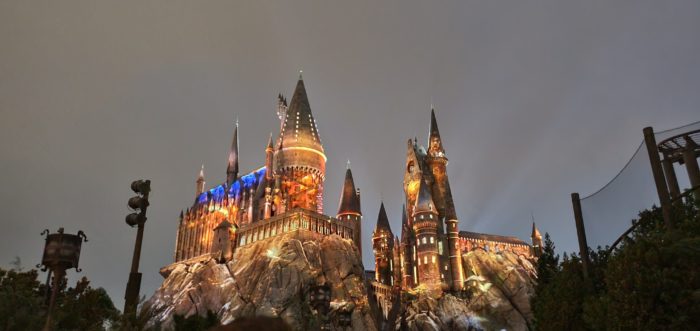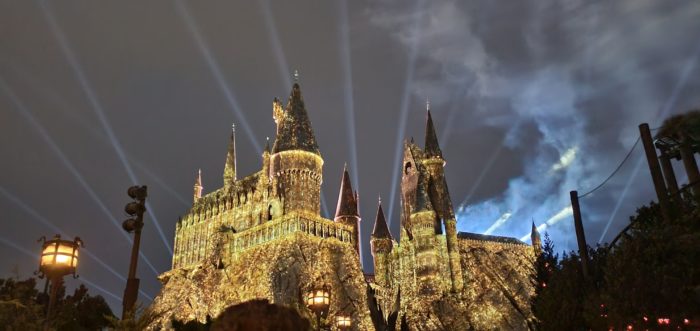 Our favorite blogger-in-the-sky @bioreconstruct was in the air this past week getting aerial photos during the show, giving us a unique look at this experience.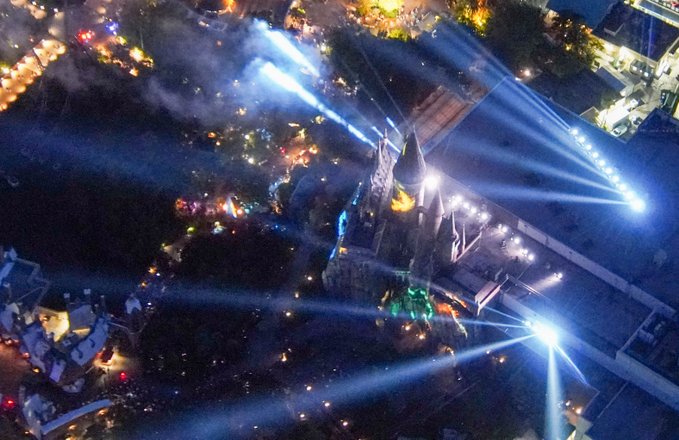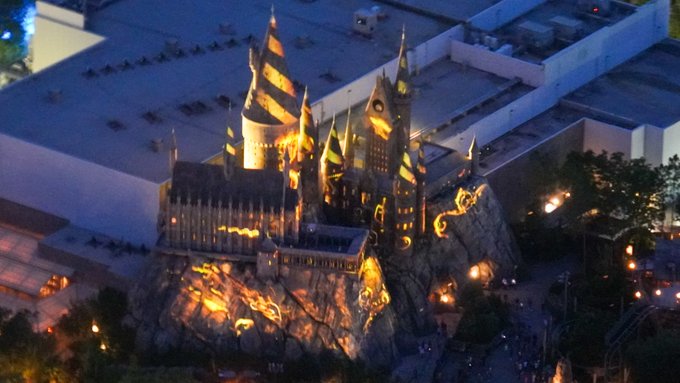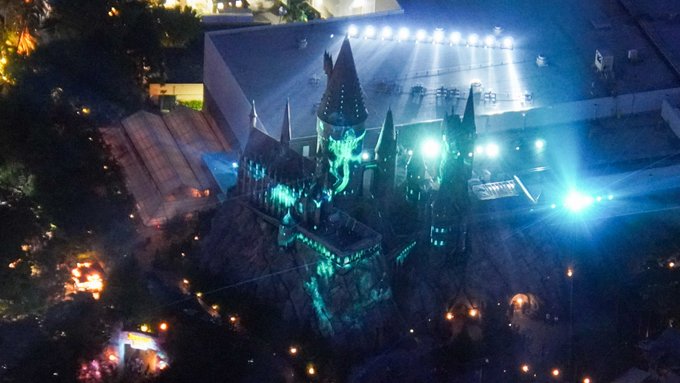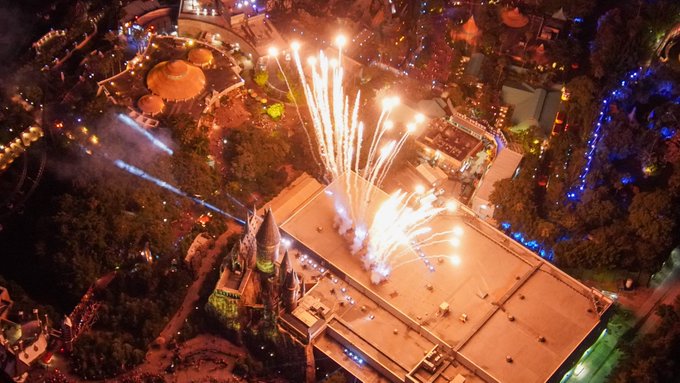 # 2 -DreamWorks Destination
Earlier this year A Day in the Park with Barney closed in Universal Studios Florida. The Barney show was one easily dismissed by many Universal fans, but it was a huge hit with those having young kids and had some surprisingly fun elements. Barney has been replaced with DreamWorks Destination, an "interactive character experience" which features characters from films such as Kung Fu Panda, Trolls, and Madagascar. Similar to Secret Life of Pets, Universal is sitting on a gold mine with all the DreamWorks IP they have. Outside of Shrek 4-D  – which is vilified by many hardcore Universal Fans (but I love because of all the tributes to Disney throughout the attraction) – and an amazing Shrek meet and greet with Donkey (which got a lot of attention earlier this month) there are very few places where guests can see DreamWorks characters. Hopefully this new show is the first wave of giving these characters more relevance inside the parks.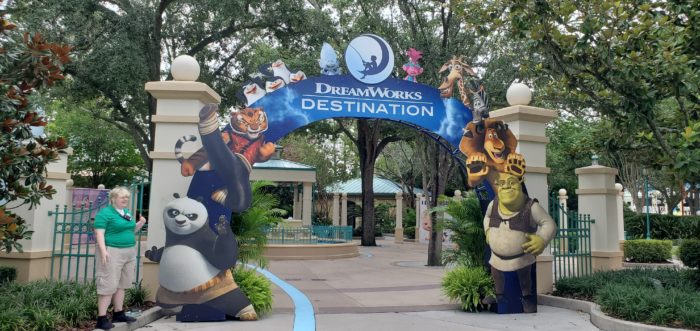 The show takes place in a large rom with seating around the edges, but your little ones will surely want to get closer to the characters and dance.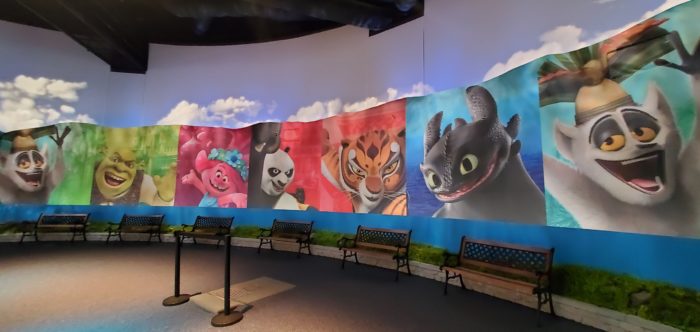 The characters themselves come out in groups of three.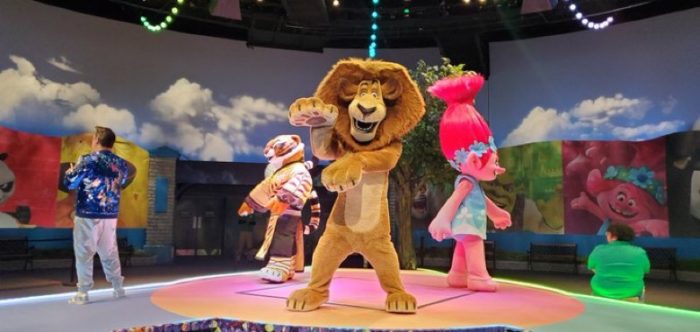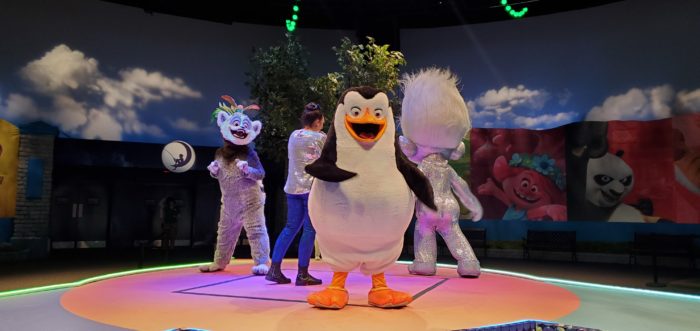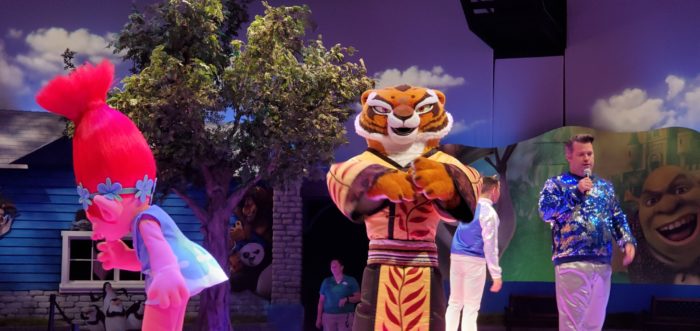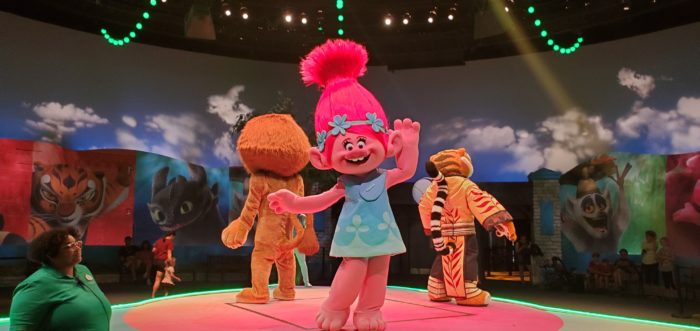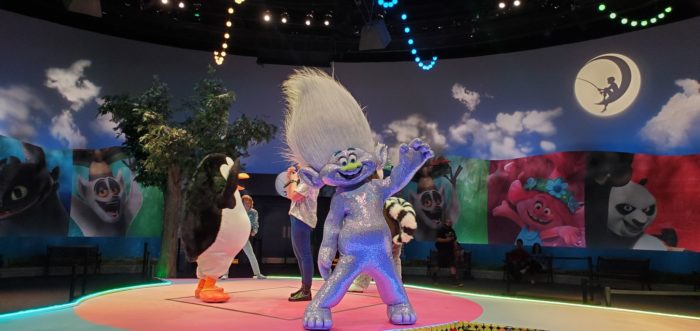 There are several photo-ops in the area as well. With the dancing and Team Members doing trivia with the kids and parents, the show is a huge hit with families that go to see it.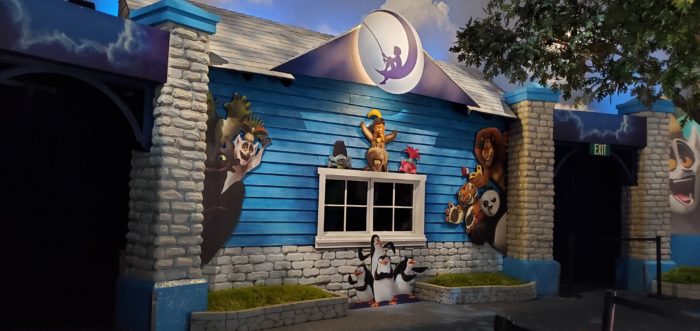 # 1 – Jurassic Park Tribute Store
The Jurassic Park Tribute Show opened up back in May, well ahead of even the soft opening of the VelociCoaster. Like all the Tribute Stores in the last few years, it is absolutely AWESOME but this summer has been so jam packed with stuff that I was never able to give it the justice it deserves with a spotlight article. Well, Universal announced this past week that the store will be closing on August 10th (surely to make way for a HHN themed tribute store).  So I want to quickly cover a little bit of the store here and I'll do a bonus SAT SIX sometime later this month with a lot more pictures as this is one of the best experiences Universal has ever created for guests.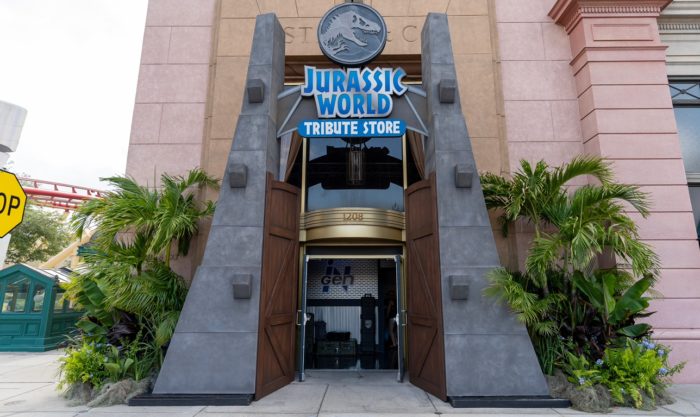 The store is LOADED with props and details from all the Jurassic Park/World films, including "life size" dinosaurs like these raptors.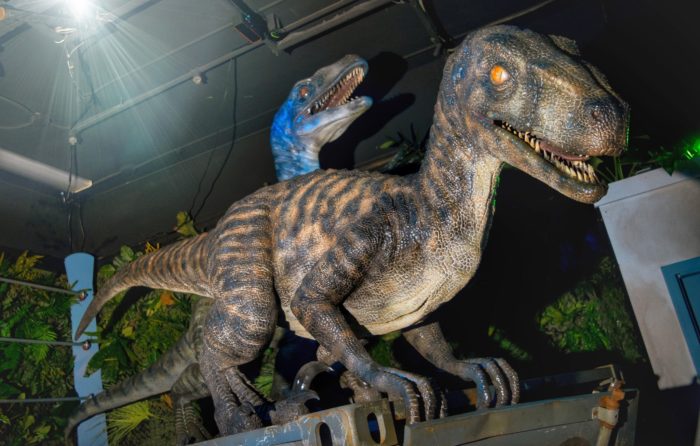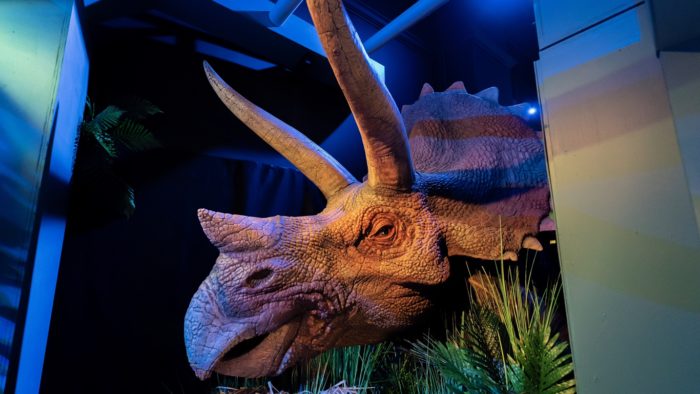 Like previous Tribute Stores, it mixes in amazing design elements with a retail experience, so you get to take a ton of great photos in what would generally just be a gift shop.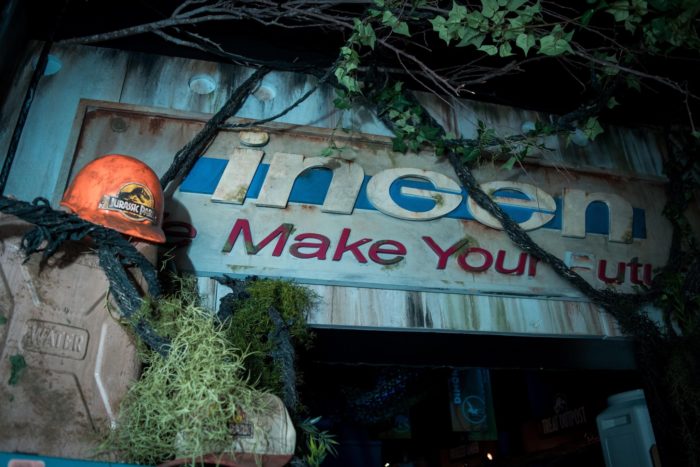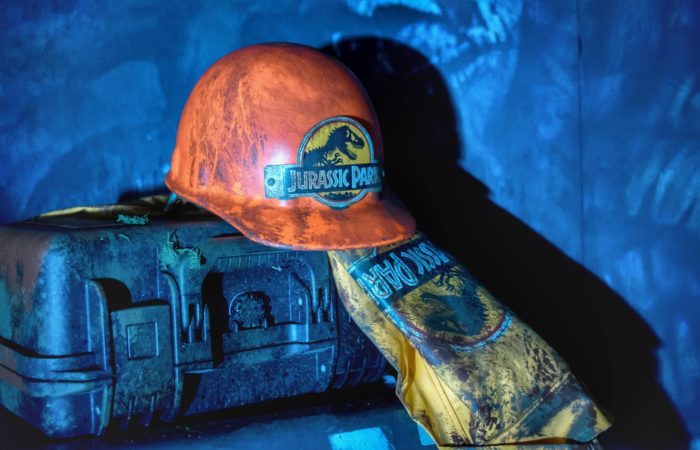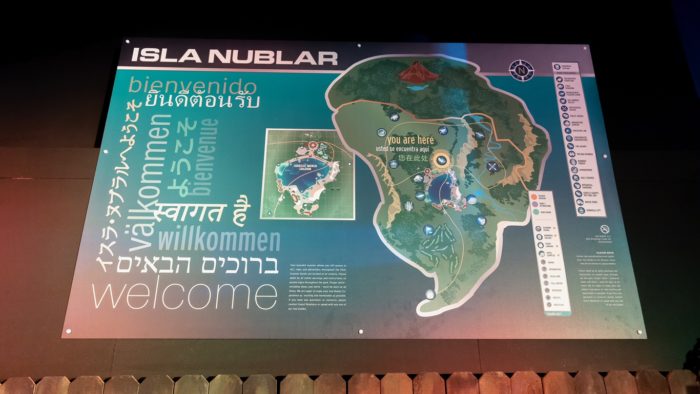 How great are these mock-up attraction posters?!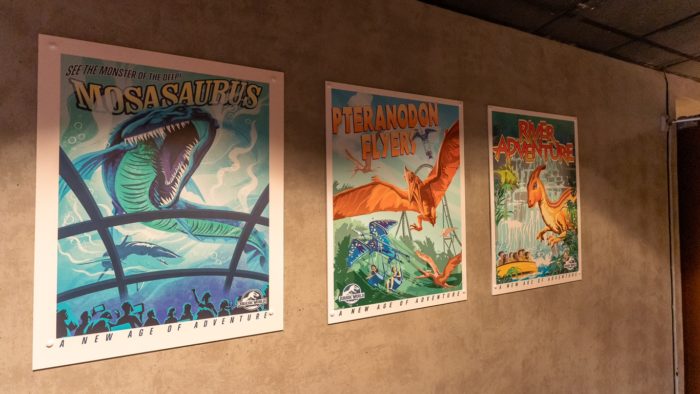 This is a great detail.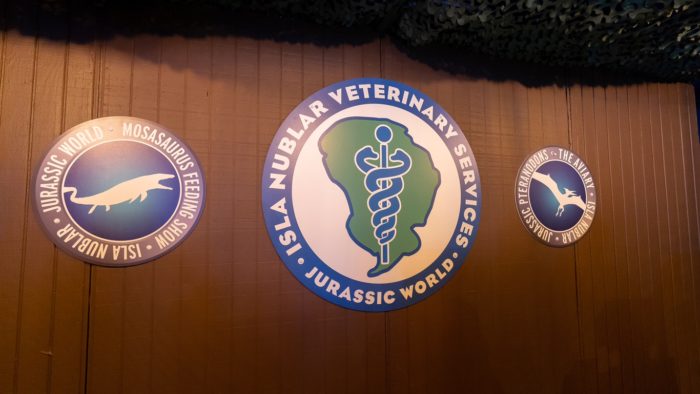 Not only do we get a new Mold-A-Rama machine, it molds a dinosaur AND has Mr. DNA signage on it. Basically an E-Ticket Mold-A-Rama. This particular machine features a brontosaurus and there is  also a second machine in the store offering a T-Rex. These two molds were originally used all the way back at the 1964 World's Fair!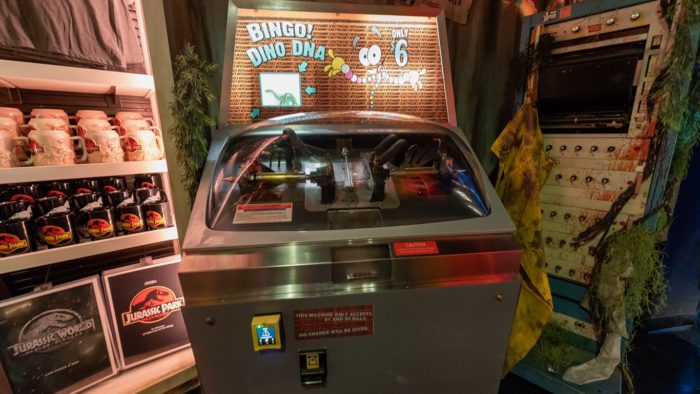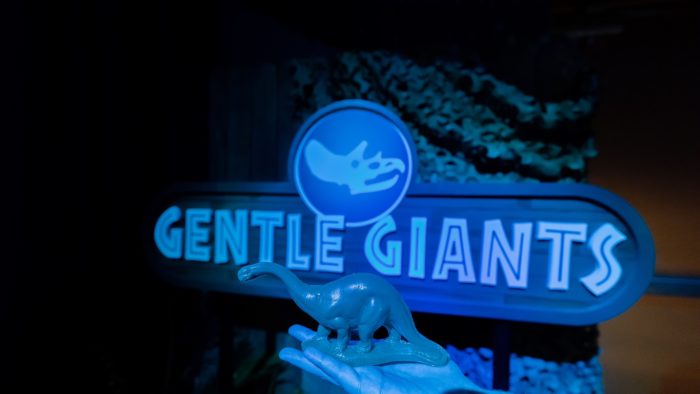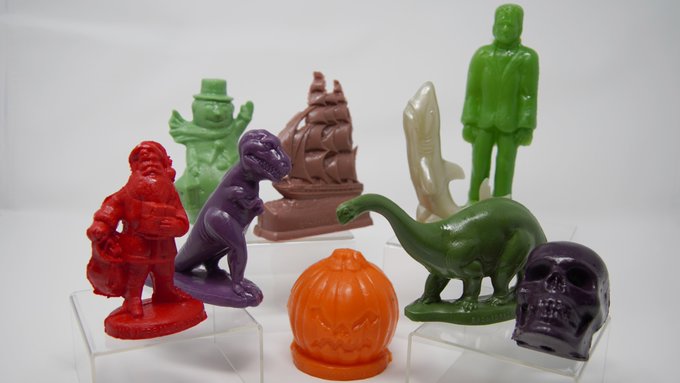 How absolutely amazing is this? I mentioned earlier that Universal has reached out to local artists like Shelby Denham for work inside the parks, and here they are working with a local vendor on supplying themed candles. This is great on every level and the complete opposite of Disney's recent synergy with a multi level marking junk like Scentsy.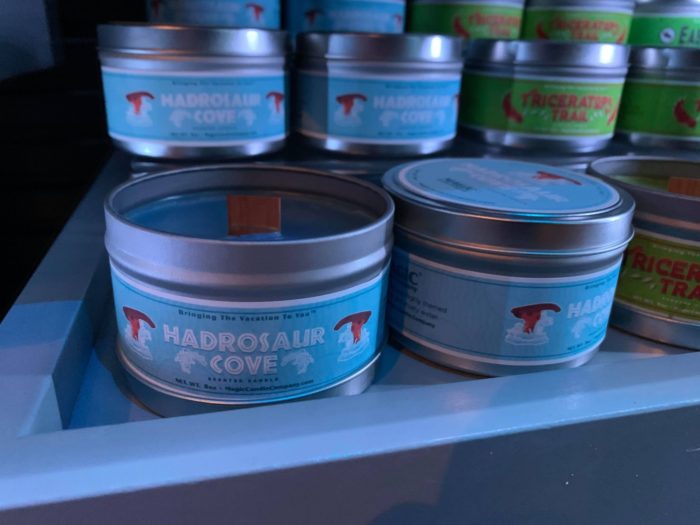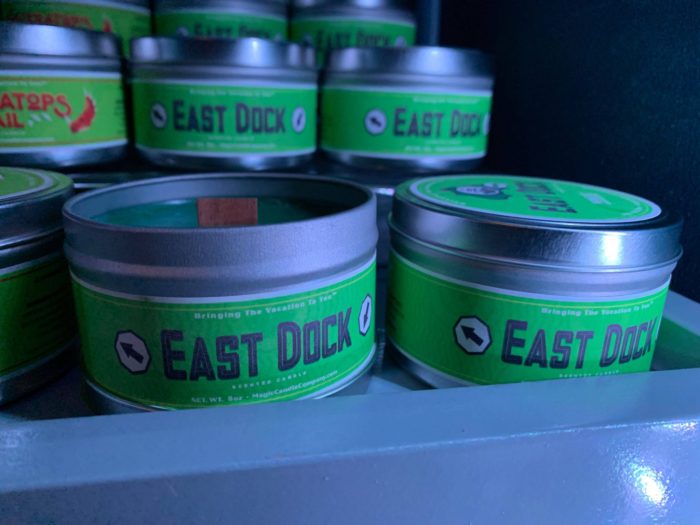 I'm not generally a "backpack guy" when it comes to merch but this is one of the five best I've ever seen.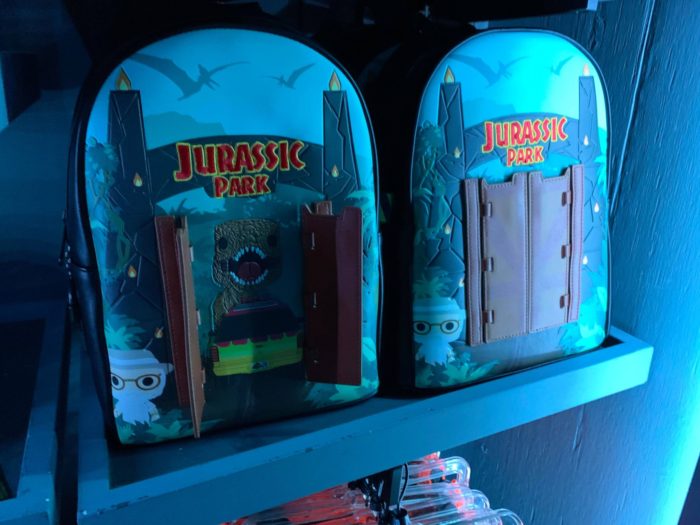 Like previous tribute stores, the Jurassic World experience has a themed snack component.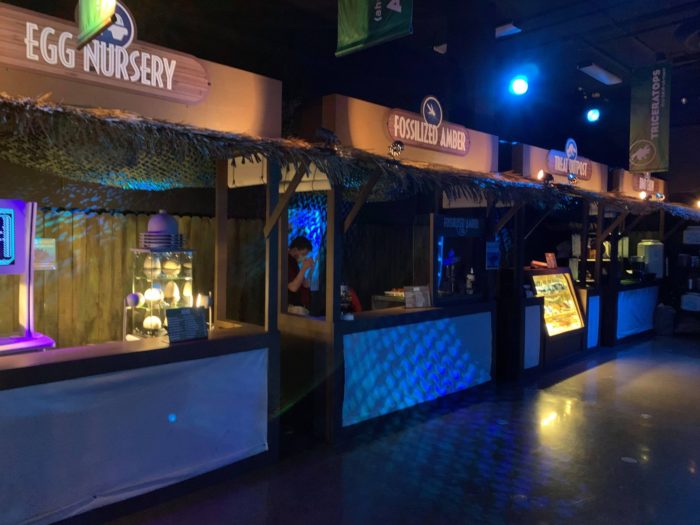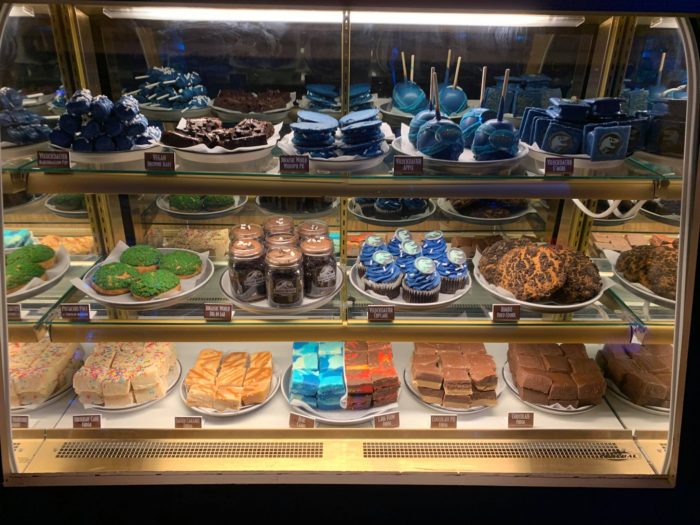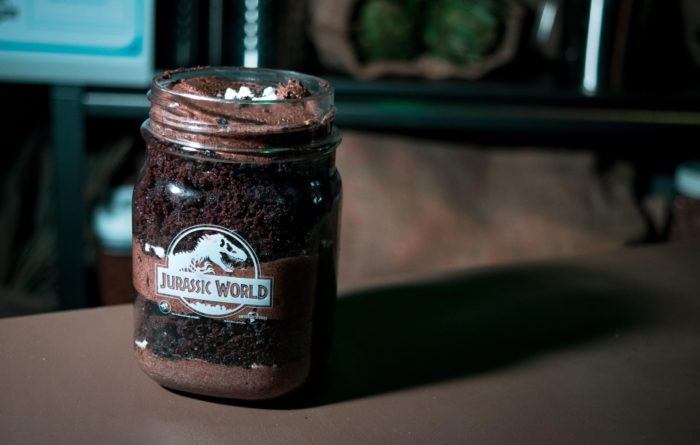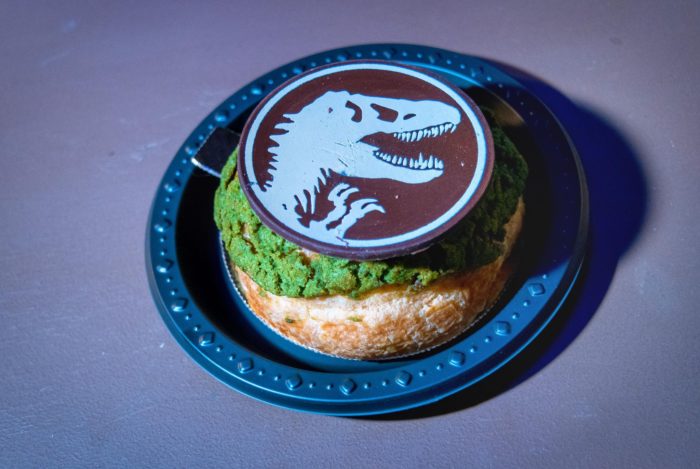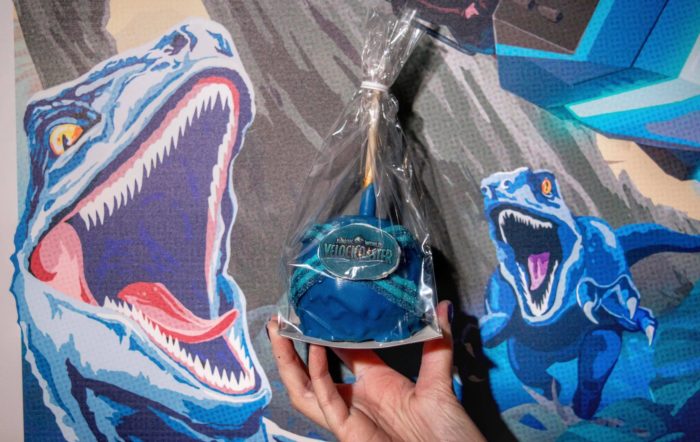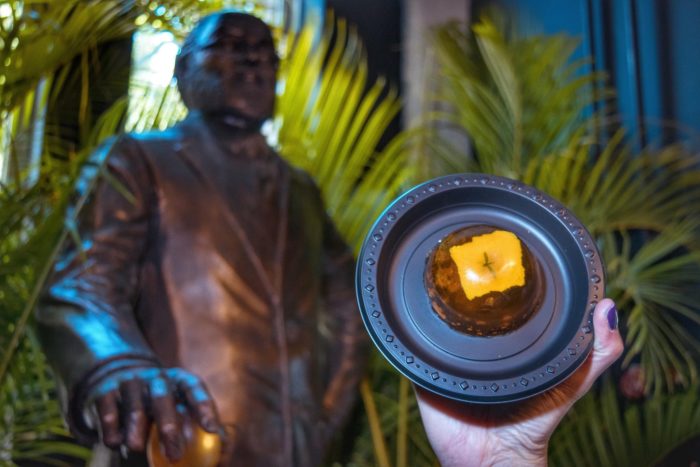 The store closes with a statue featuring the Walt Disney of Jurassic Park, John Hammond.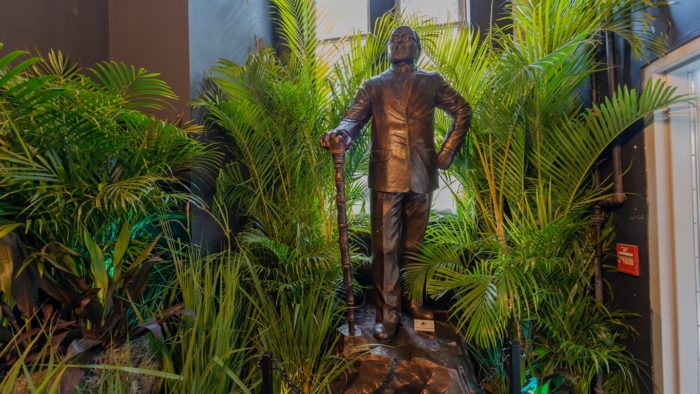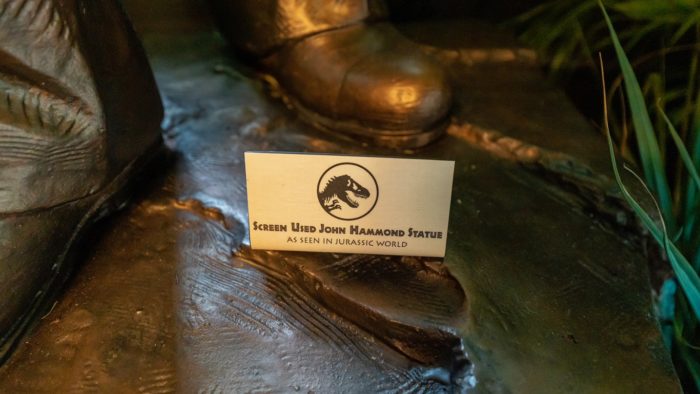 So there you have it: The SATURDAY SIX Takes a Walk Around the Universal Orlando Resort! See you next weekend for the latest installment of the SATURDAY SIX, where we'll look at something fun from the world of Disney and Universal. You can also follow Your Humble Author on Twitter (@derekburgan).
If you enjoyed this article, you will surely like the following: 
6 Pieces of Disney Merchandise That Don't Exists (But Totally Should)
6 Times The Simpsons Nailed Being A Theme Park Fan
Walt Disney World Locations Used in Hulk Hogan's THUNDER IN PARADISE
SATURDAY SIX Looks At Ways Disney Can Introduce MARVEL Into The Parks
The SATURDAY SIX Uses Disney Villains To Explain Theme Park Blogging
6 Times Our Favorite TV Shows Went To Walt Disney World
Special Thanks to The Elite Brandon Glover, the bio-est of all reconstructs @bioreconstruct, Captain Cruiseline Scott Sanders of the world famous Disney Cruise Line Blog, my personal protege Hunter "Elvey" Underwood, artist @SonderQuest, the SAT SIX Fun Squad of Parkscope Joe and "the Dadalorian" Nick, hot shot Michael Carelli, charter member of the Universal Four @Nitro230, and Hermione Granger's tutor Megan Stump for their invaluable assistance with this article. The SAT SIX is inspired each week by goofballs Aengus Mackenzie and LitemAndHyde and you Potterheads will  enjoy Meg's other blog work over at the Central Florida Slug Club.