Getting to Know Universal – Despicable Me Minion Mayhem
They travel in packs, talk in a funny way, and have weird jaundice – no not the cast of the Jersey Shore, we are talking about the Minions! You love them, your kids love them, your parents love them, and they have an attraction at Universal Studios Florida – Despicable Me Minion Mayhem. This family motion simulator attraction opened in the summer of 2012 replacing Jimmy Neutron's Nicktoon Blast.
Quick Glance
Location: Universal Studios Florida
Attraction Type: Motion simulator with animated 3D movie
Scope: Major Attraction
Touring Plans Rating: ★★★★
Height Requirement: 40 inches, 48 inches unaccompanied
The Experience
Minion Mayhem is based on the Despicable Me movie franchise and features the characters from the first animated movie. All the original voice actors reprise their roles, including Steve Carrell as the villain with a heart of gold, Gru. The real stars of the attraction are Gru's henchmen and workforce – the Minions. Minions are yellow Tic Tac-shaped creatures that are part Oompa Loompa, part Lemmings, part Yes Man, and part vaudeville comedian.
The attraction starts at the entrance which is a replica of Gru's house from the movies. Inside the queue (which is mostly outdoors) we are shown a video recap of the first movie and the amazing life of a Minion. Inside we are staged into rows for the attraction inside Gru's living room before entering a testing room. Here we learn that we are new Minion recruits for a new, super-secret project and are introduced to Dr. Nefario, the gadget guy, and Gru's daughters Margo, Edith, and Agnes. Turns out today is not just our orientation but also the anniversary of Gru's adoption of his daughters, for which Agnes got Gru a gift.
After a Minionization ray transforms the guests into Minions our task is to complete a gauntlet of traps, hazards, pits, and temptations before we can be inducted. An actual obstacle course would be tricky with Universal's legal team, so instead this is all displayed on a large, high-definition screen in front of us. Not before long things go wrong as Agnes and her gift are caught in the anti-gravity incineration chamber (you think they would lock these rooms better) and the Minions must rescue her. Just before we are all squished, Gru jumps in to save the day, not just rescuing us, but showing the secret we were hired for was a giant Adoption Day party for the girls. After a celebration with fellow Minions, the ray blasts us again, turning us back into humans to Gru's chagrin.
The exit of the attraction is a Minions dance party, which frequently features costumed characters, and a Minions gift shop.
The Opinion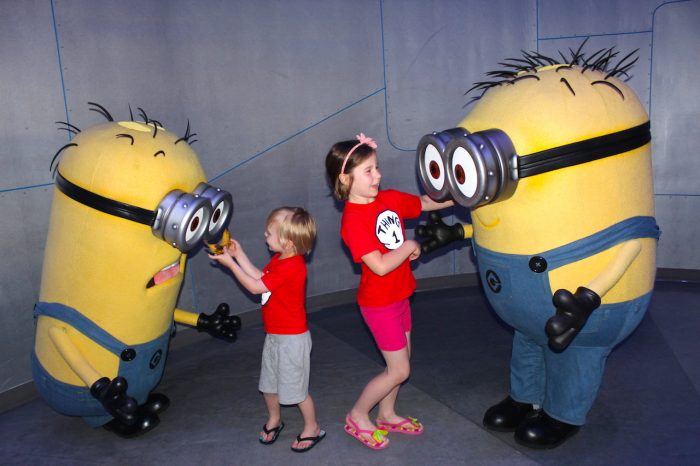 Minion Mayhem is a fun, cute romp through a colorful world full of gags. Most Universal attractions are happy to threaten guests with drowning, ignition, and/or death with extreme prejudice but Minions takes a more Looney Toons approach to the action. What really sets the attraction apart is its heart – how many rides end with an Adoption Day Party and an affirmation of a found family? We wish more attractions were as sweet (and hilarious) as Minion Mayhem.
Grade Schoolers love Minion Mayhem, they rank it in the top 10 attractions at Universal Studios Florida. The remaining age categories rate the attraction in the middle of the pack at the park. Teens and Young Adults rate the attraction the lowest. This attraction is a must-do for any family with young children.
Restrictions & Accommodations
Guests riding Despicable Me Minion Mayhem must be at least 40 inches tall to ride, guests under can sit in stationary seats.
Guests 48 inches or shorter must be accompanied by a supervising companion on the ride
Prosthetic limbs must be removed or secured during the ride
Due to restraints guests with waistlines larger than 40 inches might not fit on the motion simulator part of the attraction; use the test seat outside the ride entrance to ensure you can be accommodated. The stationary seating is still available.
Service Animals are permitted on this attraction
Touring Tips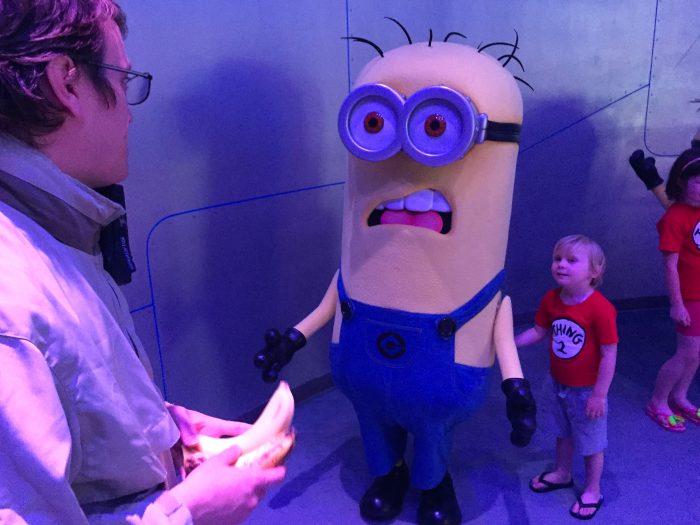 Minion Mayhem is a tricky attraction to plan around for three reasons:
The first attraction guests encounter while entering the park.
A popular option for kids inside a park lacking in all-ages attractions.
One theater means the attraction has a lower capacity than other attractions in the park.
Many guests visit this attraction first in the day or last thing on the way out, similar to Spaceship Earth. This means wait times frequently spike in the mornings and evenings with waits over 60 minutes.
Based on our wait time data we believe the best time to visit Minion Mayhem is around 2:00 pm to 5:00 pm. Avoid seeing this attraction between park opening till 1:00 pm. The attraction's queue is entirely in a covered outdoor area, keep that in mind before queueing.

Banana? Do you enjoy this Universal attraction? Who is your favorite Minion? Leave your thoughts in the comments below. BANANA!