Getting to Know Universal – Hotel Pool Showdown
Planning your Universal vacation might involve images of Harry Potter, Minions, and dinosaurs dancing in your heads as you pick a hotel. Yet did you know that most kids' favorite part of their vacation is the pool? The hotel pool not only is a great place to unwind during a mid-day break but can be an essential part of any vacation – just ask anyone visiting from Fargo in January. In this article, we will look at the hotel pool options at the hotels and compare their amenities so you can pick the perfect palatial pool for your party.
Universal Hotel Pool Facts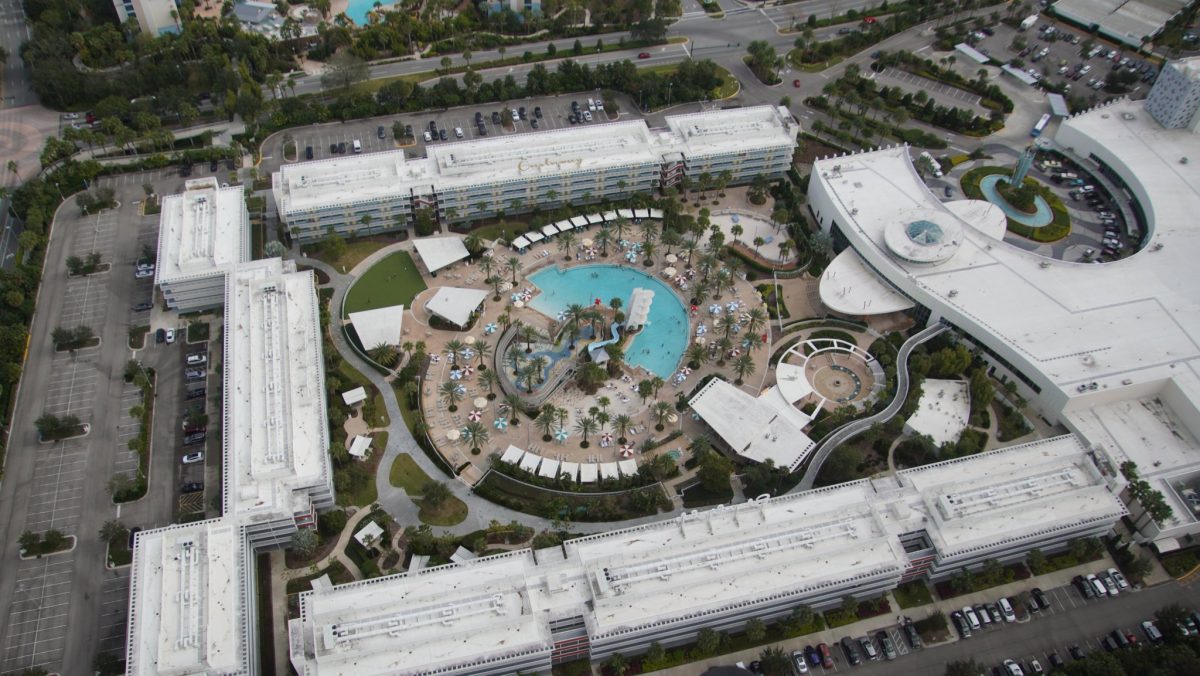 Universal's hotel pools are modern, well maintained, and staffed with lifeguards. Pool hours are usually 9:00 a.m. to 10:00 p.m. depending on the season. All hotel pools are gated for guest safety and are accessed using your hotel room key card. Ample supplies of lounge chairs, covered tables, and towels are provided. Toddler and young child-friendly splash pads or pools are offered at all hotels.
Each hotel also offers a pool bar featuring soft drinks, draft beer, canned beer, mixed drinks, and wine. For entertainment, all the bars feature flat-screen TVs.
All hotels offer pool activities like Team Member-led games and music. Prime Value and above levels of hotels also offer movie nights and outdoor games such as foosball, volleyball, and corn hole.
Pool Hopping
The biggest difference between Universal's hotel pools to Disney's is the endorsement of pool hopping. All guests staying in Portofino Bay, Hard Rock, Royal Pacific, Sapphire Falls, Aventura, and Cabana Bay can share each other's pools. Want to try the lazy river at Cabana Bay? The quiet pools of Portofino? The awesome pool bar at Hard Rock? Go for it.
The only hotels that do not participate in the pool hopping program are the Value resorts: Universal's Endless Summer Surfside and Dockside.
Endless Summer – Keeping it Basic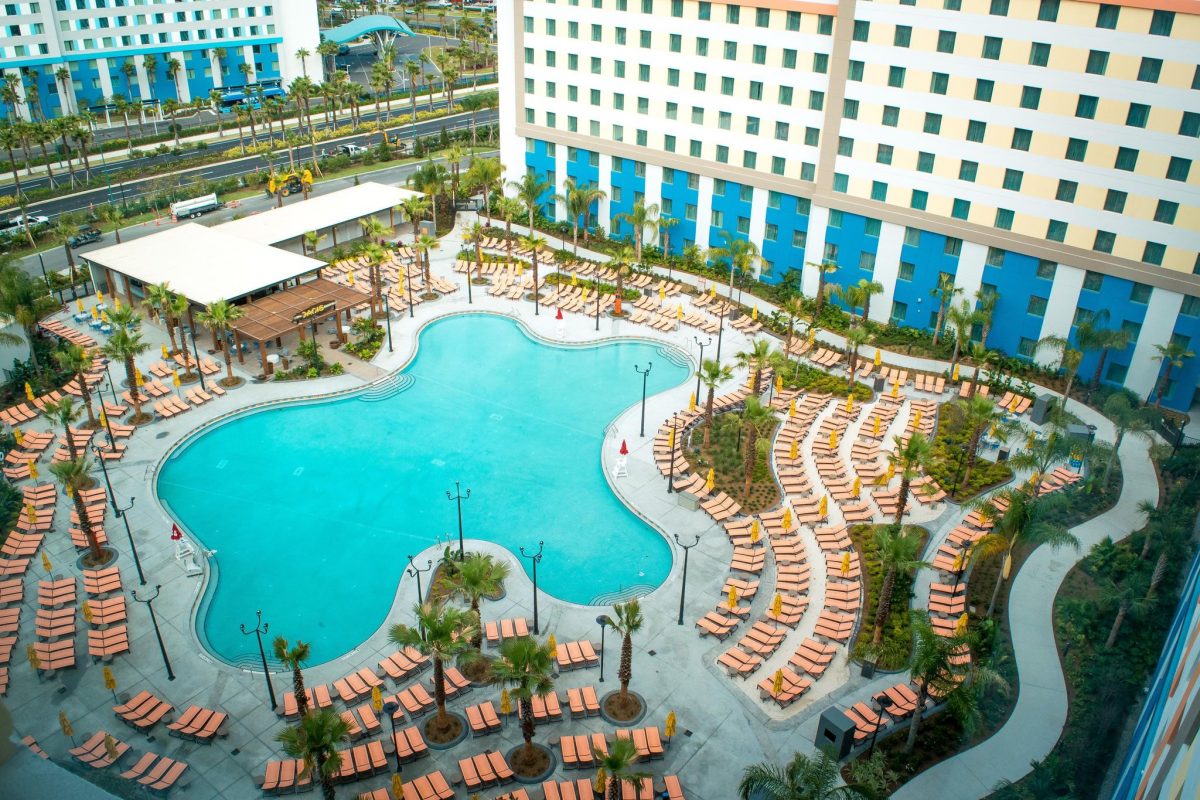 Universal's lowest-priced hotels offer pools well worth their bang for the buck.
Surfside features one pool and pool bar with exclusive drinks and a special Surfside beer on tap. Dockside features two pools, each with its own bar, with specialty cocktails with some served in a small sand pail. Guests can mobile order drinks from the bar from their loungers but full service is not offered.
The Endless Summer pools oddly top out at roughly a 4-foot depth, meaning those looking for deeper waters will be disappointed.
Cabana Bay Beach Resort – Dual Pools Full of Family Fun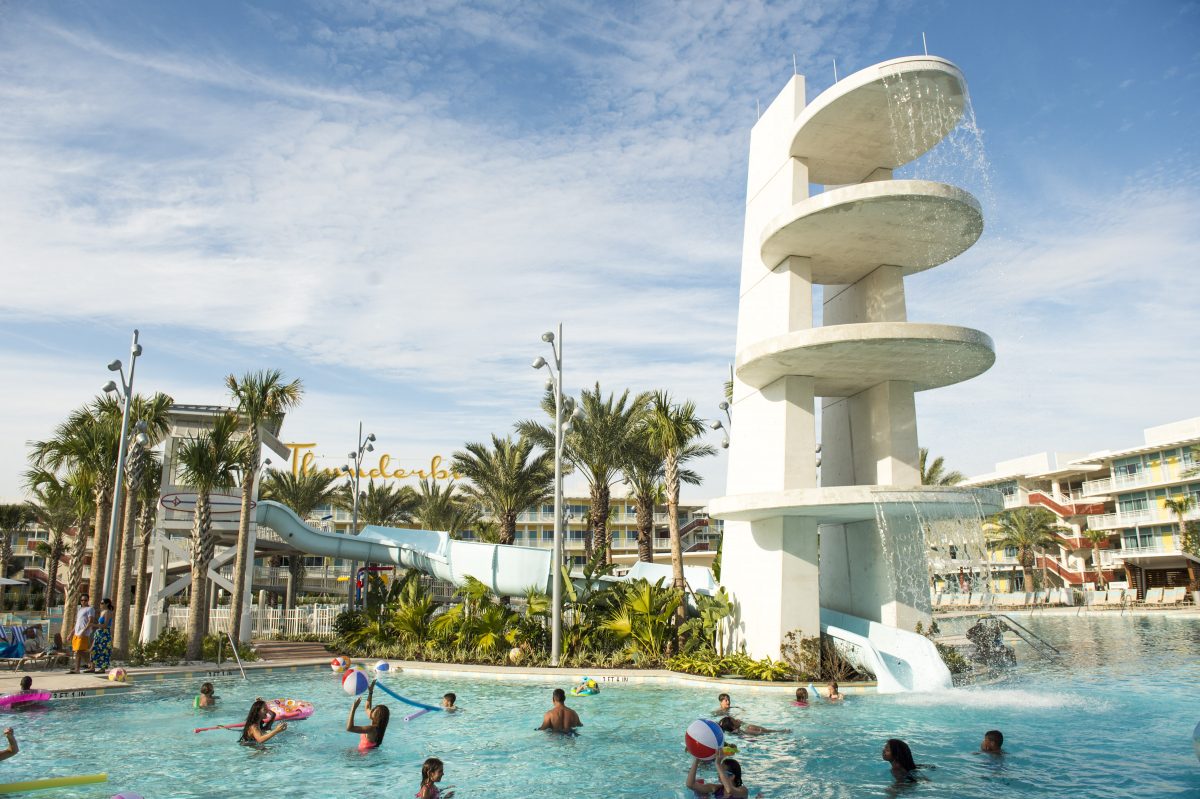 If you want the biggest variety of activities at the pool then book a stay at Cabana Bay. There are two pool areas at the Bae – the first is located by the motel-like lodging at the north end of the hotel. This pool is louder and features a water slide, kid pool, sand activities, Atomic Tonic pool bar, and a music DJ.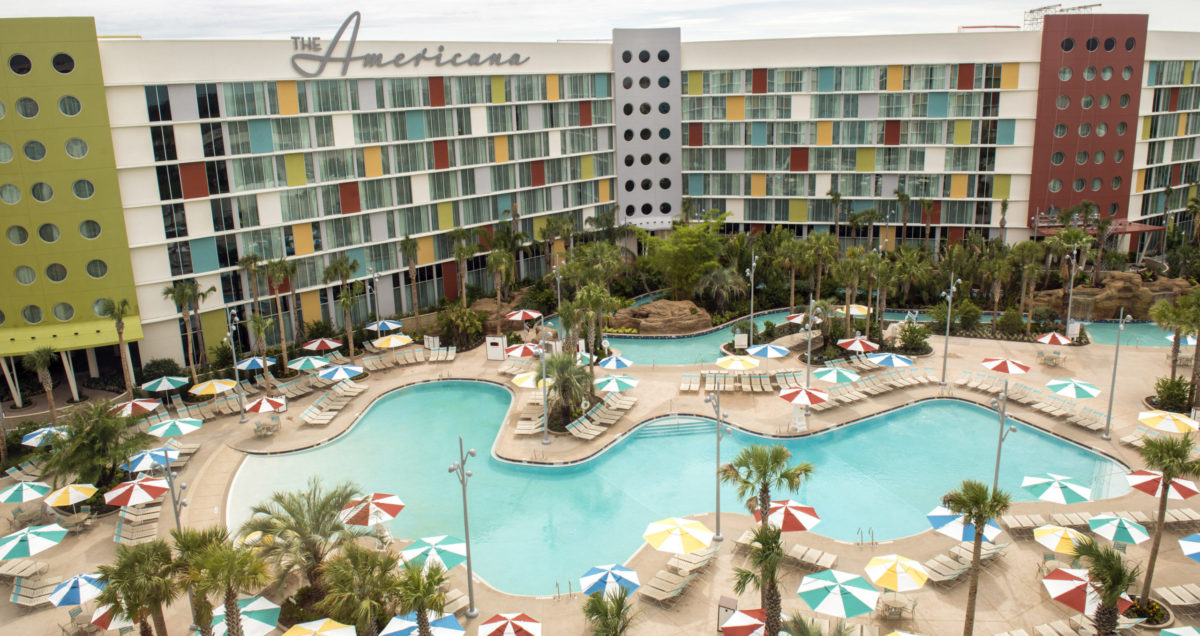 The quieter pool is situated on the south side of the hotel close to Volcano Bay. This pool includes the Hideaway pool bar, splash pad, fire pit, and a lazy river. Yes, a lazy river. Tubes are only available for purchase but we find they are reasonably priced for Cabana Bay branded items – if you want to save a few bucks buy cheap tubes online before your trip.
We believe Cabana Bay is the best pool for families and those looking for the widest range of hotel activities.
Aventura – Miami Chic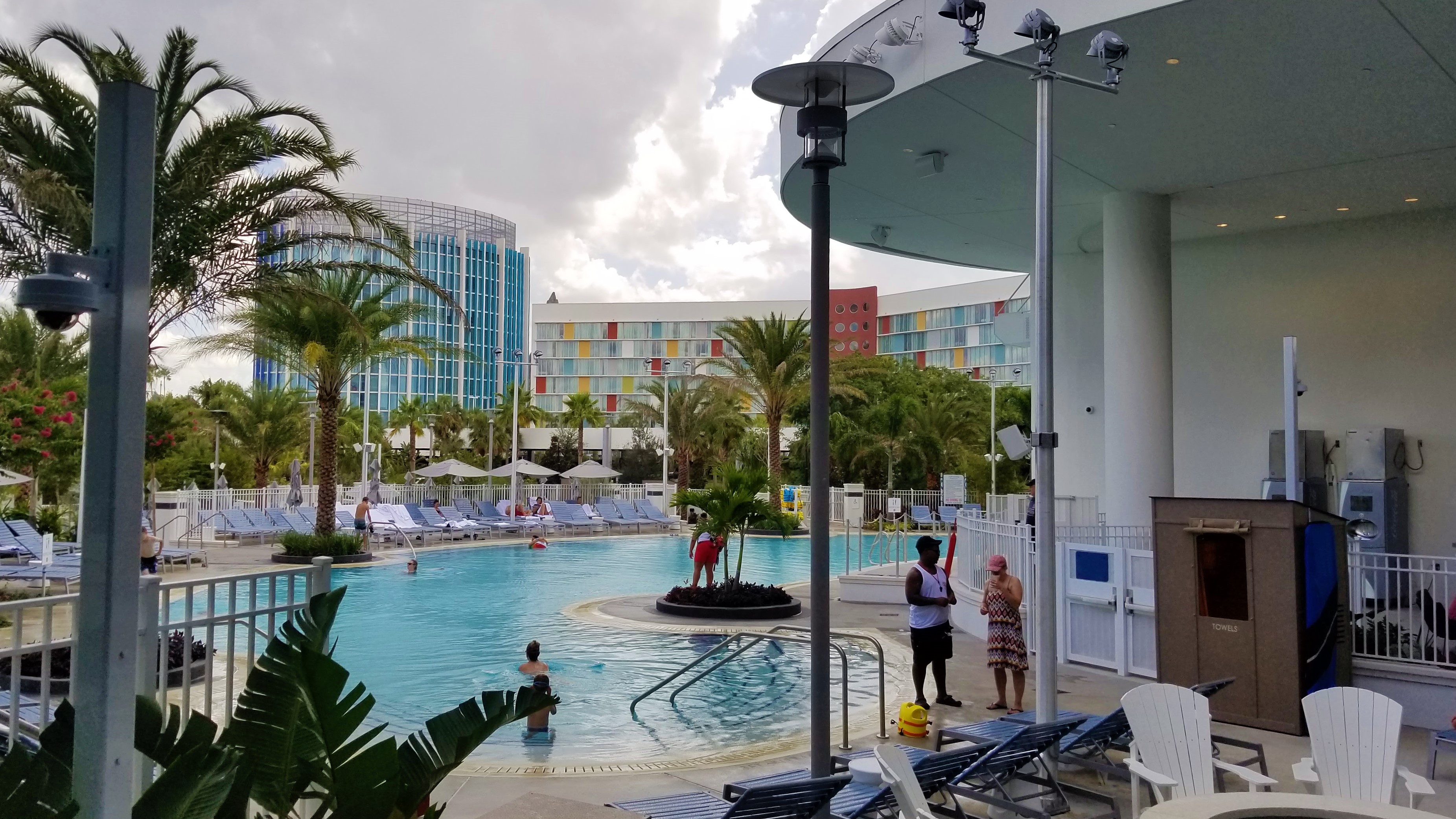 Aventura offers the smallest pool of any on-site Universal hotel and only a moderate level of activities. The usual offerings of a splash pad, fire pit, and movie nights are offered along with a substantial pool bar. The pool itself features several laminar flow fountains that "jump" into the pool.
Just like with the hotel itself, the pool is stylish if on the small side.
Sapphire Falls – Largest Pool at Universal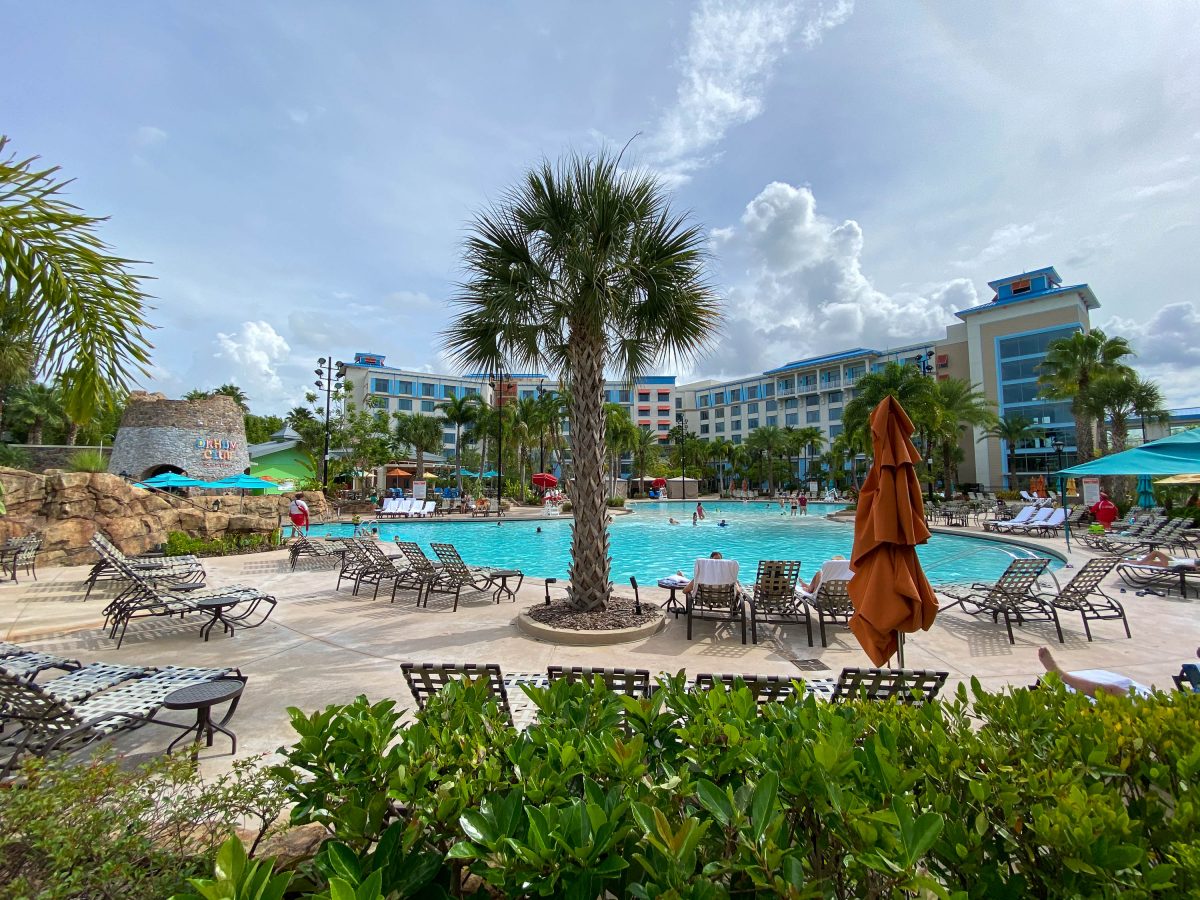 Sapphire Falls offers the largest single pool at Universal Orlando for those who need swim space. The hotel pool also includes a water slide and a full-service pool bar at the lowest price for Universal Orlando. Plus the hotel is within walking distance to Royal Pacific and Cabana Bay if you want to check out the latter's lazy river, making it a great pool hopping location.
Royal Pacific – Best Kids Play Area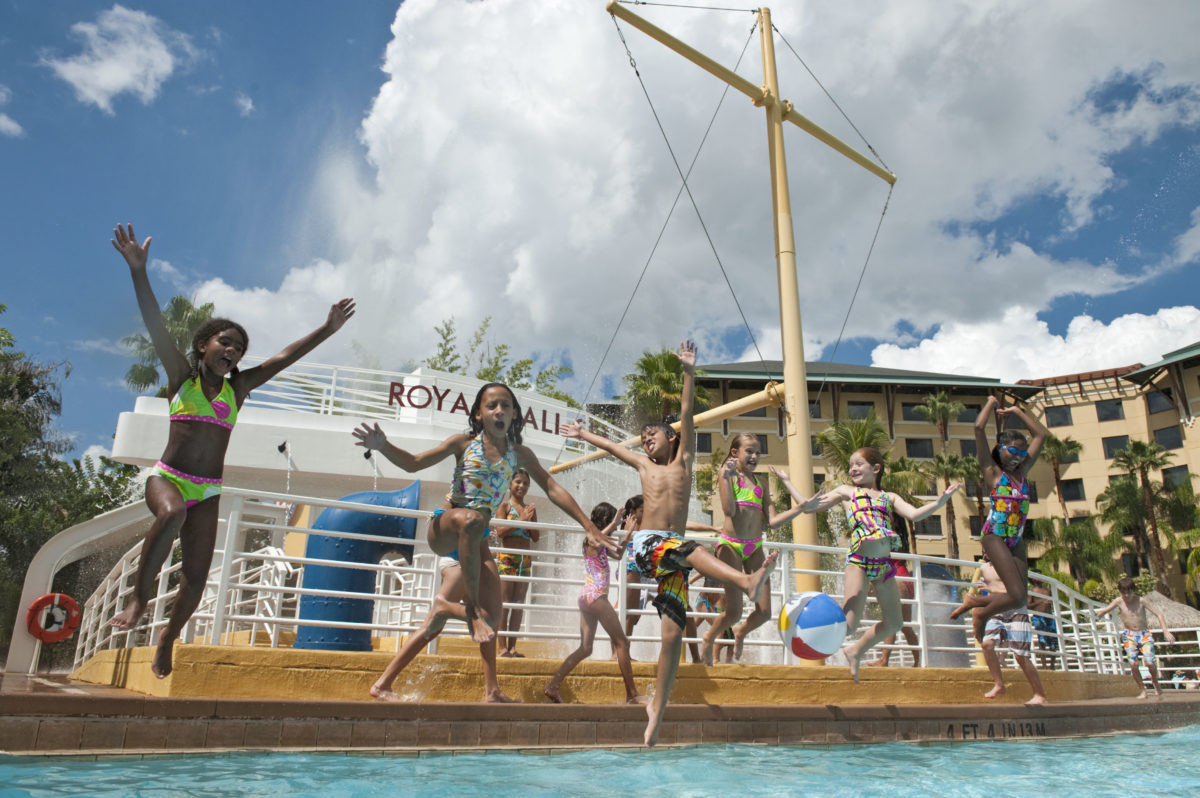 Royal Pacific offers a standard hotel pool with Premier amenities including a full-service pool bar and gorgeous waterfront setting. Yet this is the only Premier hotel without a water slide, a deal-breaker for some. What it lacks in speedy splashy slides it makes up for in seriously soaking ships with the most impressive splash pad at Universal. The water playground is themed to a large marooned ship stern with multiple levels, spigots, and waterfalls.
If your kids like water playgrounds more than water slides, this might be your best bet.
Hard Rock Hotel – Upgraded Chic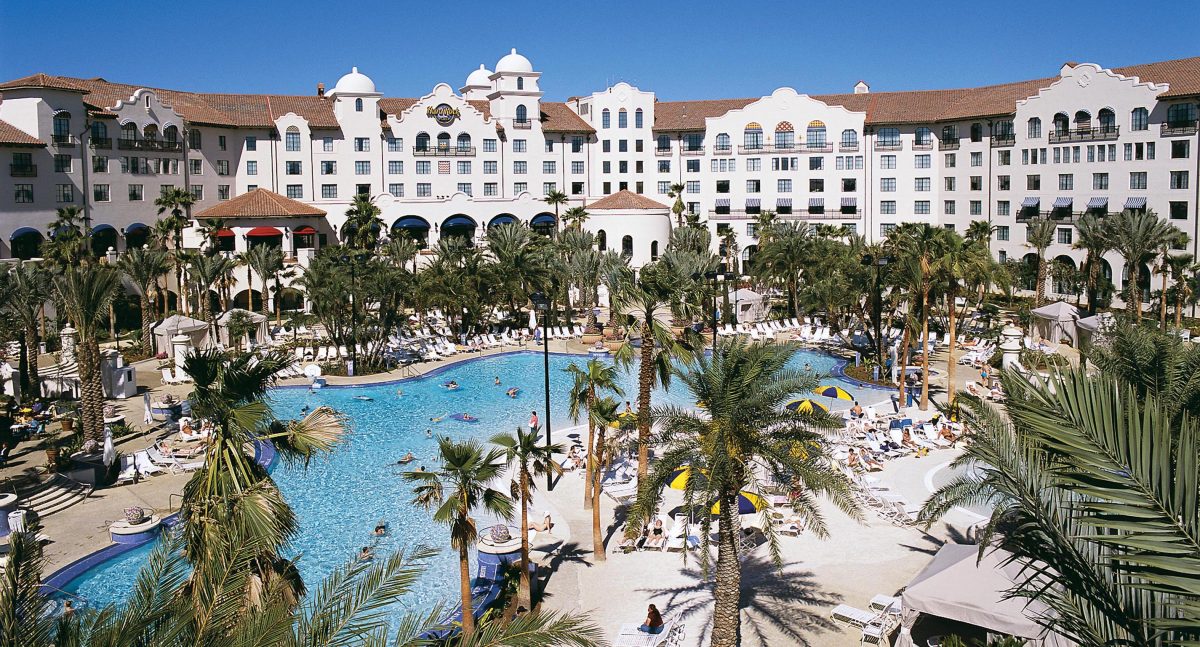 The southern California theme of the Hard Rock Hotel extends to the pool which features the full-service pool bar beachclub (not to be confused with the Disney resort), cabanas, zero-entry pool, and a water slide. An underwater sound system also pumps tunes into the pool for swimmers. If you liked the style of Aventura but wanted a more expansive pool option then we suggest Hard Rock Hotel.
Portofino Bay – The Most Adult Pools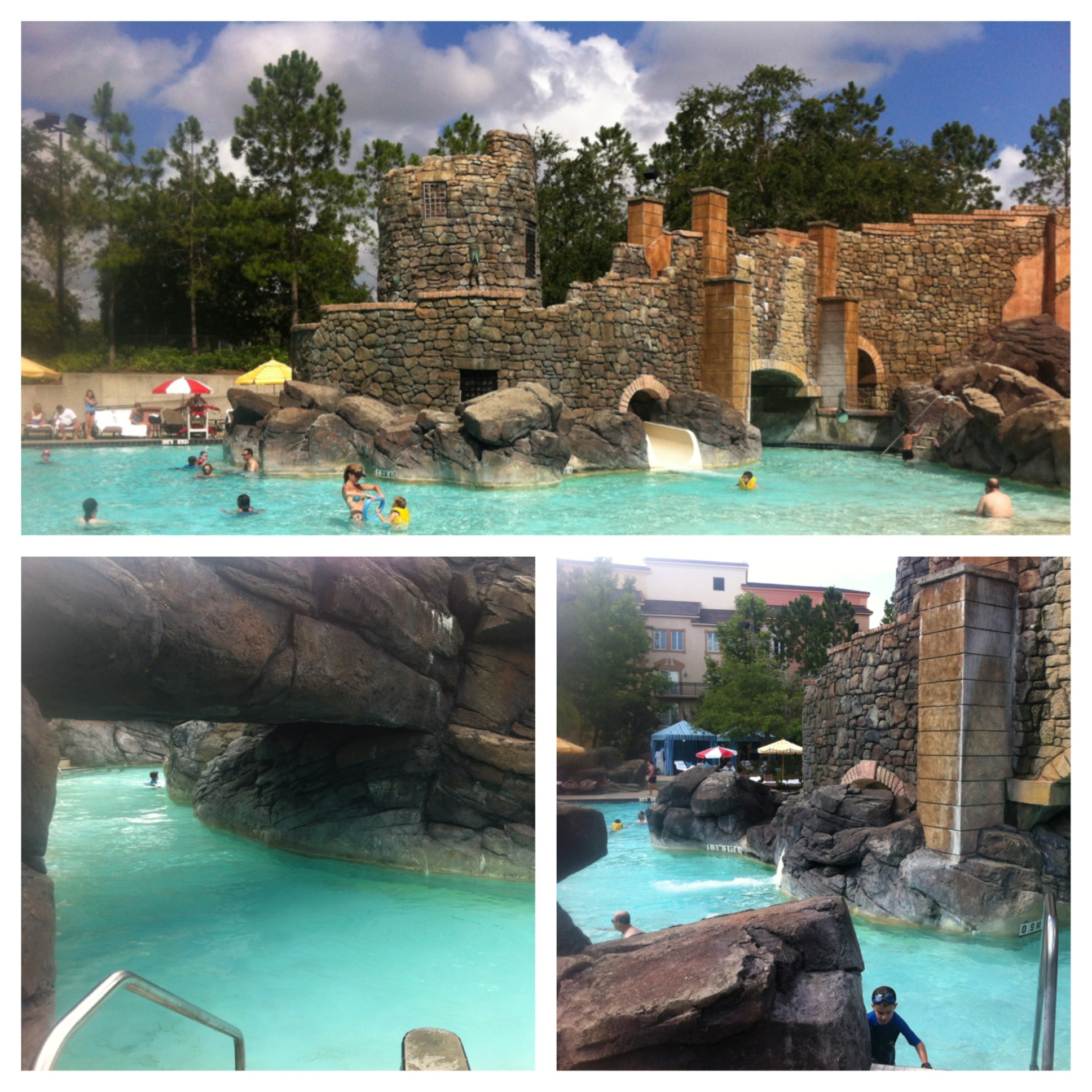 Portofino Bay offers three, yes three, pools. The main Beach pool to the west of the resort offers a zero-entry sandy beach into the pool, water slide, pool bar Splendido, and more. The Villa Pool to the north offers cabana rentals that feature a fan, television, and refrigerator next to a square pool. The final pool, The Hillside, offers a quieter lounging experience for adults on the southeast side of the resort.
Pool Comparison Chart
As the kids say, tl;dr, so here's a handy comparison chart for the Universal hotel pools:

What is your favorite hotel pool at Universal Orlando? Leave your thoughts and comments below!