Universal Orlando Resort for Newbies – Choosing a Hotel
Whether you are a long-time Walt Disney World guest looking to switch theme parks on your next trip or you are visiting Orlando for the first time, planning a visit to Universal Orlando Resort poses a lot of questions. In this article, we will cover each hotel in depth and help you choose the best hotel for your needs and budget.
The Universal Orlando Hotels In Depth
For an overview of the hotel tiers, benefits, and pros/cons read our last article on the overview of the hotels.
Note: Universal uses the term "resort" and "hotel" almost interchangeably in the names of their hotels. We will be using the term "hotel" for each property and "resort" for the whole Universal Orlando Resort.
Loews Portofino Bay Resort – recreates Italian ambiance in the middle of Central Florida. Modeled after the seaside fishing town of Portofino in Northern Italy, the resort includes two pools, high-end dining, quiet stone-paved courtyards, and a gorgeous waterfront piazza. Portofino also is home to the only spa on Universal property. The two sit-down restaurants are Bice (high-end dining at a high-end price) and Mama Della's (family-friendly Italian dining). Harbor Nights, a quarterly event, brings live entertainment, food, and drinks to the Portofino Bay marina courtyard.
Hard Rock Hotel brings attitude with rock memorabilia, contemporary music, and live shows in a Southern California-inspired hotel. Music permeates every aspect of the hotel – the resort pool features an underwater sound system and guests can rent guitars to play in their rooms, for free! The Velvet Lounge inside the lobby frequently hosts music sessions with bands. Sit-down dining includes the Palm Restaurant (a New York steakhouse) and The Kitchen (casual American fare). Hard Rock Hotel is the closest hotel to Universal Studios Florida.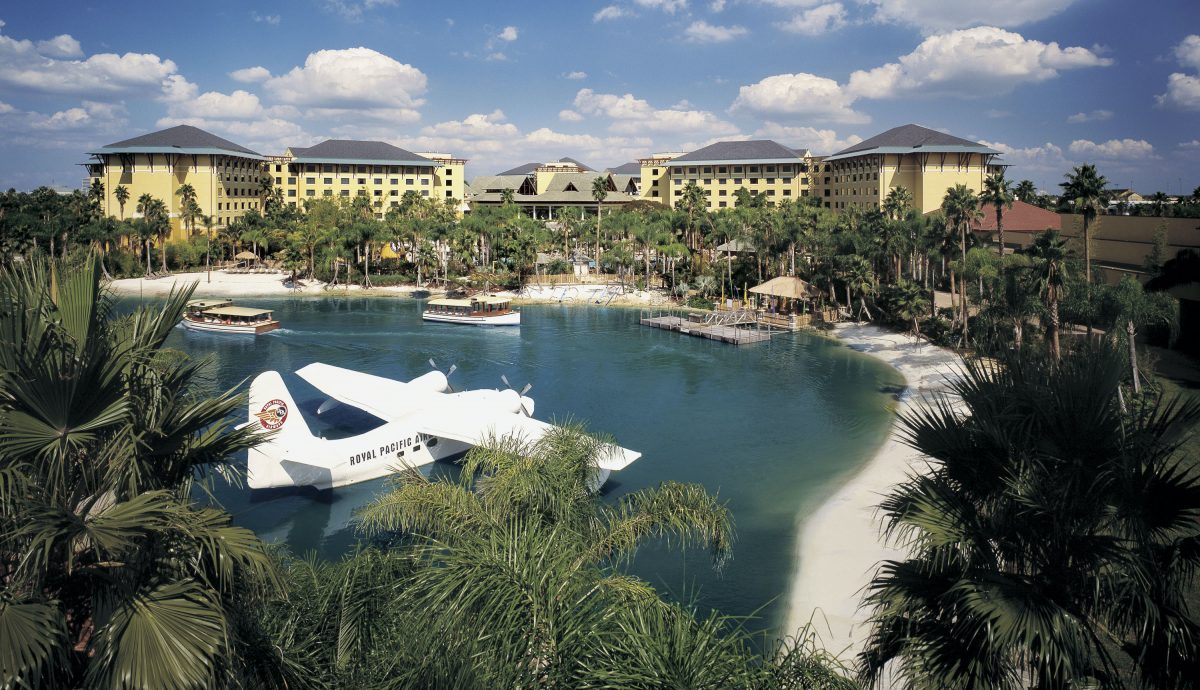 Loews Royal Pacific Resort takes inspiration from the South Pacific islands with lush foliage and bright decorations. The lobby features a large, exposed wood beam ceiling that leads to a central elephant fountain and the pool is anchored by part of a steamliner. Dining options include The Island Dining Room (featuring pan-Asian cuisine), Wantilan Luau, and Jake's American Bar (a large beer selection with ex-pat American food). Jake's American Bar also hosts frequent beer tastings throughout the year. Royal Pacific is the closest hotel to Islands of Adventure.
Loews Sapphire Falls Resort is inspired by Jamaica's waterfalls and rum production and offers the feel of a relaxed Caribbean beach resort. Sapphire Falls offers unique features: Universal's largest pool and the best resort bar, Strong Water Tavern. Sit-down dining is available at Amatista Cookhouse which features Caribbean cuisine, burgers, and flatbreads.
Universal's Cabana Bay Beach Resort takes the kitschy mid-century design of Atlantic seaboard motels and adds modern hotel luxuries. Cabana Bay features the most family friendly resort options with two pools, a water slide, a lazy river, a bowling alley, and movie nights. Bayline Diner is the resort's primary food court and features a wide array of dining options from burgers to pizza to stir-fry. The tower rooms at Cabana Bay are the closest rooms to Volcano Bay.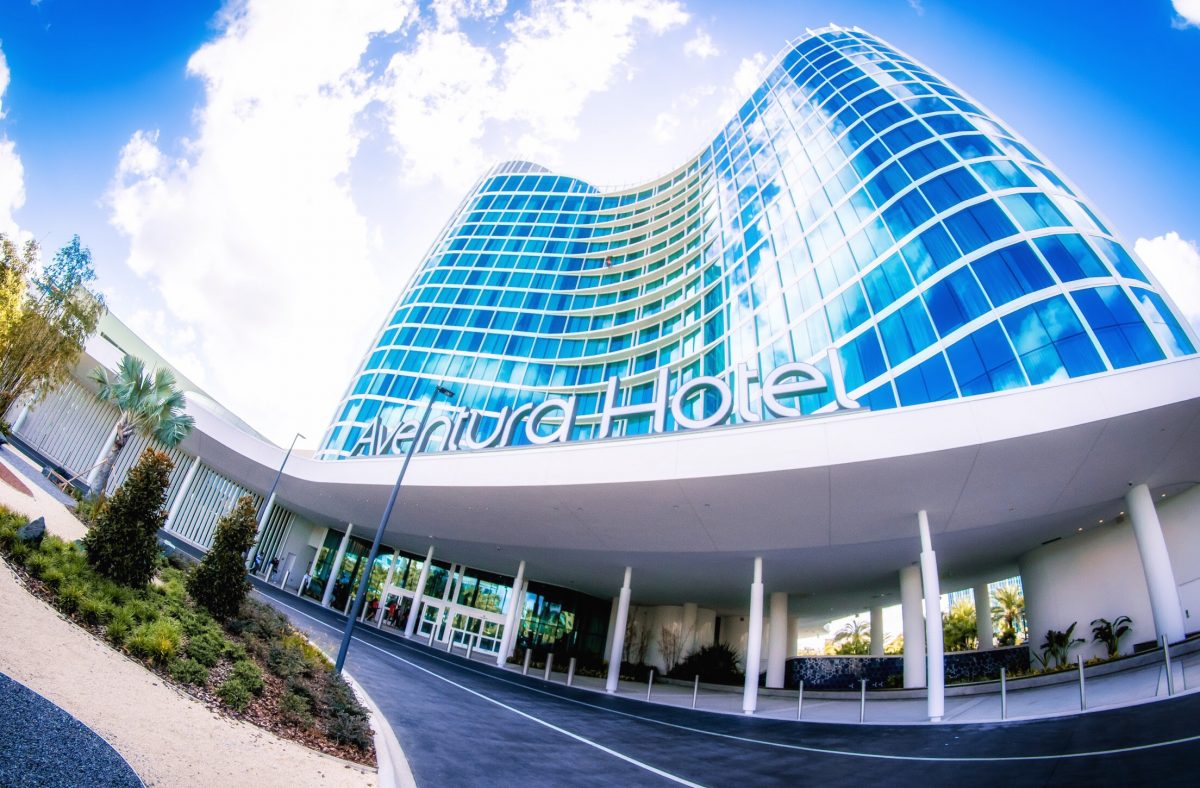 Universal's Aventura Hotel is a sleek, modern high-rise hotel inspired by Miami skyscrapers. Hotel rooms are tablet controlled and allow guests to log in to their streaming media accounts to watch on the TVs. On top of the resort is Bar 17 Bistro which offers small plates, handmade cocktails, and spectacular 360-degree views of the resort. The Urban Pantry food hall is built around food stations serving Mexican, Asian, fresh pizzas, and burgers. Sometimes the "modern" design ends up being "plain"–think large white spaces with polished concrete flooring.
Universal's Endless Summer Resort Surfside and Dockside offers a laid-back California beach vibe with surf- and pier-inspired design. The lobbies are airy and bright, with accents of waves, driftwood, and sunsets. Rooms are modern and functional with hooks for bags, under-bed storage, and modern TV entertainment systems. Each resort's food courts offer the usual staples plus sandwiches, protein bowls, and lighter entrees. There are trade-offs; what you save in price you lose in room textiles, bedding, and amenities.
Choosing a Hotel
Still not sure which hotel to pick? Here are some hotel suggestions that you can book through our amazing TouringPlans Travel Agents. Request a free quote today!
We Need Express Pass!
Okay, okay! Successfully touring the Universal parks does not require Express Pass (insert the shameless plug to our customized Touring Plans here), but Express Pass still is a nice perk to have. Universal's Express Passes usually cost around $90 per person per day; we suggest pricing out a stay on-site versus another hotel and Express Passes for each day of your visit. A family of four staying at Loews Royal Pacific will often end up spending less than if they bought Express Passes and stayed at another hotel of similar quality.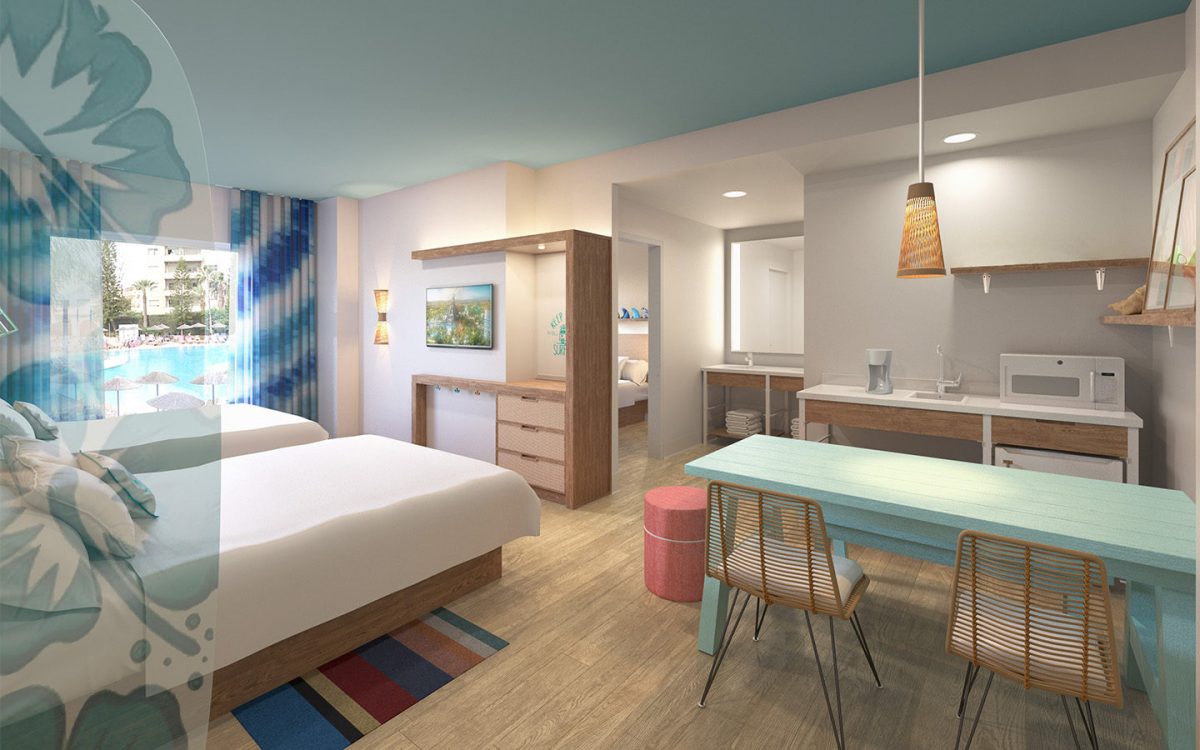 Families on a Budget
Check out Universal's Endless Summer's two-bedroom suites, which give parents their own room. For slightly more per night, Cabana Bay's Family Suites offer larger rooms and a more robust hotel experience.
Splurge Vacation
Loews Portofino Bay Resort or Hard Rock Hotel offers the best amenities, resort experience, and luxurious accommodations on property. Each also offers Club Level and suite options.
Quickest Walk to the Parks
Loews Royal Pacific Resort is the closest to Islands of Adventure and Hard Rock Hotel is the closest to Universal Studios Florida. Both Universal's Aventura Hotel and Cabana Bay's American wing are the closest to Volcano Bay.
A Cheap Place to Sleep (The HHN Hotel)
A standard room at Universal's Endless Summer Resort is hard to beat.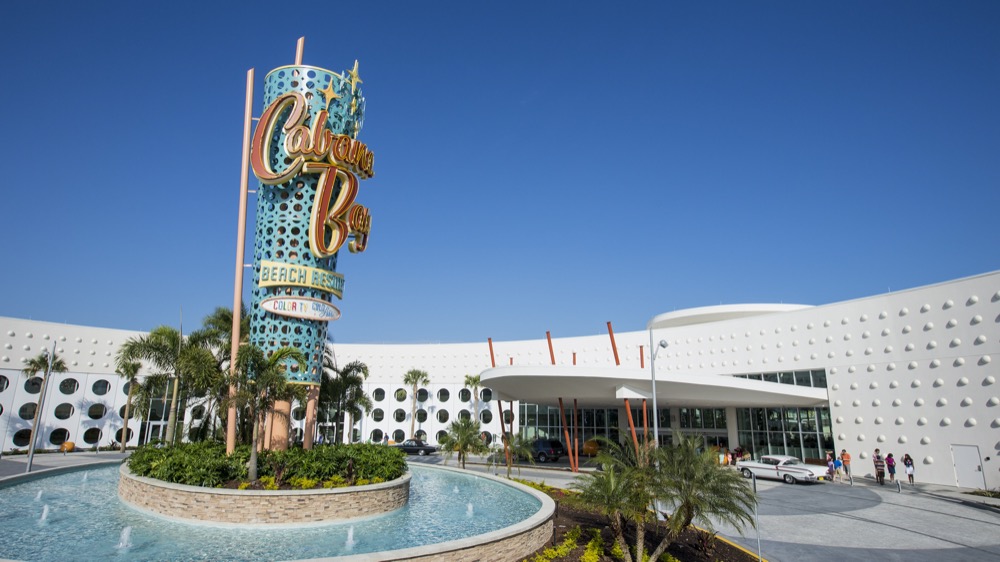 Quickest Access to I-4 and Walt Disney World
For pure speed, Universal's Cabana Bay Beach Resort is one right-hand turn onto Adventure Way that leads directly onto I-4 West towards Walt Disney World.
I Want a Hip, Modern Hotel
If you have the money we suggest Hard Rock Hotel with its modern amenities, recently updated rooms, and a rock'n'roll attitude. If you are on more of a budget then consider Aventura Hotel which features high-tech rooms and modern design.
A Romantic Get Away
Nothing beats a stay at Portofino Bay for romance and elegance.
Author's Favorite Resorts
Royal Pacific and Cabana Bay – the hotel cluster there offers lots of options for pool hopping, checking out new restaurants, and visiting Strong Water Tavern. Royal Pacific includes Express and Cabana Bay's value cannot be beaten.
Do you have questions about which Universal hotel to stay at? Leave your questions and comments below!
First published October 28, 2020. Revised June 14, 2021.