Getting to Know Universal – Minion Cafe
Feeling a little… yellow today? Do you find yourself congregating in groups and causing mischief? If your boss a very tall man with wide shoulders and a pointy nose? Then you might be a Minion. For those of us who aren't Minions, we still can experience the closest thing – the new Minion Cafe at Universal Studios Florida!
Quick Glance
Location: Universal Studios Florida, across from the Music Plaza Stage
Cuisine: American & Asian Fusion
Service: Counter service
Price: $15-$20 for adult entrees
Touring Plans Rating: TBA
Seating: Indoor and outdoor seating
The Experience
Minion Cafe replaces the former Monsters Cafe with a new, brighter dining venue. Universal gutted the old restaurant down to the studs and rebuilt it around a new Mobile Ordering system. Gone are the Monster movie props and in their place are bright colors, open skylights, and whimsical Minion touches.
The Cafe features three seating areas – a covered outdoor patio with fans, a Minion kitchen area full of Minion-ified appliances, and a colorful Minion break room. If you are a fan of gags and corny jokes you will love this silly restaurant.
Unlike traditional counter service restaurants where you queue to order your meal, Minion Cafe is Universal's first restaurant with a focus on Mobile Order. Guests are first guided to their tables where a QR code and number is placed on the table. Scan the code or use the Universal Orlando app to order your meal. At check out enter your table number. After a short wait a human, not a Minion, will deliver your order to your table. Guests who cannot use Mobile Order can still order at a cashier, but they must already have a table number.
The Food & Drink
Universal has swung for the fences with Minion Cafe's eclectic menu. Where else can you find stuffed pizza, noodle bowls, porchetta sandwiches, and glazed roast chicken? Our intrepid food report visited last weekend with these reports.
El Macho's Salsa y Salsa Ropa Vieya: Great mix of flavors, everything cooked perfectly. The cilantro rice was really nice. The tostones could have been bigger and they were chewy, but I still liked them. 10/10
Otto's Noodle Bowl: Waiter who served us kept the minion themed glasses that contained the noodles & broth. He poured broth before he left. The pork was very thin and tender, slightly fatty and edges were crispy and had lots of pepper. It tasted more like western smoked brisket. Noodles surprise me because they were not normal udon noodles. They were softer and had more of a potato flavor. The egg was hard boiled and had been previously marinated in a familiar asian sauce [ED NOTE – Tare Eggs are usually soaked in miso paste, soy sauce, and sugar]. The shrimp dumpling was the weakest item. It had one shrimp and was very thick and bland. There was a bunch of roasted corn in the creamy salty broth which I loved. 9/10
Mel's Meatball Mountain: Great alernative to a calzone, was not greasy or oily. It wasn't light or delicate. There was a lot of enjoyable crispy/chewy crust.
Fluffy Unicorn Cupcake: So happy this is not like the normal cupcakes from Universal. The frosting was light and soft and had a mild artificial flavor that I thought was banana, but I guess it was supposed to be bubblegum. The same frosting was on the bottom and it wasn't overpowering. The cake was moist and slightly dense like a muffin. 9/10
Minion Swiss Roll: great flavor, soft cake and not overly sweet filling. The little fake banana had a soft fruity tart filling. 10/10
Our reviewer did not order the Uncle Dru's Belly Fillin' Pork Sandwich, porchetta on a pretzel bun, but we hear guests rave about it being the best sandwich in the park.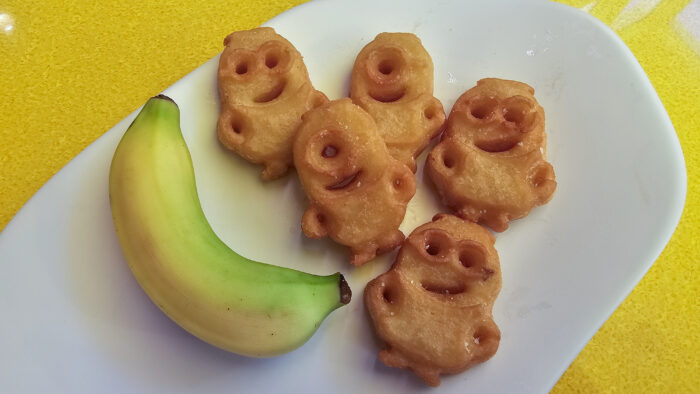 The Minion Tots were fantastic! The shaped characters came out so cute! They didn't really taste like tater tots though. They were creamy mashed skinless yellow potatoes with a nicely salted fried tater tots-like breading. Easy to hold and fun to dip in the sauce. I would definitely get them again. 10/10
MINION TOTS. THIS IS NOT A DRILL FOLKS.
Kids have their own Mini Minion menu with grilled cheese, mac & cheese, PB&J, and spaghetti and meatballs. Each is served with a mini banana and Minion tots (see above).
The Opinion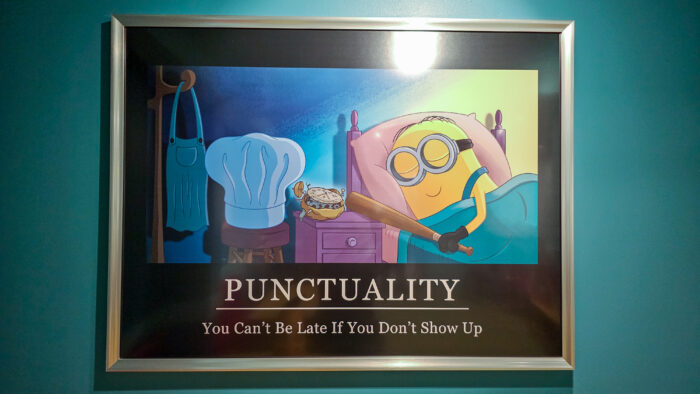 At the time of writing Minion Cafe is still in previews. The initial reviews are in though and Minion Cafe appears to be another huge hit – guests love the new food options and the fun atmosphere. Once the restaurant officially opens Touring Plans will provide an official review and rating.
While the restaurant is in previews it might close, operate at a limited capacity, or have delays. During previews guests are seeing some delays in food delivery, with some guests waiting half an hour for their food. Once the restaurant officially opens we will evaluate their efficiency and timliness.
Touring Tips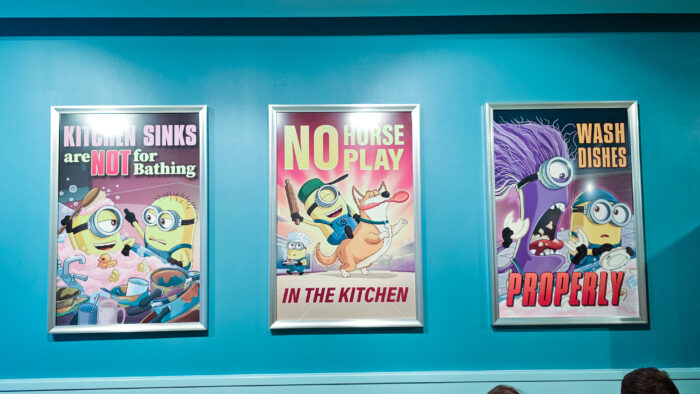 With Minion Cafe being the only counter service restaurant in that part of the park and the visually appealing facade to kids, we expect this restaurant to draw long waits for tables for years. Our advice is to dine during the off periods of dining, such as before 11:30 am, between 2:00 pm and 4:00 pm, and after 7:00 pm. If you don't mind taking your food to-go, order on the Universal Orlando app to the Mobile Order Window. Place your order in the morning for your desired return time and then return for your meal.