Getting to Know Universal – The Marvel Character Dinner at Islands of Adventure
Saving the world (or the universe) is not advised on an empty stomach! So swing, glide, or ride on over to The Marvel Character Dinner in Islands of Adventure to refuel and meet your favorite Marvel characters!
You might be thinking, "Wait, Universal? Even though Disney owns Marvel?" Universal licensed all Marvel content for their parks in the 1990s and the right last "in perpetuity". For more detailed information visit Inside Universal's Marvel Contract page.
Quick Glance
Location: Marvel Super Hero Island in Islands of Adventure
Cuisine: American
Service: Buffet with drink service
Price: $52.99 for adults, $29.99 for children 3-9 (includes one free photo)
Touring Plans Rating: Fair
Seating: Indoor tables and booths
Hours: 5:00pm – park close (seatings every half hour)
The Experience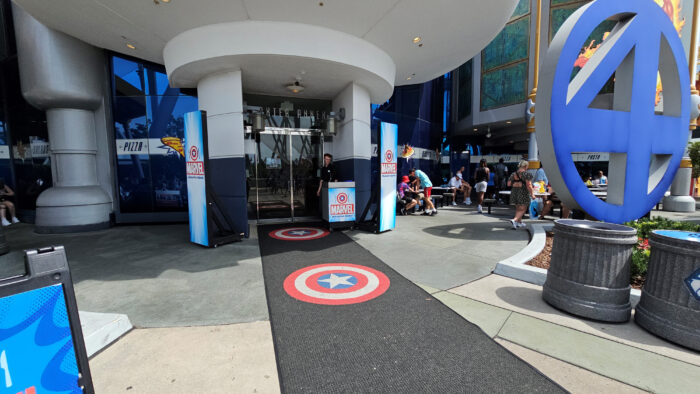 The Marvel Character dinner is in Cafe 4, located next to The Incredible Hulk Coaster, at Marvel Super Hero Island. Reservations are required and are booked through Touring Plans Travel or Universal Orlando. Universal requests you book 24 hours before your visit but day-of reservations are frequently available. Check-in starts at 5:00 pm and we suggest arriving 15 minutes before your seating time to check in.
Once seated guests can immediately serve themselves or wait for a Team Member to take their drink order. Staff are fast and attentive with SHIELD-level skills in table cleaning and drink refilling. Characters come out in sets of two to meet and greet guests. Unlike Chef Mickey there is no opening fanfare or song, the characters just come out to meet guests.
The Marvel Character Dinner features Spider-man, Captain America, Wolverine, Cyclops, Storm, and Rogue. MCU fans note that these characters are dressed in their 1990s comics and TV show attire, so bright yellow Wolverine not Hugh Jackman.
But the character interactions are stellar as our reviewer notes:
There wasn't a bored kid in the room and… were excited to meet the characters at their table and loved just having so many characters around them every where they looked. One lady screamed when she saw Spiderman so loud it stopped the room. The characters took a really nice long time with everyone. Spiderman was the most in character of them all. He jumped and played and ran around with the kids. Captain America was constantly pulling guests aside to the front shield on the floor for the nicer pictures.
Characters are attentive and immersed in their roles. Our reviewer noted that several times characters made sure to swing by if a party member was at the buffet, a common complaint at character buffets.
Unlike some character dining at Walt Disney World, Cafe 4 is designed as a counter-service restaurant and not a full-service sit-down restaurant. There were some complaints of crowded stroller parking at the tables and the ambiance is less Tony Stark's steakhouse more like the Fantastic Four's cafeteria.
(Note to self, pitch Tony Stark Steakhouse concept to Disney.)
The Food & Drink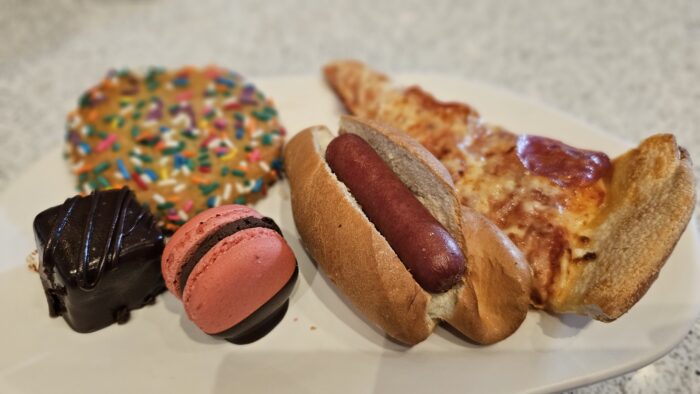 Dinner is served all-you-can-eat buffet of American food. During our visit was a selection of salads, seasonal vegetables, potatoes, carving stations, pizza, hamburgers, hot dogs, and a spicy shrimp stir fry. Desserts include cookies, cheesecake bites, and key lime tarts.
The food is fine. Universal's theme park pizza is better than Disney's, while the chicken we found dry. Our reviewer says the food isn't the reason you're coming here:
The food was better than average, but it was like cafeteria food. It tasted good and we happily ate until we were full, but it's not what was memorable about the event. The best things were the pizza, the bite sized grilled cheese, the Mac and cheese, fruit, all of the salads and pasta salad and desserts.
A full menu is available online but call ahead if anyone in your party has special dining needs or restrictions and confirm your options.
The Opinion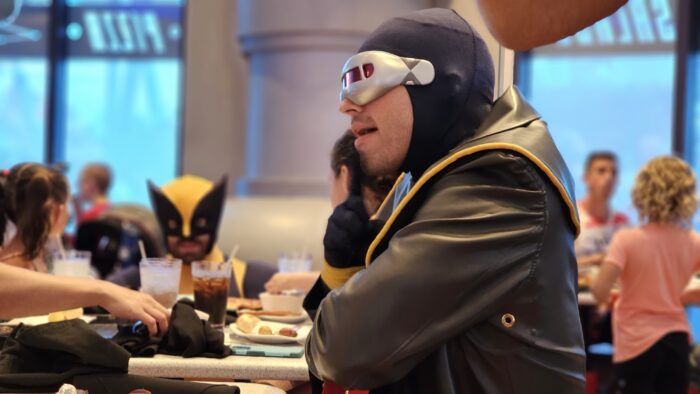 The Marvel Character Dinner is a great place to meet your favorite Marvel characters in a fun, loud, and energetic setting. Just don't expect Amazing Food with your Amazing Spider-man, the food is possible and even good. But lets be real, you are here to see Captain America.
Our reviewer thinks it was worth it:
Overall it was really fun and totally worth it. Especially if you have kids because of so much character interaction and excitement in the room during the event. Very memorable.
Touring Tips
At the time of writing, dinners are only available Thursdays through Sundays during theme park hours.
Reservations are required, book 24 hours ahead online or by calling 407-224-3663. We suggest booking one month out for the best availablity.
Arrive 15 minutes before your seating time to check in.
Universal Orlando Annual Passholders receive 20% off reservations.