The SATURDAY SIX Says Goodbye to POSEIDON'S FURY at Universal's Islands of Adventure
This week's SATURDAY SIX says goodbye to Poseidon's Fury. On April 11th, Universal Orlando confirmed that Poseidon's Fury in the Lost Continent section of Islands of Adventure would be officially closing forever as of May 10th. For reasons we'll get to shortly, this news was both surprising and yet, unsurprising. Let's start off by taking a look at one of Universal's least talked about attractions…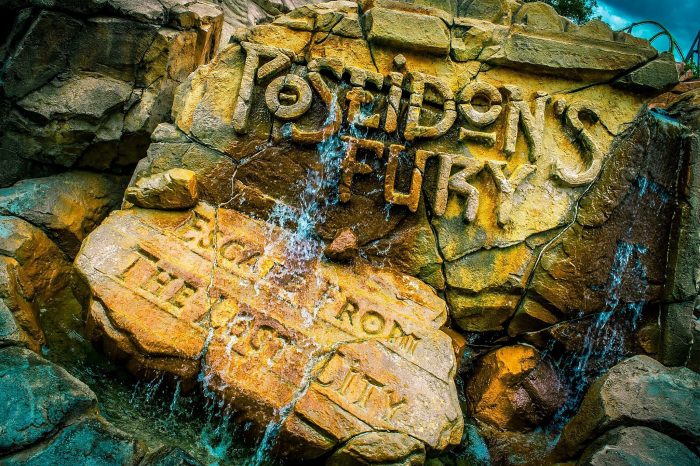 # 6 – The Jaw Dropping Façade
Real Talk, the outdoor facade for Poseidon's Fury single-handedly justified the existence of the Lost Continent area at Islands of Adventure. Stunningly huge and elaborately detailed, Poseidon's Fury – like Volcano Bay – is an example of what Universal Creative can do when not tied to a specific Intellectual Property.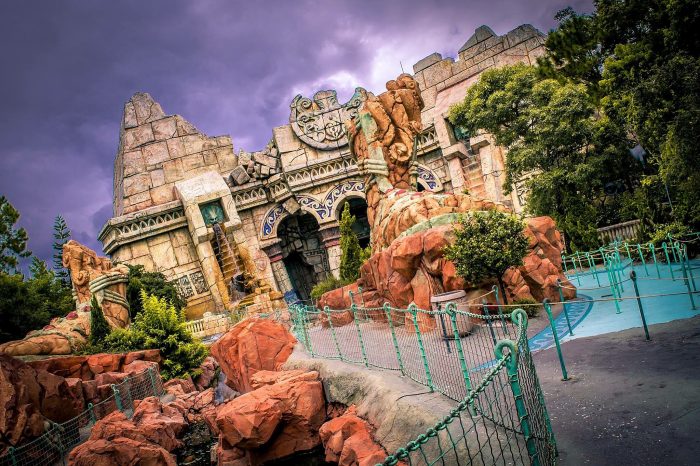 The giant feet, along with the even larger hand holding a trident, are just awe-inspiring. A guest is instantly transported to ancient ruins with the visual story work being done outside the attraction. There is true mystery here as you walk into these dilapidated ruins as you can't help but think "what happened?"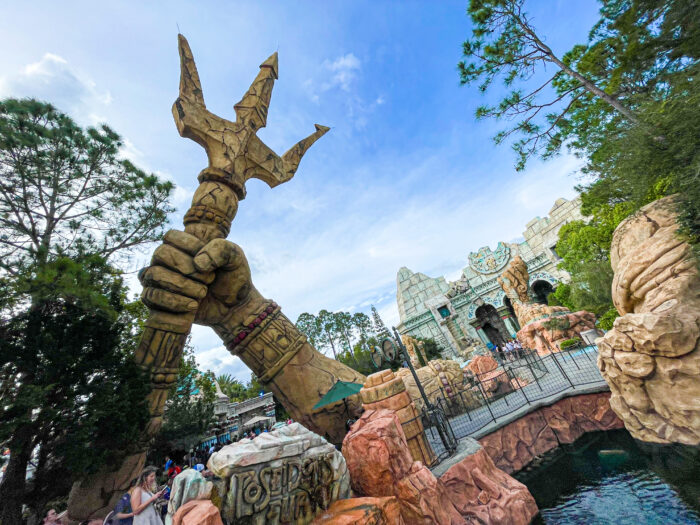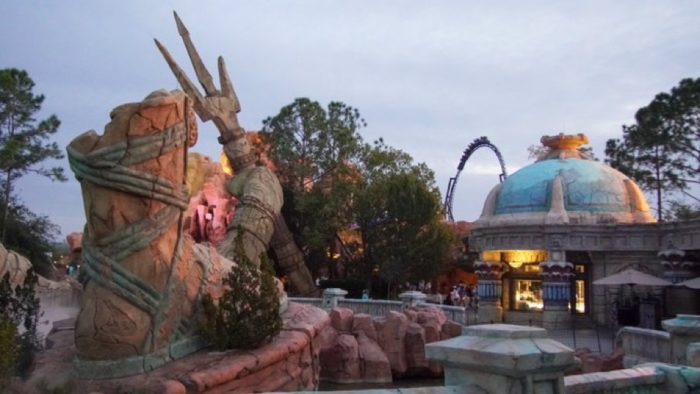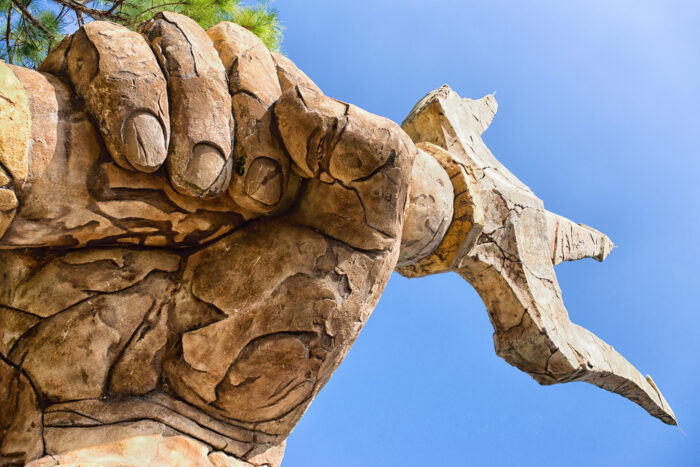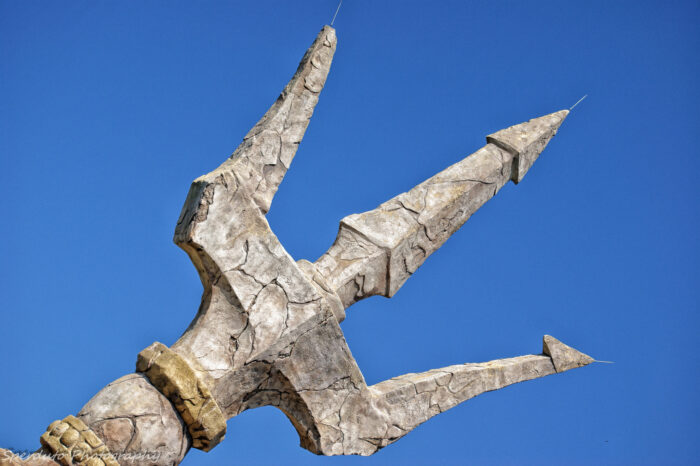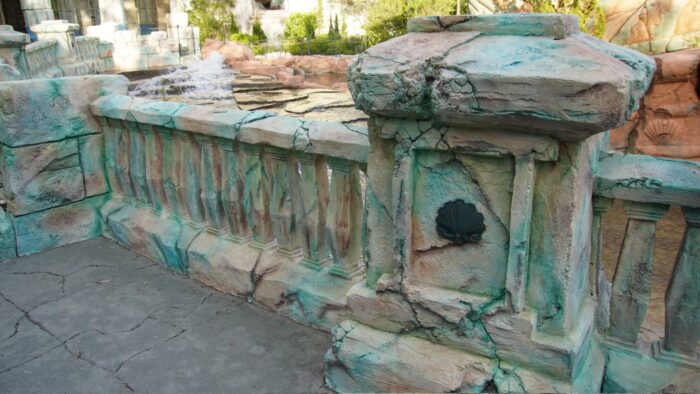 # 5 –  Covid Shutdown and Refurbishment
We all remember when the Orlando theme parks shut down in March 2020, and Poseidon's Fury was one of the attractions which reopened with parks in June of that year. However, this was short lived as in late August Poseidon's Fury was closed again. While the attraction was closed, you could occasionally see characters in the area for photo-ops.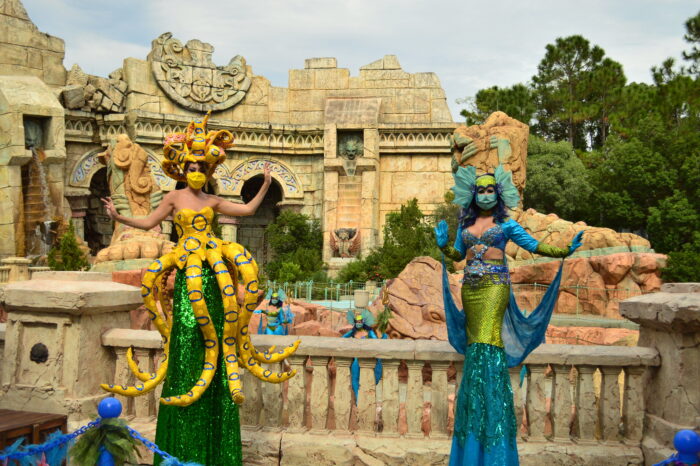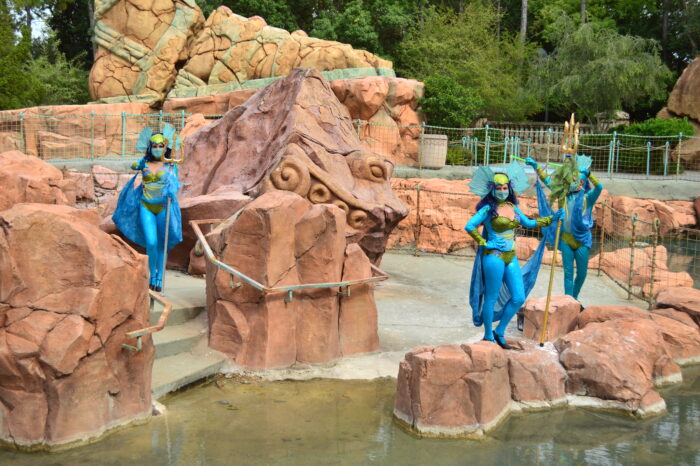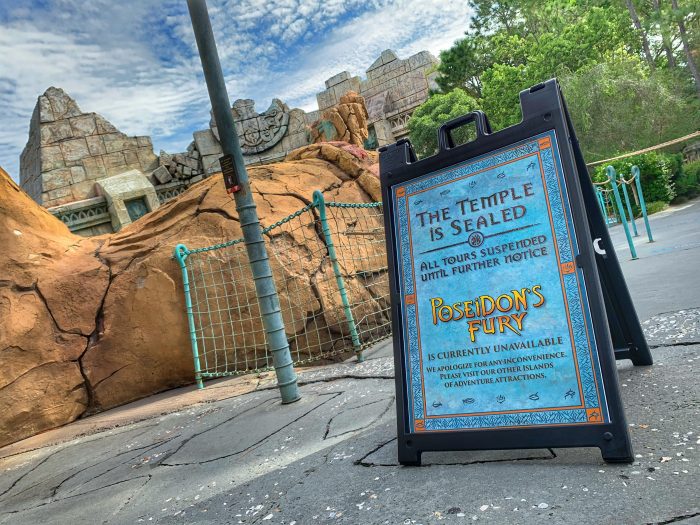 Poseidon's Fury finally reopened two years later, on March 24, 2022. However, unlike some theme park companies in Florida (no names mentioned,) Universal actually used this downtime to give the attraction some much needed love. In the picture below, which was taken before the Covid shutdown, note the large columns in the background.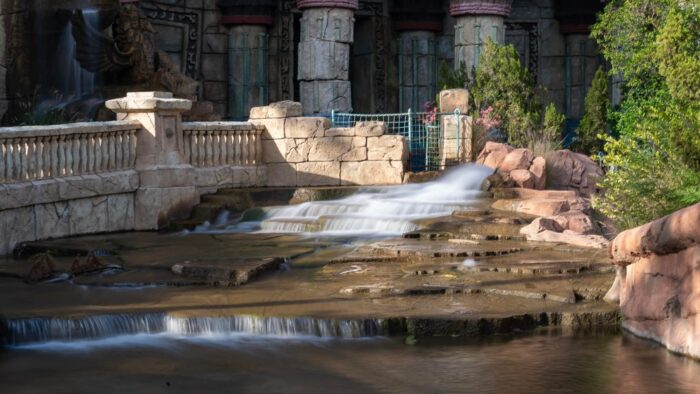 Here are those same columns when the attraction reopened in 2022.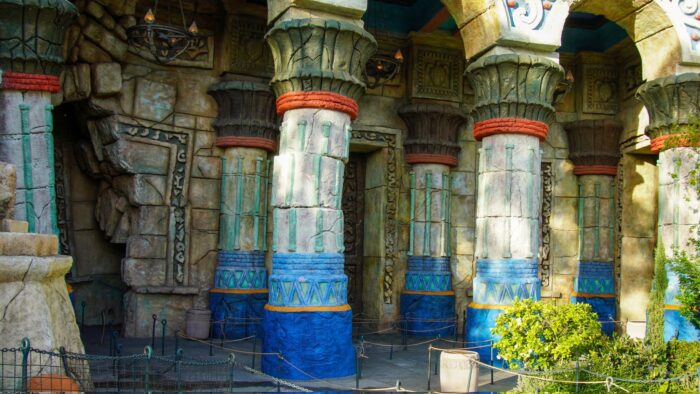 Here's another "before" example…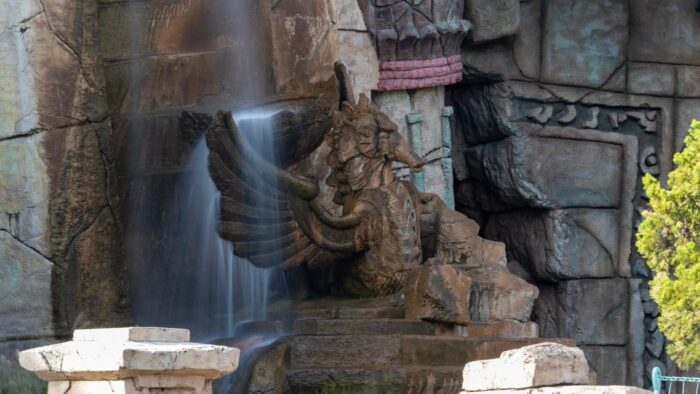 …and the "after."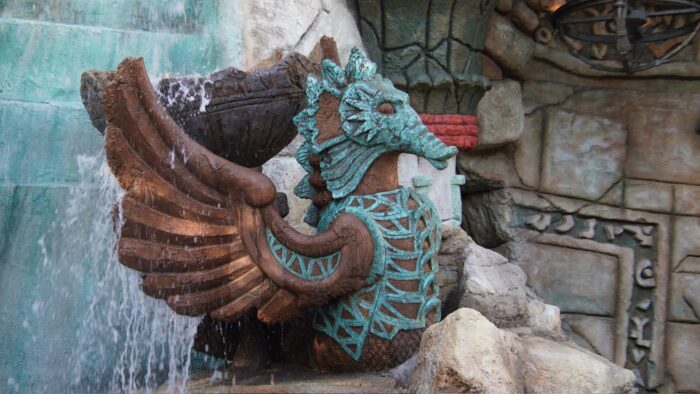 Once you got inside the building, everything looked great as well.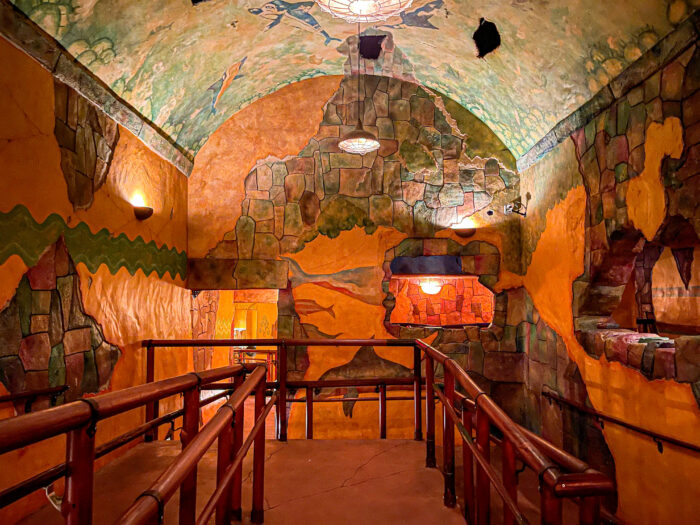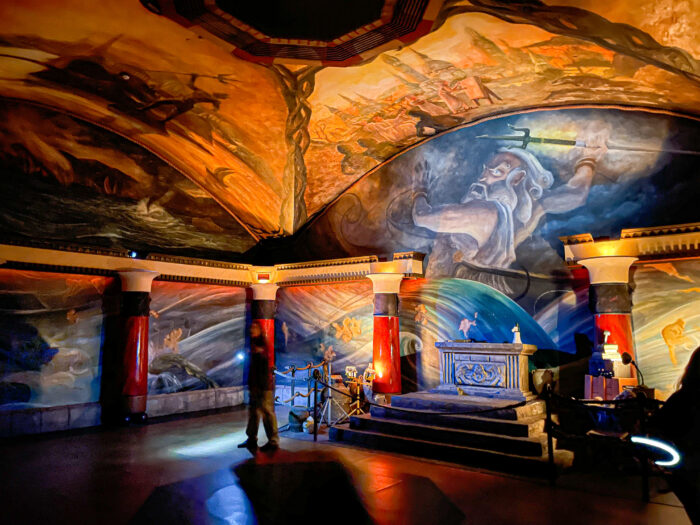 # 4 – Taylor, from the Global Discovery Group
I think the longer a person is a theme park fan, the more they start to appreciate the park attractions which incorporate a Universal Team Member or a Disney Cast Member into the experience. The Jungle Cruise will always be a good ride, but a great Jungle Cruise Skipper can give you a memory that will last a lifetime. Unfortunately, live actors are becoming an endangered species in the theme park world and we'll be losing another one in May as "Taylor" guided the guests through the ancient temple of Poseidon. For any given performance, the role of Taylor could be performed by a male or female Team Member. The inexperienced Taylor is here because our original tour guide, Professor Elias Baxter, is missing. Taylor goes on to explain the entire backstory of the attraction along with bringing some  solid comic relief.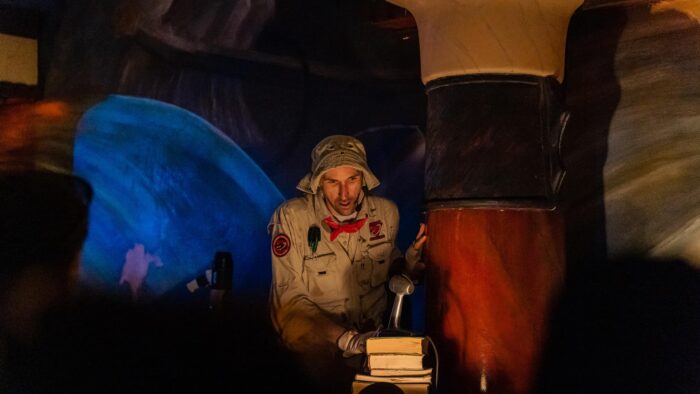 Essentially, Poseidon's Fury has Taylor guiding us through three elaborately detailed and immersive sets. The overall theming of each area is off the charts good.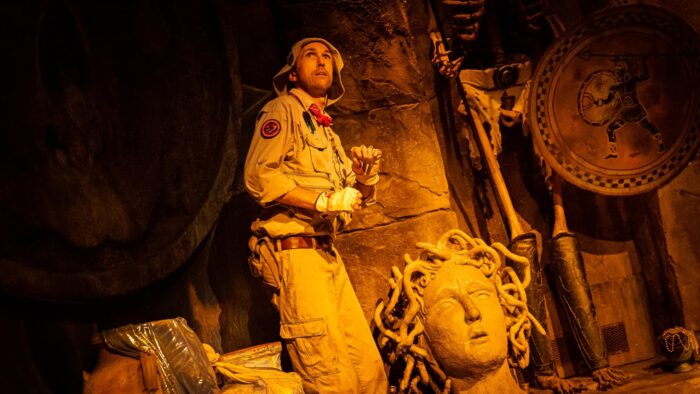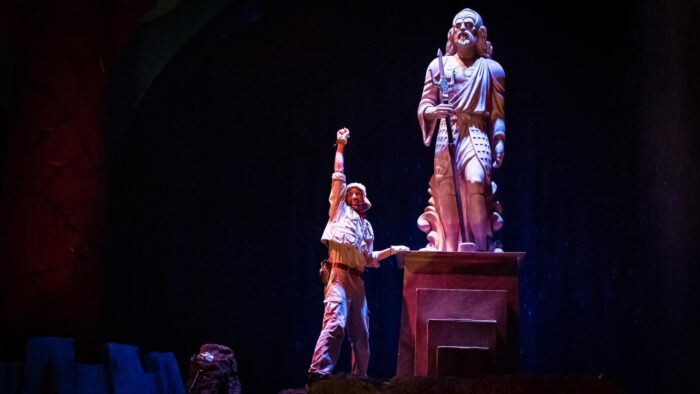 At one point in our story, Taylor needs to open a door leading to a secret passage.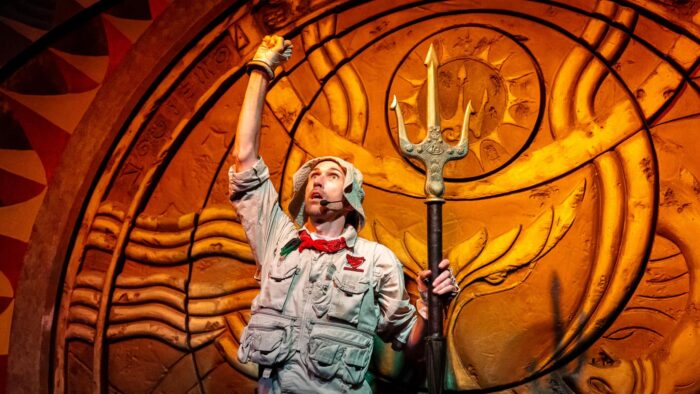 Using Poseidon's trident, Taylor opens the door and we are about to get one of the best reveals in any theme park…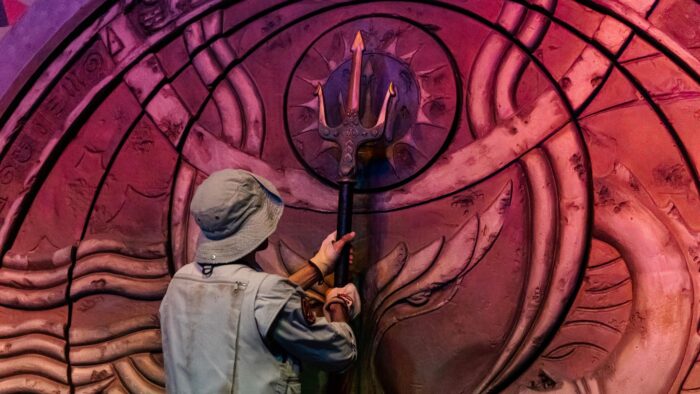 # 3 – The Water Vortex
No picture or video can do justice to what it feels like seeing a 40 foot long/18 foot wide water vortex open up in front of you, which you then get to walk into. Its absolutely awesome to behold. It's so good that knowing it's about to leave us forever I wish there was some sort of Smithsonian Museum in Orlando that could immortalize incredible or memorable moments from theme park attractions that are now gone. Imagine being able to walk the Rainbow Tunnel from the Imagination Pavilion or experiencing the microscope from Adventures From Inner Space again.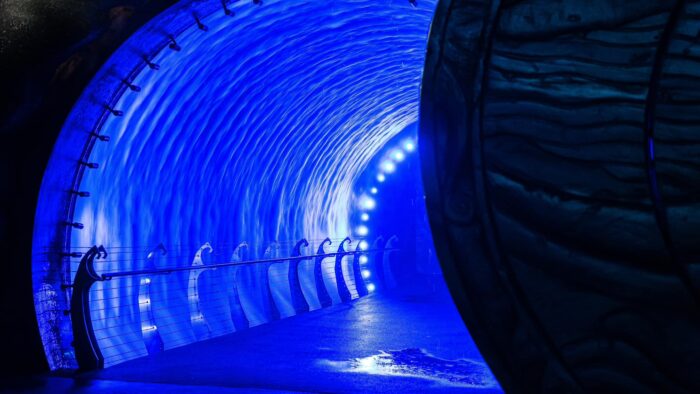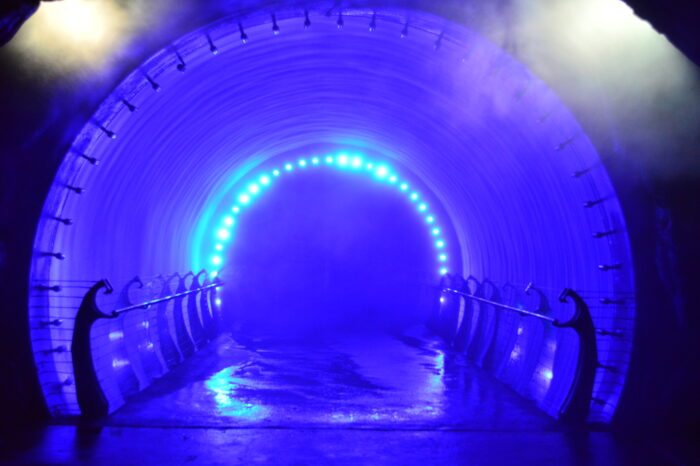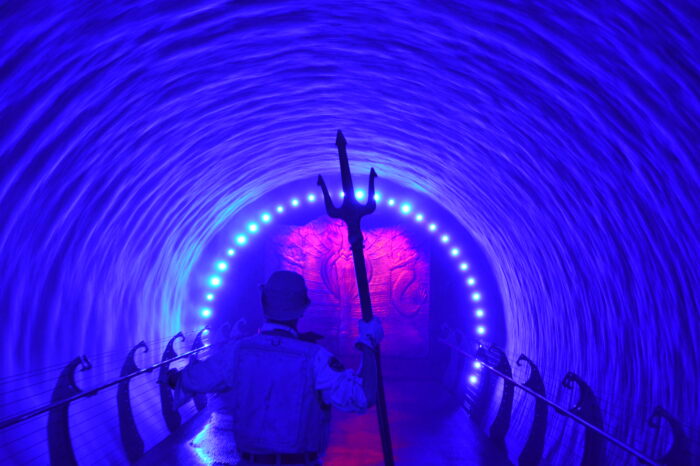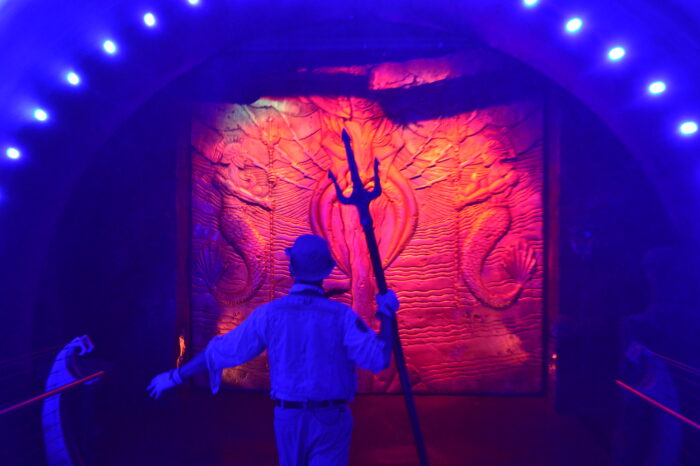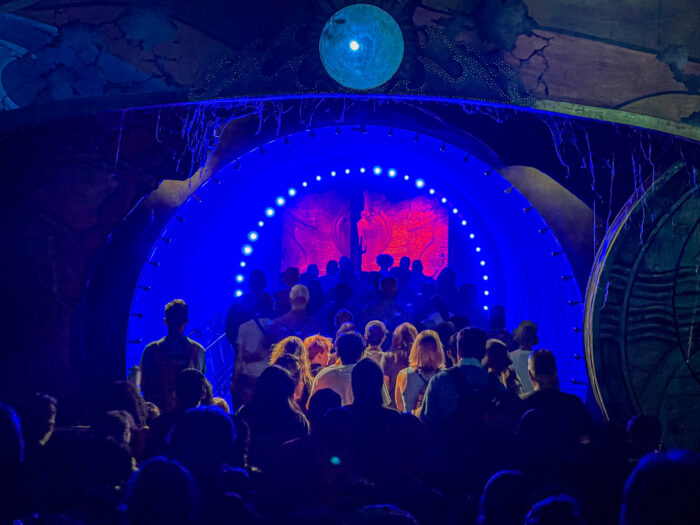 # 2 – The Cheese
Our last room is truly next level bananas, as playing out on large water screens is a battle between Poseidon himself and the villain of our story, Lord Darkenon.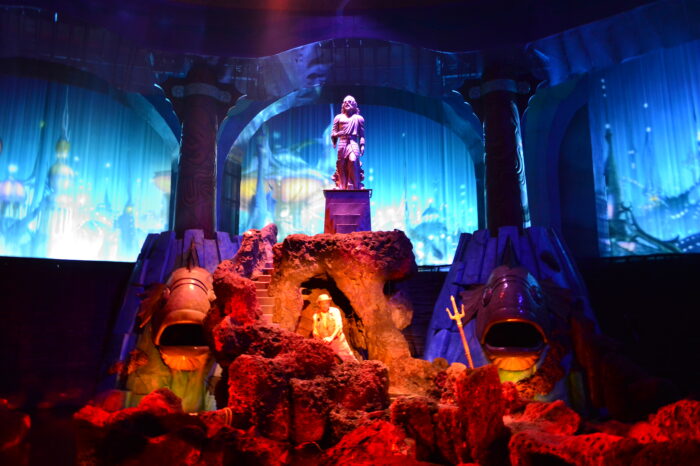 I'm not sure if the battle was intended to be campy, but it comes across incredibly cheesy at times, with the costuming looking like Saturday Night Live when they want to make fun of superheroes but don't use the actual Marvel or DC characters and create their own.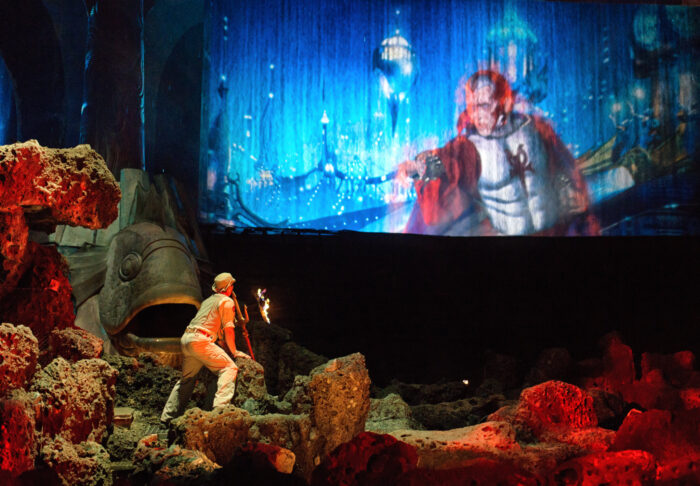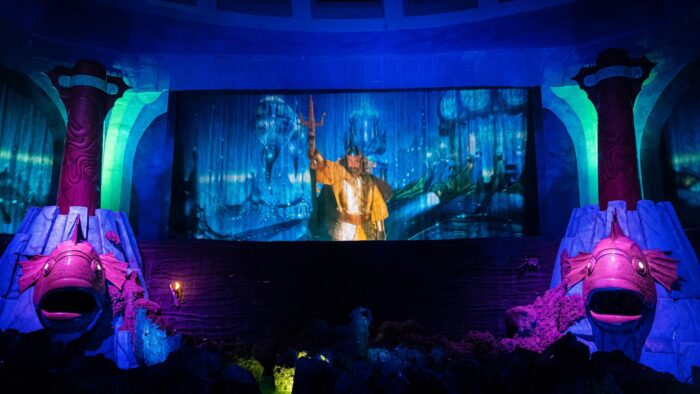 There are a lot of neat special effects used in the final battle. Say what you will, but it was unique and there's nothing to compare it to (and to be fair, there's probably a reason Universal didn't make another attraction like this again.)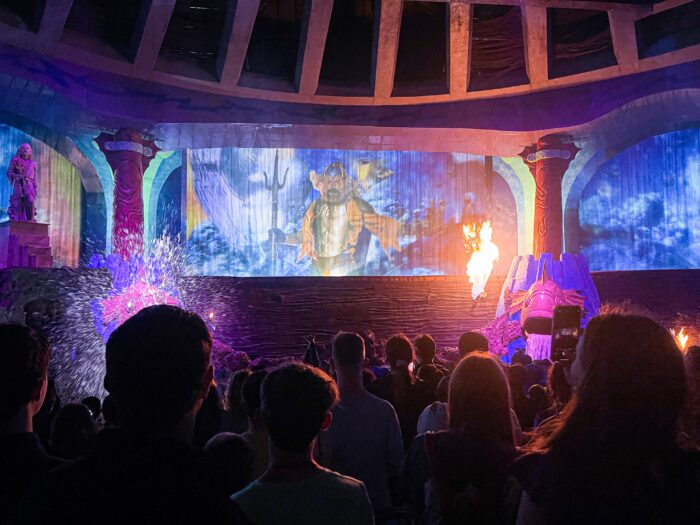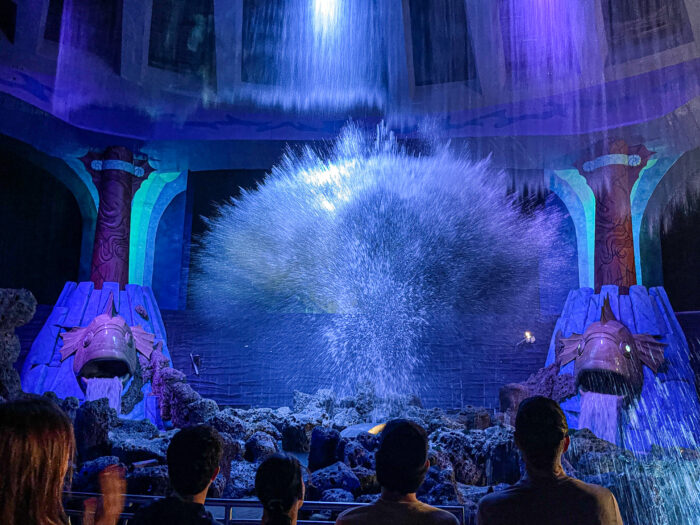 While I personally would consider Poseidon's Fury at the top of my list of the most underrated attractions at Universal, I can see why some would rate it poorly. In fact, Poseidon's Fury was consistently ranked in the bottom of Universal Orlando attractions by TouringPlans readers. I get it. It isn't until the water tunnel reveal and the last act before the show gets really good. The whole experience is a relatively passive one, especially for modern audiences. The camp factor is also very high. Let's face it, you're watching an epic battle between good and evil in which one of the characters is named Lord Darkenon (which personally gives me "Darth Helmet" vibes from Spaceballs.) All that said, most likely we'll never be getting something like Poseidon's Fury in the theme parks again. Like when IllumiNations: Reflections of Earth left EPCOT, the replacements are surely all going to be based on some sort of IP. To me that's a shame, because the theme park designers of tomorrow need to be inspired, and nothing gets the creative juices flowing more than original work.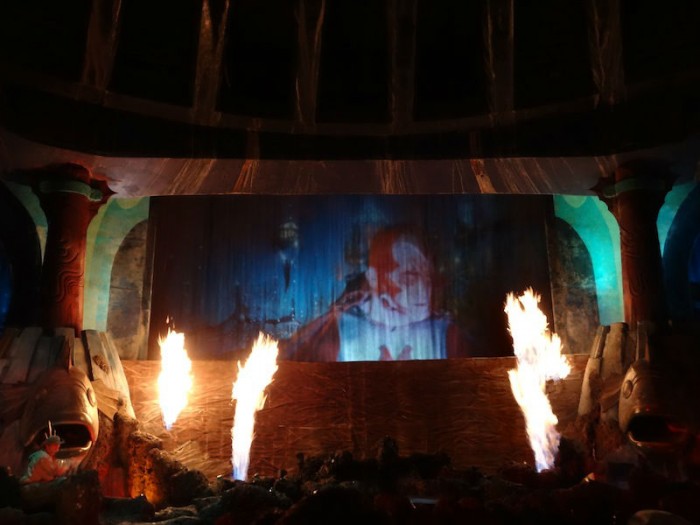 # 1 – "Rumors and Innuendo" For What's Next…
The Lost Continent area of Islands of Adventure already lost a good part of its real estate over a decade ago with the creation of the Wizarding World of Harry Potter – Hogsmeade Village. During that time, the Lost Continent lost its signature attraction, Dueling Dragons. Back in 2018, the Eighth Voyage of Sindbad  – the land's elaborate stage show – was shuttered and never replaced.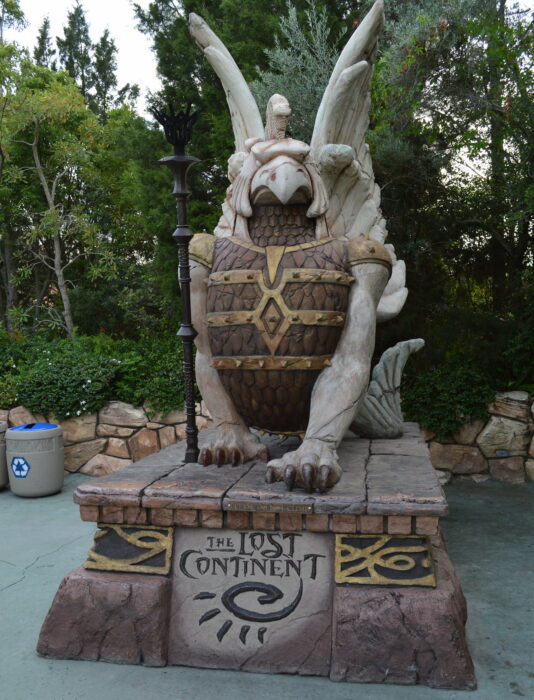 For now, the land is being held together by Mythos Restaurant (one of the best sit-down eateries in any theme park)…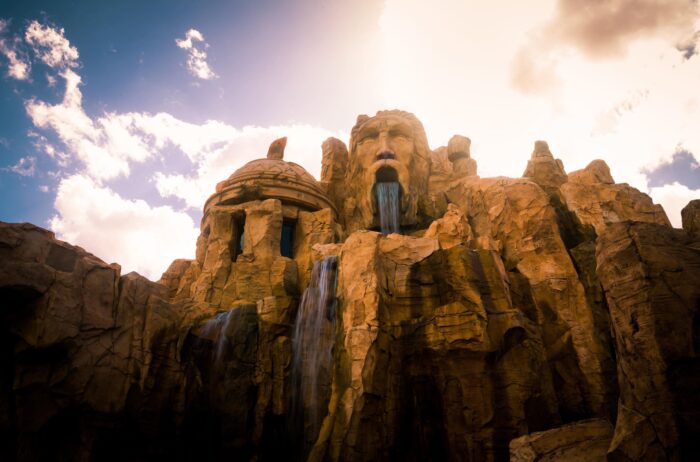 …and the Mystic Fountain. For those who don't know, the Mystic Fountain sits outside the former home of the Eighth Voyage of Sindbad and has some really fun interactions with guests.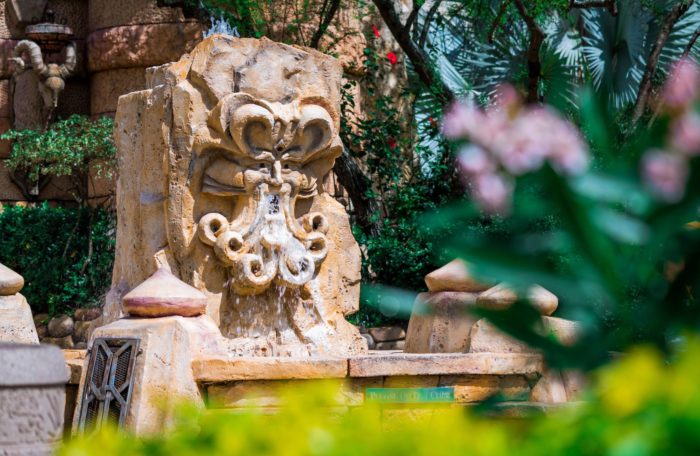 Elsewhere in the land you'll find a gift shop which – like the Red Coconut Club in CityWalk – has been getting several transformations throughout the year.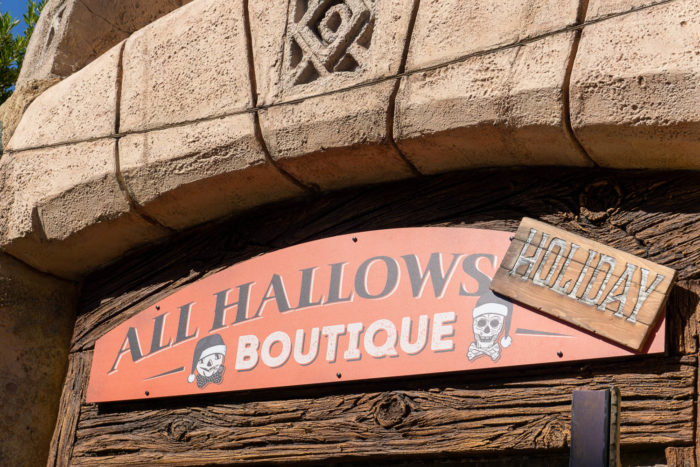 Aside from Mythos there are two wonderful Quick Service locations in Lost Continent including Doc Sugrue's Delicious Kebabs…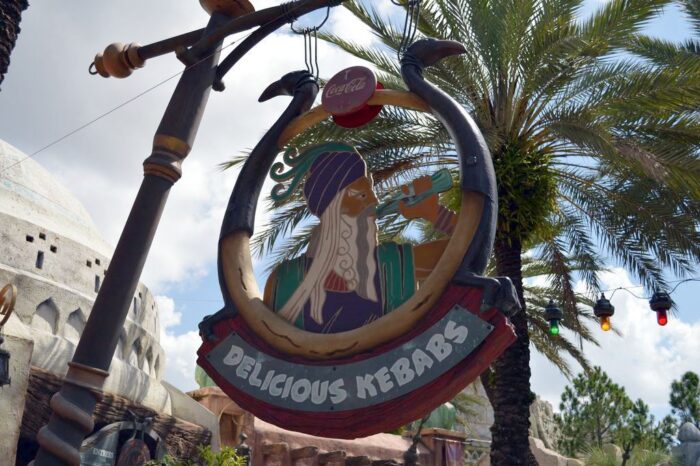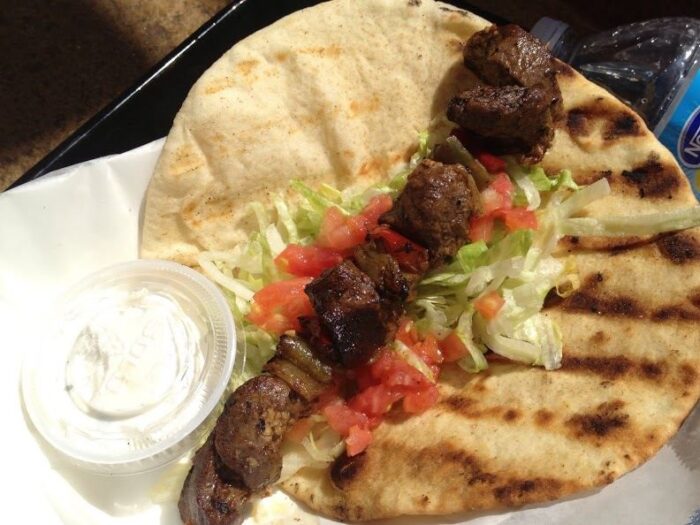 ..and Fire Eater's Grill, home of the iconic fiery chicken Stingers.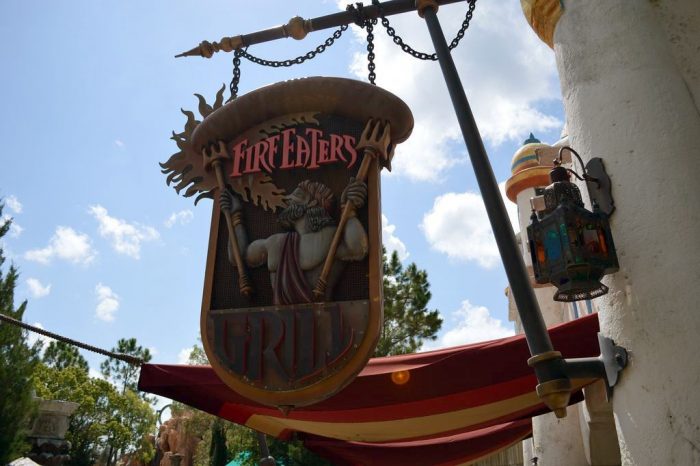 There are several open-air shops in Lost Continent, all offering items wildly different than your normal t-shirts and keychains you find in standard theme park gift shops.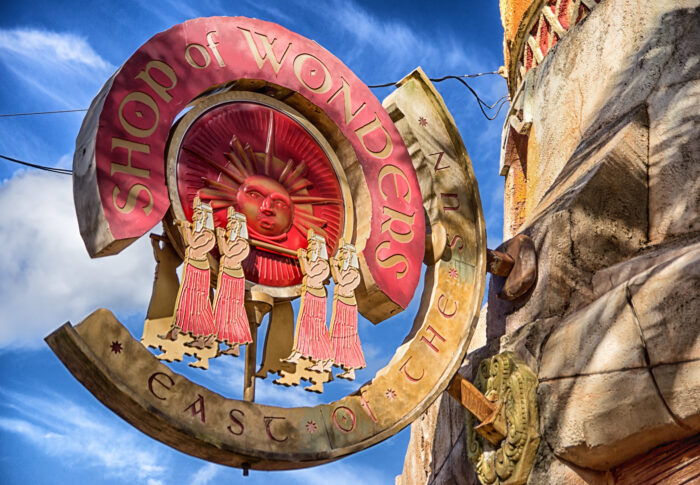 Goodnight, Sweet Prince…
One bit of brightness to this sad story is that we got a fun piece of "going away forever" merchandise in the form an attraction t-shirt you could buy at the gift shop located directly in front of Poseidon's Fury.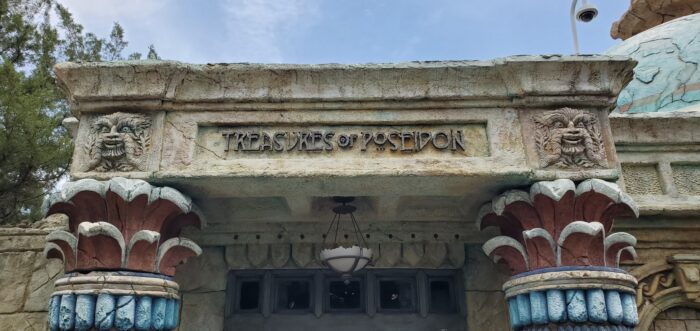 Similar to the whimsical shirt Universal made for the closing of Shrek 4-D, this shirt gives Poseidon's Fury fans at least some small sense of closure.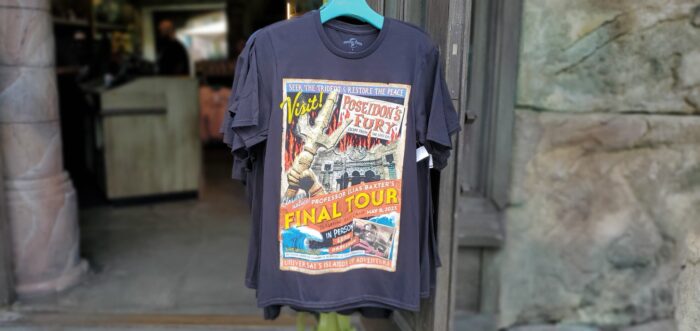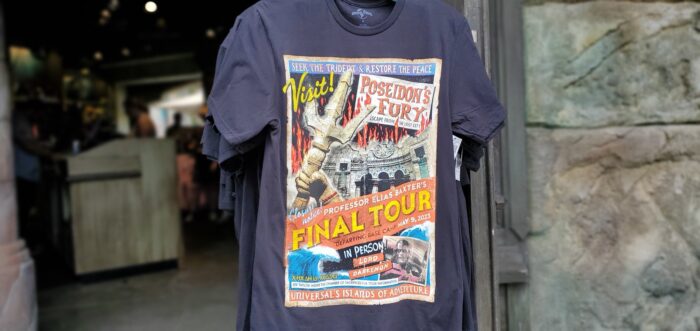 What does the future hold for Lost Continent? We're not sure right now, but if I were a betting man, I'd say that the Wizarding World of Harry Potter would keep extending itself over. However, with the MASSIVE success of the Super Mario Bros. movie and the overwhelming popularity of Super Nintendo World at Universal Studios Hollywood and Japan, you'd have to think they'd want a Nintendo presence in every park they have as soon as possible. The Lost Continent is already perfect for something like the Legend of Zelda.
So there you have it: The SATURDAY SIX Says Goodbye to Poseidon's Fury! See you next weekend for the latest installment of the SATURDAY SIX, where we'll look at something fun from the world of Disney and Universal. If you enjoyed yourself, be sure to check out the THEME PARK ENJOYMENT INDEX, giving a monthly recap of all the theme park news you need to know (and a lot more you don't need to know, but we're gonna tell you anyway). You can also follow Your Humble Author on Twitter (@derekburgan).
If you enjoyed this article, you will surely like the following: 
SATURDAY SIX Presents: The Disney Merchandise Hall of Shame
SATURDAY SIX Presents: The Disney Signage Hall of Shame
SATURDAY SIX Presents: The Disney Food Hall of Shame
SATURDAY SIX: Tribute to Josh easyWDW
SATURDAY SIX: Tribute to Ian Barritt
Special Thanks to The Elite Brandon Glover, Digital Maestro Scott Walker, the bio-est of all reconstructs @bioreconstruct, Captain Cruiseline Scott Sanders of the world famous Disney Cruise Line Blog, my personal protege Hunter "Elvey" Underwood, artist @SonderQuest, the mighty maven of merchandise Hedgehog's Corner, the SAT SIX Fun Squad of Parkscope Joe and "the Dadalorian" Nick, hot shot Michael Carelli, charter member of the Universal Four @Nitro230, the permit princess Alicia Stella, master cartographer Tommy Hawkins, and Hermione Granger's tutor Megan Stump for their invaluable assistance with this article. Absolutely no help was added by SeaWorld Influencer @SuperWeenieHtJr. The SAT SIX is inspired each week by goofballs Aengus Mackenzie and LitemAndHyde and you Potterheads will  enjoy Meg's other blog work over at the Central Florida Slug Club.