Getting to Know Universal – Universal's Endless Summer Resort
Inspired by the globe-hopping surfing documentary The Endless Summer, Universal's Endless Summer Resort – Surfside and Dockside Inn and Suites offers California beach vibes with value minded pricing. In this article find out why Touring Plans readers rate it the #1 value resort at Disney or Universal and if it is an excellent choice for your next trip.
Overview
Guest Rating: ★★★★
Touring Plans Rating: ★★★ 1/2
Level: Value
Price Range: Standard Rooms $91 – $249; 2-Room Suites $136 – $309
Number of Rooms: 2800 (Surfside 750, Dockside 2050)
Theme: California's beaches, piers, and surfing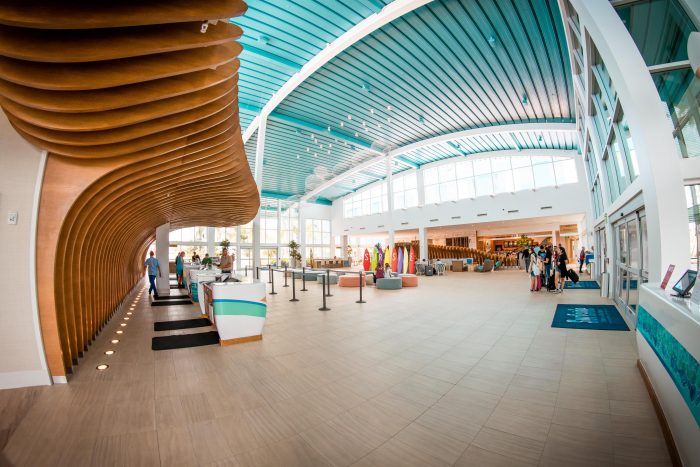 Theme & Layout
Endless Summer Resort is comprised of two separate hotel complexes, Surfside and Dockside, each with its own food courts, pools, and bus stops. Endless Summer Surfside, nestled between Universal Blvd and I-Drive, evokes the feeling of a late-morning beach visit where the sun is bright and the waves are good. The resort's main color pallet is white and shades of blue, with artwork and designs evoking waves and surfboards.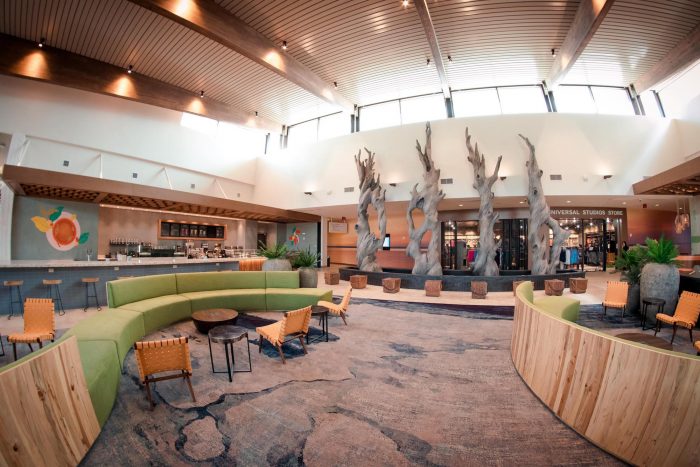 Dockside evokes evenings at the pier. Large driftwood sculptures are the backdrop for the lobby, which appears to be perpetually bathed in golden hour sunlight. Dockside is located across Universal Boulevard from Surfside. Each resort's furnishings are eclectic and colorful, highlighting the main theme of motion.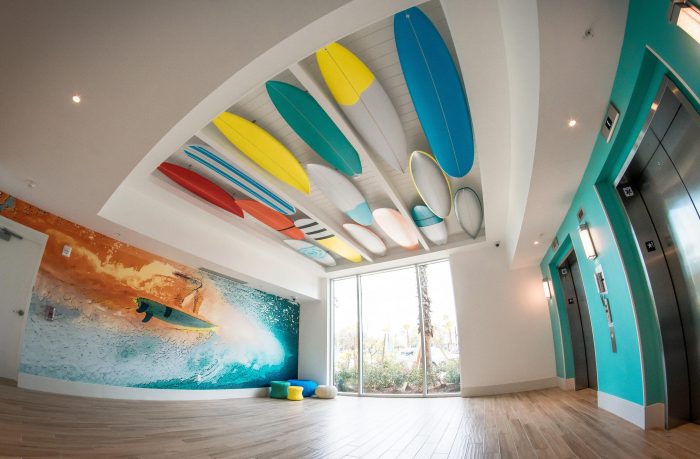 Accents are colorful, lobby and room designs are modern, and the resort is full of charming touches. Surfside features wave-inspired designs in the furniture, sea-inspired paint, and surfboards are used as ceiling decor. Dockside highlights the yellows and golds of a sunset, with the bright yellow lobby bar featuring suspended VW Bus headlights as lamps and vivid orange paintings above the beds in the room.
Finally, Universal's value hotels feature interior room entry.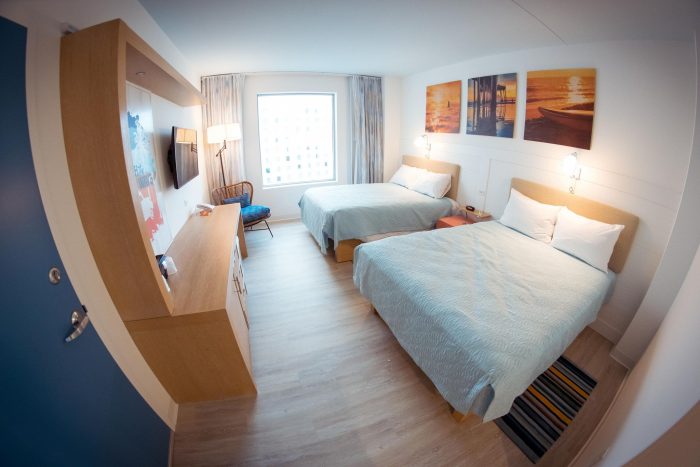 Rooms
Endless Summer's room interiors are chic but modern with wooden floors and a large entertainment unit. While the walls are white there are paintings above the beds, colorful rugs, and a fun mural adjacent to the TV.
There are two room types at Endless Summer:
Standard Room – 313 square feet, one room, with two queen beds. Amenities include a 55″ LCD TV, mini-fridge, three shelves, under-bed storage, closet, and separate vanity and bath area. The hair dryer is one of the weaker wall-mounted units.
2-Room Suite – 440 square feet, two rooms, with three queen beds. Includes all the room amenities from the standard room plus a small kitchenette area (microwave, coffee maker, sink, table, and benches) and a second room for another bed and 50″ TV.
The standard room is a comfortable size for four people and is roughly the size of a Disney moderate resort. Endless Summer's suites are snugger than Art of Animation's 565 square feet rooms, making the suggested six guests a tight fit, but very comfortable for four.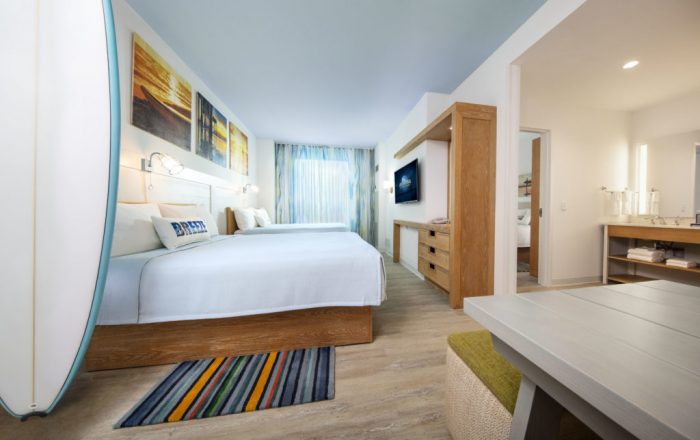 Room textiles are thinner and stiffer than we expect from a room. Thankfully Universal seemed to have gotten the same feedback as Dockside opened with new, softer towels. Surfside is slowly following suit. The beds are on the stiffer side but comparable to Disney's value resort beds. Toiletries include body wash, hand soap, lotion, conditioner, and disposable cups.
We love the in-room TV and wifi at Endless Summer. TVs are all 1080p high definition with HD content. The user interface is fast and has powerful options like video-on-demand movies and television shows, digital video recording capabilities, and digital room check-out capabilities. WiFi is stable and fast with the option to upgrade per day to higher speeds for video calls like Zoom. Plus there are many power outlets, including some for USB-C charging.
Not everything is smooth sailing, wall-thinness and noise is a common complaint with the resort. We suggest requesting a room on a higher floor and away from elevators for less noise. Storage is another issue we run into, the room only has three medium-sized drawers and one closet. There will be fighting for space for larger parties during longer stays. Finally, Dockside's food court and bar can get very crowded during meal times.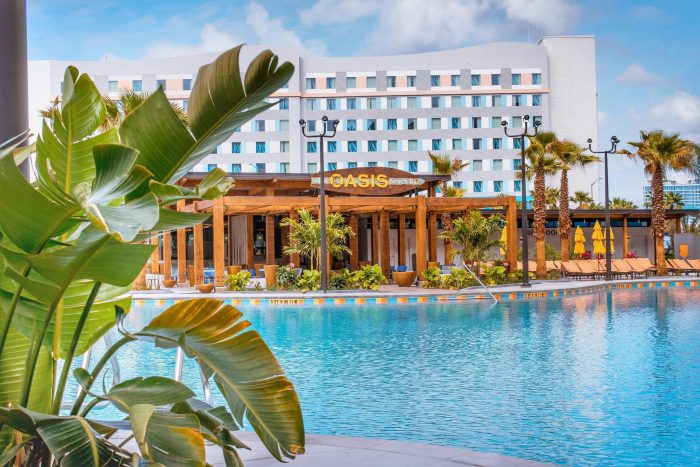 Amenities
These resorts might be priced like a motel but it features a full resort's worth of amenities. Each resort features an on-site food court open for breakfast through dinner with late-night pizza room delivery. Pools and pool bars are located behind your hotel room keycard – the pools are only 48 inches deep but include a lip to sit at and lifeguards The pool bars have a full liquor bar plus draft beer, canned beer, wine, soft drinks, and water. Chair delivery is available at select times of the year, check for a tag on your chair for more information.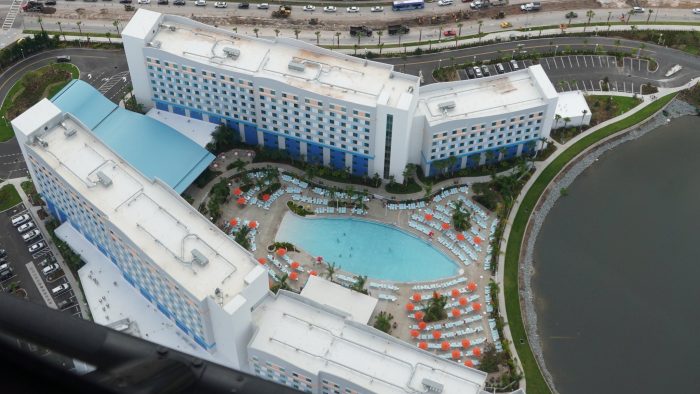 At the Universal Studios Store, you will find everything from a wizarding wand to deodorant (its own magical spell in Orlando). The store is a good option for last-minute souvenirs, toiletries, and hotel-specific merchandise. Off the lobby is a full Starbucks with, yes, cold brew on tap. Thank god. If the weather has you down then check out the arcade filled with modern games and gym rats can work out in the modern fitness center.
Complimentary Universal's Express Pass is not included with a stay at Endless Summer. Also, you cannot pool hop to other resorts. Sorry. But the same Early Park Admission, continuous bus transportation to the parks, package delivery to the hotel, and resort-wide keycard charging privileges still apply.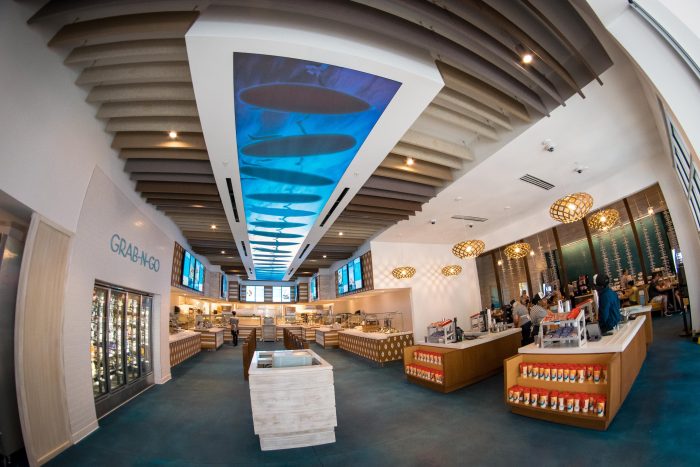 Food & Drink
Endless Summer's food court offerings, the Beach Break Cafe at Surfside, and Pier 8 at Dockside offer counter service and grab-and-go food options. Each features burgers, sandwiches, pizzas, and salads with a particular focus found at each. Adults needing a break can purchase beer and wine, but bring an accepted ID.
Surfside focuses more on lighter, fish-focused items while Dockside's signature dish is fried chicken and waffles (a bucket that can be ordered to your room). The pizzas are surprisingly good, especially when you compare them to the foam insulation found at Disney. The burger we ordered was disappointing, the buns and toppings were fresh but the beef patty itself was limp and tasteless. The hit between the two menus is the fried chicken and waffles at Dockside, it is delicious.
The pool bars and Dockside's Sunset Lounge beer on draft, mixed cocktails, bottled beers and seltzers, and wine. The mixed drinks at the resort are modern takes on vacation classics like vodka lemonade or margarita. Beer aficionados will enjoy the resort's exclusive beers and the large tap selections.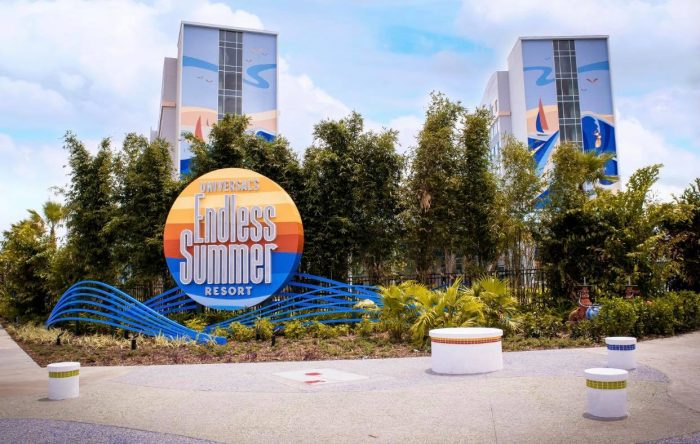 Impressions & Thoughts
Endless Summer is our reader's highest-rated value hotel in Orlando and it is easy to see why. The value for amenities is fantastic plus the resort undercuts most of the nearby I-Drive competition. A sub-$100 standard room that includes constant theme park transportation makes Endless Summer the best hotel for theme park warriors. Guests wanting more out of their resorts would be happier elsewhere – Cabana Bay has more resort entertainment and Sapphire Falls upgrades the room quality.

What are your thoughts on Endless Summer? Love the resort? Would you recommend it to friends? Leave your thoughts in the comments below!