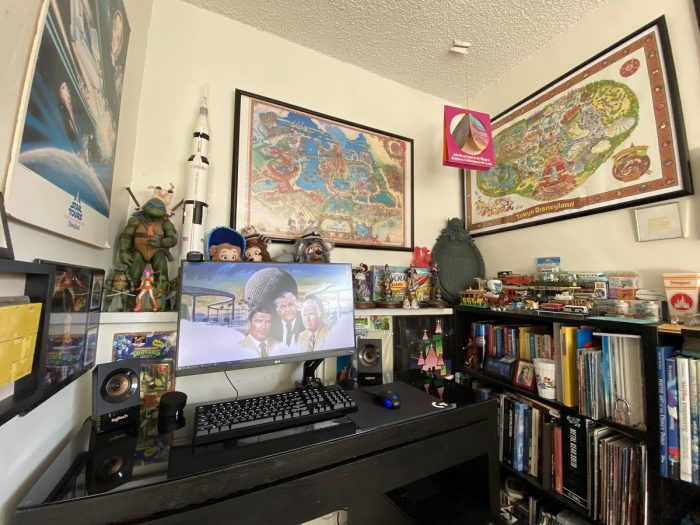 Inspired by my colleague Erin showing her Disney-fied home office, here's mine! My house has Disney stuff all over, including framed Disney theme park vinyl records in the kitchen, and Disneyland attraction posters in the living room. But most of my Disney items are concentrated in my office, which is where I spend my days working for TouringPlans. Lets start the tour.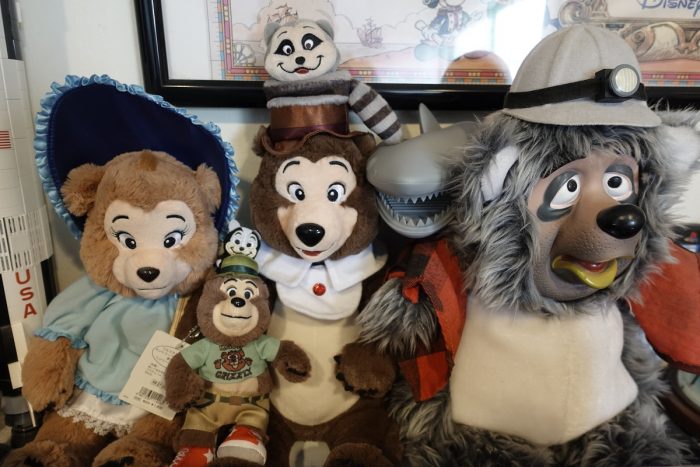 Peeking over my monitor at me all day as I work are these Country Bear Jamboree plushies. From left to right we have one of the Sun Bonnets, Henry in his Country Bear Vacation outfit, a bigger Henry & Sammy, and finally Big Al (also in his Vacation gear). Nessled between Henry and Al is a Jaws "chomp mitten" from Universal Studios Japan, which they used to see so people could eat turkey legs and hot dogs without getting their hands dirty. Anyway, this represents a very small portion of my plush Country Bear Jamboree collection. At this point Tokyo Disneyland has sold a couple dozen plush versions of the bears and I'm low-key ashamed to say I've bought all of them. During the Christmas season my tree is covered in Country Bears. Can you tell Country Bears is my favorite Disney attraction?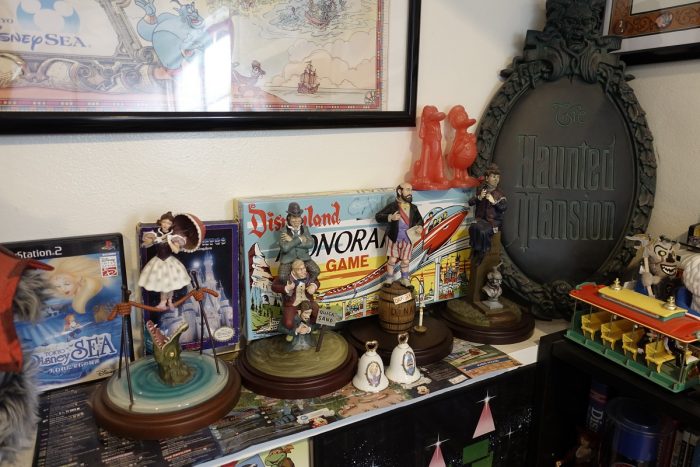 Next to the bears are statues of the Haunted Mansion stretching room portraits, a Haunted Mansion sign, a vintage Disneyland Monorail board game, Pluto and Donald Disneyland Mold-A-Rama figures, Adventures in the Magic Kingdom NES game, and Tokyo DisneySea PS2 game.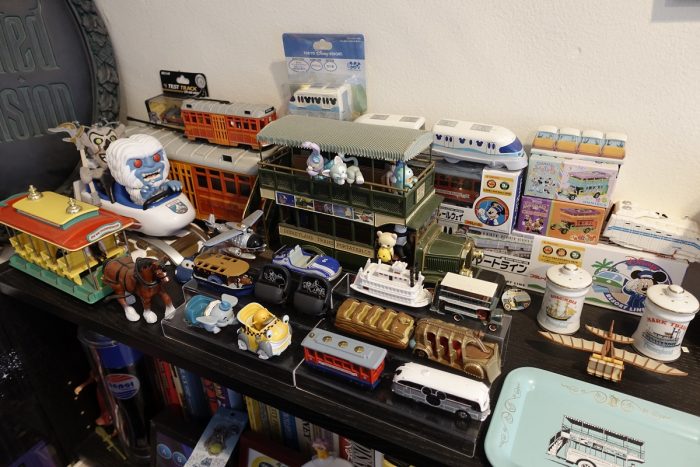 Next up is the ride vehicle shelf. I've always been obsessed with Disney theme park ride vehicles and luckily there's been plenty of merchandise made of them over the years.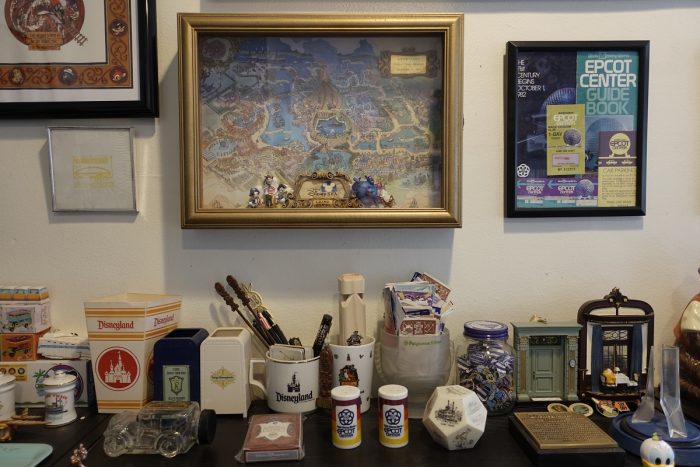 To the right is various glassware (a 60s Disneyland mug, 70s Polynesian Village mug, EPCOT Center salt and paper shakers) and other knickknacks. That Tokyo DisneySea shadowbox in the center of the screen was a gift given to the design team of the park and has a former Imagineer's name inscribed. The popcorn cup in the lower right is from Disneyland in the early 80s and is one of many food-related pieces of ephemera in my collection.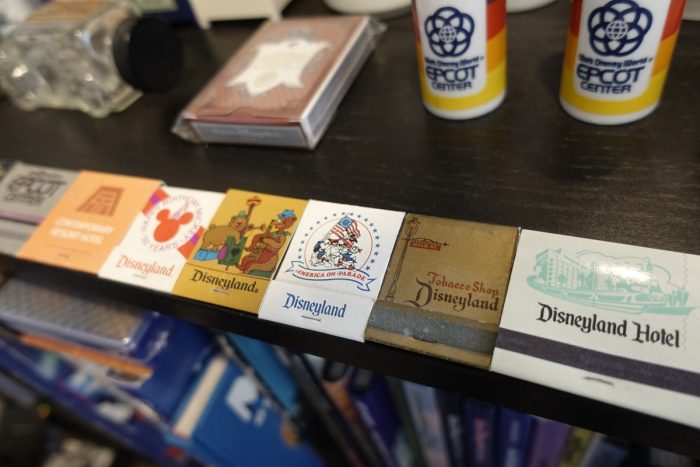 Disney matchbooks. Can you believe there used to be a tobacco shop on Main Street?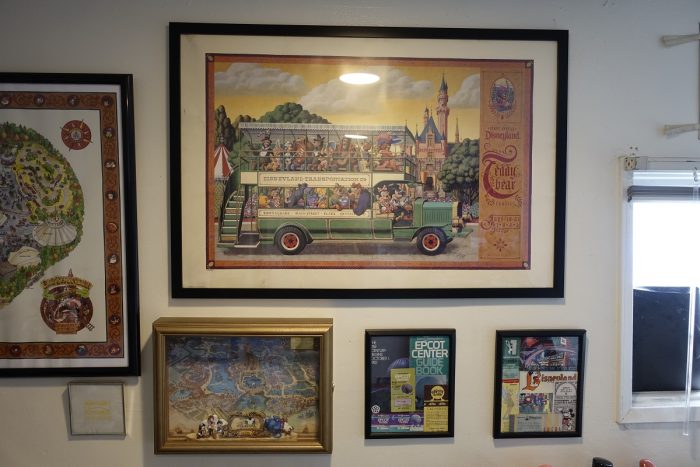 I have to point out the print of all the various Disney bears on the Omnibus. Notice all the Country Bears crammed in to the top. My favorite show and ride combined. Wow!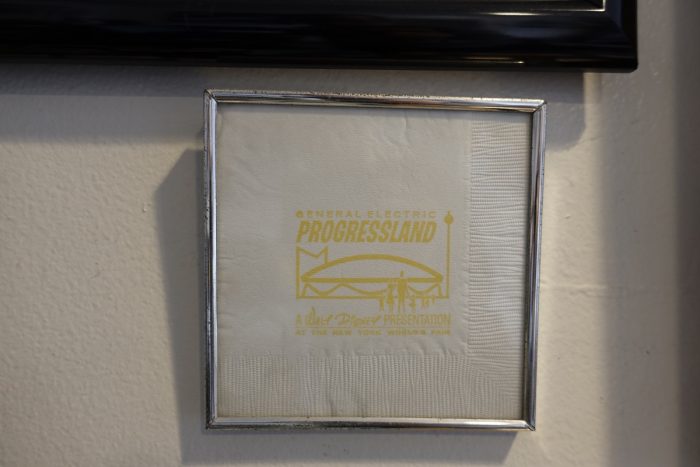 More ancient theme park related junk: this framed napkin from Progressland (aka the Carousel of Progress) from the 1964 World's Fair.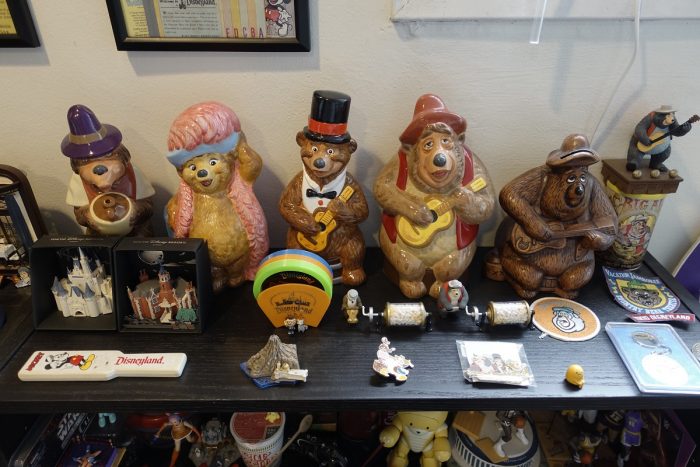 To the right is yet another shelf with mostly Country Bear items. There's also a collapsible Disneyland brush I got when I was a kid, Disneyland coasters from the 70s, and Cinderella Castle and Haunted Mansion paper craft.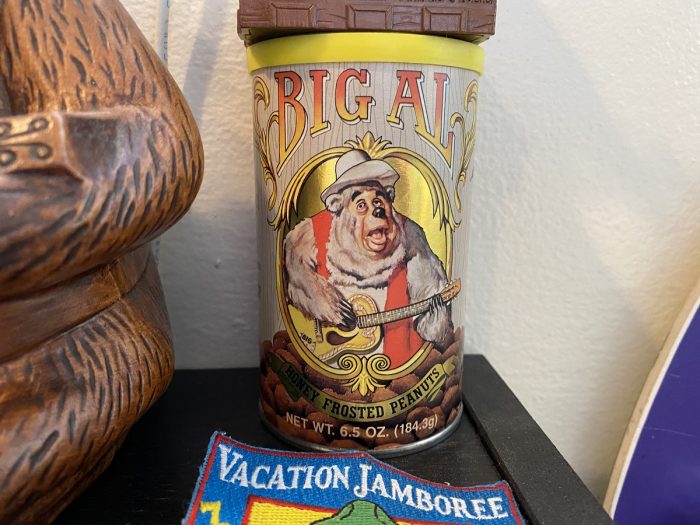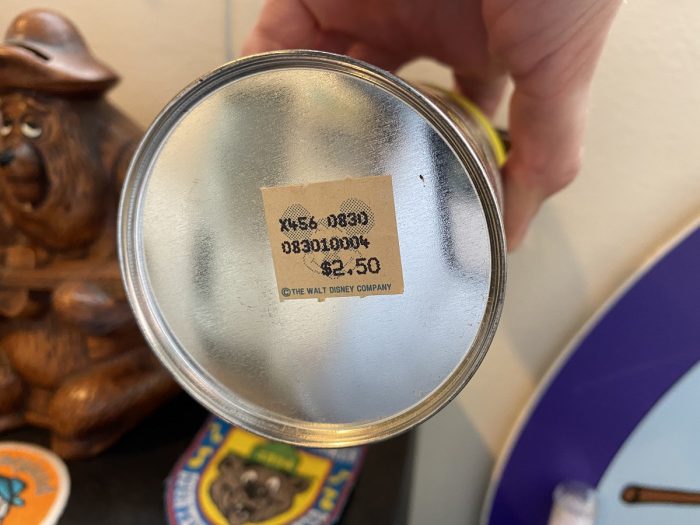 One of the highlights of my collection is this sealed container of Big Al Honey Frosted Peanuts, which still has the original price tag on the bottom. If Disney still made these I would eat a can every day.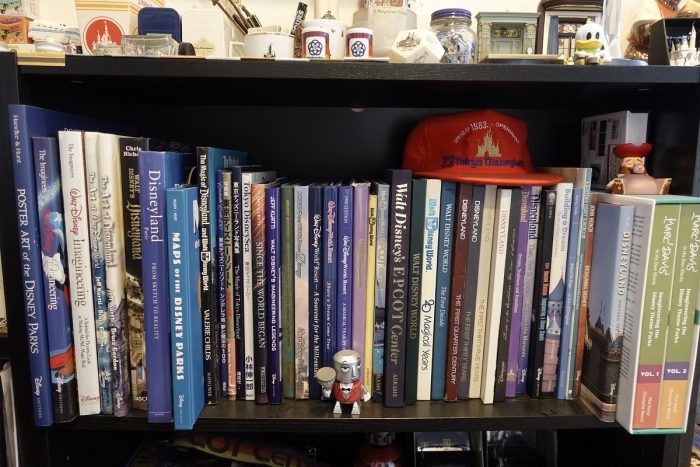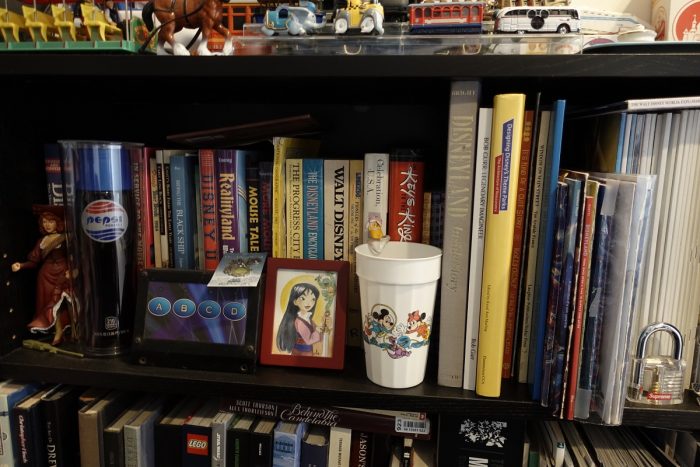 I also have a decent selection of Disney books, including some favorites like Walt Disney Imagineering, Disneyland Paris From Sketch to Reality, Building a Dream, and Marc Davis In His Own Words. In the second photo you can see a button panel from the old Who Wants to Be a Millionaire – Play It! attraction at Disney's Hollywood Studios and Disney's California Adventure.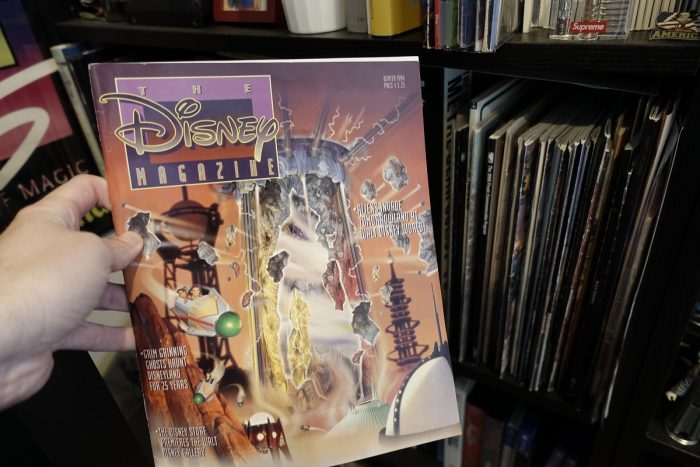 Here are a bunch of issues of The Disney Magazine (aka The Disney News Magazine). I can't emphasis enough how big of a part of my childhood these magazines were. I would eagerly await each issue and then read every page from top to bottom a dozen times. Before the internet, fan blogs, and YouTube this was the way Disney theme park obsessed people got their news on the parks. It's also how they got to see pictures from parks on the opposite side of the country or world.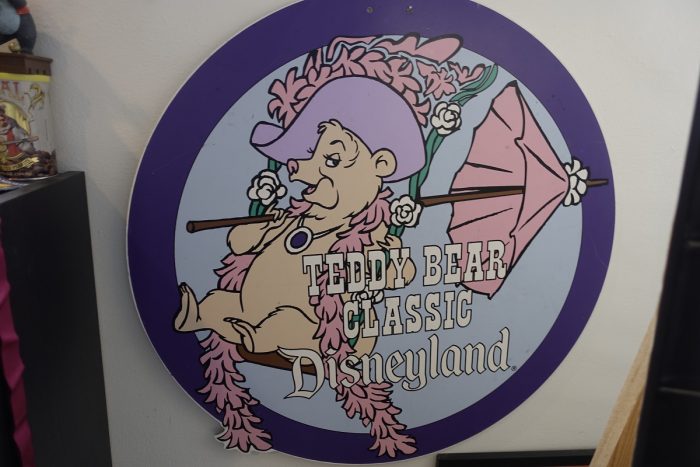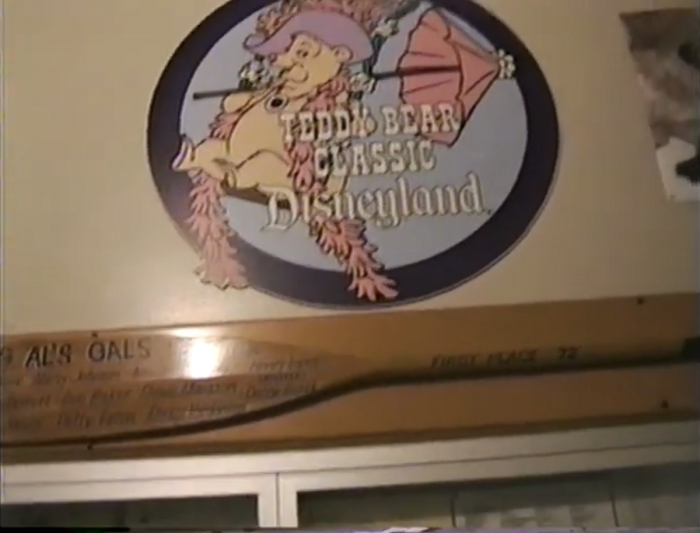 I'll wrap this up with this Teddi Barra sign that hung backstage at Disneyland's Country Bear Jamboree (as seen in this video from MouseSteps).
What do you think of my Disney office? Let me know about your Disney collections in the comments below.