Fun Disney Stuff!: Erin's Home Office
There is no Disney decor scattered around my house and I rarely wear Disney-themed clothing when not in the parks. But there is one area of my world that is completely devoted to Disney – my tiny home office on the attic level of my house.
This is where the magic happens. It's my sanctum sanctorum, my she shed, my evil lair … you get the idea. No one else in my family ever enters. But YOU now get a tour.
The room itself is about 8 feet by 10 feet and not completely at right angles (the house is over 100 years old and has shifted a bit). The wonky panorama below shows three and a half of the four walls.

Let's start by the window. This bookshelf contains most of my books about Disney history and general tourism. In a previous life, I was a librarian. (I have degrees in Library and Information Science and Media Studies.) It kills me that these books are not better organized by subject/author, but there simply isn't room to do that in my tiny space. Mostly the books are shelved where they fit.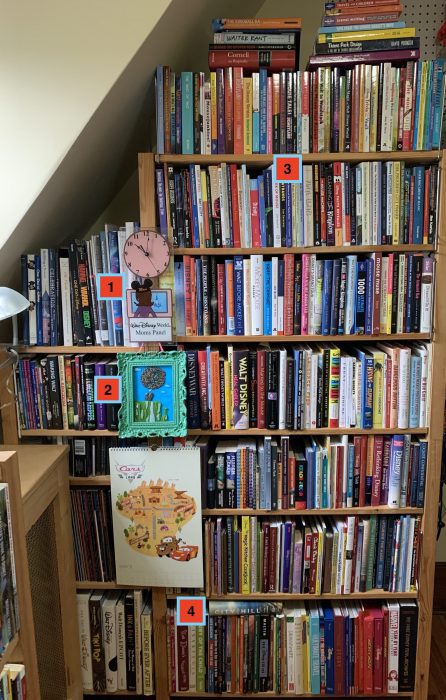 A few highlights:
Many of you know that I got my start writing about Disney when I was selected to be in the inaugural class of the Disney Parks Moms Panel (2008). This clock was a thank-you gift from Disney to the panelists several years ago. Many of the panelists have become dear friends. With well over a hundred women and men having served on the Panel, it's almost inevitable now that someone I know will be at Disney World at all times. They're often very kind and will do a quick research check for me if I need info on something that's happening in the parks.
This lovely glass rendition of a scene from the film Up was handmade by fellow Moms Panelist Lynette. Her home is AMAZING; it looks just like the house in the film.
The first scholarly Disney-related book (as opposed to a travel guide) that I remember buying is this one, Vinyl Leaves by Stephen M. Fjellman. I still flip through it occasionally and still find it fascinating.
The most recent book scholarly book I purchased with a Disney angle is this City on Hill by Alex Krieger. There is a chapter about Epcot and a chapter that discussed Celebration, Florida. Alex is a professor of design and architecture at Harvard and, full disclosure, he's my brother-in-law's brother.
The side of this bookcase holds lanyards and medals from Disney-related and other events. There are many layers of lanyards, built up over the years. Some that you can see are: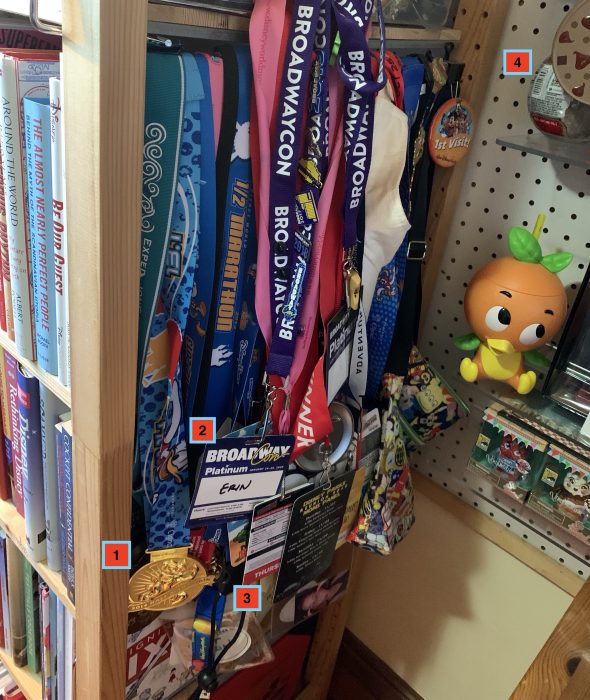 2014 WDW Half Marathon medal. I ran the half marathon three times. Such a great event! I think I'm unlikely to do it again because my knees are old, but I LOVE cheering for the runners too and am looking forward to doing that in the future.
My love for Disney is only matched by my love for theater. I live about 20 miles from New York City and when I'm not in Florida or on a Disney Cruise Line ship, I typically go into the City twice a week for a Broadway show or some other live theatrical performance. Not surprisingly, theater in New York is shut down for the foreseeable future and many shows are closing prematurely which makes me unspeakably sad. This lanyard is from BroadwayCon, an annual celebration of all things NY theater. I've seen the stars of many Disney shows sing or speak at BroadwayCon.
I have also attended NYC ComicCon during each of the past seven years. There is always lots of awesome Disney cosplay and plenty of programming related to Star Wars and Marvel. Disney Publishing has a booth every year too.
Oh hi there, overpriced thermal detonator soda bottle.
Next comes the big, big wall of collectibles and Vinylmation. This is about half of my Vinyls; the rest are in storage. Don't judge. Wait, on second thought you can judge. I absolutely deserve it.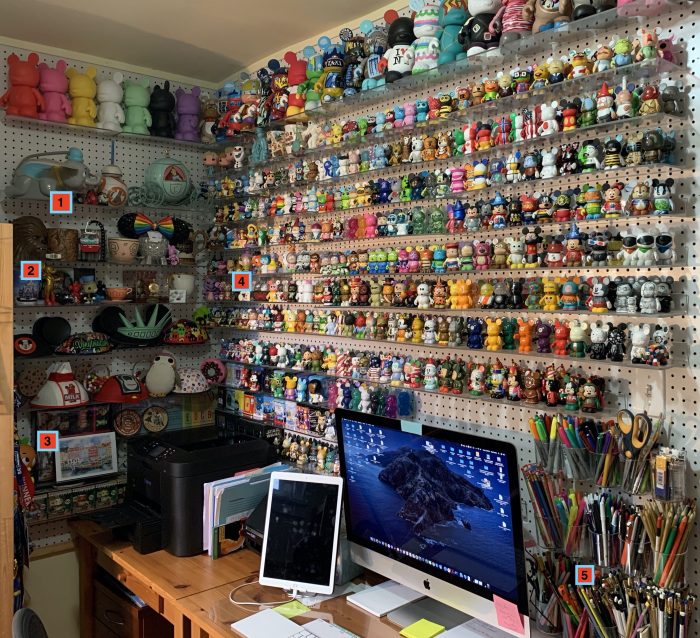 Popcorn buckets and color changing droids.
My hall-of-fame all time worst Disney souvenir purchase is this plastic Meet & Greet Mickey that has featured prominently in many of Derek Burgan's outlet reports. This is the ugliest of the color variations of this item. 2013 me purchased this unironically. 2013 me was the WORST.
This is a print depicting the Nyhavn area of Copenhagen. My has family visited Copenhagen twice as the starting point for Disney Cruise Line sailings in Northern Europe. One of my daughters fell in LOVE with Copenhagen when we visited and was actually living there with a college study abroad program when Coronavirus hit. She was pulled out of Denmark with less than 24 hours notice. This was the souvenir she quickly bought for me on her way home.
So many, many Vinylmations. If I had to choose a favorite, it would be this set that looks like a picnic pack of condiments (close up below). This side is salt, pepper, and honey. The reverse of the box has three more: ketchup, mustard, and mayo.
Another one of my obsessions is writing tools. My favorite are Blackwing pencils, often purchased through CW Pencil Enterprise, a jewelbox of shop in Manhattan that only sells pencils and related supplies.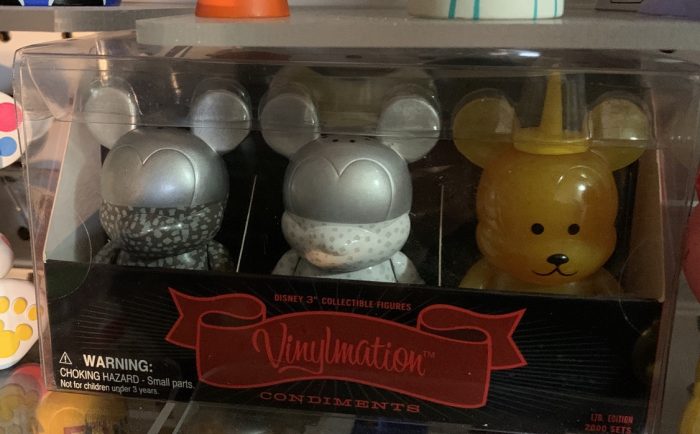 The back of the door features two posters: A map of the WDW Transportation System and a depiction all the WDW ride vehicles throughout the years. The transportation map was designed by Arthur de Wolf in 2012. I'd love to see an update with the Skyliner added. The vehicles poster was designed by Christopher Buchholz in 2014. An update of this would be welcome also. On the door knob you can see a "do not disturb" sign from Disneyland Paris and some red weavings I was given during an Adventures by Disney trip to China.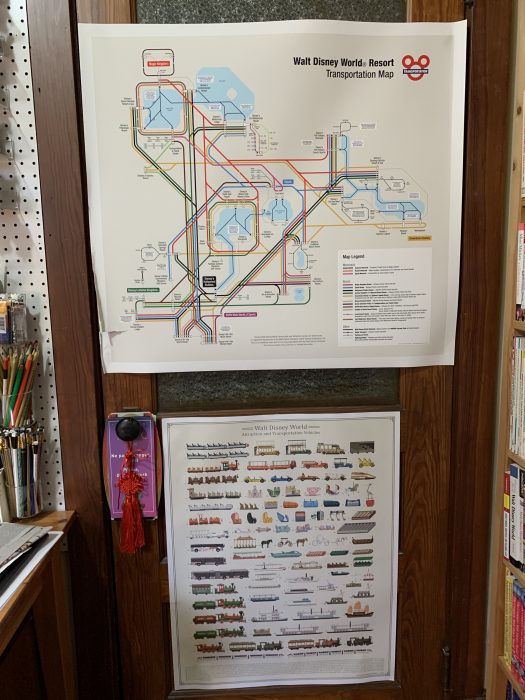 Another bookshelf holds travel guides and binders full of Disney ephemera. I have the Unofficial Guide to Walt Disney World back to 1991, well before I started writing about Disney or working for TouringPlans and the Unofficial Guide team. I have always been a fan.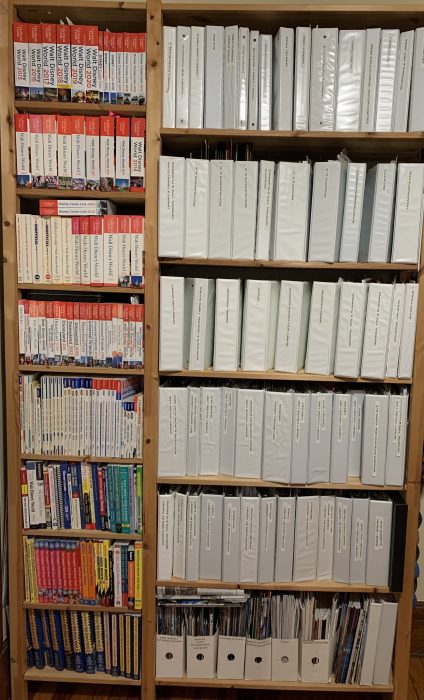 The binders include miscellaneous maps, mailings, menus, newspaper articles, and other "throwaway" items related to Disney travel, including the parks, Disney resorts, Disney Cruise Line, Adventures by Disney, Disney Vacation Club, and related topics like the Disney Family Museum, and bibliographies of other Disney resources. I started keeping everything I could find when I began my stint on the Moms Panel, but I do have some items saved from my family trips in the 1990s. Yes, theoretically I should digitize all this, but I understand my system and am able to find what I'm looking for very quickly. Having this cache of Disney info comes in handy when writing TouringPlans material several times a month.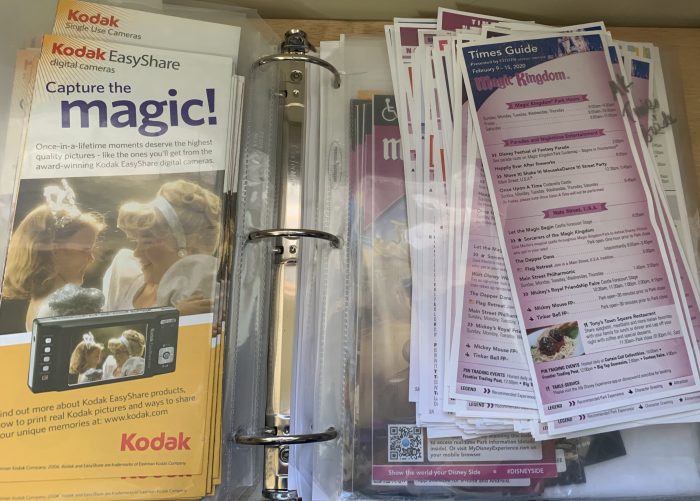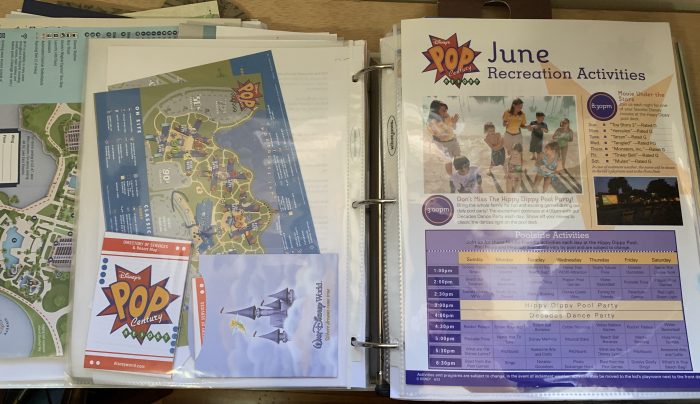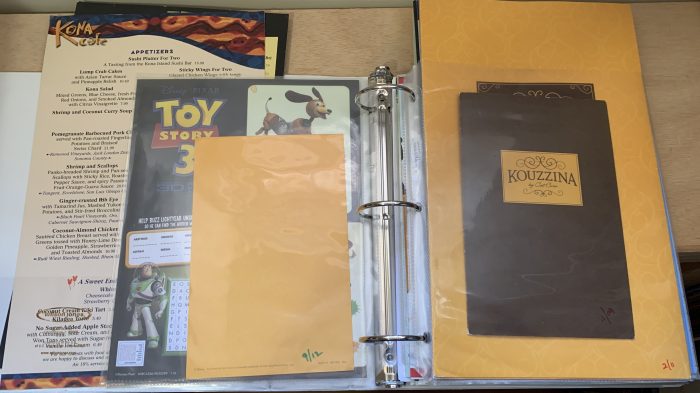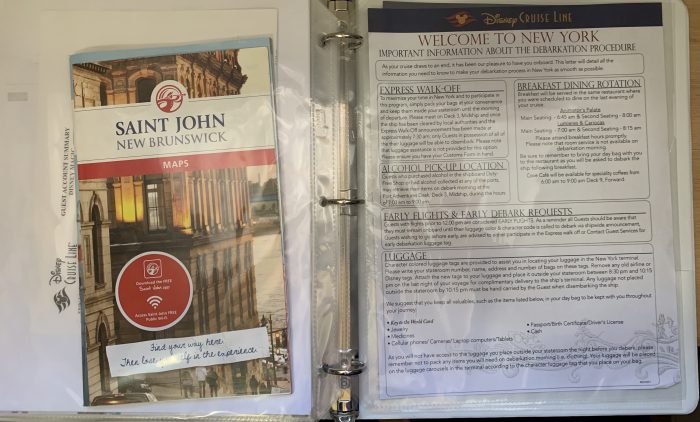 Next to the binder shelf are chains of MagicBands and several pin boards. Like the Vinylmations, most of my official Disney pins are in storage. The board shown here features mostly unofficial fan-made pins related to Disney themes (some Broadway and other miscellaneous pins are on the board below). Most of these were gifts from friends or purchased on Etsy.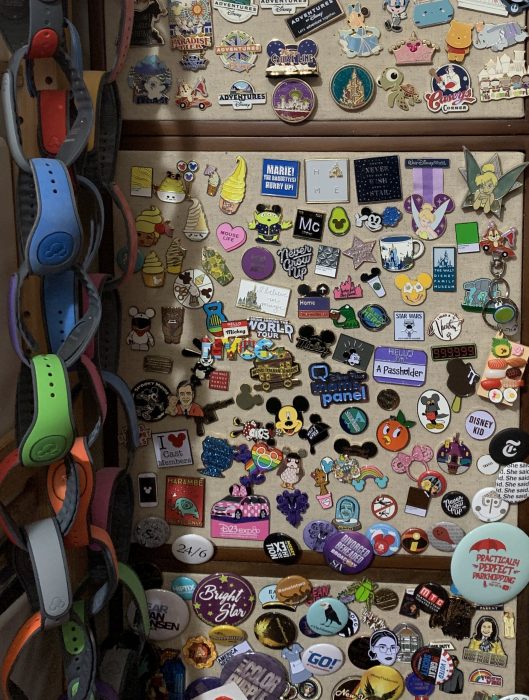 I can reach almost everything in the room from my desk chair with just an outstretched arm.
Right now, when the parks feel farther away than usual, I've found it comforting to have so many reminders of WDW close at hand.
Do you have a "Disney space" at your home or some prized collectibles? Let us know what your "Disney world" looks like in the comments.