Halloween Horror Nights Orlando 2023 Guide – Part 2: Touring
Universal Orlando's Halloween Horror Nights (HHN) is a haunted after-hours event voted the Best Halloween Event by the Golden Ticket Awards for over a decade. In this two-part series, we will cover all you need to know about HHN 32. Part 1 focuses on planning, operating hours, ticket options, discounts, and warnings. Part 2 covers touring tips of the haunted houses, scare zones, and shows.
While Mickey's Not So Scary Halloween Party at Walt Disney World focuses on family-friendly activities, Universal embraces its horror roots to create an edgy, adult-oriented event.
Touring Halloween Horror Nights
The big day is here and you are ready to get spooky. So where to first? What is there to see? How do you effectively tour the park? How are some guests already in the park? Are there any attractions open? This section will answer all of those questions and provide a touring plan for the event.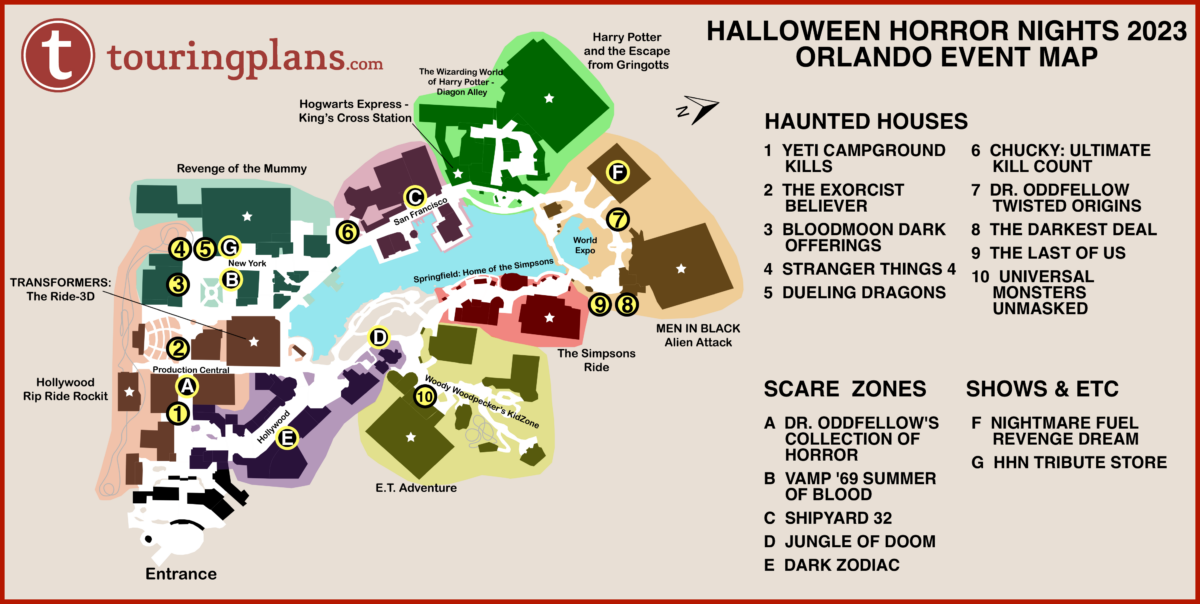 Halloween Horror Nights opens at 6:30 p.m. every night, but gates usually open 15 minutes early. We advise arriving at least 45 minutes before the official opening on weekdays and at least 90 minutes on weekends and weekdays in mid to late October.
If you are already in the park for the day or want to get a leg up on others we suggest looking into participating in Stay and Scream.
Stay and Scream
Avoid the entrance lines and get a head up on touring with Stay and Scream. It is sort of like Early Entry, here is how it works:
Have a daytime admission ticket or a Scream Early Ticket.
Be inside the park before closing at 5:00 pm.
Find the orange shirt Team Members located at Today Cafe, New York, or Central Park sections of the park.
Follow Team Member directions and scan your HHN ticket.
Wait in the holding areas after the park officially closes at 5:00 p.m.
Around 6:00 p.m. guests will be allowed into select haunted houses located in World Expo and New York.
We advise you to participate in Stay & Scream if you have a day ticket or the $40 Scream Early ticket. Most guests can experience two houses before the event officially opens. It is your best way to see all the houses at HHN without purchasing Express.
Haunted Houses

Every year Universal builds brand new, E-Ticket-level walkthrough experiences called haunted houses. Each house is based on original concepts or existing property – "originals" and "IPs" in fan parlance. These walkthroughs are grand in scale and execution, on par with or surpassing the most elaborate attractions designed by Disney or Universal. Make no mistake, these houses can be scary!
This year Universal offers ten sinister houses for guests based on popular properties and terrifying original concepts. The numbers match the map above.
Yeti Campground Kills – Bigfoots terrorize a vintage 1950s National Park campground.
The Exorcist Believer – A walk-through trailer for the upcoming film of the same name, this house promises to show what's on the other side.
Bloodmoon Dark Offerings – Colonial town turns cult as sacrifices are made to keep themselves alive.
Stranger Things 4 – New haunted house based on season four of the hit Netflix series.
Dueling Dragons – Based on an old Islands of Adventure attraction queue, this house takes guests through a battle between two warring wizards who are cursed to be dueling dragons.
Chucky: Ultimate Kill Count – The possessed doll returns with an all-new house based on his famous movies and TV series.
Dr Oddfellow's Twisted Origins – Dr. Oddfellow is Universal's latest Horror Nights Icon and this house ties the whole event together.
The Darkest Deal – Sell your soul to The Collector in a retelling of the classic Sell Your Soul for Fame legends.
The Last of Us – Based on the hit video game by Naughty Dog, The Last of Us takes place in a world where a fungus infection spread among humans and everyone is fighting for survival.
Universal Monsters Unmasked – Phantom of the Opera vs Dr. Jekyle and Mr. Hyde vs The Hunchback of Notre Dame vs The Invisible Man, all set inside the catacombs of Paris.
Haunted houses operate as a single file line through the experience, jokingly referred to as a conga line between HHN fans. Scares come in the form of starling sounds, special effects, puppetry, and scare actors, the loving term for those who are paid to scare you.
Filming and photography are not allowed in haunted houses, nor are open food, alcohol, and light-up items. Team Members are positioned inside the house for guest flow and assistance, if you need any flag them down.
Raining? Go to the event anyway, haunted houses operate rain or shine. Cary a cheap disposable poncho and umbrella for walking through the park and switch out your shoes and socks during a mid-event break. Standing water in the queues for Dr. Oddfellow and Darkest Deal might cause those to shut down during heavy rain.
Scare Zones & Shows

Universal Studios Florida's existing lands transform into spooky, startling, or bizarre new locations called scare zones. Located at the front of the park, Hollywood, New York, San Francisco, and Central Park, scare zones use fog, lighting, sound, scare actors, and special effects to startle and scare.
Dr. Oddfellow's Collection of Horror – Dr. Oddfellow lures guests in with promises of immortality, licensed characters, and original creations at this year's event.
Vamp '69 Summer of Blood – Woodstock meets vampires, a continuation of an original concept zone focused on music and pop culture references.
Dark Zodiac – Anthropomorphized zodiac signs from dimensions beyond.
Jungle of Doom – A sort of The Island of Dr. Moreau situation deep in the jungle. Lots of animal experiments and horrifying creatures.
Shipyard 32 – Old Halloween Horror Nights favorites mixed with new creature designs.
Nightmare Fuel Revenge Dream (Show) – Halloween Nightmare Fuel returns for its third year with a significant twist – now the Dreamer is the one on the revenge of his innermost demons. Expect lots of fire, scantily clad people, suggestive dancing, and magic illusions.
People watching in scare zones is an attraction in and of itself and we suggest taking some time out to enjoy the actor's skill. Grab a snack and/or drink and watch the action from benches and tables placed on the edges of the zones. Universal removes scare actors from scare zones during sustained rain or lighting, but the special effects and lighting remain operational. Scare zones close half an hour prior to event closure.
Attractions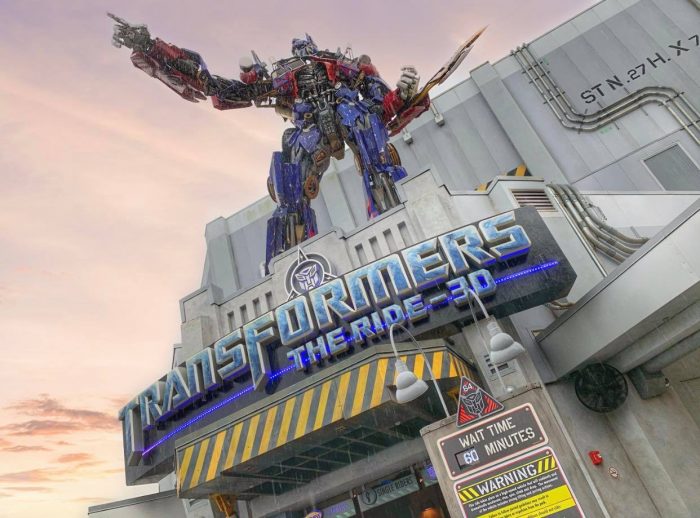 Several popular attractions are open for Halloween Horror Nights:
Hollywood Rip Ride Rockit
Transformers: The Ride 3D*
Revenge of the Mummy
Harry Potter and the Escape from Gringotts*
Men in Black: Alien Attack
The Simpsons Ride**
*Closes before the end of the event, usually 11:00 p.m.
**Open select nights
Hour-long wait times during HHN for Gringotts and Rip Ride Rockit are common, and so are long wait times for Revenge of the Mummy. We advise skipping the attractions and focusing on the haunted houses and shows first.
Touring Tips
Treat Halloween Horror Nights like any day at a theme park – arrive early, take a mid-day break, and stay till close. Construction for the new DreamWorks land coming to Universal Studios causes problems with house entrance placement. This year will have more walking than usual, sorry, folks.
Arrive at the park gates at least 45 minutes before the event starts or 90 minutes on busy days. Stay and Scream guests need to be in their pens by 5:00 p.m. but should plan to be there at least an hour early.
Stay & Scream: 

New York will be very crowded for Stranger Things, while you will wait the shortest for Stranger Things now you will also waste precious early entry time. We suggest waiting in the Central Park/Simpsons area.
See Universal Monsters, which opens around 5:45 p.m.
Walk towards the tent houses (Oddfellow by Nightmare Fuel, Darkest Deal by Men in Black).
Both tents let out to the new entrance to The Last of Us. Experience The Last of Us.
Walk back to do the second tent house.
Experience Chucky
See the first showing of HNF, if you missed it skip to the next step.
House Count: Five

Main Gate:

Stranger Things and The Last of Us will have the longest lines of the day. At opening the queue will already be full of Stay & Scream guests. We advise skipping both houses and focusing on the attractions at the back of the park.
Proceed to the back of the park now and experience the two tent houses.
See Univeral Monsters
See the first showing of HNF
House Count: Three

Complete the back of the park by visiting The Last of Us, Universal Monsters, or Chucky.
Wait times should be increasing now (8 pm) for all houses and crowds are picking up in the streets. Escape to CityWalk or the hotels for a break.
Wait times will drop after 11 PM for houses at the front of the park. Return to New York and Production Central to experience the original concept houses. Universal will over-estimate wait times.
Ride attractions and watch scare zones.
During the last hour of the event visit the remaining houses in KidZone and New York or return to favorites.
Pro-Tip: All guests in line by event closing will be let through the house. Universal will list inflated wait times to encourage guests to go home. Ignore these and experience the house anyway.

Are you ready for Halloween Horror Nights 30? Let us know what you're most excited to see in the comments.