SATURDAY SIX: 6 Reasons We Love HALLOWEEN HORROR NIGHTS 31
This week's SATURDAY SIX takes a look at HHN 31! It has been an absolutely crazy couple of years for the theme park world since both the Disney and Universal parks shut down in March 2020. Since their full reopening, both resorts have been the beneficiary of what seems to be a near unprecedented level of pent-up demand from vacationing guests. One company has decided to "slow walk" pretty much everything, charging guests more and more while delivering less and less of an experience. Universal has gone the other way, consistently giving guests more bang for the buck, including at their now best-in-the-world haunt experience: Halloween Horror Nights.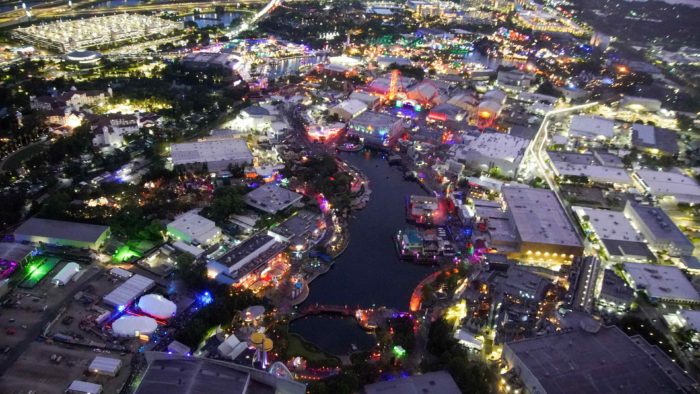 Let's face it, the crowds were going to come to this year's HHN no matter what. Universal Orlando could have completely phoned it in, counted all their money and said "we're saving our good stuff for Epic Universe." But that's not what happened. NAY  NAY. They went hard. How hard? Well, let's check it out…
# 6 – The Merchandise
Regular readers of this fine blog series know how much I love theme park merchandise. I love the good stuff, I love the bad stuff, and what I possibly love most of all is the ugly stuff. I've been very disappointed with the merchandise we fans got for some pretty big anniversaries over the last year (WDW's 50th and EPCOT's 40th) so I wasn't expecting all that much from HHN. Instead, this year's merch for HHN is the best they have ever done, including a straight up E-Ticket popcorn bucket based on Frankenstein's Monster!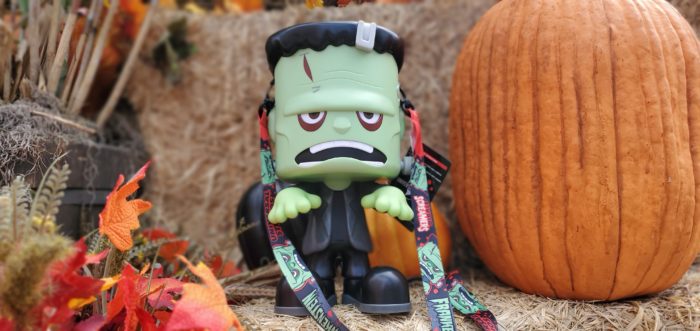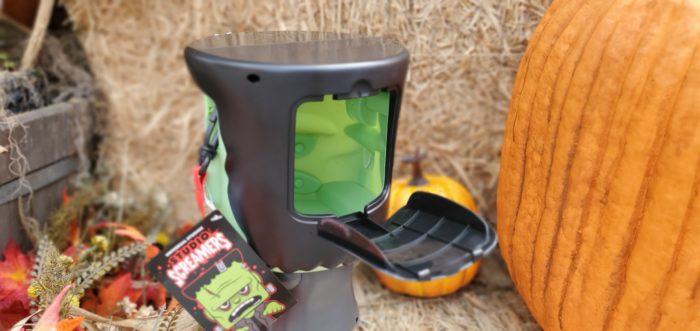 The monumental leap that Universal has made in the popcorn bucket game just in the last several months just might be the most amazing transformation I have seen in my years as a theme park fan. Disney has always OWNED the popcorn bucket game in Orlando. They were the penthouse, Universal was the outhouse. Forget about Universal not being in the same league as Disney, they weren't even playing the same game. If Disney was chess, Universal was tiddlywinks. Somehow the light switch was flipped at Universal Creative, and they have been producing one incredible popcorn bucket after another (including one of my all time favorites featuring The Minions on a Road Trip.) Another great bucket released during HHN this year was this decorative skull one below.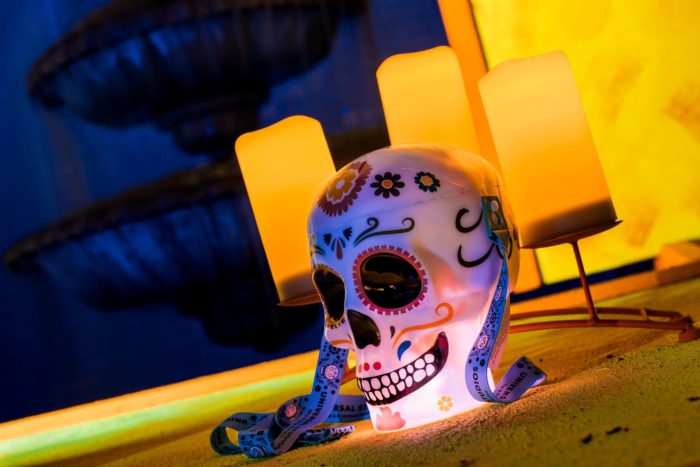 For those SAT 6 readers of a certain age, they will remember the character Urkel from the TV show Family Matters. Like "The Fonz" for a generation before him on Happy Days, Urkel went from a side character on a show to the main star within a year. HHN had their breakout character last year with Lil' Boo, a small and adorable pumpkin (created by artist Emory Alvarado) who stole everyone's heart outside the Wicked Growth house. This year, Lil' Boo is EVERYWHERE. Lil' Boo even has its own line of merchandise, including this Lil' Boo sipper!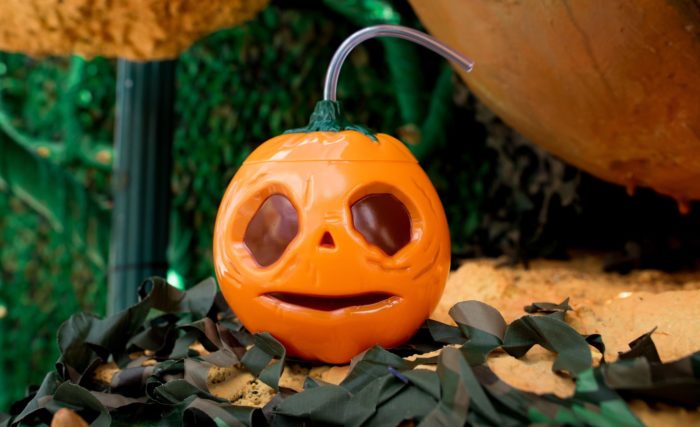 It wouldn't be HHN without the iconic HHN blinky cup.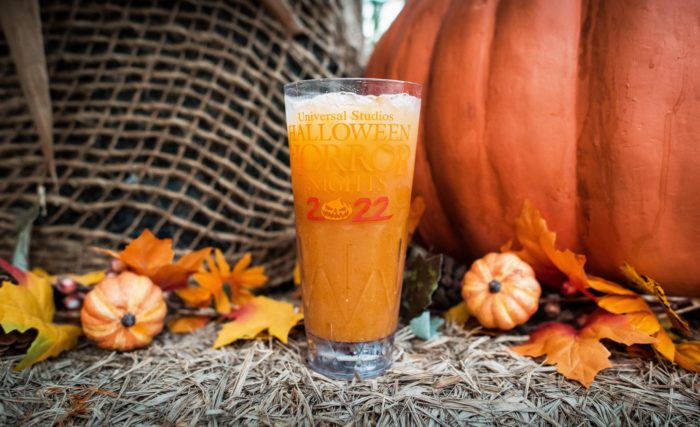 I didn't think anything would ever replace my love for pressed pennies as my favorite theme park souvenir, but somehow Universal did by bringing back the classic Mold-A-Matic machines several years ago. Since they have made their debut, Universal has been consistant in delivering new molds to collect throughout the year. However, for HHN 31 they went completely bonkers. There have been Mold-A-Matic designs which have debuted during this year's HHN that have already been replaced by a new design. It's just BONKERS. We will cover more of the Mold-A-Matic machine designs in a future SAT 6 this month dedicated the HHN Tribute Store, but here's some photos of a couple of the designs released just over the last few weeks…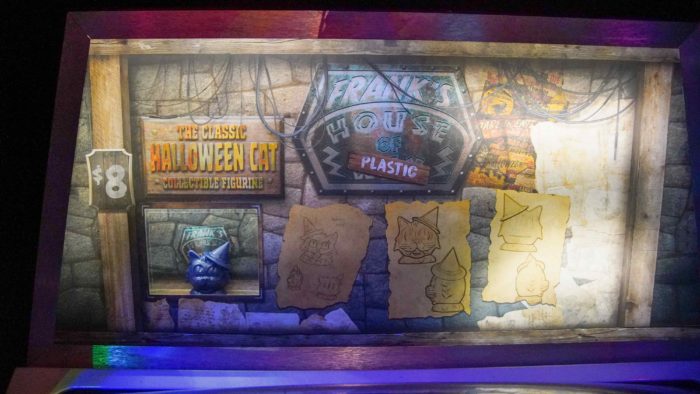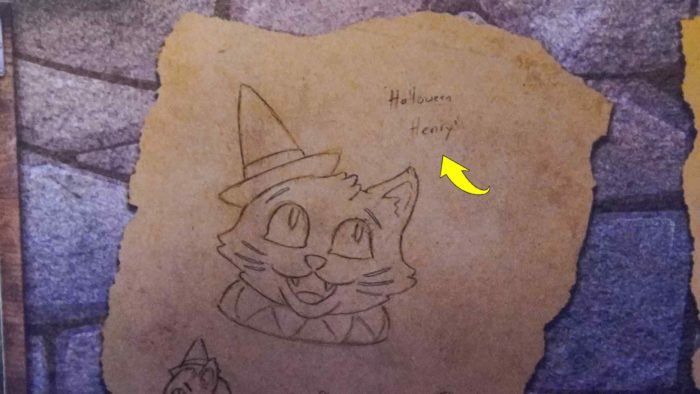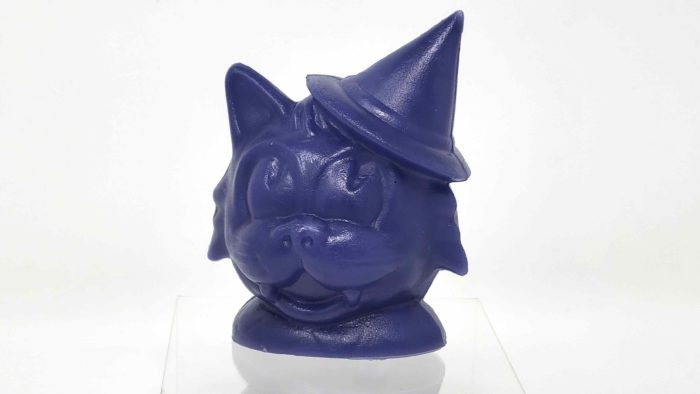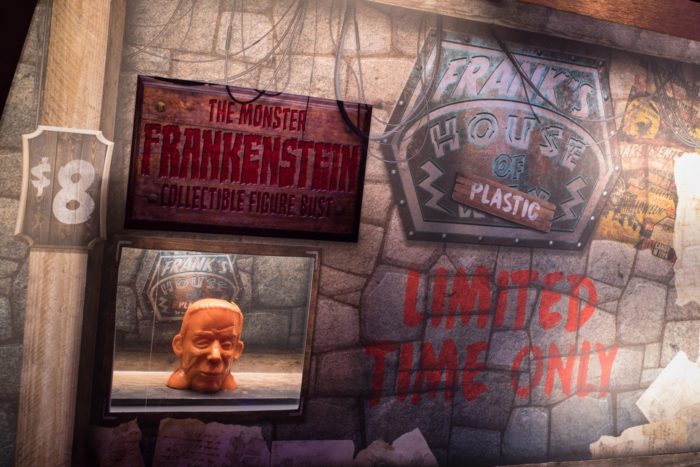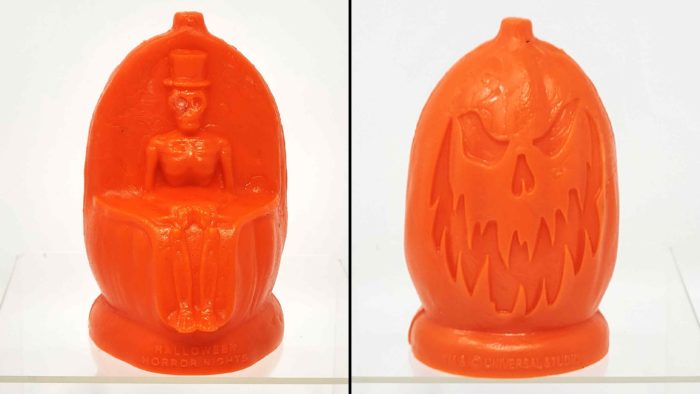 A current look at the full collection of molds released by Universal since the machines made their debut in the parks a couple years ago.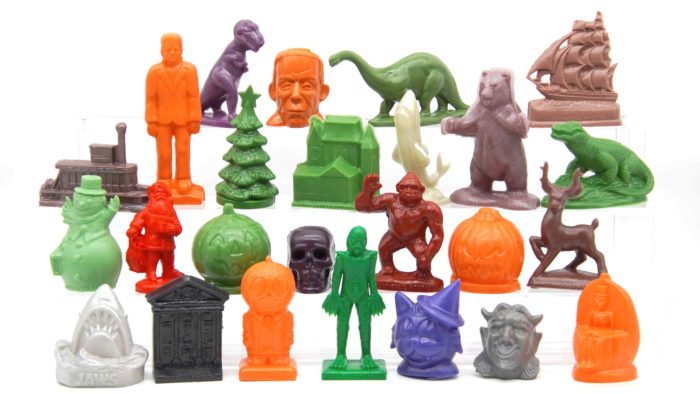 One of my favorite collectibles at Universal that never really caught on was the Uni-Minis. The Studio Screamers series are very close to what Uni-Minis were, so I look forward to the new designs which come out each year. Here's a look at the full line from HHN 31, including an incredible Pumpkin Lord and my personal favorite HHN Icon, the director.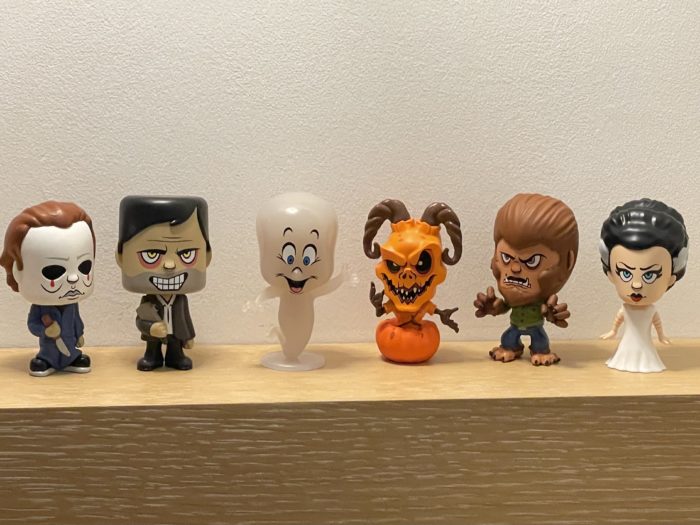 Of course there are a metric ton of HHN 31 related clothing, but my favorite is this shirt below featuring the REAL icons of HHN: pizza fries, twisted taters, and the blinky cup.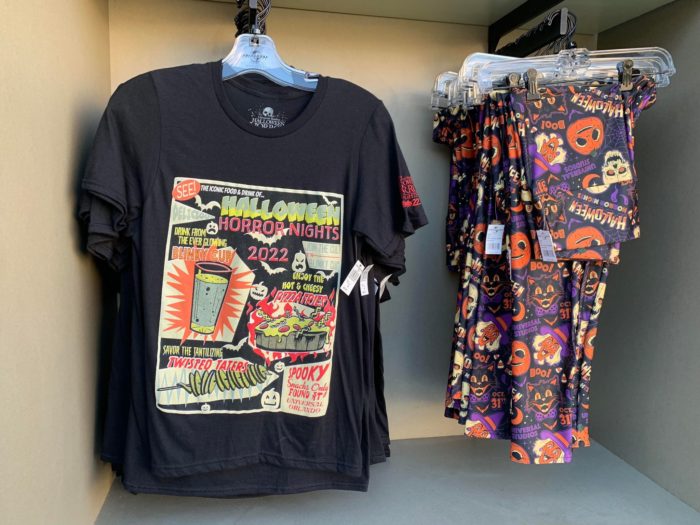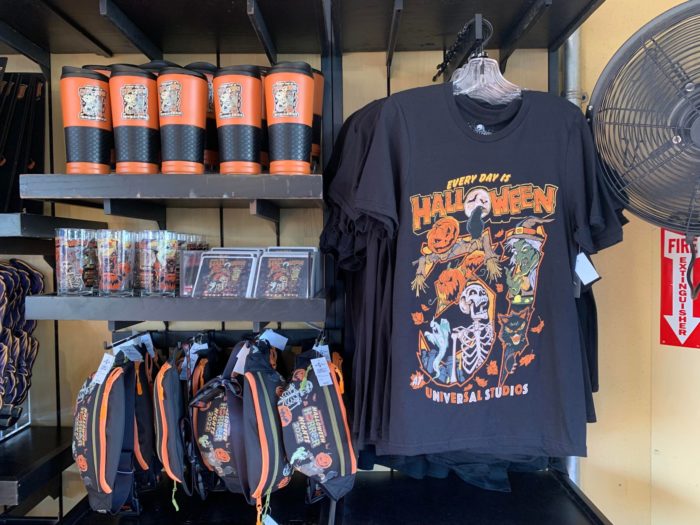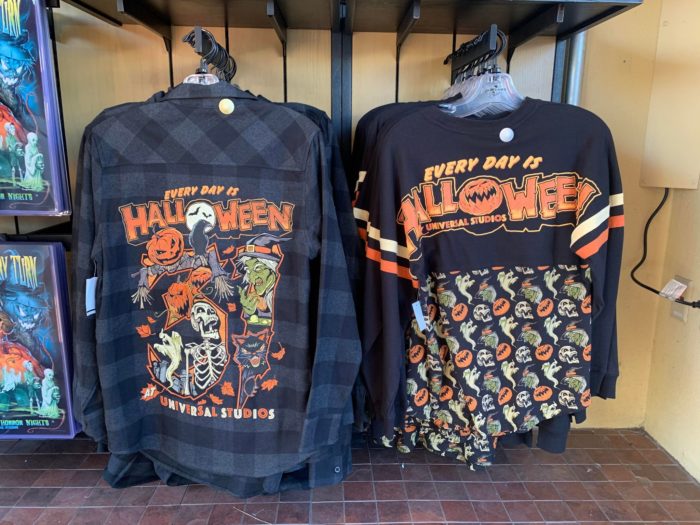 If you are a fan of Lil' Boo, there's plenty of merchandise options for you…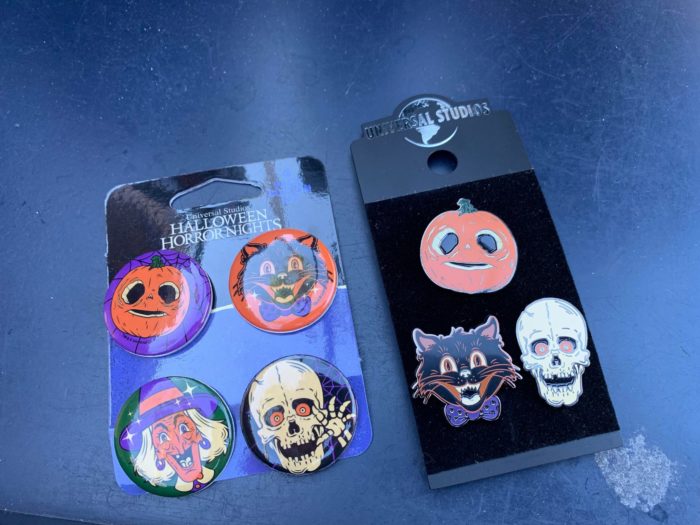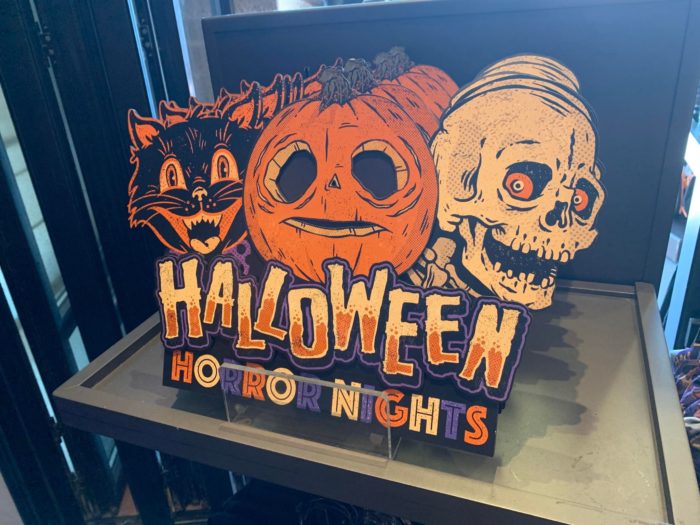 As a longtime comic book reader, this design below gave me some real EC Comics and Creepshow feels. I love it.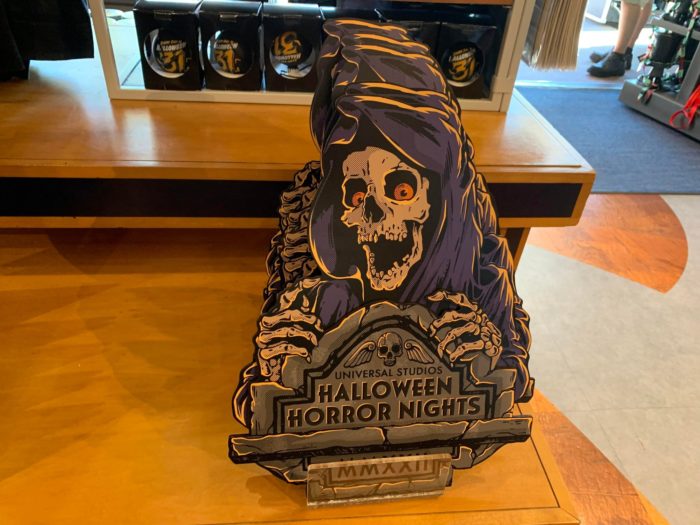 Arguably the biggest IP that Universal has at HHN 31 is the mega popular Halloween movie and it's main character Michael Myers. Lots of great Halloween related merchandise at the event.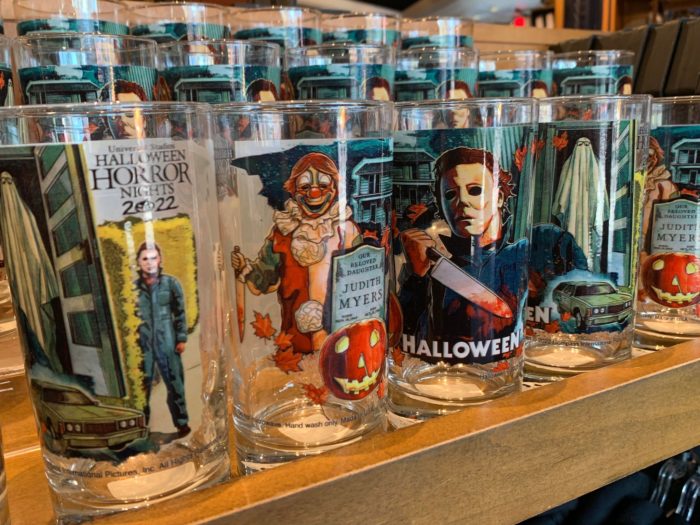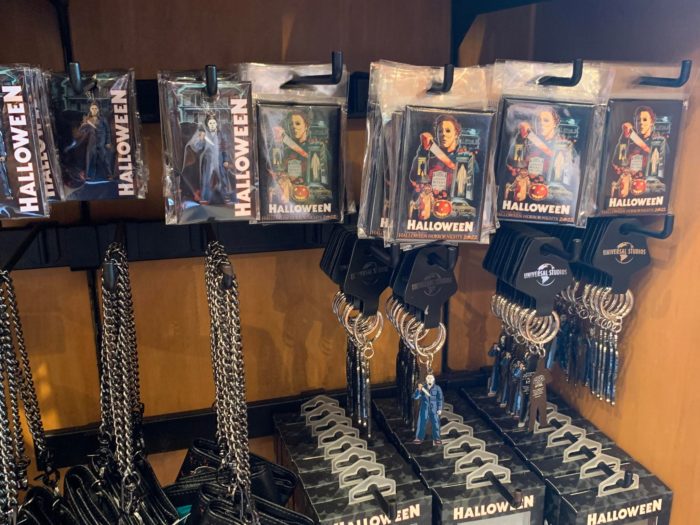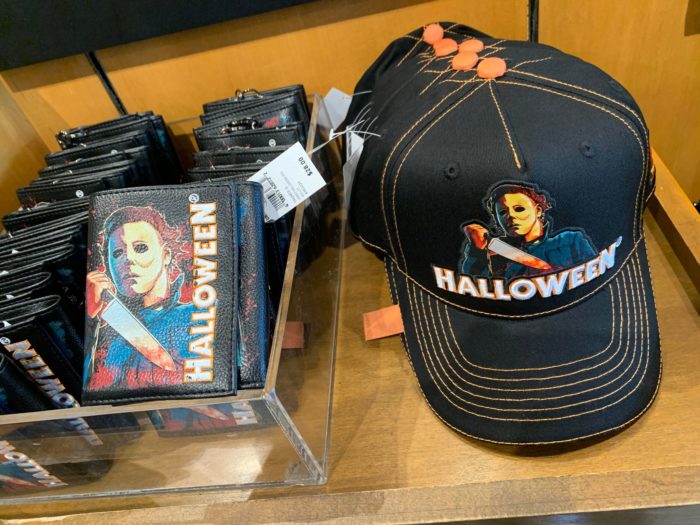 Let's take a closer look at the Halloween wallet because it is pretty dang neat….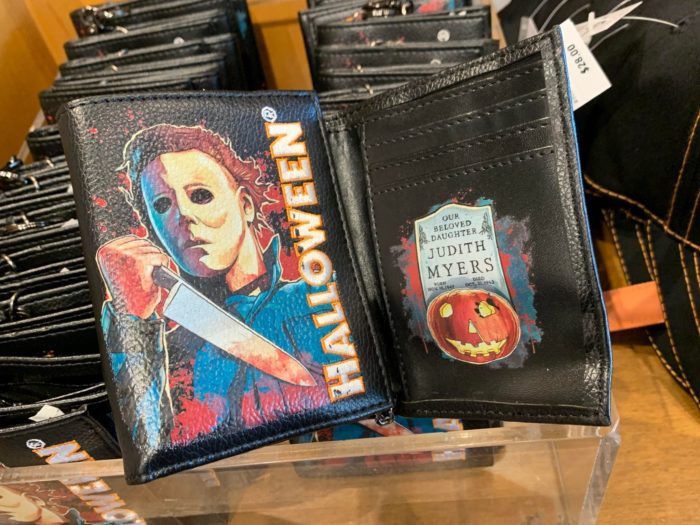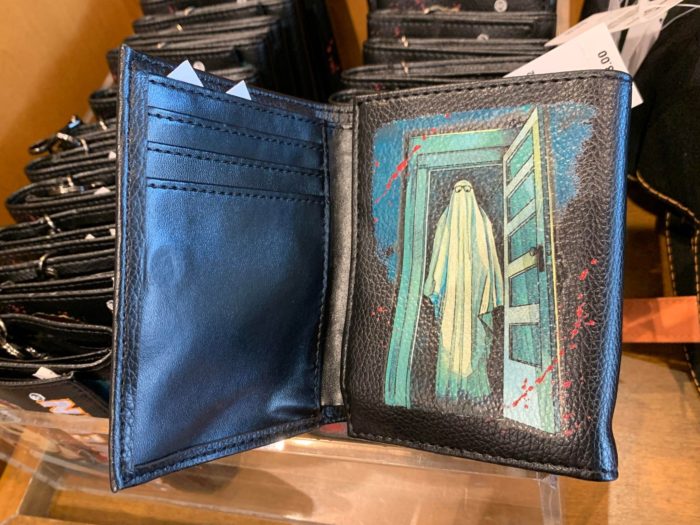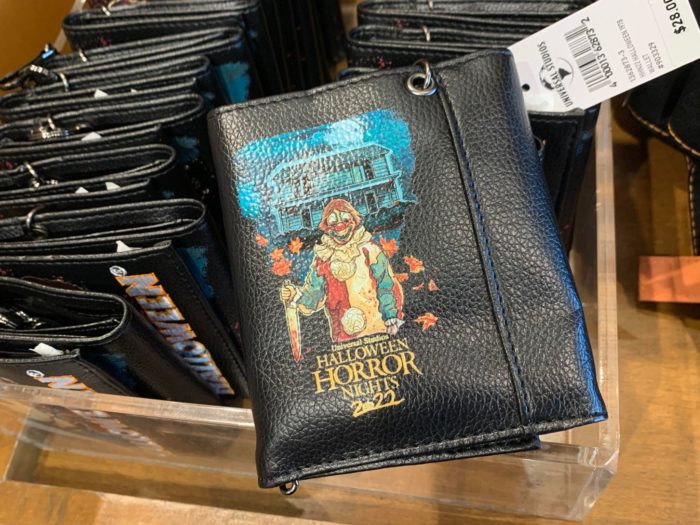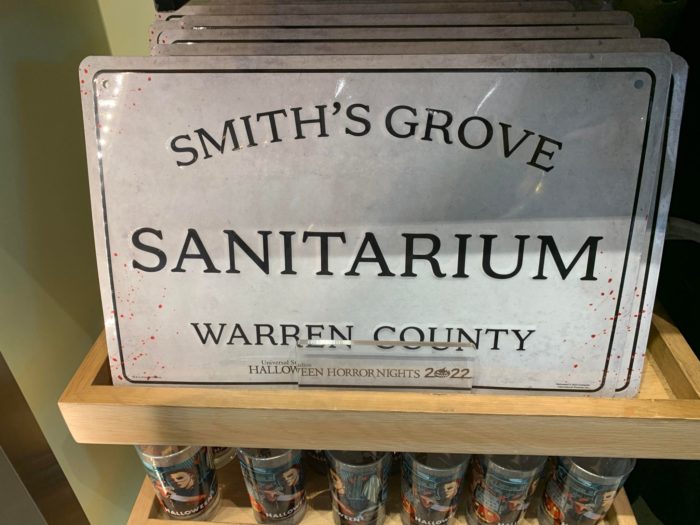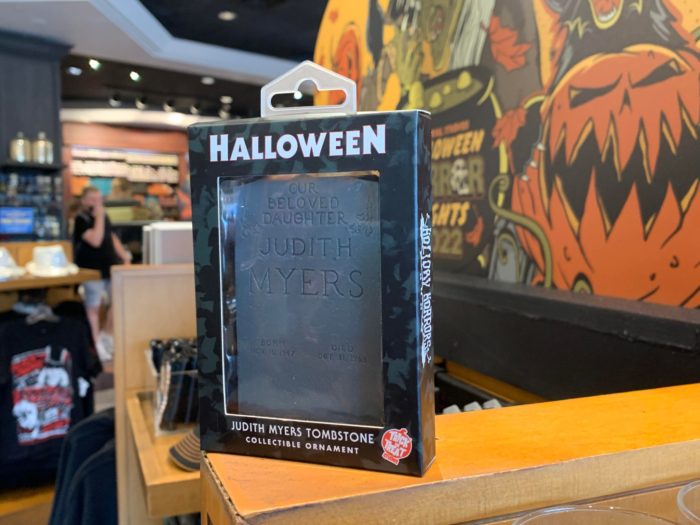 I had no idea there was such a large market for Halloween related ornaments.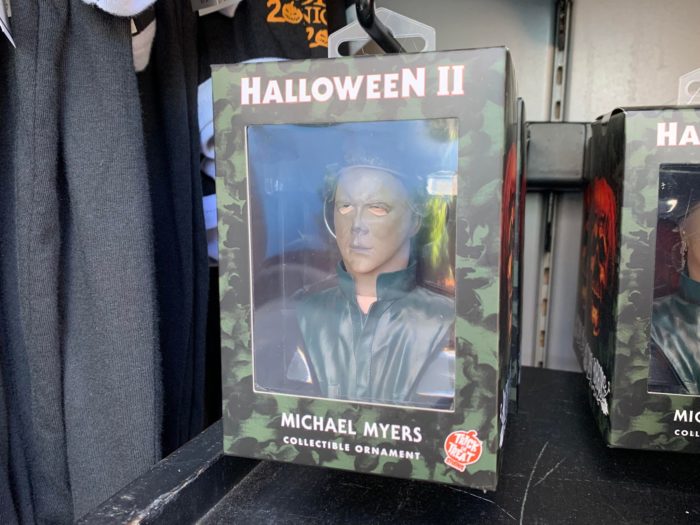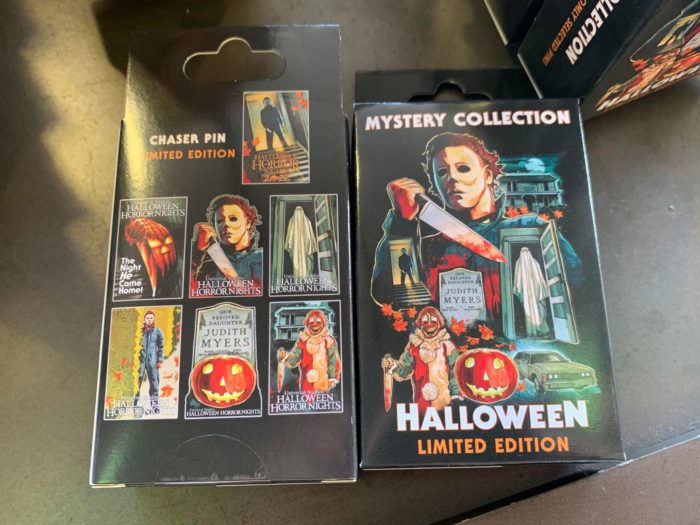 Universal has gone All In on the candle market, and there are a bunch of awesome candles available durint HHN season.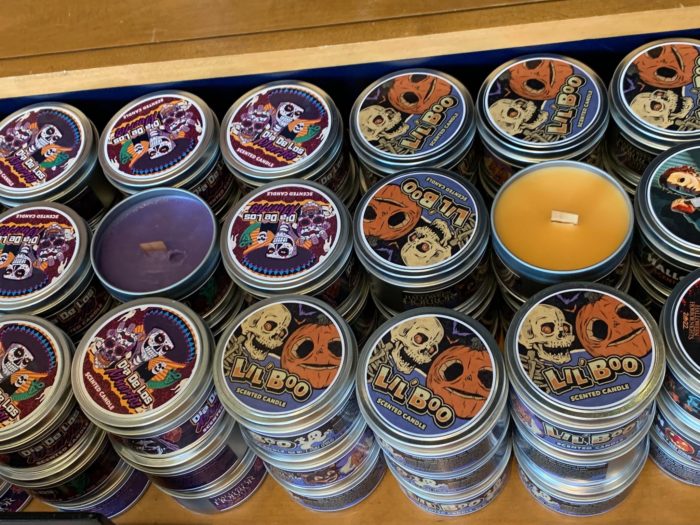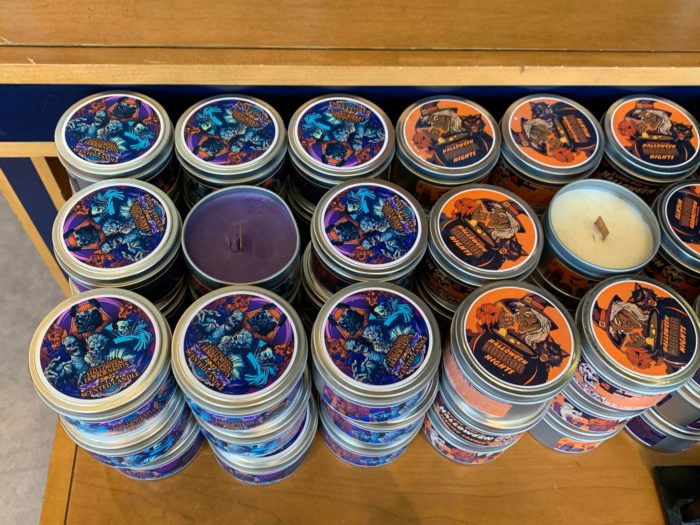 Universal Orlando Annual Passholders also have the opportunity to buy exclusive items, such as this candle featuring the Pumpkin Lord (icon of HHN 31.)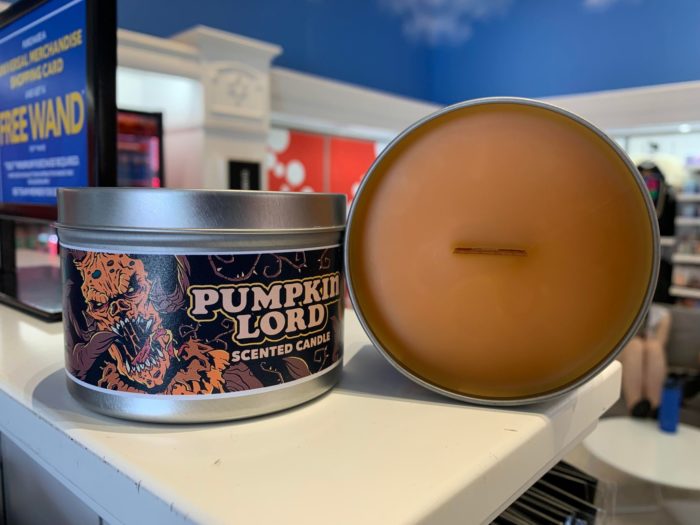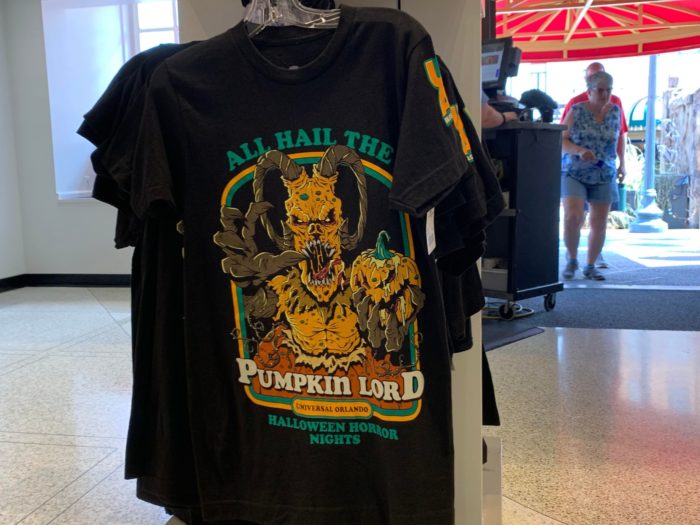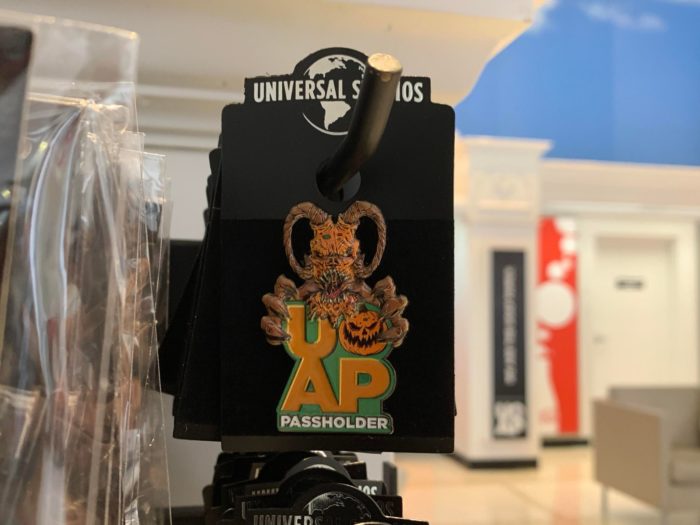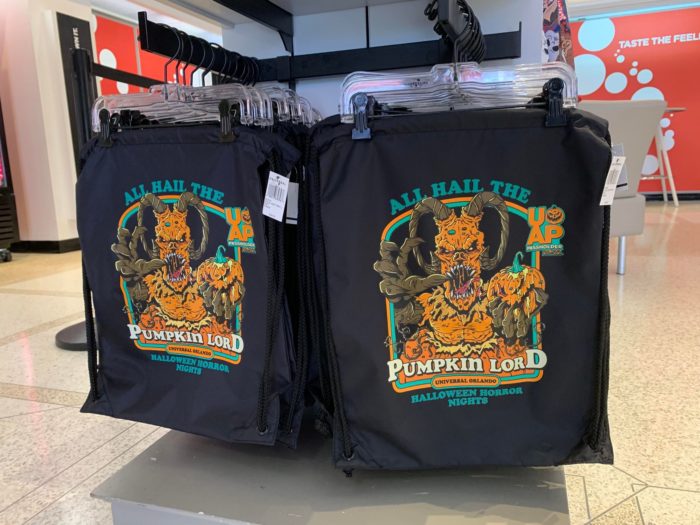 One of the hottest collectibles during HHN season is the collectible album, featuring music by Midnight Syndicate.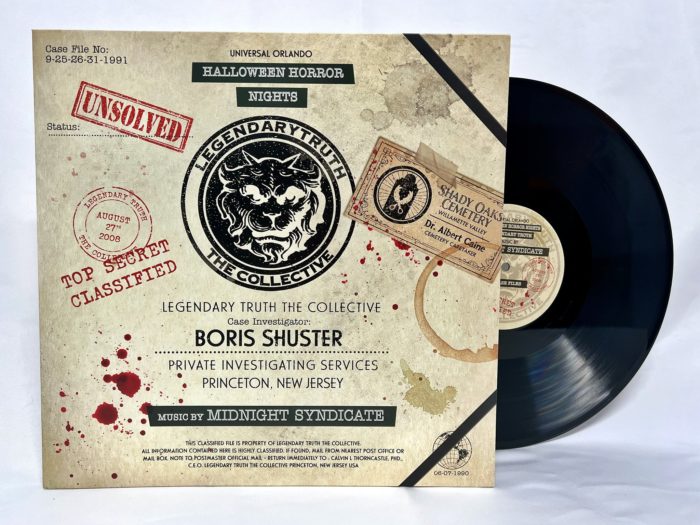 The overall design of the album is a HHN fan's dream come true with a treasure trove of references to past events.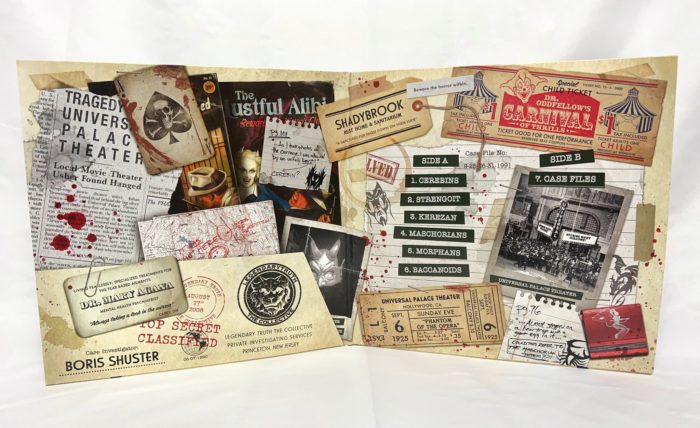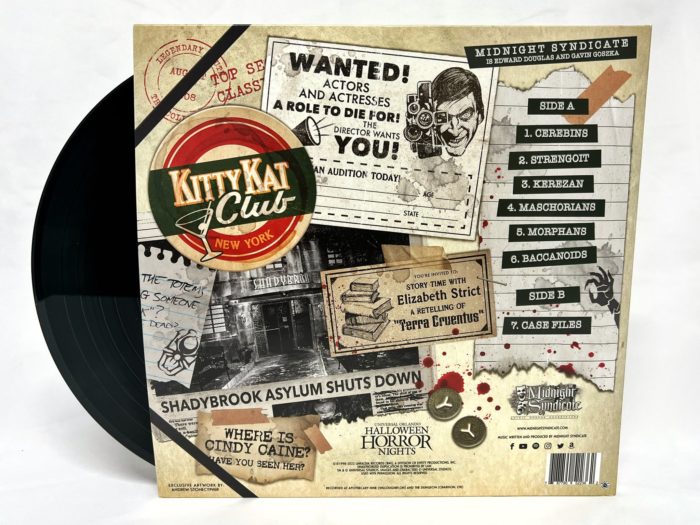 This past week Universal has an album signing  available in the park. I love when Disney and Universal give you a chance to meet the artists behind the work we love and it's one of my favorite aspects of the Festival of the Arts at EPCOT.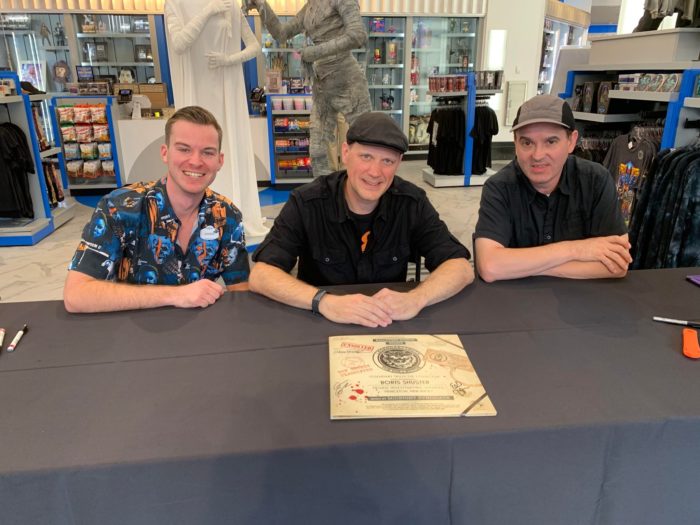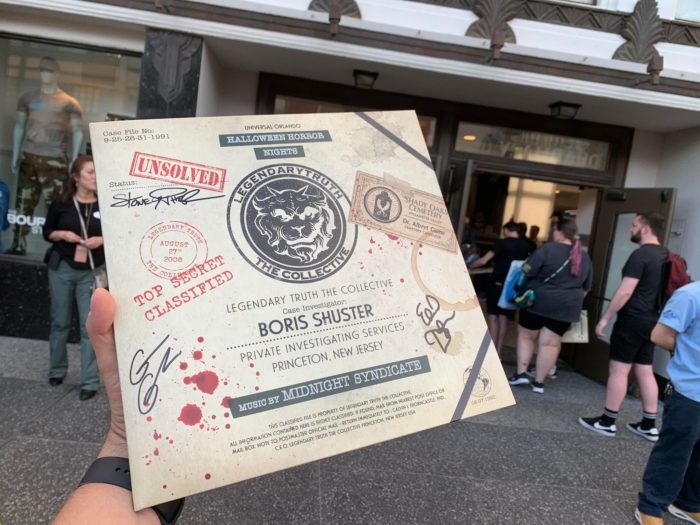 # 5 – Scarecrow Stalk
One thing that my family has enjoyed over the years at EPCOT are the scavenger hunts during the festivals such as Figment's Brush with the Masters for the previously mentioned Festival of the Arts, or Spike's Pollen-Nation Exploration during Flower & Garden. Universal began having their own version of these scavenger hunts several years ago. Scarecrow Stalk (a great name if there every was one) sends guests across both Universal parks and CityWalk to discover unique and highly themed scarecrows at various gift shops.
To start, guests need to purchase a Scarecrow Stalk map for $10.  The map comes with a wonderful Lil' Boo suncatcher.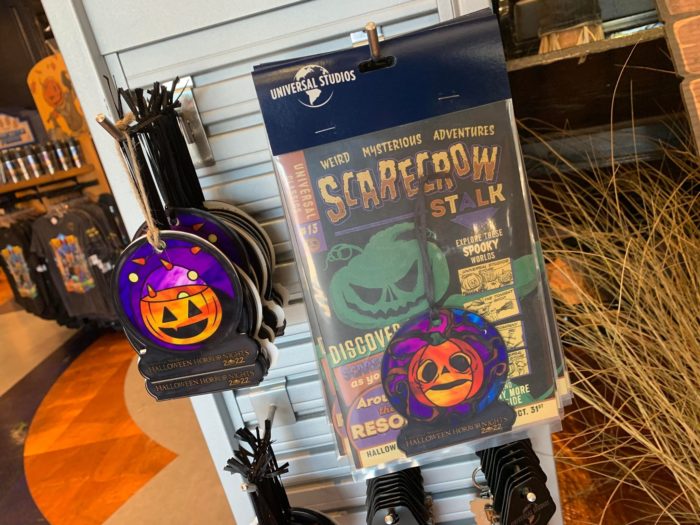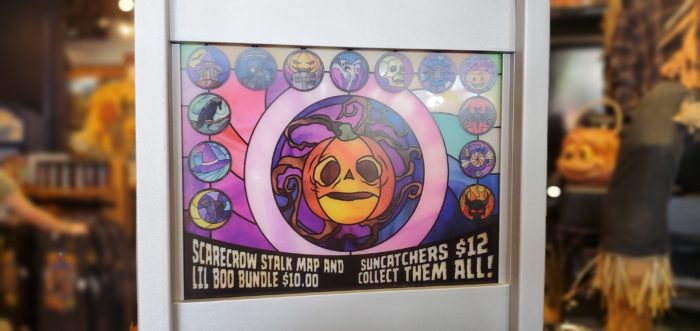 The Scarecrow Stalk map is done like a comic book, which is absolutely incredible. The map details all 13 locations featuring the scarecrows.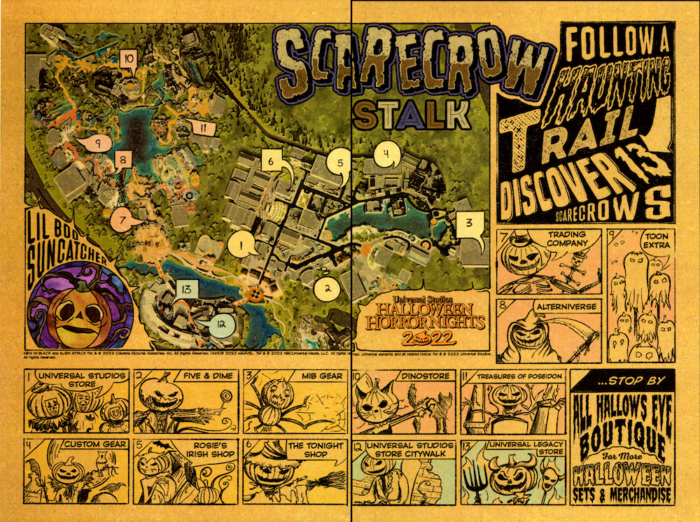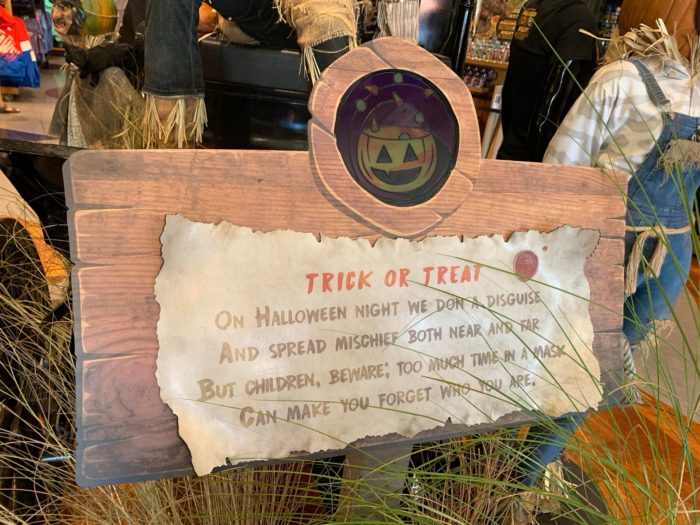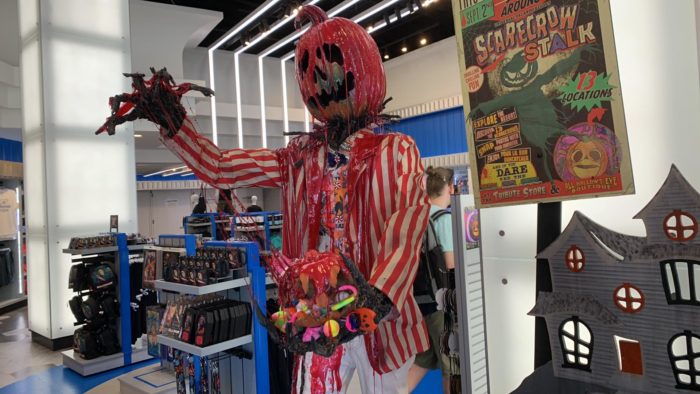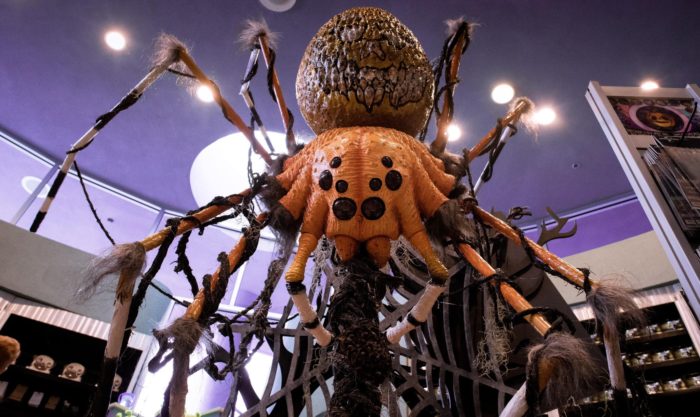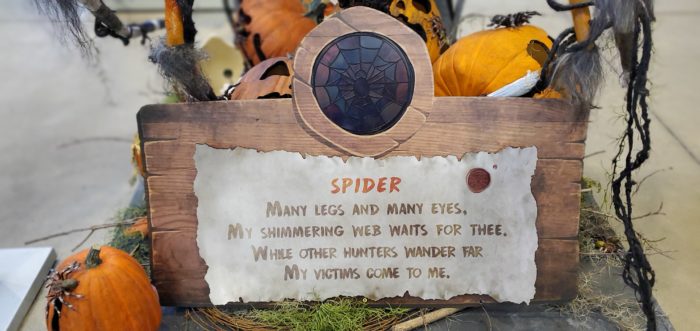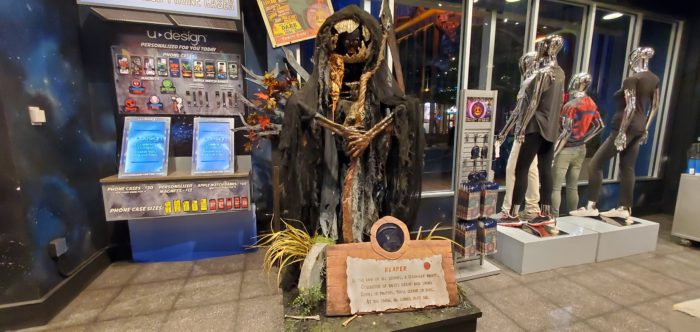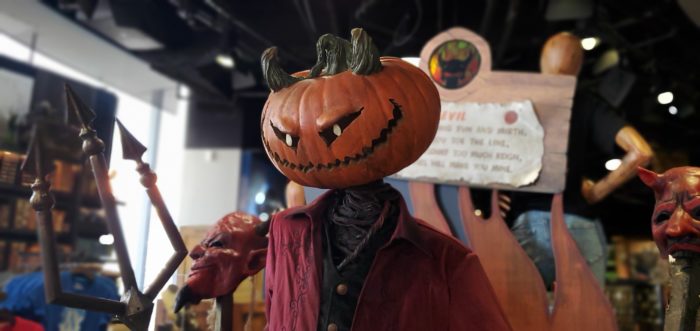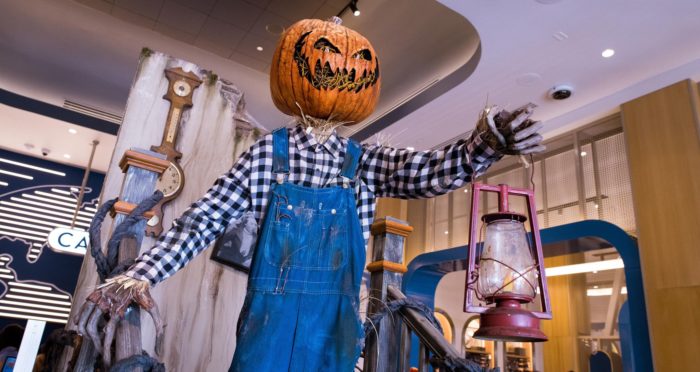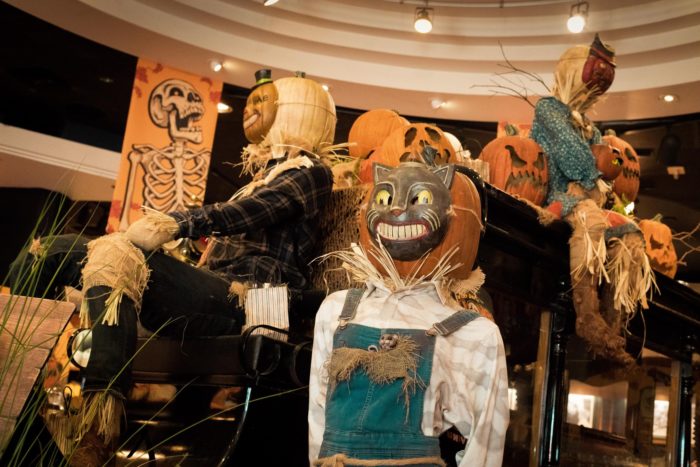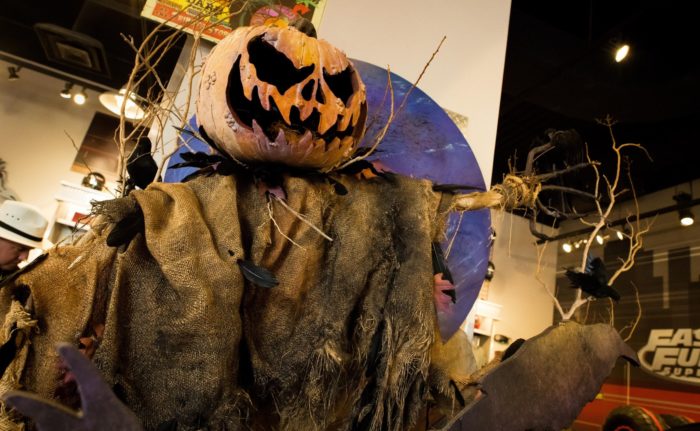 At each stop there is a stained-glass like suncatcher available to purchase. These are $12 each.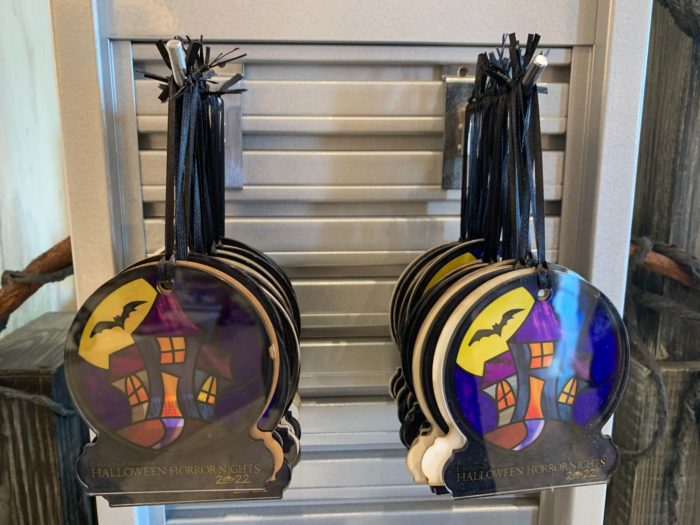 The suncatcher designs are based on the stained glass-like "windows" in this year's Tribute Store.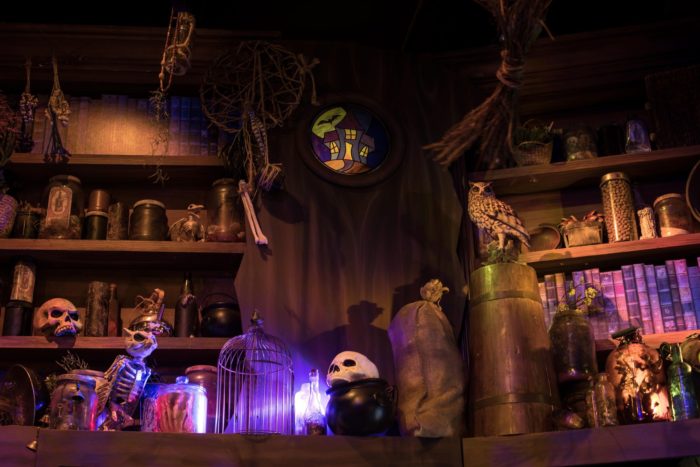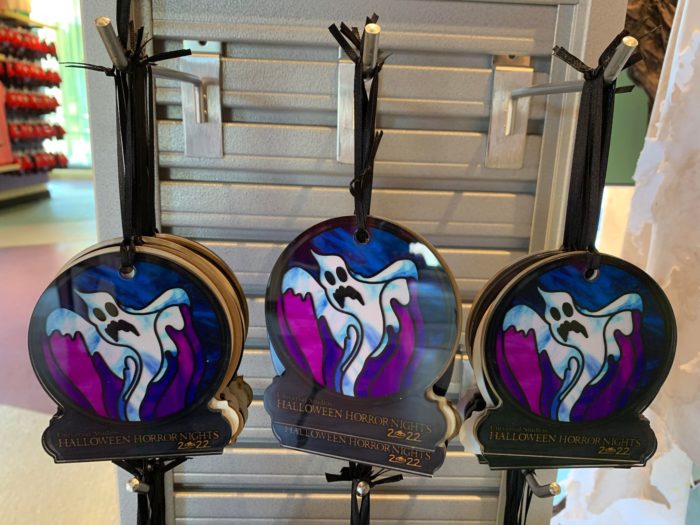 # 4 – The Food
I mentioned the leap in quality in Universal popcorn buckets just over the past few months, but the leap in quality in Universal outdoor kitchens over the past two years is nothing short of remarkable as well. There used to be zero effort put into the look of these outdoor kitchens, but now they all have their own distinct theme and vibe.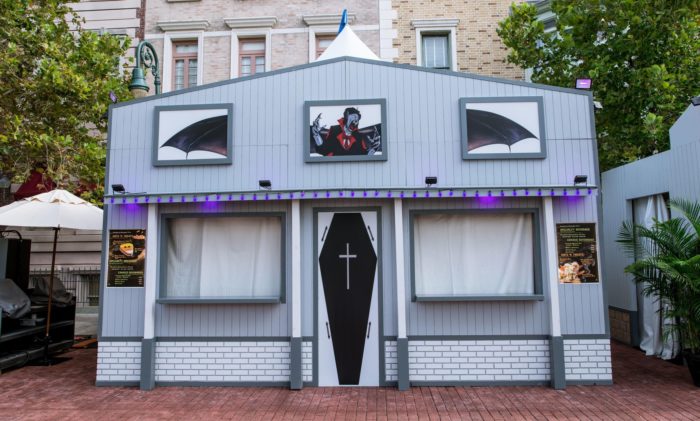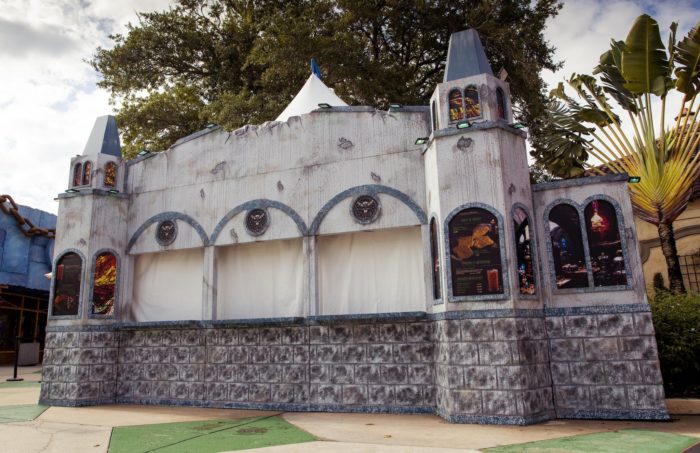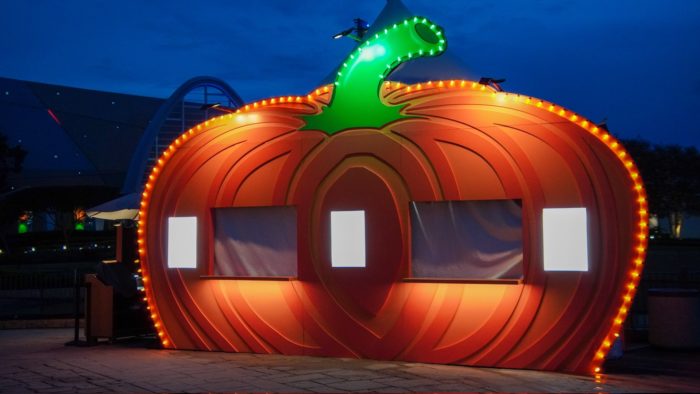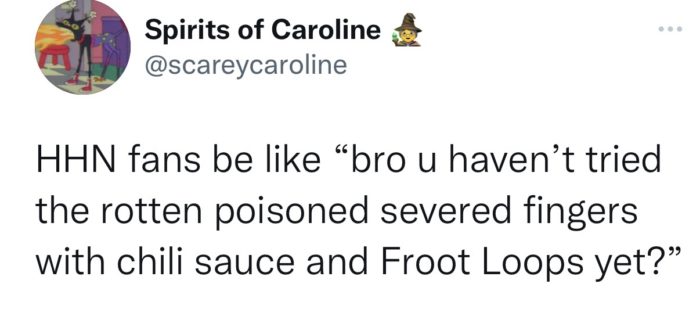 Now, the SATURDAY SIX has long considered HHN to be the "International Food & Wine Festival for the workin' man." While EPCOT may offer fancy schmancy small plates and crudités along with wine pairings where you need to hold your pinkie out when drinking, Universal offers items such as pizza fries, deep fried Uncrustables, and a burger that looks like it was dreamed up by your six year old nephew.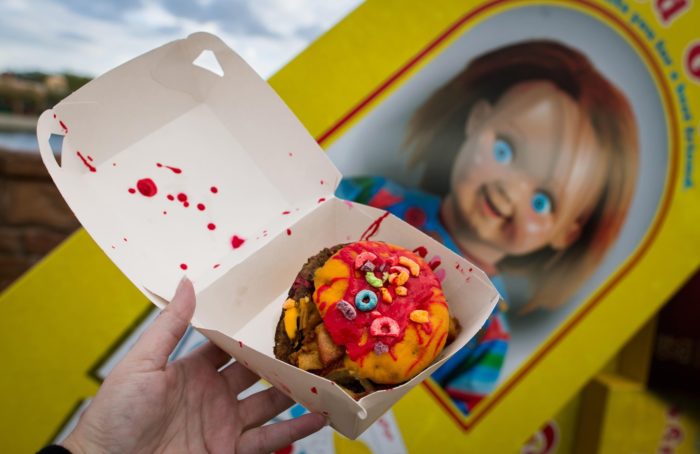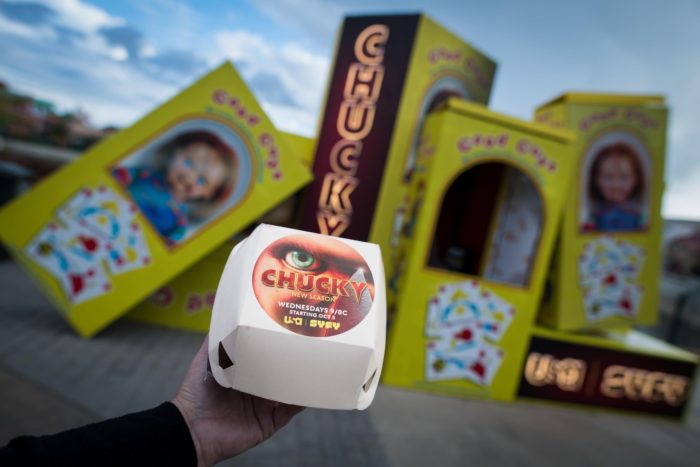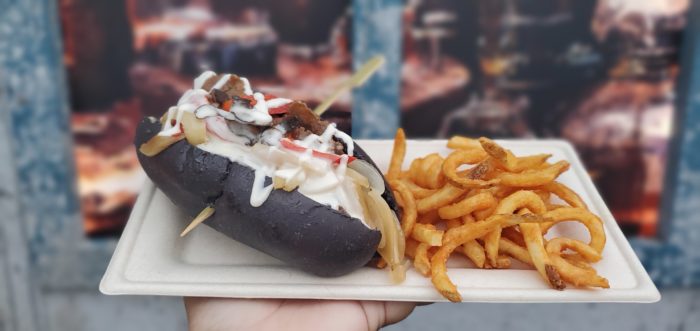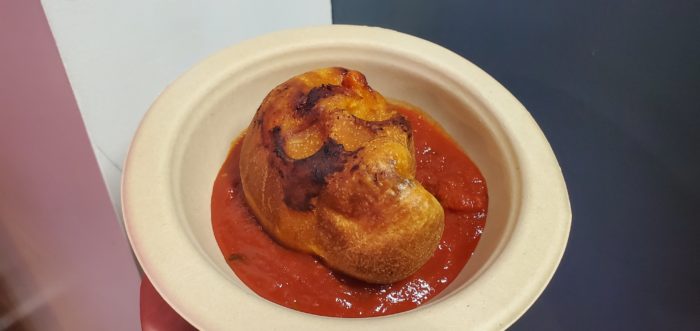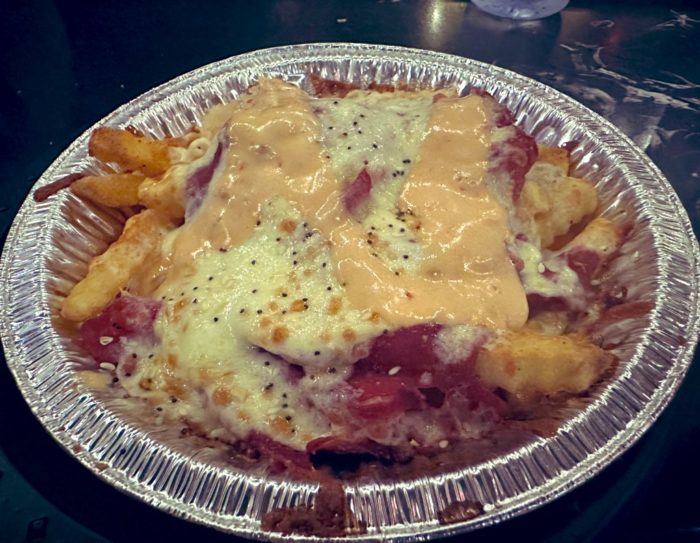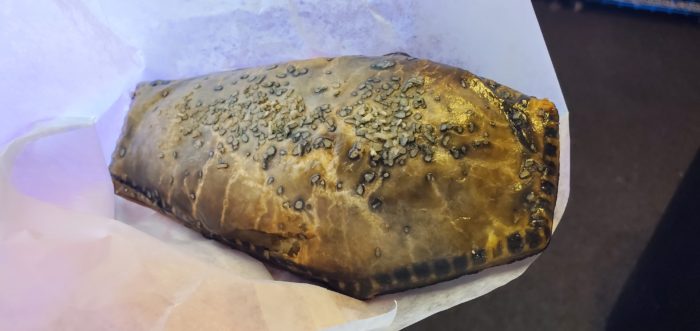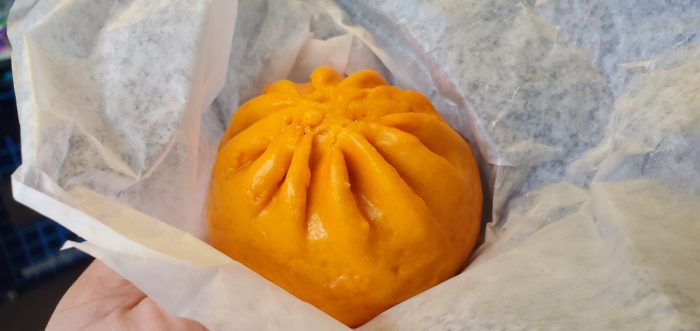 One of the items I was looking forward to the most during the event was the Mummy's Curse Tablet Cookie. Basically a cookie with hieroglyphics on it. This is an E-Ticket concept and look how great Universal's food picture looks on the menu…
Unfortunately – for me at least – the reality of this cookie was nowhere near as cool as the idea. For research (at least that's the excuse I give to Len Testa) I tried this cookie a half dozen times and got a similar result like the one below.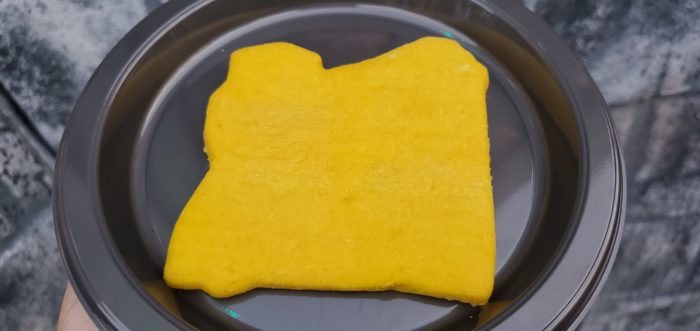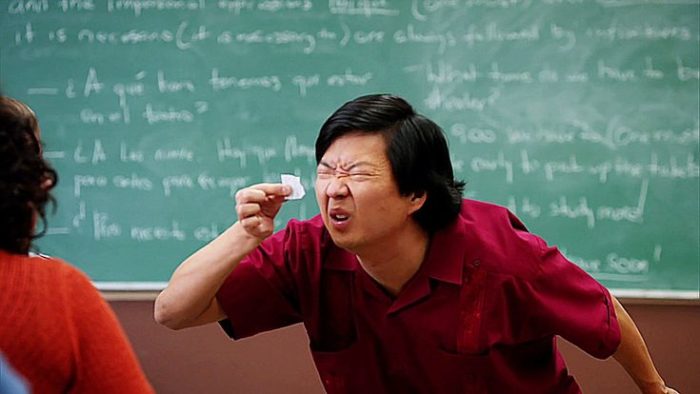 Outside of the outdoor kitchens, there is HHN-themed snacks across property.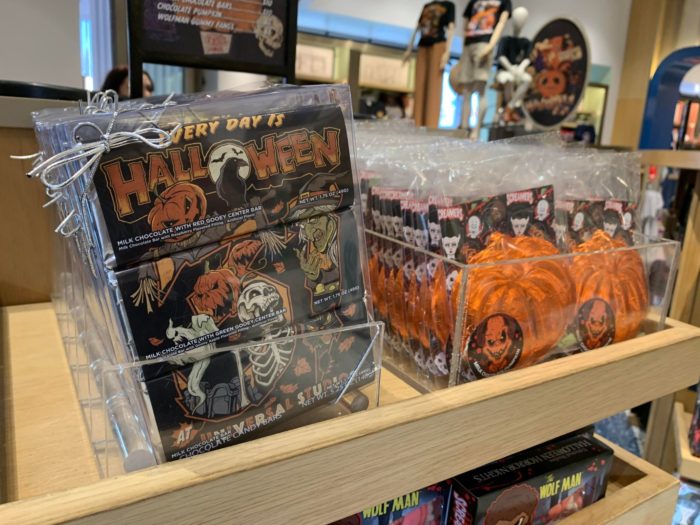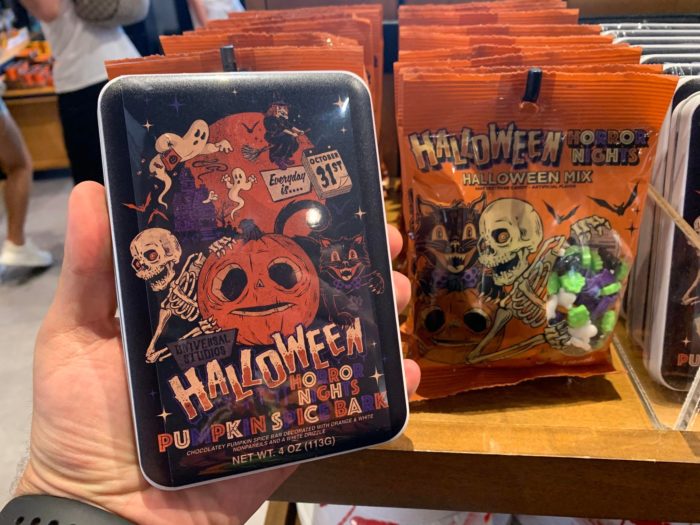 My absolute favorite HHN 31 related food item was available at an outdoor kitchen themed to a butcher shop. The backstory of the shop was that it was run by Sam Meetz, who has appeared in several HHN events over the years.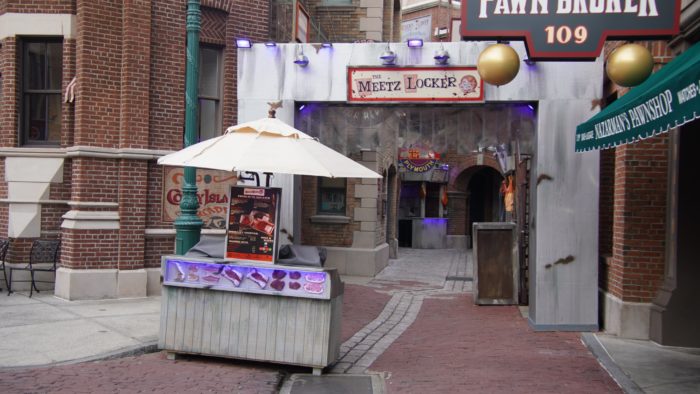 The "meat" products were packaged like you would buy meat at a supermarket, except they were just Rice Crispy treats designed to look like meat. They also had incredibly fun names and a hilarious "price tag" with information.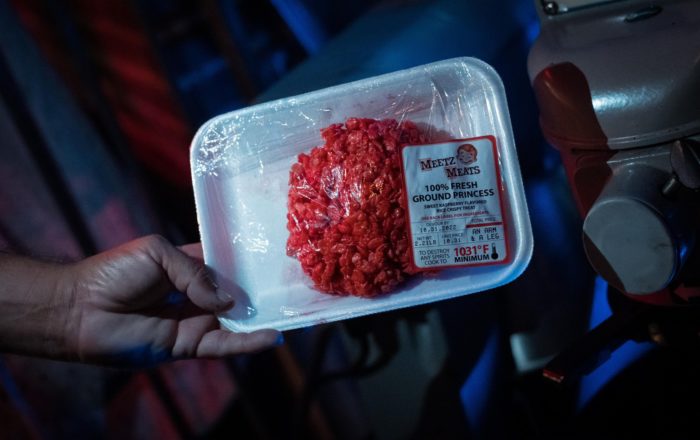 Had to get one of these and bring it home to the collectibles fridge.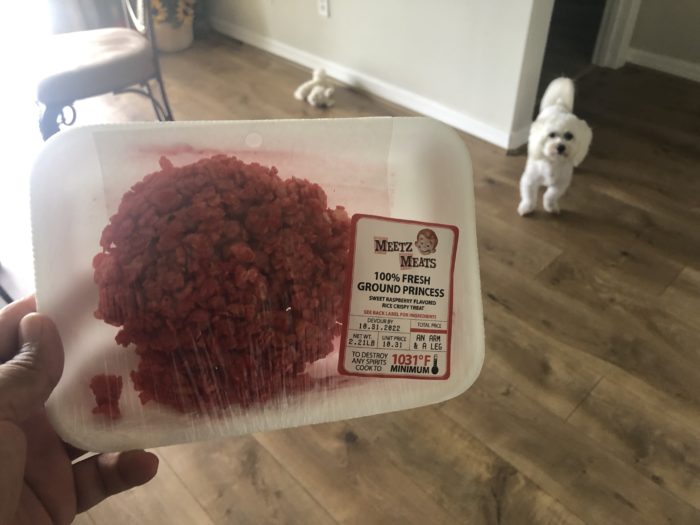 # 3 – Ghoulish! – A Halloween Tale
Over the last several years, Universal has made their lagoon water shows a must-see experience for park guests with things like Cinematic Celebration. Back in 2019, Universal began taking advantage of this technology during HHN nights with the debut of the fan favorite Marathon of Mayhem lagoon show. Unfortunately for HHN 31 we have some Good News and some Bad News when it comes to the lagoon show. The Good News is that HHN 31 debuted with Ghoulish! – A Halloween Tale, in my opinion the best pound-for-pound lagoon show experience they created to date. Now the Bad News: thanks to effects of Hurricane Ian ripping through Central Florida, Ghoulish may not return during this season. This is one of those "don't cry for what you lost, smile because it happened" moments because even if Ghoulish does not return this year, Universal now has the playbook of future lagoon experiences and the future looks bright indeed.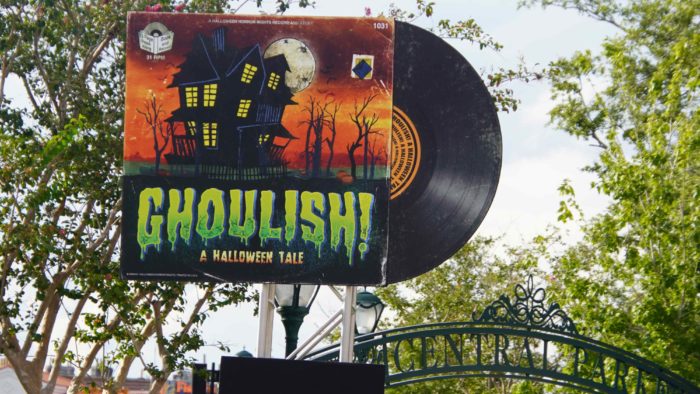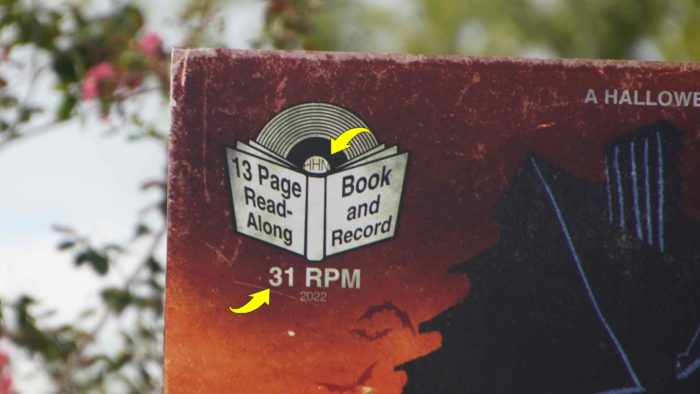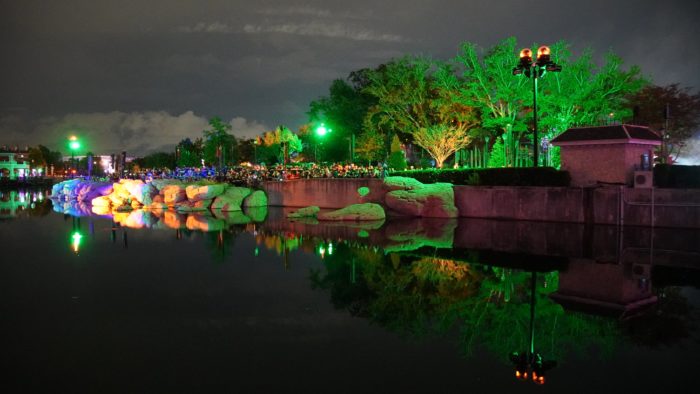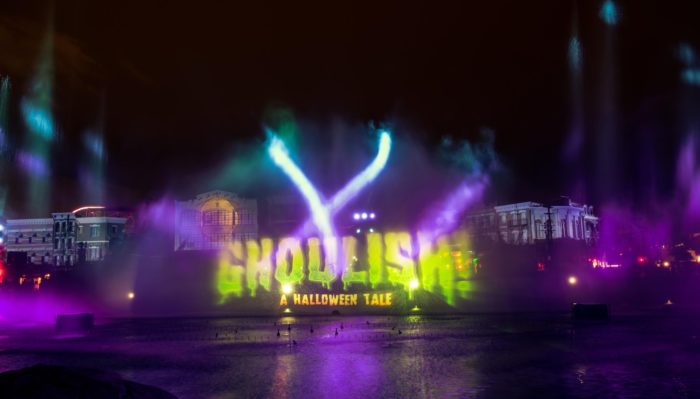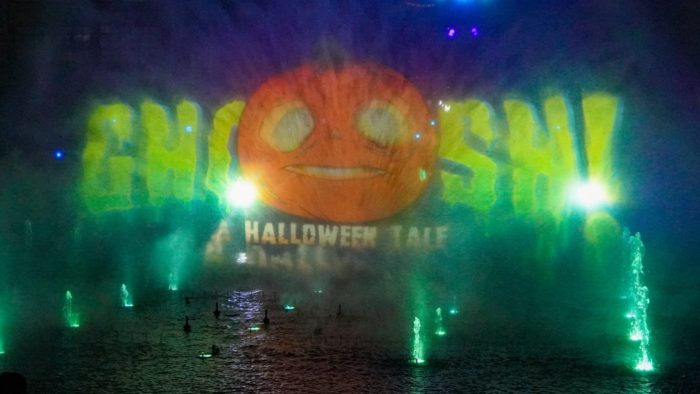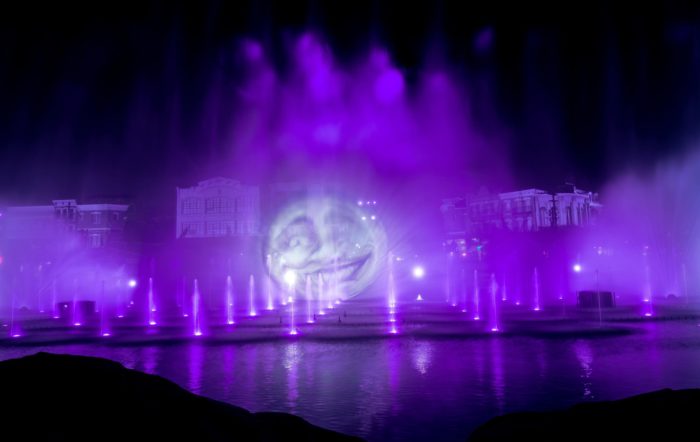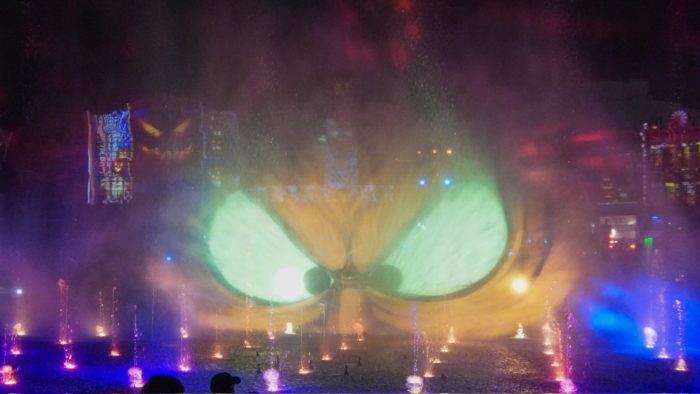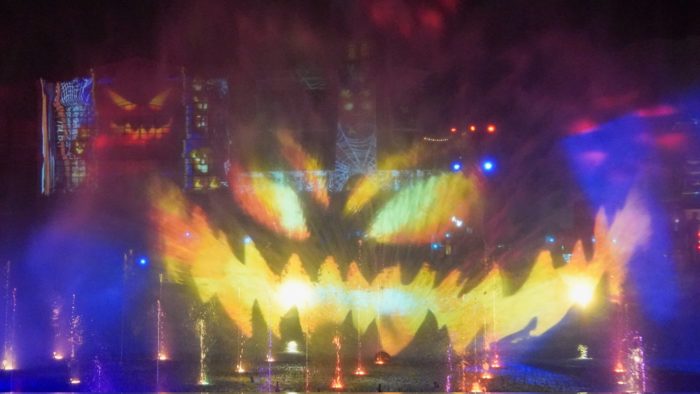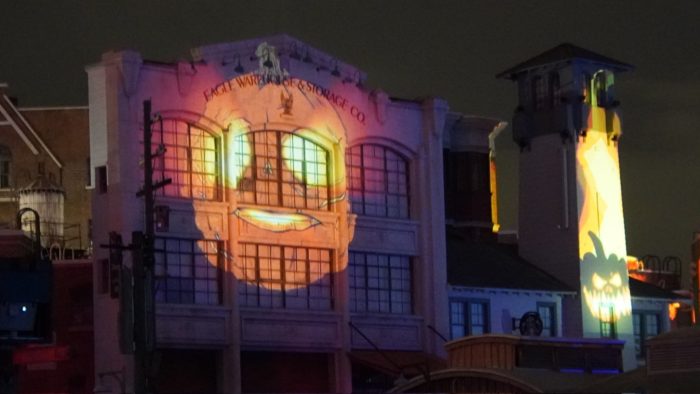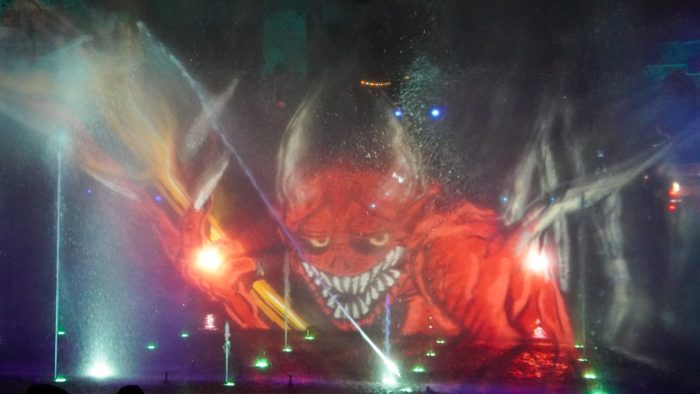 # 2 – The Scarezones
Over just the last several years, the Scarezones located throughout HHN have become a bigger part of my personal experience. Previously, my personal TouringPlan consisted of "gotta get to a house, then another house, then another house," etc, but now I enjoy taking my time and just walking around. Taking it all in. People watching. During one of our Unmasking the Horror tours, we walked backstage and saw the area where scareactors were getting ready. It was amazing just to see the process, along with how many moving parts there are to HHN. It made me truly appreciate the scareactors and the people behind the scenes who help them get ready every night. It's also fun just to see people get the daylights scared out of them, and that can happen right into front of your eyes in a scare zone.
The artistry in the set design, the characters, and the people who play the characters combine for an astounding effect in each scrarezone. While I have only been going to HHN for less than a decade, the overall scarezones for HHN 31 are the best I have experienced as a whole. There are five scarezones in the park, and they start off right away as you enter with the Horrors of Halloween. Here is where you will meet the icon of HHN 31, the Pumpkin Lord. The scareactors in this zone are a collection of creatures from the HHN 31 haunted house experiences, as if the Pumpkin Lord is summoning them all.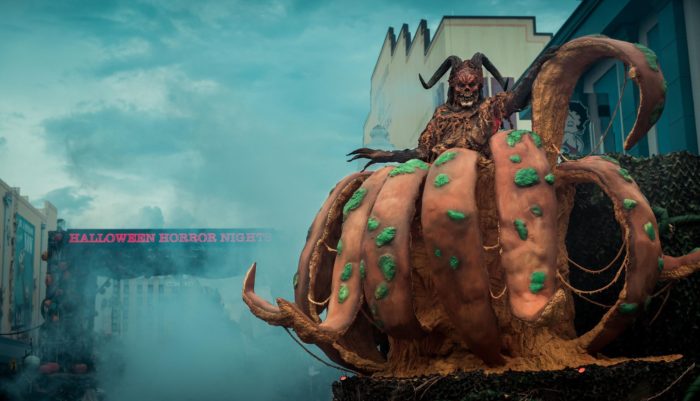 As you can see with the Pumpkin Lord, the details Universal puts into these characters is off the charts.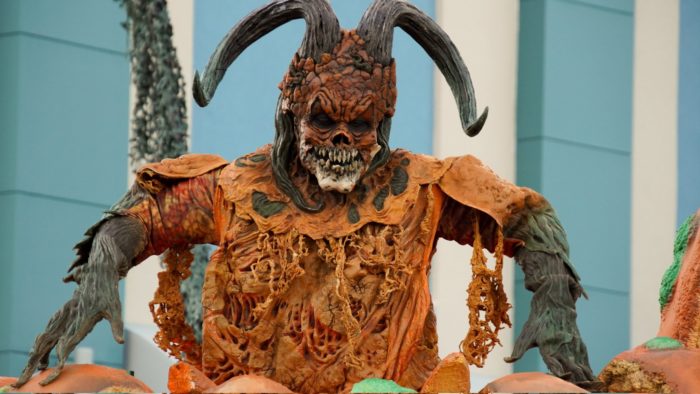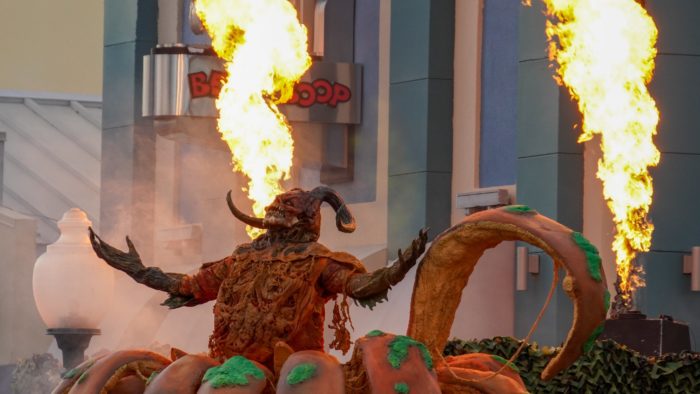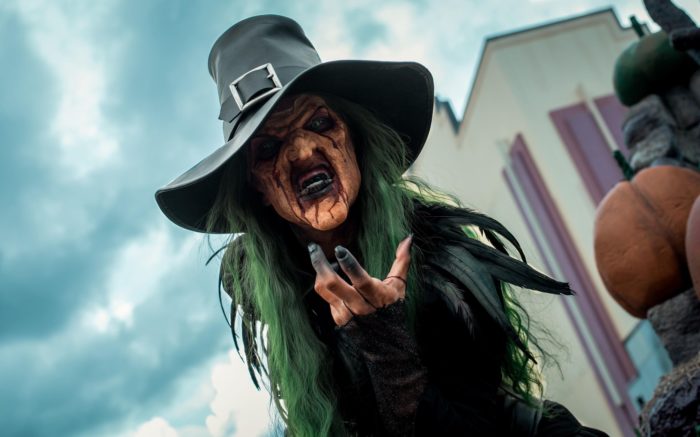 My personal favorite scarezone was Sweet Revenge in the New York area of the park. There was so much story going on through this entire zone. A bit of the backstory was that a small town was having a local Halloween contest, so the costumes you would see here had that DIY-look, but they still had more than a bit of HHN "magic" and were creepy as heck. A candy company's treats were driving the town's kids insane and into crazed killers. The scareactors took advantage of this story fact and did indeed play it up.
Because we were seeing a town's big Halloween event, there were also some giant Halloween-themed parade floats in the scarezone.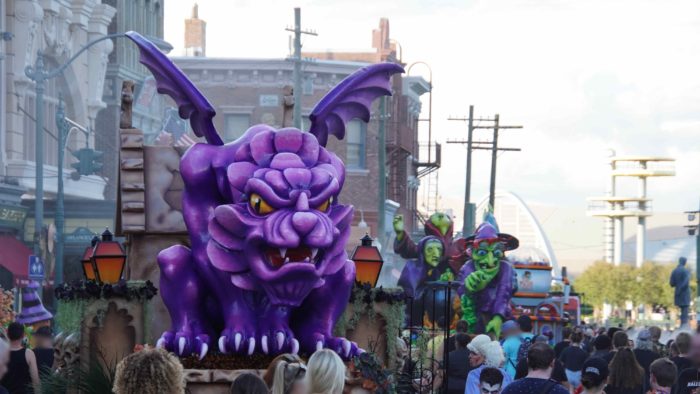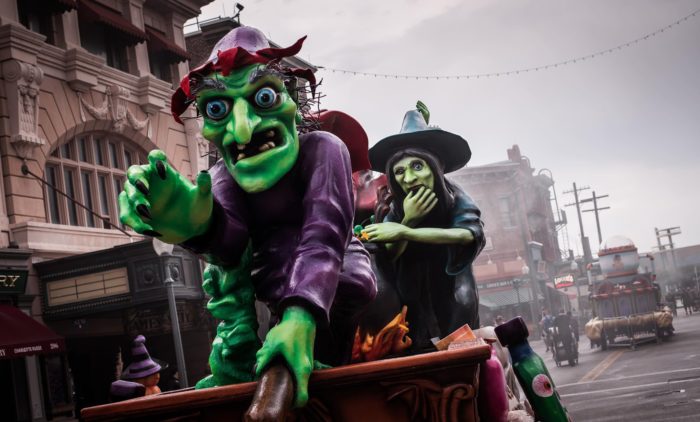 These parade floats were created by none other than Kern Studios, a longtime manufacture of parade floats for Universal's Mardi Gras celebration, but also the Mardi Gras event in New Orleans which gets worldwide attention.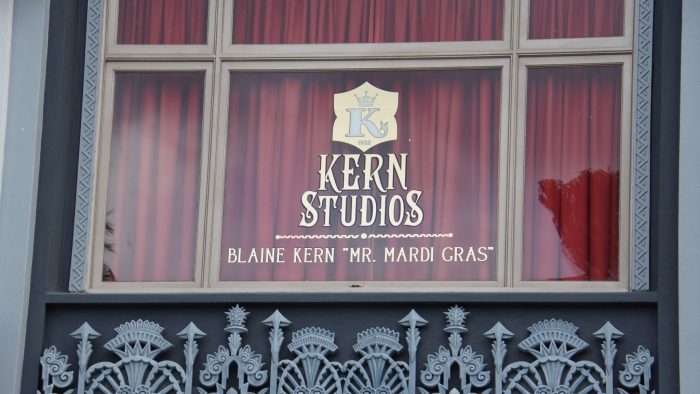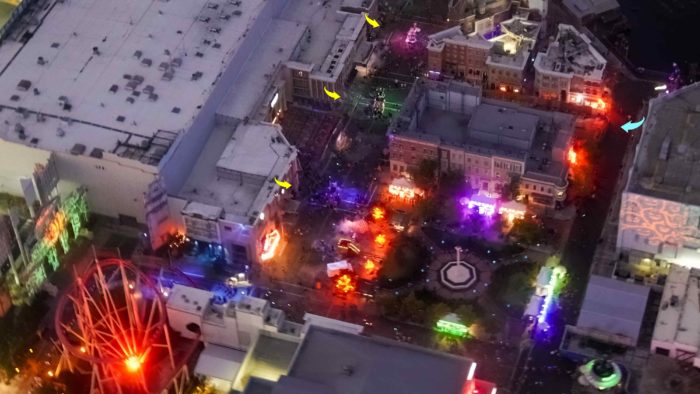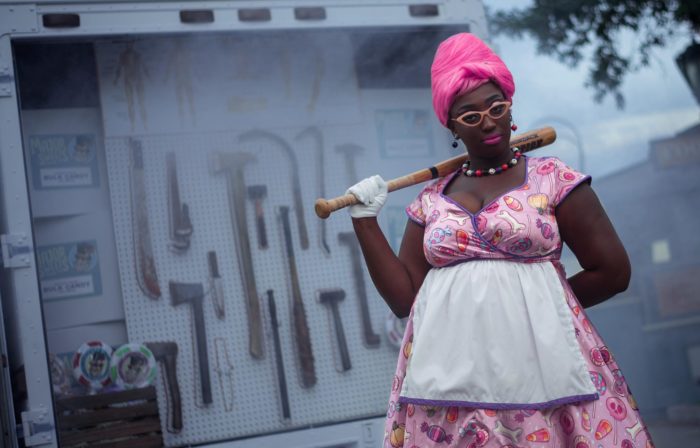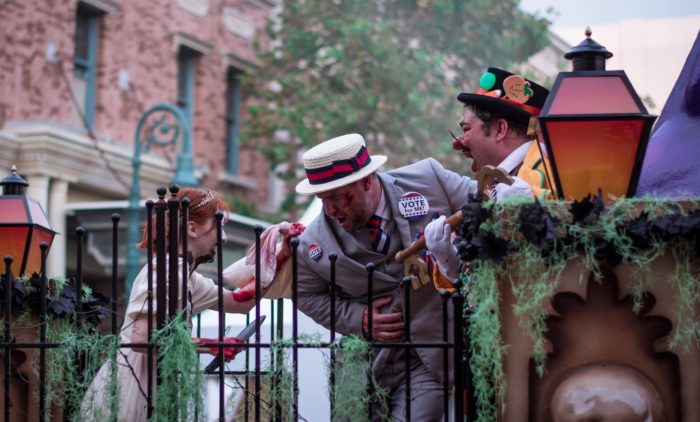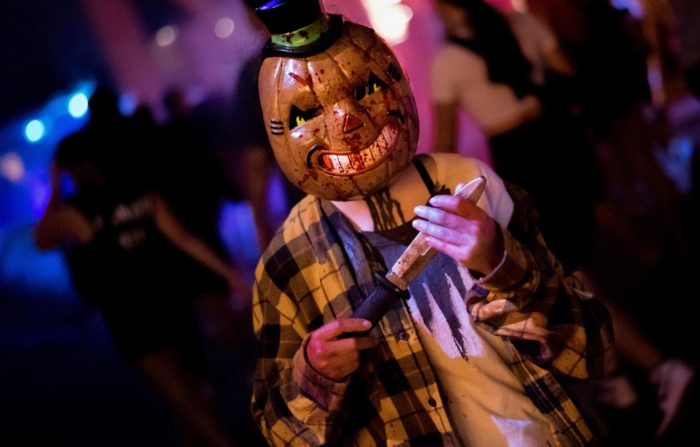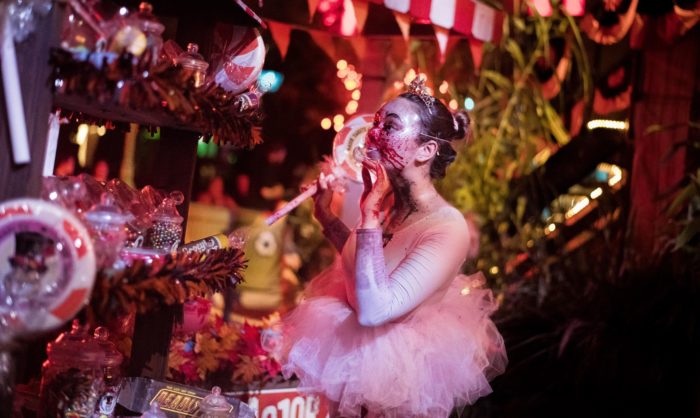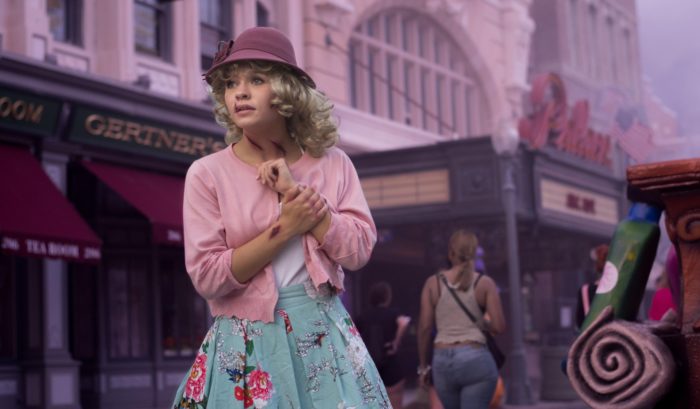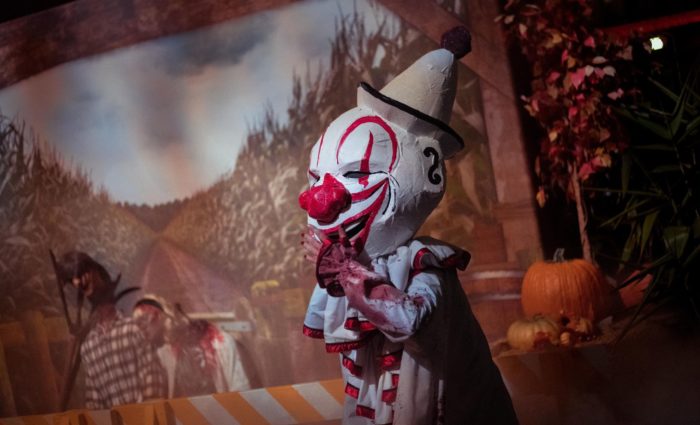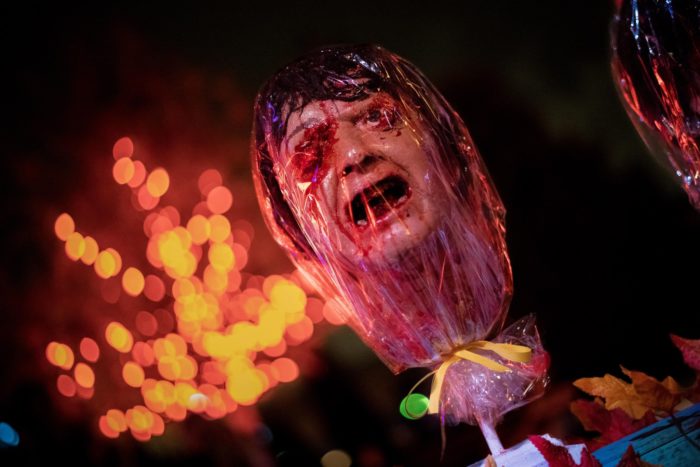 Now, while I had Sweet Revenge in my top slot, many others love Graveyard: Deadly Unrest the most. In any other year this would probably be my favorite as well as it was fantastic. This scarezone was in the Hollywood section of the park and the overall theme was you were in a graveyard which has had long-dead spirits come back to life. What was really cool is that these spirits were coming from the same graveyard, but from different eras of time. Just a wonderful concept that was executed perfecly.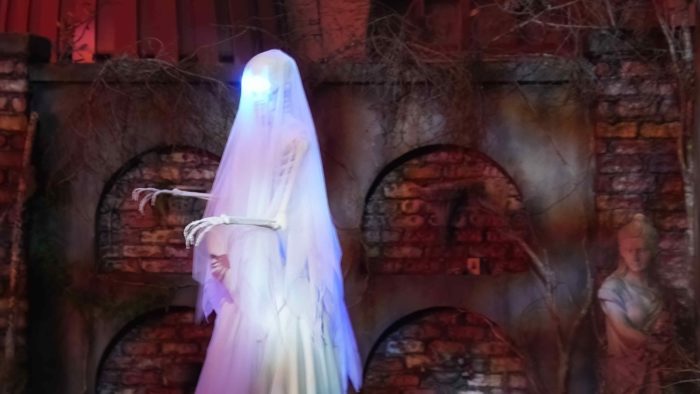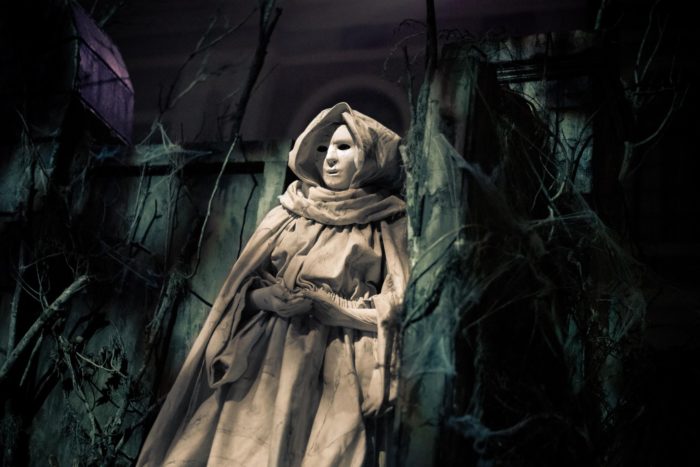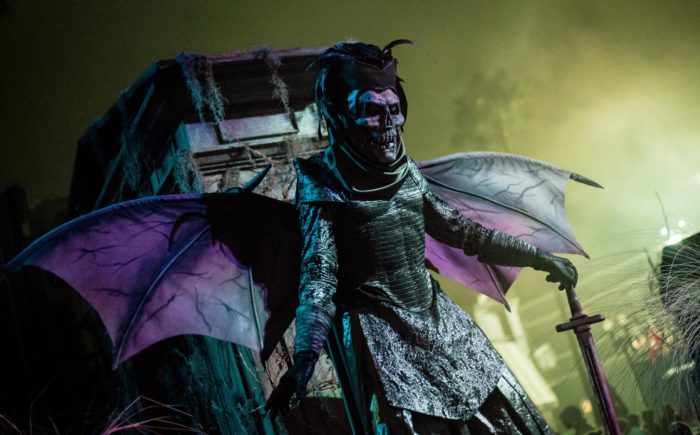 These two twins may have stolen the show with their antics.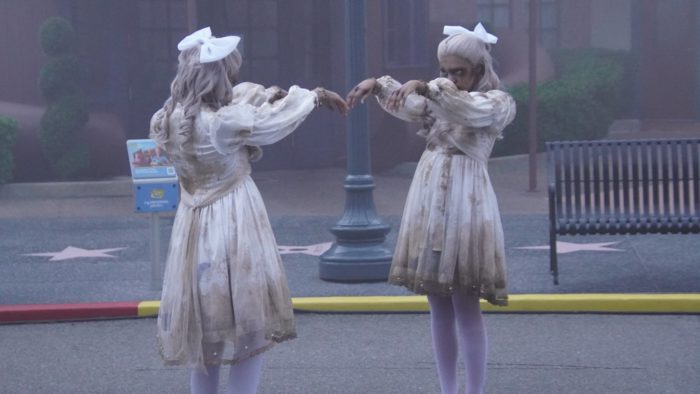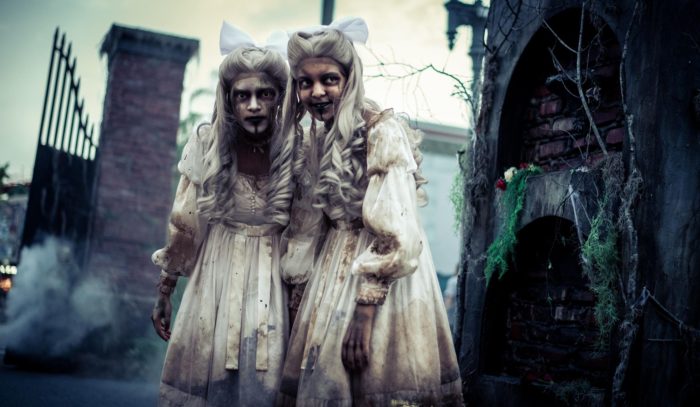 Scarecrow: Cursed Soil outside of Central Park was a very nice surprise. Guests were walking through an abandoned farm, complete with barn. This type of horror film would never interest me, but as a scarezone it was incredible.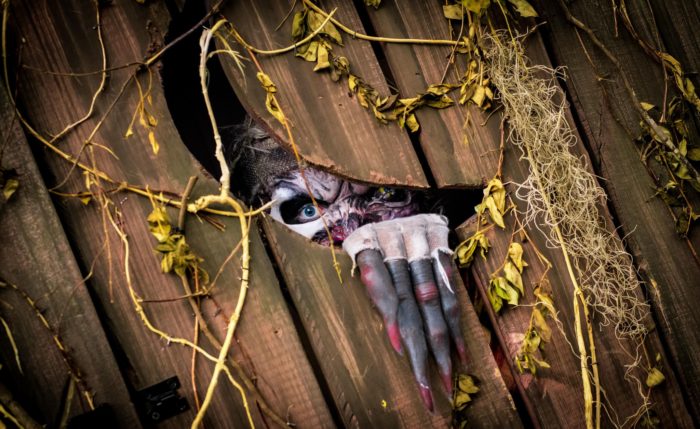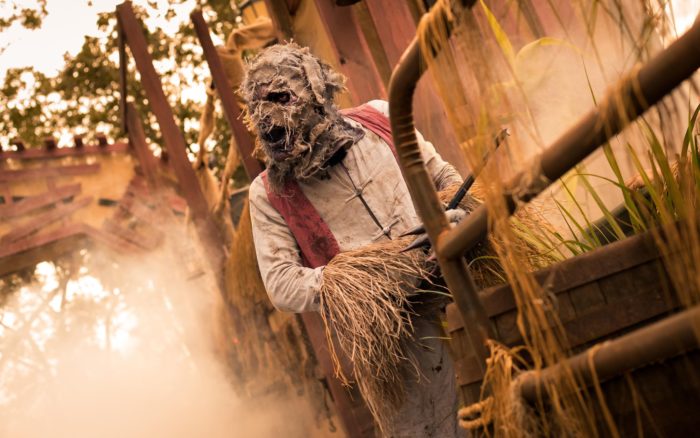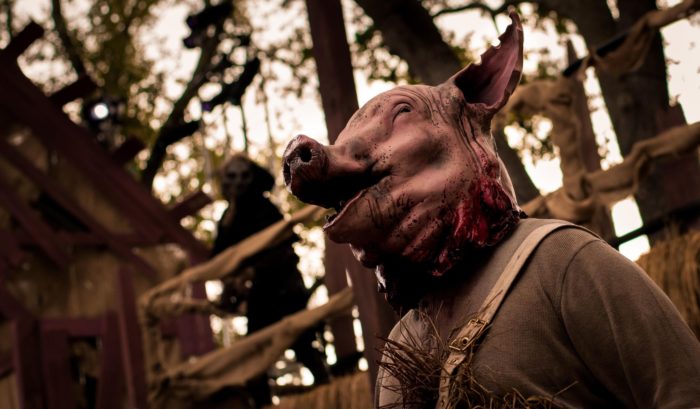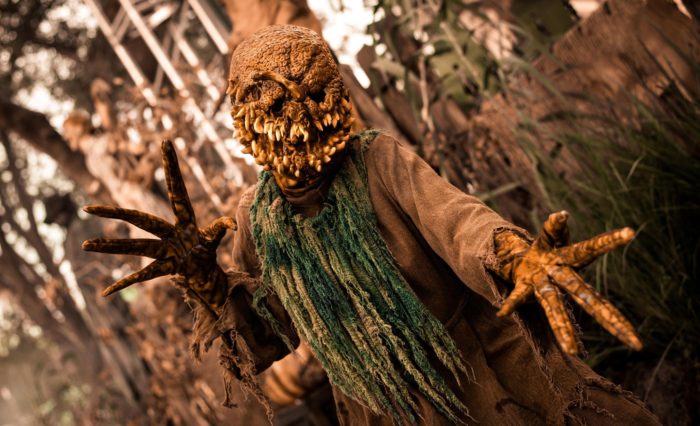 Conjure the Dark took place in the San Francisco area of the park. Here we had demons being drawn from dark dimension. I think that scarezones in this area of the park area always going to be limited to what they can do because of how congested everything is.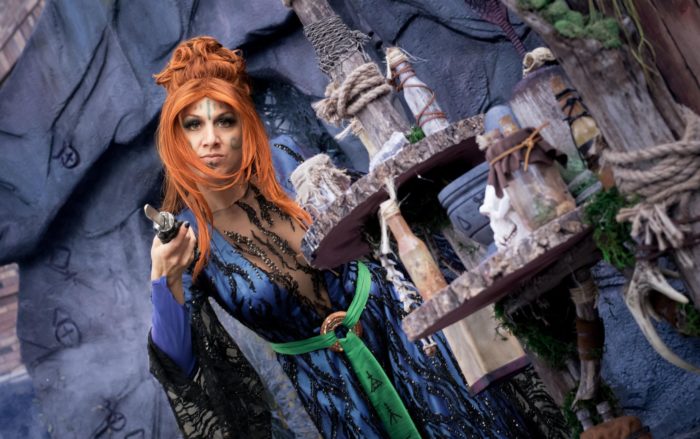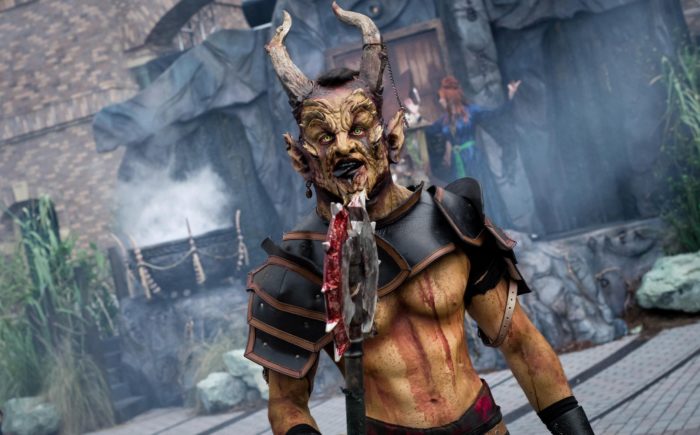 # 1 – The Houses
The signature part of any HHN are the haunted house experiences. Like I mentioned earlier, despite going to Universal since it opened in the 1990s I always avoided HHN because I wouldn't consider myself a "horror fan." I finally decided to get my feet wet when Universal first got the license for AMC's The Walking Dead, because I was such a huge fan of the TV show and Walking Dead comic book. I immediately realized how much different HHN actually was from what I imagined it to be in my mind. While I wasn't a fan of some of the movies used for the haunted houses, I could appreciate the design of each house from an artistic standpoint. It was also just fun being "scared" by the scareactors inside,  and even more fun watching other people get scared. Where I thought Universal really shined was in their original houses that weren't tied to an IP, but even I had to admit it was an IP that got me personally into the door.
(NOTE: you can not film/photograph anything inside a house during an HHN event. Most of the pictures you will see below were taking during Unmasking The Horror tours. These tours are given during the day, with small groups of guests are given a "lights on" tour while having a Team Member given a lot of behind the scenes info. In my book this is an absolute MUST DO as you not only get to see a ton of things you will surely miss during the actual event, but you also get a fascinating look into how HHN is put together.)
We'll go through each house in the order I personally am ranking them this year, starting with…
Dead Man's Pier: Winter's Wake – In a New England fishing village, undead fishermen emerge from the waves to seek their revenge. You and your scream squad may have escaped their hooks in the scare zone. Now they'll reel you in and drag you under. 
Off the charts incredible and one of the best houses I have ever experienced. Set design is straight up E-Ticket, and the character design for the scareactors inside was mind-blowing (the deep sea diver effect was incredible.)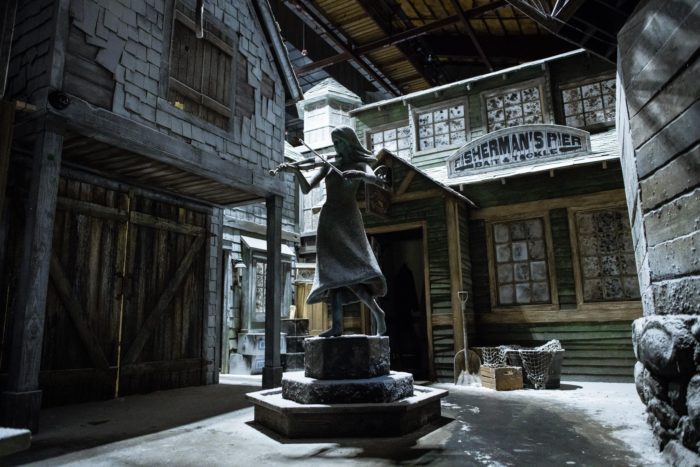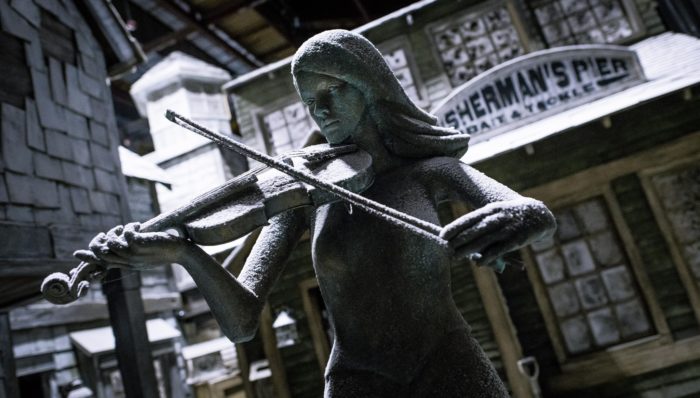 Here's an example of why I would recommend taking an Unmasking the Horror Tour (and you'll see a bunch of other examples in the houses that follow.) The details on this board will never be noticed by anyone during the actual HHN event at night. It's too dark, there's too much going on, and you're walking through the house without being given too much time to appreciate any one detail. This board below is filled with fun references put in by Universal Creative.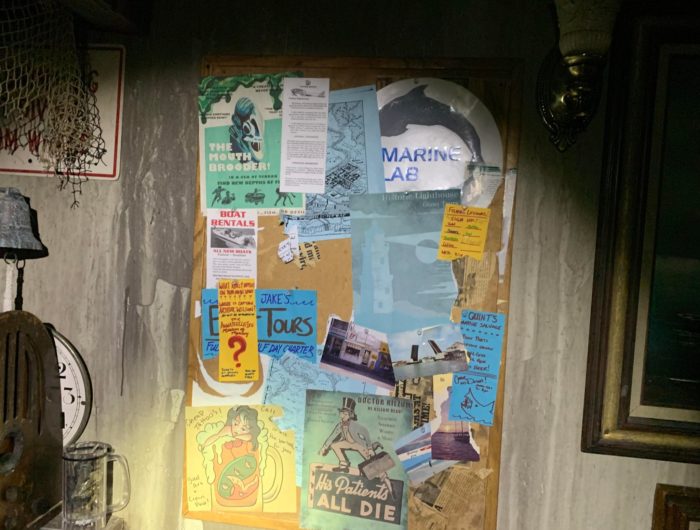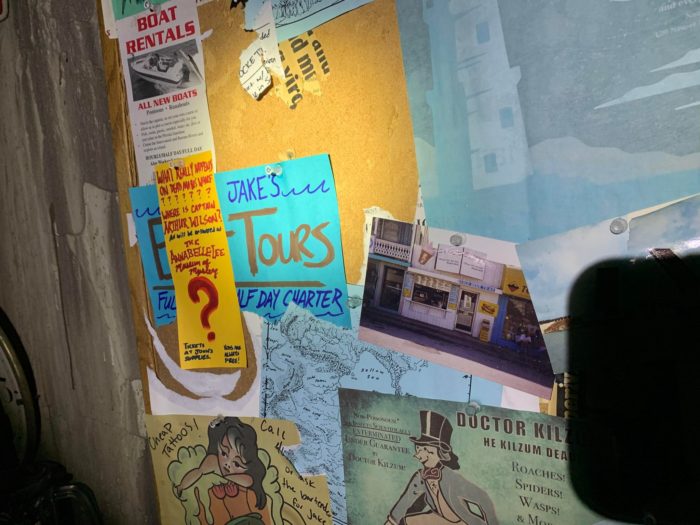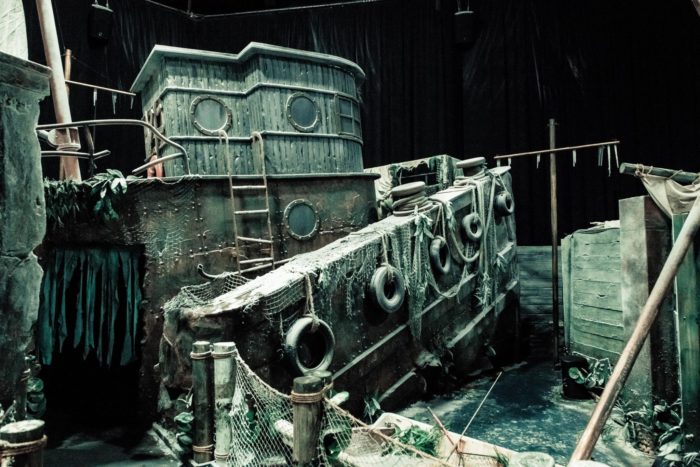 Universal Monsters: Legends Collide – If you thought one Universal Monster was scary, how about three? Better summon your scream squad, 'cause you're about to get caught in the middle of an epic battle between The Wolf Man, Dracula and The Mummy, together for the first time ever. Their mission: To find the amulet that will break their curse. And they'll destroy anyone who gets in their way.
Another not-to-be missed banger of a house that features a different  Universal Classic Monster "winner" every night. While Hollywood may be dropping the ball on movies featuring these iconic characters, HHN has been using them brilliantly for years and really has me excited for the Universal Classic Monsters Land we look to be getting in Epic Universe.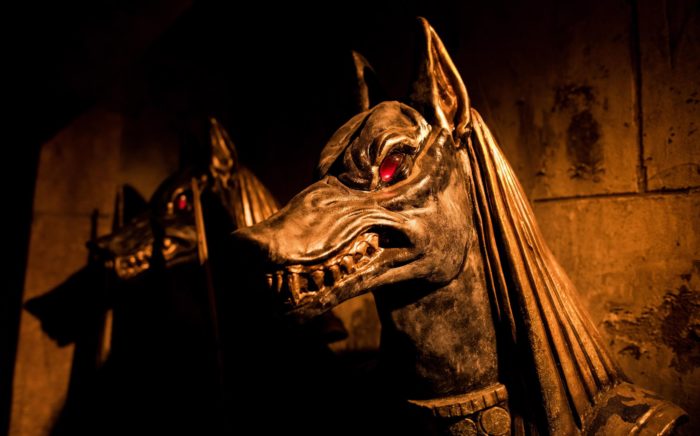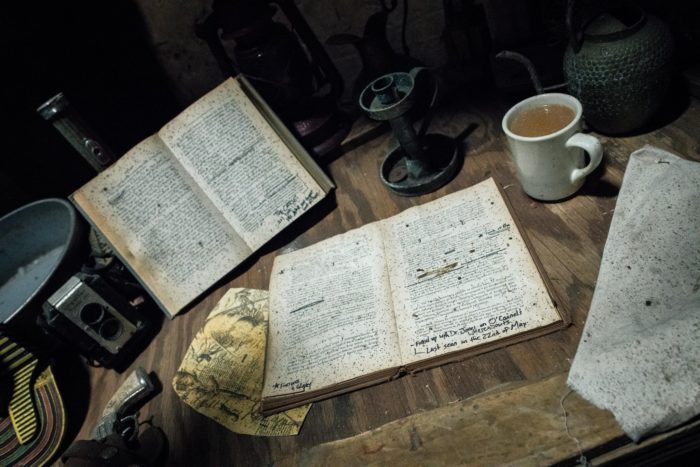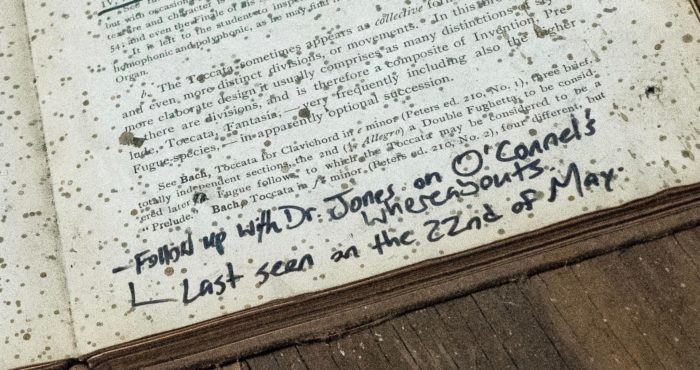 Bugs: Eaten Alive – While touring a 1950s home of the future, you'll be surrounded by the slime of bugs everywhere as hordes of many-legged terrors descend upon you and your scream squad. You'll be dropping like flies.
This house was an all-timer for me as I loved the retro-aesthetic throughout and the fun it had before getting into the pure creepiness.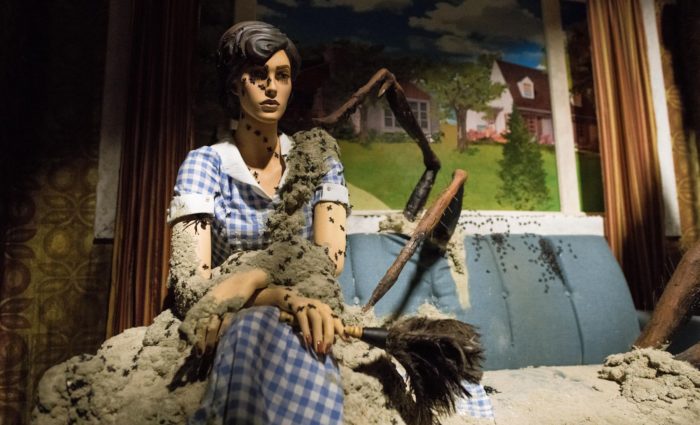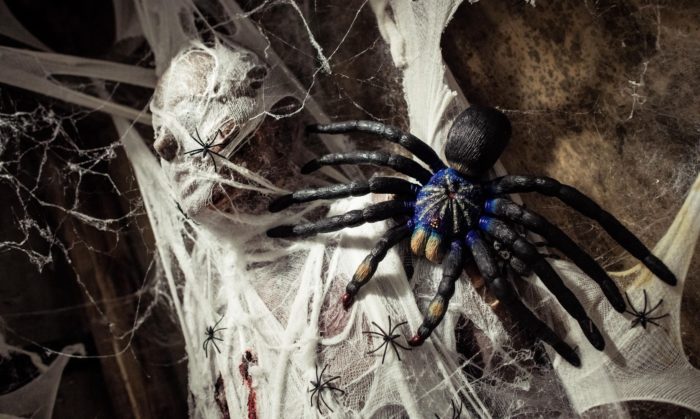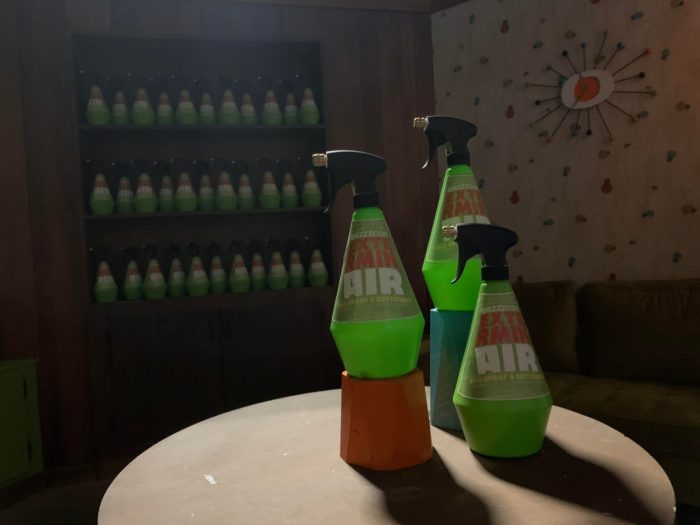 The Weekend: After Hours Nightmare – Prepare to enter the macabre mind of The Weeknd in this haunted house as he stalks your squad through the surreal nightmare of his After Hours music. A slasher carving a smile at an otherworldly rave. Bandaged maniacs performing extreme plastic surgery. A grotesque mannequin masquerade. His nightmare is now yours.
This house was a true surprise because I know absolutely nothing of The Weekend outside of his massive hit "Blinding Lights." The house perfectly blended music and a disturbing storyline and slowly climbed up my list. The part of the house which recreates the "Blinding Lights" moment from Super Bowl LV was icing on the cake.
There are some houses based on IPs where guests aren't allowed to take pictures of, even during Unmasking the Horror Tours. This was one of those houses. These houses also often have the scareactors walking to and from the house (because the Team Members rotate shifts to get well deserved breaks) under a full cloak, whereas other houses just have the scareactors walking by in full costume. There is nothing more surreal than standing in line for a house and the line is stopped to allow a menagerie of HHN scareactors to walk by.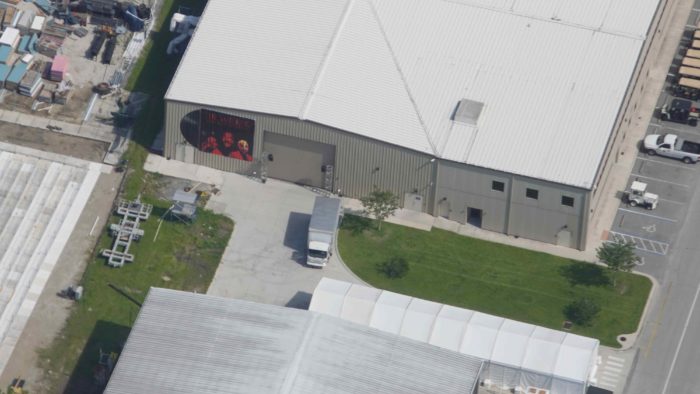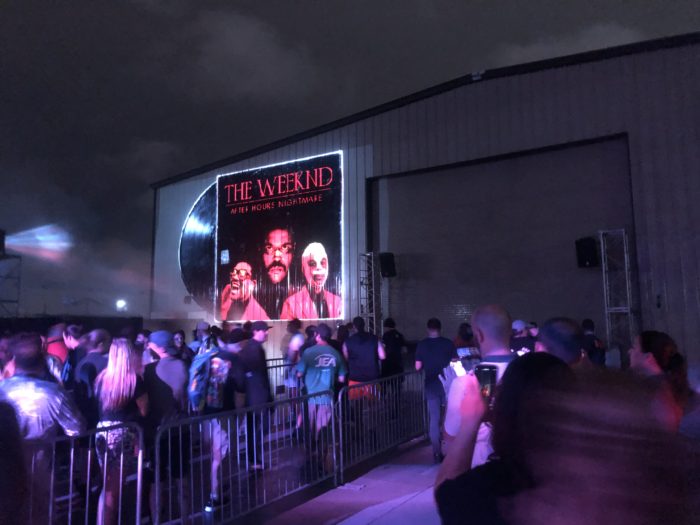 Descendants of Destruction – Careful not to leave any of your scream squad behind as you descend the subway tunnels of a deserted New York. Lurking in the dark are hungry mutants looking to feast on the last remnants of humanity.
The story of this house was pretty neat as guests progressed further and further into the house they saw humanity going farther and farther down into the Earth to escape the toxins outside. Like the animal world in our life today, creatures who live in complete darkness don't need the use of eyesight, and Universal Creative had fun playing with this concept for what would happen to humanity if we evolved to that state.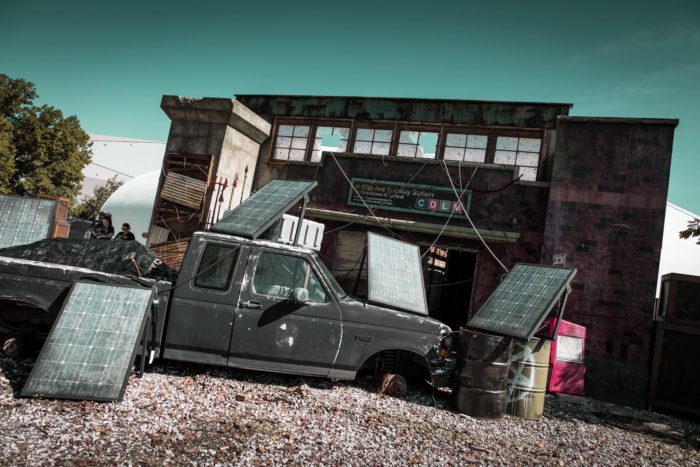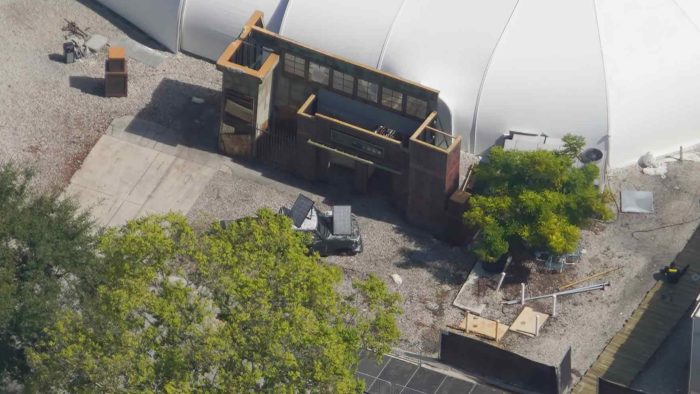 One of my favorite parts of the Descendants of Destruction house is its nods to other Universal attractions of years past.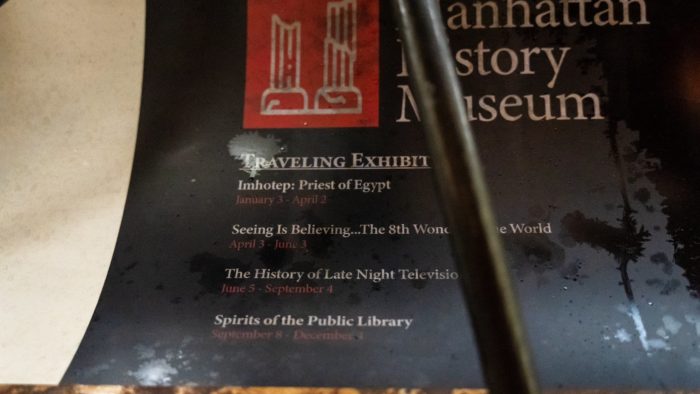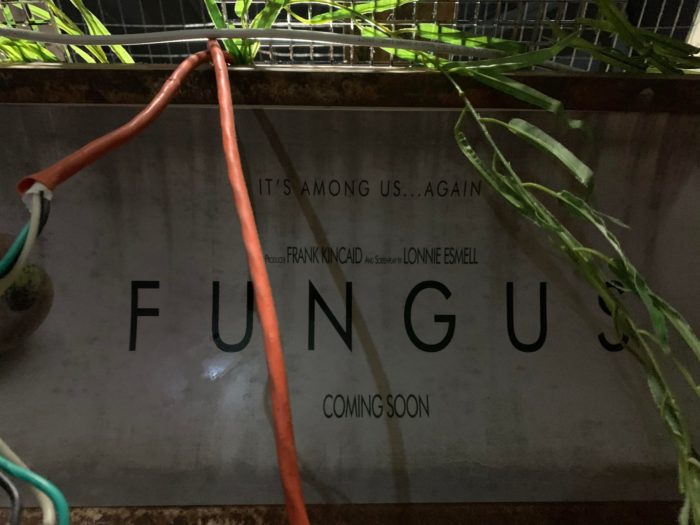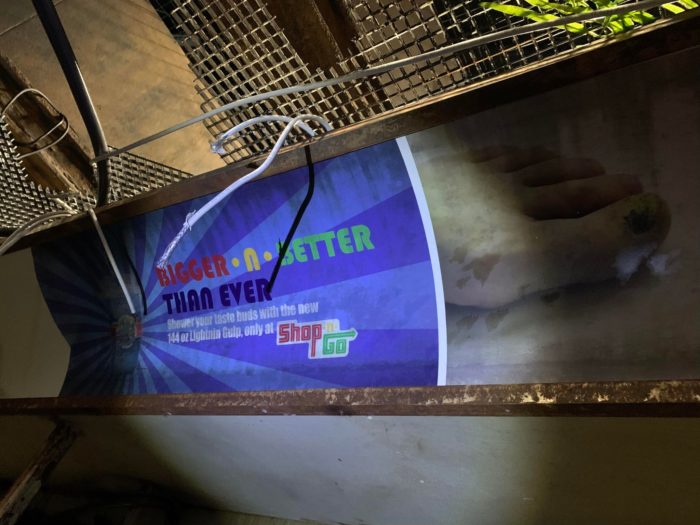 Halloween – Gather your friends and visit Haddonfield, Illinois, where Michael Myers is about to don his mask and embark on his first brutal spree. Silent. Merciless. Relentless. He's the embodiment of pure evil. You don't want to go alone as you go back to where it all began. This year, step into the original 1978 horror classic, Halloween.
One of the most well known Horror movies of all time gets a whole new HHN experience recreating many memorable moments from the iconic film.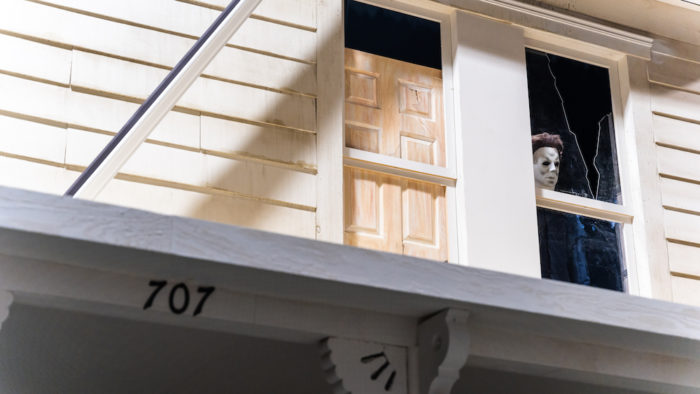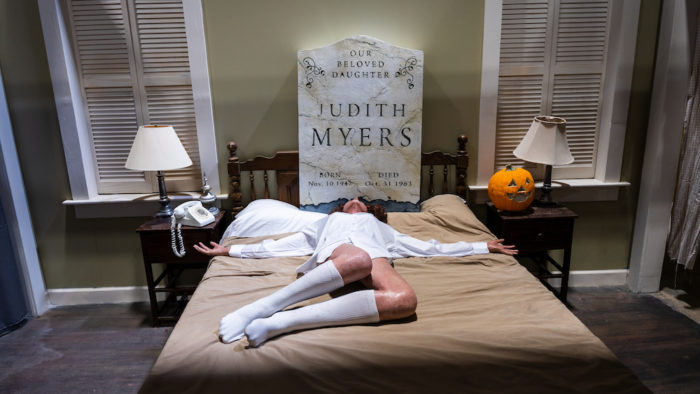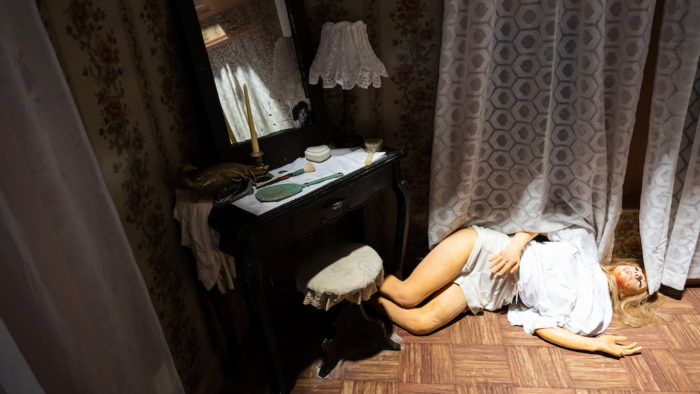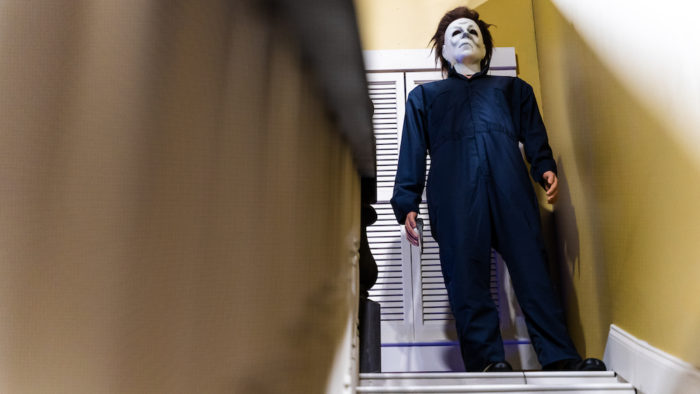 The Horrors of Blumhouse – Step inside a new double-feature of Blumhouse horror. Your scream squad will find yourselves trapped between a frantic teen and the ruthless serial killer she's swapped bodies with in Freaky. Then, you'll try to make a desperate escape from the dark basement of The Grabber before you become his latest victim in the terrifying The Black Phone.
This house had two sperate experiences. The first half was based on the film Freaky, which I had completely forgot came out during the early part of the pandemic. I remember wanting to see the movie when it came out because of the fun concept, but then completely forgot about. Basically a serial killer and a teenage girl switch bodies in Freaky Friday-like situation.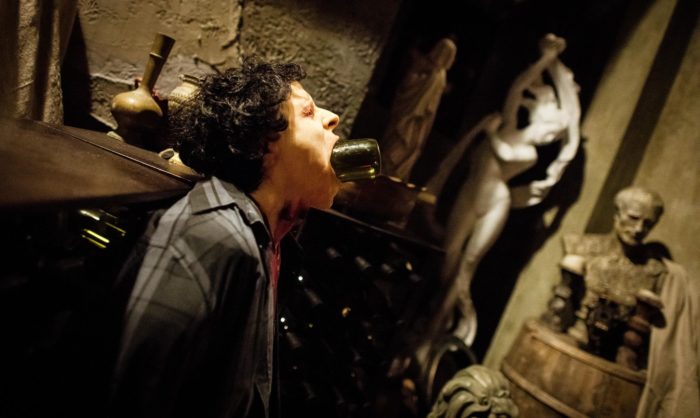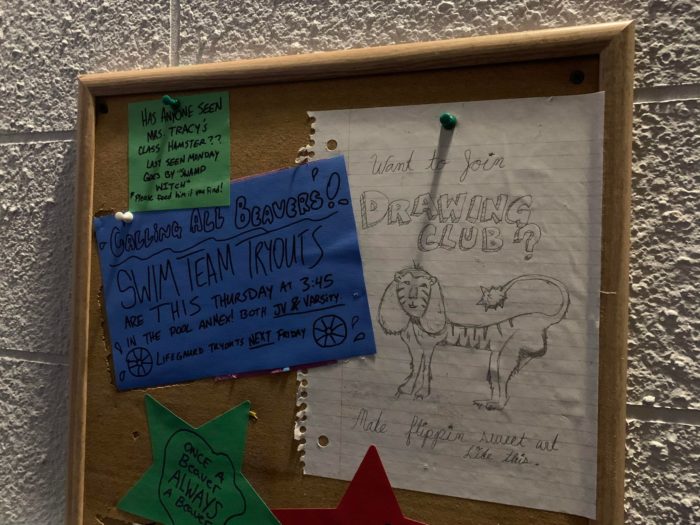 If I were in the  movie when the pitch was made for the movie Black Phone, I would have bought in completely. A child gets kidnapped, and in the room where he is being held captive is a black phone. The people who talk to him on that phone were the previous victims of the kidnapper.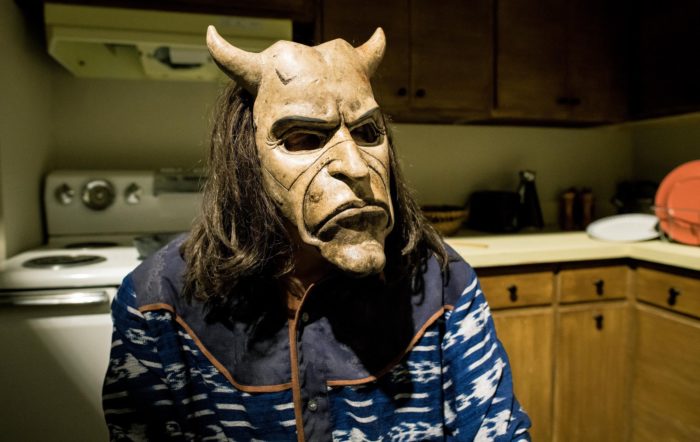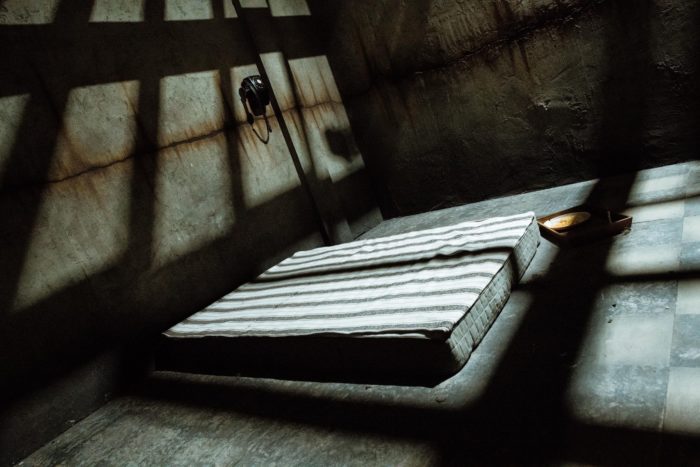 Hellblock Horror – Enter a prison whose savage inmates are monstrous creatures. If they break free from their cells, it's a death sentence for everyone.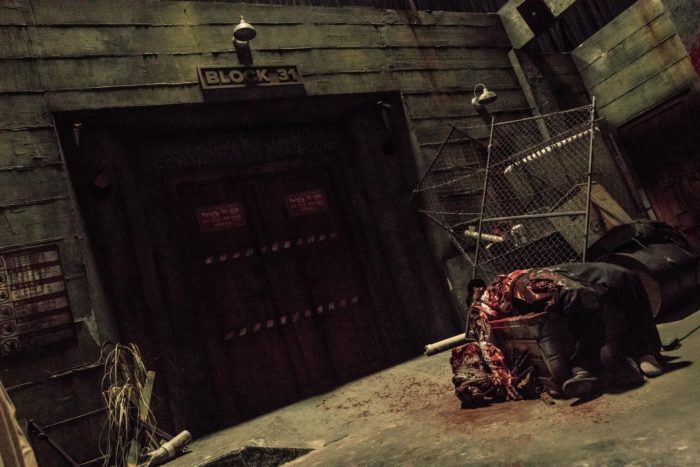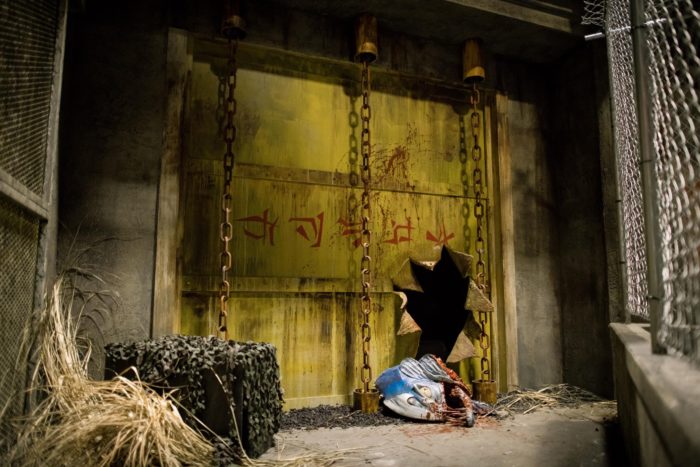 Fiesta de Chupacabras – Visit a Latin American village where the legend of the creature Chupacabras is celebrated with a colorful fiesta. And the streets are lined with the crimson blood of tourists like you and your amigos.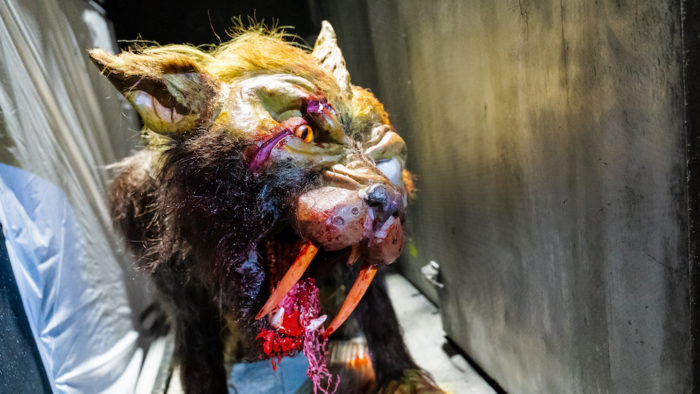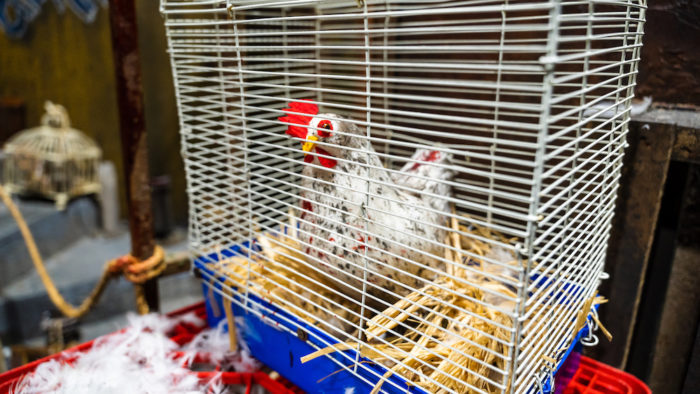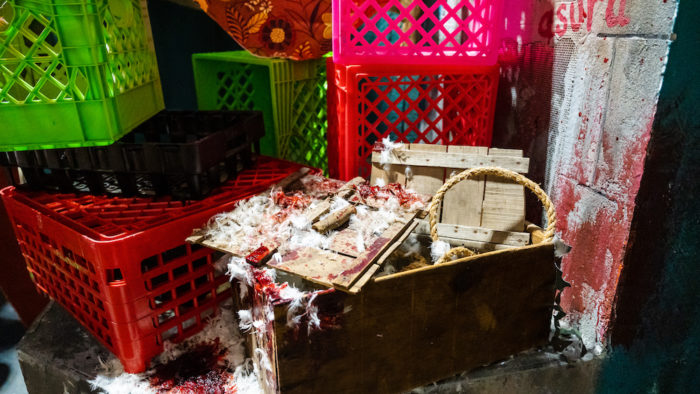 Spirts of the Coven – A coven of beautiful flapper witches will lure you into their 1920s speakeasy, reveal their haggish true form and turn your scream squad into a witch's brew. They'll be cackling; you'll be screaming.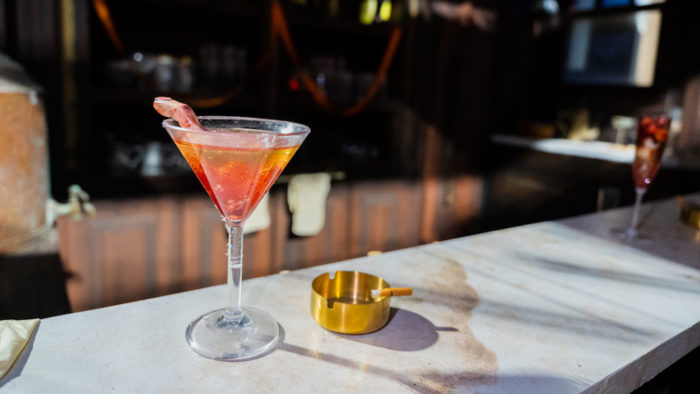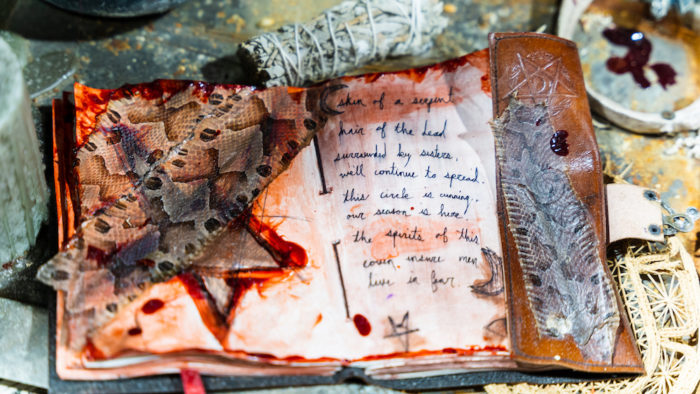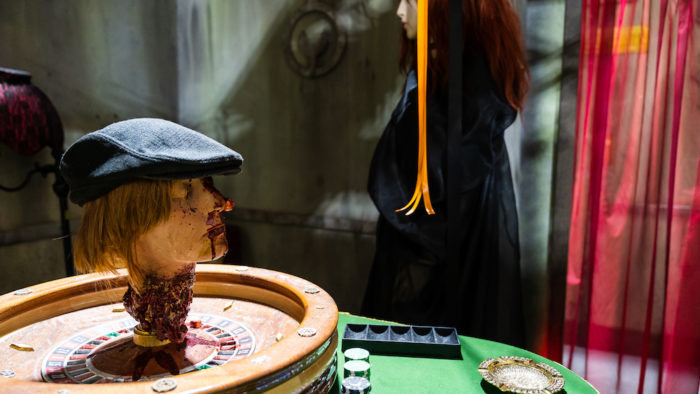 Having an eyeball as the ball for the craps wheel is pretty great idea for a haunted house, but it gets even better…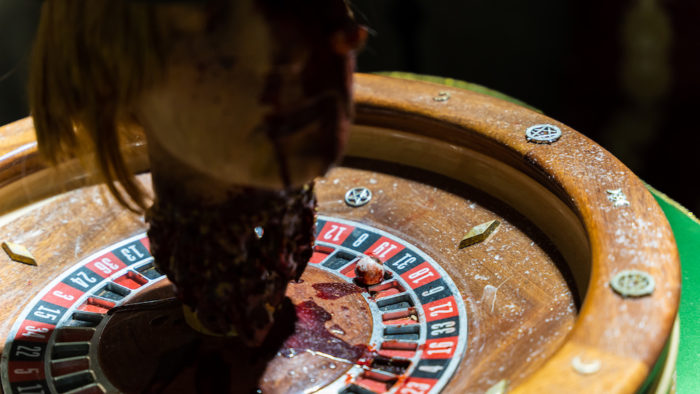 …the eyeball is resting on the number 31.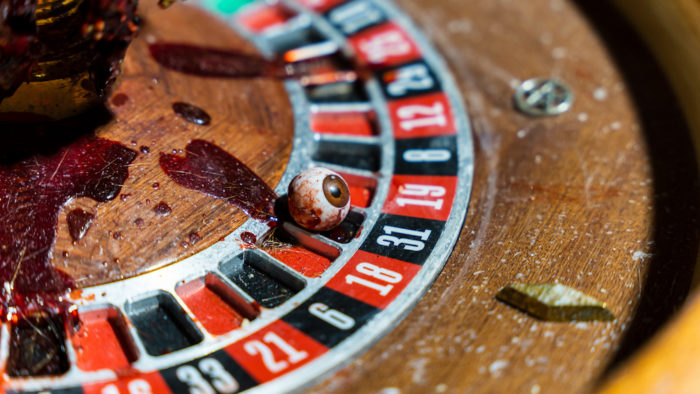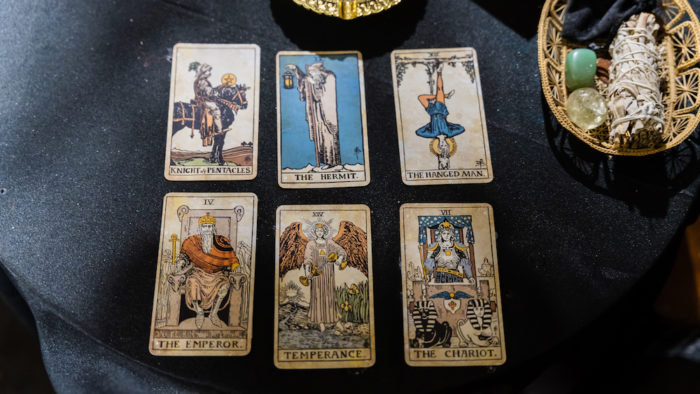 HONORABLE MENTION – HHN 31 Skill Games~!
No one knights up for Theme Park Skill Games more than me, and they have returned for HHN 31. While I can't justify prizes for Sonic the Hedgehog characters, there are more than enough Halloween-based prizes to make up for that.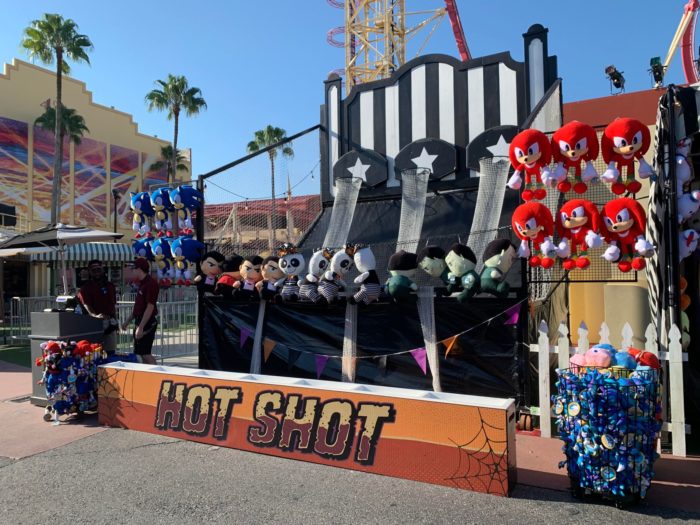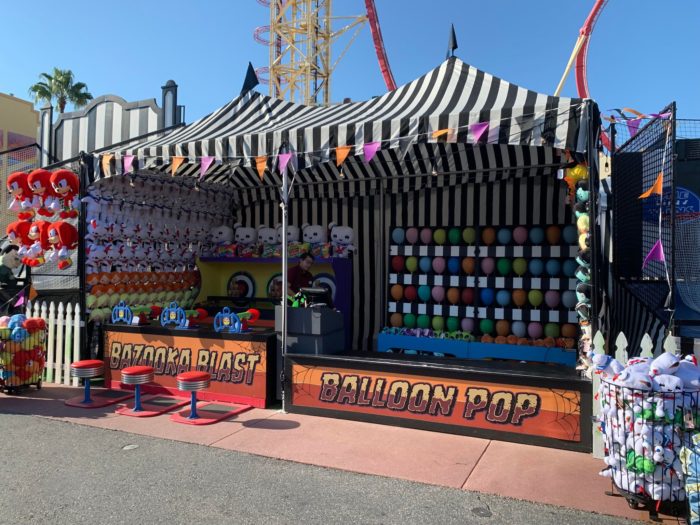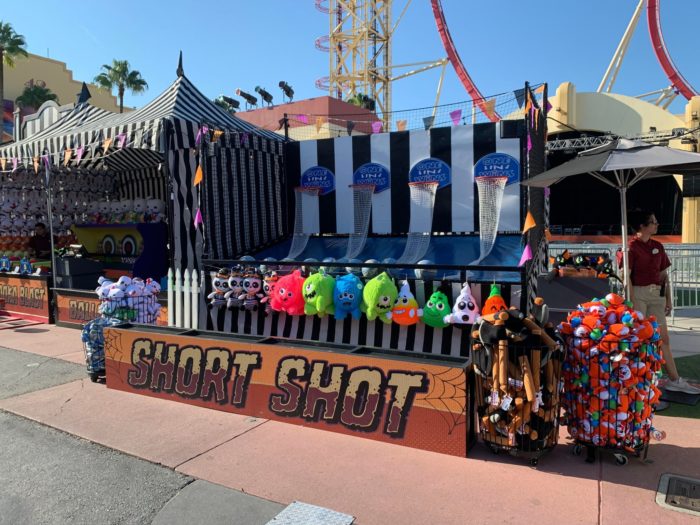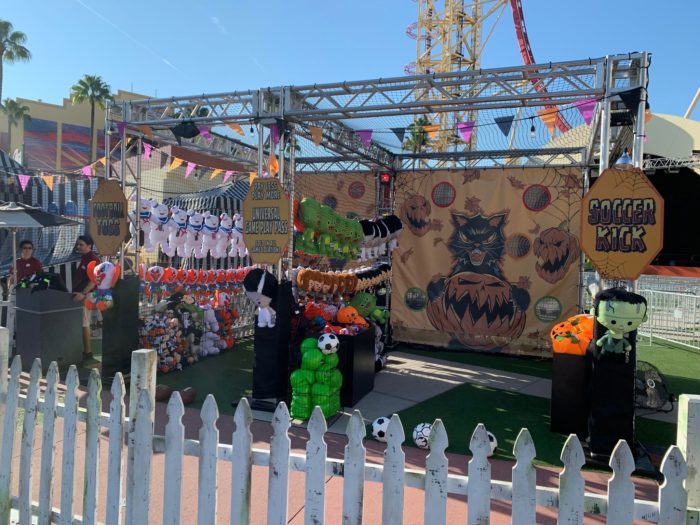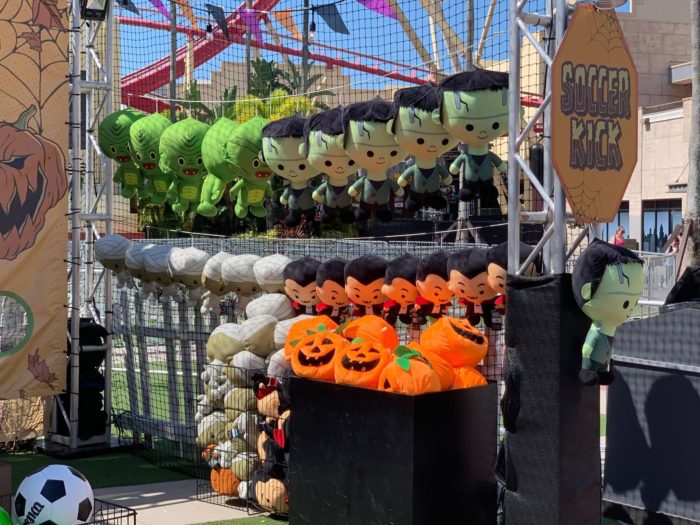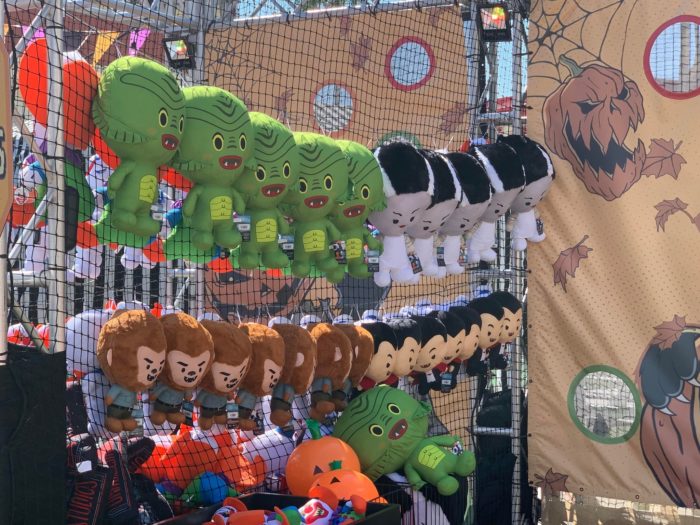 *Double Secret Honorable Mention: The Projections
I love Mickey's Not-So-Scary Halloween Party at Disney's Magic Kingdom, but the times I went there was minimal work put into theming the park outside of Main Street USA. When Universal Studios Florida turns into Halloween Horror Nights, it's a completely transformation. Aside from all the scarezones, haunted houses, and food carts, projections are everywhere.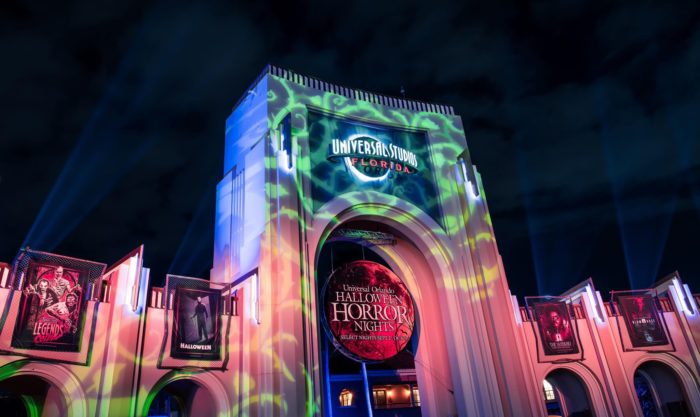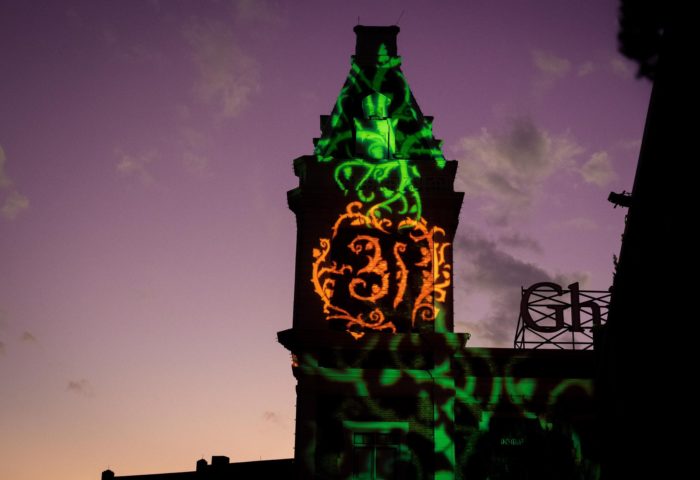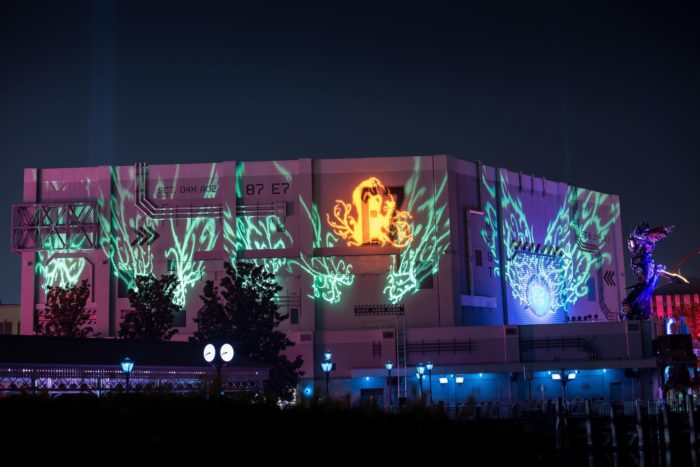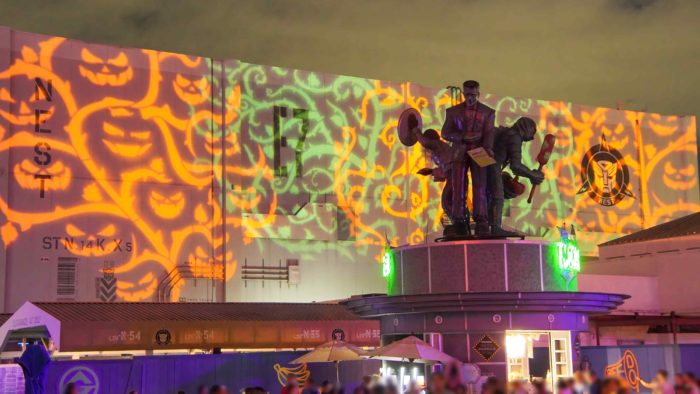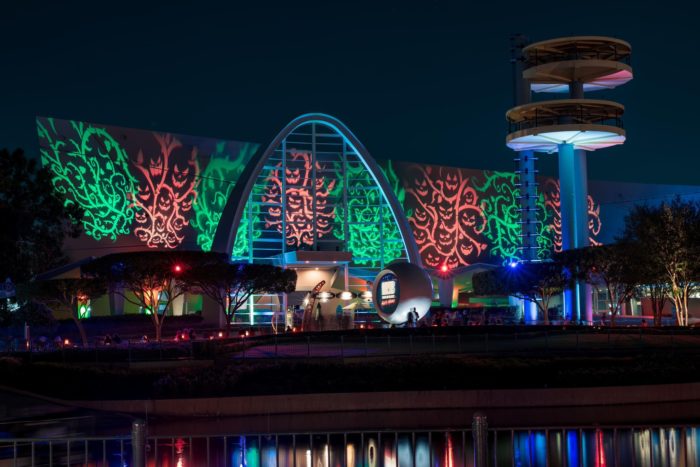 *Triple Threat Honorable Mention: HHN Across Property
Halloween Horror Nights gets bigger every year, and this year it straight up exploded. The biggest addition was the complete overhaul of the Red Coconut Club in Universal CityWalk to the Dead Coconut Club (which we covered in-depth in THIS ARTICLE.)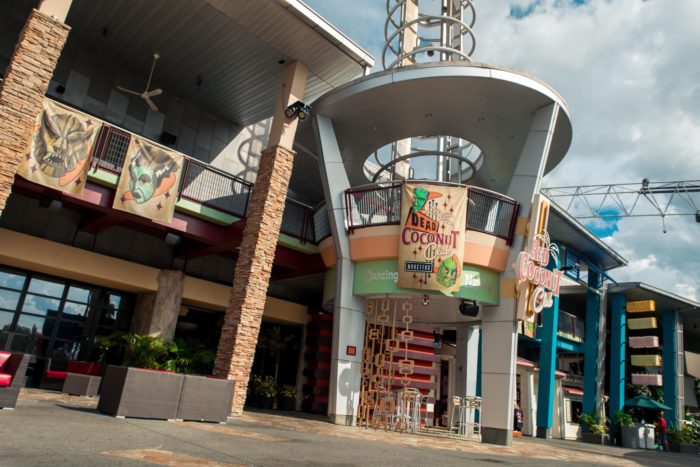 The Dead Coconut Club experience was so successful, Universal has themed the second floor of the club as well. Even better, it's themed to the Creature from the Black Lagoon, my favorite Universal Classic Monster.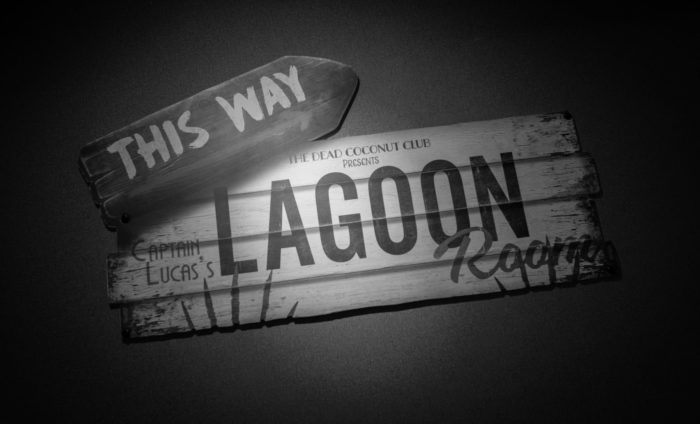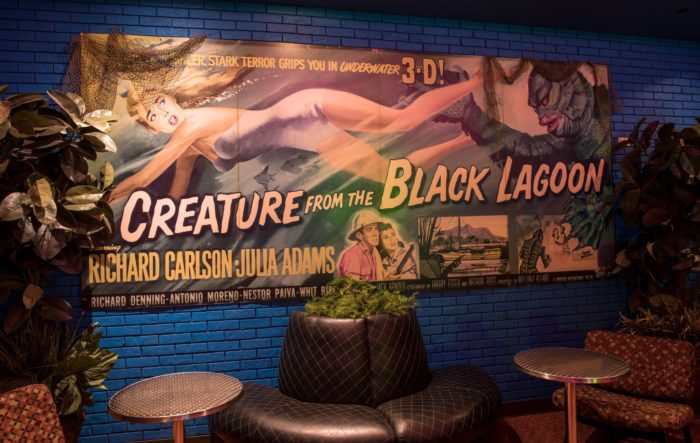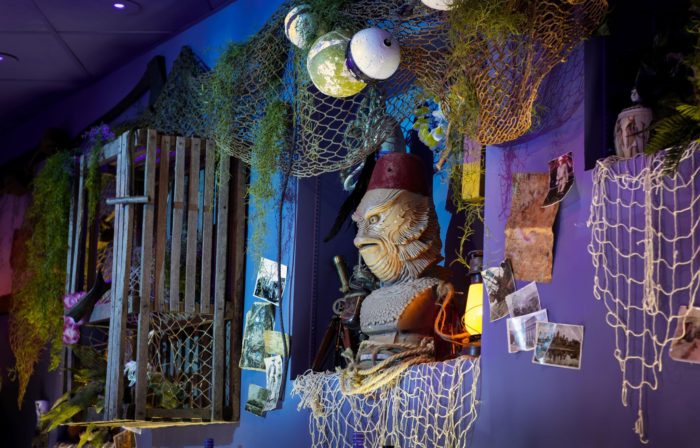 They also installed a Mold-A-Matic machine at the Dead Coconut Club!!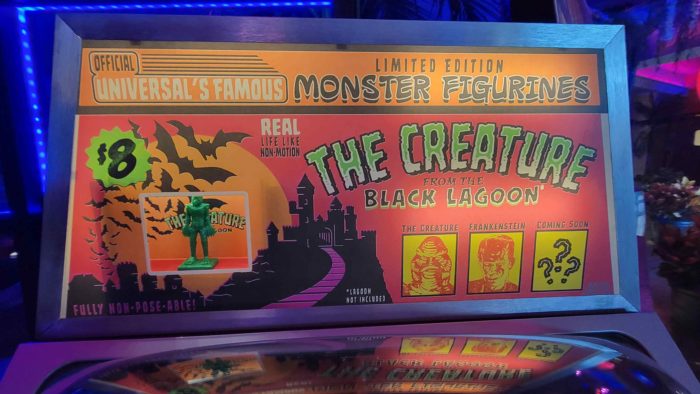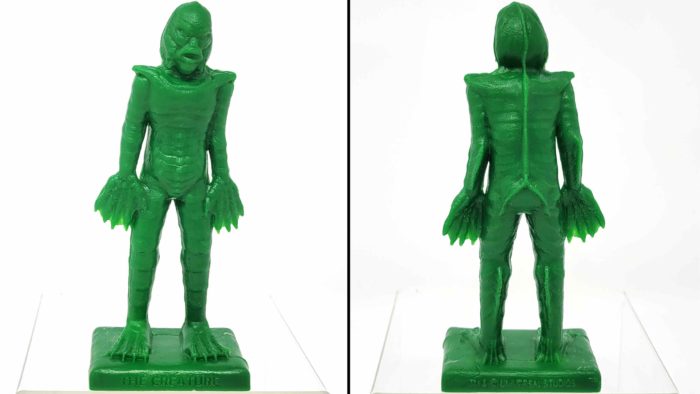 Toothsome Chocolate Emporium has it's over-the-top HHN-themed milkshake topped with a chocolate cauldron.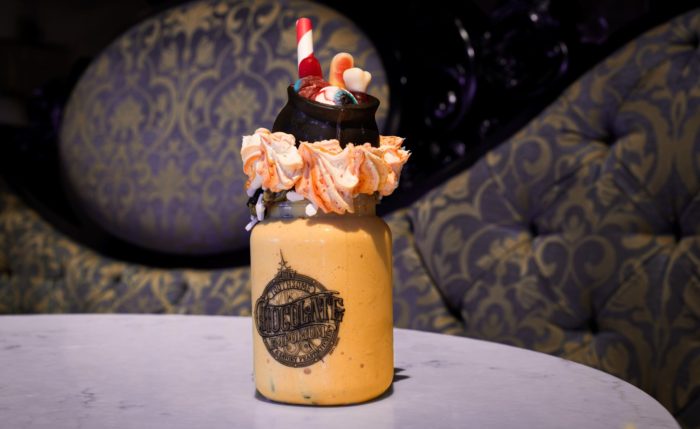 Voodoo Doughnut has a cauldron-themed donut.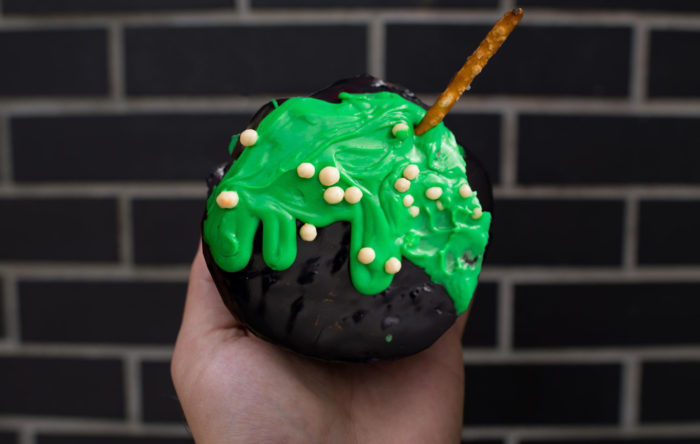 We recently covered the HHN additions made to Cabana Bay Beach Resort, including the Gallery of Legends photo-op experience.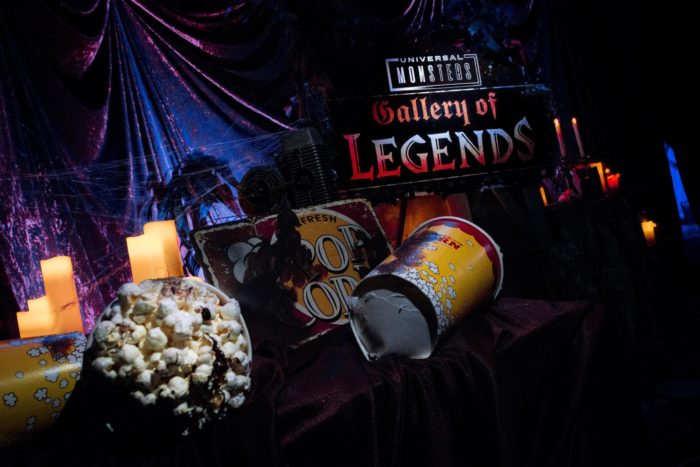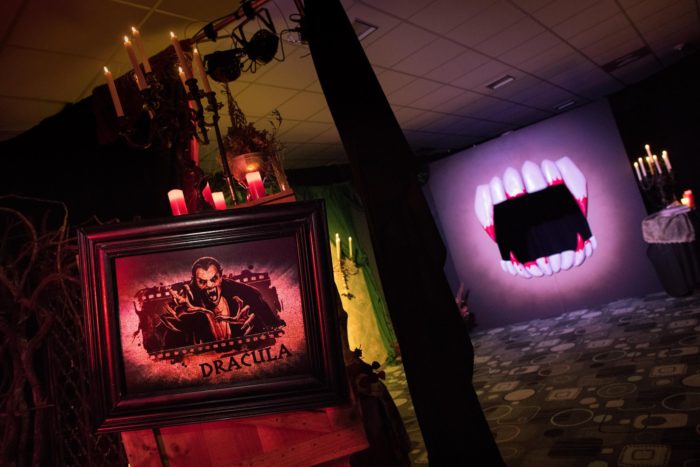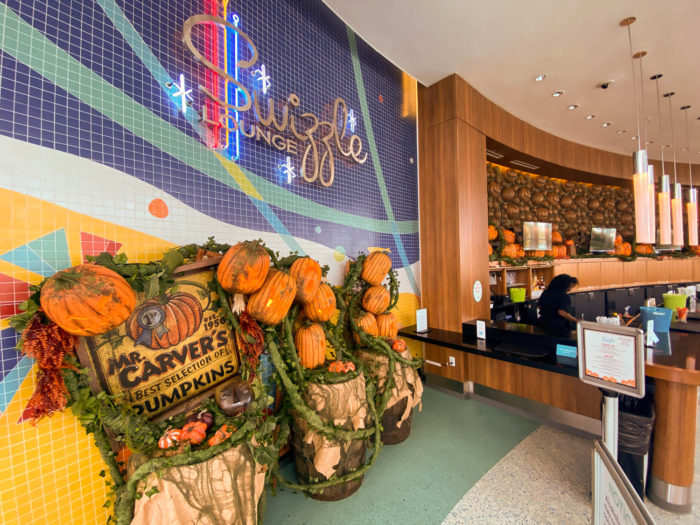 Every on-site hotel at Universal has specialty HHN drinks available.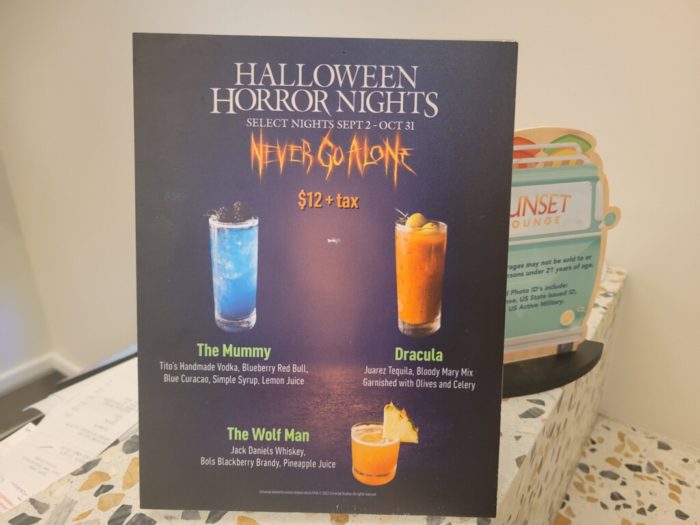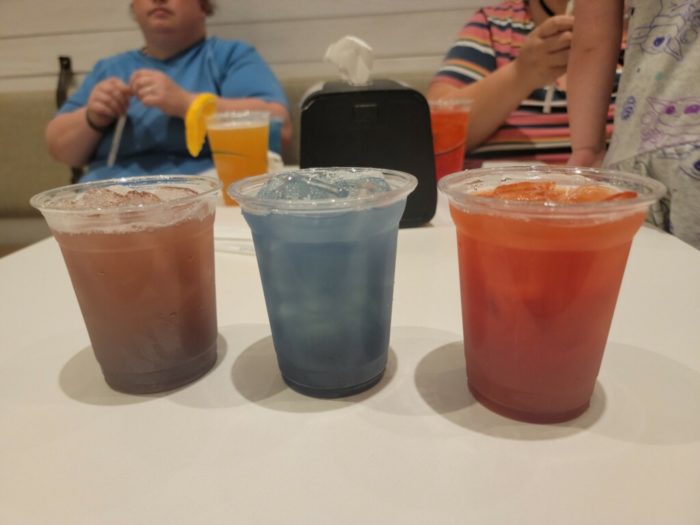 The onsite hotels which offer room service also have some fun options for guests to try.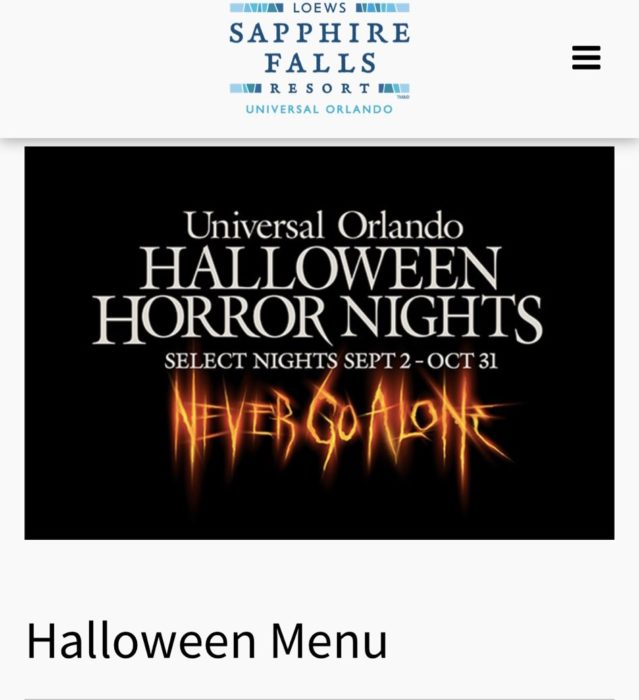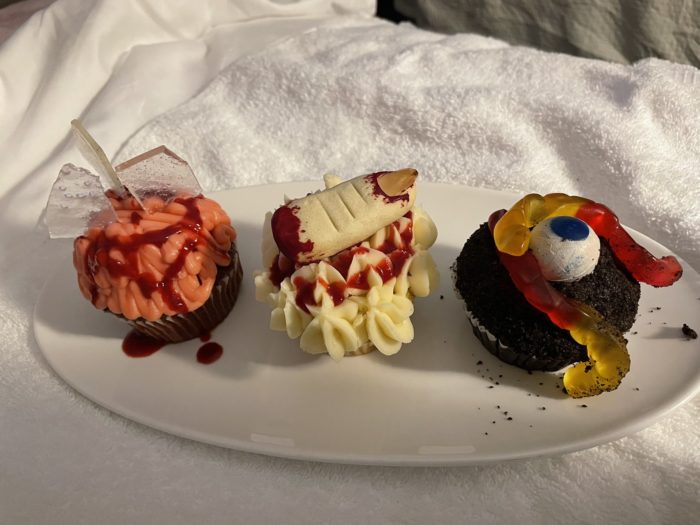 The All Hallows Eve Boutique in Islands of Adventure also gets into the fun.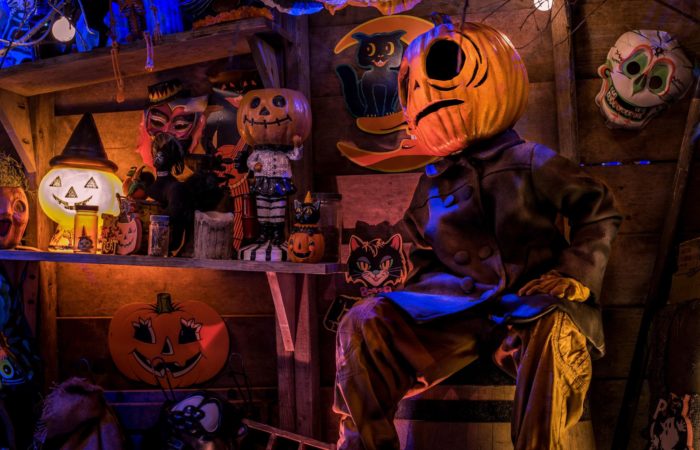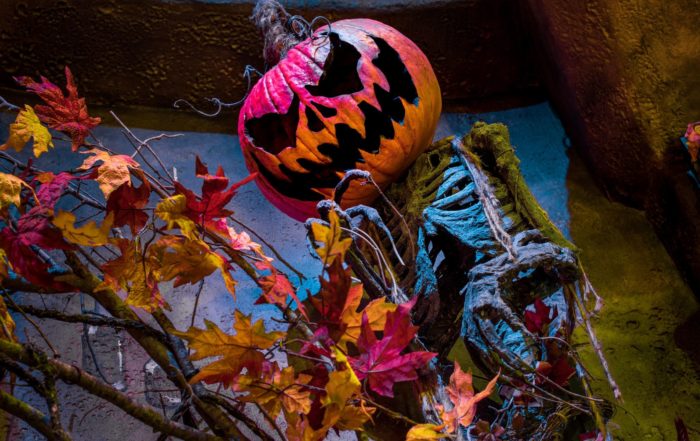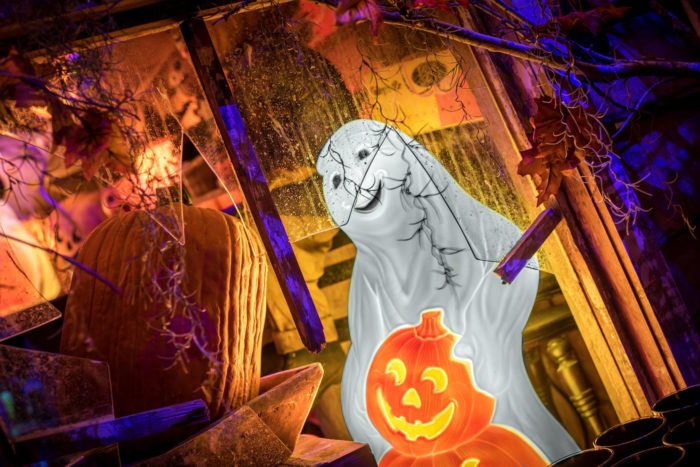 So there you have it: Six Reasons We Love HALLOWEEN HORROR NIGHTS 31! See you next weekend for the latest installment of the SATURDAY SIX, where we'll look at something fun from the world of Disney and Universal. If you enjoyed yourself, be sure to check out the THEME PARK ENJOYMENT INDEX, giving a monthly recap of all the theme park news you need to know (and a lot more you don't need to know, but we're gonna tell you anyway). You can also follow Your Humble Author on Twitter (@derekburgan).
If you enjoyed this article, you will surely like the following: 
SATURDAY SIX Presents: The Disney Merchandise Hall of Shame
SATURDAY SIX Presents: The Disney Signage Hall of Shame
SATURDAY SIX Presents: The Disney Food Hall of Shame
SATURDAY SIX: Tribute to Josh easyWDW
Special Thanks to The Elite Brandon Glover, Digital Maestro Scott Walker, the bio-est of all reconstructs @bioreconstruct, Captain Cruiseline Scott Sanders of the world famous Disney Cruise Line Blog, my personal protege Hunter "Elvey" Underwood, artist @SonderQuest, the mighty maven of merchandise Hedgehog's Corner, the SAT SIX Fun Squad of Parkscope Joe and "the Dadalorian" Nick, hot shot Michael Carelli, charter member of the Universal Four @Nitro230, the permit princess Alicia Stella, master cartographer Tommy Hawkins, and Hermione Granger's tutor Megan Stump for their invaluable assistance with this article. Absolutely no help was added by SeaWorld Influencer @SuperWeenieHtJr. The SAT SIX is inspired each week by goofballs Aengus Mackenzie and LitemAndHyde and you Potterheads will  enjoy Meg's other blog work over at the Central Florida Slug Club.