Hits and Misses of the NBA Experience at Disney Springs
The NBA Experience recently opened August 12 at Disney Springs, offering the opportunity for guests to feel what it's like to be a NBA star. Located at the West Side, the NBA Experience replaced DisneyQuest which closed in 2017.
Note: this article highlights an attraction that is now permanently closed. 
What is the NBA Experience?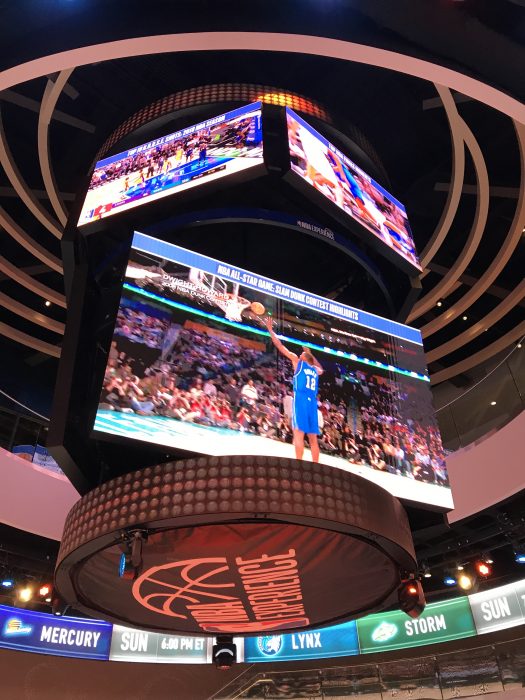 The NBA Experience is two levels of 13 interactive activities focusing on different components of the game of basketball and offering a glimpse into the experience of an NBA player. A one-day ticket is required to enjoy this experience and is currently $34.00 (ages 10+) and $29.00 (ages 3-9). Guests must also sign a waiver upon entry.
What is there to do at the NBA Experience?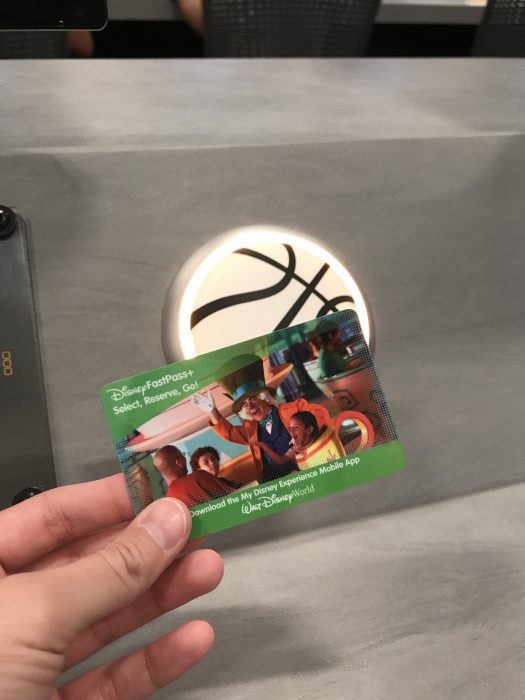 Guests enter by scanning their ticket to a touch point, just like they would to enter a park. Next, guests should be directed to a screen where they scan their ticket to a basketball-shaped icon and begin to create their "name." This will identify them at the different activity stations and provide a more personalized experience. Guests will also find that many of the activities and stations throughout the NBA Experience require scanning their ticket to the basketball icons in order to begin.
Afterwards, guests are then free to explore the two levels and their stations in any order they choose or even skip certain stations altogether.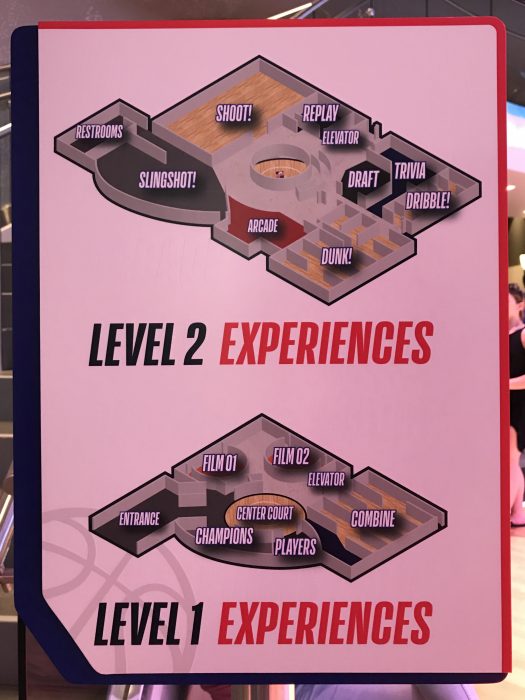 For students of the game, the NBA Experience offers theaters to watch short films, test their knowledge with trivia, browse the hall of champions, or try to make the right call like a referee by viewing game footage at the Replay Center. For those looking to test their skills, the Combine station measures a guest's vertical jump and wingspan. Guests also learn dribbling patterns and are measured on their performance at Dribble!
Shoot! has guests fire off shots from illuminated spots on the floor while racing the clock, and Dunk! allows even the vertically challenged to dunk on an adjustable goal.
For something different, there is Slingshot! where guests compete against one another by firing basketballs into hoops via giant slingshots! There's also an arcade area with stations to play NBA 2K, NBA Live, and NBA Playgrounds, plus a number of free hot shot-style game stations. Lastly, guests can live the NBA player life by getting drafted, exploring the locker room, and posing with trophies.
It wouldn't be Disney without a gift shop, would it? Of course, the NBA Experience has the NBA Store offering a selection of NBA and/or Disney clothing, jerseys, basketballs, and accessories. It's definitely worth checking out if you're a fan. I also think it's a great alternative to the merchandise already offered at Disney Springs.
What I Liked About the NBA Experience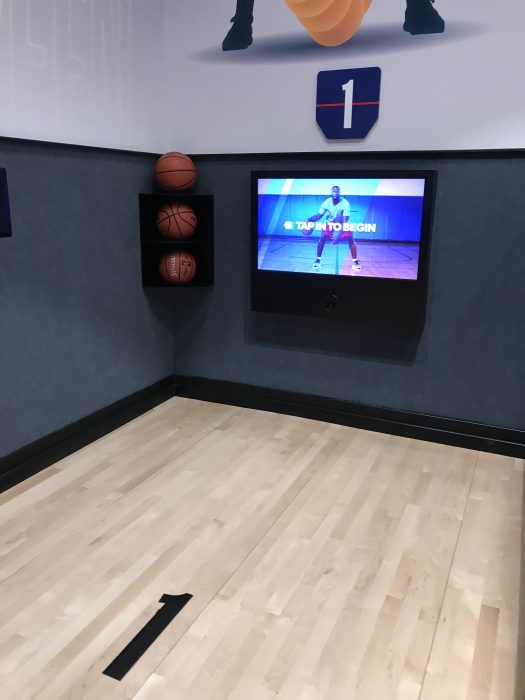 My favorite stations were those which allowed guests to test their skills.  At the Dribble! station, guests were walked through different dribbling patterns by a video screen coach in individual stalls. Guests choose their level of difficulty, and their performance is evaluated and posted at the end of the session. I appreciated this set-up as it offered privacy for those not so confident in their ball handling skills. Also, Cast Members did allow more than one person per stall if they were in a group or family.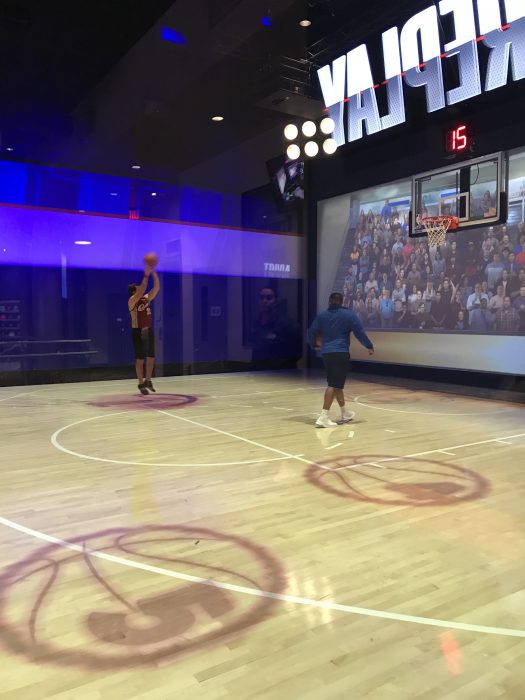 The Shoot! station was also a highlight as it was the most like a real game situation. Cast Members were on hand to rebound your shot as you raced to make four baskets from four different spots on the floor in fifteen seconds. The simulated crowd on the wall screens were a fun touch too.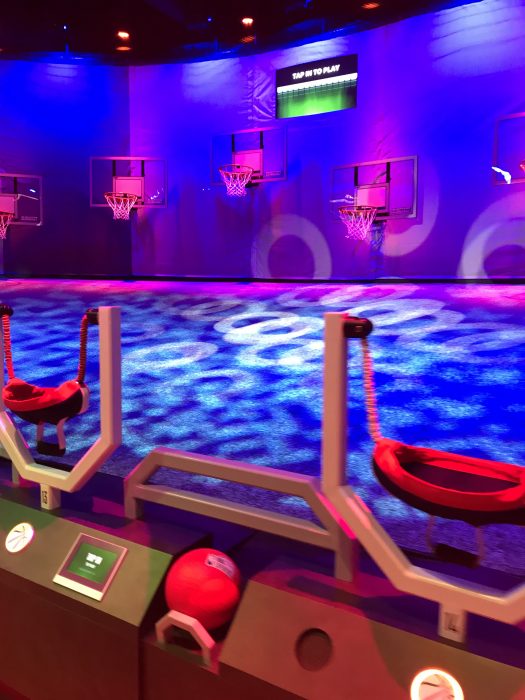 Now I did not do well when it came to the Slingshot! competition. It's harder than it looks! But it's definitely a ton of fun and a must-do if visiting with family or a group.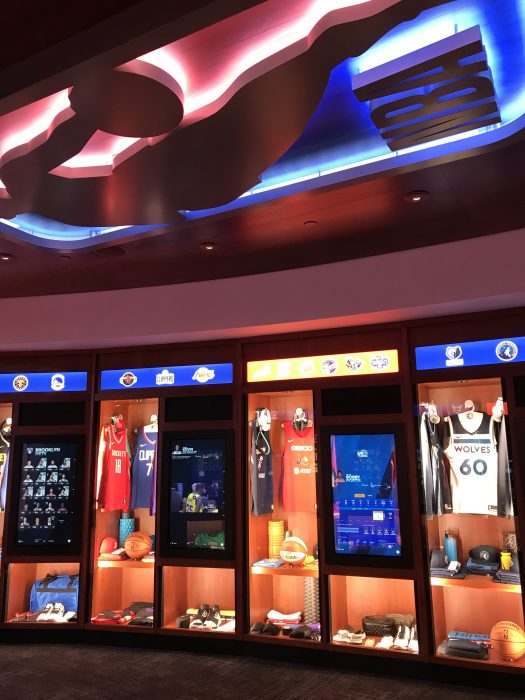 Lastly, the NBA locker room offered fantastic detailed displays and interactive screens to study and compare player stats.
What I didn't like about the NBA Experience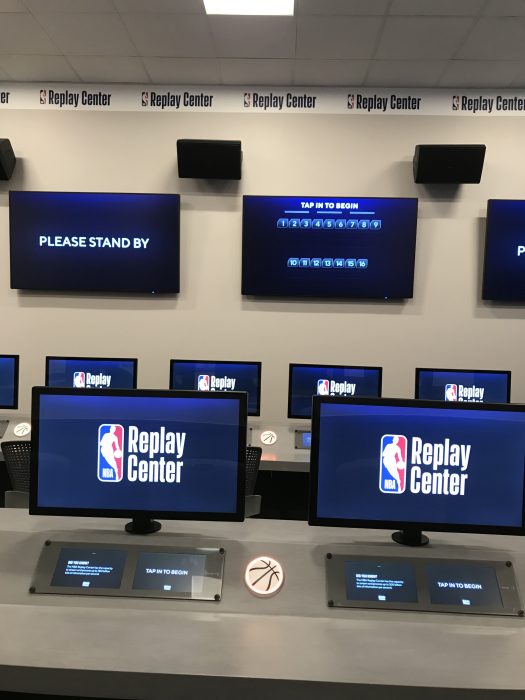 While there are many things I enjoyed about the NBA Experience, there were definitely some I didn't. One of the biggest disappointments for me was the Replay Center. Each guest participating had an individual station where they would be shown a clip from a game where a referee made a call. They then could access multiple camera views to determine whether to uphold or overturn that call.
The problem? If you know the rules of the game, the calls shown were too easy and checking different camera views wasn't even necessary. Also, each guest was shown the same three clips in order to compete with one another; but since it was so simple, it wasn't much of a competition. This was a big miss in my book as this could've been the perfect activity for basketball fans unable to participate in the more physical offerings.
I also didn't care for the photo-ops with the trophies and Adam Silver, the commissioner of the NBA. They took up space that I preferred would've been used for another activity station or detailed display. We were told the photos taken at these photo-ops would link to MyDisneyExperience. Unfortunately, we had trouble with this and couldn't get it to work. Be aware, though, I visited during the first week of operation, and this may have been an opening week issue.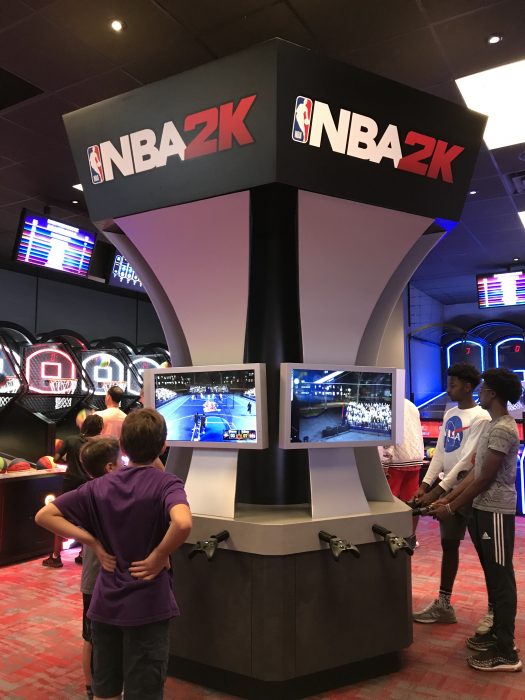 There was an arcade center where guests could play video games and hot shot basketball. Even though my group and I enjoyed competing at hot shot without an arcade card or tokens, I do wish the space had been used for something more than arcade games.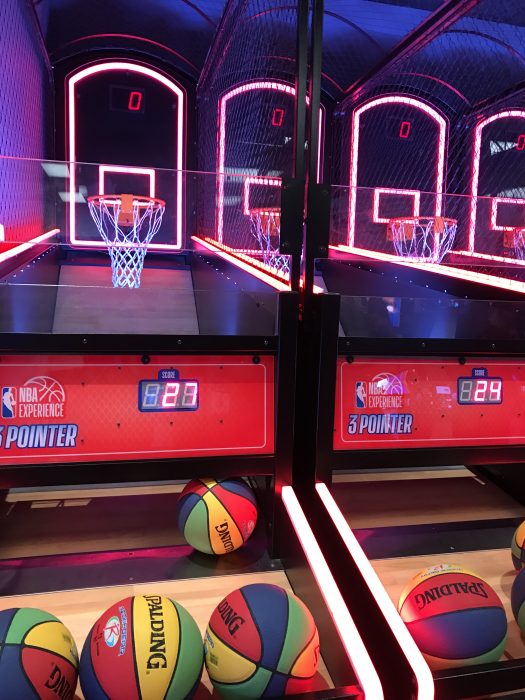 There's one more thing I wasn't the biggest fan of at the NBA Experience. Now maybe I'm just self-conscious, but I didn't like that other guests could always watch certain activities I was doing. For example, a line of people waiting for their turn at Combine! were able to watch as my vertical jump and wingspan were measured. I know a crowd is part of the game experience, but I feel being watched might prevent some guests from trying certain experiences.
Would I Recommend the NBA Experience?
I would only recommend the NBA Experience for NBA and/or basketball fans, and only those looking to participate in physical activity. Even though the NBA Experience offers non-physical activities too, I feel the physical stations are the best and make this experience worth the price of admission.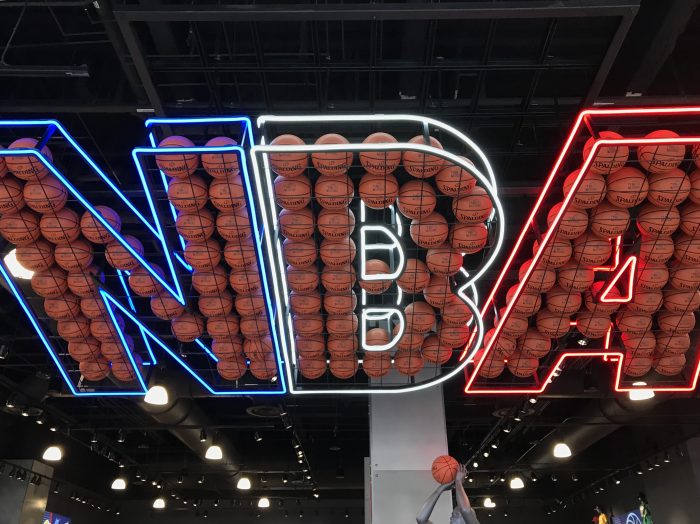 Unfortunately, I would not recommend the NBA Experience to families with young kids. There simply isn't enough for little ones to do that justifies admission. The NBA Experience's target audience is definitely middle school through college-age athletes and fans, and that's primarily who I witnessed enjoying this new destination during my visit.
Overall, the NBA Experience is a welcome addition to Disney Springs in my book, and I believe it has helped to diversify Disney Springs' offerings for consumers. However, due to the cost of admission, only its target audience will truly get their money's worth. I enjoyed it and appreciate it for what it is; but I did feel like it was slightly underdeveloped and would benefit from more attention.
Have you visited the NBA Experience? What are your thoughts? Let us know in the comments.