The SATURDAY SIX Looks at D23 Expo news via MEMES
This week's SATURDAY SIX takes a look at the D23 Expo via memes! A whole bunch of Disney theme park news was announced this past week. In fact, there was so much news that we needed an emergency SAT 6 covering it!  Now, while some enjoy in-depth analysis using historical context, we say NAY NAY. Bring us the memes…
# 6 – New Epcot Concept Art
The Walt Disney World park getting the most attention during the fan favorite Parks and Resorts Panel was Epcot. Not only was Epcot getting a new logo, Disney went for the nostalgia angle as it used the old concept art of our beloved Epcot Center as the basis for the new concept art featuring the upcoming additions to the park.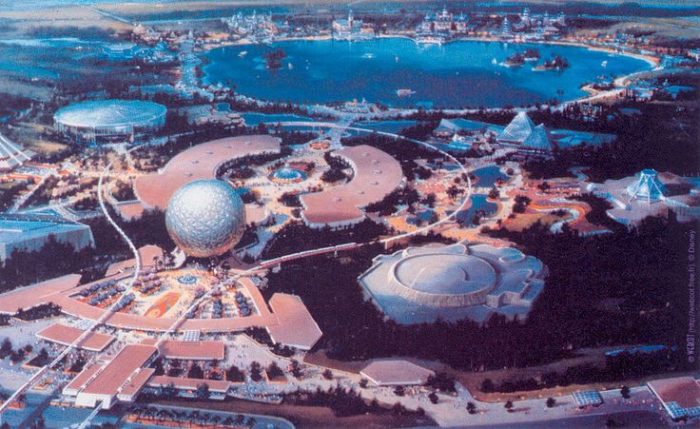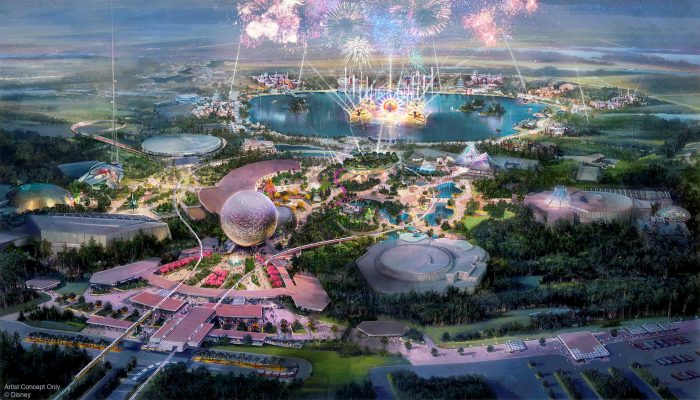 One person on Twitter wondered why Disney forget to include the giant show building for the Guardians of the Galaxy: Cosmic Rewind attraction, and produced a more realistic piece of art.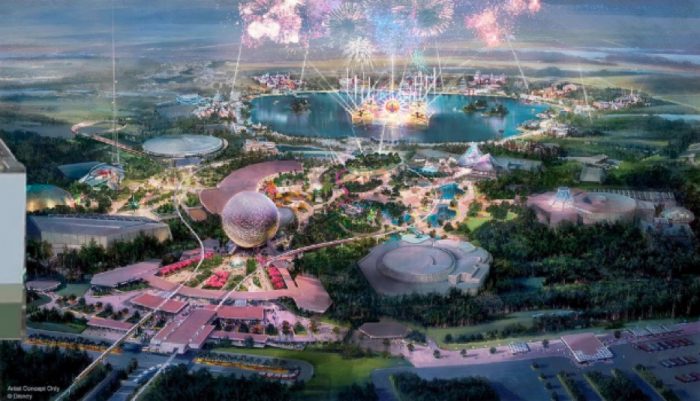 # 5 –  How Guests See the "New and Improved" Epcot
One of our favorite running gags on the interwebs is Judgmental Maps, a website which takes actual maps of cities from around the country and adds humorous commentary on top of them. One of the more brilliant takedowns was of Walt Disney World's Magic Kingdom. Using a similar style, a Twitter user created his own map of the way a regular guest saw Epcot via the new concept art.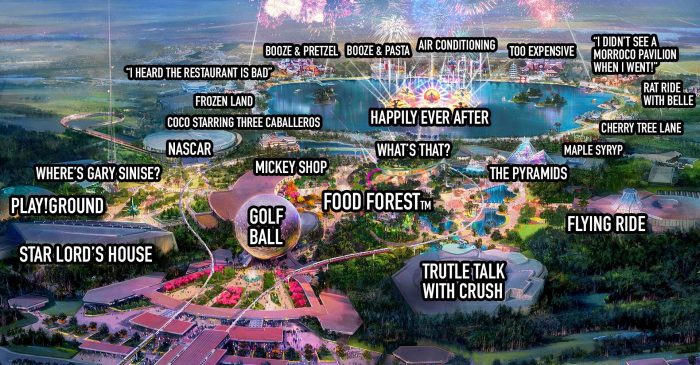 # 4 – Future World to be Replaced by "Neighborhoods"
Going into the D23 Expo there was a lot of speculation in the fan community of what we would see announced, but one thing no one saw coming was Disney making a drastic change in how we describe what we currently know as Future World.
Since it's inception, Epcot was made up of Future World and World Showcase. Soon, Future World will be broken up into three "neighborhoods" and be renamed to World Discovery, World Celebration, and World Nature.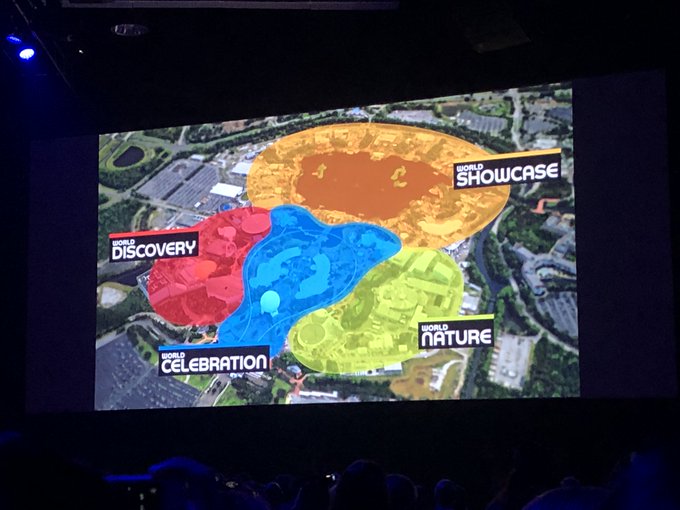 The "world" naming  of these neighborhoods seemed kind of strange at first, but one Twitter user thought that it would have had a natural synergy if Disney brought in a sponsor.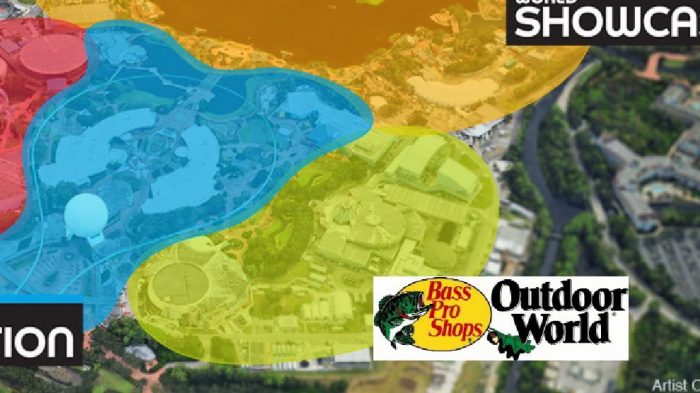 Another gave a more realistic take on what we'd be seeing in the neighborhoods.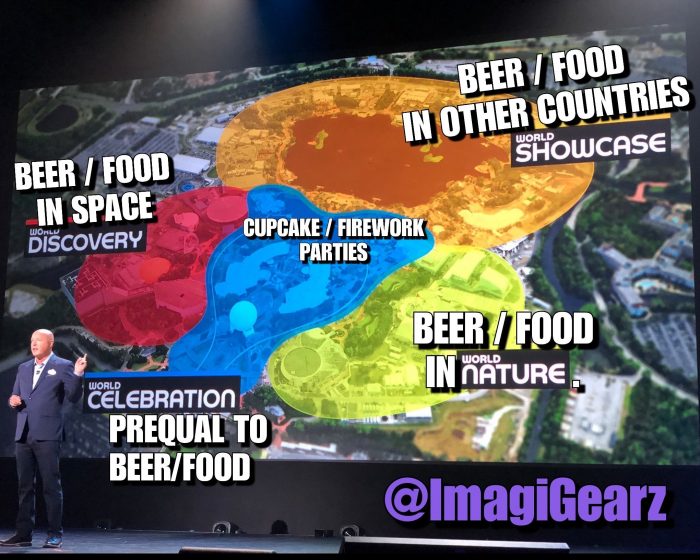 DisTwitter meme legend @WaltzFrzenHead used iconic lyrics from it's a small world for his map.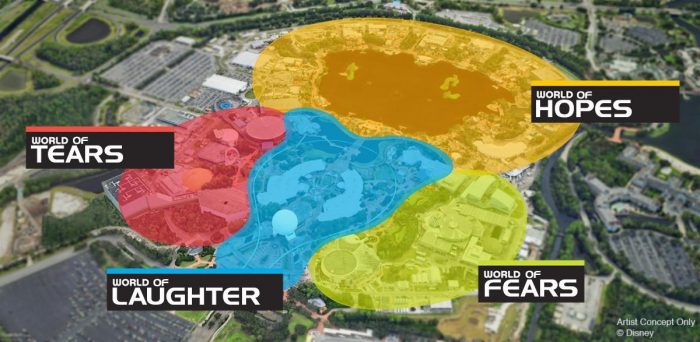 Along with the neighborhood concept came news of a massive refurb coming to Spaceship Earth. No concrete details were given, but the one piece of concept art shown led many to believe that Intellectual Properties may be making their way into the attraction, including Moana.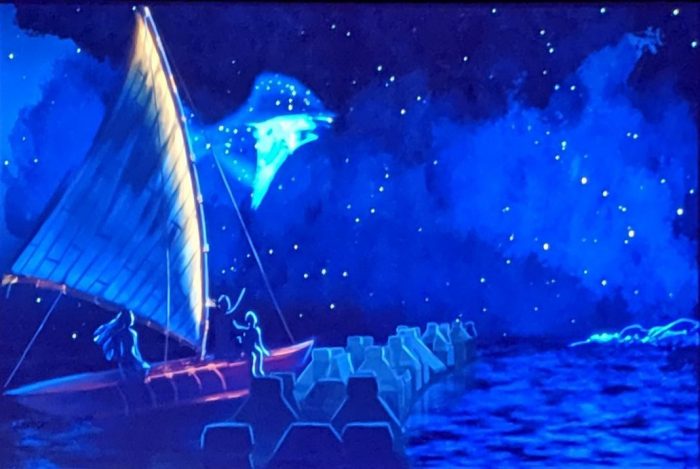 Outside of Spaceship Earth will sit a new "dreamer" statue of Walt Disney himself.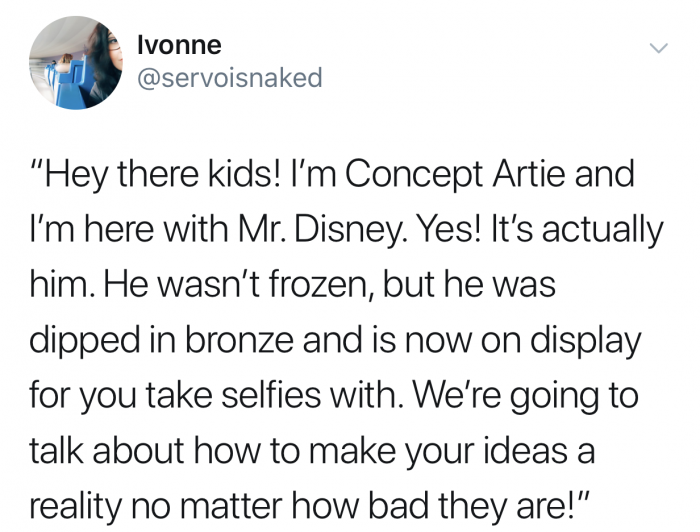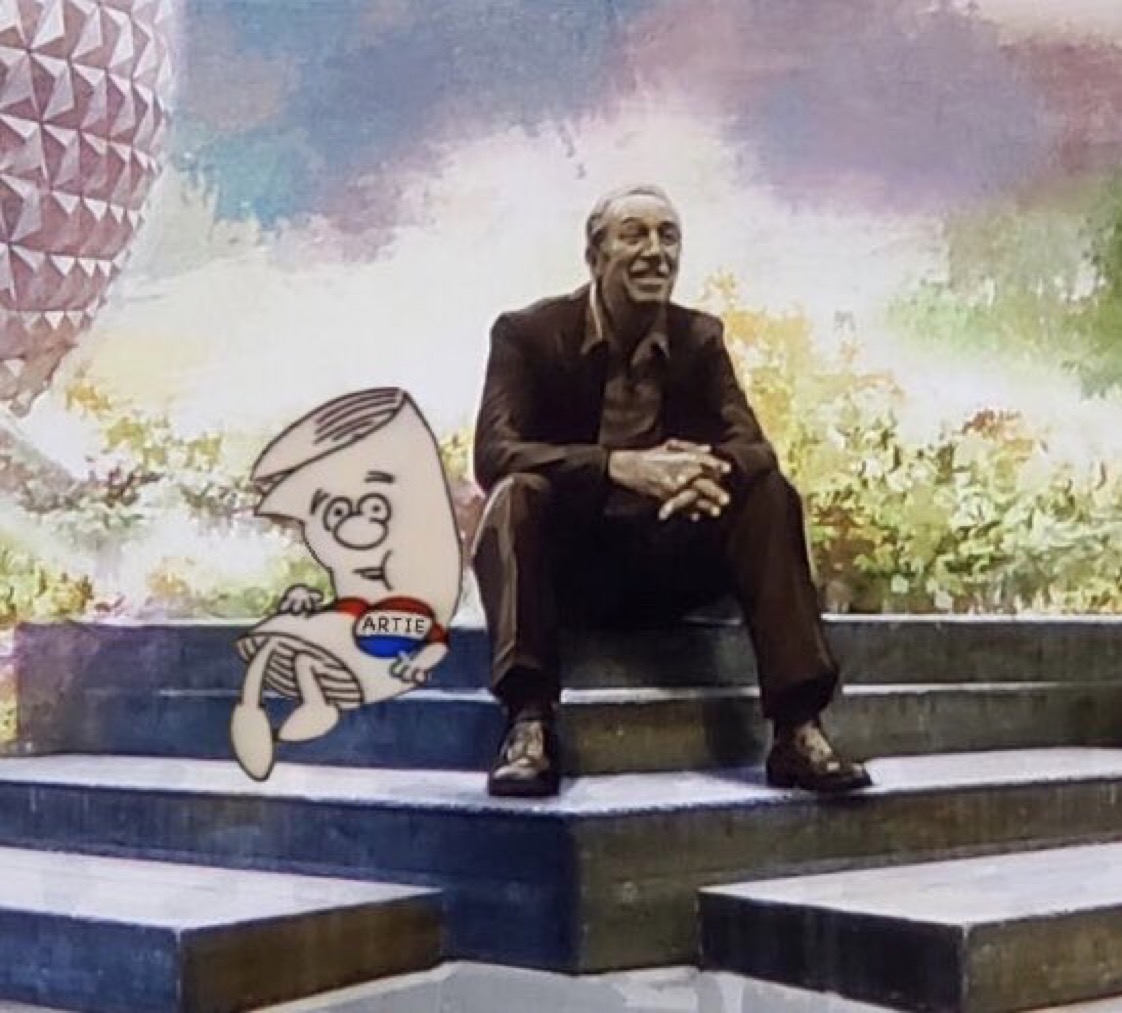 Aside from the new "neighborhoods," the Parks and Resort panel announced a Moana walkthrough attraction, gave more details on the upcoming Guardians of the Galaxy roller coaster, and revealed that an attraction based on Mary Poppins would go to the UK Pavilion.  While most in the fan community have come to grips with the fact that the Epcot Center days of old were long gone, Disney's new emphasis on shoehorning characters into the park and the outright removal of the park's "look to the future" concept was the cherry on top of the sundae. Using a classic moment from Star Wars: A New Hope, this meme smartly substitutes Bob Chapek for Grand Moff Tarkin and Epcot Center for the Old Republic.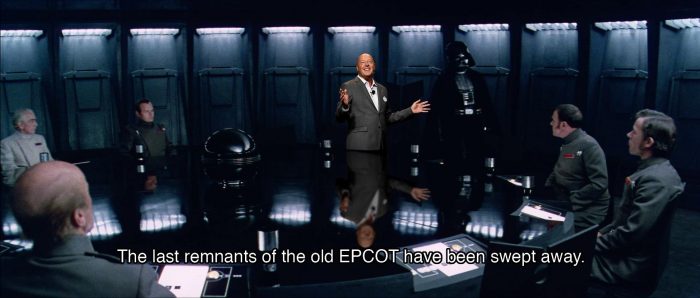 # 3 – What Exactly Is Epcot About Now? And For That Matter…
There was a time when you could identify a specific theme for every Disney theme park in America. These days, things aren't so easy. In fact many Disney parks seem to be turning slowly into a collection of IP-based attractions with very little connective tissue. Disney California Adventure – which was once a loving tribute to the history of Walt Disney and California – is now home to Pixar Pier, Cars Land, and Avengers Campus.  Disney's Hollywood Studios was created on the back of showing guests the magic of how movies and television shows were made. Now it is the home of Star Wars: Galaxy's Edge and Toy Story Land. Epcot, once the home of education and inspiration (along with a mandate to keep characters out) is now full of characters and Universal-like thrill rides and screen-based attractions.
For some, this is the natural evolution of theme parks. For others it is the loss of what separated Disney from their contemporaries.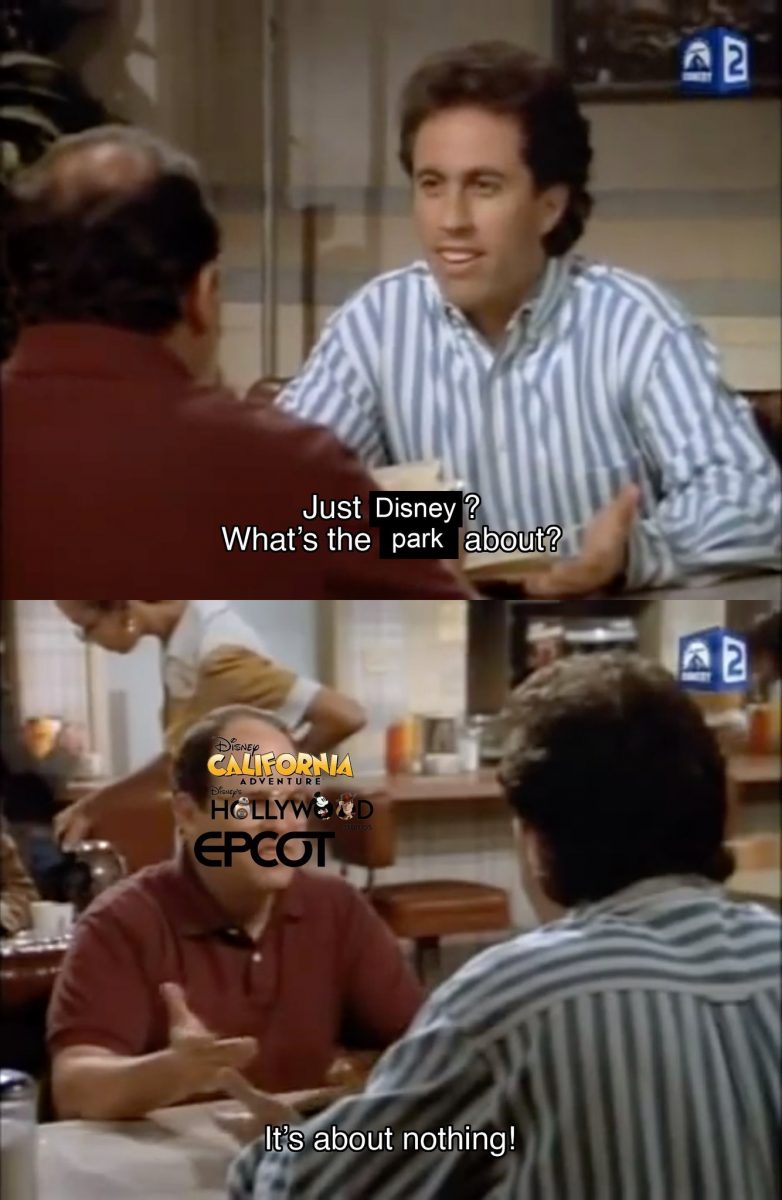 # 2 – Target
One of the most bewildering moments of the entire D23 Expo was the announcement of Disney Stores being put into Target stores across the nation. Those of us in Florida have already seen elaborate Disney displays in Target for a while now. It's not that Disney having a bigger presence in Target is necessarily a bad thing (although you could make the argument that it devalues the "prestige" of the Disney Store brand), but the fact that so much time was spent on this partnership during a 90-minute presentation was odd. Did time have to be filled because something which was going to be announced got shelved at the last minute? Was this just Bob Chapek, who came from the world of Disney merchandise, flexing his muscles in his area of expertise? We may never get that answer, but we do know that Bullseye, the corporate dog mascot of Target, was onstage during Disney's once-every-two-years look at the future of theme parks.
This led to one Twitter user speculating where we may see Target show up in the parks…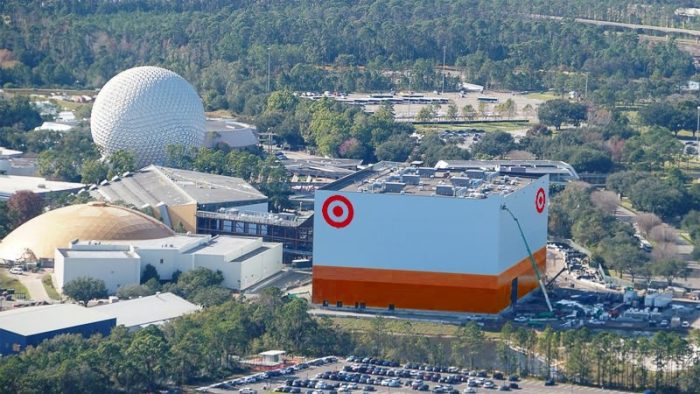 Yours Truly even updated his own Twitter header, replacing the Disney Chase Visa with Target's Red Card.

# 1 –  But What About the Next D23…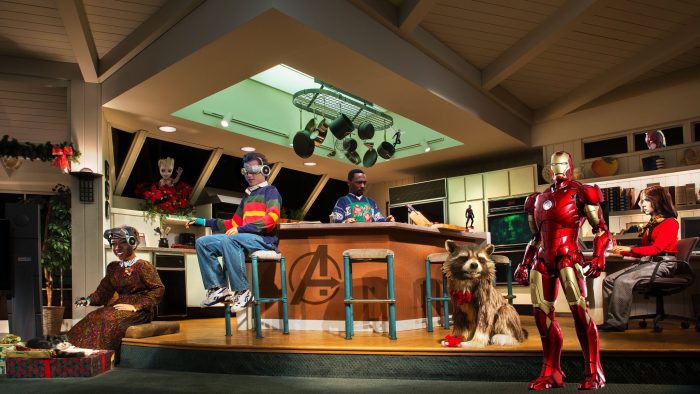 Honorable Mention – Hondo Funko
After the D23 Expo, Disney prepared for this week's grand opening of Star Wars: Galaxy's Edge in Florida. The Popular Funko Pops! now have an exclusive figure based on Hondo Ohnaka that you can get at DHS. Hondo plays an important role in the Millennium Falcon: Smugglers Run attraction.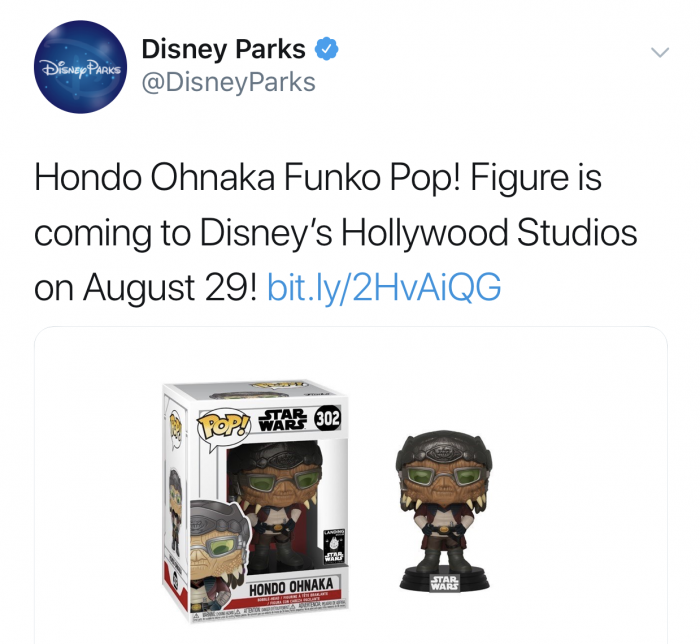 Unfortunately during Cast Member and Annual Passholder previews earlier in the month, the incredible Hondo audio-animatronic in the Falcon was – at times – covered by a large tarp when it wasn't working.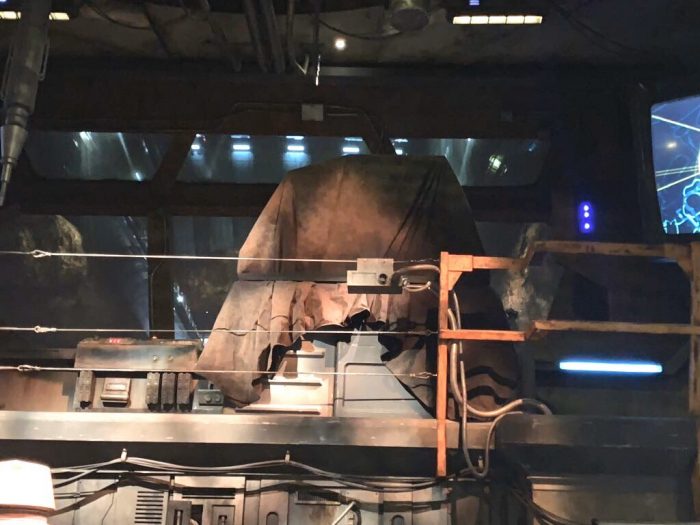 So we here at the SATURDAY SIX created an exclusive tarp for your Hondo Funko Pop! Maybe we can feature it in one of our Disney Merchandise That Doesn't Exist (but Totally Should) articles.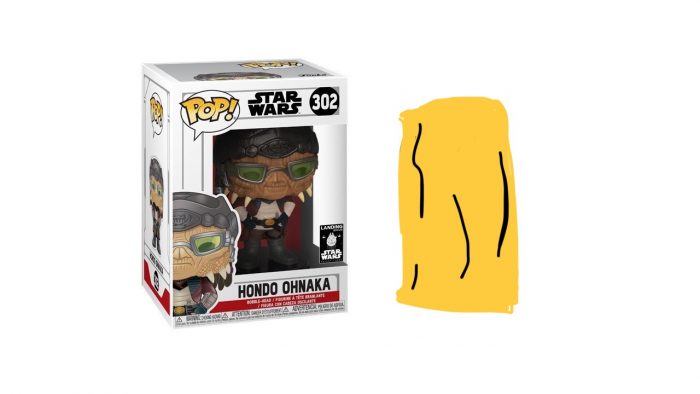 Double Secret Honorable Mention – Sony/MCU Drama over Spider-Man
We covered the news of Sony and Disney playing a game of "chicken" with the character of Spider-Man in last week's SATURDAY SIX, but this week even more great memes of this situation came out.
Some people see Disney as the "bad guy" in this situation…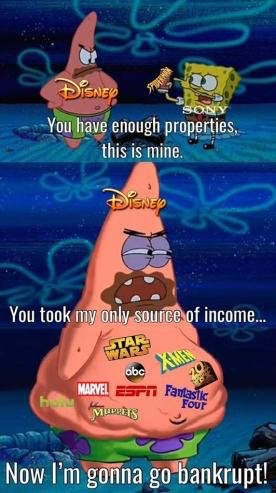 Others wonder what could Sony possibly be thinking….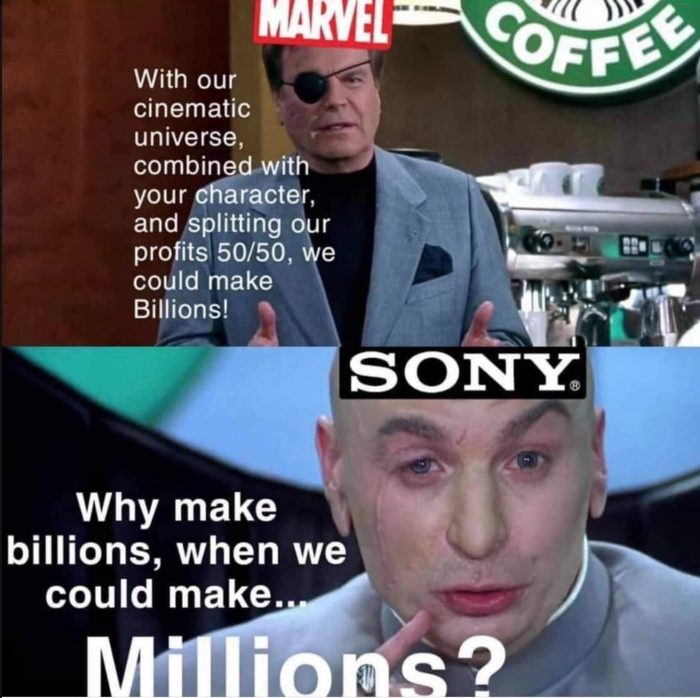 Our favorites understand that the real losers in this squabble are us, the fans.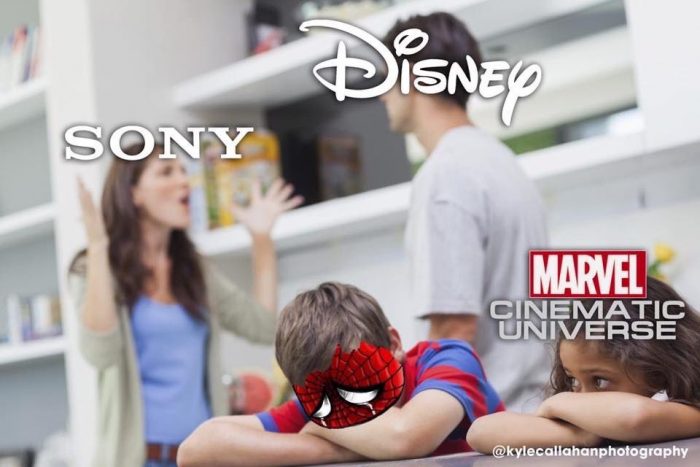 But to bring it all back to D23 Expo news…this meme takes the news of Ewan McGregor coming back as young Obi-Wan in a series for Disney+ and uses it with a moment from Avengers: Infinity War.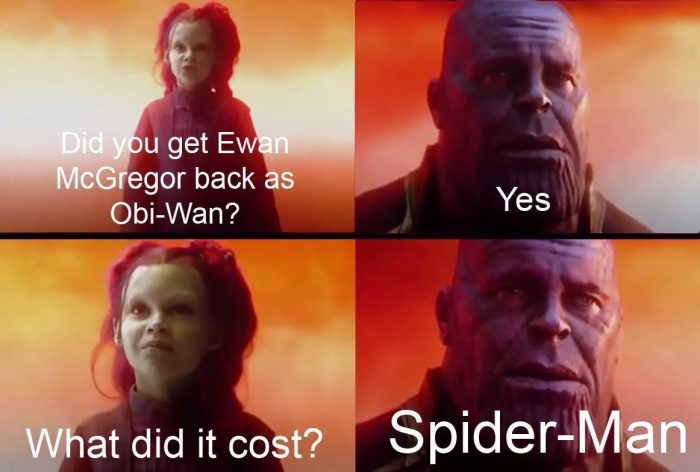 So there you have it: The SATURDAY SIX Looks Back at the D23 Expo! See you next weekend for the latest installment of the SATURDAY SIX, where we'll look at something fun from the world of Disney and Universal. If you enjoyed yourself, be sure to check out The Magic, The Memories, and Merch! articles, or, for your listening pleasure, check out the E-Ticket Report podcast. You can also follow Your Humble Author on Twitter (@derekburgan).
If you enjoyed this article, you will surely like the following: 
The SATURDAY SIX Looks at Theme Park News via Memes (vol 1)
The SATURDAY SIX Looks at Theme Park News via Memes (vol 2)
The SATURDAY SIX Looks at Theme Park News via Memes (vol 3)
The SATURDAY SIX Looks at Theme Park News via Memes (vol 4)
The SATURDAY SIX Looks at Theme Park News via Memes (vol 5)
The SATURDAY SIX Looks at Theme Park News via Memes (vol 6)
Special Thanks to The Elite Brandon Glover, Captain Cruiseline Scott Sanders of the world famous Disney Cruise Line Blog, my personal protege Hunter "Elvey" Underwood, the bio-est of all reconstructs @bioreconstruct, the SAT SIX Fun Squad of Parkscope Joe and Nick, hot shot Michael Carelli, and Hermione Granger's tutor Megan Stump for their invaluable assistance with this article. The SAT SIX is inspired each week by goofballs Aengus Mackenzie and LitemAndHyde and you Potterheads will  enjoy Meg's other blog work over at the Central Florida Slug Club.
FINAL PLUG! Did you know The 2019 Unofficial Guide to Universal Orlando has a special edition of the SATURDAY SIX in it?That's right, ANOTHER NEW ONE EXCLUSIVE TO THIS EDITION!Finally, someone came up with an actual reason to read a book. ORDER this baby now!