Hotwire Deals: The Return of Coronado
We interrupt this holiday weekend with a Hotwire update!
Since our previous Hotwire posts, many of the deals slowly faded away until there were only a few islands of days left with Disney resorts available. The good news is many deals have reappeared again from July through September, along with some additional ones. We've found deals for All-Star Movies, Coronado Springs, Caribbean Beach, along with a good dose of Pop Century.
We've got a lot to go through here, so I'll cut right to the chase, but first the usual warning: When thinking about booking any Hotwire hidden deal be sure to compare the all-in Hotwire price to the best Disney direct deal you can find. An all-in Hotwire price should include the regular taxes, Hotwire fees and any coupon codes you can apply to shave some more money from the deal.
If you see HotRate deals touting something like 11% Off! – be especially careful because the Hotwire fees will often bring that deal right up to the same price as Disney's rates. Personally, if I'm going to take a chance on a non-refundable deal, I want the savings to be reasonably significant.
Also, you might notice a fair number of these deals are higher than the deep discounts we've seen in the past. I am not sure if this is the new normal or just indicative of the pent-up pandemic demand.
If you've been shopping for a resort deal for this summer, I'm sure you've seen the pickings seem to be slim these days. So, if you are hankering for a hotel stay and can't find one at Disney's site, one of these sorta okay deals might be the only way you can get a reasonably priced room at the resort you want.
Some Tips and Techniques
Before we present the world famous Calendar of Deals, I 'd like to give you all some visuals on identifying the resorts at hand.
But first, some interesting news: I've seen my first new Swan Reserve resort hidden deal in the wild!
A few months ago Hotwire made a change to their site that for a time made all of the regular Swan deals look like they were for the Reserve – even though the resort wasn't open! Finally they've cleaned their resort listings up and given the resort it's own page. Then, Blammo! A hidden deal! Pretty interesting to see that happen for a brand spanking new resort.
Right now the Swan Reserve is showing as a 4-star resort in Bonnet Creek that has no guest ratings or reviews at all. In the example below I've opened a non-hidden Reserve deal in the app, then scrolled the search results so the HotRate is right next to it for comparison. You can see that a great tip-off when identifying hidden deals to to find a  non-hidden resort deal with the same ratings and a price that is $1 (or sometimes $2) off from the crossed-out hidden deal price.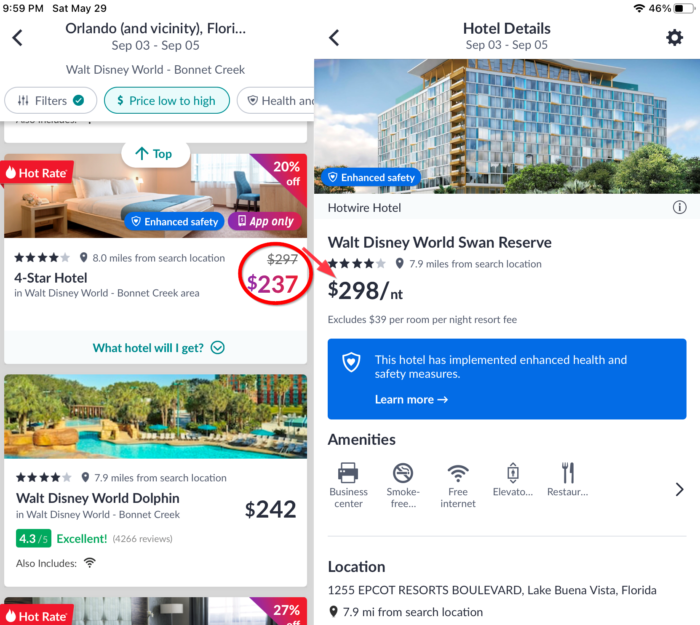 The next task at hand is to warn you about a Coronado look-alike. Right now there are three 3.5-star resorts in Bonnet Creek with a 4.4-guest rating: Coronado Springs, Wyndham Bonnet Creek, and Silver Lake Resort.
Wyndham BC is easy to spot in the hidden deals as it will appear as "3.5-star Condo".
In recent days Silver Lake has been showing up very often in hidden deals – it is still quite easy to identify: Silver Lake is typically has rates that are a lot less than Coronado, plus it almost always has the review count listed (currently 975.) Disney resorts typically do not have reviews showing on hidden deals.
(Plus, you can use the off-by- $1 tip I mentioned above to lock in your the likely resort.)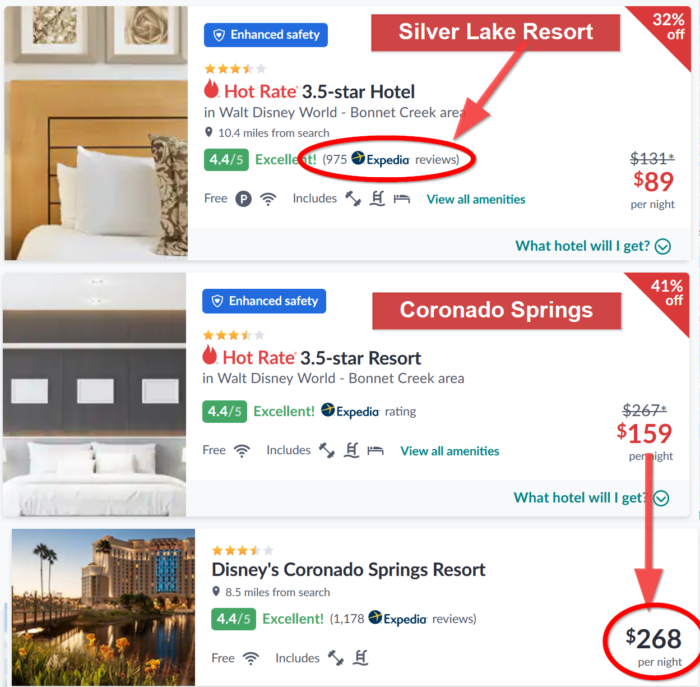 Identifying Caribbean Beach is a lot easier: it continues to be the only 3.5-star, 4.0-guest resort in Bonnet Creek. On some days you'll find the hidden deal really gives it away when you see Pirate Room is one of the room choices.
But, other days you might see that they only visible Caribbean deal is for a King Bed room. I have never heard a report that anyone checking in with more than 2 people has failed to be given a room that accommodates 4 people.
I've written before that there's a bug on the Hotwire site where it will charge you a fee if you add more than 2 people even if they are children. The workaround is to book the room with 2, then call to have Hotwire add 2 people. This case of rooms that only have King Bed as a choice is a new wrinkle – I don't know if that would have any affect on the process or not, but want you to be aware before booking.


All-Star Movies is one of three 3-star, 4.3-guest resorts in Bonnet Creek, along with All-Star Sports and Art of Animation. Sports is still closed, and Art of Animation deals tend to be higher priced than Movies. But, again, break out yer new $1 price difference tip for a definitive identification.
(By the way, you may notice in this Movies example – it ain't the best deal. But again, may be worth booking if you can't find any availability on the Disney site.)

#DISNEYMATH
One last thing – I've done a little bit of the homework for you! Here are some comparisons of how much various deals might save you on sample days. For a couple of resorts with deals that had a larger difference in possible rates, I created comparisons for a each.



Dum Da Dum! The Calendars of Deals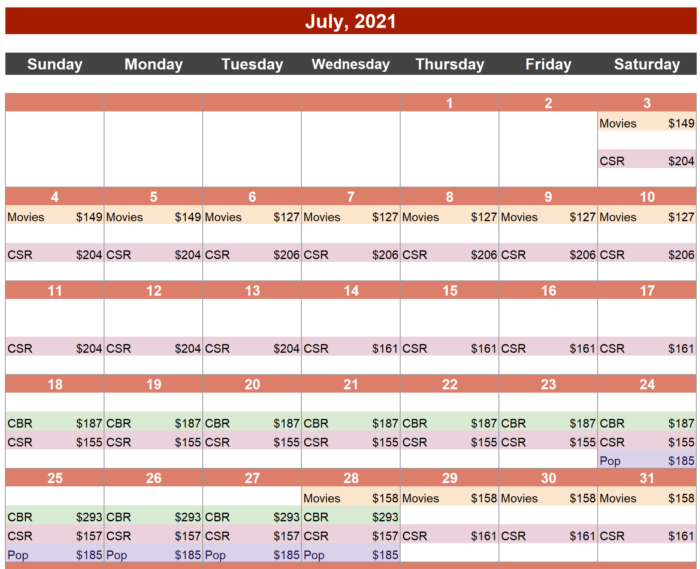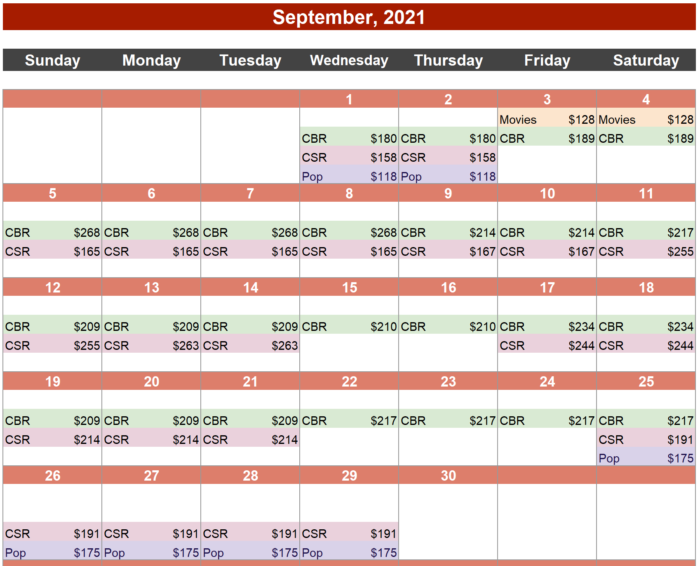 If this is the first post you've ever read the word Blammo! or have booked any great deals, let us know in the comments!