How to Get Some Sleep in a Disney World Hotel Room
I have a visceral memory of one Walt Disney World trip when my three daughters were small. It was about 9:00 p.m., after a full day of park touring. We were exhausted and ready to hunker down for a night of rest in our room at the Contemporary Resort. My husband and I were reading on one bed, my then 6-year-old twins were cuddled in the other bed, and their nine-year-old sister was camped out on the daybed. I was overcome by a feeling of peace and warmth. We were a family. Together. Safe and sound and peaceful.
Hahahahaha!
Ha!
Needless to say, this moment of zen was short-lived. Hubby started complaining that he wanted to sleep and my light was bothering him. The twins, not used to sharing a bed, began kicking each other and making cover-hog accusations. My older daughter screamed that she wanted the noise to stop. After several rounds of musical beds, trips to the bathroom, a call to housekeeping for extra blankets, and many threats of no-Space-Mountain-tomorrow-if-you-don't-quiet-down-RIGHT-NOW, I think we finally settled down around 11:00 p.m. So much for togetherness.
Although our room was lovely, it wasn't the best setup for us getting the rest we needed. Disney may say that a particular hotel room sleeps four or five (or more) people, but how do you make sure that many people can actually, well, sleep in that room?
Get the Right Room Configuration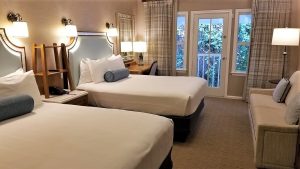 When choosing a Walt Disney World hotel, most people consider price, location, and room capacity to be the key data points. However, beyond simply the number of people allowed to stay in the room, you should also consider how many separate sleep surfaces are there. For example, there are rooms sized for four people at the Wilderness Lodge which are furnished with two queen-size beds. Other rooms at the same hotel have a queen-sized bed plus a bunk bed – giving you three distinct sleep surfaces instead of two. For a family with children of different genders, or a blended family, the extra sleep surface could greatly improve the quality of their vacation. Additional sleep surfaces may also be important for unrelated adults or multigenerational families traveling together. Make sure you reserve the version that works for you.
A family of five (two adults plus three children), could have each of the kids on a separate sleep surface at the Fort Wilderness cabins. The same result could be achieved by getting two rooms with a connecting door. Connecting rooms are available at all WDW hotels, but must be requested in advance.
In my family of five, we can technically stay in one room at the deluxe resorts, many of which are equipped with two queen-sized beds plus a single daybed, or at the Art of Animation or All-Star Music Family suites, which have a queen-sized bed, a double pull-down bed and a sleeper sofa, but we've learned through hard experience that we'll all be better rested if each of the three kids has her own sleep area. Maximizing sleep surfaces cost-effectively may mean making concessions in other amenities. For example, getting two rooms at a value resort (four sleep surfaces) may be comparable in cost to one room at a deluxe resort (with three sleep surfaces). You're trading monorail access and water slides for better sleep and access to two bathrooms. Different families will find each of these options more or less appealing.
Before booking your trip, take an honest assessment of your family's sleep needs. Does one child go to sleep much earlier than the other? Do the parents want a door between them and the sleeping children? Can siblings share a bed without fighting? Do different family members have vastly different sleep environment needs for noise, light, or temperature level? Each of these factors may influence your room requirements.
For those with nonstandard needs, there are a number of unique room types at Walt Disney World: rooms with twin-size Murphy-style beds at Port Orleans Riverside, junior and deluxe suites at several WDW hotels, units with substantial outdoor space, and the many on-site multi-room villas. It can be a challenge to figure out the exact configuration of each room type on the Walt Disney World website. If you need help sorting it out, our TouringPlans travel agents can help.
How's the Mattress?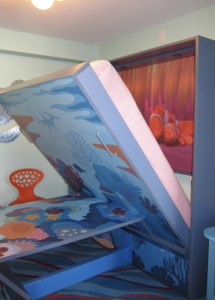 The actual beds at the Walt Disney World hotels (particularly those at the deluxe resorts) tend to be quite comfortable.
The most recent rounds of resort renovations have seen older sleeper sofas and chairs replaced by pull-down or pull-out Murphy-style beds (see photos of these at Saratoga Springs). The Murphy beds are a big step up in comfort from sofa beds (there's no pesky support bar in the middle of your back), but they are somewhat firmer than a standard stand-alone bed. Consider this as you decide where to stay and which family member gets to use which sleep surface.
Modify Your Space
You may sleep easier if you make some minor modifications to your room. All Walt Disney World hotel rooms contain at least one table and two chairs. During your stay, it may make sense to rearrange these items. For example, when my kids were small, they often had difficulty falling asleep if they could see me and tell that I was still awake. If this is your situation, try positioning a chair to block you child's sight line to you.
You can also move yourself and a chair into the bathroom for similar effect. I've done many a crossword puzzle on a chair in a hotel bathroom while I waited for a child to fall asleep. At the value and moderate resorts, it is also possible to move a chair just outside your room door to sit there while your children are dozing, particularly at nap time. In this situation, remember to keep your MagicBand or room key with you at all times, don't wander away from the room, and be courteous to neighboring guests.
Disney does not advertise the availability of rollaway beds, but there are a very limited number of them for use in rooms that are large enough to accommodate their size. Also note, that there may be an extra charge for a rollaway and that these extra beds cannot be used to increase the stated capacity of the room.
If a room with an extra bed isn't available or isn't in the budget, it may make sense to bring your own "furniture" in the form of a sleeping bag. My oldest daughter would much rather sleep on the floor than with either of her squirmy sisters. Most airlines will allow you bring an extra bag for about $25. This fee is substantially less than any room upgrade would be. Just be sure to straighten up in the morning so that mousekeeping can do their work. And again, safety dictates that you not use items such as sleeping bags to circumvent the fire code maximum number of persons per room.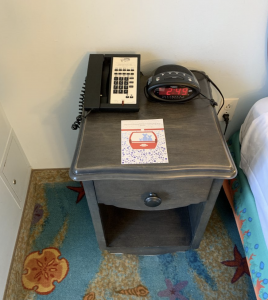 Some guests (particularly those driving to WDW) may decide to bring an air mattress to their hotel. While this is not prohibited, it's not our favorite option. Even models that have an electronic inflate/deflate mechanism tend to be unwieldy and difficult to store. Toddler-size travel beds tend to be less disruptive than larger options.
Even the most minor of room modifications can help. Disney housekeeping is happy to provide extra pillows or blankets for your room. When my children have shared a bed, we've made good use of this service by creating a pillow "wall" between the kids and giving them each their own blanket. We've had more success getting them to sleep in a timely manner when they don't have to struggle for control over the covers.
Ask for the Right Room Location and Configuration
I've often been asked which is the best room location at various WDW hotels. The answer to this varies greatly depending on your goals. If you want to save walk time, then being close to the food court, bus stop, or pool may make sense. If you want to sleep soundly, then you may have more luck being away from the hotel's amenities. My husband always requests a room far away from the elevator banks so that we are not disturbed by other guests speaking in the halls on their way to the parks.
While some guests love having a view of water or theme parks, be aware that those rooms often pose evening noise issues for those who are particularly sensitive to sound. Fireworks are pretty, but they can be loud and disruptive to a child trying to fall asleep. Lakeside rooms often have audible boat horns throughout the day.
If you are traveling in warmer months, try asking for a room on the first floor with patio space or on an upper floor with a balcony. These outdoor areas can serve as a parental retreat while the children settle down for the evening.
TouringPlans has a resource that allows you to see the view from every room on WDW property. Use this to make sure your view is of something that won't prove troublesome. (Yes, we did once leave it to chance and had a room overlooking dumpsters.) We can also help you automatically request the room that most meets your needs.
Special Considerations for Babies
All Walt Disney World resort hotels allow an additional guest in each room if that guest is a child under the age of three sleeping in a Pack 'n Play crib. Disney provides these cribs and associated bedding free of charge. However, my experience is that the younger the child, the more sensitive he or she is likely to be to variation in the sleep environment. Bringing a familiar crib sheet and blanket from home may provide an extra measure of comfort for a little one.
Many guests with crib-age children find that they can create a makeshift private room for baby in the moderate resorts. Many rooms at this price level have a feature which allows the vanity area near the bath to be enclosed via a sliding door or curtain. Setting up the crib behind the curtain may prevent the baby from being awakened by light or noise in the rest of the room. This can be especially helpful when attempting to get children to nap during the day.
We've heard guests ask whether a Pack 'n Play will fit in a resort bathroom. In most cases the answer is no, though there are a few hotels (Animal Kingdom Lodge, Polynesian) where a crib will fit in the bathroom. However, we don't recommend this configuration because of the high likelihood of waking the child if you have to use the bathroom for its intended purpose.
If you're a family with multiple young children of Pack 'n Play age (I have twins and made several WDW when they were small), note that while getting more than one Pack 'n Play delivered is not guaranteed, it is highly likely to happen upon request. The more substantial problem is that in many rooms (particularly those at the Value resorts) adding two cribs will drastically reduce the floor space and will make the room feel quite crowded.
Some WDW hotels do have regular cribs available in addition to Pack 'n Plays. There are far fewer of these and it is possible that they will be unavailable during your stay. If a real crib is a must-have, you may want to consider a rental from an outside agency. Kingdom Strollers is one such agency that we've heard good things about.
Use Technology to Your Advantage
There are a number of small electronics that may improve your sleep experience in any hotel room:
Nightlight: Children who are wary of unfamiliar surroundings or afraid of the dark may sleep better with a nightlight on. Glow sticks from the dollar store or battery-powered tea lights (often available for less than a dollar each) do the trick with minimal fuss.
Booklight: Allows adults to stay up and read while children are falling asleep.
Baby monitor: If you're planning to sit on your room's patio or balcony while your children fall asleep, a baby monitor can keep you fully apprised of their activity level.
iPad or other smart device: Download a noise machine app (I like Ambiance) to muffle ambient room sounds. Watching a movie on the iPad keeps the room light level lower than turning on the TV. Be sure to bring headphones as well.
Explore Off-Site Alternatives
I am a strong proponent of staying inside the Disney bubble when on vacation. However, families with complicated sleep needs will likely find more varied room configurations offsite. The Unofficial Guide to Walt Disney World includes extensive reviews of offsite hotels and our travel agents also have great ideas for offsite digs.
What's your best tip? Is your family always able to sleep well together in one hotel room? What strategies have you used to make everyone's nighttime routine more relaxing? Let me know in the comments below.

First published December 9, 2020. Updated June 1, 2021.