Step by Step: How to Make a Walt Disney World Hotel Reservation Online
There are many ways to make a reservation for a hotel room at Walt Disney World. You can call Disney at (407) 939-5277. You can use a travel agent. Or you can book your hotel online by yourself. Here's how to do that.
1. Go to the website disneyworld.disney.go.com.
If you haven't yet created a Disney account, you'll need to create one. If you do have a Disney account, sign in. Note: If you have an account with some other Disney property (Disney+ TV, for example), the login information will likely work for this as well.

2. Select your preferred dates of travel and party size.

You can use the "All Resort Hotels" pull-down menu to select a particular resort, a category of resort, or you can skip that pull-down menu if you want to search all resorts.
If you have a medical issue and need an accessible room, be sure to check the "Accessible Rooms" box.

3. Click "View Rates" to see your options for availability and pricing. Be sure to note which hotels have discounts and factor that into your decision process. If you have questions about the fine print on the discount offer, click on discount link.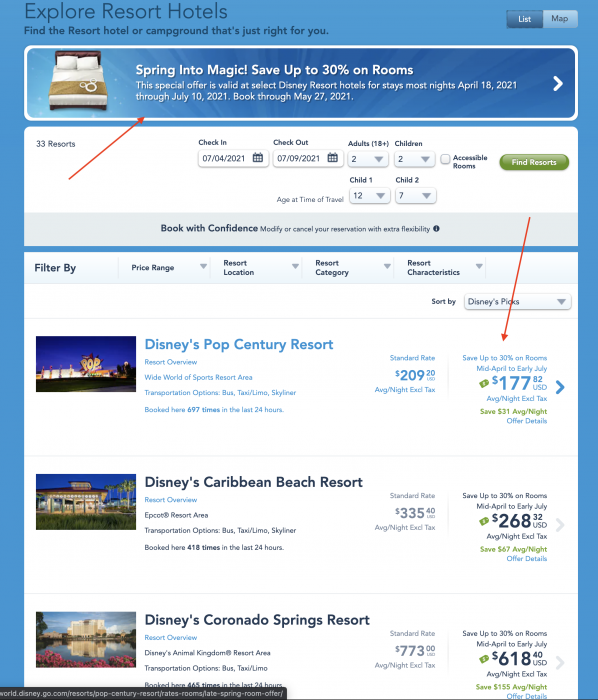 Note: If there is no discount offer in place during your selected travel dates, you will only have one price point available. To double check whether there are discounts, search "Special Offers" in the main search box. This will bring you to a page of all the discounts available directly through Disney. (There are other ways to get discounts on Disney rooms, but not directly through Disney itself.)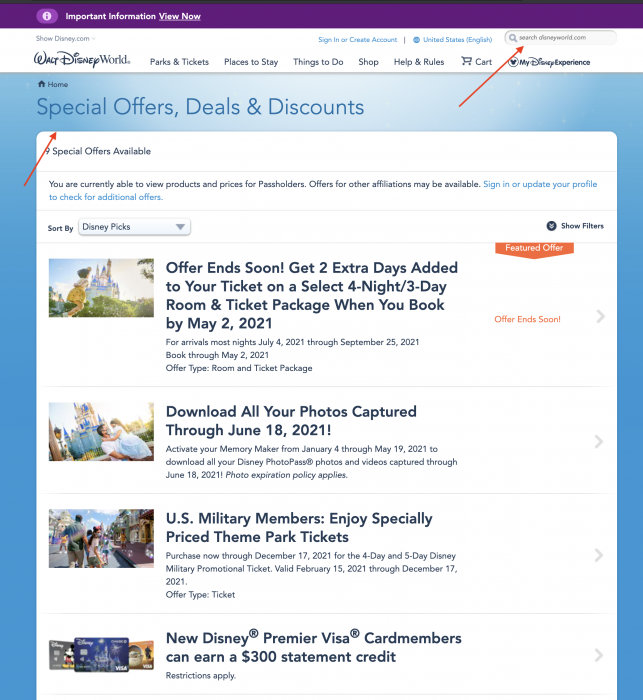 4. Click on your preferred hotel to see what your specific room type and package options are.
Some room types may not be available during your dates.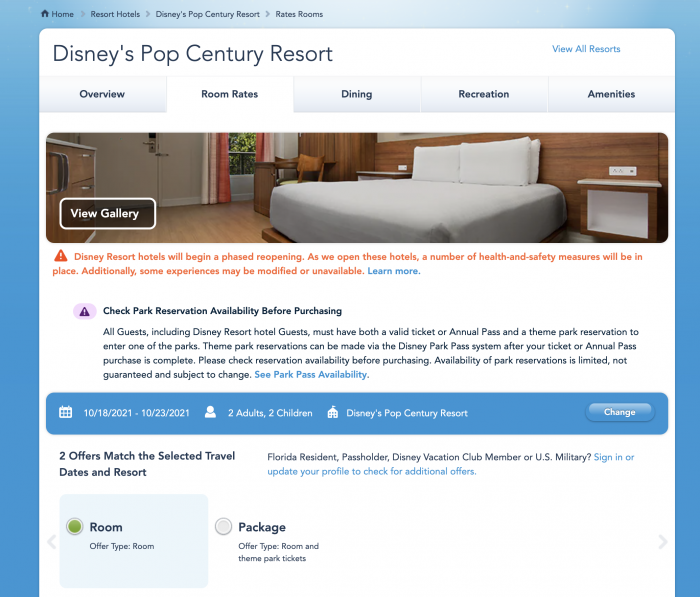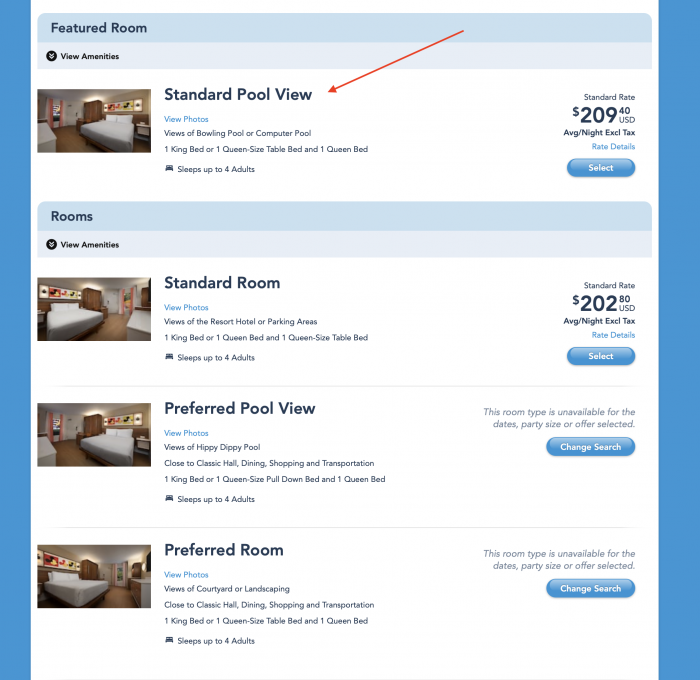 Pay particular attention to the specifics of the room type before you select one.
5. If you only want a room reservation, click "update cart" and you'll be brought to a check-out page.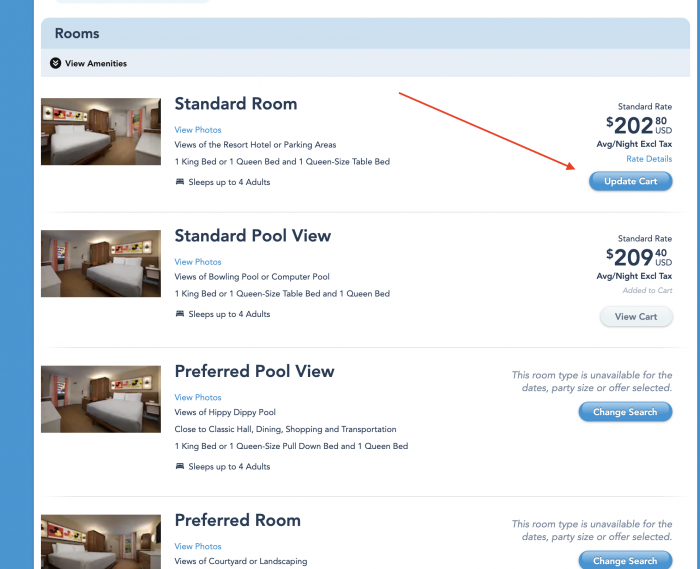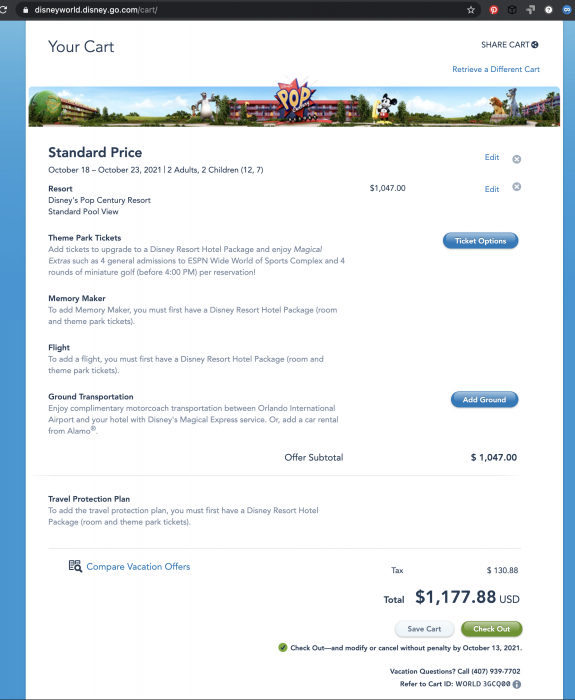 6A. If you selected "package" this will result in a much higher price. Because this price is based on a specific selection of tickets and other options, your final bill may vary from this number.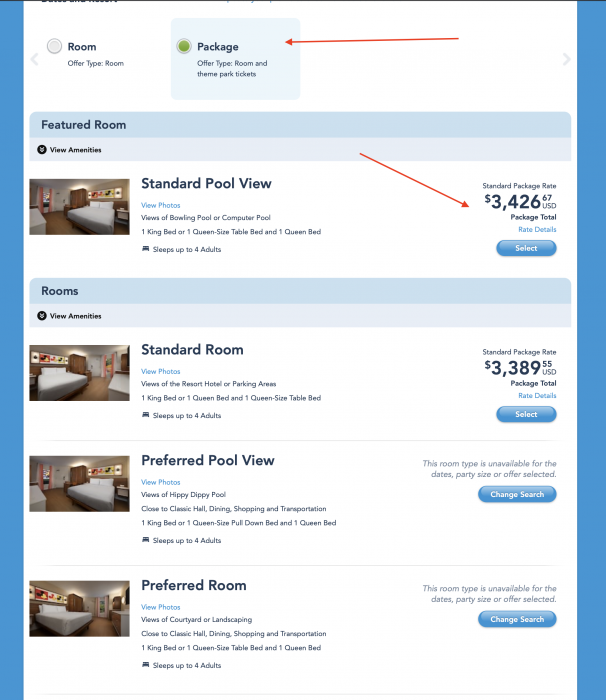 6B. To refine your package (and to adjust the price), select the number of theme park ticket days you prefer.
Note: You are NOT required to purchase a Walt Disney World theme park ticket for every day of your resort stay. If, for example, you plan to visit Universal Studios during your trip, you could elect not to buy a WDW park ticket for that day.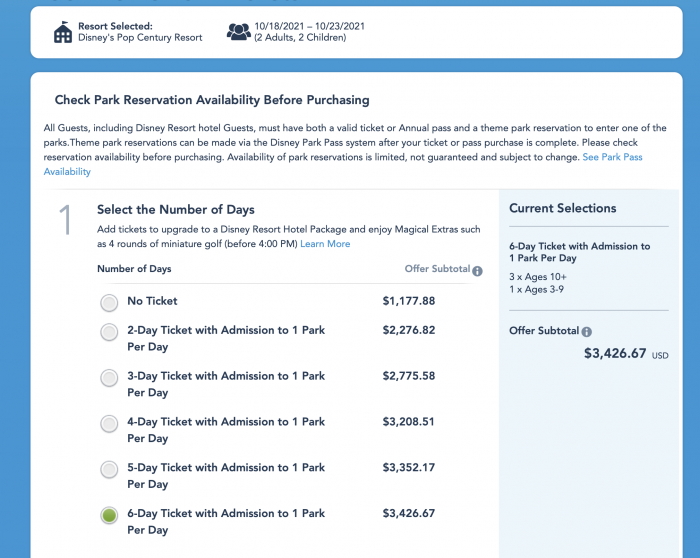 6C. During this step, you can also elect to include additional ticket features such as the Park Hopper option or water park entries.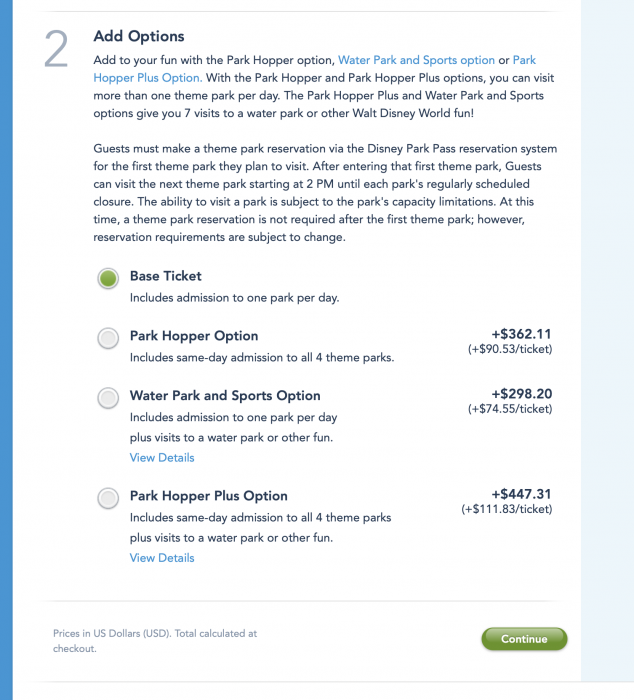 7. On the next page you can elect to add features like the Memory Maker photo service or Travel Protection (also known as travel insurance).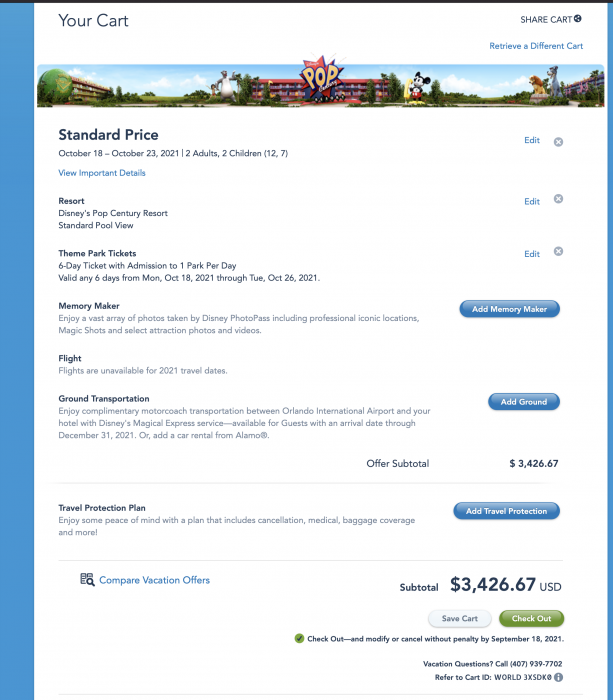 8. From there, you identify the members of your traveling party and then enter standard payment information such as debit or credit card credentials.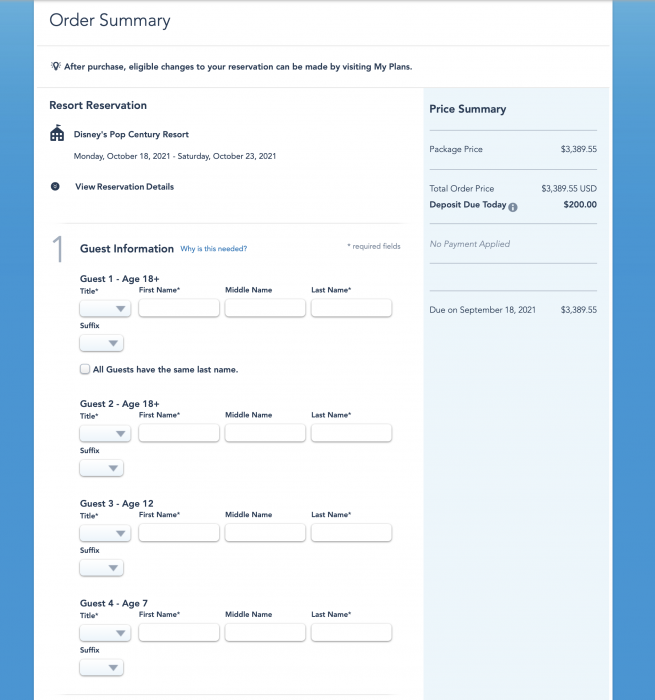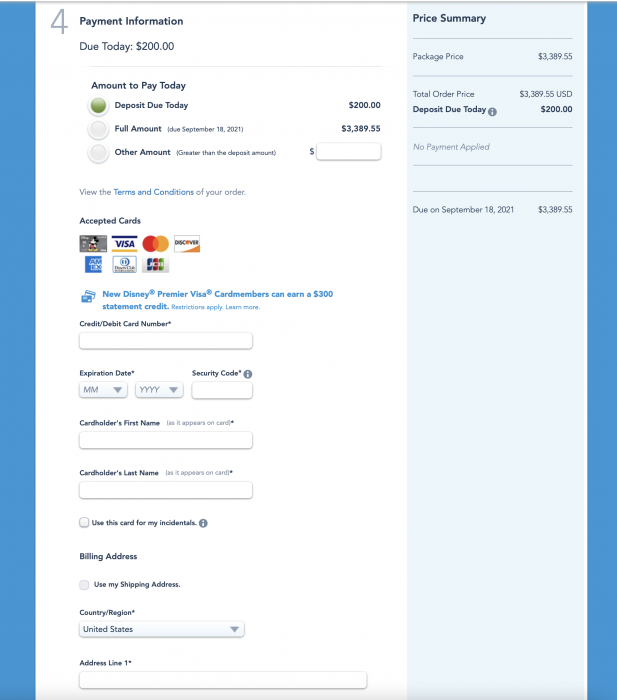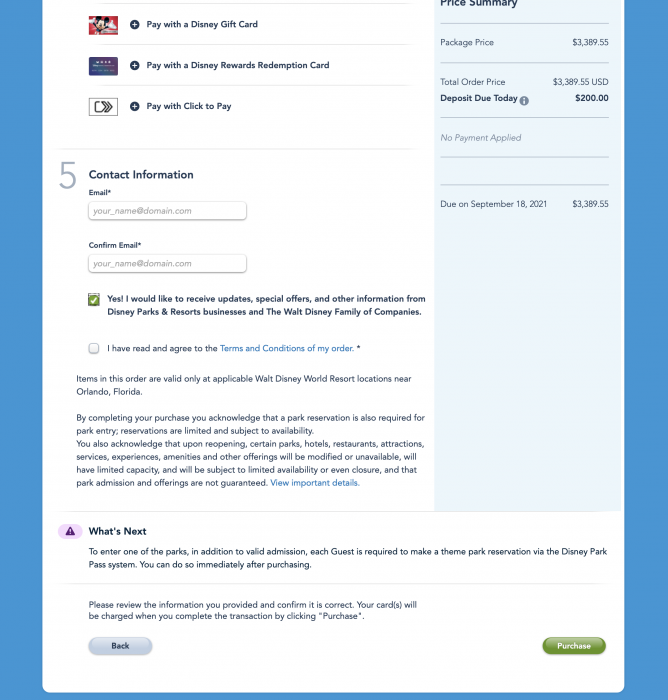 9. Once your check-out is complete, your account should be automatically updated with your hotel confirmation number. You can check this in the My Plans section of the website. If you have purchased a package, your ticket confirmation numbers will also be included in this area.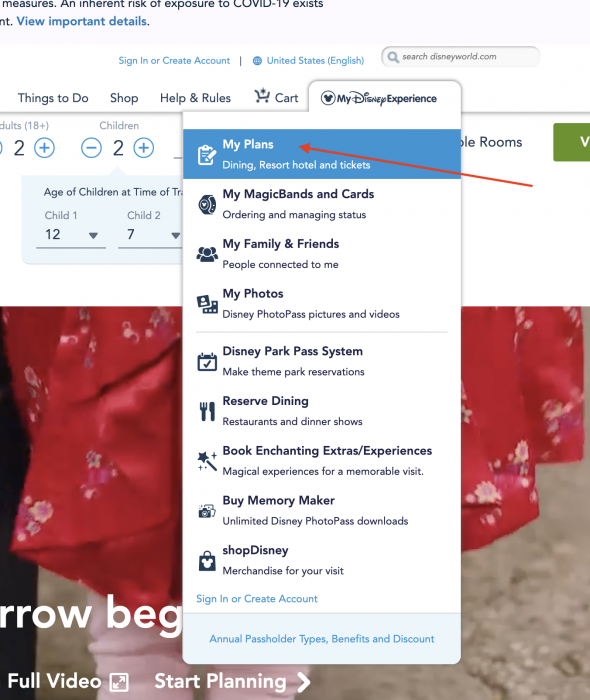 10. Now you're ready to make Theme Park reservations, add existing dining reservations, make new dining reservations, or continue with other aspects of your trip planning.
Happy travels!
Do you have any questions about the travel booking process through the Disney web site? Let us know in the comments.